Getting the best baby crib for a kid is incredibly essential. With that, the cribs made in the USA are of high quality and excellence, which will save you money. But what are some of the best cribs that are made in the USA? Well, read on to find out.
A Guide to the Best Cribs Made In the USA
Before we get into the top baby crib options, we'd first like to start with a brief discussion of why the crib you choose is so very important. This is going to be the place where your precious little one spends a lot of their time. It's important that you love the crib, but also that it serves its purpose well and keeps your baby safe. It needs sturdy construction, solid wood if you're choosing from wood cribs, and, for those looking to save a little money, you should look for a convertible baby crib.
Now that you understand why it is essential to prioritize safety when buying a crib for your baby, the next question is, what are the best cribs that might be available for you? To help you decide which is  the best to purchase, we created a list of the highly-rated baby cribs from reputable baby crib brands on Amazon, and we included snippets of information about what they offer. As you continue to scroll down, you will also find more FAQs about USA made infant cribs that you may find very beneficial.
Delta Children Heartland 4 in 1 Convertible Best Baby Crib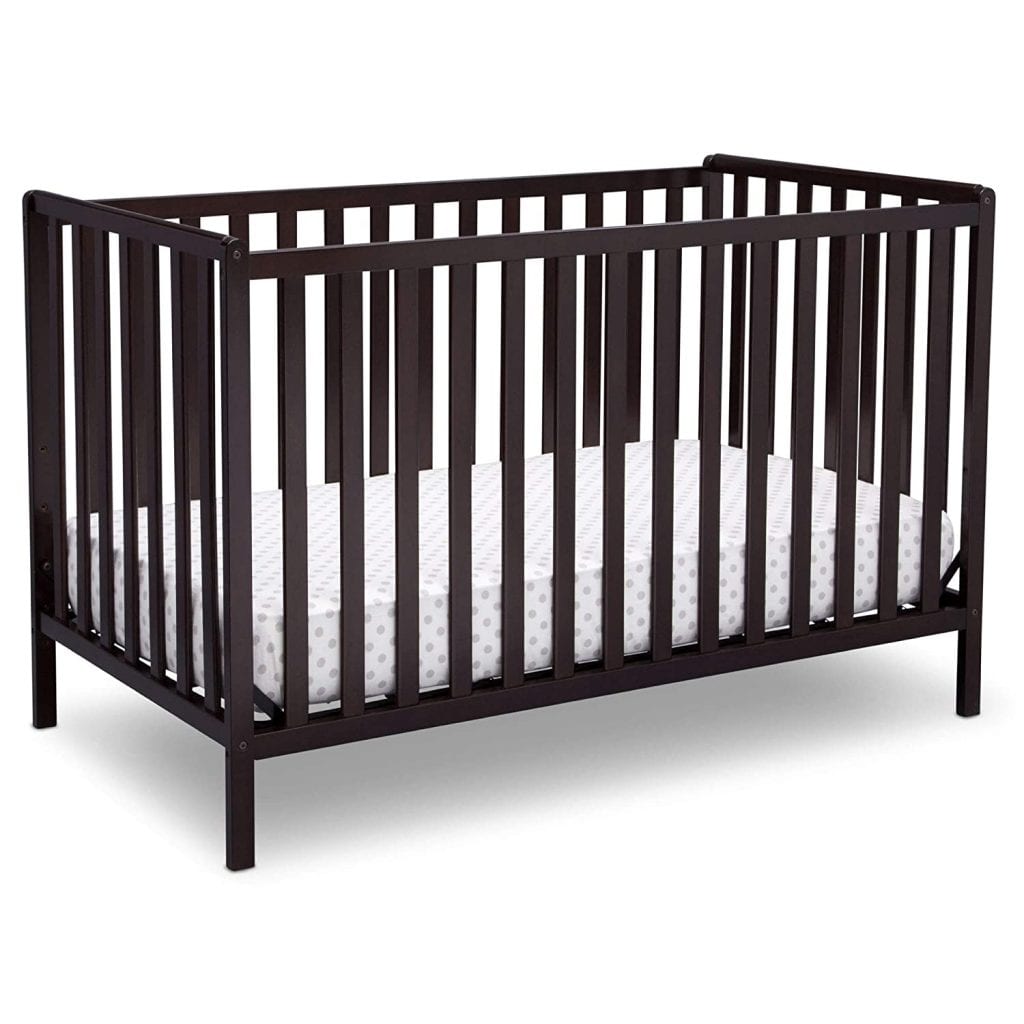 The convertible crib is a charming addition to your nursery, it has a simple design but is very simple yet functional and safe. It is made of sturdy materials that will last till your baby gets older. Delta cribs allow 3 mattress height positions, hence can be used from birth till your child starts to sit and stand.
Storkcraft Steveston 4 in 1 Convertible Baby Crib and Changer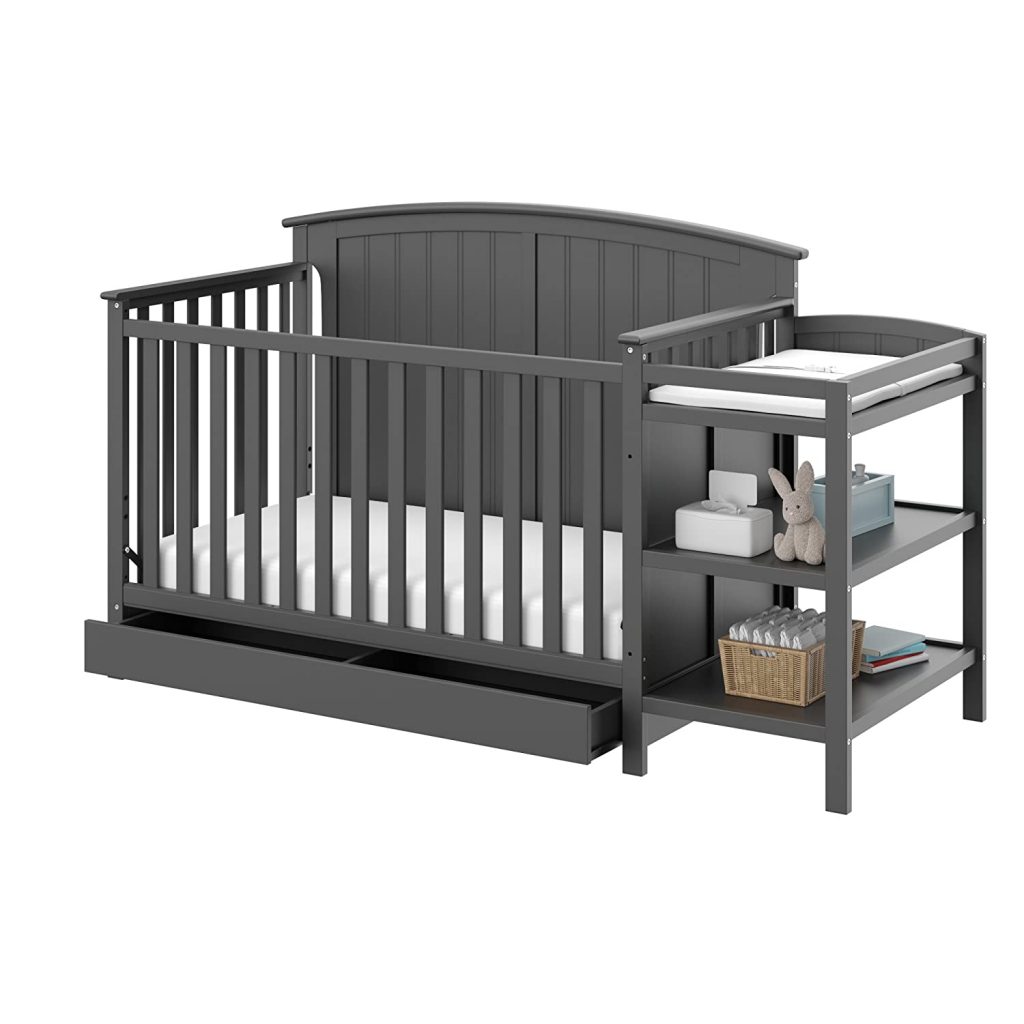 This crib not only makes a perfect bed for your child it also comes with a designated space for diaper change and extra shelves for your baby essentials. Convenience, high quality design and versatility is what you will get with the 4-in-1 convertible crib.
Graco Hadley 4-in-1 Convertible
The stunning crib from Graco is not only a complete eye candy, it also comes with spacious drawers for your infant's clothing and accessories. It can be converted into a day bed, full size bed and toddler bed which makes it worth it of its price.
There's a reason many other parents design a room for their babies and fill it with nursery furniture. This makes a safe and comfortable space for you and your baby to bond. You can choose baby cribs, changing tables, organic cotton crib bedding, dressers, nightstands, matching bath towels, and more. Then you can decorate the room with toys, pictures, and wall decals to really make the whole space come together. You create a home for your baby in that room, which centers around a beautiful crib. Eventually, there might be a twin, full, or bigger bed in that room, but it starts with the right crib.
Baby Eco Trends Amish Caspian 4-in-1 Convertible Crib
One of the top cribs made in the USA is the Baby Eco Trends Amish Caspian 4-in-1 Convertible Baby Crib. This is a versatile and awesome crib. It's made from top-class Amish woodworkers, and this can transform into a bunch of different furniture pieces as the child grows. It can be a perfect crib, but also a toddler bed, and then a day bed, and finally, a full bed, which is something that grows with your child. Wood cribs are popular, but this one is special because of the level of craftsmanship it's made with and the solid wood sturdy construction that you get with Amish baby products.
So, you'll be saving a lot of money, for starters, because this best bed takes you from crib to toddler bed, twin, full, the whole gamut. You'll also be getting an extremely beautiful wooden crib which is USA Made. Some of these look very mid century, even, if you like period pieces.
Now the wood itself is incredibly strong, and it's withstood multiple stress tests from adult bodies so you're not going to break it if you sit on it. It's made of no composite materials, just solid wood, and it's free of chemicals and toxins, and it is incredibly smooth with a stained finish.
The one downside is, of course, the time it takes for it to be made, and the price. This can be expensive, but you're getting four beds in one with this, so you're not missing out on a ton of money. It takes about 6-10 weeks to make this, plus an additional bit of shipping time. But the setup is incredibly easy and will take even those who aren't good at putting together items a simple experience. It's a great convertible bed that can last a lifetime.
Graco Benton 5-in-1 Convertible Bed
Graco is a company known for some of the best baby furniture on the market, and this crib is made without exception. It can be converted into five different beds, and it comes with three adjustable mattresses that you can use as the baby grows. If they need a bigger mattress, you just change it out. Later on, it makes a toddler bed which is pretty big. It can be converted to a daybed and a full-sized bed too, so it's the perfect type of crib for your child to grow into.
Nursery furniture made by Graco is the best according to parents. The company makes everything from baby cribs, to car seats, to high chairs, to toddler beds, dressers, and everything in between. You can pretty much get all the items you'll ever need to raise your child until their teenage years. The crib converts to a twin full bed, which an older child can keep using as a teenager.
These baby cribs do fit standard crib mattress sizes as well, so you don't need to worry about buying specialty items. This can be used in the teenage years, and it is pretty tall, too, so you don't need to worry about the child climbing out of the crib and getting hurt either. Graco cribs receive many positive user ratings and their cribs are manufactured and made in the USA.
Berg Furniture Alpine Nursery Best Crib Collection
Berg furniture is more than just a crib; it comes with a double dresser and a five-drawer chest too, which is perfect for those people that want to one-stop-shop for everything for the nursery. It can be converted to a full-sized bed, and even make a loveseat out of this as well. The crib and the furniture on this are stained with a beautiful charcoal color that goes well with many options. It will definitely fall under the cheap baby cribs section compared to other nursery collection items that are on the market.
You can save about 450 dollars online, and it isn't too terrible in price, and you can even get a free toddler guard rail and a rail kit. It can save you a lot in terms of what you need, and you can also get curbside delivery for $200, which is a bit expensive, but if you don't want to leave your home, this is one of the best baby cribs made in the USA out there.
Berg Furniture makes good quality furniture right here in the USA. These particular Berg Furniture cribs are made of solid wood and have a clean, modern look to them. The crib can be converted into a full size bed, eventually. You can also convert it to a loveseat and keep it in the bedroom or move it for use in the living room.
Land Of Nod Carousel
This is a mix of both price and overall quality on the market currently, which is USA made. It's about a third of what you'd pay for some of the other cribs that are on the list. It's streamlined in terms of style and is made with sturdiness in mind. You can easily adjust the mattress height in order to help keep your baby safe and secure. It does convert into a toddler bed, but unfortunately, it doesn't hold much past the toddler phase, so there are only two types of conversions available. It also comes in many colors including neutral color. This is affordable and is perfect for those who want to deal with a nursery but also not pay the nursery price for it.
This crib to toddler bed is constructed of solid wood. Your child will love the crib with its fun colors you can choose from. Then, when they're ready to switch from the crib to toddler bed, they'll love helping with picking out their new toddler bedding.
El Greco Woodworking Moda
Finally, we have one of the best baby cribs made in the USA, the El Greco Woodworking Moda Crib, which is a handcrafted crib made in New York, and it's got a feel sturdy brown maple, along with a walnut non toxic finish. It does have a non-toxic lacquer that's passed all of the safety checks, and the construction of this is sturdy and nice. It even comes with free delivery directly from Room & board orders. You can also get it assembled for free as well if you're looking to have a smooth operation. This is a great and amazing one that works to ensure that you're getting a sturdy and great product for your little one.
This is mostly just a crib, and it doesn't convert, which is one of the downsides to it, but if you want a natural, woodworking crib that works perfectly in pretty much any child's room, then this is the one for you. The quality of the solid wood construction will impress you. Then, when it's time to move from crib to toddler bed, you can switch things up with a new style of bed.
Best Buys
All of these have incredible durability, some of them so strong that they work even through the formative years, and many of these have gone through testing to make sure they're up to par on best standards. Many of these are made of solid wood without extra materials. You also will notice that all of these are known for their incredible safety standards. They have passed LEED certification for the most part, and they've passed the ASTM standards and are considered completely safe. This is an excellent set of different cribs to choose from, and while some of them are a little on the pricier end, they are worth checking out and can be great for those parents that want something that's going to last a long time and get the job done. Now, go shop for that beautiful crib you've been wanting and make your baby's room exactly what you want it to be.
Best Cribs Guide: Frequently Asked Questions
What's the top infant crib that's made in USA?
As new parents, looking for the best cribs which are made in the USA may not be an easy task. But you can rely on the internet or from other parents for suggestions and recommendations to help you pick up the best crib for your little one. And according to the report, one of the best cribs that is made in the USA would be the Graco Benton 5-in-1 Convertible Crib. It's an amazing buy because you get a crib for baby, toddler bed, twin full beds, and it's made of solid wood for sturdy construction. Baby cribs that convert all the way to a full bed save you money in the long run. One family owned company that creates baby cribs with high quality materials and is
JPMA certified.
Are those with solid headboards USA-made safe?
Yes, a solid headboard in a crib is safe. Those detachable bumpers are the ones considered as unsafe or may need constant monitoring because they might trap the baby accidentally. There's nothing wrong with a solid wood headboard as the material can't inadvertently conform to the baby's face and block their air supply. It's soft materials you have to worry about doing that.
How to make convertible into a bed?
Convertible cribs do have their manuals on how to convert it from crib to toddler's bed. You just have to check on their manuals to get the right instruction on how to transform your cribs. Typically though, you will be removing the front of the crib, lowering the mattress to the lowest level, and installing the baby toddler rail that keeps your little one from falling out of bed onto the floor. There are many brands that offer convertible cribs, such as American Eco Furniture, Graco, and DaVinci.
Do cribs expire?
Baby cribs do not have an expiration date. You just need to follow the guidance on when your child shouldn't be sleeping in the crib anymore, and what size guidelines there are. You should also remain aware for anything regarding a recall for your crib because those do happen sometimes.
What to look for when buying a crib?
When buying a crib, you can ask for suggestions or recommendations from other parents to help you choose to buy a crib. But if you are looking out with just your partner, you can consider your budget first. The reviews on the internet would also help a lot in helping you choose the best crib for your baby.
Many parents find it to be a good idea to purchase a convertible crib that will be used for a baby, toddler, and big kids. Baby cribs can convert to toddler beds, and on up to twin full bed size. It makes it where your furniture will still all match in the child's room and you can save money in the long run.
There are also stationary cribs that have locking wheels so that you can easily transport the crib or keep it in place.
What age can crib be converted to toddler bed?
There's no specific age on when you should change your crib to toddler's bed. But mostly, it is between 2 to 3 years of age. Be sensitive to your child so he or she won't feel forced to have a bed on his own. One thing that can help here is allowing your child to help pick out the toddler bedding they will be using. It makes them feel in charge and more excited about sleeping in the new bed.
How much to spend on a crib?
A crib usually costs $125 to $350 depending on the brand and the features of the crib. You also need to prepare for a baby's crib mattress support because most cribs won't come with it.
That being said, you can certainly spend a lot more on a crib model. Baby Eco Trends solid wood cribs cost upwards of $1,000. Baby Eco Trends sells handcrafted Amish solid wood cribs that are very high quality and stunning to look at. While the cribs are convertible, Baby Eco Trends solid wood cribs are understandably out of the price ranges that are comfortable for many people.
Do you really need one?
According to experts, yes, a versatile crib is needed if you have a newborn. According to the American Academy of Pediatrics, babies should have their sleep surface after six months. But the first six months should be shared first with the mother or both of the parents. The USA have a lot of companies that manufacture high quality products for your infants and little ones.
Cribs help keep infants safe when they sleep. If you were to put a baby on a twin, full, queen, or king size bed, there's a risk of them falling of and getting hurt. The bed rails of the crib keep the baby from rolling onto the floor.
Can a newborn sleep in a crib?
Usually, a baby is placed in a crib in between 3 to 6 months. A newborn may be placed in a bassinet first. You can transfer him in a crib if he outgrows the bassinet already or if you think he already needs a wider surface to sleep in. However, you can allow a newborn baby to sleep in a crib if you see fit to do so. Remember that you shouldn't put pillows in the bed, even if you think it'll keep an infant safe from sharp edges. Pillows  and loose bedding can increase the risk of SIDS.
What can you do with undamaged but old ones?
You can do a lot with old cribs if they are not that damaged yet. One creative idea would be to use the side rails as a magazine rack. You can search the internet for lots of ideas on what to do with old cribs.
Many people pass their cribs on to friends of family members who are looking for a baby bed. If you can convert it, you'll simply make the chance up to a twin full bed. You can also find places that accept old furniture for refurbishing.
What are the safest types of cribs?
Is Ikea crib safe?
What's better than a crib?
How do I know if a crib is safe?
What is a non-toxic crib?
Last Updated on May 8, 2023 by Patrick Magtaan
DISCLAIMER
(IMPORTANT)
: This information (including all text, images, audio, or other formats on FamilyHype.com) is not intended to be a substitute for informed professional advice, diagnosis, endorsement or treatment. You should not take any action or avoid taking action without consulting a qualified professional. Always seek the advice of your physician or other qualified health provider with any questions about medical conditions. Do not disregard professional medical advice or delay seeking advice or treatment because of something you have read here a FamilyHype.com.