You are on the way to becoming a mother. Inside you, a little embryo is turning into an infant. Or maybe you are a new mother and have realized that the baby crib you bought is too tall for you. You cannot reach into the crib to pull your child out without having to be on your tiptoes and almost falling into the crib yourself. This is the curse of being a short mom. There are many crib types that you can use that are perfect for your short stature. So what are the right ones for short moms?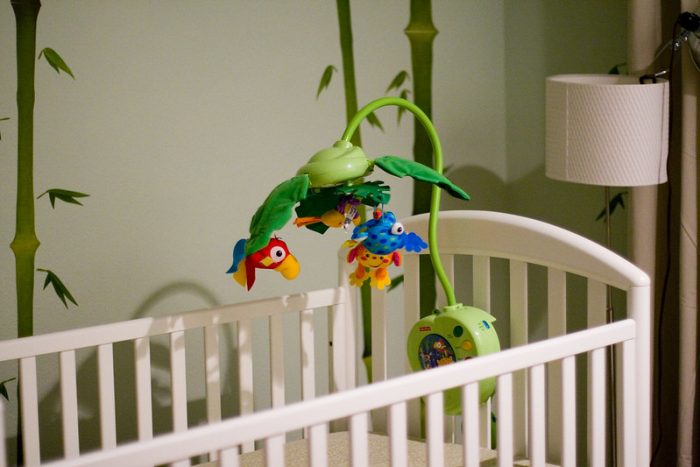 The Best Baby Crib
There are many cribs to choose from, making it challenging to find the best one to add to your nursery. Before buying, it is essential to consider different factors and read reviews. To help you, we created a list of the best cribs for short moms that has gained positive reviews on Amazon, and we included a brief description for each. If you continue reading the article, you will also learn more about the difference between mini cribs to regular ones and answers to commonly asked questions.
There are a few important characteristics that cribs for short moms have, and it's important to look at these. Getting cribs for short moms can be hard, but there are a few factors that you can consider too.
Delta Children Canton 4-in-1 Convertible Baby Crib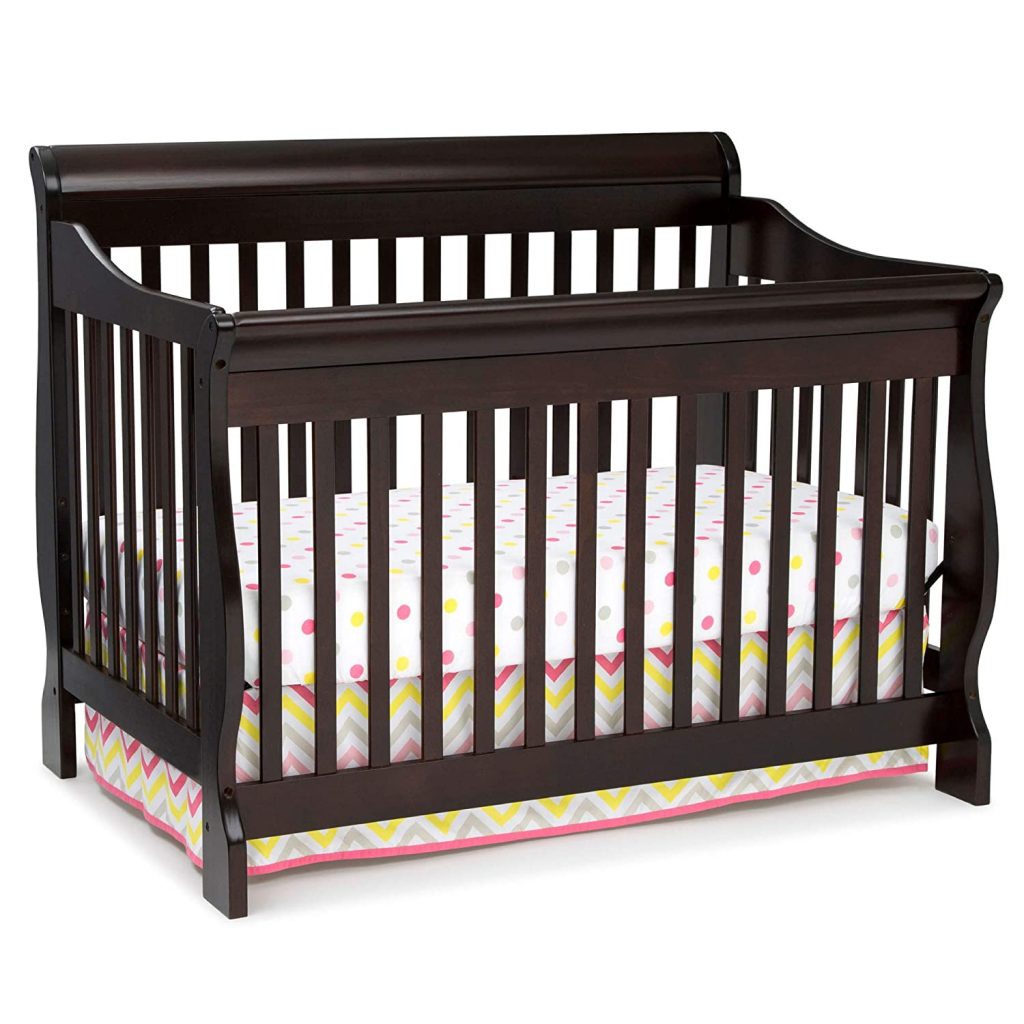 They are composed of durable wood frame made from sustainable New Zealand Pine.  They are painted with Non Toxic paint and it comes in different colors. These are timeless design and can be great addition to your nursery. The cribs have adjustable mattress which can benefit your child as they get older. These Delta Children Canton 4-in-1 are JPMA Certified and they have passed all the standards set by the CPSC and ASTM. No wonder it's considered as one of the best baby cribs.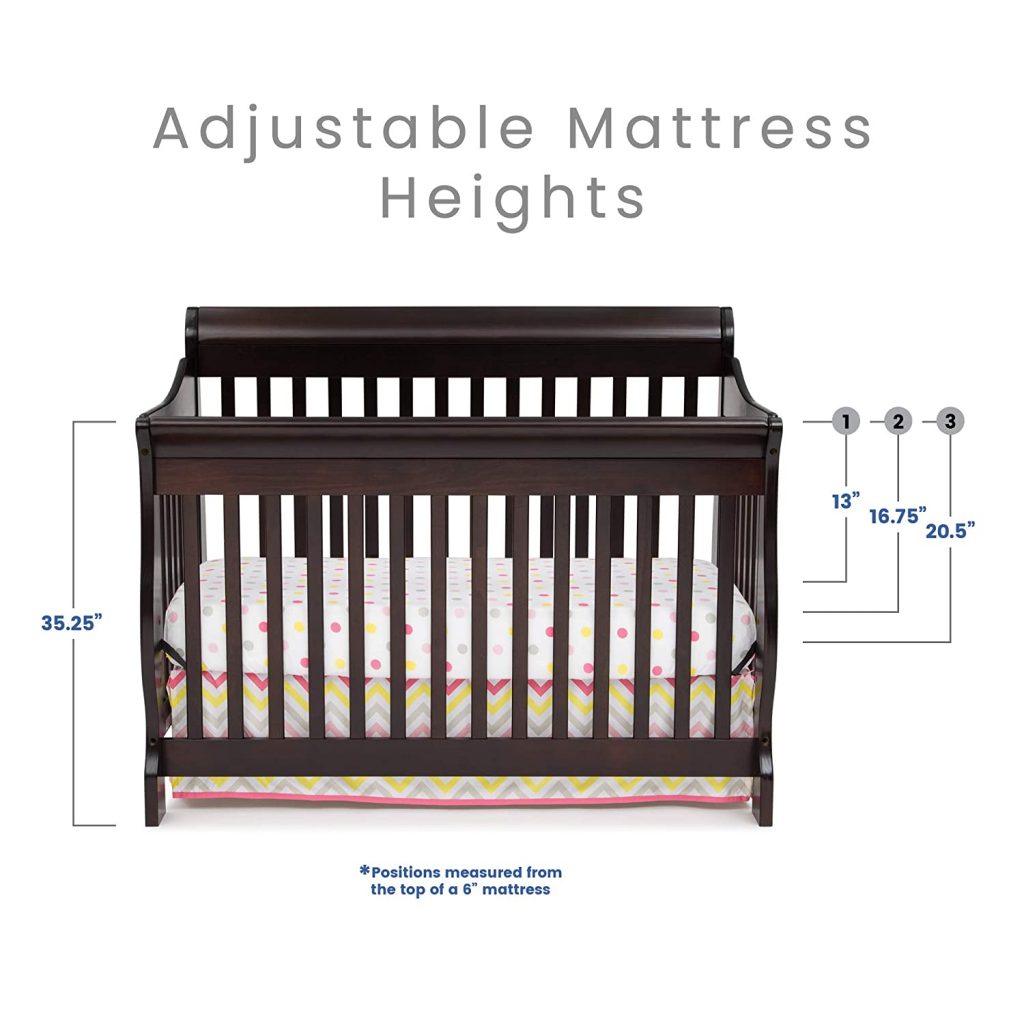 Delta Children Emery 4-in-1 Convertible Crib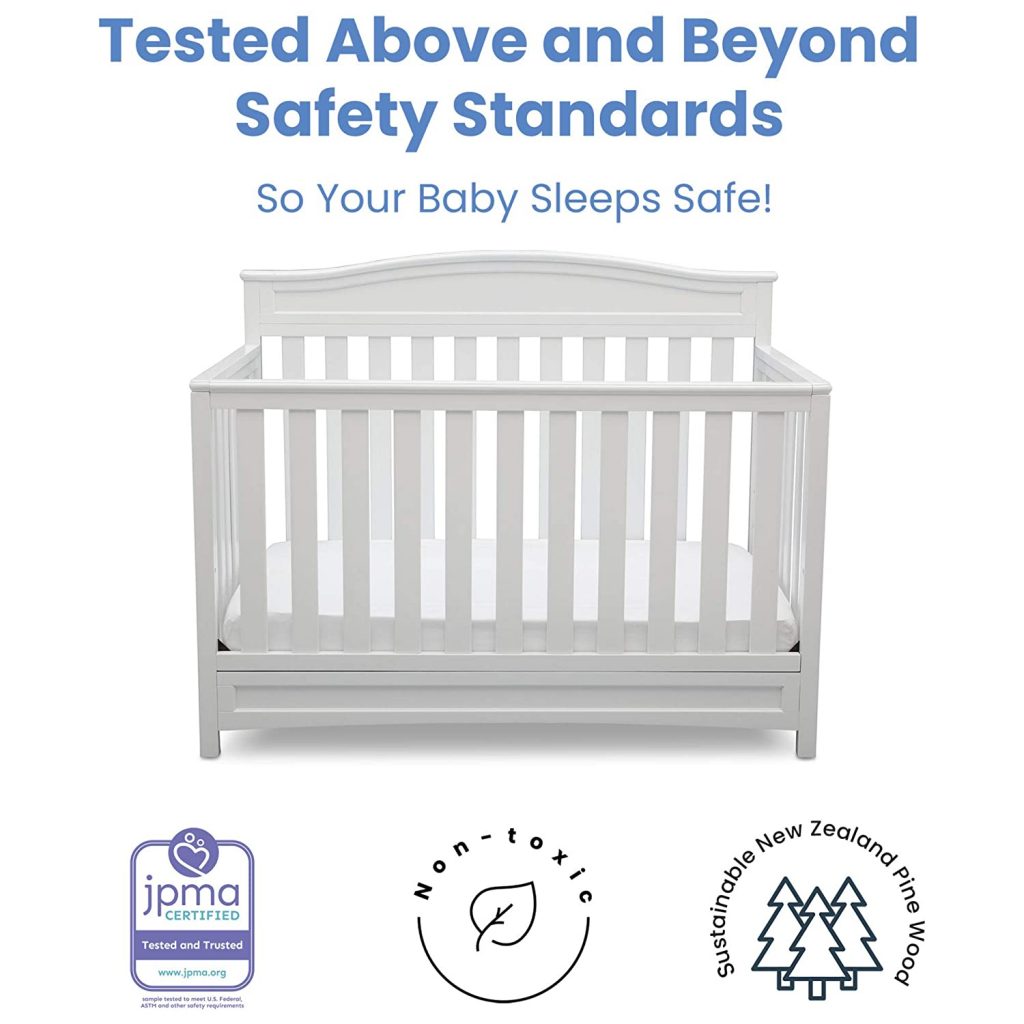 The Delta Children Emery gwos with your child, and can be adjusted according to your child's needs. This is made from sturdy wood and it includes simple assembly instruction. In terms of safety, it is JPMA Certified and these have passed all the standards set by the CPSC and ASTM.

Dream On Me, Anna 4-in-1 Cribs and Changing Table Combo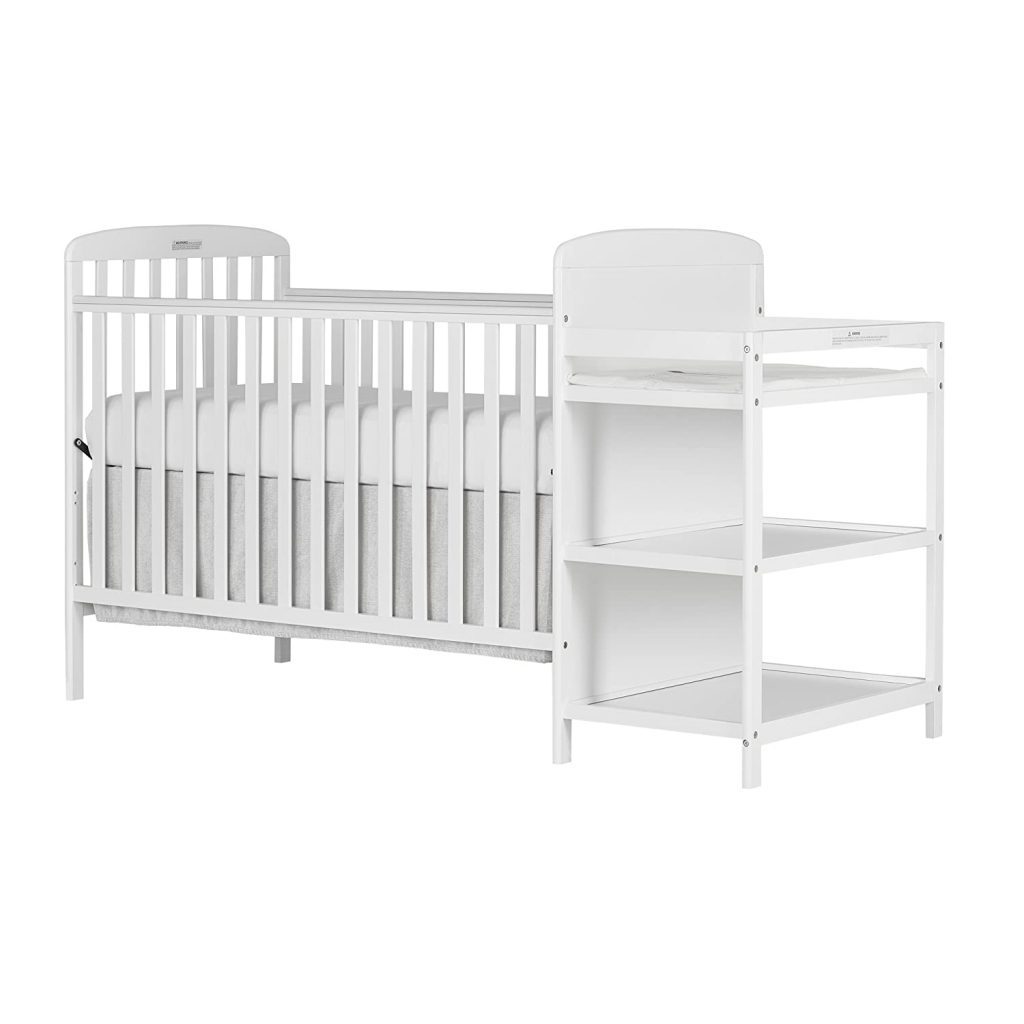 As your child gets older, the Dream On Me can be converted into a daybed and full sized bed. You can attach a Toddler Guardrail, Stabilizer and Full Size Rail to its frame for added security. It has a changing table and storage self with ample space for your child accessories. It is one of the best baby cribs as well.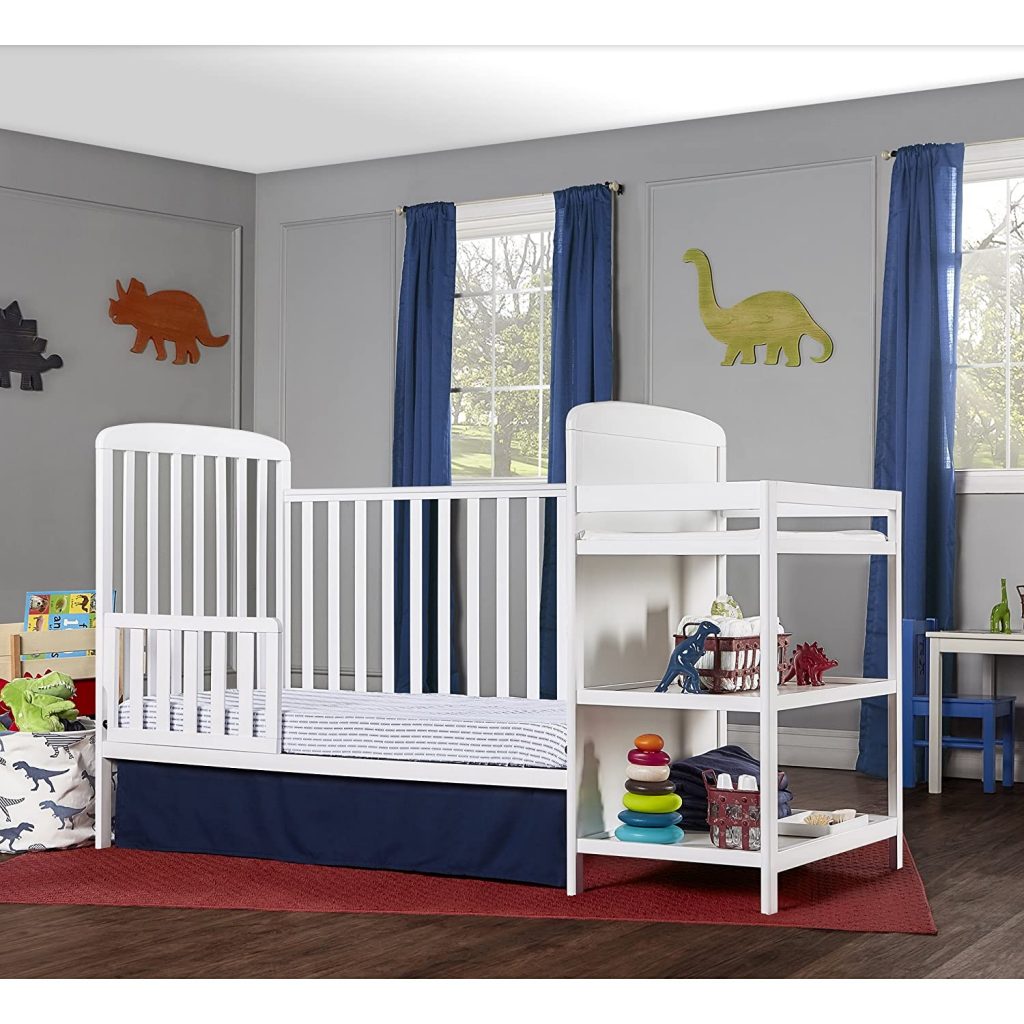 Dream On Me, Synergy 5-in-1 Convertible Baby Crib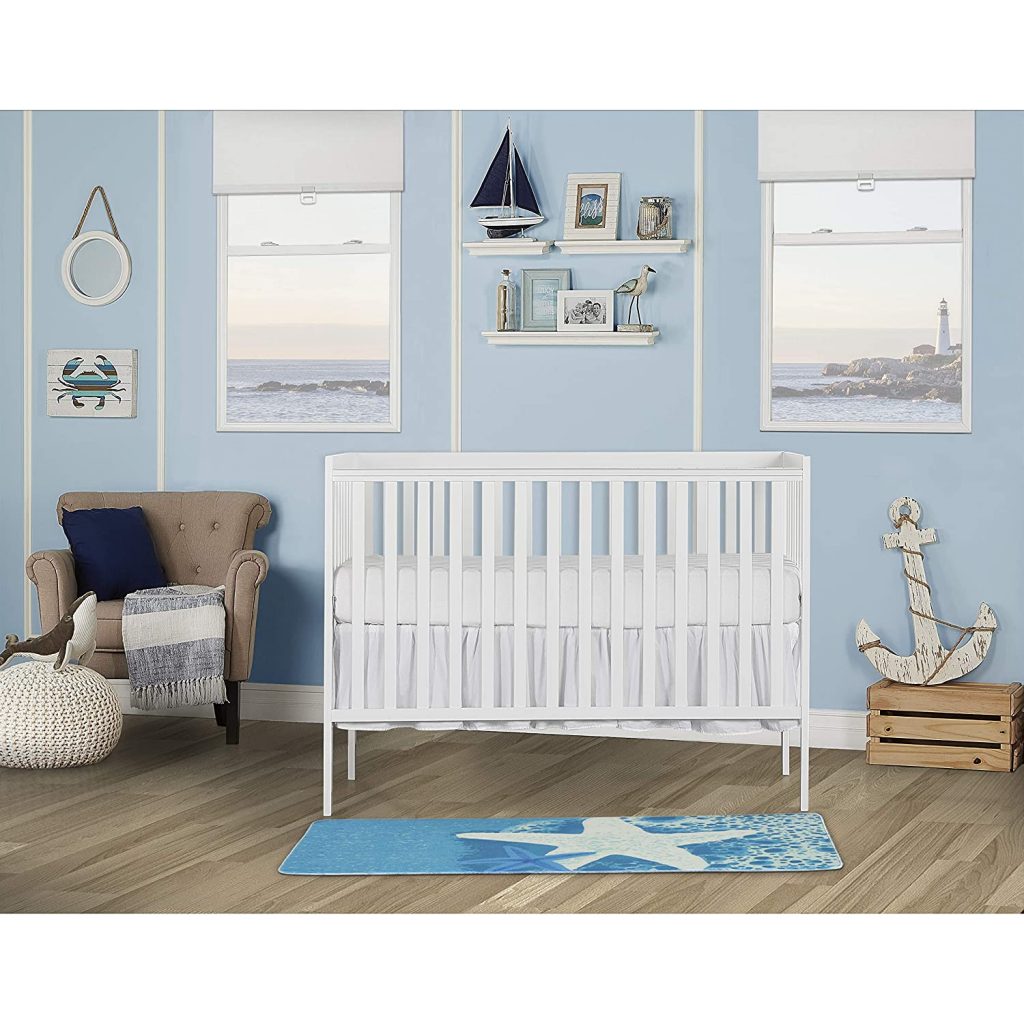 The Dream On Me Synergy has a simplistic design and 13 attractive finishes to choose from. It measures 53.0″l X 29.0″ w X 39.0″ h inches and can fit most standard child mattresses. It blends naturally with your minimalist or themed nursery room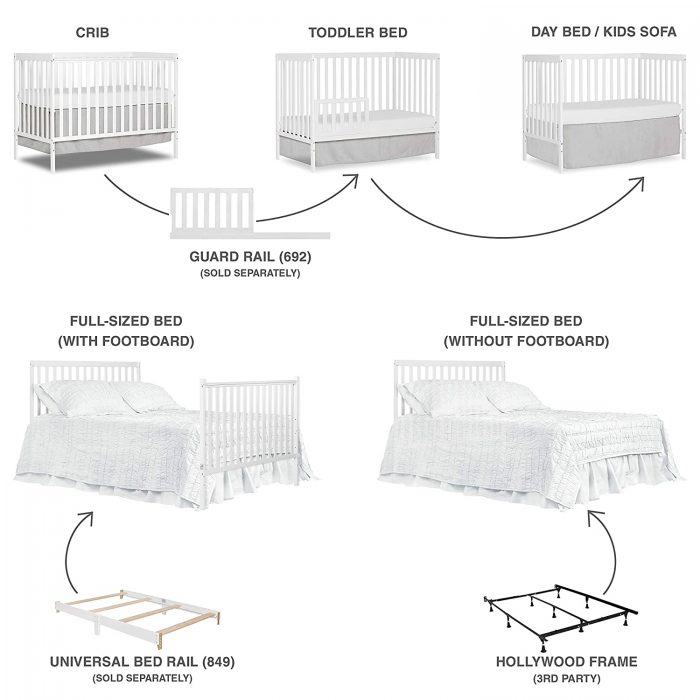 Best Baby Crib Factors To Consider
Mattress: an adjustable mattress is good for new moms because if the mattress is too low, you can change it with an adjustable mattress. The adjustable mattress makes it better for the child to grow into as well, and you can sue an adjustable mattress for much longer than say a mini type.
Height: the adjustable mattress height is important. Changing the adjustable mattress height means you're not hovering over, and the best ones for short moms need to include this. Adjustable mattress height is the difference between cribs for short moms being easy to use, or one that isn't, so you want the adjustable mattress height as much as you can.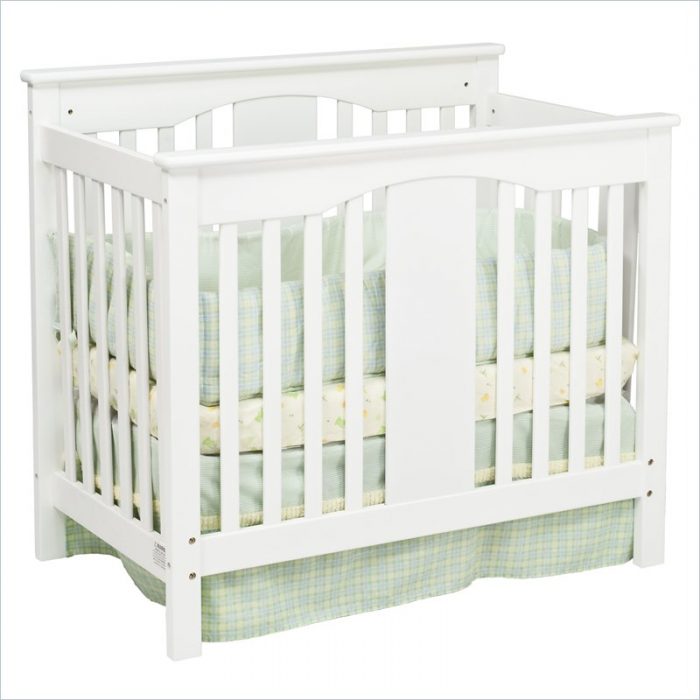 Conversion: the right size bed is important. When it comes to cribs for short moms, having a crib that converts to a full size bed might be better. A full size bed that comes from a toddler bed is one, cheaper, but also, converting to a full size bed from a shorter crib is great because then short moms can use the toddler bed. Remember, the baby cribs for short moms isn't just for their newborn and child stages, but also, to convert to a full size bed option for when they're toddlers and beyond.
Ease: They need to be easy to use, and if they aren't then they won't be the good baby cribs for short moms.
Price: finally, you should check price on everything that you consider. When it comes to cribs for short moms, you might need to splurge a little, and you can check price on not only Amazon, but different baby sites that have the good baby deals. Finding the right baby cribs for short moms can be hard, but if you check price and compare, or even check price when there is a sale, you definitely can benefit from it.
Baby cribs for short moms do come with a lot of factors, and you should consider to check price and the adjustable mattress height considerations the most out of this. These two are probably the most important one's for you, and as a new mom, especially a short mom, you should look for these factors.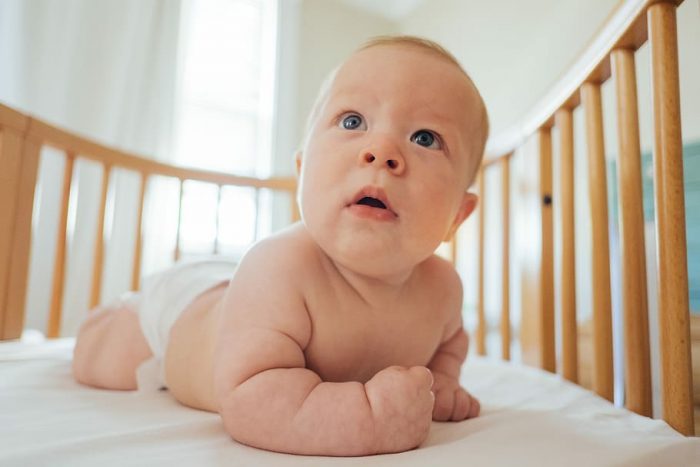 The Mini Cribs
These cribs I have recently discovered. I find it amazing that there has been a smaller version out there and I never knew! These are amazing not only because they make it easier for you to get your child in and out of the crib but it also provides more room in the nursery. But is it the best crib for short moms?
What's The Point Of A Baby Mini Crib?
Mini baby cribs are designed to provide more room in the nursery or home if you do not have it. Many daycares have used mini types because they have more than one baby to take care of. I actually bought a mini crib from a daycare.
Mini cribs are also great for short moms and for newborns. It is small and make it easier for short moms to gain access to their baby. Because these types are smaller, babies can out grow them quicker than a regular crib and so this is best for the earlier years (or months) in a child's life. Unlike other cribs, they don't come with an adjustable mattress height that will let the child use it for longer. But if you check price, they tend to be a bit cheaper than the other options.
The mattress height on these is quite high, and it doesn't come with an adjustable mattress option, so your child is going to quickly grow out of this due to a mattress height that only fits them for a bit.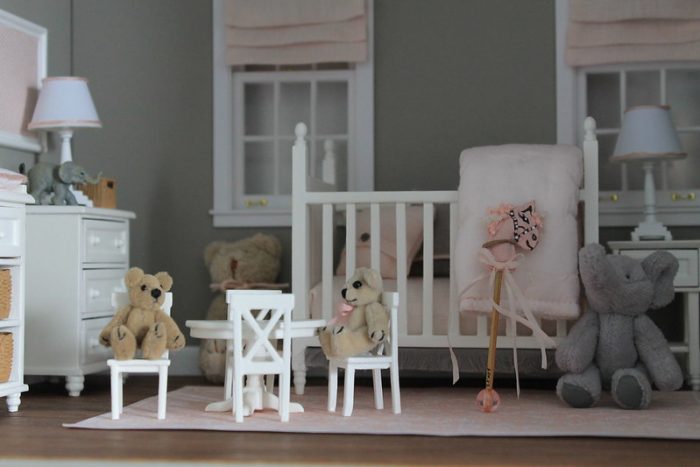 Mini Crib And Regular Baby Crib: The Top Differences
The mini cribs are much smaller than regular ones. These cribs are shorter and smaller all around. The bed is about the size of a pack and play unlike the mattress that goes into a crib. The mini cribs do not always have all the storage perks of regular ones nor do they have an easily adjustable bed. The bed can adjust so you can raise or lower the bed. There are normally three different settings for the mattress while the regular baby cribs can be adjusted at any level. The mini cribs are shorter so they allows short moms to be able to reach in without having to climb over the railing.
The mattress height on a mini crib is oftentimes a bit different too. With a regular one, there is a chance you can have a lower mattress height. In fact, the mattress height might be so low that it's a struggle for the mom to put the child in, which is why an adjustable mattress is a good option for shorter moms. But, with a mini crib, the mattress height is only one specific height, and doesn't have different mattress heights.
With regular ones, you can get the mattress heights that are different, such as if you're buying mattresses with different mattress heights, or you can get cribs that adjusts to that naturally. Mini cribs are good if you want one specific mattress height and only plan to use it for a bit.
The mini baby cribs are also cheaper in price. Now I bought mine used for only $40 while I bought a regular crib used for $100. You will save a lot more money on mini type rather than regular ones and you most likely won't even need to buy a regular crib before your baby goes to a toddler bed. But each child grows differently so this may not be true for all infants and babies. Some baby cribs might be more expensive, depending upon if there is an adjustable mattress height that comes with this, but you can always check price to see which one will be best for you.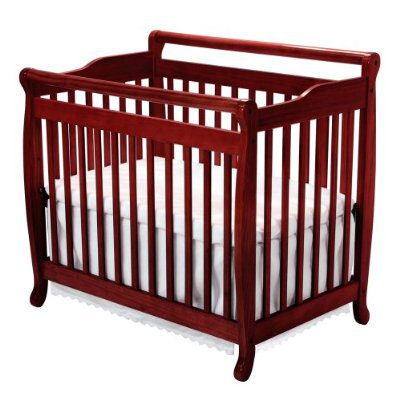 Is The Mini Crib Smaller Than The Pack And Play?
The pack and plays are shorter than the mini cribs because they are lower to the ground but for the most part, they are about the same size in perimeter. The pack and plays are more portable than the mini cribs. You have to assemble the mini cribs (although this is very easy) and cannot fold the cribs up and carry it elsewhere.
The mini cribs and the pack and plays don't have an adjustable mattress height, so they only work for a small portion of a child's life.
If you are deciding, to use a pack and play instead of a mini crib, as a short mom myself, I suggest using the mini crib instead. The crib's mattress can be raised unlike the pack and play. Yes you can buy a 3 in 1 pack and play which includes a bassinet and a changing station, but the baby crib is sturdier and safer for a longer use. Some pack and plays have been known to topple over once the child is able to stand up. You can check price on these to see the difference, but usually when you compare and check price of the pack and play against any mini crib, they will be cheaper.
Can A Newborn Sleep In A Mini Crib?
Yes. The mini cribs are ideal for newborns. If you do decide to go with the mini crib, I suggest buying a thicker mattress. The mattress that comes with the mini crib is only about a ½ inch thick and not the best. It only costs a little more to get a thicker mattress. Make sure to buy a firm mattress to reduce the chance of SIDS (Sudden Infant Death Syndrome). They do not come with an adjustable mattress height, so you don't have a bunch of room to work with, but for short moms, the lack of an adjustable mattress height at this stage might be perfect since you don't have to struggle to grab the child right now.
As a short mom, you can raise the mattress to the highest level so it is easy for you to pick up your beautiful baby. You will not have to struggle to reach for your child. They're pretty cheap too so you can check price to find one which works for you.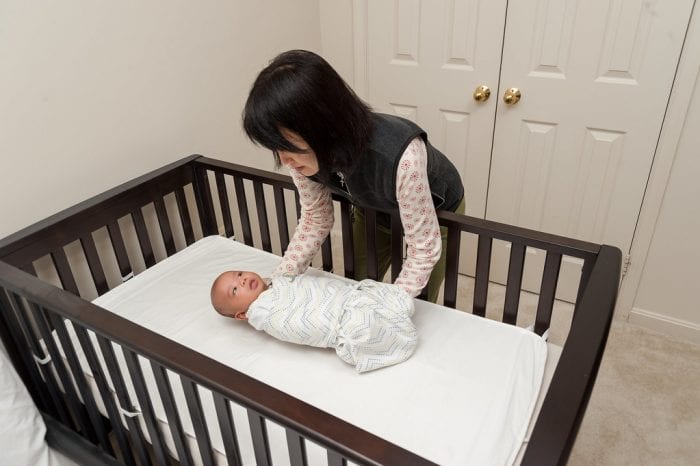 How Long Can My Baby Stay In A Mini Crib?
Your baby can stay in the mini crib as long as they are not climbing. My two year old climbs in and out of the best mini crib easily and so it is not the best after a certain point. If your baby can stand up and reach over the railing, it is time to either move to best regular baby crib or move your baby to a toddler bed.
Types
Drop Side Cribs
Drop side cribs were often manufactured before the year 2010 but after many deaths relating to the cribs, these have been banned. If you were wanting to get a drop side type, it is probably ideal that you don't even go searching. Any drop side crib you are trying to buy for you short moms will be used and it is actually illegal for that person to sell them. There are ideal cribs for short moms that you can look into that are safer for your child. This product is not up to date with safety standards set by the government and so it is wise to look into other options. A drop side type is not good because there is a chance that the child will literally drop side and fall out. Remember, not having the bars on each side and the appropriate safety standards can result in death, so make sure you shy away from buying this type of crib.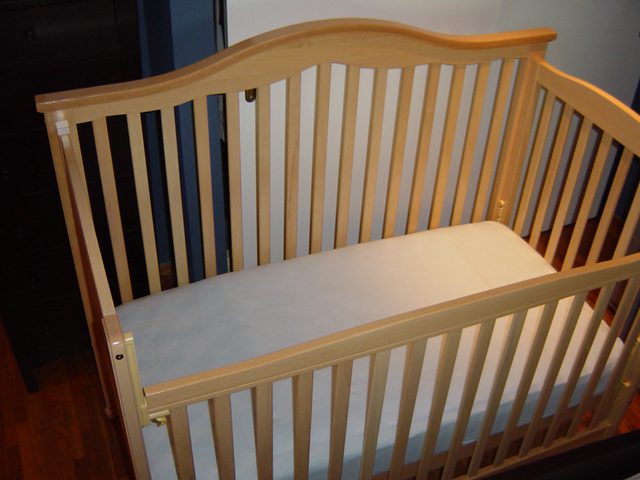 Cribs With Lower Sides
There are baby cribs that have a lower side than the other so that short moms can reach into the crib. These are a great alternative to drop side types if you are not wanting to use the best mini crib. Just remember these types are still bulkier than the mini baby crib and will take a lot more room. I wish I had learned about the best mini baby crib sooner for space reasons.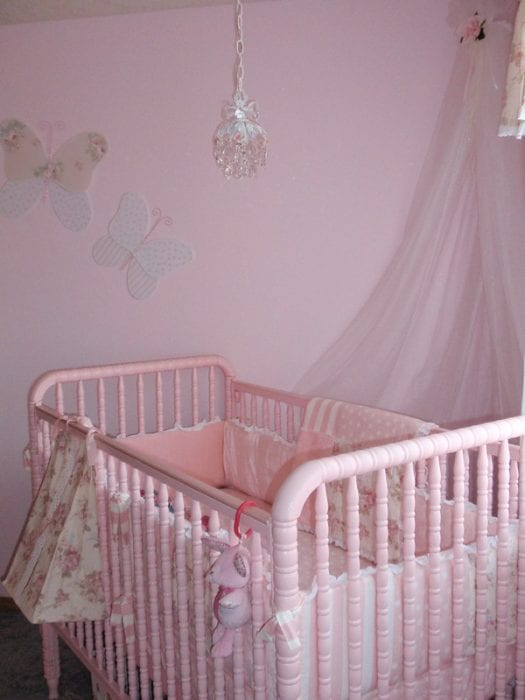 Best Baby Crib Product Spotlight:
Babyletto Hudson Baby Crib
Probably one of the ideal cribs for short moms that is not only a convertible baby crib but also a toddler bed is the Babyletto Hudson. This is ideal for short moms because it is a convertible crib, which means it's a crib for newborns, the ideal crib for younger children, and eventually becomes a toddler bed when the child needs it.
This does have the green guard gold certification on it, which means it's safe for the child. The greenguard gold certification means that it's been tested with over 10,000 different chemicals, and the greenguard gold certification also says it passes emission standards. You should always look for a product that is greenguard gold certified, and this best convertible crib is the perfect one for the job. The Babyletto Hudson is made with safety standards in place, so you don't have to worry about your child falling out of the Babyletto Hudson best baby crib.
Now, onto the fun stuff. The Babyletto Hudson is a convertible crib with a low profile, so petite moms don't need to struggle to put their child into the baby crib. It is a convertible type, which means it comes with an adjustable mattress. When you use the adjustable mattress, it can be lowered to the proper safety standards. It is greenguard gold certified, so you don't have to worry about this convertible crib being bad for your newborn. Babyletto Hudson makes it short enough where the toddler rail and the best convertible crib are too low for the child to get out, but for petite moms, it isn't a problem for them. Babyletto Hudson fits perfectly for moms of all sizes, so if you're looking for cribs for short moms, this is it.
As for the day bed, the Babyletto Hudson changes into a full size bed, and it has a toddler rail on there to protect the child. The Babyletto Hudson is made with short moms in mind, because with the Babyletto Hudson, you don't have to struggle to put the baby away, making it the best baby crib for short moms. The full size bed is pretty sizable and sleep, and Babyletto Hudson understands that you're trying to save money, so the full size bed will grow with them. It is made of pine wood too, and it's the perfect one for parents who want something that will stay with their child, and a convertible crib that eventually becomes a full size bed. Having the full size option for your convertible crib, changing from a crib to a bed that a child can use is what makes the Babyletto Hudson so popular, and why many parents choose to buy a Babyletto Hudson.
Not only that, the Babyletto Hudson is simple and sleek, and really is a baby crib that fits into any room, so if you're looking a good baby crib that is small, and fits the space you have, then this convertible crib will do the job.
As a short mom, it can be hard time trying to find a convertible crib that fits your life, but with safety standards you can trust, Babyletto Hudson is ready to help. Babyletto Hudson offers a sleep and beautiful crib set that a short mom can use. If you're a short mom, this might be the product you're looking for, and you should check price.  It is a high quality pinewood convertible crib that children as they grow can use, and it's a crib that you can rely on.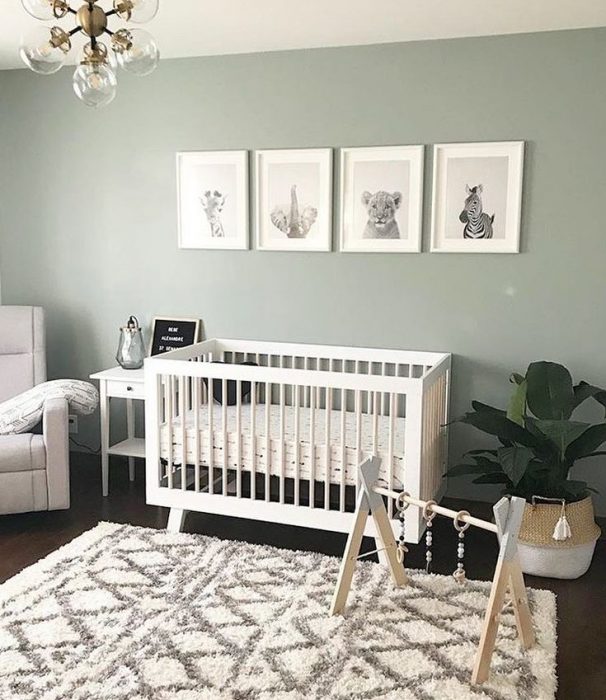 Delta Children Convertible 3-in-1 Baby Crib
Delta Children is another great option for short moms. It's a good crib that's made for petite moms in mind, but not only that, it comes with a changing table. It is made of high-quality materials and does follow the safety standards.
This baby crib also has an adjustable mattress, so you can change the mattress height as the child grows. Changing the mattress height means that with this adjustable mattress, you'll be able to use it for longer. It does convert into a toddler bed daybed option, and also comes with a changing table that you can use.
The changing table is a bit small, but it is perfect for those who want a changing table right nearby. Plus, with it included, you'll be able to use the changing table quite readily to get the baby fixed. The added changing table can later on be used for storage, and usually, if you don't need the changing table anymore you can always take it off, but having that changing table on there makes it the best baby crib for short moms to consider, since it is around the same height as the rest of the bed, and you don't need to search high and low for a changing table that fits the child.
The Delta Children is also a good one because it's one of the best cribs for short moms due to the mattress height. With the adjustable mattress, you'll be able to convert the mattress height to something shorter, and the adjustable mattress is very easy to use. Delta Children also makes it short enough that moms don't need to struggle to put the child in the bed, but is also one of the best cribs for short moms that converts.
It comes with a handy conversion kit, that you can put into a toddler bed daybed set. The toddler bed daybed set is pretty awesome because it lets a child use the bed daybed and full options. Having the daybed and full size option means that not only is it a baby crib with an adjustable mattress, but also can turn into something bigger for the child with just a few additives. It is one of the best baby and toddler options, and is one of the best cribs for short moms since it offers a simple and adjustable option.
The Delta Children convertible cribs also have a toddler rail along with the adjustable mattress height option, so it's the best baby crib for short moms that actually protects the baby.
The Delta Children are on amazon, and you can check the prices on these. But they're generally priced pretty reasonably, and there's a reason why they're considered one of the best options in terms of baby cribs for short moms.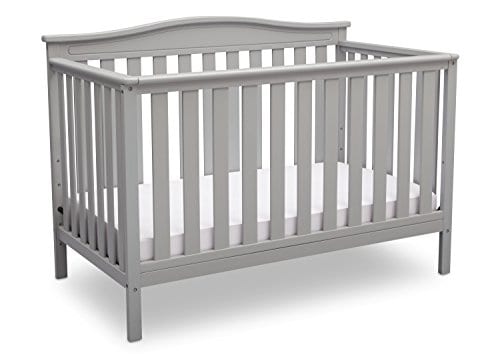 Baby Crib Final Thoughts
If you have the money and the space to get a regular baby crib with a lower side go ahead and get it. You may need to get one eventually if your baby out grows a mini crib. If you are short on cash and need something sustainable yet cheaper, the mini baby crib is a wonderful alterative. I prefer the mini cribs over the regular baby cribs. I believe it is the best baby crib for short moms. Getting one with an adjustable mattress height is ideal, and if it fits your budget, consider a convertible. But, check price on amazon on other sites to figure out if there is anything that is a good price, and something that fits within your budget. There are many baby cribs for short moms ideas out there, and the best place to find it is to do your research and look.
Disclaimer: FamilyHype.com (Family Hype & FamilyHype) is a participant in the Amazon Services LLC Associates Program, an affiliate advertising program designed to provide a means for sites to earn advertising fees by advertising and linking to Amazon.com.
Last Updated on May 9, 2022 by Marie Miguel
DISCLAIMER
(IMPORTANT)
: This information (including all text, images, audio, or other formats on FamilyHype.com) is not intended to be a substitute for informed professional advice, diagnosis, endorsement or treatment. You should not take any action or avoid taking action without consulting a qualified professional. Always seek the advice of your physician or other qualified health provider with any questions about medical conditions. Do not disregard professional medical advice or delay seeking advice or treatment because of something you have read here a FamilyHype.com.