Is Your Baby Ready For A High Chair?
High chairs are essential in teaching your child some independence. Infants frequently use these baby chairs at 4 to 6 months old since they can sit on their own and eat their food. However, choosing the best high chair isn't easy at all. The whole process is tedious. You have to be sure that the chair you are purchasing will fit the needs of your baby. So, before buying one, ask yourselves these crucial questions: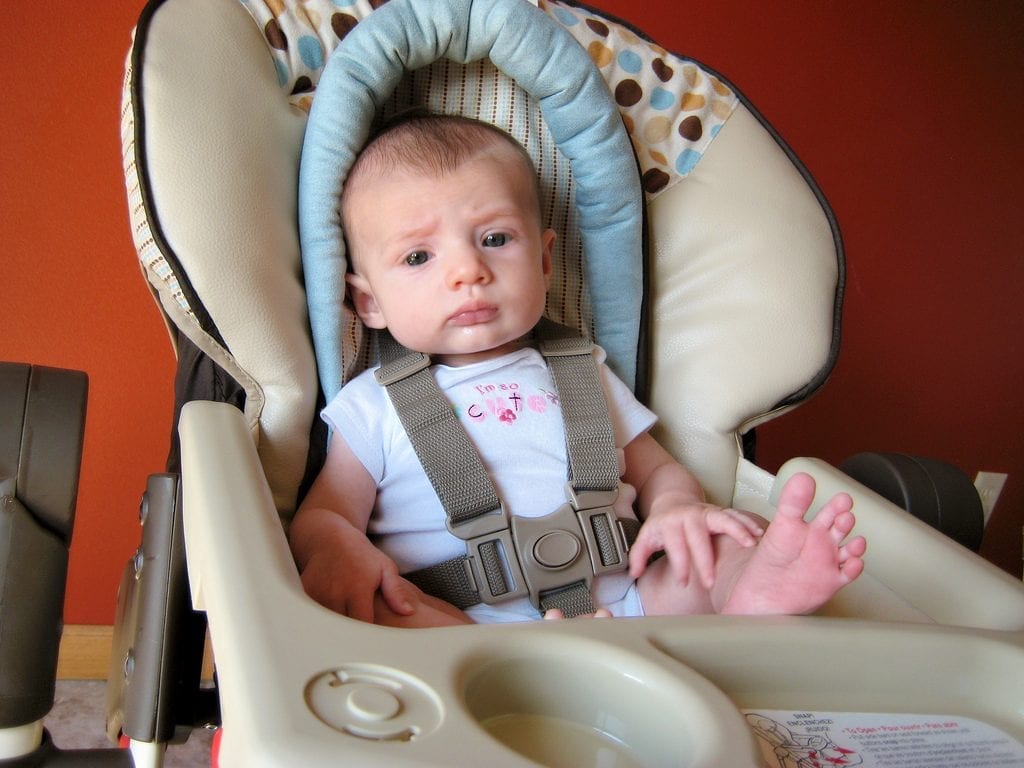 Is It Easy to Use And Accessible?
The most important question should be whether you can quickly put your baby in and out of the high chair. There may be times when you're going high chair shopping, and your baby isn't with you to test the high chair. That's why it's a big help to ask your friends or relatives who have babies as to whether they have a specific brand of high chair so you can get their feedback. From there, you can dissect which high chair brand and model would be suitable for your baby.
The straps shouldn't be too complicated to handle. It must also be easy to buckle and unbuckle. This is important to avoid accidents. The moment the baby learns how to stand or sit upright, he might try it on the high chair and hurt himself while doing it.
Is It JPMA Certified?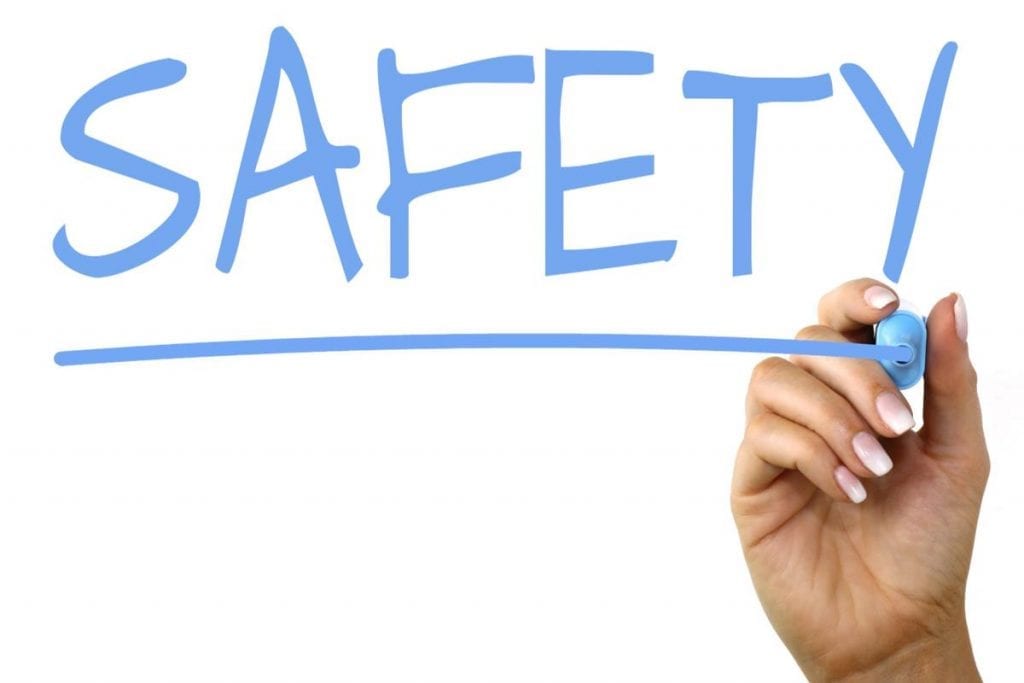 JPMA stands for Juvenile Products Manufacturers Association. This organization tests high chairs and approves it for safety on babies. If it's accepted by JPMA and has the seal, it's safe and secure to use.
Is It Comfortable?
If you're going to put your baby on a high chair, he must be comfortable in it. A distressing high chair will only lead to a fussy baby, so take note of the small details like the padding and footrest.
Is It Easy To Clean?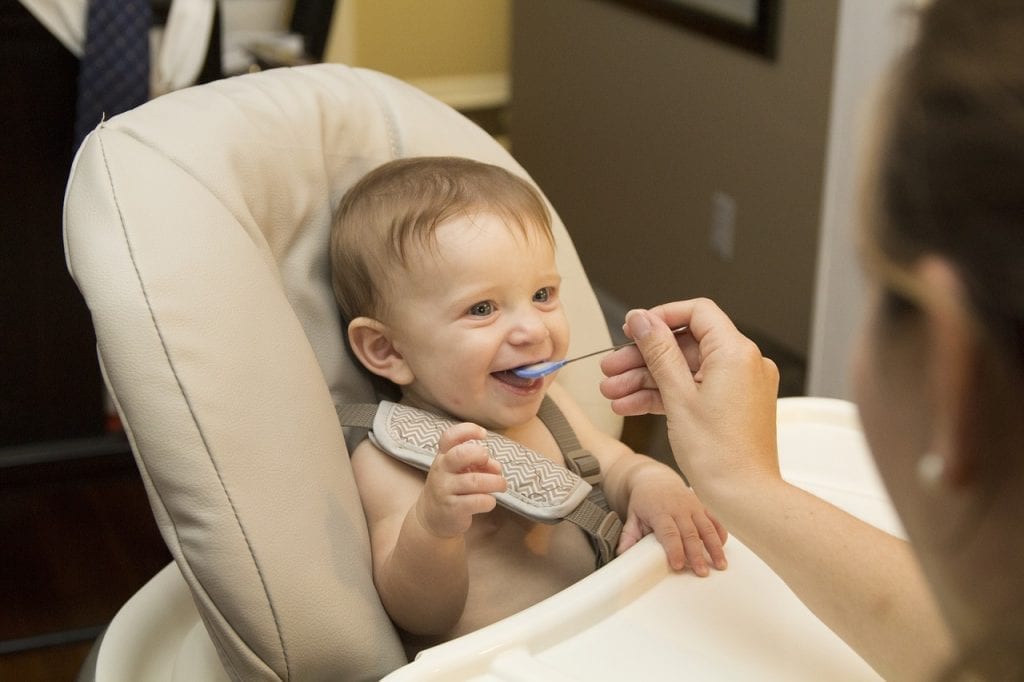 Babies are a chore to feed. It can be a messy situation most of the time. With that, your high chair should be easy to clean. Choose a high chair with a vinyl seat, so it's comfortable to wipe and clean. Try to avoid chairs that have cushions and other sophisticated features. Sauce may stain the fabric, you know.
A modern update on high chairs is the two trays on it or what they call the "tray-within-a-tray." You can pop out another dish for the baby while you clean the previously used one.
Does It Have The Features You Need?
Do you have to move the high chair around the house? If so, then consider getting one with wheels for easy mobility and lock as well so that it won't shake too much when the baby is on. Some chairs can be folded so that it can be brought to other places outside of one's home.
Can You Strap Your Baby On Easily And Lock Him Tight Without Hurting Him?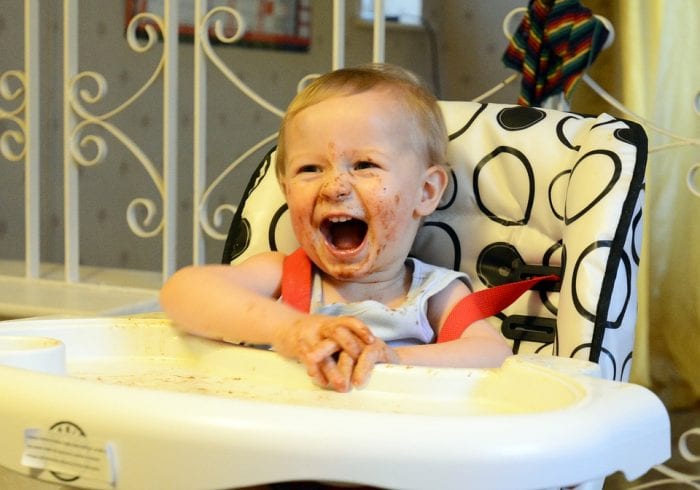 There might be a time wherein you forget to lock the strap or buckle the baby. You're rushing for something, or you just simply ignored it. Make sure not to make this mistake, though, because it can gravely hurt your baby. It doesn't matter how long you leave your child unstrapped. A second is all it takes for an accident to happen. Always make sure that your kid is strapped on and find a high chair that secures your baby tightly without hurting him in the process.
If you've managed to read through all these questions and are still looking for the best high chair, then, here are several recommendations.
Jeep By Delta Children's Classic High Chair – JPMA Certified
There are times when babies outgrow their high chairs, but this high chair is perfect for small to big babies. It has a "six height position" and "five-point safety harness" as well. The tray of the chair is also dishwasher safe. Cleaning the seat cover is convenient, too, as it can be washed by hand. It can even fold up, and kids up to 35 inches tall can fit in this chair. It costs $125 for Amazon.com
Delta Children Perfect Fit Multi-Use High Chair
Other chairs can be used for multiple options. This high chair is one of those multi-use ones. You can use it not only as a high chair but also as a floor seat, toddler seat, and a booster as well. The chair also has a snack tray and can be easily cleaned because it's molded plastic. It can also be machine washed. You can get this for $55 in Amazon.com, which is cheaper than other high chairs.
Graco Blossom 6-in-1 Convertible High Chair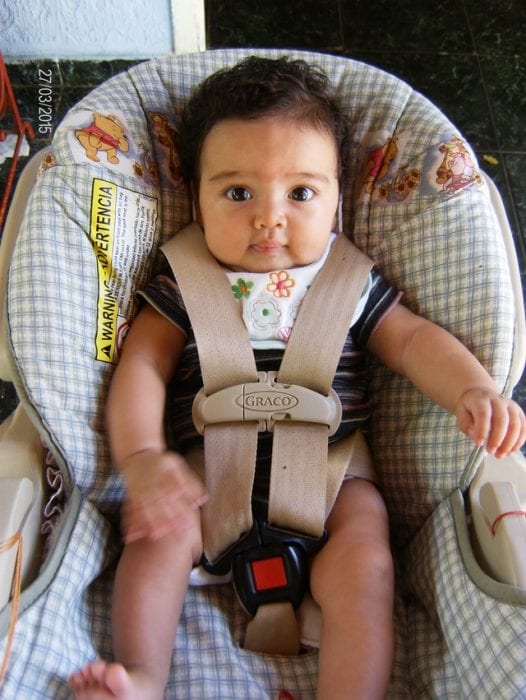 It can be a hassle to find chairs that would still fit your kid as they grow bigger. However, with the Graco Blossom, that won't be a problem. It can be an infant seat, which can also be a booster seat or a dining chair in the future. The chair can follow with your child's growth from infant to big kid. The tray is also easy to clean as it can be put in the dishwasher and is detachable too. Since it has the 6-height adjustments and allows three kinds of reclining, your baby will be comfortable in this chair. The chair is available for $165 on Amazon.com.
4Moms High Chair
The difference between 4Moms and other brands is that 4moms did their research and asked their consumers what they want in a high chair. The result is creating a design with magnets that will lock the tray latch and the top. This feature makes it easier to remove and add the tray even with one hand. This is handy for when you're busy with the baby while fixing the chair – yes, they understand how moms multi-task. Anyway, the magnets also allow the plates and bowls to stay put and not move around. This costs $300 for Amazon.com.
Regalo Easy Diner Hook-On High Chair
If you live in a small home but still need a high chair, then this one is perfect for you. This high chair can carry babies up to 37 pounds. Since it is a clip-on, it is easy to clean, and you can take it with you anywhere. The chair is also safe for the baby with its steel construction and 5-point safety belt, as well as its table that can be locked twice. It only costs $30 for Amazon.com.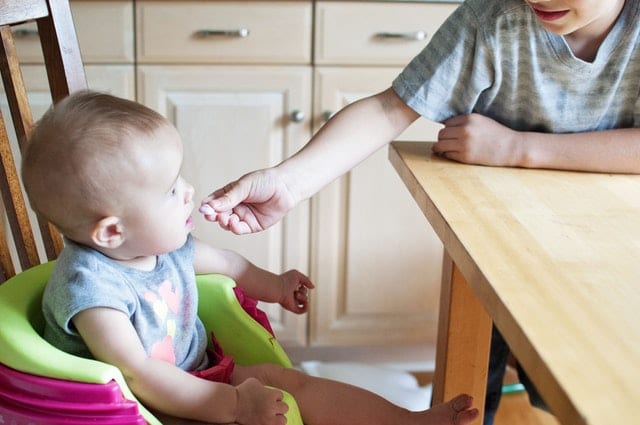 Whatever you decide on, remember to ask yourself the questions mentioned above.
FAQs
Below is the list of the new top-rated high chairs in the market. These high chairs are highly recommended to buy this year:
The Peg Perego Siesta
Abiie Beyond Wooden High Chair & Tray
Graco Blossom 4-in-1 High Chair
Joovy Nook High Chair
Evenflo Convertible High Chair
The Peg Perego Siesta High Chair won the number 1 spot in 2019 as the best high chair overall. This high chair is expensive, but it's stylish and has the latest features. Plus, it guarantees to be comfortable, durable, and versatile.
Is Ikea high chair good?
Most Ikea products are straightforward, light, and budget-friendly. If you prefer a much compact and lightweight high chair, IKEA Antilop will suit your preference. Tho it is not the type of high chair that your child can continue using as he or she gets older, it is still functional and not bad for a price of $20.
Do high chairs expire?
High chairs are unlike the car seats that have an expiration. As long as your child still fits and functional, there should be no issue. However, it also depends on the materials. Those that are made of plastic and metal might not be as durable as the high wooden chairs.
Some parents continue to use high even after their child is over one year old. While others start to shift to a booster seat upon reaching their first year, just remember that if you decide to transition your child to a booster seat, he or she must be able to sit consistently.
Last Updated on March 18, 2020 by Jean Annerie Hernandez
DISCLAIMER
(IMPORTANT)
: This information (including all text, images, audio, or other formats on FamilyHype.com) is not intended to be a substitute for informed professional advice, diagnosis, endorsement or treatment. You should not take any action or avoid taking action without consulting a qualified professional. Always seek the advice of your physician or other qualified health provider with any questions about medical conditions. Do not disregard professional medical advice or delay seeking advice or treatment because of something you have read here a FamilyHype.com.