If your kid is into extreme sports, and they're old enough to handle a bike and know the consequences, buying them a bicycle motocross (BMX) bike can be a good move. BMX is a competitive sport involving freestyling, dirt jumping, and all sorts of tricks. These are rugged, sturdy racing bikes that your kid will love. In addition to being a regular bike that your kid can use to travel, kids BMX racing bikes, and BMX bikes in general, excel in the dirt. 
Let's dive into the world of kids BMX racing bikes, shall we?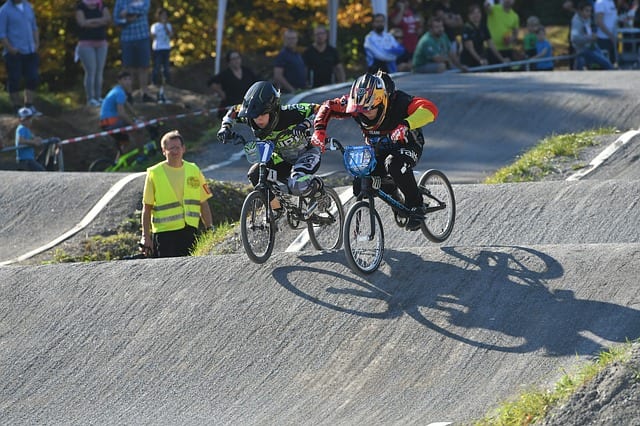 There are many options when it comes to BMX bikes. However, if you are looking to get more access to many brands and good deals of kids bikes, you can consider buying online. To give you an idea, we made a list of the highly-rated kids BMX racing bikes from Amazon, and we included a brief description for each bike. You can also continue reading to see our top picks and learn more FAQs on kids bikes.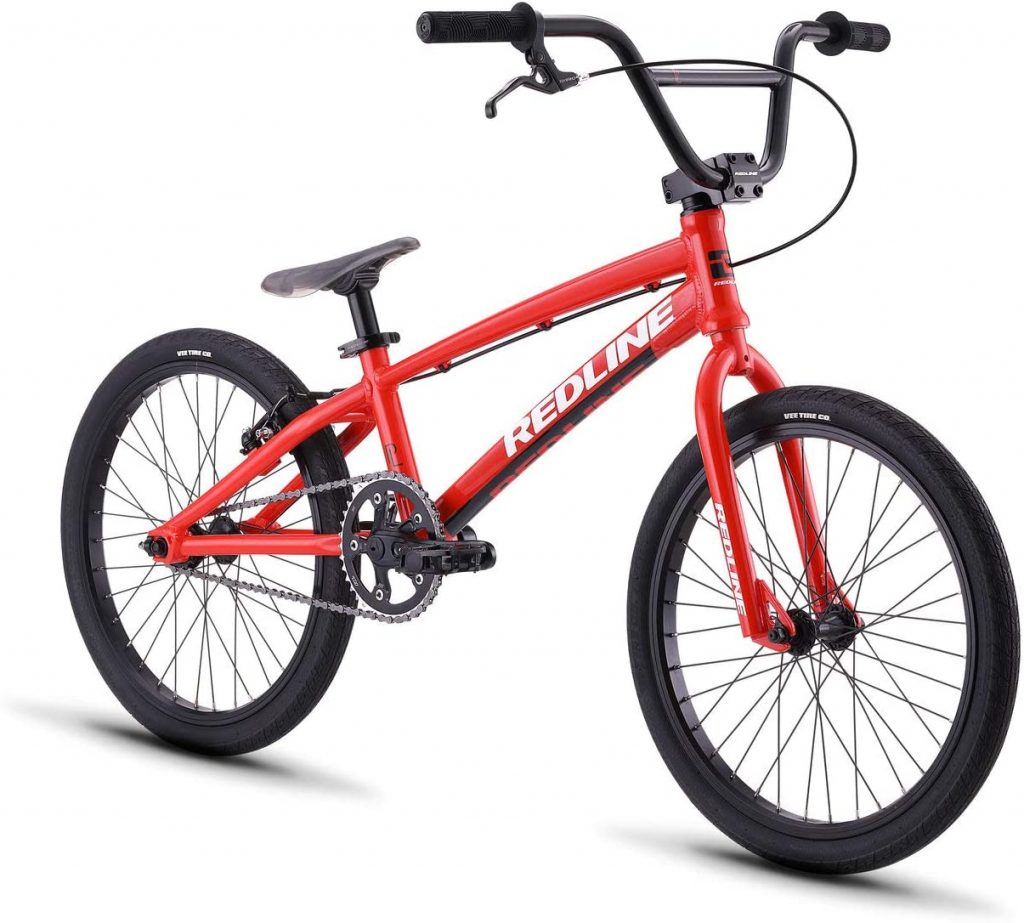 The Proline BMX Race Bike is made with aluminum allow and it comes with Vee Speedster 16 x 2.0 inch tires.
This BMX Bike has an amazing paint job with Ferrari quality. It is truly an art piece and a real eye candy on the road.
This Redline BMX bike also include pedals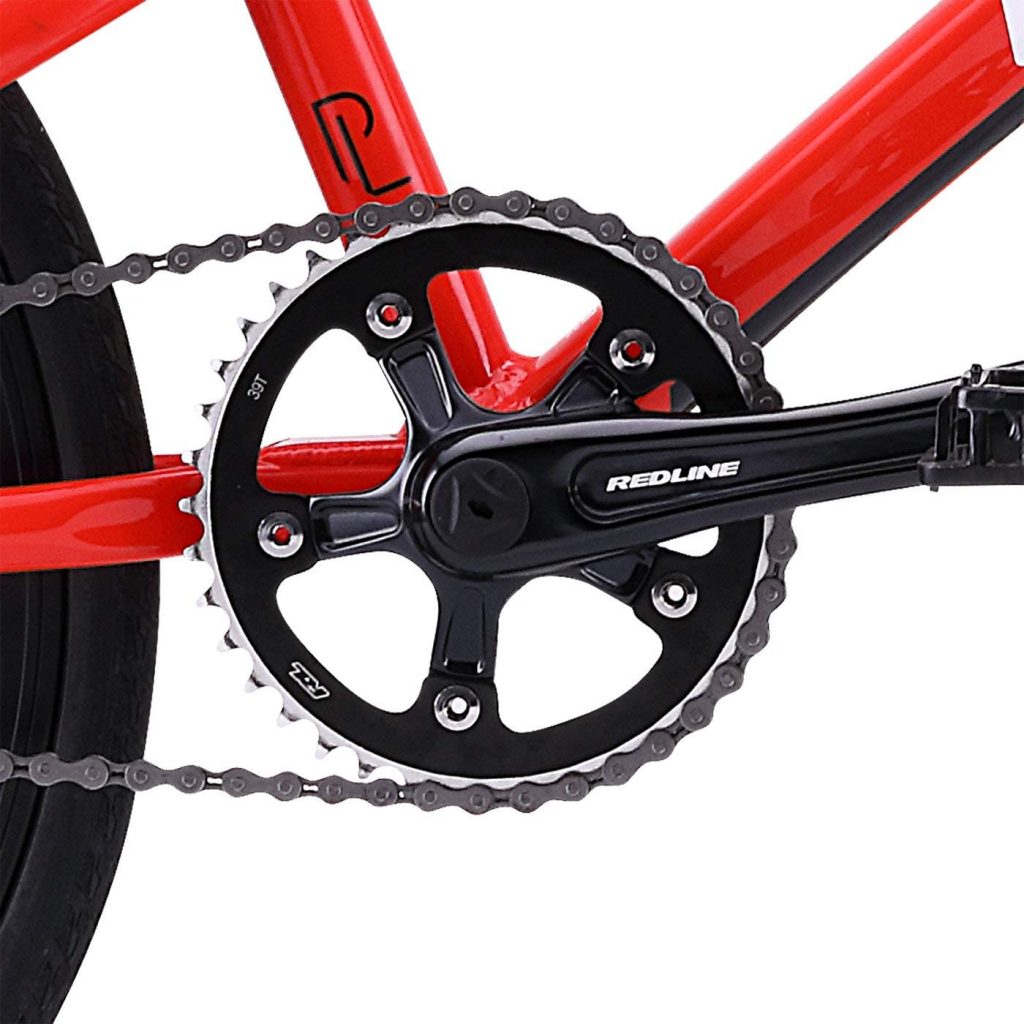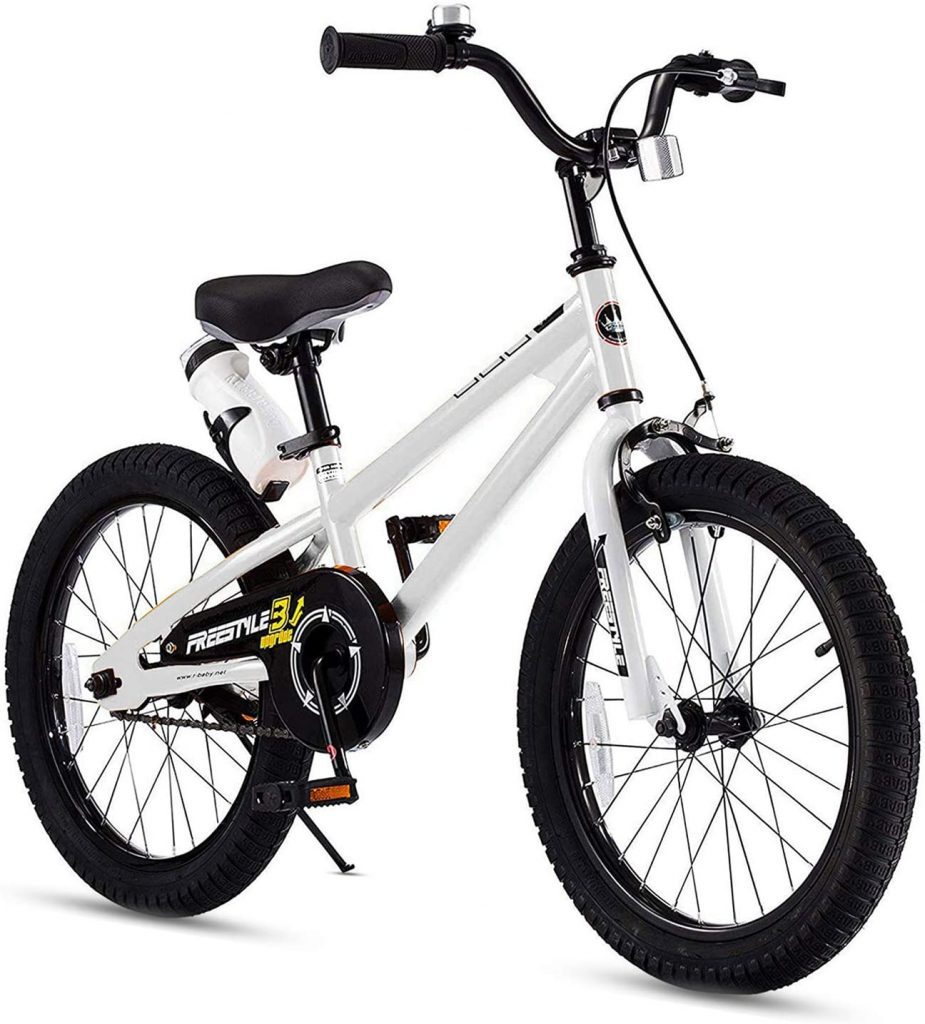 The bike from Royal baby is available in 12, 14,16 inch sizes and it also comes with training wheels and kickstand.
These bikes are easy to assemble and come with safe grips and reliable hand break and rear coaster break for double protection.
These kids bikes have Wide 2.4″ pneumatic tires for added stability on the road.
The RoyalBaby Kids Bike also features an ergonomic seat and includes water bottler.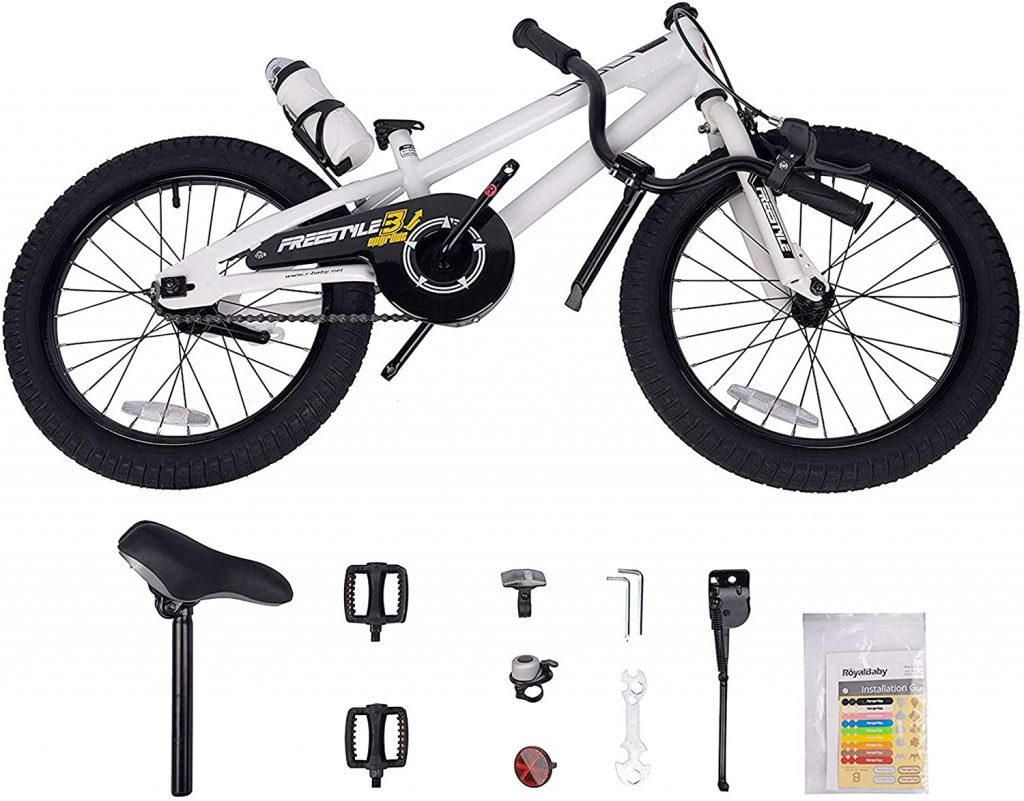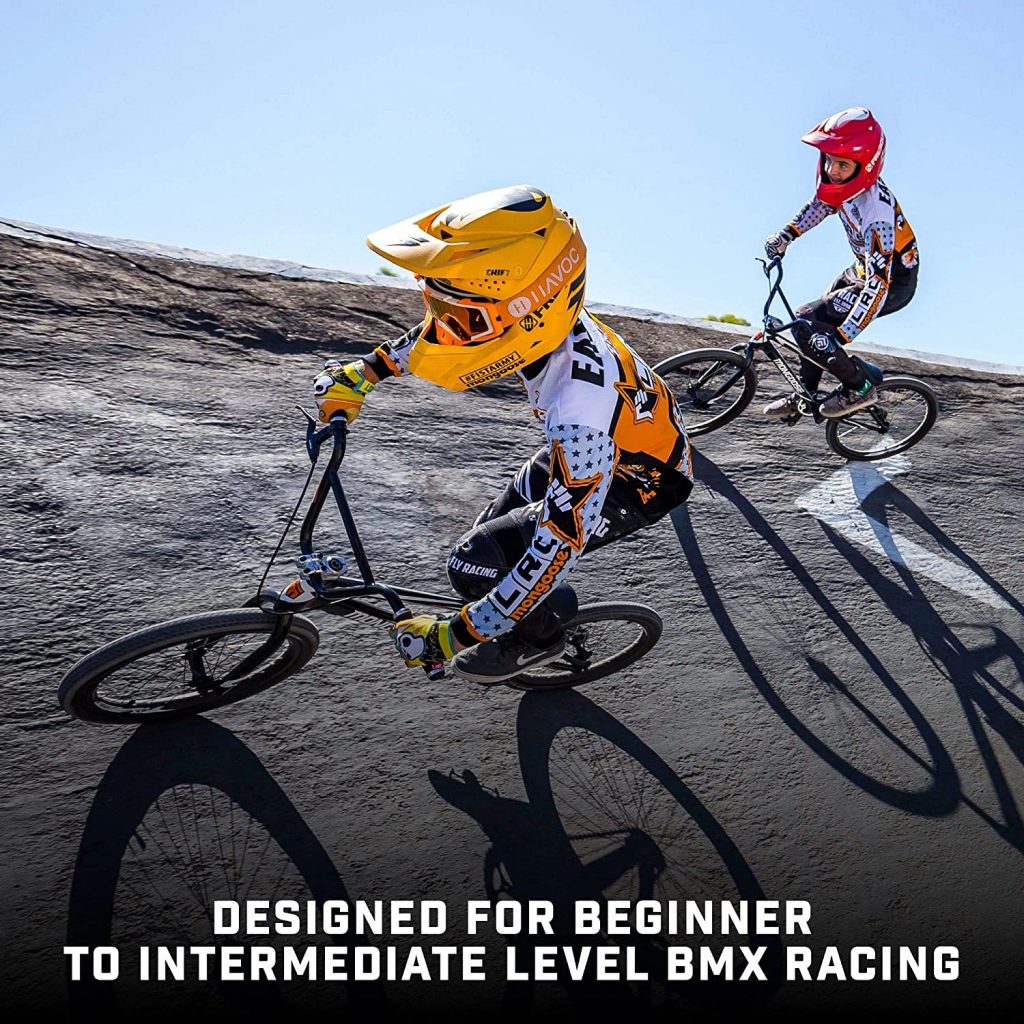 You have 4 options to choose from when buying the Race bike from Mongoose. Whether you are a beginner or a pro, there will be a bike from the Title BMX line that will fit your skill level.
The free ride bike is made of lightweight Tectonic T1 aluminum frame and 20″ Arisen XLR8 wheel set.
Mongoose race BMX bikes also feature alloy v-brake and brake levers and hi-ten steel 8 inches rise handlebar
Alloy V-brake and brake levers in the Mongoose kids bmx racing bikes offer quality speed control, while the Hi-Ten steel handlebar and fork are joined by a 50mm stem and sealed bearing headset to combine for excellent steering performance.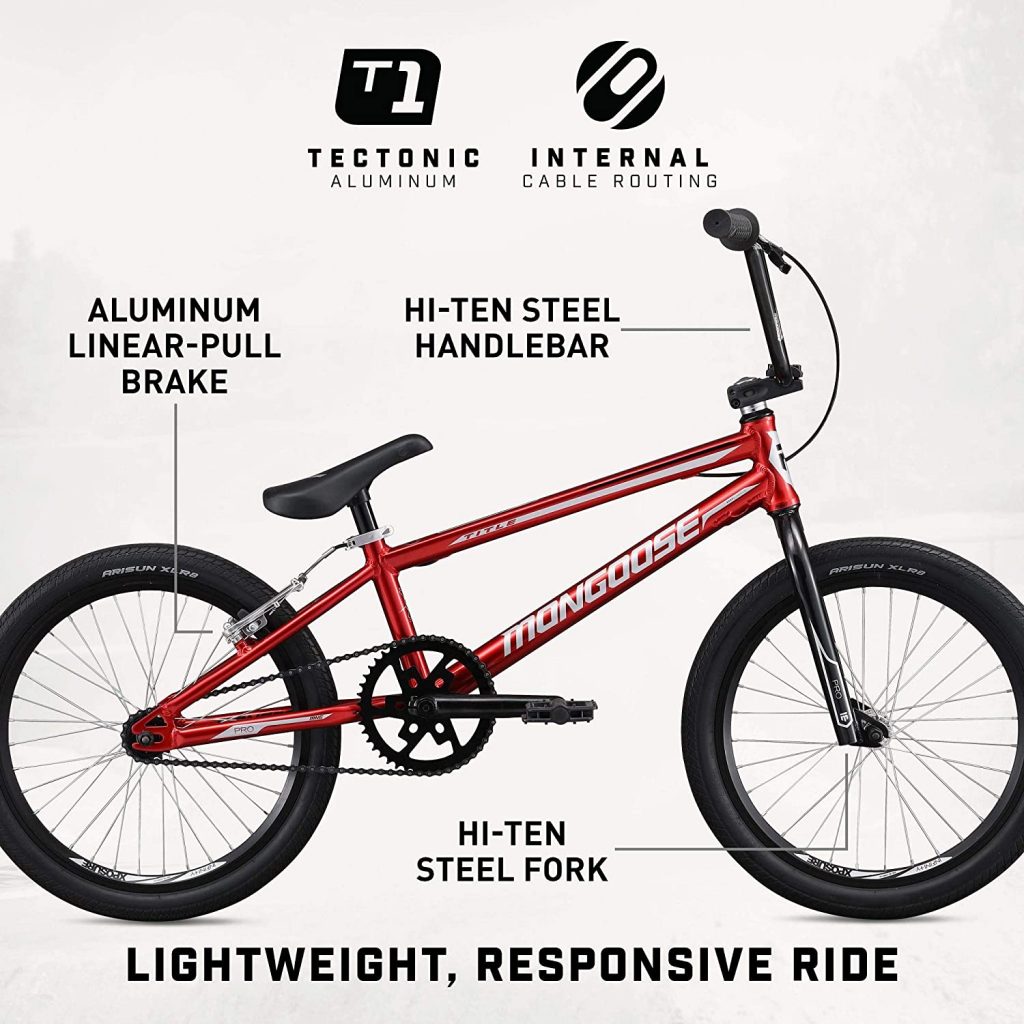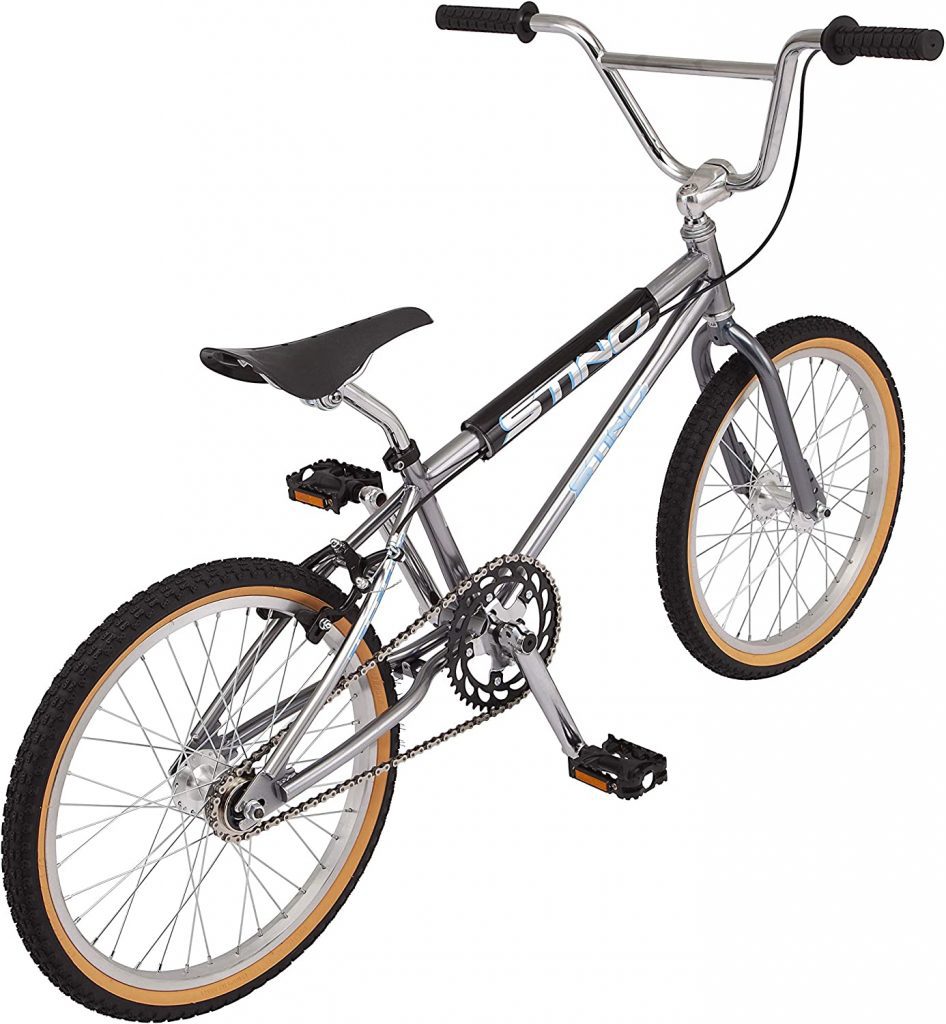 Schwinn is a popular bike brand that produces high quality race BMX bikes for both kids and adults. This kids bikes new Sting Pro is ideal for riders 4'5 to 5'4 in height.
These bikes have a classic design with a comfortable seat and unique vintage decals, paint and parts.
The Schwinn Kids BMX Racing Bikes feature 20-Inch Wheels and caliper brake style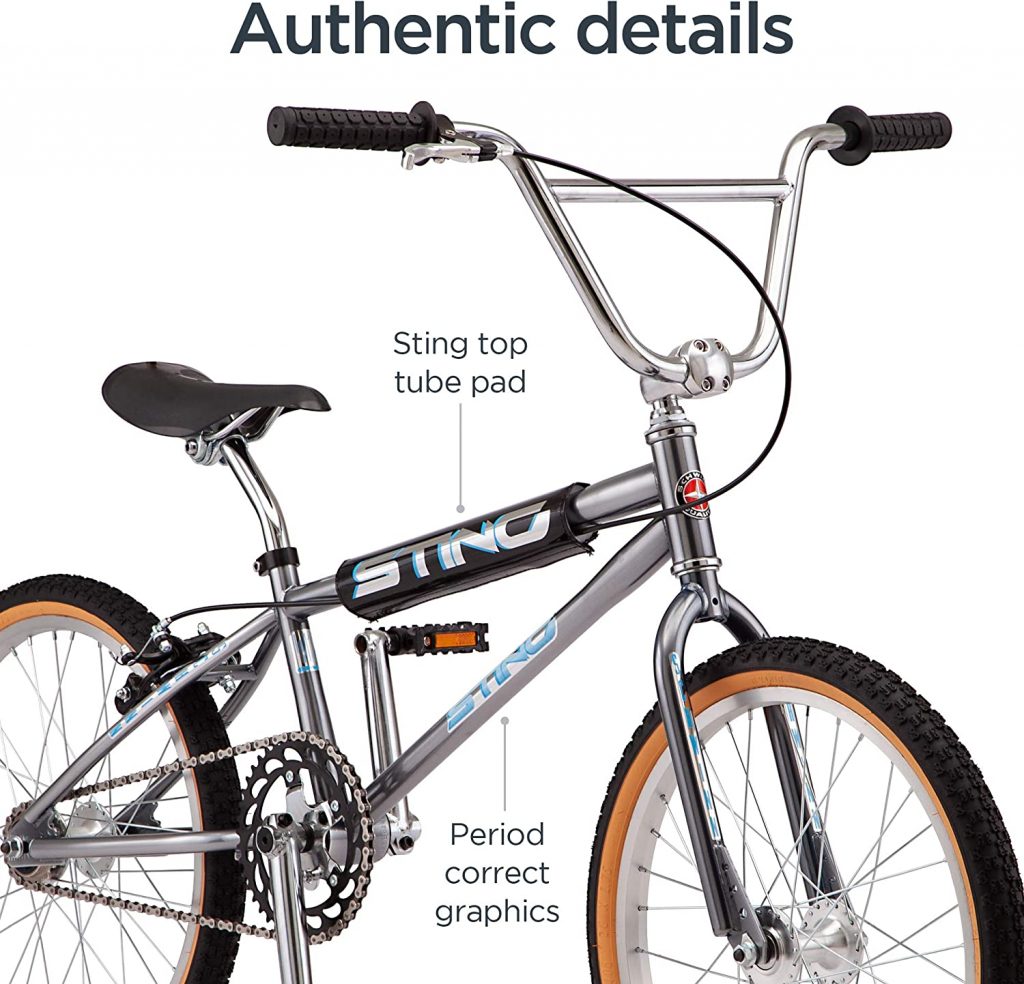 What To Look For In Kids BMX Racing Bikes
BMX Racing Bikes Sturdiness
You want a bike that's built to handle the scrapes your kid will put on it. Most bikes that say they are BMX are built to last, but as always, there are a few bikes that aren't as well designed, leading to one disappointed kid. 
Kids BMX Racing Bikes Powerful Brakes
Being that BMX involves some extreme stunts, you need some excellent brakes in case if something goes awry. These bikes typically have some excellent brakes, but always try out the brakes before you buy them. Some bikes will have brakes that are in both the front and the back, allowing your kid to stop should something happens.
The bike should be able to fit the kid with ease, and when they sit on it, it should be able to be adjusted for growth. Always make sure the bike is of the right size, and that will take you far. Let your kid try before you buy if you can.
You want a bike that is lightweight but strong. Too heavy, and you can't do anything with it. Let your kid ride the bike and see if it's right for them. A good bike will be the perfect balance between weight and strength. 
Some bikes will require assembly. If they do, you want to make sure that construction is a breeze. You don't want to leave room for any error when it comes to having a safe bike for your children. Some bikes require professional assembly, so consider that when you're making the purchase.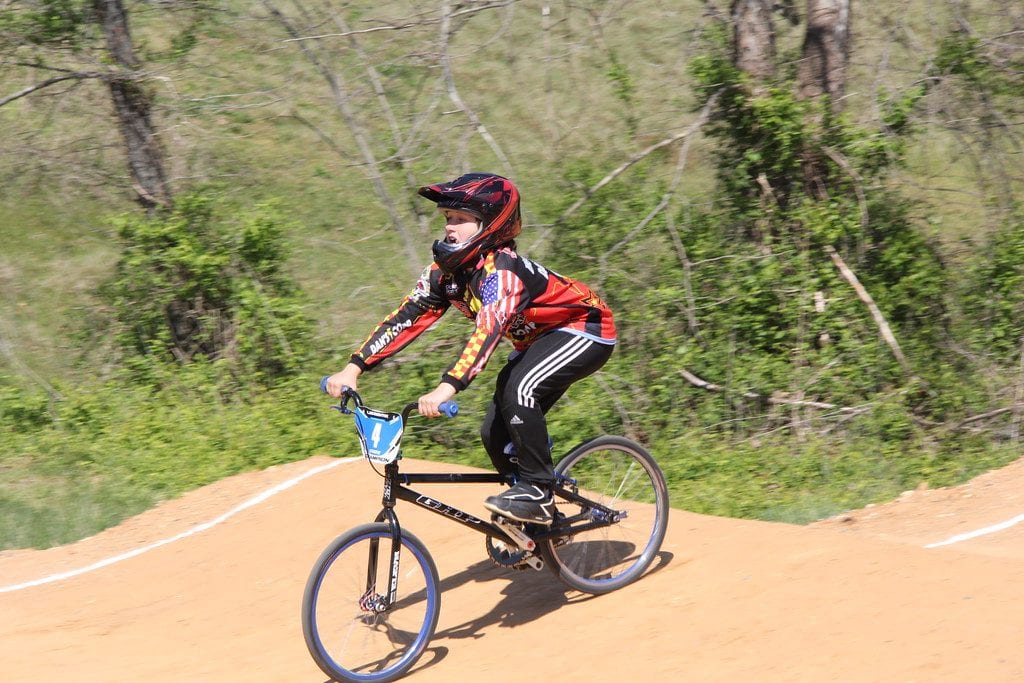 Kids BMX Bikes Color Scheme
Your kid will probably want a bike that is colorful and has a style that matches theirs. Many bikes come in different colors and designs, allowing your kid to get the model that best suits them. Some even have designs that are friendly for girls, allowing them to join in the fun.
BMX Kids Bike Skill Level
Some bikes are more for beginners, some are for intermediate riders, and some are for advanced riders. If your kid is just getting into BMX, a beginner or mid bike may be the best option for them. Do your research and see which bike is the best for them.
Rice BMX Bikes Other Accessories 
Finally, consider the other accessories like a helmet, pads, and other safety accessories to keep your kid as safe as possible. BMX is a sport where your kid is going to get some scrapes and bruises, but you don't want any severe injuries to happen to them. 
20″ MONGOOSE MODE 270 BOYS' FREESTYLE BIKE BLACK
This bike is good to ride, and with four different pegs for freestyling, your kid will perform the best stunts possible. It's a bike that's durable for long-term use and has handlebars that can go in all sorts of directions, and are made from some robust steel. 
The only downsides of these bikes are that the brakes aren't the best, but they do their job, and that there is some assembly required.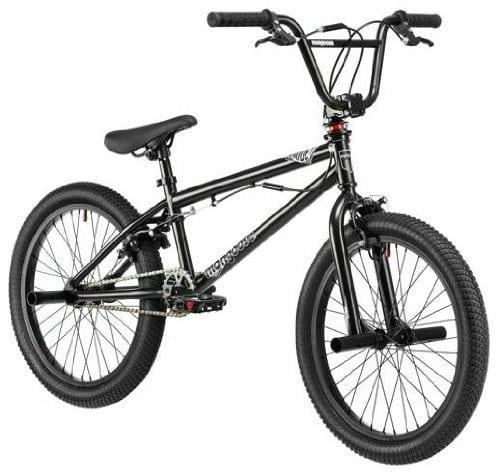 DIAMONDBACK BICYCLES GRIND BMX BIKE, MATTE BLACK, ONE SIZE
This is a great budget bike that does quite a bit. Diamondback bikes have powerful brake and has 48 spoke rims that help your child perform awesome tricks. It's also a sturdy bike, too. These bikes do not have pegs, but it's a fantastic bike for a kid who wants to get into BMX.
KENT PRO 20 BOY'S FREESTYLE BIKE 20-INCH
This BMX bike is popular for a good reason. It's a bike that has the pegs needed to do tricks, some nice wheels, and brakes on both the rear and the front. This BMX bike is great for safety and control. Also, it has a freestyle rotor, which is rare for kids' BMX bikes.
The only downside of these race bmx bikes is that they need to be assembled, and it's not easy. You should hire a pro to put these bikes together if you can or find a pre-made one. However, if you buy this BMX for your kid, they are in for a treat.
MONGOOSE CRAZE 20 INCH GIRL'S FREESTYLE BMX BIKE
This is a kids BMX bike that comes in a unique color scheme and has lots of fun. It's an intermediate bike that will glide past every obstacle and then stop right at the finish line. With adjustable pegs, bolts, and all that other BMX goodness, they are excellent freestyle ride bikes your child will love. 
X-GAMES FS20 FREESTYLE BICYCLE
This is a kids BMX bike that's cheap, and it lets the girls have some fun by offering different bikes for either boys and girls. These BMX bikes have a comfortable X-Games saddle, and have brakes in the front and rear for extra safety. It's a Kids BMX bike that has some good strength to it, allowing your kid to do all the skate park tricks with ease.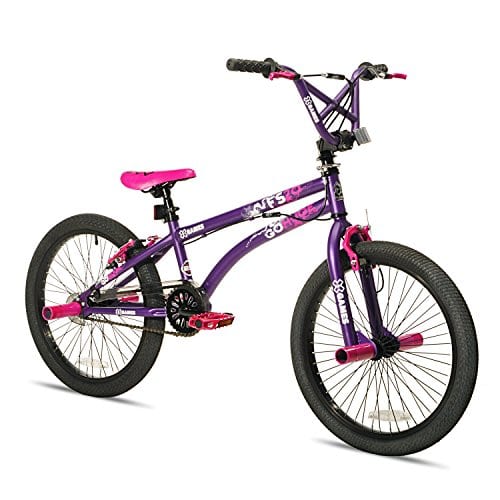 POWERLITE BRAWLER 20-INCH FREESTYLE BICYCLE, NEON GREEN
This is a great lightweight bike that comes in a beautiful neon color to it. With different freestyle pegs to allow for some grinding, this bike is stylish, and it has two brakes in the front and back for grinding, too. Give these BMX bikes a try, and your kid is going to love every bit of it. 
FAQs On Race BMX Bikes
Conclusion On Race BMX Bikes
BMX is a fun bikes sport, but make sure the bike your kid is riding is adequate, and they are following all the safety precautions. It's a sport that's meant for older kids, usually over 10, so make sure your kid is old enough to handle the bike and the road. 
Kids BMX Racing Bikes Other Resources
Disclaimer: FamilyHype.com (Family Hype & FamilyHype) is a participant in the Amazon Services LLC Associates Program, an affiliate advertising program designed to provide a means for sites to earn advertising fees by advertising and linking to Amazon.com.
Last Updated on May 22, 2021 by Marie Miguel
DISCLAIMER
(IMPORTANT)
: This information (including all text, images, audio, or other formats on FamilyHype.com) is not intended to be a substitute for informed professional advice, diagnosis, endorsement or treatment. You should not take any action or avoid taking action without consulting a qualified professional. Always seek the advice of your physician or other qualified health provider with any questions about medical conditions. Do not disregard professional medical advice or delay seeking advice or treatment because of something you have read here a FamilyHype.com.