Choosing your baby's infant formula is quite a challenge especially that there are a number of leading infant formula brand products out there. You need to pick the best formula that delivers all the nutrition and wholesome goodness to your baby. But there are many types of formula to choose from, which is why you should know of the ins and outs of baby formula. Also, you may consider having the best baby formula for gas if your baby is having discomfort because of the buildup of gas. In this case, we'll be looking at Similac Pro Total Comfort. Is it the right formula, or does it falter? Let's find out.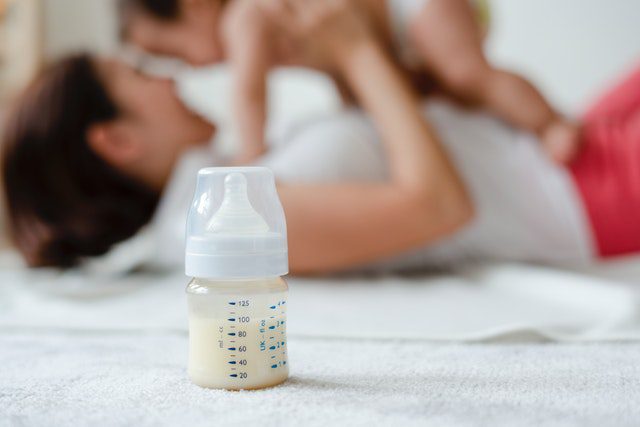 Why A Baby Formula?
While breastfeeding is the best way to feed your baby, baby formula is useful when you cannot breastfeed. Advancements in formula technology have made a significant difference so that formula is getting close to the goodness that breastmilk has to offer, and one of the popular baby formula brands that come close is Similac Total Comfort. This baby formula can support baby's brain and eye just like breast milk does, without it being a milk-based formula and with very little tummy trouble. Also, Similac formulas do not contain artificial growth hormones and palm olein oil to promote excellent calcium absorption for strong bones.
The Infant formula is available in both powders and ready to drink bottles. To give you an idea of what might work best for you, we created a list of Similac Total Comfort products, and we also highlighted their benefits to help you decide. If you continue reading, you will also discover the common FAQs about the product.
Similac Pro-Sensitive Infant Formula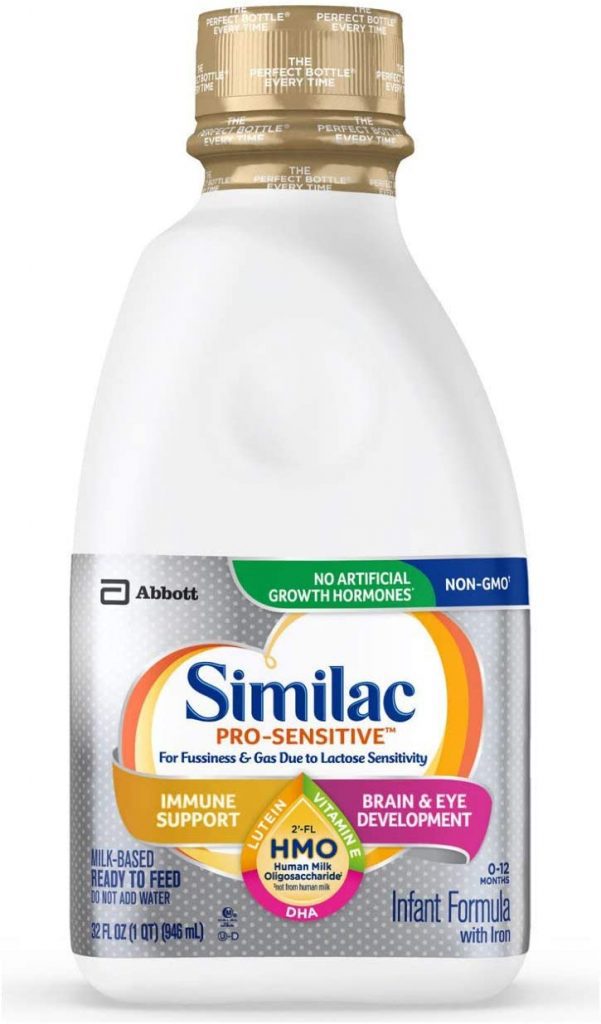 The Pro-Sensitive infant formula milk from Similac is highly recommended for babies with lactose sensitivity. It is also rich with Lutein, Vitamin E and DHA which helps brain and eye development. It also contains 2 FL HMO that aids the baby's immune system. Below are the ingredients of Similac formulas.
Water
Maltodextrin
Milk Protein Isolate
High Oleic Safflower Oil
Sugar
Soy Oil
Coconut Oil
zinc sulfate
calcium phosphate
d alpha tocopheryl acetate
magnesium chloride
ascorbic acid
potassium chloride
sodium citrate
copper sulfate
potassium hydroxide
potassium citrate
cohnii oil
potassium iodide
mixed tocopherols
alpina oil
short chain fructooligosaccharides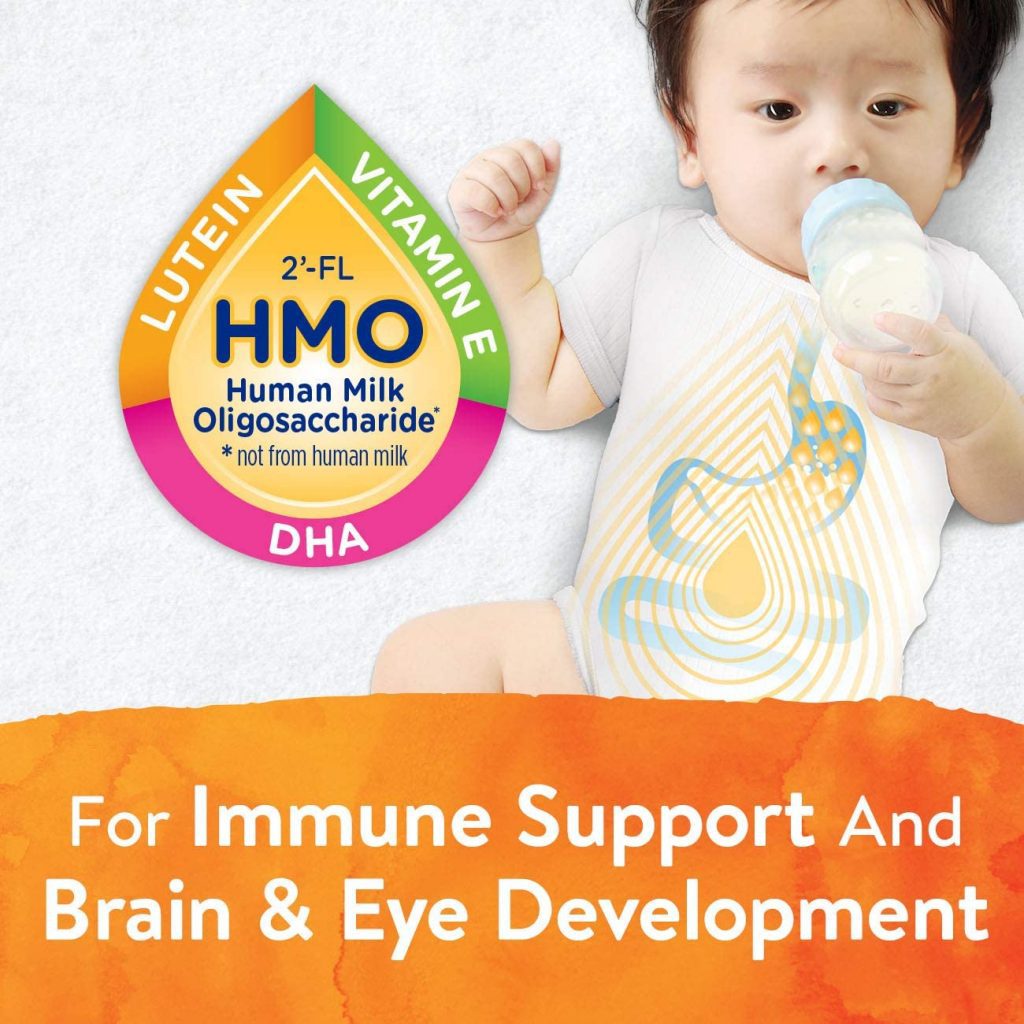 Similac Pro-Total Comfort Infant Formula Pack of 3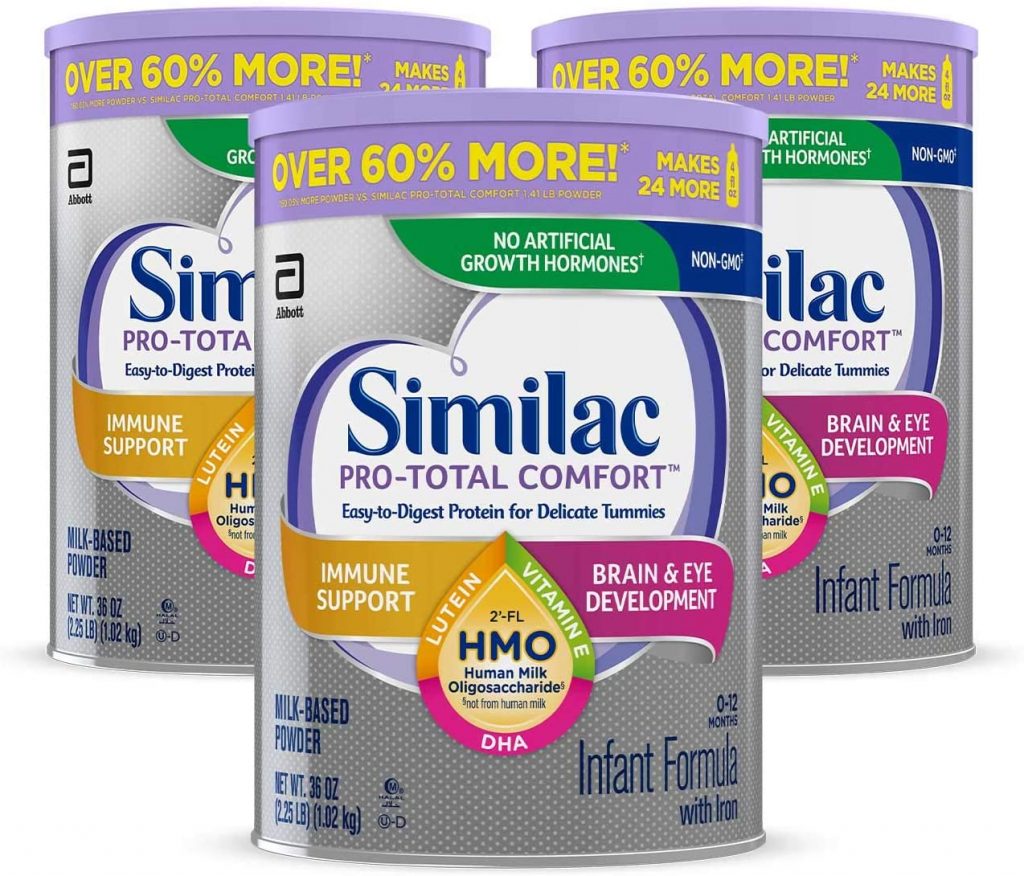 This formula has 2 FL HMO which acts as immune support as it boosts the baby's immune system similar to that of a breastfed baby. Also, 2 FL HMO helps lower the level of inflammatory cytokines to be at the same level as breastmilk. With all these, Similac Pro-Total Comfort formula is touted to be the most gentle formula out there. It also does not cause constipation to babies.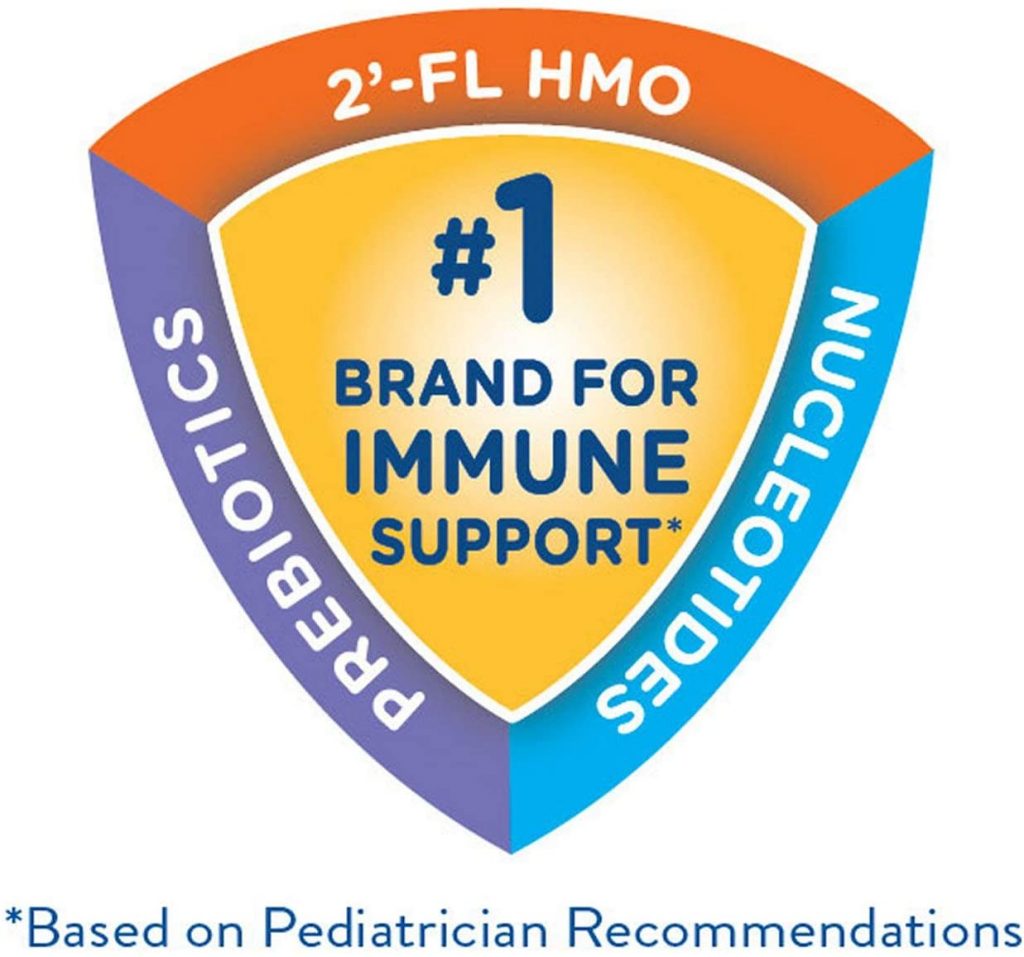 Similac Pro-Total Comfort Formula in Ready to Drink Bottles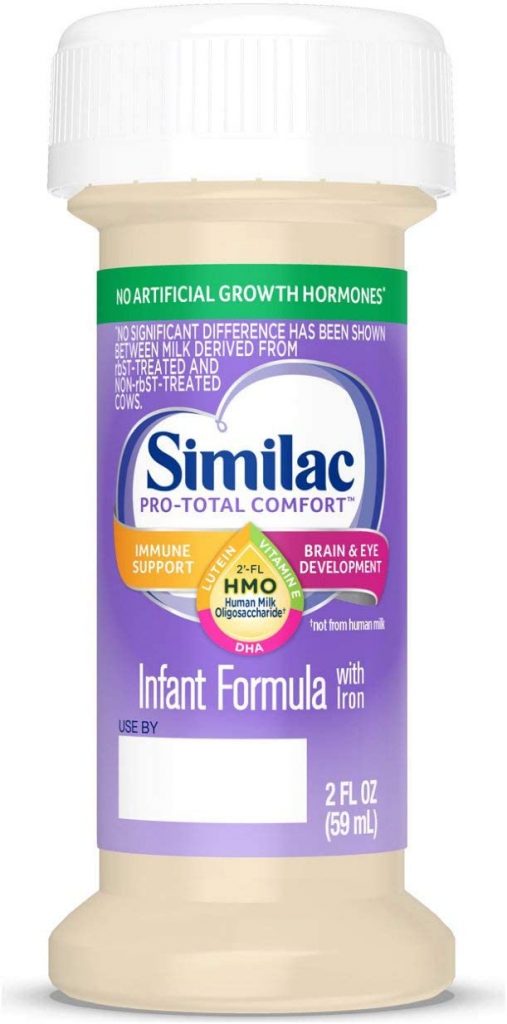 Aside from containing easy to digest ingredients that contributes to the baby's overall health, this milk formula is ready to drink and convenient to bring when on the go. It comes in bottle container perfect for when you are travelling with your little ones.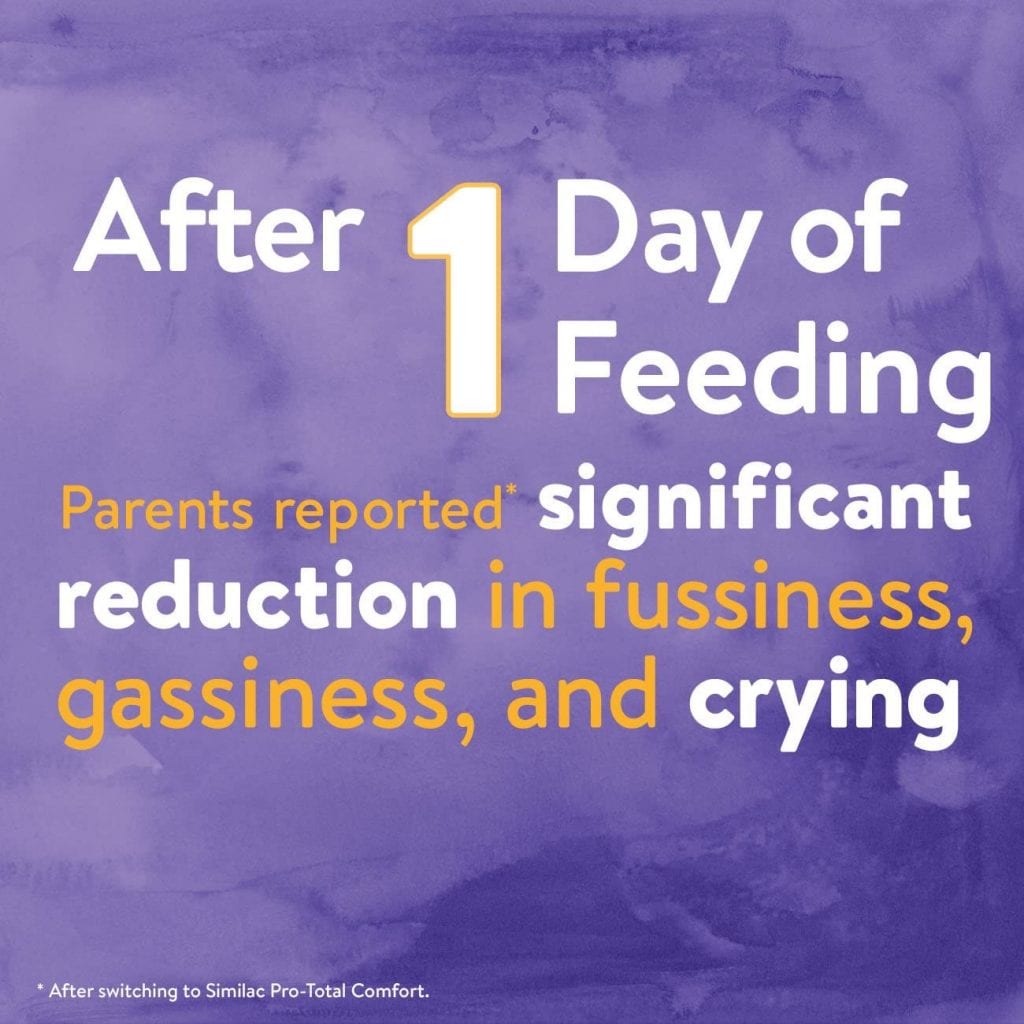 Similac Pro-Total Comfort Formula 22.5 Oz

This formula is packed with essential nutrients recommended to improve the baby's health and growth, but on top of that, this formula is given good reviews because unlike other formulas, most babies like the taste of this formula.
Similac Pro Infant Formula:
How Safe It Is For Babies?
This formula is the best baby formula for breastfed babies, covering all the stops when it comes to what's best for your baby. It has all the nutritional needs, and it's non-GMO.
While GMO formulas are safe for your baby, some of them can make your baby's tummy hurt, depending on who they are. This formula has ingredients and proteins that allow your baby to get the best experience possible and to be as gentle on the tummy as possible.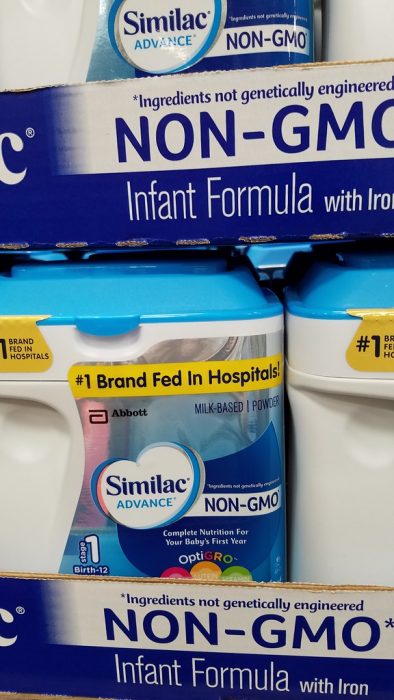 Similac Pro has an exclusive blend of nutrients. These nutrients are in breast milk, such as a blend of DHA, lutein, Vitamin E, and other essentials. It also has 2 FL HMO for better immune system. This one is needed for a growing baby, especially when it comes to the brain and eyes. Taking this gentle formula will make your baby enjoy every bit of what this formula has to offer.
In addition to having similar ingredients as breast milk, the exclusive blend that Similac Pro has consists of whey protein, calcium hydroxide, calcium citrate potassium phosphate, biotin sodium selenate vitamin acetate calcium pantothenate, acid choline chloride sodium, acid manganese sulfate phylloquinone, alpha-tocopheryl, alpha-tocopheryl acetate calcium, ascorbic acid choline chloride, ascorbyl palmitate l carnitine, folic acid, and monophosphate disodium. This list of ingredients may sound daunting, but they all serve a purpose that will help to promote healthy brain and eye development in your baby. They also aid in the development of a healthy immune system, digestive health, and infants gas prevention. All of these benefits will keep your baby happy as brain and eye development continues to occur.
What makes this Similac Pro formula awesome as well is that it's easy to digest. Some babies are fussy, making them filled with gas, but this formula is to prevent some of the pain that comes with fussy babies. It wasn't this formula's intention, but it is one of the many things this formula has going for it. Similac Pro Total Comfort reviews suggest that it is well-loved by parents.
It is because Similac has a specific nutrient blend, known as OptiGRO, designed to help babies grow into the best they possibly can be. Their vitamin and mineral blend helps stop gas and making the babies feel uncomfortable. Not to mention, there is a lot of formula here, which is always a good thing. With breast milk ingredients, such as Oligosaccharide, a prebiotic in breast milk, it's as close to the real experience as possible.
The Good Of Similac
(Learn The Benefits Of This Formula)
Many things are good with the Similac Pro Advance formula, which is considered the best formula for baby. As mentioned before, this pro advanced formula is excellent for gassy as well as constipated babies, getting everything out quite quickly. Of course, some babies may have a rough adjustment and digestive issues with any formula change, but you should see significant reduction over time.
Besides, there are plenty of right nutrients in this Similac Pro formula that you can find in breast milk. Breast milk is the best way to feed your baby, but if, for some reason, that is undoable, this formula is a good substitute.
Finally, this Similac Pro formula, often considered one of the best baby formula for constipation, doesn't have any additives, making it quite well for babies who are sensitive to it. Overall, it's a great formula to have.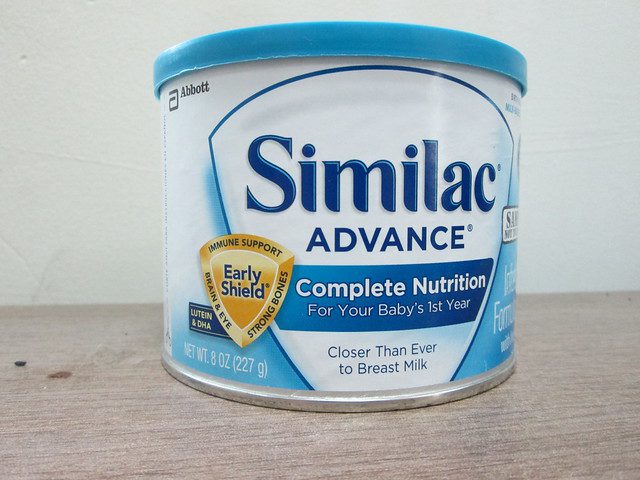 Similac Disadvantages
There are a few flaws in the Similac Pro formula. For one thing, the smell of the formula isn't that great. While formulas aren't going to smell like sunshine and rainbows, we do feel like this formula could have a better scent to it.
Also, Similac Pro is more expensive. A high quality, the non-GMO formula tends to be a little more on the pricey side, so this is a little bit natural, but if you can't afford it, it may not be suitable for long term use.
One major flaw, however, is mixing Similac Pro can be a little bit of a hassle as it creates so much foam with bubbling occurring in some cases. Always follow the mixing instructions every time to minimize bubbles.
What Are The Reviews Saying About It?
On Amazon, Similac Pro formula has an average rating value of 4 out of 5 stars making it quite nicely rated. Many parents say that their baby loved this formula, and it helped with their gassiness. Similac Pro Total Comfort's average customer ratings by parents said the formula was smooth for their baby to digest as well, preventing any problems with passing stools.
Of course, there are some complaints. The problem with reading baby formula reviews is that every baby is different. What one baby loves, the other will hate. In most negative Similac Pro Total Comfort reviews, the baby hated the formula or had some diarrhea. As usual, every baby is different. Don't let someone deter you from buying a product just because their baby didn't like it or it caused pooping multiple times for one baby. Every baby has their palate.
Speaking of Amazon, it may be best to buy this formula at a store first. On Amazon, you have to buy in bulk. While that may save you money in the long run, it's not a good idea should your baby not like this formula.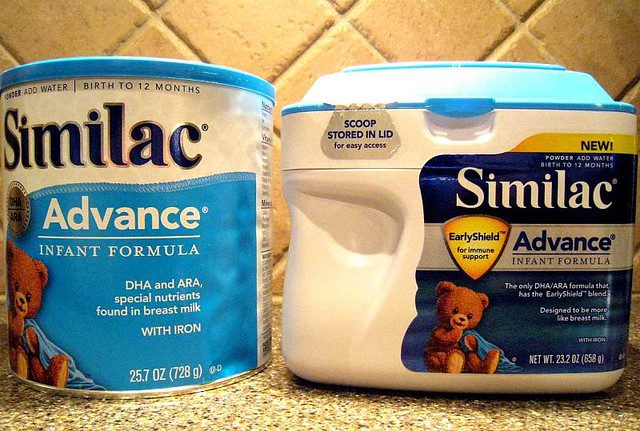 Similac Infant Powder: Is It For You?
Overall, Similac Pro Total Comfort is an excellent formula. While the smell could be better, and the cost better as well, it's a formula that has a lot of high-quality goodness to it. When you can't breastfeed, Similac Pro is an excellent substitute to have, giving you the nutrition that is in breast milk. As your baby grows, you need to provide them with the best nutrition possible so they can live a healthy life.
There are many other types of formulas, as well. Every baby is different, and if your baby doesn't like this formula for whatever reason, you can always try another formula, too. Possibly one of the many milk-based formulas. Many types of formula can get the job done, so try them all out and see if they're for you. Go shopping around, or talk to your doctor and see if there is a specific type of formula they recommend to you.
With that said, go to your nearest store and give this a try. If you like it, your baby likes it as well, and you can afford it, keep buying.
Similac Infant Formula Powder
Frequently Asked Questions
What's Similac Total Comfort Used For?
It is an alternative to cow's milk so it is not a milk-based formula. The protein in this formula called whey protein hydrolysate is a protein that has been partially hydrolyzed, or broken down, for easy digestion. It also has nourishing nutrients called OptiGRO.
Does It Help With Constipation?
Yes, it can help ease bowel movement and is recommended for babies with lactose sensitivity. It has 98% less lactose that can be digested well by babies. Lactose sensitivity is common in babies and can cause several problems like baby's gassiness and can make a baby extremely fussy. The constant gas or if you observe the same problems a week straight, then you may need to bring your baby to the doctor.
Similac Formulas Differences
Total Comfort Vs. Total Pro Comfort
The difference between the two is that the Pro Total Comfort has human milk oligosaccharide (HMO). HMO is a carbohydrate found in breast milk that boosts the immune system.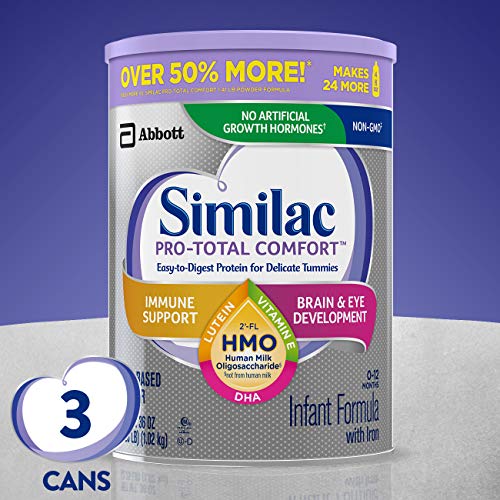 Is It Hypoallergenic?
Similac Total Comfort is not hypoallergenic, but it does contain partially hydrolyzed proteins. Similac has another product which is the Alimentum which is hypoallergenic,
Does It Help with Gas?
Due to the partially hydrolyzed protein, Similac Total Comfort helps babies who take the formula milk digest quickly. Compared to other formulas in the market, this one is broken down by babies, which prevent discomfort.
How Does Similac Sensitive Differ From Other Similac Infant Formulas?
Similac Sensitive contains whole milk-based proteins. Similac Total Comfort, on the other hand, has partially hydrolyzed protein, in addition to folic acid, DHA, lutein, and vitamin E, monophosphate disodium, citrate potassium, and whey protein.
What Age Is Total Comfort Formula For?
The baby formula known as Similac Total Comfort is intended for use with infants aged 0 to 12 months. It is a full nutrition formula that not only helps to promote the growth of your baby but also supplies them with all of the nutrients they need to grow and thrive. Since it is a gentle baby formula –  especially gentle on your baby's stomach, Similac Total Comfort is an excellent option for young children who are prone to experiencing abdominal pain or constipation. Another noteworthy alternative to consider would be Holle baby formula, which also boasts of its mild and easy-to-digest ingredients.
How Do You Prepare The Formula?
The cap and foil seal needs to be removed before you can start preparing Similac Total Comfort. To the point where the line is on the bottle, add warm or cold water depending on your baby's preference. Put the cap back on and give it a good shake. Throw away any of the portions that was not utilized. Since Similac Total Comfort is a ready-to-use formula that has already been prepared, no extra water or preparation is required before using it. Simply open, and begin to serve. Preparation will only take a few minutes for sure.
What Kind Of Similac Is Good For My baby's Upset Stomach?
There is a wide variety of Similac infant formula available that, when used as directed, may help settle an upset stomach and show mild tolerance symptoms later on. After all, Similac is one of the best hypoallergenic baby formula brands, so many of its products can improve your baby's experience. The most often used formulation for digestive issues is called Similac Sensitive. It has been developed to alleviate symptoms like fussiness, flatulence, regular spit ups, and crying during the first twenty-four hours. If your kid is still suffering pain, you may want to consider giving them Similac Alimentum, a hypoallergenic formula designed specifically for babies who have severe reactions to certain foods. Please seek the advice of your child's physician if you are unsure which infant formula is best for your child. There is another range of organic formulas available from Similac, called Similac Organic, which includes both Similac Organic and Similac Organic with DHA & ARA. These formulations are manufactured using components that have been granted organic certification and have not been genetically engineered.
Is Total Comfort Being Recalled?
As of the middle of July 2017, there has been no recall for Similac Total Comfort. However, parents should always check with the product's manufacturer for the most up-to-date information on recalls. The manufacturer is the best source of this information.
Is It Good For Reflux?
The answer to this issue is not easily replied to since the optimal formula for a newborn who suffers from acid reflux may differ from one kid to the next. This is because the requirements of each child are unique. On the other hand, several parents of infants who suffer from reflux have discovered that Similac Total Comfort is an excellent treatment choice for their children. Both the formula's ability to be readily digested and the inclusion of immune nourishing prebiotic, which assists support healthy gut flora, may be good for infants who suffer from reflux. In addition, Similac Total Comfort includes ARA and DHA, which are two nutrients that are essential for the development of both the brain and the eyes. If you are thinking of giving this formula to your infant who has reflux, you should first consult with your kid's physician to see whether or not it is appropriate for your child.
Is Similac's Total Comfort The Same as Enfamil Gentlease?
There is a difference between Similac Total Comfort and Enfamil Gentlease. There are two distinct formulations, each of which provides your infant with a unique set of advantages. While Enfamil Gentlease is a formula that is especially meant to alleviate gas and fussiness, Similac Total Comfort has been created to offer your baby adequate nourishment.
Does Total Comfort Have Cow's Milk?
The hypoallergenic formula of Similac Total Comfort does not include milk derived from cow's milk. It is formulated specifically for newborns who are unable to tolerate cow's milk or who are at increased risk of developing a cow's milk allergy. The formula mix for Similac Total Comfort, along with the best baby cereal to mix with formula, utilizes a one-of-a-kind mixture of components that are both simple to digest and very unlikely to provoke an allergic response in the consumer.
Does It Promote Strong Bones?
Yes, using Similac Total Comfort regularly may help you maintain healthy bones. Choline, docosahexaenoic acid (DHA), and arachidonic acid (ARA) are some of the essential elements that are included in this formulation. In addition, it contains calcium and phosphorus, which are essential for healthy bones and teeth.
Does It Support Developing Cells?
This unique formula, known as Similac Total Comfort, helps to nourish and sustain the growing cells in newborns. This recipe has been developed with the intention of delivering necessary nutrients to support and encourage healthy growth and development. The following are some of the essential components that make up Similac Total Comfort:
DHA, or docosahexaenoic acid, is an essential omega-3 fatty acid that plays a function in the development of both the brain and the eyes.
Similac Total Comfort has Lutein, a vitamin that may be present in breast milk and is known to enhance the development of good eyesight.
Vitamin E is an antioxidant that aids in the protection of cells against harm caused by free radicals.
The infant nutrition formula Similac Total Comfort is considered to be a complete nutrition formula since it offers all of the essential elements required for a baby's normal growth and development.
Is there any prebiotics in It?
The Similac Total Comfort formula does not include any prebiotics. Prebiotics are a special kind of dietary fiber that stimulate the growth of beneficial bacteria in the gastrointestinal tract. It has been demonstrated in certain studies that prebiotics may aid enhance newborn health, but there is still a need for greater investigation into this topic. There are a wide variety of other foods and supplements that you may give your kid that include prebiotics if you are interested in doing so. Before giving your kid any new food or supplement, you should first consult with their primary care physician.
Last Updated on May 14, 2023 by Jeanne Meets
DISCLAIMER
(IMPORTANT)
: This information (including all text, images, audio, or other formats on FamilyHype.com) is not intended to be a substitute for informed professional advice, diagnosis, endorsement or treatment. You should not take any action or avoid taking action without consulting a qualified professional. Always seek the advice of your physician or other qualified health provider with any questions about medical conditions. Do not disregard professional medical advice or delay seeking advice or treatment because of something you have read here a FamilyHype.com.