Bike riding is a fun solo hobby or group fitness activity. If you're looking for good cheap road bikes to help you save money, this article is perfect for you.
One of the most popular ways to ride a bike is on the road or a paved surface. There are countless options on the market that are available for you to purchase. Buying a good road bike for you depends on many different things, including your size and gender. Not all are made the same so knowing what each has to offer will help you to decide which are the right road bikes available and which one is perfect for you.
It can be daunting to choose the right bike, especially if you are looking at many options. To help you come up with the right one, we created a list of the best road bikes under $500 from Amazon, and we included detailed product descriptions for each. You can also continue reading to learn more interesting, comprehensive facts!
Best Road Bikes Under $500
Hiland comes at a reasonable price but its features won't disappoint. This bike is lightweight as it is made with aluminum, it is easy to assemble and designed especially for women.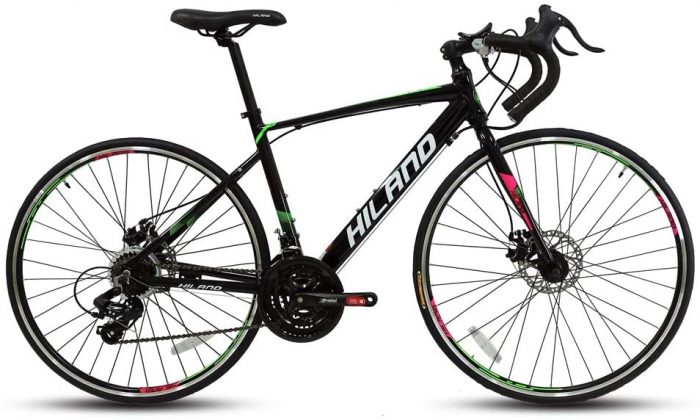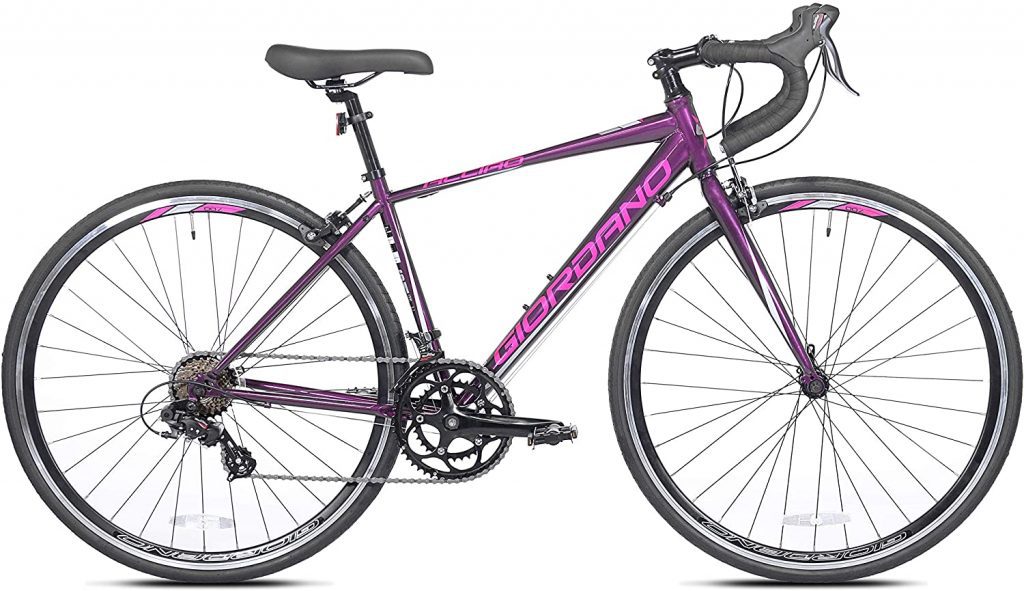 If you like biking as a source of fun or a form of exercise, it is a good idea to invest in a good bike. The Acciao 700c series will tick off all the boxes that you have for an entry-level bike.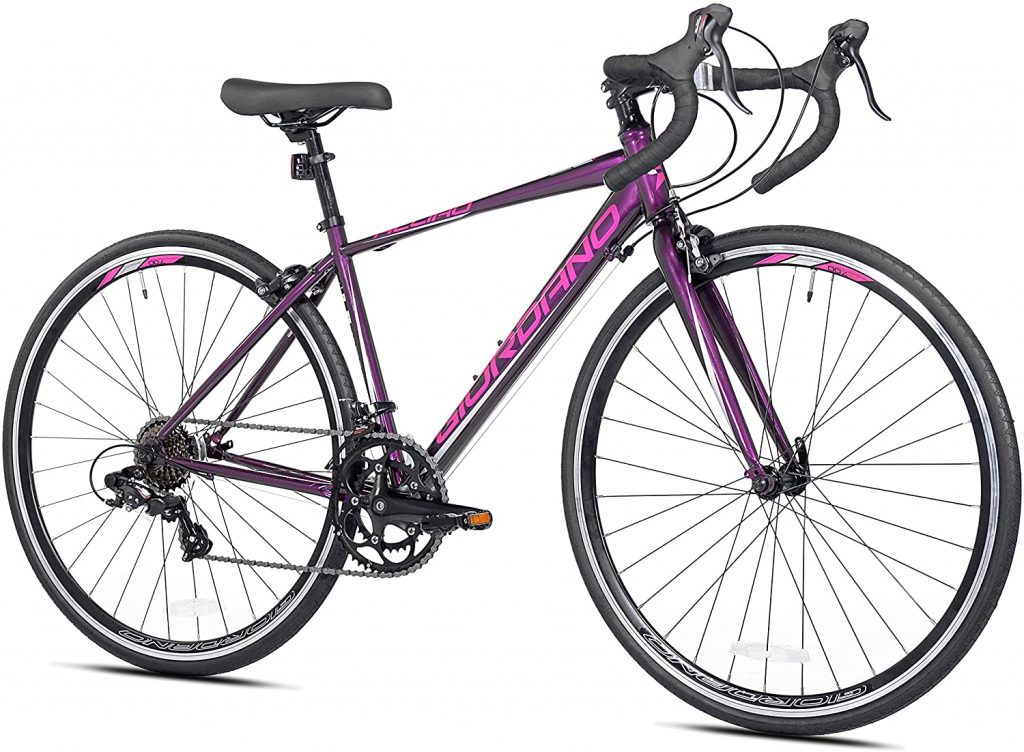 Women with petite frames will find this bike really appealing as it is made exactly for their frame range. According to reviews on Amazon, the bike is very durable and it comes with a good set of assembly instructions.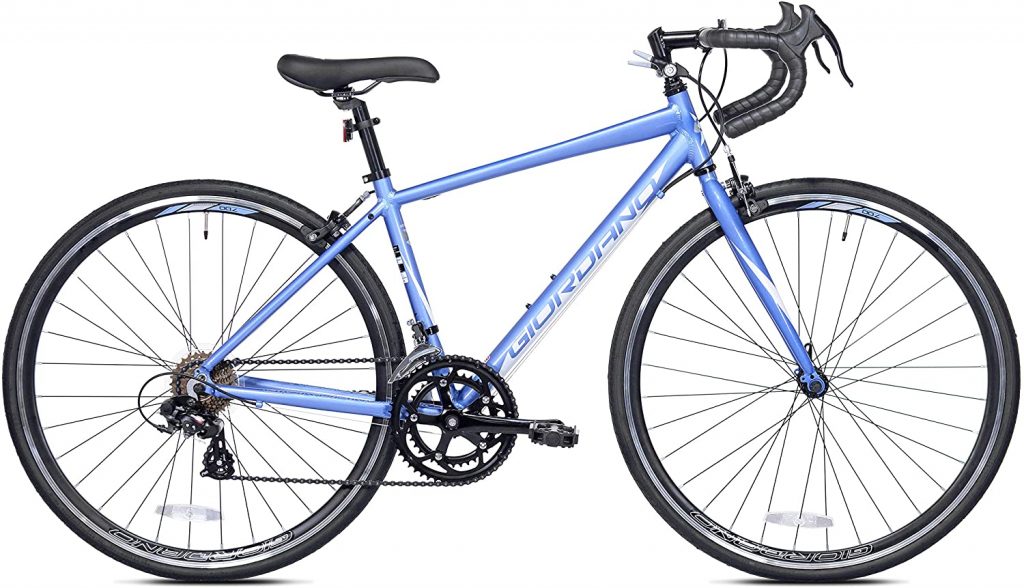 In order to make your decision easier, this guide will help you pick out the best for you.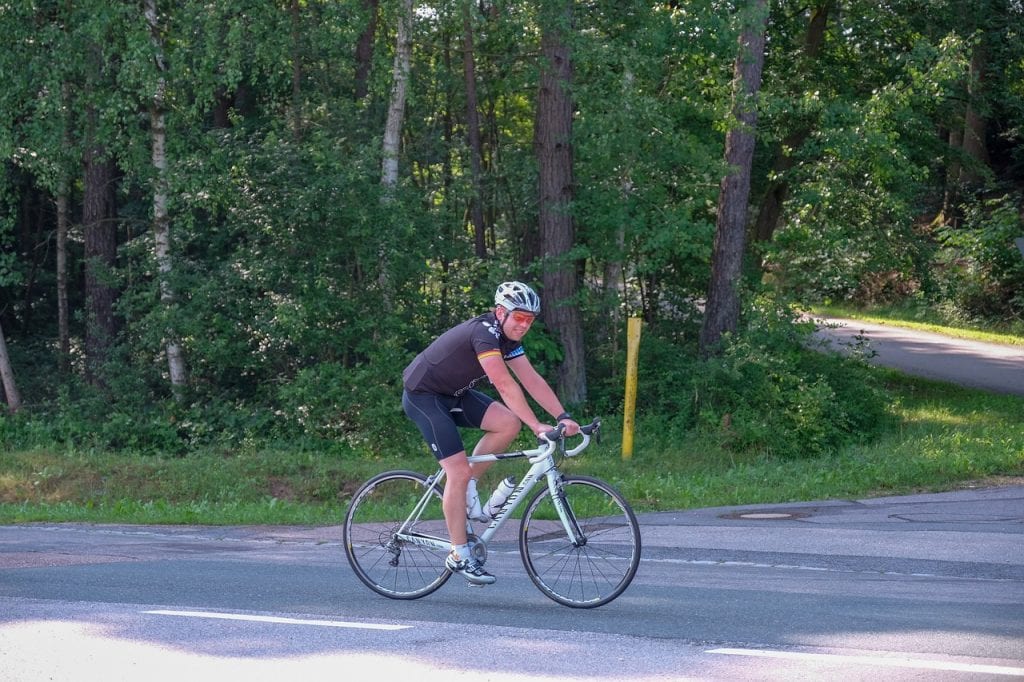 To give your road bike search some direction, the bikes below have been rated the three top road bikes for less than $500 for the year 2020.
Vilano R2 Commuter Aluminum Road Bicycles
Number one on the list of the best road bikes below $500 is the Vilano R2 Commuter Aluminum Road Bike. It is firm and sturdy, while also being lightweight. It also has multiple size options. When choosing a road bike to match your size, you will need to know your inseam so you can match it up to the seat height and top rod size.
Another feature that makes this one of the best road bikes is the fact that it has thumb shifters in order to make shifting quicker and easier. The Vilano R2 road bikes have 3 shift options for the front wheel and 7 for the rear. This means that you will be able to choose from 21 levels of speed in order to make this the most comfortable ride for you.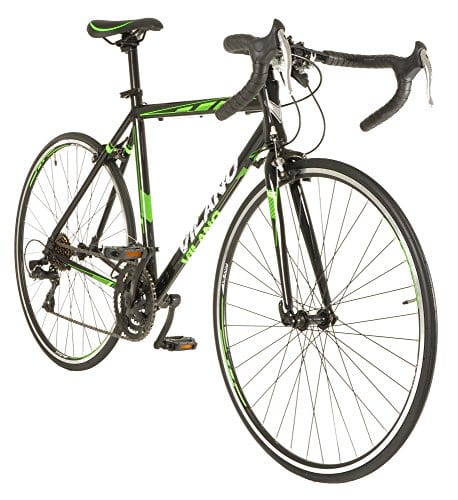 The Vilano Diverse 3.0 Performance Hybrid Bicycle
The second best road bike available is the Vilano Diverse 3.0 Performance Hybrid Bike. Hybrid bikes are unique because they take features from different types of bikes to make a more versatile bike. So this has a hybrid frame and it also has hybrid shock absorbers that are normally found in mountain bikes.
Vilano Shadow Bike
The last on the top three list is the Vilano Shadow. This type ensures that the rider is comfortable whether exercising, commuting, or just free riding. While exercising on this, the design of the frame helps to prevent knee discomfort.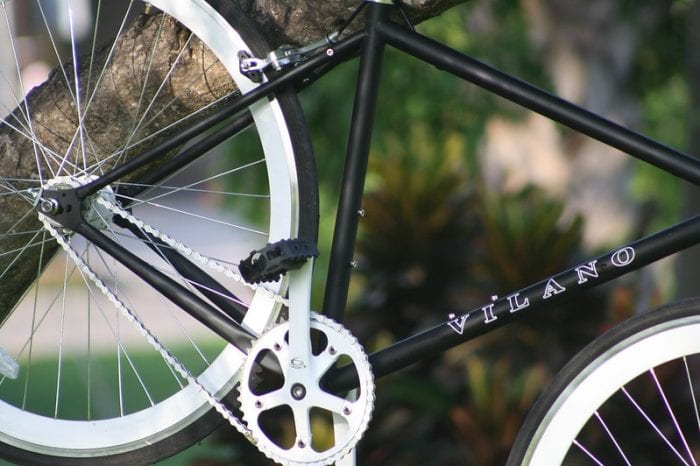 Best Road Bikes Under $500
Frequently Asked Questions
Are Cheap Road Bikes Good?
Yes, there are cheap road bikes that are good. All of the above-mentioned Vilano road bikes are less than $500 so they are considered cheap. This brand offers an extended amount of features that will make your bike riding adventure enjoyable. When it comes to finding good cheap bikes, you have to do your research and make sure that the brand you are planning to buy is reliable.
Which Best Road Bike Is Worth It?
If you want to get a good road bicycle available that is still worth the money, then you have to be prepared to spend more than $1,000. When you get into this price range, you are able to find road bikes that are well worth the money that you would be spending on it. For example, the Giant Defy Advanced 3 is a durable, yet comfortable road bike. This has specially designed seats that decrease road vibrations. It also has powerful disc brakes that are normally seen on more expensive road bikes.
What Are The Top Beginners Road Bikes Under $500?
One of the top road bikes for beginners is the Cannondale Synapse. The Cannondale company has been around for over 45 years. The Synapse is one of the best road bikes because it comes in a range of skill levels, including the entry-level. The price point for the beginner's bike is between $1,500 and $2,000. This features a carbon frame, disc brakes, and upright frame geometry.
The second best for beginners is Orbea Avant M40. The beginner level of this road bike comes in at around $2,000. This bike is high-quality and built to last a long period of time. Other features of this include an internal cable routed throughout the frame and an easy and responsive handling system.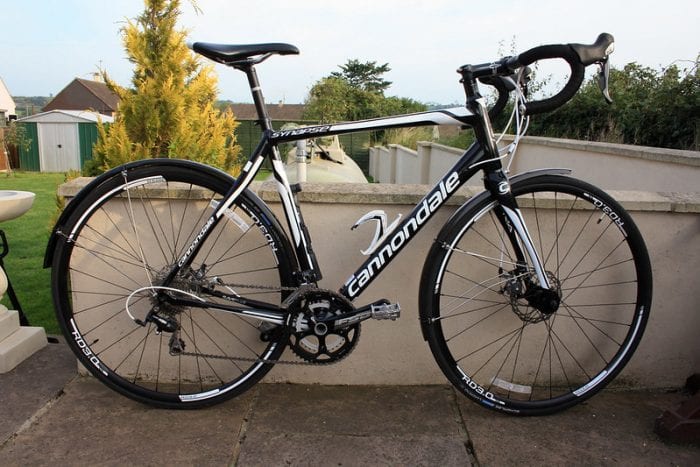 What Makes Road Bikes The Best?
A good road bike is going to mean different things to different people, but in general, there are features that all the best road bikes should have. The first one is a lightweight frame and wheels. Next is narrow tires and wheels. These should also have curled handlebars. Good bikes can be as inexpensive as $200 and there are some the will reach well over $10,000 so knowing your personal budget will help you to pick the right for you.
What Is The Best Road Bicycle Brand Under $500?
Out of all the bike brands currently on the market, the best brand is Giant. After the creation of this company, it took Giant 7 years to put a bike onto the market. This is because they spend a significant amount of time collecting data, and evaluating and analyzing trends so they know exactly what to put into their next bike. Giant listens to the market and the people.
Are Trek Road Bicycles Good?
Yes, Trek road bikes are good. Trek focuses on being able to have a bike for every type of rider in every type of terrain. Trek wants to make sure that everyone has a bike to choose from. These types became popular quickly and the products they continue to produce support this popularity.
What Makes Road Bike Fast?
Different features that are included in a road bike are designed to make it go fast. If the frame is lightweight, then then it will go faster. The more aerodynamic the road bike, the faster it will go.
What Is A Good Average Speed On A Road Bike?
For a beginner, a good average bike speed for a short distance of 10-15 miles is between 10-12mph. As a rider becomes more advanced they will be able to ride faster. For example, a more advanced cyclist will be able to do a medium distance of 30 miles at about 16mph.
How Many Speeds Should A Road Bike Have?
Road bikes can have anywhere from 16 to 30 speeds on them. The number of speeds on the bike usually corresponds to how many miles per hour you can get up to.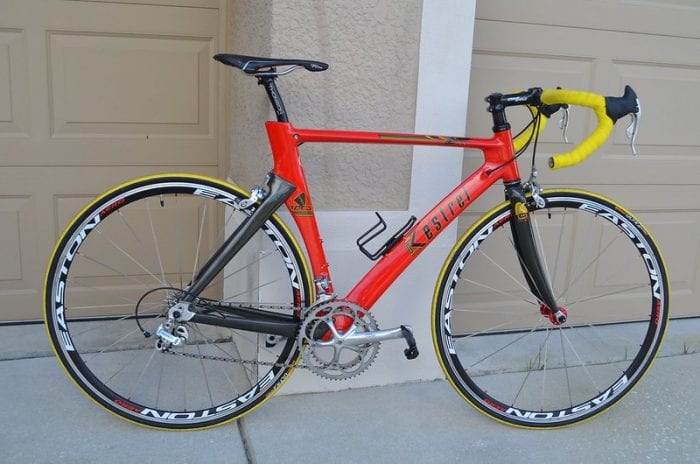 Other Resources
Kestrel Talon Road Bicycle
Cannondale SuperSix Evo Hi-Mod Disc
Giant TCR Advanced Pro 0 Disc
Specialized S-Works Tarmac Disc Dura-Ace Di2
Pinarello Dogma F12 Road Bicycle
Cannondale SystemSix Hi-Mod
Trek Madone SLR Disc eTap
Specialized S-Works Venge Disc
Cannondale CAAD13 Force Etap
Specialized Allez Sprint Disc
Disclaimer: FamilyHype.com (Family Hype & FamilyHype) is a participant in the Amazon Services LLC Associates Program, an affiliate advertising program designed to provide a means for sites to earn advertising fees by advertising and linking to Amazon.com.
Last Updated on March 21, 2022 by Marie Miguel
DISCLAIMER
(IMPORTANT)
: This information (including all text, images, audio, or other formats on FamilyHype.com) is not intended to be a substitute for informed professional advice, diagnosis, endorsement or treatment. You should not take any action or avoid taking action without consulting a qualified professional. Always seek the advice of your physician or other qualified health provider with any questions about medical conditions. Do not disregard professional medical advice or delay seeking advice or treatment because of something you have read here a FamilyHype.com.