Parents of kids who play sports often have a lot to learn. You have to learn the rules of the game, the practice expectations, terminology used in the sport, and all about equipment or gear used to play. One such piece of gear kids have to have for many different sports is footwear and, more specifically, cleats. 
You may or may not know there is a difference in the cleats used for various sports. But you need to be aware of this for your kid's sake. We're going to take a look at the cleats used in two popular sports for kids to play, soccer and baseball. 
Many brands offer both cleats, which makes the buying process can be very daunting. Hence it is a good idea to look at the list of the most famous baseball shoe from Amazon that we compiled to get an idea of what they look like, how much they cost, and if you can also use them for soccer. It is essential to know the difference between soccer and baseball cleats before spending good money on it. We advise that you continue reading to learn more about the frequently asked questions about both cleats.
New Balance Men's 3000 V4 TPU Molded Baseball Shoe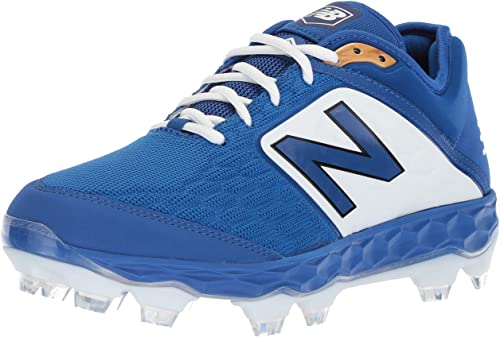 The Men's 3000 V4 from New Balance is 100% synthetic and has a high quality rubber sole.
It is designed with a synthetic mesh upper and comfort collar with bootie construction.
It also has a foam midsole cushioning technology that promotes support and maximum comfort when worn.
New Balance Men's 4040 V5 TPU Molded Baseball Shoe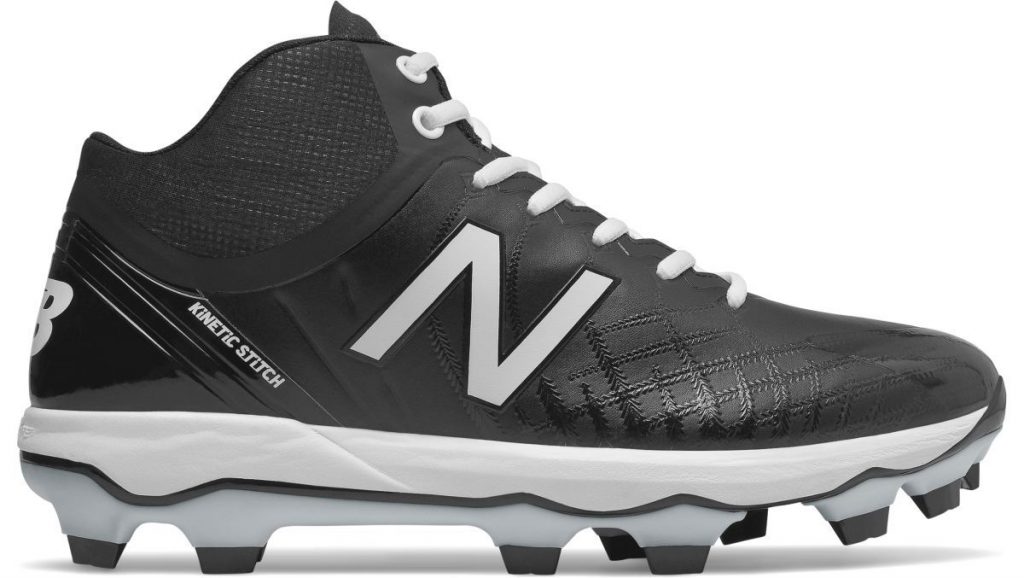 The Men's 4040 V5 is one of the best baseball show in the market today.
It is very stylish and it comes in different prints and colors.
It is made with 100% synthetic materials and it comes with durable rubber sole.
New Balance Men's 3000 V4 Turf Baseball Shoe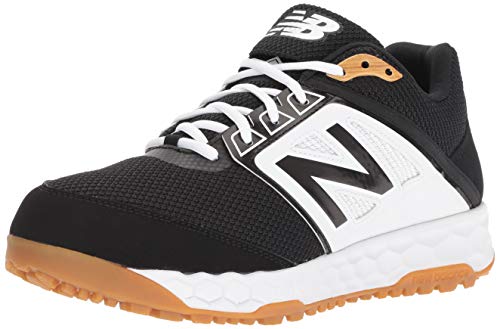 The 3000 V4 has unique designs and multiple colors to choose from.
It offers a super-soft fresh foam midsole and a synthetic mesh upper to give your feet comfort while you play.
The materials used on the shoe mimics the traditional running shoes without compromising the purpose of the shoe.
New Balance Kids' 4040 V5 Molded Baseball Shoe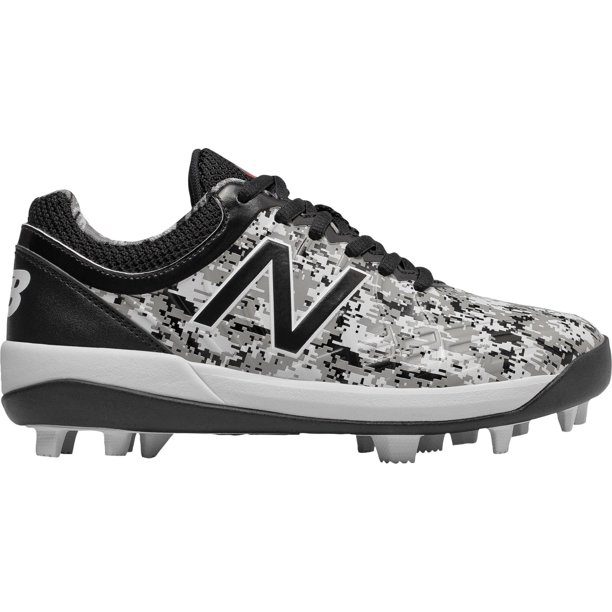 The 4040 V5 is looks like a traditional molded baseball shoe except it is colorful, has bold prints and fashionable.
It is true to its size and it has wide cleats which can be hard to find on other brands.
It is comfortable to wear an according to reviews, it is not "too tight" and it snugs comfortably on the feet.
Does one have to wear soccer cleats? Not necessarily. Soccer and baseball are usually much better for kids if you wear soccer cleats though, and soccer and baseball players will have far less injuries too. Though they can expensive, if you choose to wear soccer cleats, they can make a difference, and if your child wants to play on a travel team, chances are they will have to wear soccer cleats. 
Is There A Difference Between Baseball And Soccer Cleats?
Yes there is. These two sports are played very differently. In baseball, the ball is controlled by the hands of the player, not by the feet. There is running in baseball so the players wear shoes that are cleated on the bottom to provide them with better traction.
On the other hand, or foot we should say, soccer involves the feet for much more than just running. Much of the game is played with the feet. The ball is maneuvered by the players' feet for the entirety of the game. While soccer cleats are also worn to give players more traction, the placement of the cleats has to be different to ensure the safety of all soccer players. 
Soccer cleats are tighter, to help players have better control on the field. Another difference between these 2 cleats is that soccer players usually have different cleat sizes, whereas, with those who wear baseball cleats, they might be one size. Soccer players sometimes prefer metal cleats at the bottom or rubber cleats. Soccer players, if they play in more muddy locations, might choose to wear soccer cleats with a rubber bottom. 
Of course, you don't have to wear soccer and baseball cleats. Some people choose to play without either soccer or baseball cleats. But, soccer plays will say that if you wear soccer cleats, you will have better traction. When you wear soccer cleats, you will move faster, and stick to the ground, versus if you don't choose to wear soccer cleats. 
With soccer and baseball cleats, they do come in a variety of different sizes and looks. Players alike have a lot to look forward to. 
The main difference between these two is the pattern of cleats on the bottom of the shoe. Soccer cleats have two cleats with space in between them towards the front of the shoe. Baseball cleats will have one cleat at the very front of the shoe. That single cleat is referred to as a toe cleat.
Why Are There No Toe Cleats In Soccer?
Soccer players often get hit in the shins by other players' soccer cleats. A toe cleat can cause injury to a player. By having two cleats set apart from each other and farther away from the toe, the shoes are much safer for soccer players.
Are Soccer Cleats Dangerous?
Soccer cleats aren't dangerous, but there are some considerations you should be aware of when you're trying to choose the right pair for your child. 
First, where the cleats are going to be used matters. Some fields are inside and some are outside. That usually means some fields have real grass and some fields have artificial turf. The soccer cleats you'll need to buy for your child who's playing on artificial turf won't be the same as the ones meant for playing on real grass. Bladed cleats intended for use on natural grass can get caught on artificial turf. That can cause a bad injury to the ACL.
We all have budgets to stick to, but you shouldn't choose your child's soccer cleats based solely on price. The recommendation is to find cleats that fit the foot of the player snugly as if the blades or cleats are an extension of the foot. 
What Do Soccer Cleats Look Like?
It used to be that you could tell if shoes were soccer cleats at a glance. That's not always the case anymore. Soccer cleats used to be rounded. Now they're much more rectangular, much like a baseball cleat, or even football cleats. The best way to determine if a shoe is a soccer cleat is to turn it over and look for the cleat pattern.
How Can You Tell Baseball Cleats?
A baseball cleat will have a toe cleat to give the player better grip on the ground for fast acceleration to run. The cleats, themselves, are usually lighter than those of football cleats. You may see baseball shoes that have metal cleats on the bottom, too. Other sports don't allow for metal cleats, however, baseball does. 
Do Soccer Cleats Work For Baseball?
It's much more important in soccer to have the right kind of cleats because the game is played virtually entirely with the feet. Baseball is different. The cleats are important so players have good traction, but much of the game is played using the upper body. Soccer cleats will work just fine for playing baseball at the little league level. Having a pair of soccer cleats and baseball cleats separately might be good if your child decides to get serious with these sports. 
Can My Son Wear Soccer Cleats For Baseball?
Unless it's otherwise specified by the coach or the league your child is playing in, your son can wear soccer cleats for playing baseball. As he gets more serious about it, though, you may want to get him a pair of baseball cleats, instead. If you're replacing both cleats over time and your child chooses to play one sport or the other, knowing the difference between these two will help you get the right shoe for them. 
Do Cleats Make A Difference?
Soccer, baseball, and football cleats do all make a difference for players in their respective sports. The shoes were designed around the specific needs of each type of athlete. 
Sports, by nature, are performance-based activities. Having the right equipment means boosting your child's performance level. It also means keeping them safer. A lot of research goes into designing gear like this. The intention is always to increase performance and prevent injuries to players.
Soccer and baseball are two popular sports. If your child is in both sports, you might get away with using one for both, but usually in that case, cleats for soccer are the best option. 
While getting the right shoes for soccer and baseball are important, you should consider other features too, such as ankle support. A pair of cleats for soccer might help prevent injury, since they have different levels of support. A cushioned midsole might be important here. 
The front tip for soccer cleats is different of course, because if you use a baseball cleat when playing soccer there is a chance you might hurt yourself. While some children might get away with wearing baseball cleats in soccer, knowing the differences of these two cleats is important, and understanding that there are support differences for soccer and baseball cleats is good too. 
Wearing baseball cleats feels different too. You might notice that they're a little tighter. Soccer players use cleats that have a higher edge and a different feeling, so using baseball cleats for soccer might not work in some cases.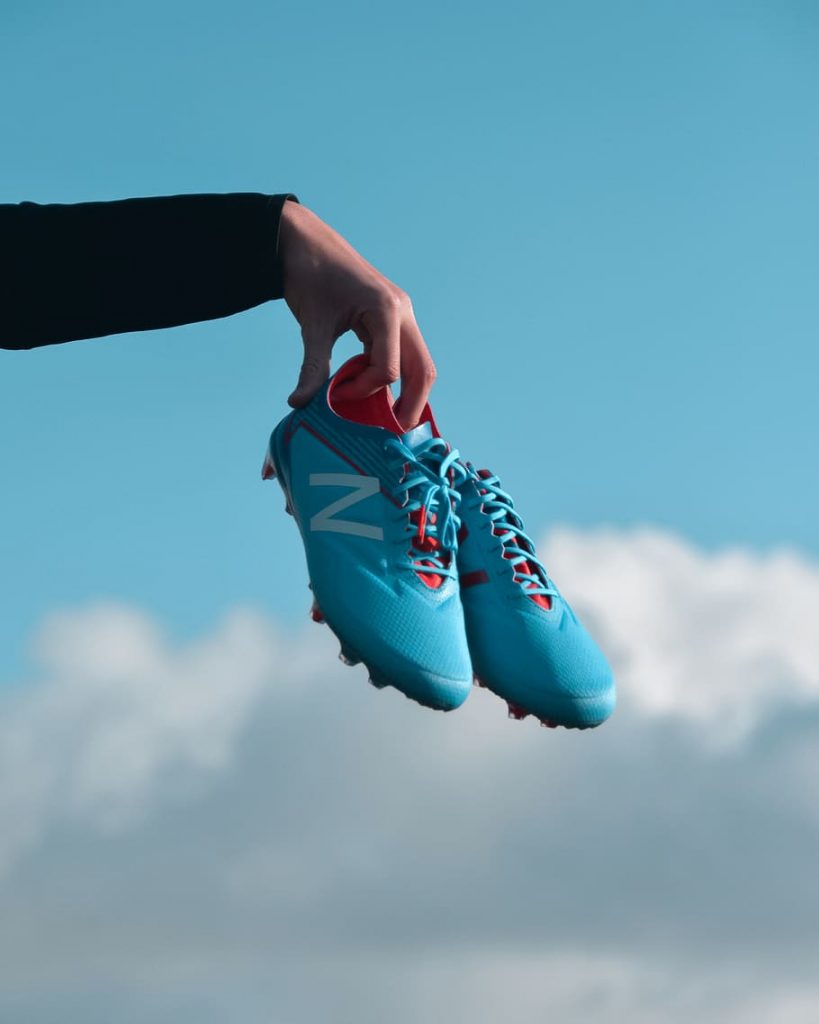 Football cleats are also a little different than soccer and baseball cleats. The biggest difference between football compared to soccer and baseball cleats is the type. Football cleats use only plastic spikes, whereas soccer and baseball cleats might use metal and other spikes. The spike differences in baseball and soccer cleats help with traction while on the field, especially when playing soccer and there is more contact involved. A football cleat differs from a baseball cleat because it tends to be thicker on the bottom, and there is more padding. This is obviously going to differ from baseball shoes or soccer shoes because it is a higher-contact sport, and wearing baseball cleats with this won't be a good idea. 
The type of cleat is important to understand, especially when looking at a soccer cleat. That's because a soccer cleat tends to be the shortest. You shouldn't wear cleats for baseball as soccer shoes because one of the main differences between these two is that one toe. That one toe, especially when used as soccer shoes, can be unsafe, which is why wearing these as soccer shoes is not recommended. 
There are also lacrosse cleats which differ from baseball and soccer options that you might consider. But, knowing the difference between football cleats and baseball cleats, or even soccer cleats and baseball cleats will take your game to the next level. 
Speed is a big part of this. if you're just doing youth baseball and not playing for a travel team, then soccer cleats for baseball might be okay. If you're considering soccer cleats for baseball as a quick alternative, then fine. But soccer cleats for baseball can affect your speed, since the more cleats can reduce the speed. Also, when using soccer cleats for baseball you might notice you're slower because of the two toes. This can affect how you play.
Of course, if you're starting with youth baseball, then the cleat might not matter as much if you're comparing to league baseball. Ideally though, if you do decide to try league baseball, then get yourself some good cleats and understand that soccer cleats for baseball might affect how fast you go. 
The big question to ask yourself is if you're going to be a soccer baseball player, or if you're going to focus on one or the other. Using baseball soccer cleats might work to a certain point, but soccer cleats for baseball do limit you. If you plan to get serious, choose one, and stop using soccer cleats for baseball. 
Are High Top Cleats Good For Baseball?
High top cleats can be good for baseball. They give more support to the ankles. You'll want to be sure the added weight of a high top shoe doesn't make it hard for your child to move around, though. 
High top shoes that have metal cleats may be too heavy for little ones. That's something else to consider. While metal cleats work very well for traction on the field, they're heavier and can cause injuries when players try to change direction very quickly. 
Sizing—Do Baseball Cleats Run Small? What About Soccer Cleats?
Baseball cleats typically run a little small. A good guideline is to take the correct size for your child and then go up one-half size. If you're looking for metal cleats, they can sometimes be hard to find in sizes small enough to fit boys. You can look at women's metal cleats to see if the smaller sizes will fit for a boy.
Because of the tight fit that soccer players need, using baseball soccer cleats is not ideal. Using one that fits both soccer baseball is not a good idea, since soccer players prefer a tighter fit. Soccer players, when they use soccer cleats for baseball, may notice they're a bit slower. 
Baseball cleats are not ideal for soccer, since while you can use soccer cleats for baseball if you wear baseball cleats for soccer, it can hurt your foot. 
Soccer cleats can run slightly big. As you want the soccer shoes to fit snugly, some experienced soccer players recommend going down one whole size.
The cool thing about baseball and soccer cleats though is the design. Soccer cleats and baseball cleats come in a variety of colors, and some soccer cleats and baseball cleats may even come in some styles. If you have a particular look to soccer cleats and baseball cleats you like, you can seek that out. 
You can typically get soccer cleats and baseball cleats online or in sport stores. It's recommended to get soccer cleats and baseball cleats at a store so your child can try them on. 
There You Have It: The Difference Between Baseball And Soccer Cleats
You should feel like you have a better handle on what you need to know about both cleats. Understanding what you need in terms of soccer cleats and baseball cleats might seem confusing, but by knowing the differences between both cleats will help your child play better, and it will prevent injuries. 
Look for what's going to work best for your child to keep him or her safe while they play and maybe even add a little something to their game. Then, you can sit in the stands with confidence that you've chosen the right gear to give your kid a better chance at success in their chosen sport.
Other Resources
Disclaimer: FamilyHype.com (Family Hype & FamilyHype) is a participant in the Amazon Services LLC Associates Program, an affiliate advertising program designed to provide a means for sites to earn advertising fees by advertising and linking to Amazon.com.
Last Updated on July 5, 2022 by De Guzman
DISCLAIMER
(IMPORTANT)
: This information (including all text, images, audio, or other formats on FamilyHype.com) is not intended to be a substitute for informed professional advice, diagnosis, endorsement or treatment. You should not take any action or avoid taking action without consulting a qualified professional. Always seek the advice of your physician or other qualified health provider with any questions about medical conditions. Do not disregard professional medical advice or delay seeking advice or treatment because of something you have read here a FamilyHype.com.