The mx350 dirt rocket is a line of electric bike meant to bring the thrill of motocross to younger riders. It is built to be durable and with safety in mind. In this buying guide, you'll find everything you need to know about the fastest mx350 dirt rocket motorcycle that will be the best fit for your child.
Getting a motorcycle bike for a kid is like a rite of passage. But knowing what kind of razor motorcycle to get or when is the right time to put a kid on one can be tough. Parents often have a lot of questions about motorcycle bikes, like what's the fastest electric motorcycle bike, what are the safety features, how much do motorcycle bikes cost, just to name a few.
Source: pixabay.com
Comparing bikes before buying is an excellent way to find the best one for your child. To help you, we made a list of the highly-rated razor bike from Amazon aside from mx350 dirt rocket, and we included a brief description for each. There are also many tips and things to consider when choosing a bike, and you will find out more if you continue reading.
Razor MX650 Electric Motocross Bike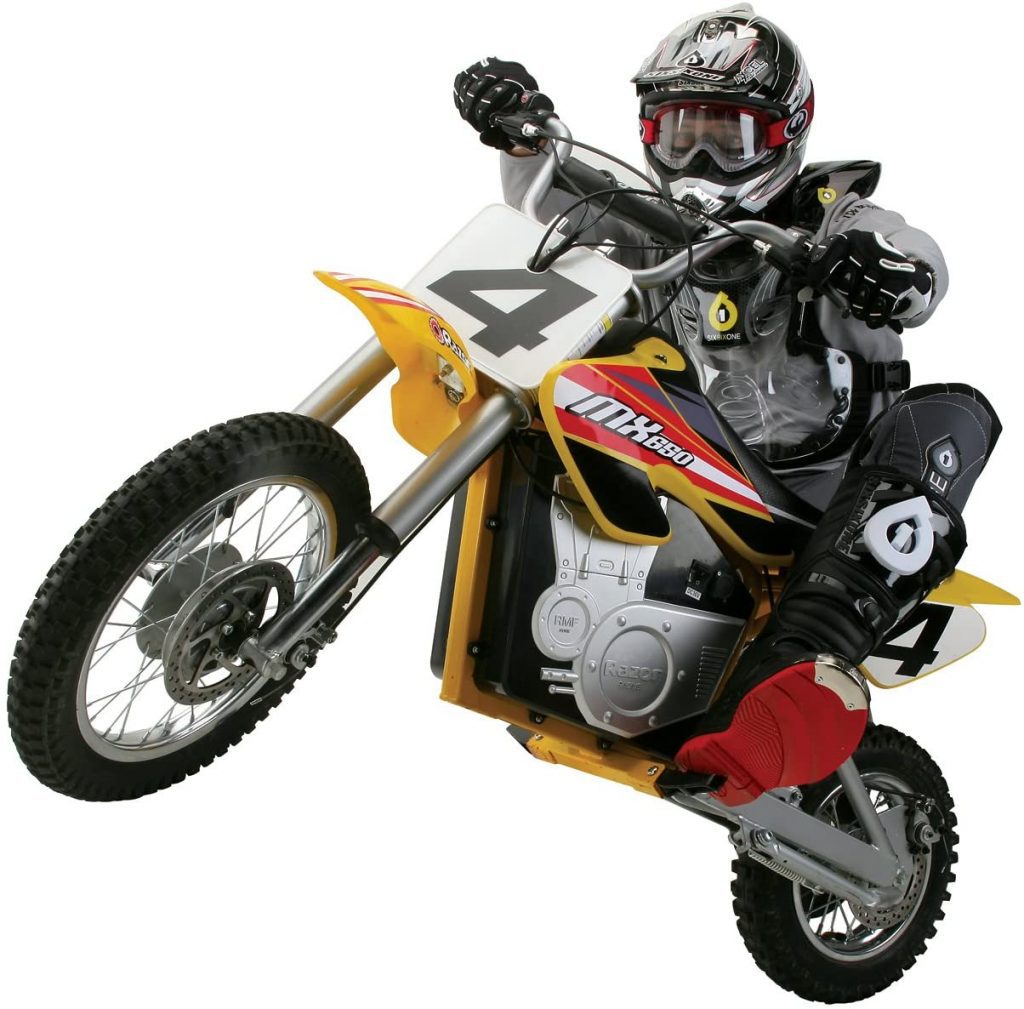 The MX650 Rocket from Razor is compact yet powerful with a 650-watt electric motor. It is ideal for 16 y/o and up.
This Razor dirt bike MX650 has an authentic dirt bike design, frame and geometry and it can speed up to 17 mph.
MX6560 bike has dual suspension, high rise handlebars and a long battery life.
This Razor Motorcross Bike can accommodate up to 220 pounds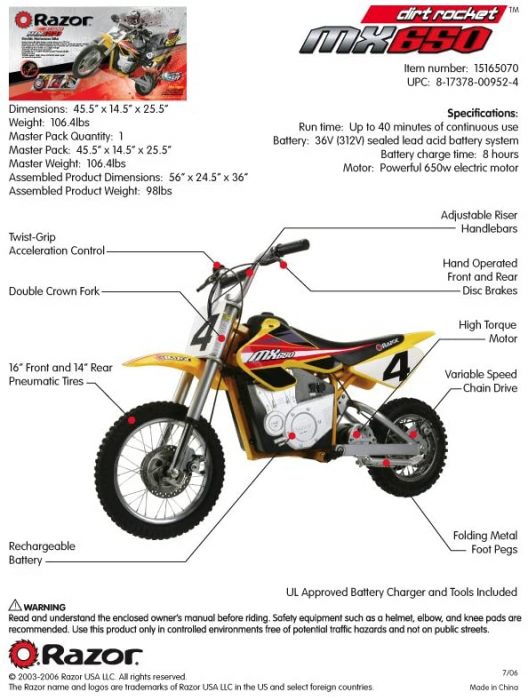 Razor SX500 McGrath Electric Motocross Bike

If your child is a fan of Jeremy McGrath or even if not, they will surely love the cool frame and design of the Razor Dirt Rocket SX500.
This bike can runs at a maximum speed of 15 mph with 40 minutes of continues use and it can carry up to 175 pounds.
It has safety basic features which offers stability on the road.
Razor SX500 motorcross bike is ideal for ages Recommended for ages 14 and up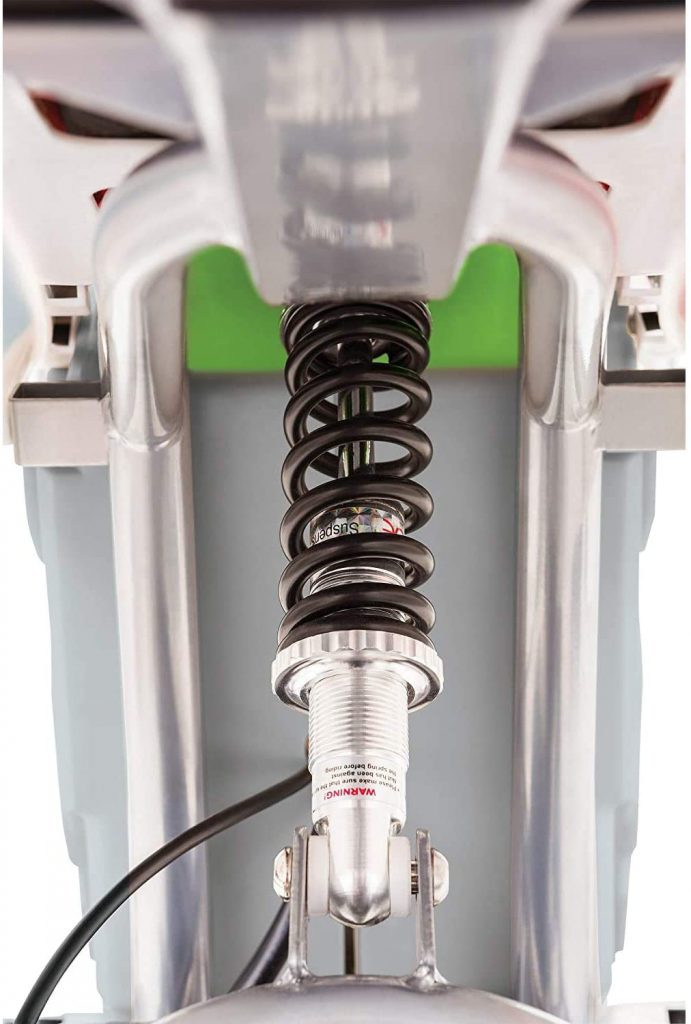 Razor MX400 Ride On 24V Electric Toy Motocross Motorcycle Bike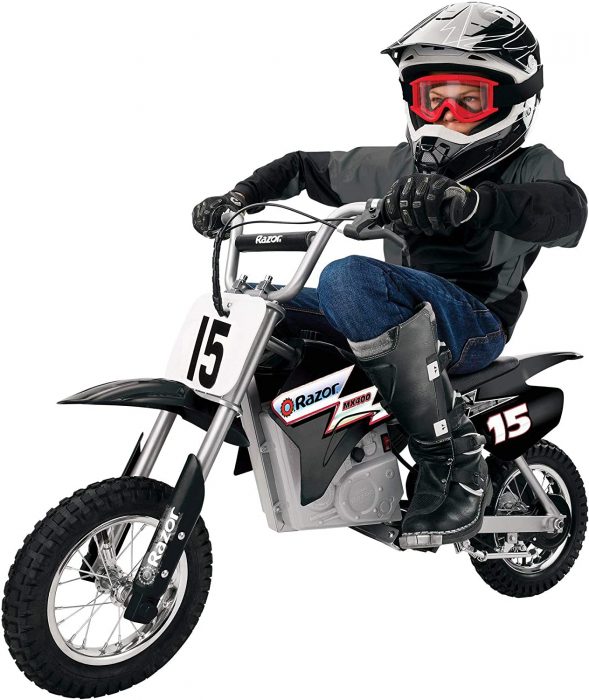 The Razor MX400 is perfect for your child if they are looking to go off road to explore a real bike experience.
The 24V electric motocross motorcycle bike has a 350-watt electric motor and large 12-inch pneumatic knobby tires.
This Razor bike can run up to 14 miles per hour up to 30 minutes of continues use.
This motorcycle dirt bike from Razor can carry a rider with a maximum weight limit of 140 lbs.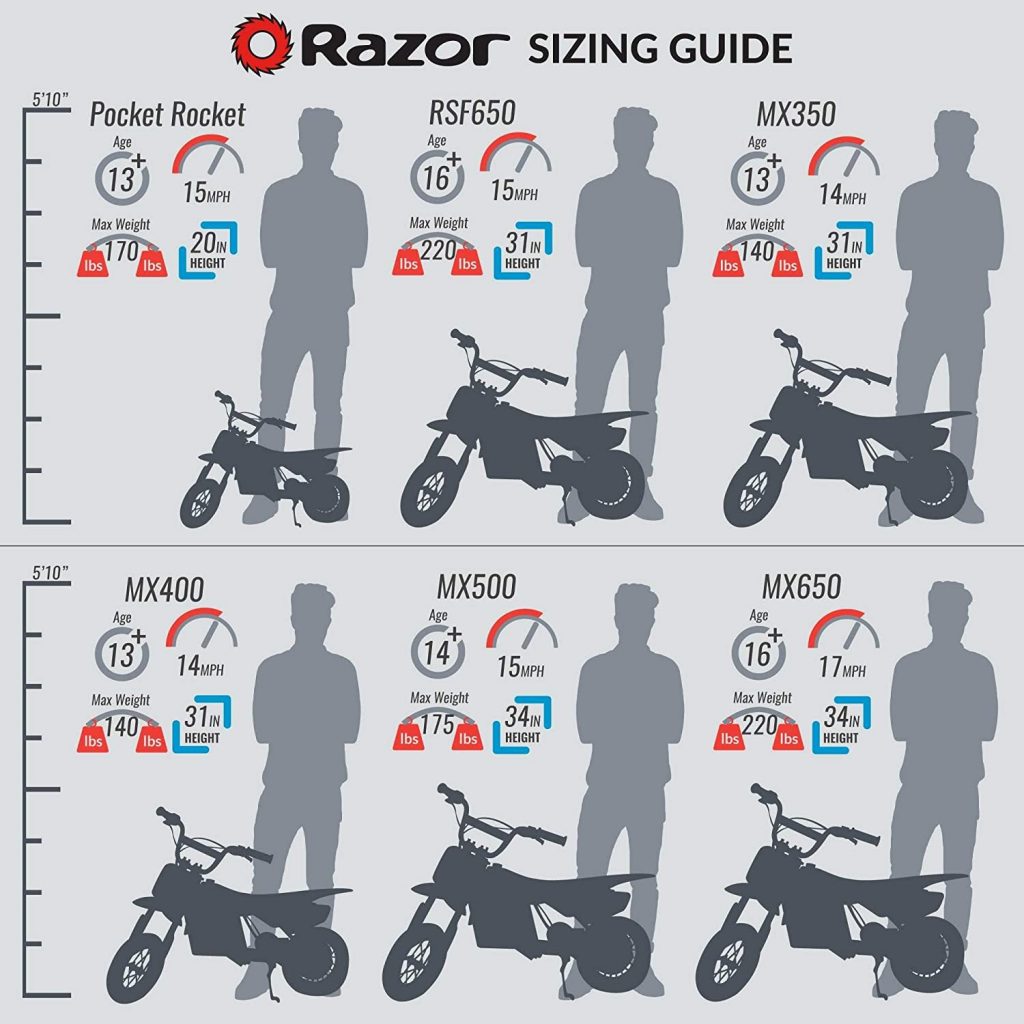 Razor MX350 Dirt Rocket Electric Motocross Off-road Bike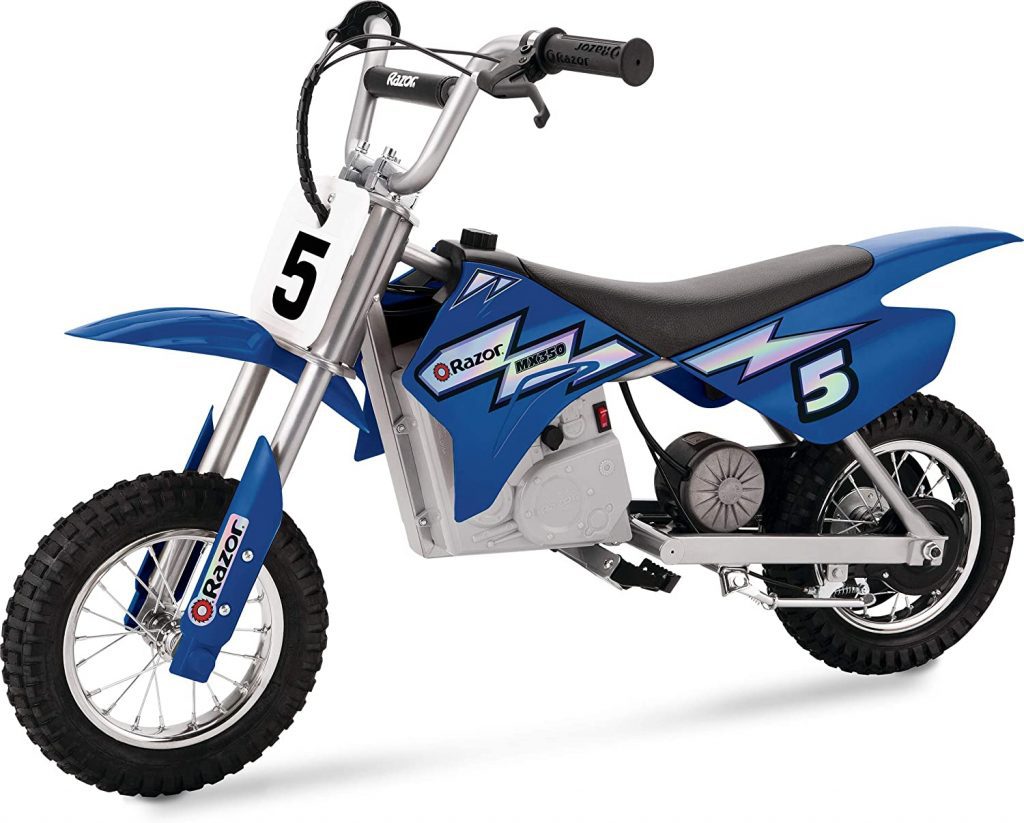 The MX350 Dirt Rocket from Razor offers high-quality performance and real adrenaline rush for young riders. It is a good option for kids 13 years old and up.
This MX350 Dirt Rocket Razor bike is designed and build specially for off-road fun. It comes with knobby tires for all terrain use.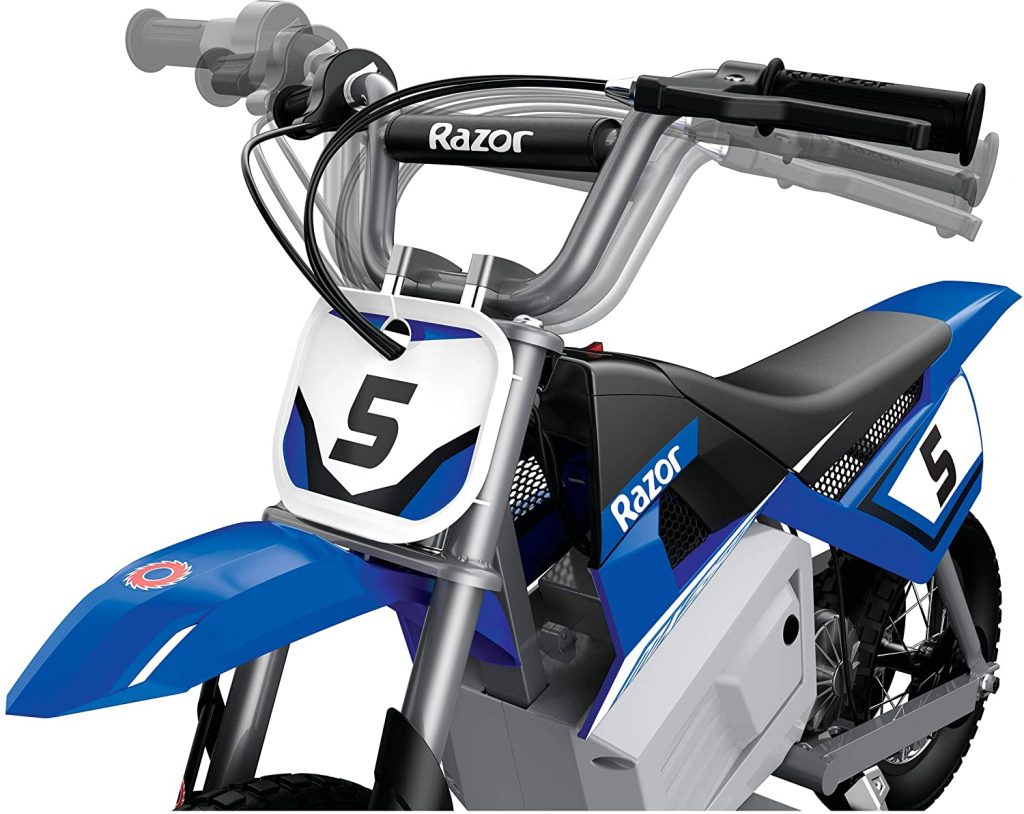 Figuring out the best electric bike for your child is important.  After all, this isn't a bike for 3 year olds, this is one for older children to enjoy.  Of course 3 year olds can get a bike, but they shouldn't be gas powered or have an electric motor. Getting the best motocross bike is also a safety consideration as well. You want an electric motocross bike which is safe for children, but also and motorcycle bike that lets them go fast.  Many children love these kinds of bikes, such as the mx 350 dirt rocket because of the freedom these types of bikes have.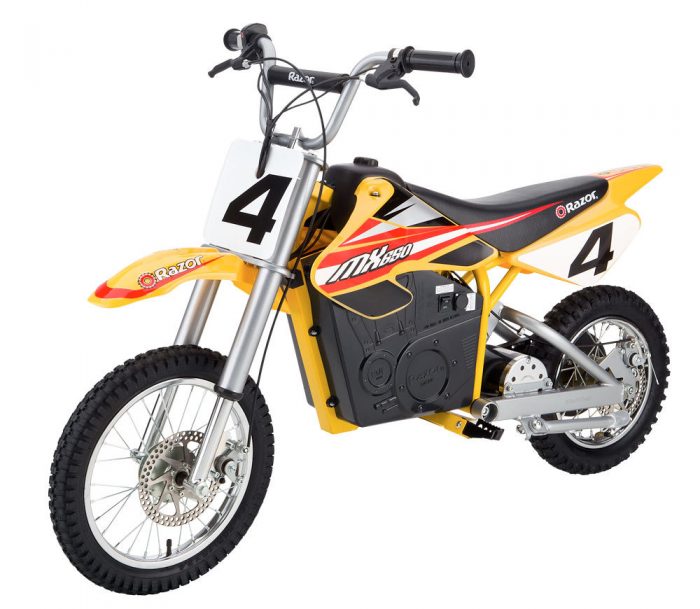 Features To Consider When Buying
There are some features to consider when buying a motocross bike like this.  Usually, the electric motocross bike is your best option, because it makes them with a high-quality electric motor. But here are some other benefits to going rockets, and considering powerful bikes such as the Razor MX 450 dirt bike for your child.
Brakes
Obviously, you want a bike that will stop. High-quality disc brakes in motorcycle bike are important, and if the rear disc brake isn't working, it can be troublesome. You may want to consider front and rear brakes too, because otherwise, it might not stop the bike and there's a chance you might spin out. Dirt-rocket bikes come with this thankfully.
Speed
Obviously, you want a motorcycle bike which will go fast, and luckily dirt rocket delivers on that.  Rocket bikes can go up to speeds of almost 20 mph, which is pretty awesome, and the Razor MX650 rocket is the fastest dirt rocket product they have.
Quality of Tires
You want dirt bike tires which won't break on you, and dirt rocket understands that.  High-quality pneumatic knobby tries last a long time.
Control
You want to be able to control the bike right?  Dirt rocket understands, and rocket bikes have an easy-to-control handle.  Dirt Rocket Electric motocross bikes also will react instantly.
So What Is The Best Motorcycle Bike For Your Child?
Dirt rocket also has the mx650 dirt rocket, which is expensive, but is another great electric motocross bike that has a battery life that will give your kids hours of fun.  This motocross bike is small, but powerful, and the razor dirt bike comes with a whopping 65-watt electric motor.  This motorcycle bike has a battery life of 40 minutes, which isn't bad, and it takes about 12 hours to completely charge.
The weight limit is 220 pounds and comes with a 90 day warranty, so if you want your child to grow into a motocross bike, this might be the best electric dirt bike for the job. The Razor MX650 dirt rocket also has riser handlebars in order to offer a smooth ride, and the MX650 dirt rocket also gets to a top speed of 17 mph, which for a motocross bike for children, is fast.
But, don't worry about this motocross bike being too much for a kid, because the MX650 dirt rocket also comes with a chain-driven and variable speed settings. So, if your child is worried about going too fast, they can adjust. Many enjoy the MX650 dirt rocket because it is a good bike for older kids.  with the Razor MX650 dirt rocket, children under 16 should not being using this, since it does go supe fast. But if your child is curious about electric motocross, the Razor MX650 dirt rocket is one of the best electric dirt bikes on the market.
MX350 Dirt Rocket Is One Of The Quickest
The mx350 dirt rocket is one of the quickest electric dirt bikes on the market.  You may wonder if there is a better option if your child is not ready to go super fast.  There is a great electric motocross bike for children to get used to, and it has a high quality motor that lets them go fast. Many love the Razor MX350 dirt rocket because it is perfect for those looking to get an electric motocross bike that they can learn on. The dirt rocket has a variable speed and goes up to 14 mph, which is the fastest electric motocross bike on the market.
The dirt rocket bike has 12-inch ties which are pneumatic and knobby, and it comes with a high-quality electric motor.  It has adjustable riser handlebars for children who grow into this electric motocross bike, so if you buy this for them young, then they'll be able to perfect using this electric motocross bike over time. This is the best electric dirt bike for those looking to learn, since the knobby tires and the twist grip help a child learn control, and you can't go wrong with dirt rocket for being some of the best electric dirt bikes for your child to ride.
Razor Bike Buying Tips
Buying a dirt rocket bike is an exciting investment, but before you commit to buy your dirt rocket electric motocross bike. First, make sure you get your dirt rocket electric motocross bike from a reputable seller.  Getting it from amazon or Walmart is your best bet, because usually the dirt rocket electric motocross bike you get is easy to assemble.
Make sure you're supervising your child when they're using the dirt rocket electric motocross bike.  Make sure children wear protection such as kneepads and elbow pads before getting on their dirt rocket electric motocross bike.  This might seem obvious, but the reason why accidents happen on a dirt rocket electric motocross bike is because children weren't prepared and parents weren't paying attention.
Teach your child how to ride this dirt rocket electric motocross bike.  Make sure you have them go slow before picking up speed.  Learning to control the rocket electric motocross bike is probably your first and most important step, because control teaches them everything. Show them how to use the brakes, and all of the features of their electric motocross bike.
Finally, have them ride this in a place which is open enough.  That's because, a dirt rocket electric motocross bike goes super fast, and some children don't realize this.  Let them have an open space to work on their skills and learning how to handle this.
That's all there is to it.  The dirt rocket electric motocross bike does take some time to learn to ride, and it can be a bit scary at first. But if your kid is a thrill seeker, and is interested in riding dirt bikes, getting them the fastest on the market can be one of the best investments ever.  A dirt rocket electric motocross bike is not only fast, but fun, and is great for the thrill seekers out there!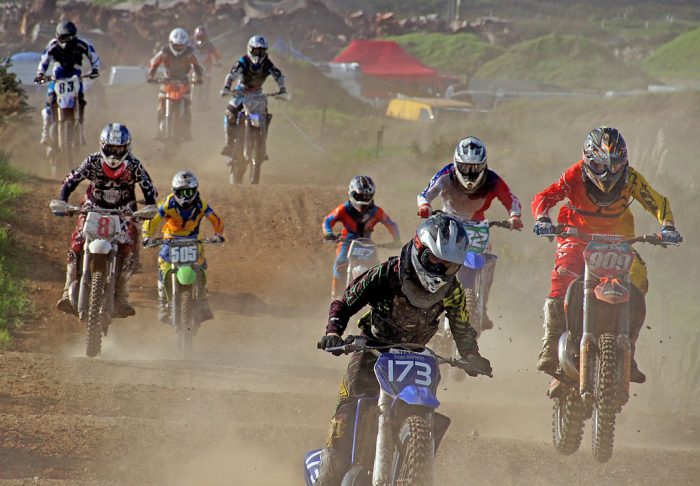 What Is The Fastest Razor Dirt Bike?
The MX650 DirtRocket is the fastest Razor dirt bike, by design. This electric bike has a top speed of 17 mph. It's the most powerful dirt bike made by Razor and is intended for teenage riders that are at least 16 years old.
This motorcycle bike can support riders weighing up to 220 lbs. The MX650 dirt bike has dual suspension and pneumatic tires with knobs for taking on rougher terrains while still being comfortable. The Razor dirt bike battery takes about 8 to 12 hours to fully charge and you'll get around 40 minutes of uninterrupted riding out of a full charge.
How Much Is A Razor MX650 Dirt Bike?
If you go through the manufacturer for this electric dirt bike and buy brand new, your purchase price will be the $579.99 MSRP. You can find this dirt bike at big box retailers for about $100 less, though. There are also catalog services selling it for about $120 more than Razor, but you'll be able to pay it off with low monthly payments.
You can also look for a used one. Those will run you around $300 or a little more, depending on how old the Razor dirt bike is and how much use it's had.
How Much Is An Electric Dirt Bike For Kids, On Average?
There is a range of prices for electric dirt bikes for kids. What you pay will depend on how powerful the motor is. If you opt for one of the less powerful motors, you can get a brand new electric dirt bike for a little over $200. These are usually the ones parents buy for younger children.
The larger, more powerful electric bikes, generally ridden by teenagers, will cost you somewhere between $500 and $700, usually. The general rule is the faster and more powerful it is, the more the dirt bike will cost you.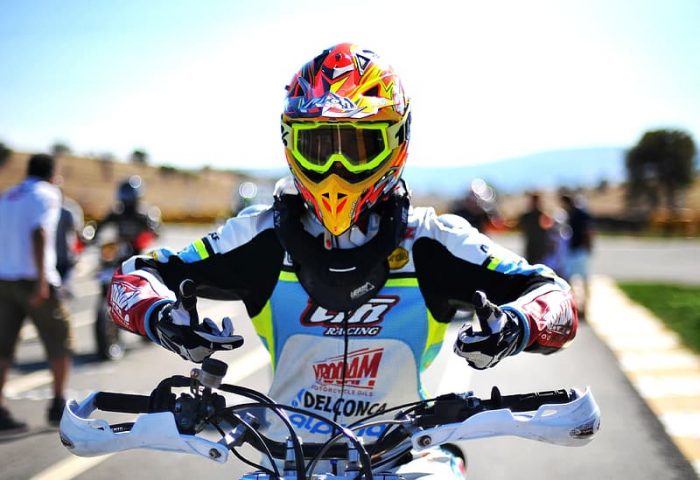 How Fast Is The Razor MX500?
This dirt bike has a maximum speed of about 15 mph. It has a 500-watt motor that can push it to its high speed on flat surfaces. Like its more powerful sibling the Razor MX650, it has knobby pneumatic tires for handling rough terrains along with the dual suspension for a smoother ride.
The Razor MX500 is best suited for kids who are at least 14 years old. This bike can handle body weights of up to 175 lbs.
How Fast Does A MX350 24v Electric Dirt Bike Go?
24-volt electric dirt bikes can reach speeds between 5 and 15 mph. The Razor MX 350 has two 12-volt batteries that power the motor with 350 watts. The motor has a chain driving it just like other kinds of bikes. You'll get about 30 minutes of continuous riding out of the batteries. 24v dirt bikes are recommended for children 13 years old and up.
Can You Ride A Razor Bike On the Road?
You can't ride Razor dirt bikes on the road, however, the company does have a version of an electric bike that is designed to look like a street bike. The RSF350 and RSF650 are both Razor electric street bikes. But, they only look like street bikes. Just like the MX series of Razor electric dirt bikes, they are not meant for street use and should not be ridden on roads.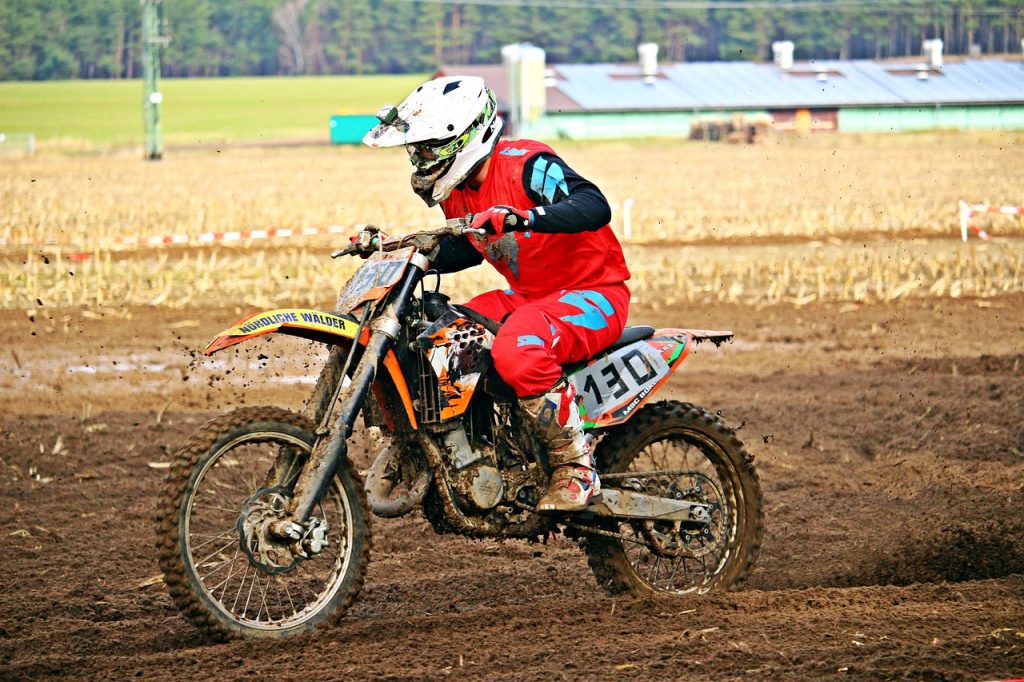 How Fast Does The Razor Street Bike Go?
The Razor RSF350 can get up to 14 mph, while the RSF650 has a top speed of 17 mph. The Razor electric dirt bike should only be ridden by teenagers on sidewalks and other walkways. These Razor Street Bikes are not street legal.
What Is A Good Age To Start Riding Bikes?
All kids are different, but you can start them out riding an electric bike as young as 3 years old. You can find a dirt bike with training wheels if need be. Then, as they get older, you can take the trainers off and even move up to a more powerful electric bike so they can go faster and experience more of the thrill if they want to.
Generally, an electric dirt bike is a better place to start with a very young child. However, even as they grow up, there are some very good options for electric bikes that are great for teenagers, as well as better for the environment.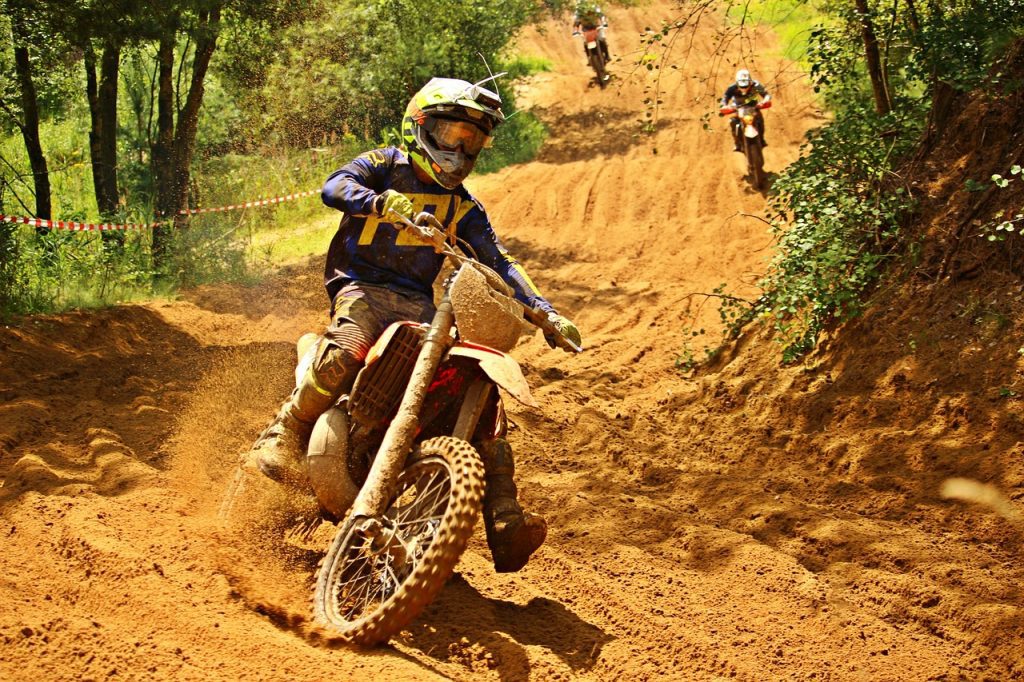 What Else Does Razor Make, Besides MX350 Dirt Rocket?
Razor has quite a few different recreational products to choose from. Besides an electric dirt bike and a traditional Razor scooter, you can also buy hoverboards, skateboards, RipStiks, skates, and electric scooters.
Can Adults Ride Razor Bike / Scooter?
Razor makes scooters that are meant for adults. It's not recommended that adults ride scooters designed for children. It could damage them or even cause an injury. There are a few different versions of electric scooters made for those who are 18 years old or more.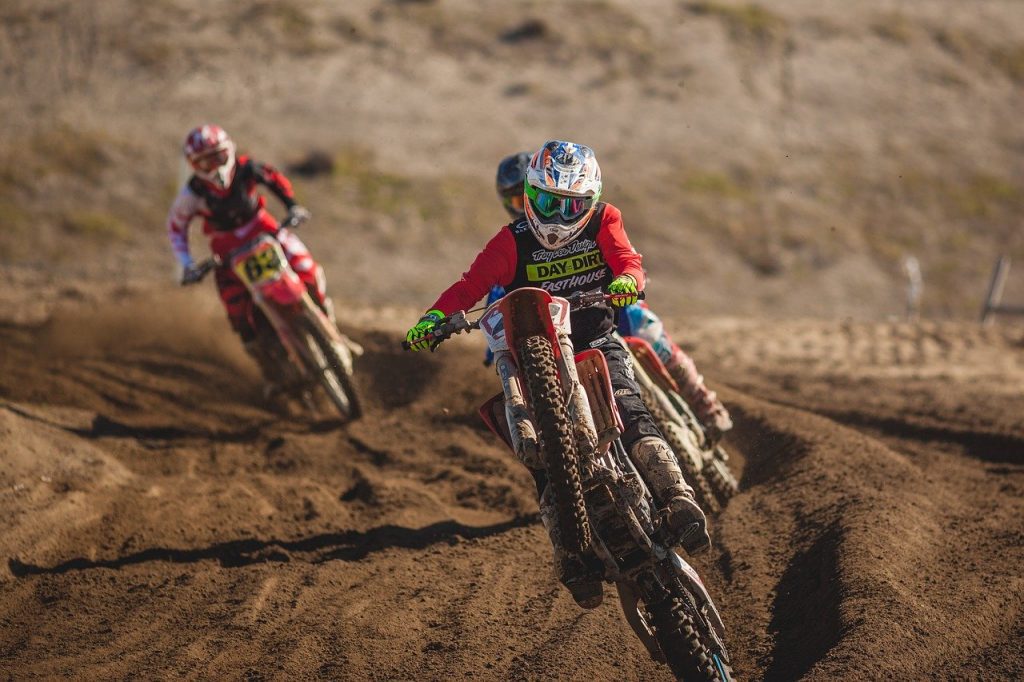 What Is The Fastest Razor Bike Product?
Overall, the fastest Razor product is an MX650 electric dirt bike. With it's top speed of around 17 mph, this dirt bike will give thrill seekers the fast ride they're looking for. Razor makes products to help families get outside and have some fun together, and with so many to choose from, you're sure to find something to suit all the members of yours.
Fastest Razor Dirt Bike Other Resources
Razor Dirt Bike On Socia Media
Email
Back Country Life Youtube
Last Updated on November 16, 2022 by Marie Miguel
DISCLAIMER
(IMPORTANT)
: This information (including all text, images, audio, or other formats on FamilyHype.com) is not intended to be a substitute for informed professional advice, diagnosis, endorsement or treatment. You should not take any action or avoid taking action without consulting a qualified professional. Always seek the advice of your physician or other qualified health provider with any questions about medical conditions. Do not disregard professional medical advice or delay seeking advice or treatment because of something you have read here a FamilyHype.com.