Peppa Pig is a British preschool animated television series that started showing in May 2004. Since then, Peppa Pig has become more than just a show. It has become a favorite series to watch by kids of different ages, especially the little ones. It has captured the hearts of many kids. Peppa pig toys is ideal for your little ones since it offers good values to learn. In this present time, it is some sort of important to pick the right movie show for children; and Peppa Pig can be a great one to choose. Peppa Pig, her family, and her friends teach the little ones how to be kind, helpful, and more. This is a good sign that Peppa Pig is indeed one of the perfect shows to watch for kids of all ages.
Because of Peppa pig's popularity, it now comes in different toy options. In fact, it has become a brand that kids and family love.  Peppa pig toys are popular in both online and physical stores. Most stores support shipping and delivery of Peppa pig toys. Some Peppa pig toys are plush toys with different themes that kids can play with. Others are action figures of a character found in Peppa Pig that you can shop from different stores. There are also Princess Peppa Pig toys for your little girls. Even though they are pink, kids both boys and girls can definitely enjoy playing with a Peppa Pig toy. A peppa pig toy could really make a perfect gift for little ones.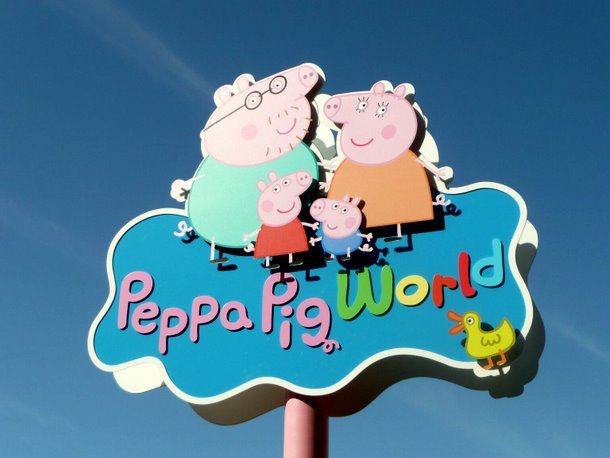 Who Are The Peppa Pig Characters?
Although the title of the show is Peppa Pig, if you browse the net or watch the show you will know that the characters come in various categories. In the show, Peppa Pig has a family, friends, and her friend's families. Here are some of them. Let's get ready to know them.
The Pigs
Of course, the main characters are the pigs. Peppa Pig is the main character. The Peppa Pig family includes George Pig  (her younger brother),  Mummy Pig, and Daddy Pig. Mummy Pig's side of the family is represented in the story. There is Peppa Pig's Grandpa Pig, who is Mimmy Pig's dad. Granny Pig is the wife of Peppa Pig's Grandpa Pig who grows apples and vegetables in an orchard near her house. Uncle Pig and Auntie Pig are from Daddy Pig's side of the family. They have two children named Chloe and Alexander. Uncle Pig is described as someone with a big tummy.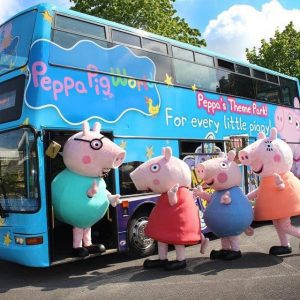 The Rabbits
Peppa Pig has a rabbit friend character named Rebecca Rabbit. She has a younger brother, Richard. She also has another baby brother and sister who are twins named Rosie and Robbie. Her mom is Mummy Rabit, while her dad is Daddy Rabbit or Mr. Rabbit.
Miss Rabbit is the twin sister of Mummy Rabbit. She would have many jobs in the show, such as a bus driver, supermarket assistant, librarian, helicopter pilot, etc. Grampy Rabbit runs the "Grampy Rabbit's Boatyard." He is the father of Mommy Rabbit and Ms. Rabbit. Grampy Rabbit plays the banjo!
The Suzy Sheep, Best Friend
If you browse google or maybe you're an avid fan of the show, you are aware that Suzy Sheep is Peppa's best friend. She is talkative and noisy all the time. Her mother is Mummy Sheep. The mother and daughter both wear pink dresses. Mummy Sheep is friends with Mummy Pig.
Other Characters
There are other characters in the show that most little ones also love.  Ready to meet them? These are the cats, dogs, ponies, zebras, and elephants. The foxes and wolves also make their appearances with the kangaroos, goats, giraffes, moles, bears, donkeys, pandas, and mice. They have pets as well. So get your hands on your computer and get to know them.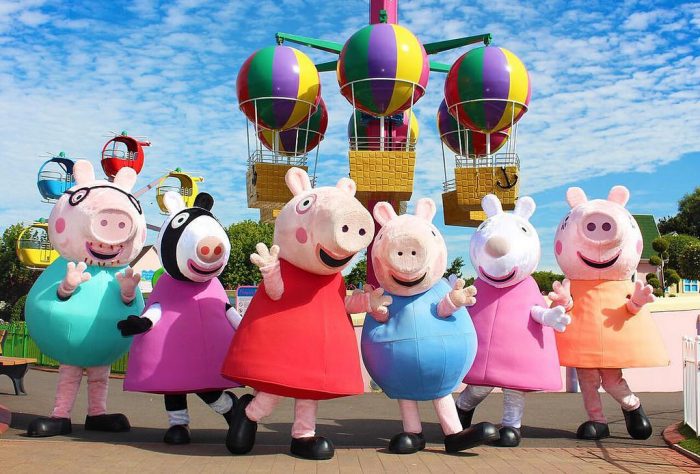 Peppa Pig
Peppa Pig toys come in different shapes and sizes. They are also available for kids of all ages. The more famous ones are the playsets that can boost your little one's imagination. Some are action figures, while others are plush toys which are great gifts for kids. Some even have accessories, like a Peppa Pig Tractor with wheels. For your little princess, there are Princess Peppa Pig toys too. You can browse and choose Peppa Pig in different in-stores and online stores worldwide. They are available for shipping anywhere. If you want a toy for your child, save your effort from finding the right toy. You can save money if you select a set instead of individual Peppa Toy characters and items. Below are some of the play sets worth considering. Get ready to know some of them and learn the features that will surely make your kids love them.
Peppa Pig Lights And Sounds Family Home Playset
This Peppa Pig toy has a figure pack that includes Peppa Pig, George, and Zoe Zebra. This is perfect for kid's pretend play. The Peppa Pig Light and Sounds house comes with seven rooms and 13 accessories for all the rooms. Each room has figures, furniture, and light-up accessories. It is a complete home for your Peppa Pig figures.
You can save money and effort when you pick this play set since it is already a complete package. Get ready to see the big smile from your child when you give this toy as a gift. For added fun, you can purchase extra rooms separately. When you do so, they will come with their own furniture or accessories.  Check out more details here: https://www.walmart.com/browse/toys/peppa-pig-toys/4171_7357538_7335912. Shipping and delivery nationwide are supported.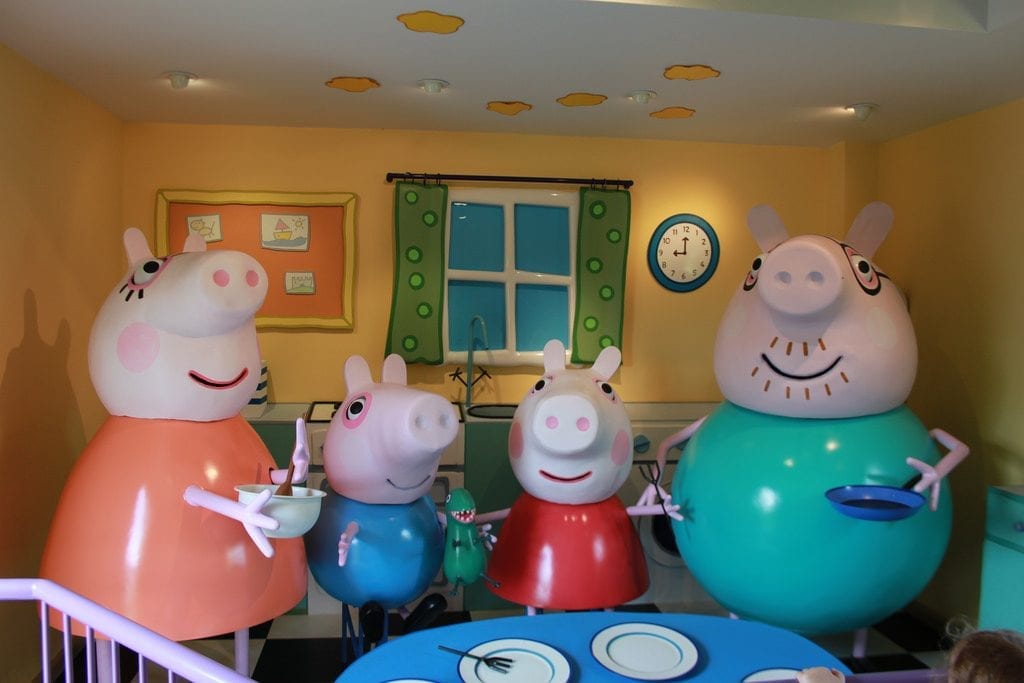 The Peppa Pig Toys School Bus
The bus has a figure pack with two figures: Peppa Pig and Miss Rabbit. The bus has five seats and a removable roof. When you press the front grill of the bus, music will start to play, and you can start having fun with Peppa Pig! It is an interactive toy for kids of varying ages, starting from age 2. The figures and accessories make a great gift for kids. Let the adventures begin as the wheels of the school bus keep rolling.
It is time for your child to have fun with the Peppa Pig school bus. Are you a fan of the figures and accessories in this play set and are ready to purchase a stock for your adorable kid? Save some room in your collection for this toy. Get the stock from a selected walk-in store, or you can save your time and energy by getting your stock from an online store. Most online stores support shipping nationwide.
The School Playset
The Peppa Pig School bus will bring Peppa Pig to school. This stock is for kids of varying ages, starting from age 3. The toy is easy to carry and comes with accessories too. It has a handle on the roof; when you close the set, you get to carry it anywhere! Your kids will be counting Peppa collections for sure.
The playset comes with a Peppa Pig dress in a school uniform, Zoe Zebra, and Madame Gazelle. It also comes with two student desks, a teacher's desk, and double-sided chalkboard accessories. You can save money when you purchase this set instead of buying the Peppa characters individually. The roof has a button to ring the school bell. Your little one can really get the class going with these Peppa pig toys!  All figures and accessories will definitely delight your kids. If you give this toy to your children, surely they are going to give you a big hug. Ready to purchase this play set? Get stock from an online store, check out each toy's price range, and find the best shipping deals. You will not regret purchasing the Peppa Pig School Playset.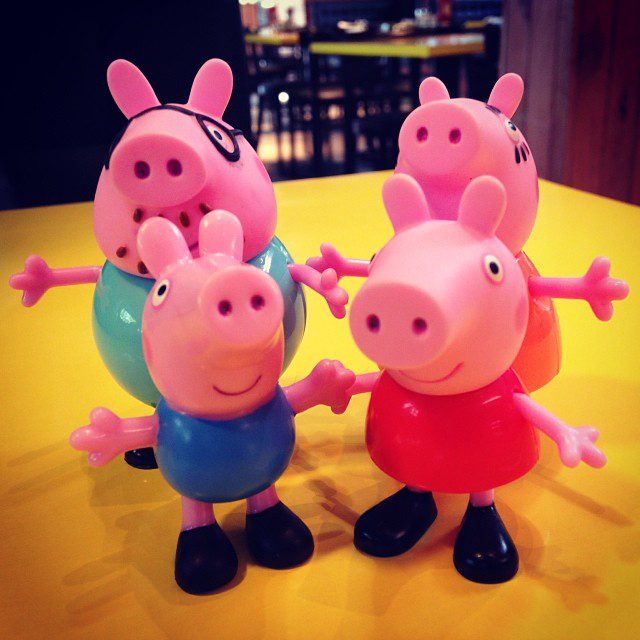 These are just a few of the most popular Peppa Pig playsets tha you should pickup or order online for your little one. There are many more that you can add to your collection Peppa Pig figures collections. Some of the other noteworthy Peppa Pig to include and save in your collections include:
Peppa Pig Bowling Set
The Sleepover Peppa Pig set
The Peppa Pig Best Friends Collection
The Peppa Pig Air Peppa Jet
The Peppa Pig Classroom Set
Peppa's Shopping Centre
The Peppa Pig Me Reader Jr
With all of these options available to you, you will have a fun time checking them all out and slowly adding them to your collection. Save your time from thinking what toys to give to your adorable kids. If you browse some of the reviews of the mentioned Peppa pig toys, you will know that these toys are for kids of all ages and for adults who are kids at heart. Get a stock or two of Peppa pig toys for your kids or for yourself. Check online stores for the best price and the best shipping deals of Peppa pig toys to help save money. Happy Peppa Pig toys shopping!
FAQs On Peppa Pig Toy
What does talking George pig say?
Well, George can't speak yet. However, there is one word he can say very well: "Dine-saw!!"
Where is the Peppa Pig House?
Peppa Pig's family house address is 3 Astley Street, Peppatown. It was revealed in the episode My Cousin Elizabeth.
What age is Peppa Pig for?
Peppa Pig is developmentally appropriate for kids aged three years old and over. The majority of the viewers of the Peppa Pig show are kids, but it is suitable for viewers of all ages.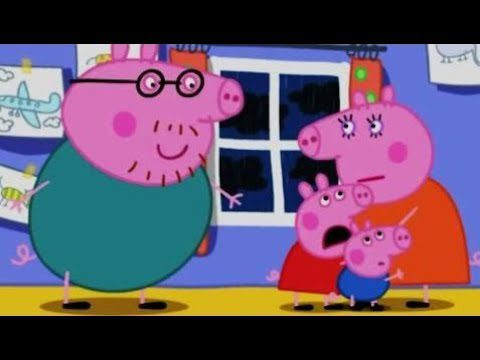 What is Daddy Pig's first name?
Daddy Pig's first name is Percy.
When did Peppa Pig end?
Peppa Pig had its final delivery on September 30, 2012.
What is Peppa Pig worth?
Though Peppa pig toys have been sold to 118 countries at a good price, a good chunk of its $1.3-B global retail sales were from China. Shipping and delivery of these toys worldwide are very popular.
What is Peppa Pig Favourite food?
Peppa Pig's Favorite food is Spaghetti and Jelly.
What makes Peppa Pig unique?
The show is unique because it has an emphasis on family. Thus, it is not limited to young viewers. It is for all ages. Peppa Pig has great values in stock within the show. Save your kids from watching cartoons with inappropriate acts and words for their age. Let them feast their eyes on shows that make sense to them, like Peppa Pig.
What is Peppa Pig's favorite toy?
Peppa Pig's favorite toy is her teddy.
Is Peppa Pig good for development?
Yes, Peppa Pig teaches social-emotional lessons and is good for the development of kids of different ages. The adventures of Peppa Pig emphasize kindness, gratefulness, and other good values. You can buy these toys in physical stores or online. Shipping is free for most shops, and most items are eligible for return within 30 days. Most parents tried to give the greatest option for their kids, like searching for the best place to buy school uniforms, looking for the best gifts, or researching for the food to give the best nutrition. Peppa Pig is also one of the best shows for your kids to watch. The episodes have easy-to-learn lessons that your kids will easily process.
Is Peppa the pig toys for boys?
Why was Peppa Pig discontinued?
What is Daddy Pig's real name?
How tall is Peppa Pig?
Who is the smartest character in Peppa Pig?
Last Updated on May 14, 2023 by Rejie Salazar
DISCLAIMER
(IMPORTANT)
: This information (including all text, images, audio, or other formats on FamilyHype.com) is not intended to be a substitute for informed professional advice, diagnosis, endorsement or treatment. You should not take any action or avoid taking action without consulting a qualified professional. Always seek the advice of your physician or other qualified health provider with any questions about medical conditions. Do not disregard professional medical advice or delay seeking advice or treatment because of something you have read here a FamilyHype.com.