As a parent, what can I do to keep my baby from causing home accidents? What can I do to make my baby stay in one place? These two are just one of the parents' most common questions when struggling with parenthood. Toddlers are smart. They move fast around every corner of the house— in the living room, kitchen, and the staircase.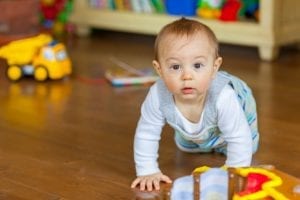 Often they crawl into the kitchen and climb into some appliances. Since they are always on the go when we least expect them to be, home safety measures are essential to protect them from accidents.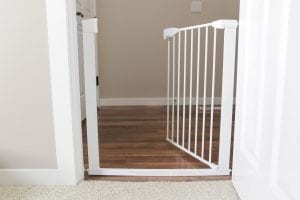 The good news is that there are many baby gates that you can easily get online to keep your baby secured at all times. To give you an idea of the possible options, we made a list of the top-selling Regalo baby gate from Amazon, and we included their features so you can see which one will fit your needs. You can also continue reading to learn more about the benefits of the baby gate and the things to consider before you purchase baby gates.
56-Inch Extra WideSpan Walk Through Barrier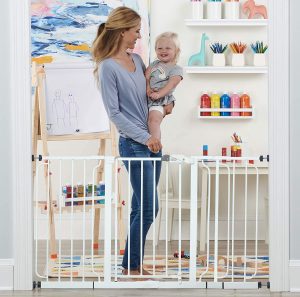 The 56-inch Regalo baby gate expands to accommodate openings between 29-56 inches wide. It is 30 inches tall, and it is highly recommended that you measure your opening before buying to ensure it's the right Regalo baby gate.
It is easy to set up, but if you need help, they have a US-based customer care that you can contact from 9 am CST to 4 pm CST Mondays through Friday.
The baby gate is made with all steel and is safety certified.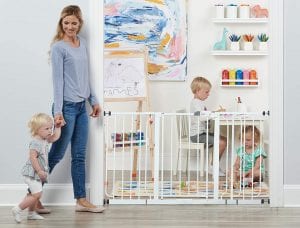 Easy Open 47-Inch Super Wide Walk Thru Barrier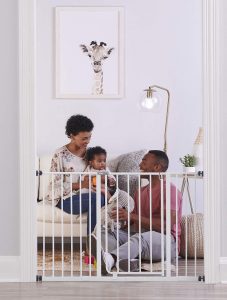 The Regalo baby gate expands between 29-38 and 42-47 inches wide to fit openings. It has a quick setup design, and it is uncomplicated to install.
It comes with a 4-inch wide and 12-inch wide extension kit, and four pressure mount spindle rods in case you need one for your doorway, hallway, and bottom stair.
This is recommended for children 6-23 months and can be used for pets too.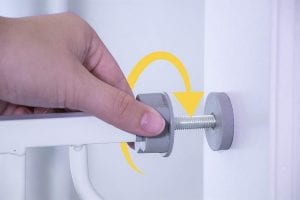 Easy Step Extra Tall Walk-Thru Barrier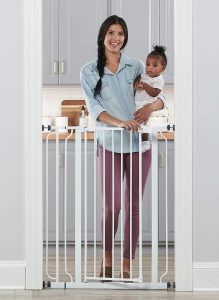 The Regalo baby gate expands to accommodate openings between 29-36.5 inches wide. This baby gate is 41 inches tall and best for children 6-36 months.
It is made of high-quality and durable materials, and it is also JPMA and ASTM certified.
It has multiple safety lock features, including 4-inch extension kits, four packs of pressure mount kits, and four-pack wall cups.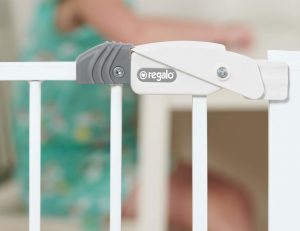 192-Inch Super Wide Adjustable and Play Yard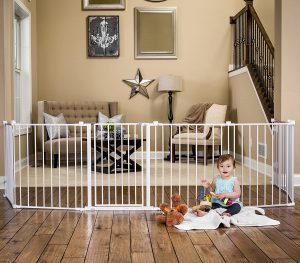 This Regalo baby gate is wide and accommodates up to 192 inches; it is 28 inches tall.
It can be converted from a wide gate into an 8-panel play yard without needing tools.
This is quick and easy to assemble, including four packs of wall mounts.
Its panel can be configured to fit the most opening, excellent for wide spaces, hallways, angled openings, doorways, the bottom of stairs, or barriers.
The Role Of A Barrier In Your Toddler's Safety
Becoming parents is one of the best jobs, but it is not as easy as you thought. The most practical way to ensure your toddler's safety is through childproofing.
Putting up boundaries like a safety gate can ease your worries about injuries and accidents. A baby gate is a lifesaver that provides your toddler the off-limits to areas in the house that may cause harm as it will make your baby stay in the same room. Your toddler will be kept from reaching small objects, tangled cords, sharp objects, and poisonous materials upon installing a baby gate with or without doors. This is why you should get the best baby gates for wide opening areas that can keep your baby safe.
Secondly, a baby gate is a right way of keeping your baby to stay in his room during bedtime. If your baby wakes up from sleep in the middle of the night, the baby gate will stop him from going anywhere. Other than that, baby gates can also prevent your baby from falling or climbing up the stairs.
Lastly, baby gates are not just for toddlers. Baby gates may also be used to keep away your pets at home from your baby's reach.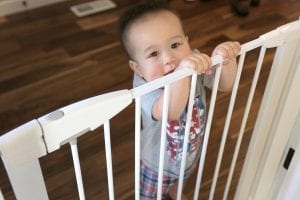 About The Toddler's Barrier
Regalo is a reputable company that produces a Regalo baby gate for your children. The company created different models of Regalo safety baby gate to provide three essential factors that every child needs while growing. The first one is safety. Regalo baby gate serves the sole purpose of ensuring your child's safety at home. Regalo baby gate also provides high-quality materials that are not easy to break. Also, it offers the needed features to guarantee the security of your toddler.
The second one is simplicity. Regalo baby gate is convenient for everybody. It is easy to use and easy to install, as well. It is the kind of barrier that does not require a complicated way of installation. Regalo baby gate can easily be installed without much fuss.
The third and last one is security. A Regalo baby gate is for the next generation, the babies. Regalo baby gate also has high-quality components to secure your baby's safety. Indeed, you will obtain peace of mind knowing that your child is in a safe place away from adverse experiences. The Regalo baby gate maximizes the cost per use since it lasts for an extended period.
The Regalo safety baby gate also comes with extra wide functions, so if you want to put regalo baby gate on top of stairs or in wider areas, you can put this safety baby gate there. You also get a safety baby gate with play yards too, and this type of safety baby gate helps keep the child in the right place.
The Regalo safety baby gate also comes with bed bumpers too. With bed bumpers, you don't have to worry about hitting the bed when opening the safety baby gates, and also it protects the child from getting hit.
They are pressure-mounted baby gates that are easy to set. Because these baby gates are easy to set, almost any parent can set them up, and they're safety products for parents and children. Plenty of these safety baby gates come with a double door, so you can open and close the safety baby gate as needed. These baby gates also accommodate door openings, and you can get beds, play yards, and other safety products that fit in your home.
This Regalo safety gate also comes with an extra tall function. The easy step® extra tall safety baby gate is perfect for toddlers who love climbing. It is the easy step extra tall safety baby gate, and the extra tall baby gate helps keep them in the right where you want them, and with the easy step® extra tall safety baby gate, you don't have to worry about the kid trying to get there. This Regalo baby gate is easy to set, and because it is easy to set, the easy step® extra tall safety baby gate is perfect for protecting children. The baby gate accommodates door opening, too, with a clicking sensation.
They also sell more than just safety baby gates. You can get baby gates, bed rails, beds, play yards, and other amazing product safety baby gates. These baby gate bed rails options are made similar to the safety baby gates, with safety at the forefront and publishing made easy.
But you won't just get baby gates bed rails from this, but there are seats, bath and toilet time you can get, and other features on their site have many options. The seat bath they have here are also made to the highest standards as their other products, including the safety baby gates. The seat bath time for parents is perfect for helping with their knees.
They offer many other products, making publishing easy on their site. If you want to write a review on anything from the safety baby gates to the seat bath time or even the bed's playtime and other baby gates they have, it is publishing made easy, and you can leave a great review of their safety baby gates right on the site to help other parents.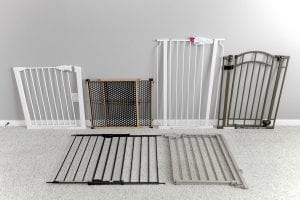 Why Choose A This Barrier Over Other Brands?
Different brands of baby gates offer various features in it. So here are five reasons why Regalo baby gate is the only brand of baby gate you could ever look for on the internet.
Compared to other brands of baby gates, the baby gate's door does not produce many sounds when opened and is a walk-through baby gate. Regalo baby gate has a perfect stability feature and well-built construction to hold up your toddler if he ever did climb over the baby gate. Even larger-sized pets could not bring the gate down or climb over it.
This is an essential feature of the Regalo baby gate because caring for a baby is a busy chore. A fundamental element of the Regalo baby gate is its simplicity. The baby gate provides easy to understand set of instructions upon installation. It does not require too much work to assemble and adjust.
A Regalo baby gate is easy to pack and convenient, especially if you want to transfer it from one house location to another. Storing the Regalo baby gate, if not in use, is as easy as setting it up.
A Regalo baby gate has a unique kind of lock mechanism set up. Its lock system is steady and consistent, which makes the baby gate reliable during locking and opening. The baby gate closes on its own if left unattended and opens only if the lock wedge is pushed enough.
The Regalo baby gate offers an expanded range of 29 to 34 inches, which is suitable enough for different locations at home. Whether in the kitchen or the bedroom, the Regalo baby gate could fit in. Since it is easy to adjust, assembling the extensions would be easy to connect with the baby gate.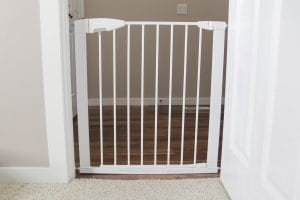 List Of Top Rated Models
Aside from the safety benefits of the Regalo baby gate, it also offers different models of baby gates to choose from before buying. Regalo's top-rated baby gate includes the Regalo home accents extra tall walk-thru gate, Regalo extra-wide span walk-through safety gate, Regalo easy-open 50-inch baby gate, Regalo 192 inch super wide gate and plays yard, and Regalo easy step walk-thru the gate.
Every baby gate model is designed with the corresponding specialization. Before buying one, you must know what features the best fit your toddler and home. Try before buying a baby gate, so do not hold yourself and explore everything, primarily from the lock system to other accessories. Start using safety measures by installing a Regalo baby gate around your home.
Frequently Asked Questions
How do you open it?
To open the Regalo baby gate, pull the maroon safety lock. While pulling the safety lock, lift the handle to disengage the lock to open the Regalo baby gate.
How do I install an extra-wide barrier?
First, assemble the baby gate with the baby gate frame. Since it is a wide baby gate, an extension is needed. To attach this, remove the spindle rods, attach the baby gate extension, and fit it properly. After which, the wall cups can be positioned and it is then attached. The baby gate is then installed in the wall cups.
What is the longest barrier available in the market?
Different sizes of baby gates are needed depending on how wide the doorway is or the restricted space. The longest baby gate available is Regalo 192-Inch Super Wide Adjustable Baby Gate.
How do you install a pressure-mounted barrier easily?
To install pressure-mounted baby gates, squeeze them to fit into the position. The baby gate does not leave a hole on the door frame since it is pressure mounted, but the baby gate is less sturdy than hardware-mounted gates.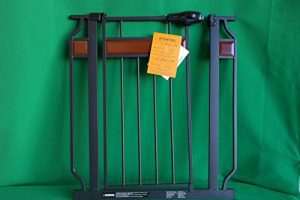 How do you tighten it?
There is a plastic knob attached to the sides that helps tighten a Regalo baby gate. Turn the plastic know to adjust the pressure and fit it perfectly.
How do you set it up?
There are different ways to set up a baby gate, depending on the type, whether hardware-mounted or pressure-mounted. For a hardware-mounted baby gate, a hole needs to be drilled in the wall or door frame to secure the baby gate. Meanwhile, a pressure-mounted baby gate would not need drilling but is less stable than the former.
Can a pressure-mounted toddler barrier be safely used for the top of stairs?
Pressure-mounted baby gates are not advised to be used for the top of stairs. If you want your kid secured, even if you do not want to drill holes, you will have to go for a hardware-mounted baby gate.
At what age do you get rid of your toddler's barrier?
Experts say that baby gates are for children six months to two years old. When a child's chin can touch the top of the baby gate, it is time to get rid of it.
Last Updated on January 13, 2023 by Inma Barquero
DISCLAIMER
(IMPORTANT)
: This information (including all text, images, audio, or other formats on FamilyHype.com) is not intended to be a substitute for informed professional advice, diagnosis, endorsement or treatment. You should not take any action or avoid taking action without consulting a qualified professional. Always seek the advice of your physician or other qualified health provider with any questions about medical conditions. Do not disregard professional medical advice or delay seeking advice or treatment because of something you have read here a FamilyHype.com.