Why is it better to get the best jogging strollers than regular strollers? It doesn't matter whether you are athletic or it is just your hobby to walk around the neighborhood – a running stroller is a great choice. You have to remember that you do not need to stop your physical activities once you have kids, and you can still do some physical activities as long as you have a jogging travel system around. Self-care should be a priority even if you have small children. You can't give them the care they need if you do not take care of yourself first. So, you must schedule ample time to exercise, breathe in some fresh air, and eat healthily. Let yourself be an example of how to live a well-balanced life for your kids.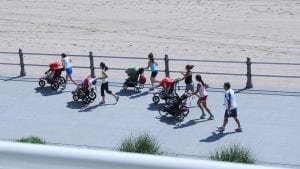 The best jogging stroller is used for daily activities best, including running to your favorite park or mall or strolling with your precious little baby.
However, you need to use a jogging stroller for strolling or running on a rougher road. It is designed to withstand bouncing and impacts that can be experienced when treading a rocky path to ensure the baby's safety. Jogging strollers are equipped with a better suspension system than a regular pram so your child can enjoy a smooth ride on any kind of terrain.
You can also get features that make it easier to steer when you're on a jog or run, like a front swivel wheel that can be locked into place and extra large rear wheels. You can also control the stroller with a good hand brake and there's usually a wrist strap to keep the pram from rolling away during your run.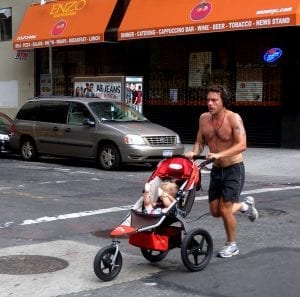 Most strollers can even double as good everyday strollers. You can find everything from the basics of many jogging baby buggies to come with lots of bells and whistles. You can get a standard stroller that works within a travel system; you can attach an infant car seat or bike trailer to it, as well.
There are many strollers that can be used by active parents as they are designed to allow easy maneuverability and portability. To help you get an idea of what you can buy online today, we made up a list of the top strollers from Amazon. We highlighted each stroller's important feature, and once you are done checking the list, you can continue reading to learn more FAQs on the best jogging strollers.
Top Jogging Strollers
BOB Gear Rambler 
The Rambler running stroller offers air-filled tires and a special suspension system that provides a smooth ride for your baby and you.
BOB Stroller is one of the best joggers that slides easily on any surface and it is excellent to use when exploring the outdoors, even on steep downhills or flat ground. It is also a compact jogger stroller and it comes with a spacious trunk for your baby bag and accessories.
Bob Revolution running stroller has a water-resistant canopy that can protect your child from the rain and harsh rays of the sun.
Graco Jogging Stroller
The Graco Running Stroller features 7 different ways to walk and jog scenery while you run with them.
These strollers have reversible seats and adjustable calf and are compatible with Graco car seats (sold separately).
It can accommodate a child with a maximum stroller weight of 50 lbs.
Thule Urban Glide 2 Stroller
The Urban Glide 2 running pram has 16″ rear larger wheels and reliable suspension for faster and safer strolling when you run with your little one.
You can lock the swivel front wheels which makes it convenient to use when you run.
This running pram comes with an adjustable handlebar and twisted hand brake for added safety.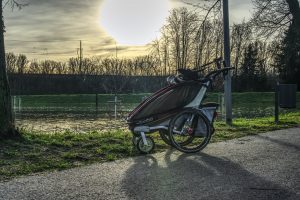 Baby Trend Expedition Jogging Stroller
The Expedition running pram comes with large bicycle tires that won't inhibit your speed when you run. It is ideal for babies from 6 months up to 50 lbs.
This running pram has a reclining padded seat with five point safety harness for a comfortable ride and added safety. It also has a tether and generous canopy storage space for sun protection, unlike other jogging strollers.
The main difference between the usual pram and the jogging pram is that the latter's three big-sized wheels and suspension system will enable you to glide on a rocky road. What is even more amazing is that this jogging pram can be used for casual events.
Pre-Buying A Jogging Baby Buggy
Before buying a jogging pram, you need to understand that you cannot use it for running until your child reaches eight to 12 months old. But you can put an infant seat on it so you could use it on a low-impact stroll. You can use this type of pram until your child reaches five years old. The best budget jogging stroller can be used with an infant car seat adapter, but not all of them, so if you want to use yours with your baby, make sure you check for that compatibility.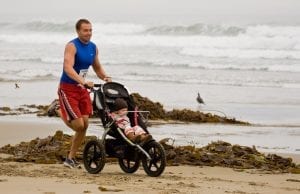 Our favorite jogging strollers that are available in the market can withstand a rough road impact that an ordinary pram cannot sustain. However, the stroller's same features and mechanisms still vary per product. Other jogging prams are for extreme usage with a rugged suspension system and wrist strap, while others are for slow-run use only.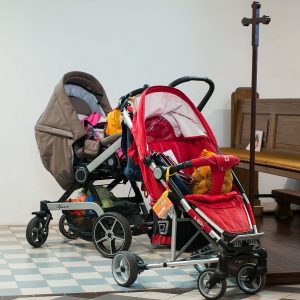 In the end, a good jogging stroller should have the following:
1. Canopy
It serves as an umbrella protecting your kid from sun rays. But a peekaboo screen is a big help so that you can look at your baby when you are on a stroll, walking, jogging, or running.
2. Reclining Seat
This would make your child comfortable while they are laying back as you do your thing.
3. Appropriate Weight Limit
You need to look for a jogging baby buggy that has the right weight limit for accommodating your child.
What's The Use Of Front Wheel Lock?
When buying a jogging stroller, you should always make sure that there is a locking front wheel. This would ensure that the pram stays on the path and won't stray in another direction.
What Does Pram Safety Tether Do?
It enables the stroller to be attached to you. This is a stroller's safety feature in case you lose grip, which can happen from time to time. You just simply slip the wrist strap over your hand so you are essentially connected to the stroller.
Are Brakes Important?
This would let you stop the strollers quickly when necessary. It's great if the stroller has a hand brake or a foot brake that is easy for you to engage while you're running. Many parents find they like their traditional stroller to have a parking brake, as well.
What Is The Five-Point Harness?
The harness acts as a seat belt for the strollers. It has the same purpose as a baby's car seat. If you're using your stroller with an infant car seat, then you'll just use the harness within the infant car seat, but once your child is sitting in the stroller seat, you want a good 5-point harness for securing your child for the ride.
Reviews On The Top Jogging Strollers
The result came from a survey on what baby products parents love the most, especially jogging strollers. Here are the results of that survey:
What Is The Top No-Effort Push Stroller?
Bob Revolution SE Stroller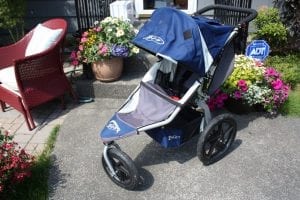 It is effortless to push on all types of roads because it has large inflatable air-filled tires unlike those that have airless rubber tires. Unlike other prams, the suspension system of the Bob Revolution SE Stroller is adjustable depending on the surface, and with that, comfort is provided while you stroll with your precious cargo. You can set the adjustable suspension system to loose for the more bumpy terrain and then tighten it back up for smoother trails.
Parents also love the Bob Revolution PRO Style because it is a versatile stroller. It has a handbrake and a height-adjustable handlebar. An adjustable handlebar makes it easy for different people to use the jogging stroller comfortably.
Yes, the product is excellent since the front swivel makes the stroller easy to push. However, the bottom storage basket is a bit small. It is also challenging to fold.
What Is The Best Jogging Strollers For Casual Runners?
Baby Trend Expedition Running Strollers
Aside from the front wheel that makes it easy to maneuver, the Baby Trend Expedition Jogger has a big storage bin that you could use to store diapers, milk bottles, bags, and more. This one is useful on rough terrain.
Although the handle is comfortable to push, the stroller is not made for hardcore cardio activities. It has minimal shock absorption with a subpar suspension system and a sling seat, but it is suitable for casual exercises like a short stroll.
What Jogging Stroller Is Easy To Fold?
Graco FastAction Fold Pram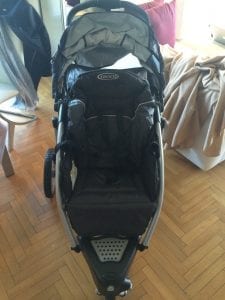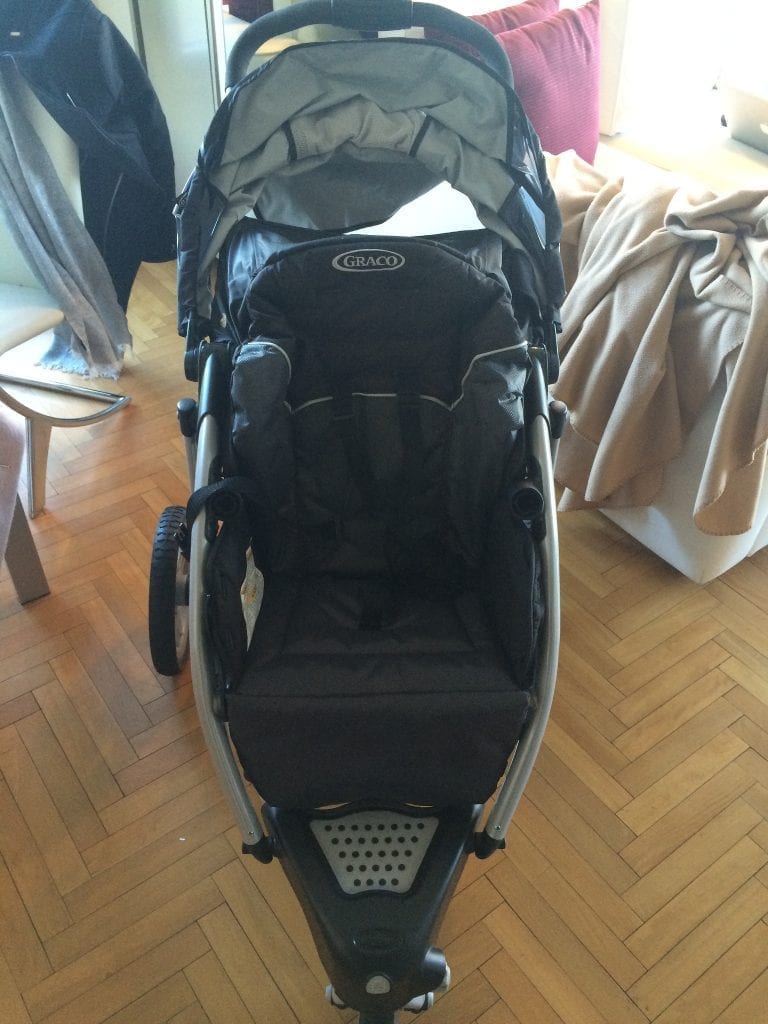 The Graco FastAction Fold Jogger is a one handed fold baby buggy which folds in a matter of seconds. The stroller has an upright feature when folded, and it is the only stroller on this list with that capability. The Graco FastAction Fold Jogger also has a large storage bin that satisfied most parents. This stroller is perfect for casual jogs. The Graco FastAction Fold Jogger is technically a crossover stroller. You can use it for your jogs, but it also works very well as an everyday stroller. It has convenient cup holders for your little one, a super padded comfy seat, and it can be used with an infant car seat. The Graco FastAction Fold Jogger will grow with your child for a while as it has a maximum weight limit of 50 lbs.
If you are serious about athletics or hardcore exercises, the Graco FastAction Fold Jogger might not be appropriate for you and your child. It cannot stand hard runners' world as it has a weak suspension or sling seat that will surely disturb your baby. It is also not easy to push and maneuver while doing a routine. The Graco FastAction Fold Jogger is more about convenience than it is about working out.
What Is The Top Stroller For Multiple Users?
BOB FLEX Stroller
When you are looking for functionality, the BOB Revolution FLEX might be the top choice for you. Such BOB models include an effortless glide that provides an easy maneuver. With a roomy seat and a large canopy, the stroller would make the child very comfortable as you do your stroll or light jog. It also includes a handlebar that can be adjusted, helping the super short or extra tall parent. This is one of the top baby buggies for parents of multiple children, too, because you can get it in a double jogger. It can be used with many different infant car seats, has large air-filled tires, and has an easily adjustable handlebar to make it one of the top strollers on the market.
Unfortunately, it has no cup or bottle holder. We find that it is necessary to have one when running and doing some physical activities. The stroller is also quite heavy, so it's not a good choice for parents looking for a lightweight jogging stroller.
What Is A Cute Hybrid Jogging Stroller?
Baby Jogger Summit X3 Single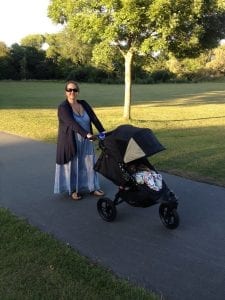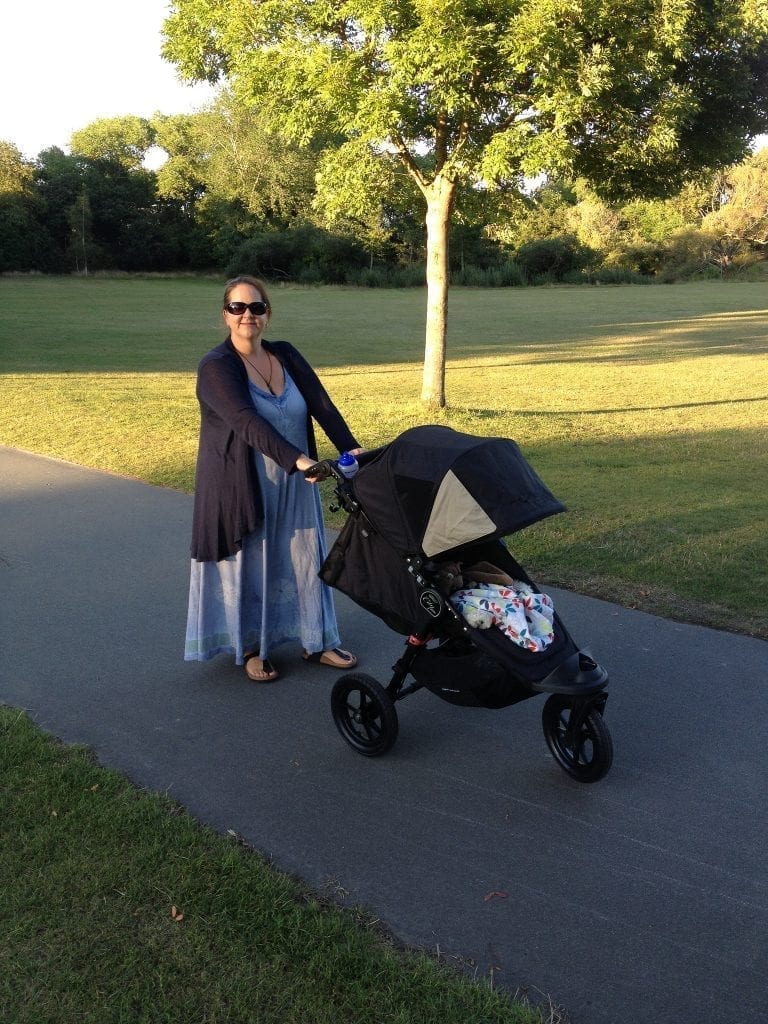 This is the top stroller if you are looking for a hybrid of traditional and jogging strollers. It has all the features of all the strollers like a handbrake, front wheel, and locking position.
Additionally, it has a UV 50+ weather canopy, which also protects the child from sun rays. The Baby Jogger Summit X3 Single Stroller is very easy to fold with one hand and has ample storage capacity for all your baby gear. One of the reasons this is one of the top choices is its weight limit. It has a maximum weight limit of up to 75 lbs. You can also use it with an infant car seat so you can use the stroller from birth all the way up through childhood.
Jogging while controlling a non-jogging stroller is tiring, even for the best jogging / strolling parents.
What Is The Best Lightweight Jogger Stroller?
Joovy Zoom 360 Ultralight Running Pram
The obvious reason taller parents love the Zoom 360 Ultralight is that it is one of the lightest ones on the market. It doesn't have a high price tag too. It actually costs less than many of the others on this list. You can use this with an infant car seat as it can be used with an adapter that is compatible with many brands of infant car seats. The Zoom 360 Ultralight folds up easily and into a size friendly for your car trunk. The maximum weight limit is 75 lbs. so it can be used for a long time. There is a wrist strap so you can connect the Zoom 360 Ultralight to you while you run so it doesn't get away from you.
The Zoom 360 Ultralight has some complaints about the braking system requiring too much pressure. Also, while it's easy to fold up, new parents say it's hard to open back up.
This is probably the lightest item on the stroller running list. The Thule Urban Glide has adjustable tracking that secures the wheel and keeps it straight. It is very tough and can tread any kind of terrain. According to parents, it might be the best stroller for heavy users.
It is hard to get the diaper in or out as the basket has a weatherproof covering.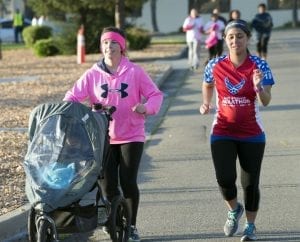 Choosing Your New Jogging Stroller
The choice of running stroller will depend upon your type of use, budget, performance, and overall preference. Parents may look for the top choices that are good for marathons or the casual running downhill session. In the end, you should not forget that the most critical thing in choosing the best budget jogging stroller is security for the baby. Stability and steerability must also be considered since they can distract or aid you while strolling or running.
Frequently Asked Questions:
What Are Top Jogging Strollers To Choose From?
Is A Running Pram Better?
This type of pram is great for parents who love to jog, run, and take off-road trips. A running pram is designed to help parents stay fit while keeping their babies comfortable and safe while they are active on the road.
Is A Jogging Stroller Preferable?
They are designed to be safe for babies while parents are running. It has shock absorbers – a feature that lessens the jarring shocks that might be experienced by the baby on a bumpy surface while a mom or dad is jogging. Many of them also are equipped with a wrist strap to keep the pram from getting away from you during a run. Some of the top strollers will also have many features designed to keep bigger kids comfortable and safe at all times during your run.
Jogging Stroller Vs. Regular Stroller
Here are the features of a jogging pram that you might not find in a regular pram:
Jogging strollers are more extensive compared to regular ones.
The stroller's front wheel is fixed for proper control.
Wheels are usually more massive than that of the regular strollers
A jogging stroller features better legroom.
A jogging stroller has improved the suspension system.
A jogging stroller will have a wrist strap so you can tether the pram to you.
Why Do Jogging Baby Buggies Have Three Wheels?
Running prams are designed with three wheels that have front wheel locks so you can have the option to lock into a fixed position and unlock. The front wheels play a vital role in helping a parent maneuver properly and run safely.
Can I Put A Newborn In A Jogging Stroller?
According to the experts, the coolest time to start running with your baby on a running pram is when he or she already reached the age of 6 months. As we all know, newborns are not capable of sitting yet, and their bones and muscles are still very fragile. Most running prams allow the baby to sit upright, and a newborn is not ready for that. However, you can use some running with infant car seats.
Choosing The Right One
If you are serious about your purpose for getting a running pram, here are some of the things you need to consider before buying this type of pram:
Identify your real goal. If you will use this for regular jogging or running, BOB Revolution, Thule Chariot Cross, or the Baby Jogger FIT is the most recommended type.
How often will you use the running pram? If you plan to run or jog regularly or spend more time on a long-distance run, you need to select the most durable ones and those with a wrist strap.
It features different positions. Check if the pram can be reclined. Some kids may need to sleep while outside, and you want, of course, to make them feel comfortable.
Ensure that it has a fixed front wheel. It is not recommended to run without a fixed or lockable wheel.
Do not forget to check also the top jogging pram reviews to get real feedback from users about the top baby products.
Can You Jog With Vista Baby Buggy?
UPPAbaby VISTA has four wheels and is just a regular pram. It does not have a wrist strap or any of the normal features you would see on a running pram. Therefore, it is not primarily made for jogging, and it will not be safe to use it for that purpose. In addition to that, UPPAbaby does not make the running type of pram.
Is BOB The Top Jogging Pram?
We have mentioned above some of the top prams, and the BOB strollers take the number 1 spot. In 2019 top jogging pram reviews, the BOB Gear Revolution Flex 3.0 Jogging stroller has received more positive ratings and feedback thus, making it the best running pram.
Are Jogging Strollers Worth It?
Jogging strollers are preferred by both runners and caregivers for their ability to offer a comfortable and stable ride for the baby, even at faster speeds and on rough, uneven surfaces. They are also a great choice for their effortless maneuverability and user-friendly nature in everyday situations.
What Age Is Appropriate For A Jogging Stroller?
According to the manufacturers and experts, a running pram is safe to use when a baby is at least 6 to 8 months old.
What Is The Best Brand Of Jogging Stroller?
Which Baby Stroller Is Best For Running?
What Is The Most Expensive Stroller?
Other Resources
BabyList Facebook – Instagram – Twitter
WhatToExpect Instagram
NyTimes Instagram
LuciesList Instagram 
GoodHousekeeping Instagram
Last Updated on April 15, 2023 by Nisa Jabajab
DISCLAIMER
(IMPORTANT)
: This information (including all text, images, audio, or other formats on FamilyHype.com) is not intended to be a substitute for informed professional advice, diagnosis, endorsement or treatment. You should not take any action or avoid taking action without consulting a qualified professional. Always seek the advice of your physician or other qualified health provider with any questions about medical conditions. Do not disregard professional medical advice or delay seeking advice or treatment because of something you have read here a FamilyHype.com.