Looking for the best children's umbrellas? Umbrellas are a unique personalization item for parents to get their kids, especially if they love playing out in the rain. That is why it is important for kids to own umbrella.  But, what are the best umbrellas for kids out there? Which ones will your child love? Well, let's dive into the best umbrellas for kids that your child will love and use again and again.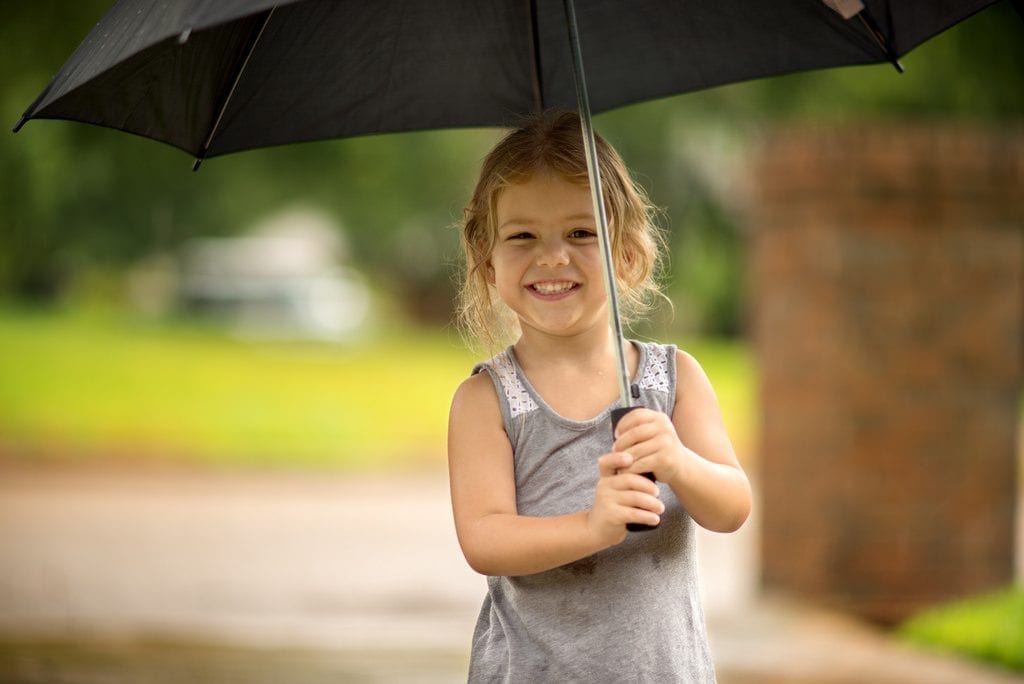 Keep Kids Safe During Rainy Season
Children need to use umbrellas during the rainy season for several reasons. Firstly, it keeps them dry and prevents them from getting sick. Children are more susceptible to colds, coughs, and other illnesses when they are exposed to the rain for an extended period. Using an umbrella will protect them from getting wet and catching a cold.
Umbrellas can help children stay safe during a thunderstorm. Thunderstorms can be dangerous, and lightning strikes can cause serious harm to children who are outside. Using an umbrella provides some protection from the rain and can help reduce the risk of being struck by lightning.
Did you know that using umbrellas can be fun activity for children during the rainy season? Children love to play in the rain, and using an umbrella can add an extra element of excitement to their playtime. They can use the umbrella to create a shelter or play games such as pretending to be a detective or a superhero.
Using an umbrella can help teach children responsibility and self-care. By encouraging them to use an umbrella when it's raining, we are teaching them to take care of themselves and stay safe. We are also teaching them to be responsible for their own well-being and to take preventative measures to protect themselves from potential dangers.
What To Look For In An Umbrella
The biggest thing is to find one with a grip small enough that they can hold it. If it's too big, it'll be uncomfortable for them, and they won't want to use it.
The other big thing is getting them a kid friendly design that they will love. Of course playful umbrellas are more fun and appealing to kids. They will love to bring it if the umbrella has lots of colors, prints, and shapes. If you know your kid likes ladybugs, get them a bubble umbrella or ladybug umbrella, or if they like pigs, get them one in the shape of a pig. There are endless possibilities of playful design and pattern options out there with this.
Moreover, when it comes to buying an umbrella for little kids, safety should be a top priority. Children are curious and tend to explore objects with their tiny hands, which can lead to accidents.  The following are more special and safety features that you need to look for in your umbrella.
Look for pinch proof closure and safety caps that prevent little fingers from getting caught
The kids' umbrellas must have a sturdy frame. Kids tend to be rough with their belongings, so an umbrella with a strong frame can withstand the wear and tear of everyday use. This will ensure that the umbrella lasts for many rainy days to come.
Big kids umbrella must also be poke-proof. Kids love to point and poke at things, so an umbrella with rounded tips or safety caps will prevent them from accidentally poking themselves or others.
Of course, no kids' umbrella would be complete without being super cute! Look for designs that feature their favorite characters or bright colors to make it more appealing to them.
In addition to these features, there are a few safety tips to keep in mind when using a kids' umbrella. *
Teach your child to always hold the umbrella with two hands and to never use it as a weapon or plaything.
Supervise them when using the umbrella, especially on windy days. A kid friendly umbrella must be easy to open and close to be manageable regardless of the weather.
Have an umbrella with extended canopy if you intend to use it together. The extended canopy will ensure that both of you will be covered.
Remember, children's umbrella need to have sizes that are commensurate with your kid's size. Don't buy kids umbrellas that are either too small or too big. For instance, if your child is between 4-5, you can buy child sized umbrellas. Conversely, older kids may need bigger umbrellas that are enough to cover them when there is rain or sunshine.
Skip Hop Kid And Toddler Umbrella
It is a fun and super cute umbrella for any kid that likes to walk around on a rainy day. It has an innovative windowpane so kids can see out while still being sheltered and stay dry. It coordinates with a matching raincoat from the same company, so if you want to get your kid a matching raincoat, you can. There are a variety of animal and color designs, or even color changing umbrella, or waterproof clear bubble umbrella, all of which are super cute and perfect for your kid.
Western Chief Character Umbrella
It is a cute umbrella that's a nylon U, but it's made of plastic. It is lightweight, and it is a five-star umbrella on Amazon. It's super small, and it can be hand-washed if it does get dirty. Plus, it's super easy to open. It's easy to store and carry, and it comes in a cute batman style, or you can get one in a style that your kids will enjoy. This own umbrella is perfect for kids to take to school, and the unique and kid friendly design will make them excited and remember to take it when they're about to leave school, so they don't forget it anywhere.
Another thing that makes this umbrella uniqu for kids is the rounded tips. The frame is a little flimsy, however, so make sure that, if your kid uses it, they aren't too rough with it.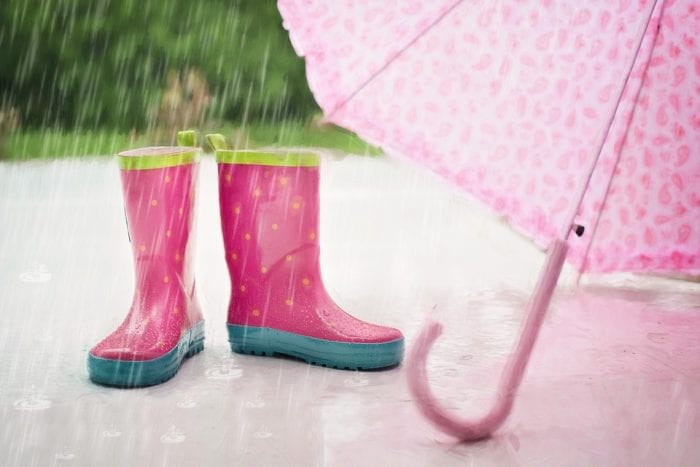 Brilliant Pop-Up Umbrella For Your Kid
This is a cool and unique design that's in all kinds of different animal shapes, so if your child loves certain animals, your child will clamor for this cute umbrella that they will love to use.
The designs range from butterflies to frogs, to sharks, to even pirates! They're made for kids to open and close easily through a pinch proof closure, and there aren't any awkward buttons on this, so you don't have to worry about your child accidentally getting their fingers jammed in there, which can hurt their fingers.
Totes Clear Umbrella
If you want to get something simple for a child, this is probably one of the most ideal umbrellas out there. It's a clear umbrella, but it's a nice, high-quality umbrella that is unisex. This umbrella has a clear little canopy that lets kids see what's going on, so you don't have to worry about them accidentally tripping and falling over bumps they may not notice, and it's the perfect functional umbrella. Some kids may not be into crazy designs either, so this is an option that works for them.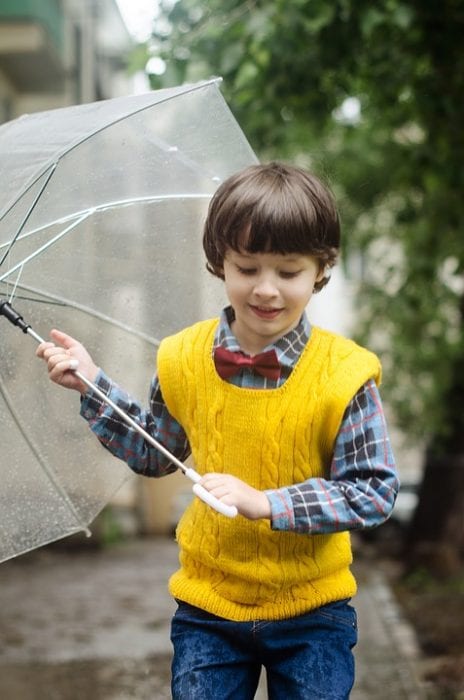 Kidorable Pink Ballerina Umbrella With A Pop-Out Ribbon And Pointe Shoe Handle
This umbrella is perfect for daughters that are inspired to become ballet dancers or love ballerinas. This umbrella got a velcro strap that's easy to close, and it is pretty easy to store too, and that's why this one is great. The ribs do contain safety tips or caps, so your child won't get hurt. This umbrella has a cute design, and it's the perfect pick for daughters who want something a little girly. It does come with a super easy button to push, and it also is pretty fun, since it makes them feel like they're a dancer. Plus, it's cute all year round, and with the point shoe handle, it's a great umbrella that your child will love, whether it's raining or shining outside. The one downside is the pointed shoe handle is a little big. Therefore, it might be awkward for your children to hold with their little hands.
Windproof Umbrella
If you live in a place that tends to be rainy and windy, this is the greatest umbrella for kids. It's one of the top picks, and it provides protection to the user from rain and from heat. It has fabric that is thick and with a sturdy frame, and with a frame that's well-constructed, you can use this easily, and it won't flip over in case if there is a big wind. It's a super-strong umbrella, and your child will be happy to have it. It's great for kids to use, and even though it's a bit heavy, it's a sturdy umbrella that will last even without a cover.
Stephen Jones
If you want to have an umbrella that is durable and simple to wash and with safety features, this one is great. This umbrella got wonderful, bright colors and your child will want to take it wherever they want to go. It's pretty cute, and if your child wants an umbrella that's colorful and attractive, they'll love these complete features. Plus, they'll be more interested in using it if the umbrella looks cool.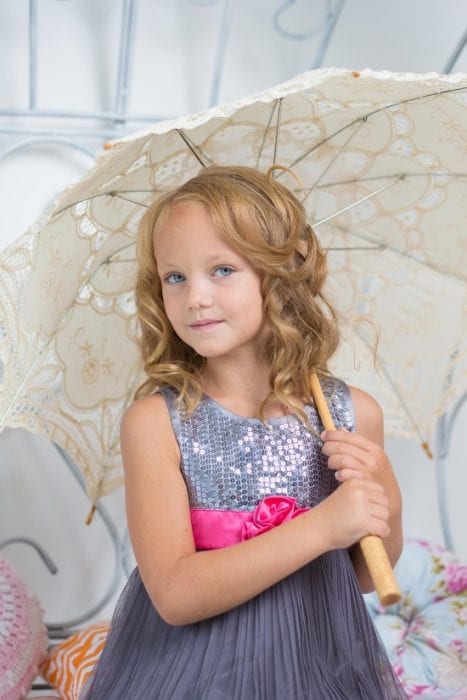 But this isn't just a pretty face, it's also quite durable, and it can combat the heat, along with the sun and moderate wind pretty well. It's pretty high-quality in terms of frames, and it's made of full polyester. It comes with a velcro closure that the child can use to wrap it around to store, and it has enough diameter to protect the child from the rain and heat. The only downside of this product is that it looks pretty kiddie, so big kids might not use it.
These umbrellas don't just look nice, but they do the job and then some, and if you're looking for a fully functional umbrella, these are the greatest that are out there, and the ones that will do the job and then some for your kiddo that they'll love. You can check Stephen joseph store as it offers plenty of purchase options for your kid.
Is stick umbrellas good for kids?
Stick umbrellas are generally not recommended for young children. This is because the long, straight handle of the stick umbrella can be difficult for kids to handle and may pose a safety risk.
For very young children, it's greatest to choose an umbrella with a shorter, curved handle that is easier to grip and control. A child-sized umbrella with a safety mechanism that prevents pinching fingers is also a good choice. These types of umbrellas are usually smaller and more lightweight than a traditional stick umbrella, which makes them easier for kids to hold and maneuver.
Kids Umbrellas FAQs
Are expensive umbrellas worth it?
Which color umbrella is best?
Should I get a 2 or 3 fold umbrella?
Are darker umbrellas better?
Which umbrella is best from sunlight?
Best Kids Umbrellas Other Resources
https://nymag.com/strategist/article/best-umbrellas-for-kids.html
https://www.scarymommy.com/spotted/best-kid-umbrellas-rain/
https://www.thebump.com/a/kids-umbrellas
Last Updated on May 5, 2023 by Mary Cimeni
DISCLAIMER
(IMPORTANT)
: This information (including all text, images, audio, or other formats on FamilyHype.com) is not intended to be a substitute for informed professional advice, diagnosis, endorsement or treatment. You should not take any action or avoid taking action without consulting a qualified professional. Always seek the advice of your physician or other qualified health provider with any questions about medical conditions. Do not disregard professional medical advice or delay seeking advice or treatment because of something you have read here a FamilyHype.com.