Organic baby formula is a more expensive option than regular formula, but it provides several benefits. There are a few different reasons why parents might choose to use organic baby formula over non-organic formulas.
The first reason is that organic formulas are made with organic ingredients. This means that they don't contain any synthetic chemicals or artificial flavors. The second reason for choosing organic baby formulas over non-organic formulas is that it has more nutrients and vitamins that babies need to grow and develop properly. The third reason parents might choose to use organic baby formula over non-organic formulas is that it's free from genetically modified organisms (GMOs).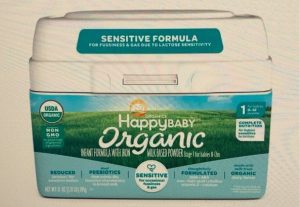 This article will discuss the benefits of using organic baby formula and provide some information about selecting the best type.
What Are The Best Organic Baby Formula Options – Organic Baby Formula Brands
There are many different brands of organic baby formulas available, but they all have their benefits and drawbacks. Here are some of the top organic baby formula brands from Family Hype:
Loulouka Stage 1 Organic (Bio) Infant Milk Formula
Loulouka Stage 1 is a fantastic option for infants from 0 to 6 months old and is made in Switzerland. This organic infant formula is free of GMOs, palm oil (they use coconut oil instead), and added sugar. It also has all the necessary elements.
This formula is based on milk from Swiss cows that are fed only grass, and each box contains approximately 70-100 mL feedings. To help maintain freshness, each batch carries a one-year expiration date.
Loulouka is rich in vitamin A, iron, vitamin D, and vitamin C, and is certified organic. It contains protein from whey and milk, DHA from fish oil, and does not contain soy.
Though it should be noted that Stage 2 includes maltodextrin as a supplementary sugar source, lactose still makes up the majority of the sugar.
Best Organic Formula For Babies
HiPP Hypoallergenic Organic Infant Formula PRE
Omega 3, prebiotics, and all the necessary minerals and vitamins are included in the organic infant formula called HiPP, which is produced in Germany. It is free of soy, gluten, wheat, hormones, artificial additives, GMOs, antibiotic residues, and peanuts.
Additionally, there are no additional sweeteners like fructose, corn syrup, or regular sugar. Instead of being extracted using hexane, omega 3 is obtained from vegetables and fish oil.
HiPP Hypoallergenic (HA) Infant Formula PRE is starch-free and whey-based. Your infant can be fed every three hours. In addition, the hydrolyzed milk proteins lessen the chance of an allergic reaction.
HiPP Hypoallergenic PRE can be used after birth if shifting from nursing or another formula. If your infant is allergic to cow's milk, this formula can induce a response. Add hot water to HiPP and shake vigorously. One carton of the formula is 150 ounces.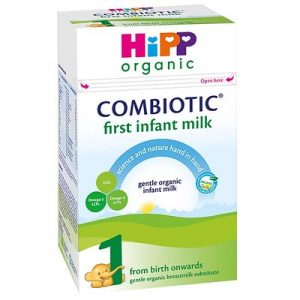 Holle makes biodynamic and organic newborn formulas without added sugars, pesticides, fertilizers out of chemicals, GMOs, soy, maize, or artificial preservatives or supplements.
Holle's goat and cow milk formulas have milk proteins (hydrolyzed) that can be easily digested. As a result, grass-fed goats and cows produce beta-carotene, vitamin-E-rich milk, and omega-fatty acids.
This top organic milk contains only lactose and maltodextrin free. This one has more milk fat and less vegetable oil than Holle's other formulations. Lactose and organic maltodextrin are both included in Holle Organic Baby Goat Milk Formula.
Lebenswert Organic Baby Formula Stage 1
The biggest German organization for organic foods, Bioland Farming, supplies Lebenswert with all its materials. Their Organic Baby Formula Stage 1 is non-GMO, has no gluten, and free of added sugar. It is made up of milk from grass-fed cows that are organic.
However, it does include the DHA in fish oil as well as palm and canola (rapeseed) oils. This formula is safe to use starting at birth and contains all the necessary vitamins and minerals. One box yields roughly 130 ounces of mixed formula and mixes readily with boiling water. Unfortunately, Maltodextrin is present in Lebenswert formulas above Stage 1. Therefore if you want to stay away from it, keep using Stage 1.
Again, finding Lebenswert in America can be difficult because it is imported and not FDA-approved.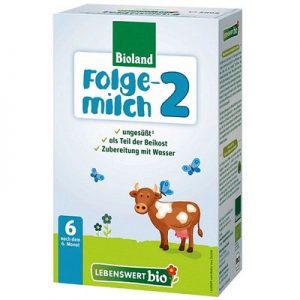 Nature's One Baby's Only Organic Gentle Formula
This DHA/ARA toddler formula is available at Whole Foods.  It's free of corn syrup, palm oil, other sweeteners, and carrageenan. In addition, the gentle formula has no hexane. Formula made with regular organic cow's milk is produced with or with no ARA and DHA.
It includes brown rice syrup in several formulas, including standard (non-Gentle) dairy. This product was warned years before because it contained a high quantity of arsenic.
Baby's Only formulas feature a filtration technique (patent-pending) authorized by the USDA National Organic service for rice and organic brown rice syrup components. This technique eliminates arsenic and some other heavy elements from soil and water.
This filtration decreases heavy metals to extremely low levels or beneath the US drinking water regulations. In addition, independent labs now certify formulations.
Why Choose Organic Baby Formula?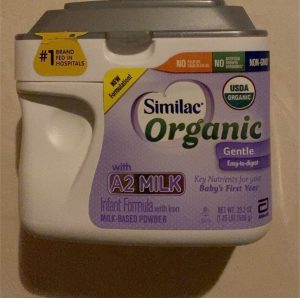 Minimal and natural ingredients.
Conventional formulas often include fructose, whey protein, lactose, brown rice syrup, or other sweeteners. They may also contain extra colors, flavorings, and other non-organic formula ingredients. Organic infant and toddler formula mimic breast milk's nutrients.
Choosing organic baby formula brands with fewer ingredients helps ensure your baby gets the proper nourishment for growth and development without fillers or chemicals.
Higher nutritional profile.
Some data suggest organic foods are healthier than conventional. While it's still being researched, selecting organic over conventional formulas is beneficial. Even though the nutritional value is equal, organic infant formula is better than conventional since it has enhanced safety procedures and excellent organic ingredients.
Hormones and antibiotics in standard formulas offer health dangers. Hormone and antibiotic consumption from cow's milk or cow's milk formula may raise the risk of obesity, antibiotic resistance, and allergies later in life. Hormones and antibiotics aren't allowed in organic baby formula. Organic formula is hypoallergenic. Choosing organic may reduce the hazards of hormones and antibiotics.
It is essential to know that the quality of the milk you are feeding your baby is just as important as their nutrition and health.
This is why finding the top organic baby formulas for your child is essential. Read about organic baby formula at

Family Hype

.
Organic Baby Formula FAQs
What is the best most organic baby formula?
What is the closest formula to breast milk?
What is the safest baby formula on the market?
What is the best organic baby formula in the UK?
What is the closest formula to breast milk UK?
Is organic formula really better?
What formula do most doctors recommend?
Is it worth getting organic baby formula?
Is organic baby formula safe?
Which formula is healthiest?
What is the healthiest baby formula brand?

How do I choose organic baby formula?

What is the closest formula to Happy baby organic?

Is it OK to switch formula brands?

How long does organic baby formula last?

Last Updated on May 15, 2023 by Patrick Magtaan
DISCLAIMER
(IMPORTANT)
: This information (including all text, images, audio, or other formats on FamilyHype.com) is not intended to be a substitute for informed professional advice, diagnosis, endorsement or treatment. You should not take any action or avoid taking action without consulting a qualified professional. Always seek the advice of your physician or other qualified health provider with any questions about medical conditions. Do not disregard professional medical advice or delay seeking advice or treatment because of something you have read here a FamilyHype.com.