The farm has captured the imagination of generations of kids. For a kid, a farm is not just a place of hard work, but a fun adventure of raising cows, chickens, and all the little animals. If your kid is a small farmer, or just likes the aesthetic, here are some cool farm toys that your little one is going to love every bit of. Let's get started at seeing what farm animal friends there are that your child might like, shall we?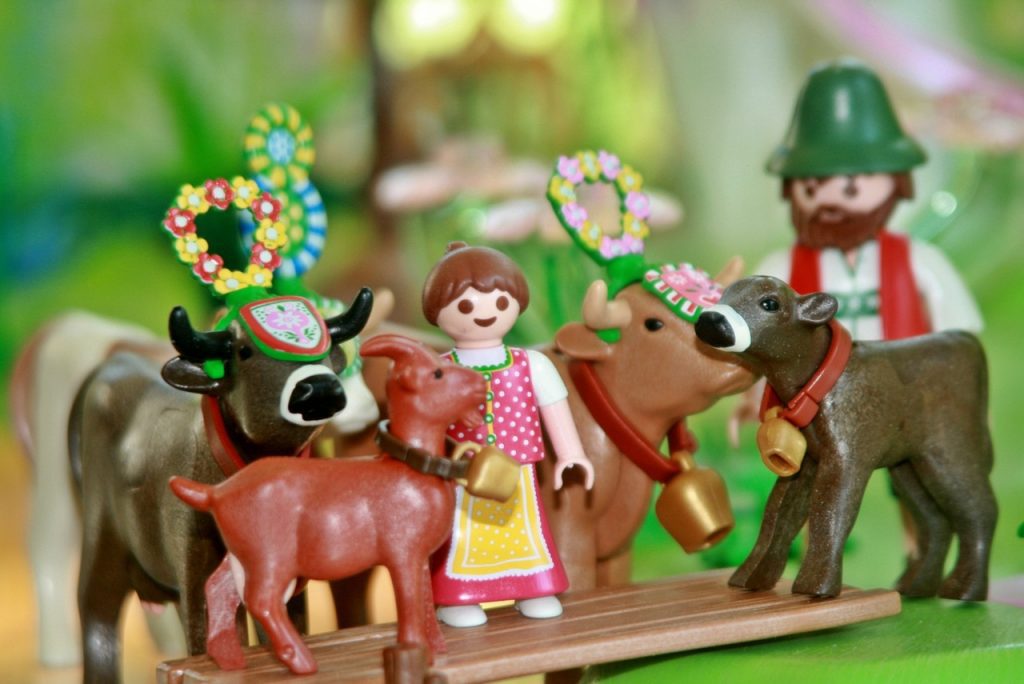 Melissa & Doug Pop Blocs Farm Animals 
This is a neat little setpiece, and Melissa & Doug has been a trustworthy brand for kids for a while. This set comes with many different farm animals to create something magical. We say to try it out and see just how great it is. Melissa & Doug has an array of other farm set toys that you can get along with this tractor. For instance, the Melissa & Doug Fold & Go Barn makes a great addition to any kid's mini farm world. The Melissa and Doug Fold & Go Barn is modeled after a really big red barn and is complete with sliding doors and all.
Kidoozie Funtime Tractor
What child doesn't like going in a tractor ride? A tractor is a fun little vehicle if you're a little farmer, and this cool tractor moves smoothly. It comes with the tractor, an attachable trailer, different animals for the tractor, and of course, the farmer who drives the tractor. The tractor also has buttons to push so there are some lifelike sounds and real animal sounds.
ALEX Toys Little Hands String A Farm
This toy is excellent for a little one who just wants to put together a neat little farm setpiece. It has 12 pieces, making it perfect for your young child. It has a stopper and a cotton lace too. Overall, it's a neat little setpiece that you're going to love.
There are several large farm animals made of wood that come with this toys set. Your little one can thread the string through them and take the whole farm anywhere they go. It's a great farm animals set for toddlers.
Imagination Generation Wooden Wonders Push-n-Pull Spotted Cow Toy
This is a wooden cow that a toddler can pull around. It not only looks great with its wood finish. Your little one will love playing it, and so will you. 
Stacking Wood Farm Game From 2×4 Toys 
This is a fun little game that is great for your little one. You have to stack sticks, which sounds a bit tricky. Every kid likes the pick-up sticks game, as will the parents. Try this out today and see what a difference it makes. 
Wooden Toy Magnetic Dry Erase Board Puzzles (Farm)
What little kid doesn't love puzzles? This is a cool little puzzle your kid can play to make their scenes. With a magnet board, your kid is going to love snapping everything on there and seeing how it works. We say it's worth trying out for that alone. 
Set Of 5 Farm Animals!
What better way to give your child some farm toys than to provide them with a cute little set of animals? This includes some realistic animals that look great, and your kid is going to love. Toys like these encourage a kid to use their imagination. They can play with all the animals and give them personalities, be it talking to animals or animals that are a pet to the farmer. 
ALEX Toys Little Hands Clothespin Farm farm Toys For Toddlers 9
This is a cute little crafts project that your little one is going to love. What you do is take some clothespins and put the farmer decorations on them. This is great for younger children who are just getting into arts and crafts, allowing them to be creative and make their clothespin farmers. 
VTech Go! Smart Horse And Foal Farm Animals 
This is a neat little set that is educational too. It makes noises, has singalongs, and tells kids about the letter H. Great for toddlers who are just learning their alphabet, this little set comes with both education and fun, making it great for all sorts of occasions. There are lots of fun animal sounds to hear and parents love all of the learning resources this toy brings to their children's lives.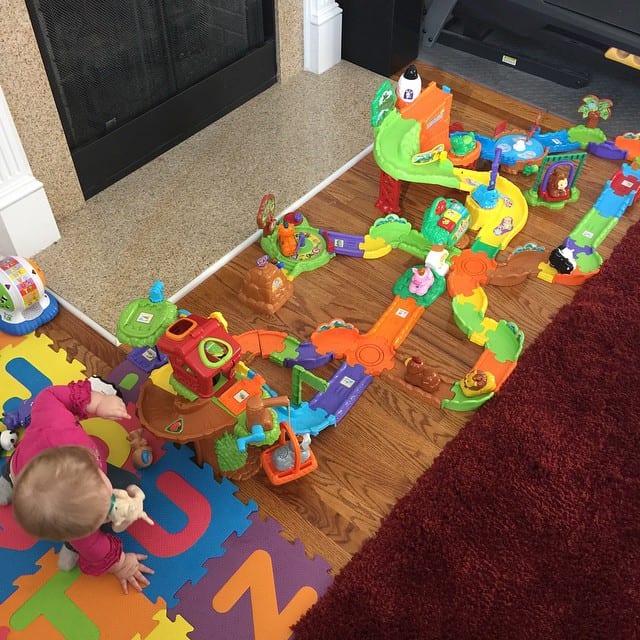 Battat Big Red Barn
The Battat Big Red Barn opens up into a world of little farm wonders. It comes with four animal farm toys and a farmer. There are different textures for your little one to experience. You also will find doors that open and close and a few other surprises inside the barn. This is a great toy for children starting around 18 months old.
BeginAgain BuddyBlocks – Farm Animals 
This is another cool little puzzle for a toddler. A farm wooden puzzle is safe and teaches toddlers how to think. Even a tiny puzzle can be a challenge when you're a toddler, and once you figure it out, you feel so smart! Good job! This is a toy that you're going to love watching your toddler put together. 
Melissa & Doug Farm Friends Hand Puppets Farm Toys For Toddlers 12
Puppets! Who doesn't love puppets? You can make your own stories with them, go on adventures, and your kid can practice their acting skills. It's a cute little setpiece that depicts your fellow farm animals getting down. Melissa and Doug toys are well known for inspiring the imaginations of small children around the world. They have produced so many educational toys that help children learn about everything around them. Your toddler can have fun making their own animal sounds while they put on an animals farm puppet show. Experts say it's worth checking out.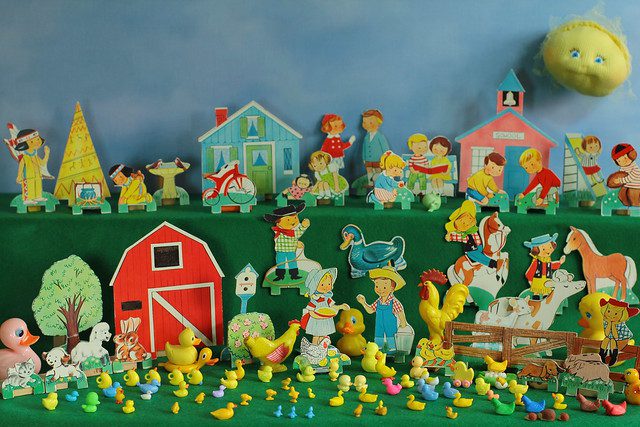 Cow Bouncer
Who doesn't love bouncers? Being able to bounce high in the air gets a kid's energy out, plus it's fun for a party or a houseful of kids. This bouncer depicts a cow who just wants you to move. Toys that get kids moving are wonderful to have around. That's why toys like this cow bouncer exist. There are even video games that can get children up and moving about now. Inspire your children to think and to be active.
The Learning Journey Match It! Listen & Play Bingo, Farm
Bingo can be a fun game for children that teaches them how to listen and spot what's on their card. This one involves cards of animals and hearing animal noises, which is quite interesting itself. We say to try it out and see how much your kid enjoys it. Having the animal sounds for kids to hear makes this game more engaging for them. And since it's a game, the whole family can enjoy it together.
Fisher Price Little People Farm Animal Friends
The Fisher Price Little People toy sets are nice because you can mix and match them with other sets your child has. The Little People are interchangeable amongst different sets. This Fisher Price Little People Farm Animal Friends play set comes with several farm animals, a farmer, and a big red barn with gates that open and close to the stalls inside. Your little one can have hours of fun playing with the mini farm by Fisher Price. You can also check out some of the other Fisher Price farm sets to expand their farm out.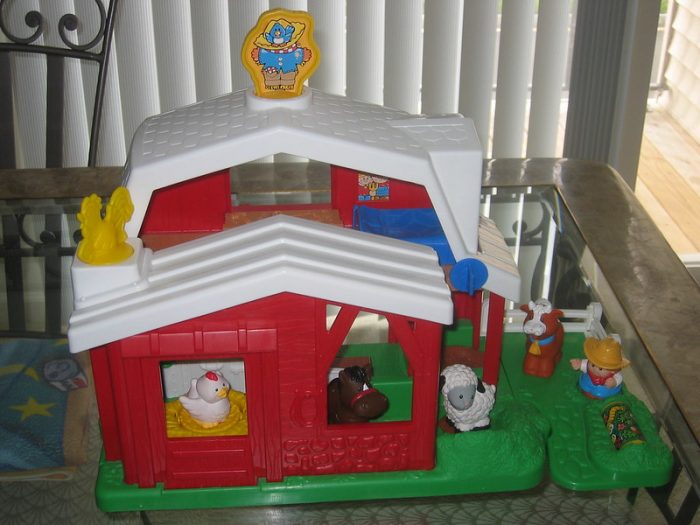 Topanifarm Cubes
These are stackable cubes depicting animals. This is quite fun for many occasions and great for kids who are learning fine motor skills. It teaches them about animals, what sounds they make, how to count, and so on. It's educational and fun, which is what you want out of a farm toy. Learning resources like this that can also entertain a child will keep them from getting bored so they want to learn more. They will get more out of toys like this. Try this out today and see what a difference it makes.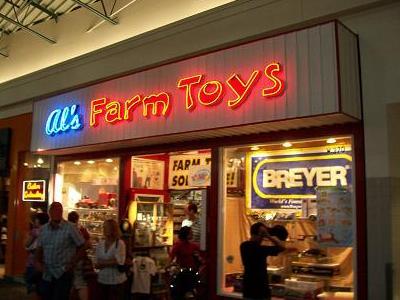 Melissa & Doug Lace And Trace Activity Set
This is another little set that teaches children how to trace. If your kid is a budding artist, it's great to keep them busy. You will love how it teaches them to trace using thread. Overall, it's going to be a hit for both you and your child, making it amazing in all regards. Melissa & Doug created this set to continue to inspire children. You can do this activity over and over again. It's one of the great learning resources for the development of fine motor skills in young kids.
AxiEr Wooden Rooster Set With Pull Carts 
Finally, we have this cool little rooster. This is a pull toy that depicts a rooster, and it is here to have fun. You'll love watching your kid pull it, and your kid will love how smooth it goes across the floor. 
Farm toys are fun, and here you learned about some fantastic farm toys children will love.
FAQs On The Top Farm Animal Toys
Are any of these items a choking hazard?
These farm animal toys for toddlers are specially made for their age group, so they aren't choking hazards. These toys are gentle and soft to the touch, which makes them interesting for toddlers. They are also oversized, so swallowing is not possible.
Just how tough are these toys?
Typically, these toys are made durable to toddlers. But the toughness or softness of these toys vary. Maybe those with axles aren't made to last long and usually falls off after days or frequent playing. If you purchase toys made by Melissa and Doug or Fisher Price, you'll be getting good quality built toys. They're also made to be safe and are usually very good learning resources for toddlers and young children.
What age should my toddler be starting to associate animals with their sounds?
There is no specific age as to when a child should be able to associate animals and their sounds. Each child is different, but typically they will reach this milestone once they learn how to speak. Getting them any of the Melissa & Doug animal toys that make sounds will help you to teach them about different sounds animals make.
Are batteries included?
Most of these toys do not require batteries. But if they do, most are included in the package. If you're getting one of these toys that doesn't have batteries included to give as a gift, you can always just include a package of batteries along with your present, or include gift cards for somewhere where batteries can be purchased.
How does playing with small toys like these farm toys help promote fine motor skill development?
Allowing your children to play with small farm toys helps in developing their motor skills. The way they hold the tiny objects on their hands, and how they let it move through their fingers, and picking up the toys are motor skills that can help them when they start to write or draw or grasp a spoon as they get older. Melissa and Doug offers many toys that help children to develop their fine motor skills, such as the Melissa and Doug Lace & Trace Activity Set. It allows children to try to manipulate small items with their fingers so they gain better control over what they do with their hands.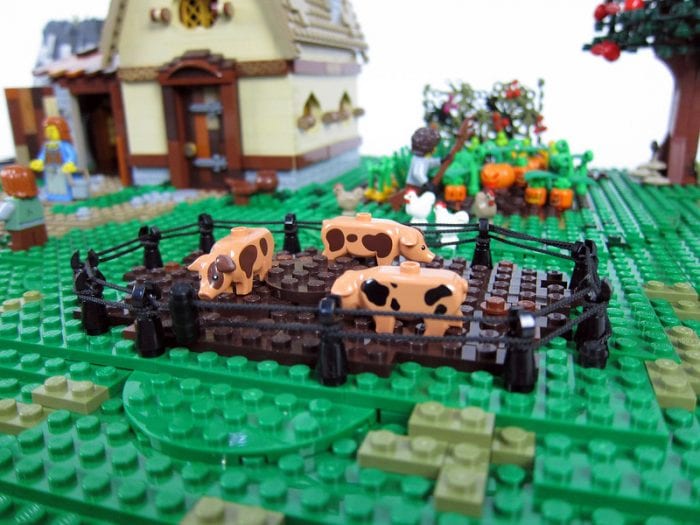 Are small toys like the farm toys listed on this page safe for my three-year-old to play with?
A typical three years old may already be exploring the use of their other senses and not be wary of putting things in their mouth. So these farm toys may be safe, but make sure also to read the age restriction that comes with the toy package just to make sure.
Are these toys all interactive?
No, not all of these toys are interactive. Though interactive toys like having sounds and lights may easily catch the attention of the kids, experts say that imaginative play is more helpful in developing their creativity and logic.
My child finds these boring. What can I do?
Not all children are keen to play with these small farm toys, especially if they are alone. Try to let them play in a group or have their action figures mix with their animals and see what they can come up with it. Maybe take your child to see a real John Deere tractor and then get them a toy one or any other kind of play tractor. Seeing the real thing often inspires children to want to play with whatever it is.
What are the best farm animal toys for toddlers?
The top farm animal toys for toddlers would be the Melissa & Doug Wooden Fold & Go Barn, Animal & People Play Set, the Green Toys Farm Playset, and the KidKraft Farm Train Set. These toys can be bought at Amazon and are highly recommended by the majority of parents.
What are farm animal toys?
Farm animal toys are miniature toys or animals found on the farm. This can be a good way of introducing to them the different kinds of animals found on books before they go to school and be interested to know how the real animal looks like. Many of these sets come with places for the animals to sleep, food for them to eat or water troughs, and even an animal bath bucket, sometimes.
Top Farm Animal Toys Other Resources
https://momlovesbest.com/farm-toys-for-toddlers
https://www.scarymommy.com/spotted/farm-animal-toys/
https://www.madeformums.com/reviews/10-of-the-best-toy-farms/
Last Updated on January 30, 2023 by Inma Barquero
DISCLAIMER
(IMPORTANT)
: This information (including all text, images, audio, or other formats on FamilyHype.com) is not intended to be a substitute for informed professional advice, diagnosis, endorsement or treatment. You should not take any action or avoid taking action without consulting a qualified professional. Always seek the advice of your physician or other qualified health provider with any questions about medical conditions. Do not disregard professional medical advice or delay seeking advice or treatment because of something you have read here a FamilyHype.com.