Toy train sets are perfect for your kid.  You may wonder if they do foster learning development and skills, but the truth is, they do! Lots of boys love to play with trains, and they do have their own train sets. Wooden trains or even electric trains are good, but remote control train sets are better.  Here are some of the benefits of a remote control train sets and how it fosters learning and development.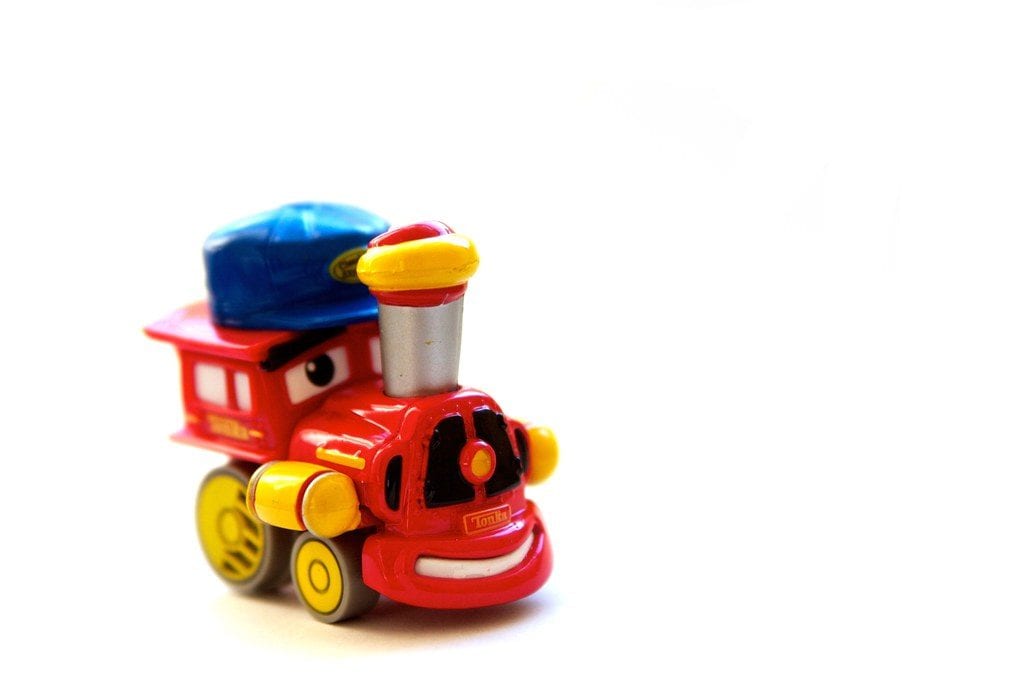 They Are Pretty Expansive
They aren't just small sets that your child will play with for an hour and get bored with, but they can come with so many features. Form putting it together to getting it to run, to even changing up the train tracks, this is a fun system that children will enjoy. As a parent, your child will love these, because they bring out the imagination, and we'll get into that later on. But they are quite helpful with giving them something to do, since they are vast, and involve many different options of choices on how to go about putting together this.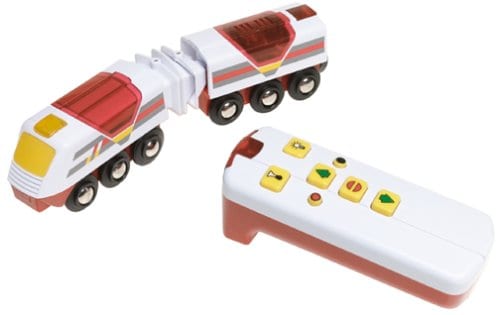 Remote Control Train Offer Hours Of Fun
This does offer hours of fun.  First and foremost, you need to put the tracks together, which involves putting the pieces there. This can be fun, and it teaches children how to put together sets. From there, even just putting the train together and running it can actually help foster imagination and creativity. Children can start to build their own sets, and if you get them a train table the can work on together, this gives them something that they will love, and as a parent, you can get in on the action too.  They're perfect for this, and your child will love playing with them. They may enjoy it so much you might not see them for a while.
Teaches Them Motor Skills
Motor skills are something that you wouldn't think remote-controlled trains would teach. But here's the thing: they have to operate a remote to get it to start, stop, accelerate, or decelerate. If it comes with other features and even off-track activities, then chances are it involves more motor skills. Your child can learn how to control this with their hands, which in turn will teach them how to manipulate objects as well. It does teach both gross and fine motor skills, so it's a great way to really get a child into learning about how the train works, and also gives them a feeling of control, which is always good for kids.  It also teaches them how to manipulate objects. For younger kids, it can also boost confidence since they will learn not to be as klutzy when it comes to the controls of objects.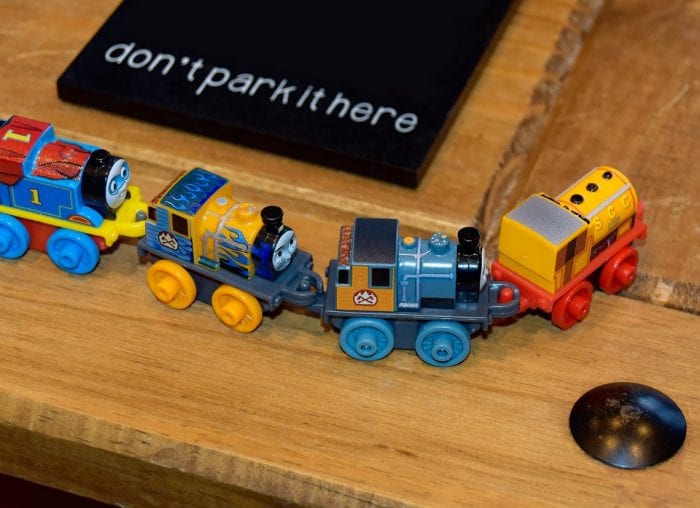 Teaches Them Problem Solving
Problem-solving skills are a big part of a person's success.  Everything in life involves solving problems, whether it's realizing you forgot to put shoes on to even working on physics problems. Everything involves seeing A relate to B and discovering the connection that is there.  Trains actually are excellent, because remote controlled train sets usually include tracks, which they can put together and learn to solve the obstacles that are there. A child can organize the trains that are there in a manner that increases a train's chances of moving smoothly.  Children can try and try again to learn this, and the outcome of it will be something that the child can use later in life, so it's a great skill to have.
Enhances Creativity And Motivation
Then there is creativity, along with imagination, two skills that, if we don't' have enough of it, we'll be lacking in society. With toy train sets, children can put tracks together in many different ways, with the limits being their imagination. From the different scenarios they can make up, to even the stories that they can put together, children can create hours of fun through creativity. Being creative is a skill that children should work on more. In our day and age, they usually aren't as creative, relying on TV and electronics for fun and imagination. But, with remote control trains, they can create the stories of what happens, and it can bolster the enjoyment of these as well.
Boosts Hand-Eye Coordination
This is actually another skill that should be noted. Hand-eye coordination is perfect for kids, and with remote control trains, this is no exception. For example, you can put together stations where it stops, and you can control where that stopping point is, and you can also put together other different obstacles including hills, cliffs, and the like. Your child can learn to manipulate each of these, and this is actually something that they can learn to perfect. It's just like with video games, but it gets their hands moving a little bit, and it's something they can do without their eye glued to the TV.  Hand-eye coordination is something that they can develop and foster over time with these train sets. While they may not have as many exterior objects as say, the remote control cars you can bring outside, they do require a lot of coordination still. If it does go off tracks, you do have to play with some of the objects that can stand in the way. This also develops dexterity, just like in the same way that video games do.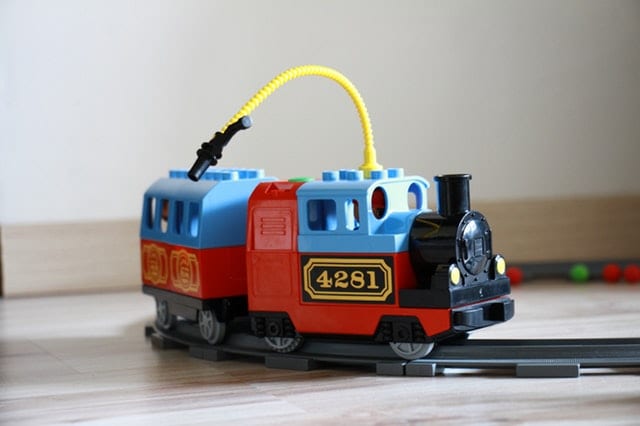 When it comes to remote control train sets, they are great for kids. They offer a developmental awareness you may not otherwise get. For children looking to learn how to boost different skills in life, or a parent wanting to foster that creativity, his is a great start to this. With the right skills, and the right activities, your child will learn how to foster this and make it better, and in turn, they'll become more skilled in every aspect of their lives as a result.
Remote Control Train FAQs
What is the cost of a remote control train?

Remote control train prices range from $16 to $300. Depending on its features, you can have lots of choices when you shop at Amazon, Walmart, Target and other leading stores for remote control trains.
What is the best train set?

The best train set, according to surveys, is the Lego Duplo My First Train Set. This train set is made with lego blocks and is very easy to build for children.
Does Fisher-Price still make GeoTrax?

According to reports, GeoTrax has been discontinued. But Fisher-Price was able to produce lots of Geotrax between the years 2003 and 2011, so they may still be available in some stores nowadays.
What is the best starter train set?

On top of the list of the best starter train set is the Bachmann Rail Chief Ready to Run Electric Train Set. This is ready to run train set with a package that comes with 36 people figures, 48 street signs, and 24 telephone poles, which makes playing it more realistic. It is also easy to assemble to its great for beginners.
What is the most expensive Lionel train?

According to reports, the most expensive Lionel train would be the Lionel Standard Gauge Set from 1934. It has a 400E Engine & State Passenger Cars that sold for about $250,000 at an auction.
Is EZ Play Railway compatible with Geotrax?

No, EZ Play Railway is not compatible with Geotrax. Its proportion does not match with Geotrax. EZ Play Railway has a more realistic train size.
Are Bachmann Trains any good?

Bachmann train sets have solid basic and high-quality RTR stuff. According to surveys, their spectrum line is excellent, but their regular sets should be avoided.
Are Lionel trains worth anything?

The value of Lionel trains depends on its design, the materials used, and the era it was made. But it was told that Lionel sets and pieces could be sold for a thousand dollars depending on the condition or the rarity of that material.
How much does a Lego train cost?

There are lots of Lego train sets that you can find in stores or online. A Lego train set costs from $38 up to $660 in Amazon.
How much is a 1957 Lionel train set worth?

Lionel train sets have a long history, and they are worth it. Depending on how well it can be polished and cleaned, a 1957 Lionel train set would probably cost $7000-$9000 at an auction.
What is the best Lego train set?

The best Lego train set, according to the brickfans website, is the Lego City Passenger Train Building Kit. This set is suitable for all ages and enhances creative play for kids. It also has a Bluetooth remote to drive the train at a distance. Fun fact: lego train sets are some of the best toys for six year old boys and girls you can give.
Are all Lego train tracks compatible?

Yes, Lego train tracks are mostly compatible with each other. These Lego train tracks all use a six stud gauge, so, with a little tweak, they can be mixed and match with other lego train systems.
How many Lego trains are there?

From 1966 up to present, there are about 50+ of Lego trains made by Lego. These Lego train sets include tracks, locomotives, stations, and signal boxes.
Why do Lionel trains have three rails?

The Lionel trains have three rails because they use the two outer rails for ground and the center rail for power. This system makes complicated track systems easier to operate
What is the most valuable Lionel train?
The most expensive Lionel train that was ever sold was the Lionel Standard Gauge Set from 1934. It is a set with 400E Engine and State Passengers Cars. It was sold at $250,000 in an auction.
Last Updated on April 29, 2023 by Patrick Magtaan
DISCLAIMER
(IMPORTANT)
: This information (including all text, images, audio, or other formats on FamilyHype.com) is not intended to be a substitute for informed professional advice, diagnosis, endorsement or treatment. You should not take any action or avoid taking action without consulting a qualified professional. Always seek the advice of your physician or other qualified health provider with any questions about medical conditions. Do not disregard professional medical advice or delay seeking advice or treatment because of something you have read here a FamilyHype.com.