Best Skateboards for Children With Passion  For Skateboarding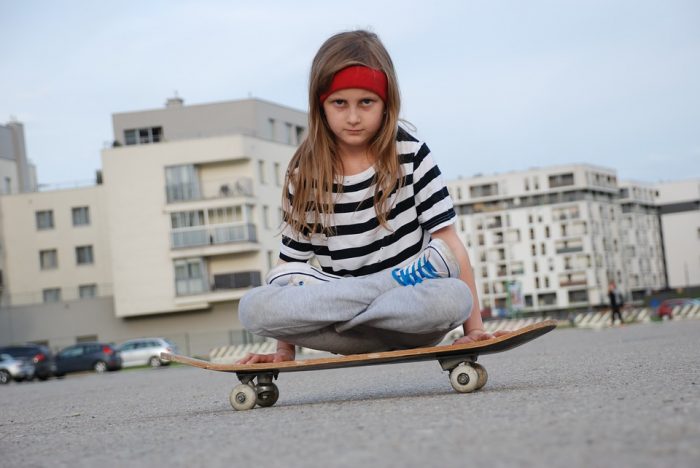 Looking for the best skateboards for children? Skateboards are fun, and getting your kid the right one to teach them coordination is a must. If you've been looking for the right skateboard for your child, you're in luck, because we're about to talk about what the ideal skateboard is for a child, in this article. In addition to purchasing a high-quality kid-sized boards, you want to also keep in mind your child's safety. Knowing your child's shoe size will help in the safe and fun aspect of learning how to skate board.
As you may know,  there are many  kids nowadays who love to skate. Kids feel excited and empowred when riding on a long board. Thanks to the numerous skate parks available all over the country? So, are you ready? Here, we'll dive into the right choice for children that are designed including the mos popular skateboard brands to provide them with coordination skills in a safe and fun way, and that will adequately fit their bodies.
A Few Considerations When Choosing The Best Skateboards For Kids
When you're looking for the best skateboard for younger kids, you should consider their riding experience, first and foremost. This will make a difference in whether you should be looking for a good beginner board or one that is meant for someone who already knows a little about what they're doing. The  won't necessarily be one meant for a beginner. That will depend on previous experience.
Next, consider what type of riding your child is going to want to do, or whether you want a wood deck or plastic decks. Should you get them a good cruiser board with larger wheels or a mini cruiser board, or what about one of those electric types? The right one for your child will be the one that is meant for what they want.
There's even more you can decide on, too. How many inches long should the board be? Should you get one with a wider skateboard deck, do you want to get hard or soft wheels and should they be polyurethane wheels? Then, you need to find all of the things you decide on but for an affordable price for your family. A good one shouldn't be one that's outside of your budget, either. Look for budget skateboard and of course, choose the one that is also high-quality at the same time.
Make sure your kid have safety gears for riding. Young kids can easily fall off especially specially during their first skateboard practice, so make sure they have a qualiy board with quality wheels, knee pads, elbow pads, and helmet. You should also be ready with skate tool, in case the skate breaks during practice.
Furthermore, when you're buying a beginner board, you must consider the size of your child. Most beginner boards are small, but the most ideal kids board is something that offers a smoother ride or a stable ride.
Rimable Complete 2 Skateboard
This high-quality skateboard for kids is a good one for children to learn how to skate because it fits them based on their shoe size. The Rimable Complete skateboard has a textured grip tape deck that provides traction, along with thick wheels that allow for a ride that's smooth and quiet. If a child wants to use this for a long time, this is definitely a great option, and it is a penny board, so it also can perform tricks. It's also incredibly durable and extremely lightweight, making it the perfect one for those that want to ride for a long time. It is a little smaller than average, so that is one of the downsides to it. So if your child prefers a bigger, high-quality, then you may want to consider another option. The Rimable Complete is one of the most ideal for who are just starting out, but that may have an interest in learning how to do tricks and things at the skate park.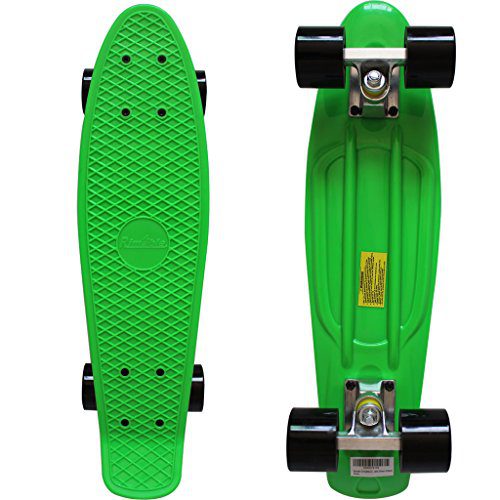 High Bounce Complete 22 Skateboard
This skateboard for kids is one that's known for the amount of bounce that it has, and it comes with Abec 7 bearings, so you can actually get a lot more speed with this one and also learn cool tricks. The wheels of the High Bounce Complete are incredibly smooth, providing a high-quality ride experience that you may not have experienced up till now. It also comes in different designs and grip tape shades, and it has a kicktail that's raised, so if you want to steer and do tricks, you'll want this. It's more of a trick type than some of these others, and sometimes it can be almost too quick for kids, meaning it's not the ideal beginner type. The wheels can also be a bit crooked and have issues with rolling too, and the wheels tend to snap off if you're a bit more of an aggressive skateboarder. It's a good choice for those who will be using it at a skate park. High Bounce Complete can be found online and at a skate shop.
Positive By Andy Mac
This is a type of heavy-duty pro, so it's for a more complete pro skateboarder. The outside layer of this board is made of birch wood, and it has grip tape that is waterproofed, too, with the glue. Even though this for pro, it is a good one for children who want to start learning how to skateboard and perform tricks because the grip tape is very reliable. This fits the top category for kids who have a little more experience riding, though. This pro skateboard is one of the top children's boards  to learn because it helps to heighten the skill development of a child by helping to keep them firmly on the grip tape.
It tends to be slightly slower than the other ones and not as smooth, so if they're trying to go fast, they may not get that with this. It's not the ideal skateboard to use for a cruiser board. However, it does have benefits, especially if you're trying to learn. There is a little bit of tape near the top of the deck that you will need to remove as well, but that should take all but a few minutes for you to do.
ENKEEO 22-inch Cruiser Skateboard For Kids
This is for those looking for a smooth and comfortable ride and who want to take their skateboard on-the-go. The design of this is only 22 inches long, so it's compact and convenient. It is the right choice because it's incredibly durable and robust, and is meant to be used as a cruiser board. It's also constructed from bendable polypropylene, so it will be pretty flexible, which is both good and bad. The grip tape on top offers a stable and comfortable ride, so it is a suitable skateboard for kids if they want to use their skateboard for more riding reasons. It's one of the good ways for children to get some exercise, and children will be able to ride this without the hassle. The grip tape and the board are flexible, and it won't absorb the bumps well, so if you're taking this on rougher terrain, this can prove to be a problem and possibly create a rough ride for you. So, remember that when purchasing ENKEEO 22-inch Cruiser. Due to the flexibility factor, this might not be the ideal beginner board, but it is one of the ideal skateboards who have some experience already.
Minority 32-Inch Deck
You child's skateboard must be suitable for their age and abilities. This is an all-natural Canadian maple wood deck complete skateboard, and it's made from 100% maple wood, so it is wooden and a little bit lighter. With these high-quality maple wood skateboards, there is less harm done to the environment when creating them compared with plastic deck. This is something that the parents and older kids can take pride in. The Minority is one of the top companies for high-quality maple wood skateboards, and it does control fast, but it also handles very well. These maple wood skateboards were pieced together with the ideal maple deck skateboarding pieces around to ensure a safe and coordinated ride every time. It is made of maple wood, and this maple wood model has many different options and design choices on hand for you to try out. This maple wood skateboard features a concave top maple deck, and it does move incredibly well. The Minority maple wood 32-inch deck skateboard has excelled in maneuverability tests in different settings, and the graphics on this maple deck alone are quality enough that they won't fade. The deck width is important when considering the maneuverability of the board.
The Minority 32-Inch Canadian maple skateboard for kids is one of the ideal for maneuverability and flexibility, partly due to its grip tape. It is better for older kids once they have learned how to control a beginner one. The ability to go fast on this  is an understatement as it is one of the fastest ones for kids available. It is also concave shape gives your child better control in steering and braking.
Purchasing a complete board for a kid with a maple deck is becoming more and more popular. Not only do the maple decks provide stability and help teach coordination, but a maple deck is also beneficial to the environment. The child is able to pick from an ample amount of maple deck design options that are sure to set their skateboard apart from the others. Parents will also love the different design options of the Minority maple deck because many of them have a 70s vibe when they're fully assembled. These maple decks are loved by all who use them.
Magneto Kids Skateboard – Mini Cruiser
If you're buying your kid a new skateboard, consider this brand. The Magneto Mini Cruiser Skateboard is really easy for kids to use, making it a great board. It's lightweight, looks cool, and is only 27.5 inches long. It has a maple deck that's extremely durable so that's great for kids to learn on. The ideal beginner skateboard won't break when your kid tries something new. You'll have double kick tails so you can learn plenty of tricks to try out at the skate park. This is one of the best complete boards that's all wrapped up in a compact package. It's great for children who are adventurous and who want to take their craft to the next level.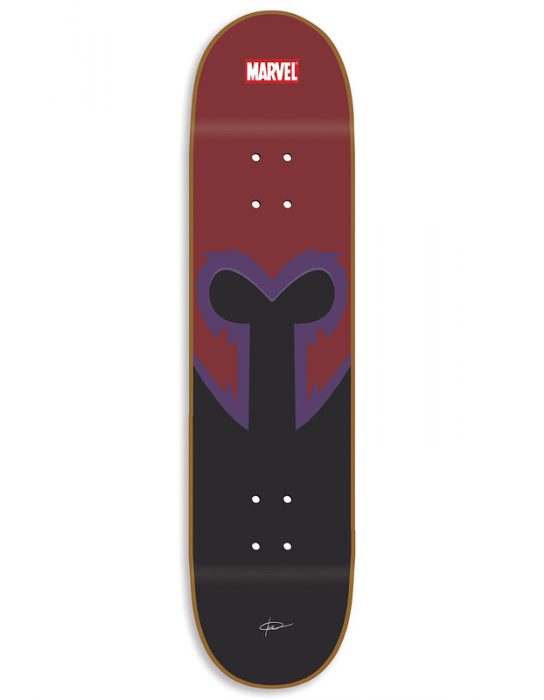 SkateXS Beginner Complete
This skateboard was designed with the special needs of children in mind. The SkateXS Beginner is the best skateboard for beginners because the length goes from 28 inches long for younger children, to 30 inches long for older kids. It also has larger wheels to add stability for the rider. The wheels are a little softer than the average, as well. It can be used as a cruiser board or your child can try it out at the skate park. This is a complete cruiser or trick board that is certainly considered a good children's product.
Skatro Mini Cruiser
Finally, we have the pre-assembled Skatro Mini Cruise which is easy for carrying, a great size, rides super well, and if your child is a beginner, this is one of the best skateboards to learn on.  This is a smaller board compared with other boards here. However, the mini cruiser has a high-quality design that's made for learning, so children can get a feel for how they are to move with this, and the small design makes it way easier to move about in. You can take it anywhere you go. The Skatro Mini Cruiser also has a sturdy skateboard deck and grip tape with a flexible frame. Still, some children may find this almost too resilient, so definitely keep that in mind when you're choosing the different cruisers. The Skatro Mini Cruiser feels good in the hands, though, so it might be the perfect one for you to get a feel for skateboarding, and you can learn basic tricks with this.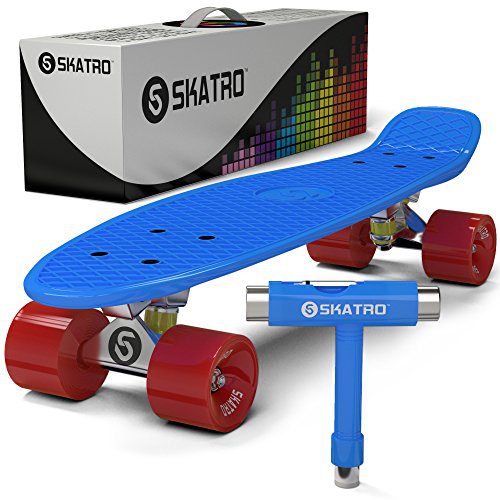 Children-size boads are great for building the ability to move about better and boosting coordination in the body. When your children start this passion with one of the above boards, it is always good to remember elbow pads and knee pads to keep them safe. It is good for street useare some of the best on the market. You'll be able to, with this as well, perform the top tricks in the book, and in turn, get a feel for how to push forward and get a better grip on this board. Then you can learn tricks and master this in any way that's possible. We've listed down the best skateboard for kids for you to choose from.
Good skateboards for children will help your child develop balance, better riding skills, confidence, and provide them some fun during the process, too. You will find complete skateboards in many different price ranges. The ideal cruiser for your child is going to be the one that gives him or her the ability to try what they want. If they just want to ride and feel the wind in their face, then the top for them will be a cruiser board. If their dream is to hang out at the skate park and impress their friends then you'll want to look into the best ones for children who want to do tricks. You can also find a cruiser that can be used for tricks, as well. Just choose the one that suits your child's needs perfectly.
Every board has different size, design, and style so you need to look every feature properly. For instance, some have longer trucks which can promote balance but not a very good choice for exhibition. Others are design to be smaller and shorter to make them lightweight and easy to maneuver. Some are made from plastic trucks, some are made from aluminum trucks.
Best Skateboards For Kids – Skateboard Features
Riding a mini cruiser or skateboard can be an exciting and fulfilling activity for kids, providing them with opportunities for physical exercise, coordination development, and even a sense of community. As a mom, you want to ensure that your children have the right one to support their skateboarding journey. Here are some essential factors to consider when choosing the right skateboard for your children.
Size: The size of the skateboard is crucial in ensuring a comfortable and safe experience for your kids. They are available in various widths and lengths, and it's essential to select one that suits your kid's age and size. Smaller boards are generally more suitable for younger children, while larger ones are better for older kids.
Deck: The deck is the wooden of the skateboard. It's important to choose a deck made of high-quality, durable wood that can withstand the wear and tear of skateboarding. Maple wood is a popular choice due to its strength and resilience.
Trucks: The trucks are the metal parts mounted underneath the deck that hold the wheels. They contribute to the skateboard's stability and maneuverability. When selecting trucks, consider the width of the deck and ensure that the size matches appropriately. You want trucks that are not too loose or too tight, allowing for smooth turns and control.
Wheels: The wheels come in different sizes, hardness levels (durometer), and shapes. For beginners, larger and softer wheels are generally recommended as they provide better stability and a smoother ride. Softer wheels also absorb shocks better, making them suitable for learning tricks and riding on rough surfaces.
Bearings: Bearings are the small metal components that fit inside the wheels, allowing them to spin smoothly. Higher quality bearings result in better speed and performance. Look for bearings with an ABEC rating, which indicates their precision and smoothness. ABEC 3 or higher is usually suitable for most skateboarders.
Safety gear: Safety should always be a priority when skateboarding. Ensure that your child wears appropriate protective gear, including a helmet, knee pads, elbow pads, and wrist guards. These accessories provide essential protection in case of falls or accidents.
Kids Best Skateboards
Frequently Asked Questions
What is the best child cruiser to learn on?
The best skateboard for a child to learn on with a kid-sized deck is the high-quality Playshion Complete 22" Mini Cruiser Skateboard. The deck of this cruiser board is easy to control and provides a smooth ride. It has large, soft, polyurethane wheels that add to the smoothness of the ride.
What is the ideal cruiser for 8-year-old?
SkateXS Beginners Pirate Street  is the ideal for 8-year-old. It fits the size of an 8 year old.
What is a good mini cruiser for a 5-year-old?
The ideal choice for a 5-year old child is the RIMABLE Complete 22 Inches. This is the most ideal choice if you're looking for one that is really small and easy to carry.
What is the top skateboard for a 7-year-old?
A good kid-size skateboard for a 7-year-old is Krown Rookie Complete Skateboard. Skateboards for kids shouldn't be too large, have wheels that are too small, or be made of materials that aren't very durable.
Are skateboards safe for 6-year-olds?
Kids aged younger than five years old should not use skateboards. They should be at least age 6–10 years old but only with an adult watching. There are some complete skateboards that are intended for use by 3 year olds, but it's idea kids are at least 5 before they're really trying out the top skateboards.
What age can a kid ride and use a skateboard?
Though 6 to 10 years old kids are allowed to ride with a child or adult-size skateboard, they still need guidance from a reliable adult or adolescent and the use of knee pads and rise pads are always encouraged. If you use the skateboards for children to teach them how to ride, you'll at least be setting them up for a safer and easier ride. Good childrene boards have features that support their learning.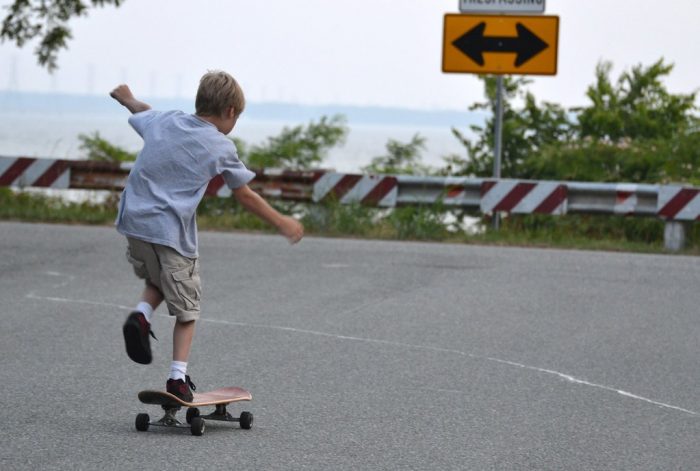 Is skateboarding hard?
No. In fact, it is a fun and great sport, but it can be hard to master. It depends on your age, guts, and fitness. Kids should start at the basics and a complete skateboard that is purchased based on their shoe size is a great option for them to start skateboarding because they are pre-assembled.
What is a complete skateboard?
A complete skateboard is one that comes fully assembled with all of the parts included. You can purchase one in store or buy on Amazon. You can also go to a skate shop and purchase the components of the skateboard separate and have it assembled after that. These types aren't usually the best ones for kids because of the complicated nature of doing this type of purchase.
Is skateboarding dangerous for both adult and kids?
Skateboarding does have its risks like any other sports. There are physical injuries that can happen, and those damages can range from moderate to severe. It  should have good grip tape and wrist guards and other safety equipment should be worn. You can also make sure to use riser pads. Riser pads give more separation between the wheel and the board deck to prevent scraping. It's ideal that children use riser pads with their complete skateboard. You will also be ahead of the game by getting your child a good one because they're designed to fit a child's needs and ability level. The skateboard for an adult won't be the same as the kids skateboards because their needs and bodies are so much different. Look for the right one that is appropriate for the size and age of your child.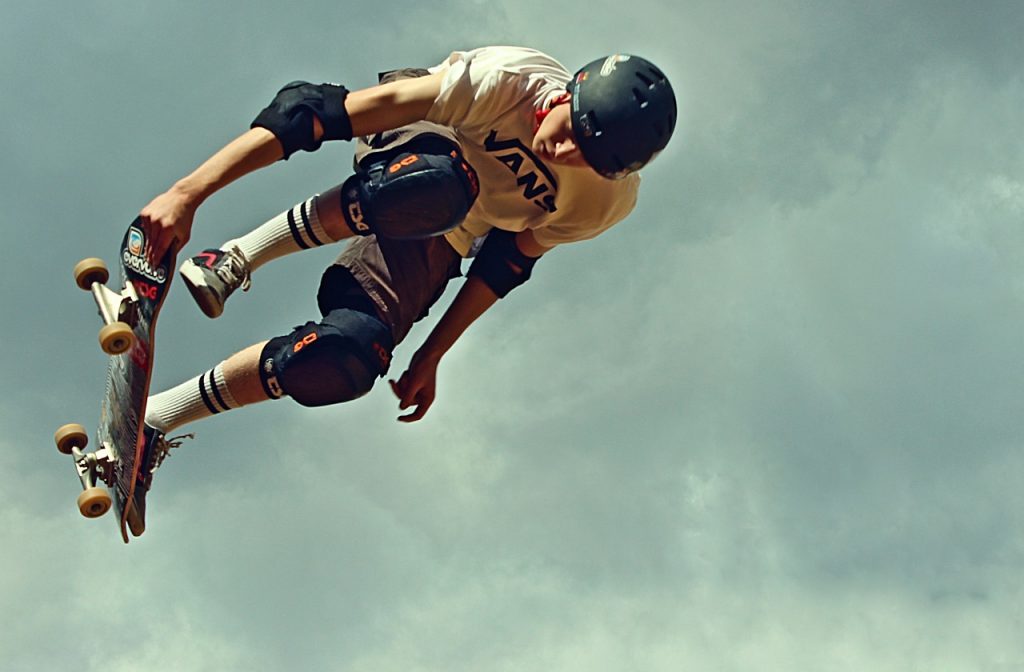 What size of the skateboard is ideal for kids?
The ideal size can range from 6.5 to 7.6 inches in width, depending on their age and size. There mid-sizes, small sizes, and large sizes. When you're shopping, you can bring your children with you to ensure  that you get the right size that your children needs.
What age is a 22 inch mini cruiser for?
This size is generally designed for younger children, typically around the age of 4 to 6 years old. Smaller-sized are often referred to as "mini cruisers" and are suitable for introducing young children to the concept of skateboarding. The compact size allows for easier maneuverability and control, making it a good choice for beginners in the preschool age range. However, it's important to consider the child's individual size and skill level when determining the appropriateness of a 22-inch cruiser.
What age is mini cruiser for?
While every child is different, a full-size board is generally not recommended for a 6-year-old. Full-size cruisers are typically designed for older children, teenagers, and adults, with wider decks and larger components. These cruisers may be too big and heavy for a 6-year-old to handle comfortably and safely.
On the other hand,  mini cruisers are typically designed for younger children, usually around the ages of 4 to 8 years old. These smaller-sized cruisers have narrower decks and are more manageable for younger riders. Mini cruisers are a great option for introducing young children to skateboarding, allowing them to develop balance and coordination while having fun.
How do I teach my 2 year old to skate?
Can toddlers use mini cruisers?
Can a 6 year old use a full size skateboard?
Are skateboards safe for kids?
Other Resources
Watch For The Kid's Skateboards In This Video.
Last Updated on May 14, 2023 by Eunice Barbosa
DISCLAIMER
(IMPORTANT)
: This information (including all text, images, audio, or other formats on FamilyHype.com) is not intended to be a substitute for informed professional advice, diagnosis, endorsement or treatment. You should not take any action or avoid taking action without consulting a qualified professional. Always seek the advice of your physician or other qualified health provider with any questions about medical conditions. Do not disregard professional medical advice or delay seeking advice or treatment because of something you have read here a FamilyHype.com.