When choosing a dollhouse for your toddler, there are a few things that you'll want to consider, and here, we'll discuss the best features you should check out for those children in that age bracket who like wooden doll house sets.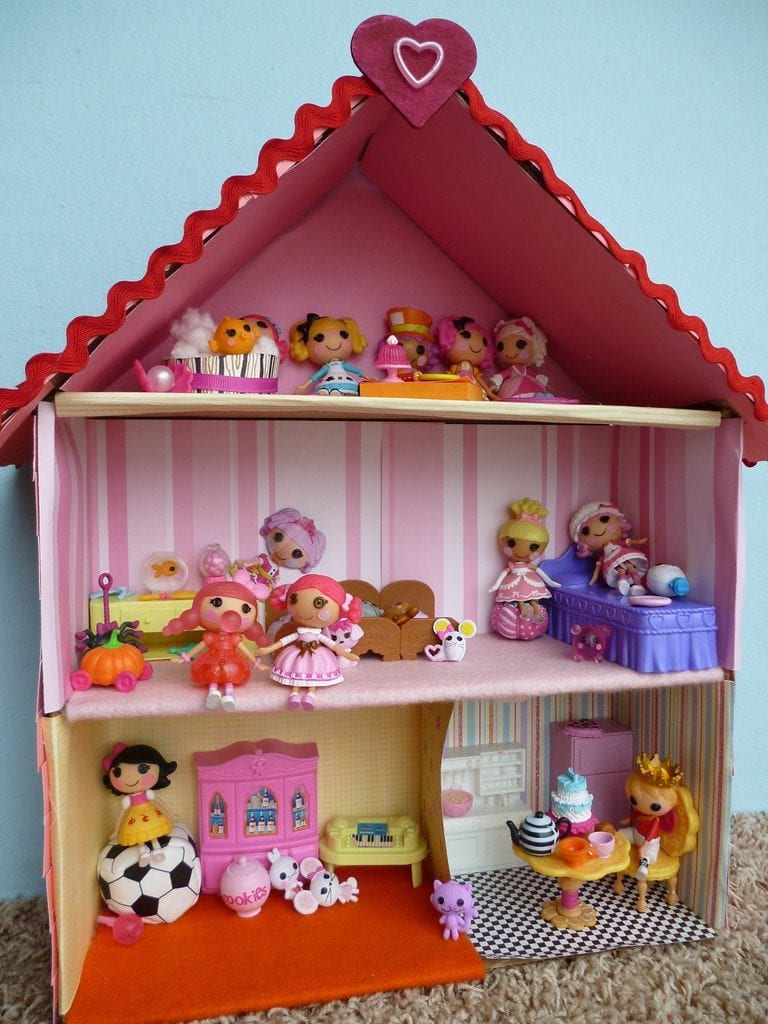 Simple Yet Sturdy 
The first thing you want is something that's simple. Lots of parents think that they should get their child a dollhouse that's overly complicated, but usually, a dollhouse that has a simple set of texture, and is sturdy enough to use is your best option. Choosing toddler dollhouses without a ton of bells and whistles may be good for toddlers. It shouldn't be too simple that it gets boring, but you shouldn't have to worry about a bunch of rooms, because toddlers typically are good with a few rooms here and there to use for playtime.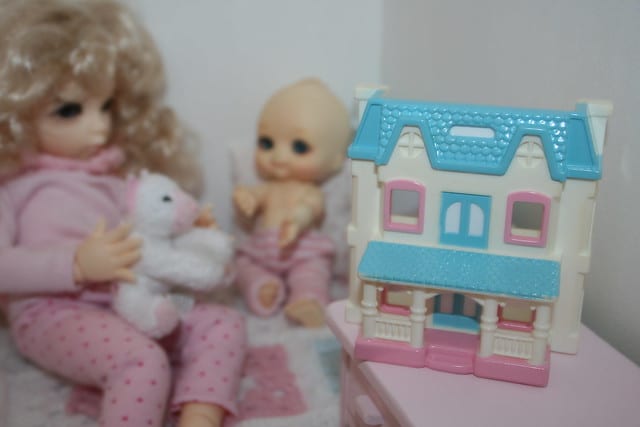 The Pieces Should Be Big 
The pieces should be big, and they should be easy to move around. Toddlers don't like tiny items, and usually, if they're not dexterous enough, they won't be able to use this dollhouse easily.  That's why if you have houses with bigger pieces, it will be better for the kid.
The bigger pieces make it easier to move around, so if you have a big bed, it works. Smaller pieces also tend to get lost as well, and there is the added worry of a child putting it in their mouths, potentially choking on it, so something big events that from happening. This part is more important for younger toddlers than older ones, but should still be noted.
Not Too Many Accessories
When choosing toddler dollhouses, aim for fewer accessories rather than more.  For toddlers, less is more when it comes to accessories, and there are many children that tend to lose these items too. A dollhouse with a lot of accessories is a very easy way to lose everything, and kids tend to not be super careful with these, so, it's for the best if you make sure that you get a dollhouse that doesn't have too many pieces, and is easily accountable.
Plus, there is also the added consideration of making sure the child doesn't put it in their mouths, which does tie into the previous part.  
Added Features, Including Sounds And Lights 
Toddlers love items that light up and make noises, and a lot of these toddler dollhouses have that. Even something as simple as the stove making noises when an object rests on it, the sound of the doorbell ringing when they press it, or even the cool sound a toilet flushing. These are all added pieces of realism.
A fantasy dollhouse may have other nifty features, including different lights and sounds that children will be incredibly entertained by. If you're wondering whether or not you should get a dollhouse with lights and sounds, the answer is yes. Children eat that up, and it's worth trying out especially if you're someone who is not used to buying dollhouses, and you want to give them something with lots of entertainment.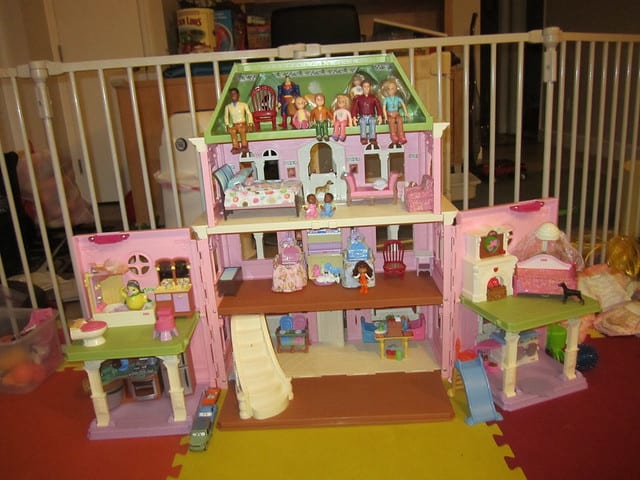 One That's Not Too Light 
You want to get yourself a dollhouse that isn't too light. This might seem strange, but a lot of times, parents get those cheap, plastic dollhouses, and while that might seem like a great idea at first, if they're tall and too light, they tend to fall over. Toddlers aren't the gentlest with items, and sometimes, if the item is too light, they may accidentally push against it too hard, and it will fall over.  There is a chance that the pieces could break, or if it falls on the kid, an extra hazard.
If the dollhouse is too tall for them and too light, it runs another risk. Your child may climb on top of it, and they may end up falling down or breaking the dollhouse. You want a dollhouse that, while easy to move, it isn't super light that it will fall over when used. Consider all of this when you're choosing the right dollhouse for your child, and something that they will use. 
Keep It Safe! 
Finally, look at the safety features that are there for the house itself. Usually, on the box, they'll tell you whether or not it's suitable for children of certain ages, but that isn't the case. There are some small considerations that you should know about when choosing a dollhouse for toddlers.
First, make sure that the plastic items in this don't contain BPA.  BPA is Bisphenol A, and it actually can halt some endocrine functions, and it's found in a lot of plastics, so you should watch for this. Most children's toys don't have it, but it's important to make sure you don't buy one like that.
Next, you should look to make sure that the paints aren't toxic, and don't contain lead. Most of the toy manufacturers these days don't use it, but if you're getting a handmade or hand-painted dollhouse for your kid, make sure everything is not toxic.  Lead is poisonous, and it can cause issues in the body if you have it.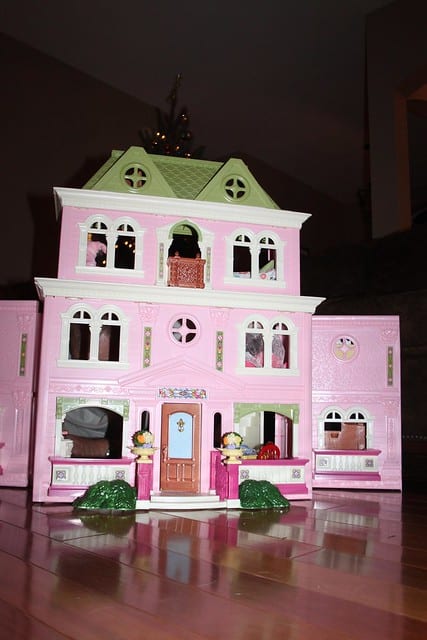 Most of the dollhouses that you buy at your average store don't have these, but if you plan on getting a specialty made dollhouse, always make sure you question the manufacturer on how the items are made, and from there, make sure that if needed, you let them know about this.
When it comes to toddler toy dollhouse, you want to make sure that you get them with the right features that you feel are needed. Always take into consideration the child that you're buying it for as well, and if they have a particular interest, get them one centered around that. Princess and fairy tale themed dollhouses are incredibly popular with toddlers, but there's so many to choose from that you won't run out of ideas, and you'll be able to give the child the dollhouse of their dreams. 
Toddler Doll Houses FAQs
Yes, The Majestic Dollhouse can fit a12 inches tall doll.
How much is the LOL dollhouse?
The suggested retail price of a LOL dollhouse is $249.99.
Toddler Doll Houses Other Resources
https://www.thespruce.com/best-dollhouses-for-kids-3255372
https://welovedollhouses.com/toddler-dollhouse/
https://momlovesbest.com/toddler-dollhouses
Last Updated on May 11, 2023 by Patrick Magtaan
DISCLAIMER
(IMPORTANT)
: This information (including all text, images, audio, or other formats on FamilyHype.com) is not intended to be a substitute for informed professional advice, diagnosis, endorsement or treatment. You should not take any action or avoid taking action without consulting a qualified professional. Always seek the advice of your physician or other qualified health provider with any questions about medical conditions. Do not disregard professional medical advice or delay seeking advice or treatment because of something you have read here a FamilyHype.com.