Foosball is a long-time favorite game of kids, pre-teens and teens around the globe. A fast-paced game room adventure, foosball mimics the dynamics of soccer/football and brings the fun of the game into your home.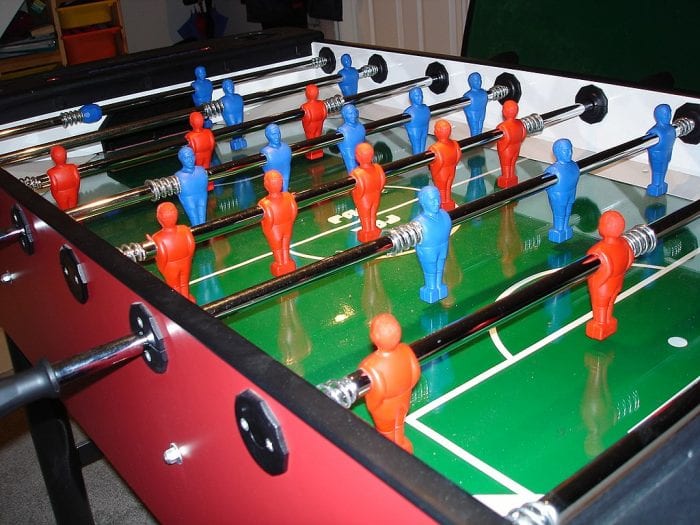 It can be a great game for your child to play with their siblings, friends or family members, and encourages sportsmanship, teamwork and a little friendly competition. Being the best foosball player in the house also requires practice and hand-eye coordination, so it can keep your child busy even while they're playing alone as they seek to improve their skills and hand-eye coordination, encouraging discipline as they practice.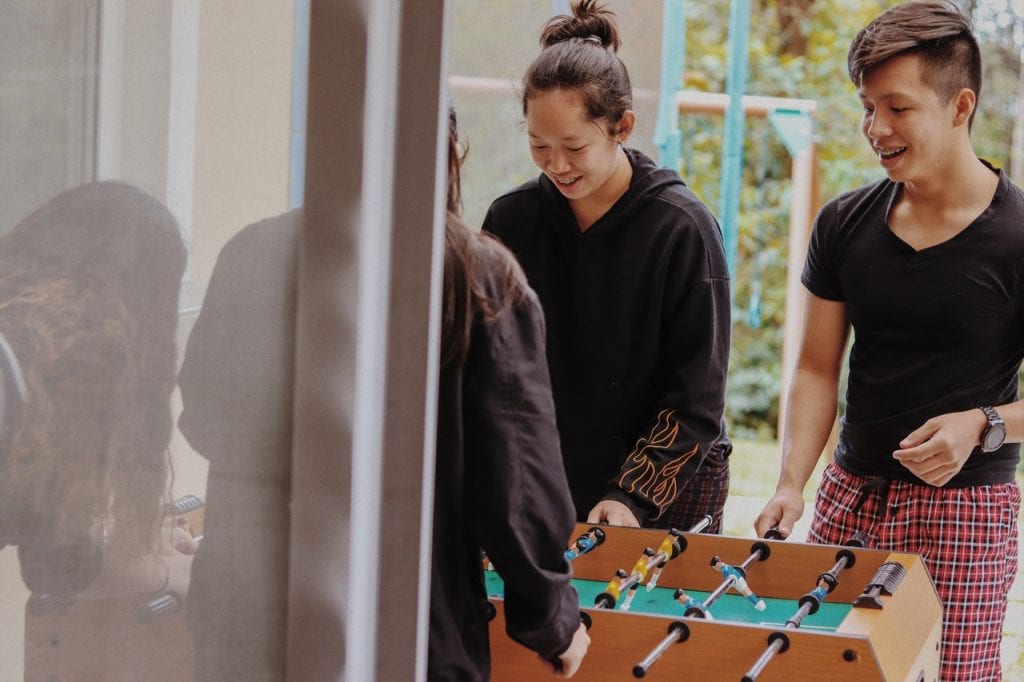 Whether for your favorite sports-loving child or for a kid that loves games, foosball can be a great way to connect and engage kids with their family and friends over a physically and mentally challenging game.
In order to get your kid started on a journey toward being the best foosball player among their friends or to gift a child the endless fun of foosball, it is important to pick out a foosball table that's right for them.
There are many different foosball tables out there with varying sizes and difficulties, constructed from many different materials. All of these variables also mean that foosball tables can vary in price from the medium double digits all the way into the hundreds.
Choosing between foosball tables for one that is not only right for the child you're buying for now but will also grow with them can be hard. There are many factors to keep in mind. Here are a few of the most important:
Table-Top Vs. Stand-Alone
One of the biggest variations in foosball tables is whether they sit on top of another table or they are in and of themselves a full-sized table. Each kind has pros and cons.
On the one hand, table-top foosball tables are more easily stored away, and takes up less room, since all you have to do is lift it up and store it away. On the other hand, they are often smaller with fewer players in the game.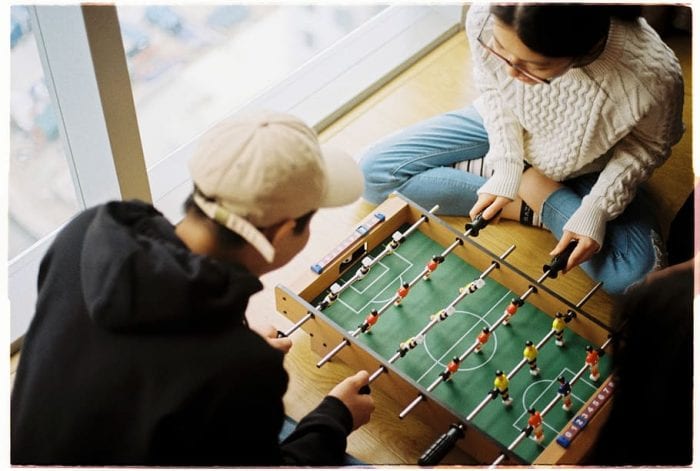 Because of their compact-nature table-top foosball games are the best foosball tables for people in smaller houses or with less room for these kinds of toys. They also tend to be cheaper than full tables. 
Table-top games are also slightly simpler and smaller in width, making them the best foosball set-up for younger children with less reach. You also can regulate better how high the table is by regulating how tall the table you place it on is, which is helpful for shorter and younger children.
One of our favorite table-top set-ups is the Sport Squad FX40 40 inch Table Top Foosball Table. The compact nature of this table makes it great for smaller spaces, while the comfortable handle-grips and rods make for smooth game play. This table is also easy to assemble and very affordable.
Three Rows Of Players Vs. Four Rows Of Players
Another important distinction between different types of foosball tables is the number of rods in the table, and therefore, the number of little players in the game. Larger tables – which are also often wider – tend to feature four rows of "players" and are therefore harder and require quicker reactions and control from players.
These kinds of larger tables with more rows are a more classic version of the game but are also harder and more expensive. A table with four rows is the best foosball table for older children or children that might grow into a table, while choosing a smaller table might be better for younger children who may lose interest if the game is too hard.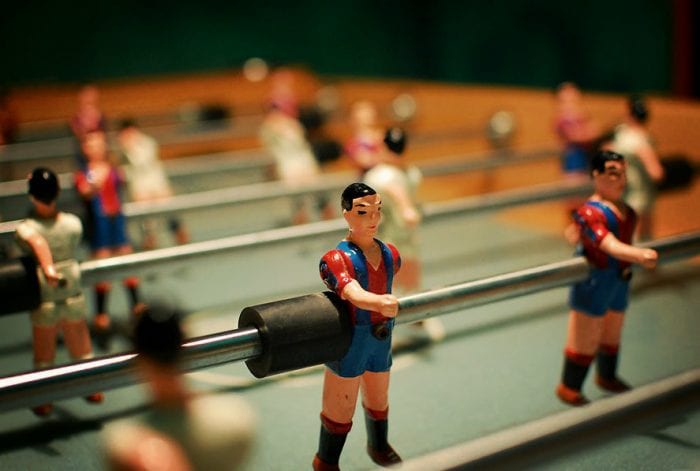 The three row tables are also often table-top set-ups, while four row tables tend to stand alone, although this is not always the case.
Our favorite three row table-top foosball kit is the Giantex 27″ Foosball Table. It's very small, but if you end up opting for a small, three-row table for the sake of size or simplicity, as well as for price, it's a good, high-quality option.
For a solid four row, stand-up foosball set-up, HLC 4ft Folding Foosball Table is a good option. One of the best parts about this foosball table is that it can fold upward to be stored away, so you don't have to sacrifice so much space for a larger table. Although it's not necessarily the overall best foosball table out there for professional foosball players, it is an excellent, economic choice for young people and children that hope to use the table for a long time.
Design/Appearance
Although the most important factors in the best foosball set-up come down to the type of set up (table-top vs. full-sized table) and the number of rows, other factors in the design and appearance can impact the playing experience.
For example, the a table-top set-up does not need to be a certain height because you can regulate it based on where you place the table, but stand-up foosball tables need to fall within a certain height range to be useable for smaller children. Few tables come shorter than 3.5 feet, so if your child is relatively short, then a table-top option might be better.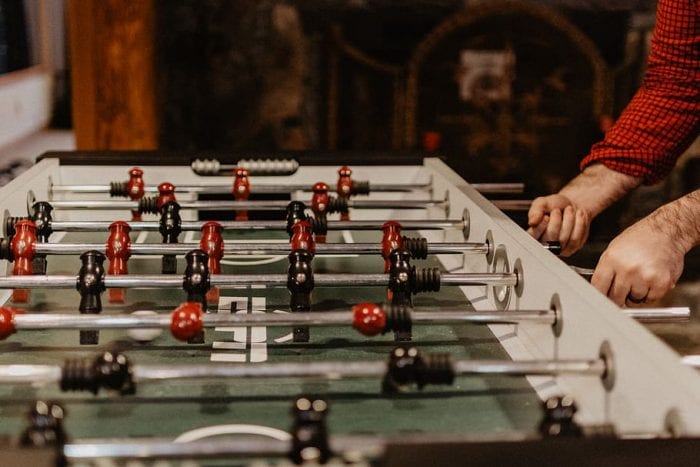 The overall appearance can also be important to your child's enthusiasm or interest in playing. There are custom foosball tables that come in different colors to be designed for certain teams, and tables that are designed to be flashier with kids in mind.
One option with lots of graphics and features is the Hathaway Playoff 4' Foosball Table. It's the best foosball option out there for realistic crowd graphics, vibrant field colors and painted players.
For a sleeker look, the Triumph Sweeper 48″ Foosball Table is an example of a classic foosball set-up. Its simple design is non-distracting and the best foosball option for older kids not as interested in flashy graphics.
Frequently Asked Questions:
How do I choose a foosball table?
Foosball tables have many different designs and can come in a variety of presentations. The best foosball table for children is often a table-top option that has fun graphics and a three-row design, while the best foosball set-ups for older children are simpler stand-up tables that make for harder game play.
Choosing between tables based on these factors like table-top/stand-up set-ups, 3 or 4 row designs and different appearances will help ensure you get the best foosball table for your family.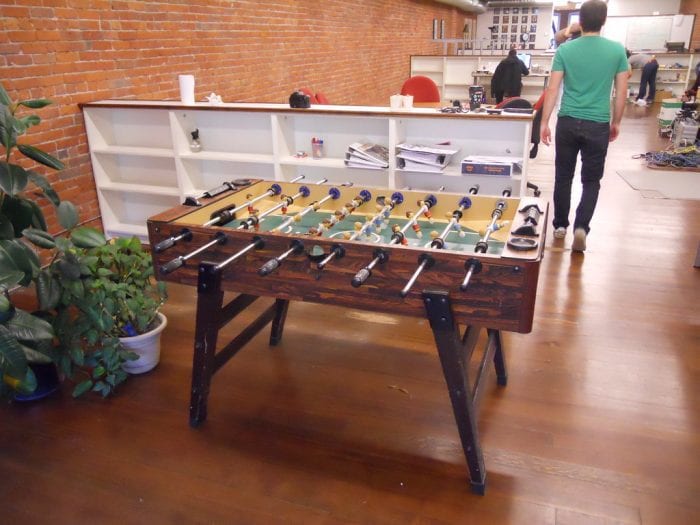 How much does a good foosball table cost?
If you're looking for the best of the best foosball set-ups out there, made for professionals or collectors, then you could end up spending thousands of dollars.
That said, foosball tables do not have to be so expensive. Good full-sized foosball tables can cost $100-$200s, and table-top options come even cheaper, usually under $100.
How many people play on a foosball table?
Usually up to four people play foosball on a full-sized table with four rows. Six to eight players could fit, but this would be unconventional and much more common among younger children.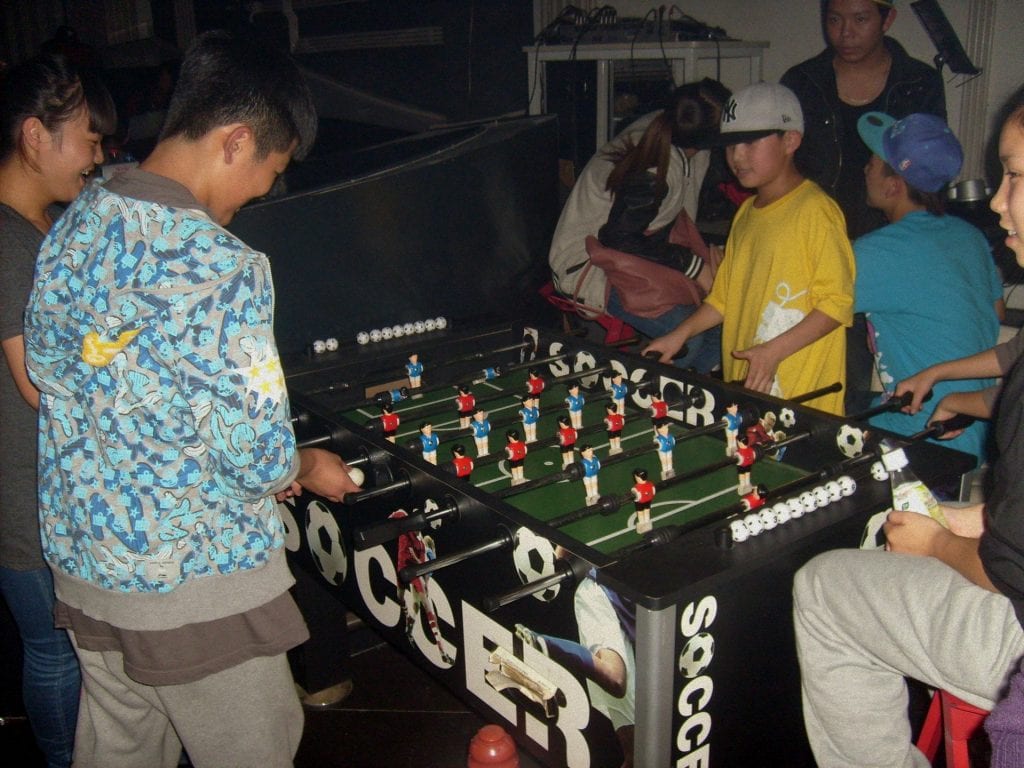 How heavy is a foosball table?
Foosball tables generally weight anywhere from 15 to 200 pounds. That said, typically the best foosball options for children should not exceed 50 pounds because they are usually smaller and made from materials like plastic.
Last Updated on June 11, 2021 by Marie Miguel
DISCLAIMER
(IMPORTANT)
: This information (including all text, images, audio, or other formats on FamilyHype.com) is not intended to be a substitute for informed professional advice, diagnosis, endorsement or treatment. You should not take any action or avoid taking action without consulting a qualified professional. Always seek the advice of your physician or other qualified health provider with any questions about medical conditions. Do not disregard professional medical advice or delay seeking advice or treatment because of something you have read here a FamilyHype.com.