Babies are growing and changing all the time. That's why it's important for them to get plenty of stimulation and exercise. It helps them develop the way they should and strengthens their bodies and their minds.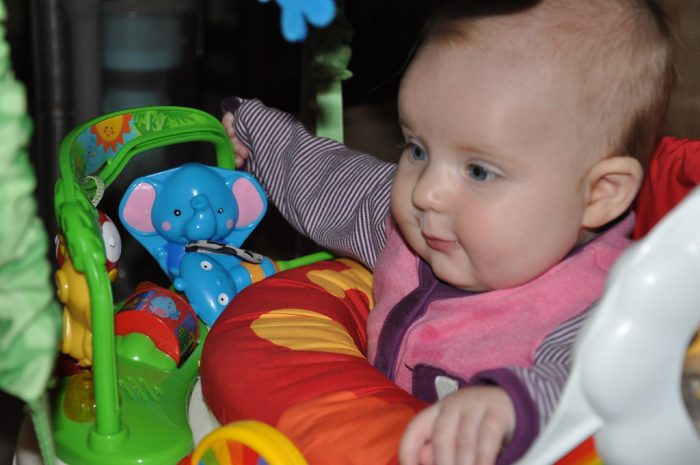 One of the biggest milestones in a baby's life is when they start to walk. To get there, though, it takes a lot of work to strengthen the muscles of their legs and the core of their bodies. This is why there are so many baby products aimed at helping with that type of growth. A baby jumper is one of them. We're going to take a look at what's important for parents to know before deciding to use a Jumperoo with their babies.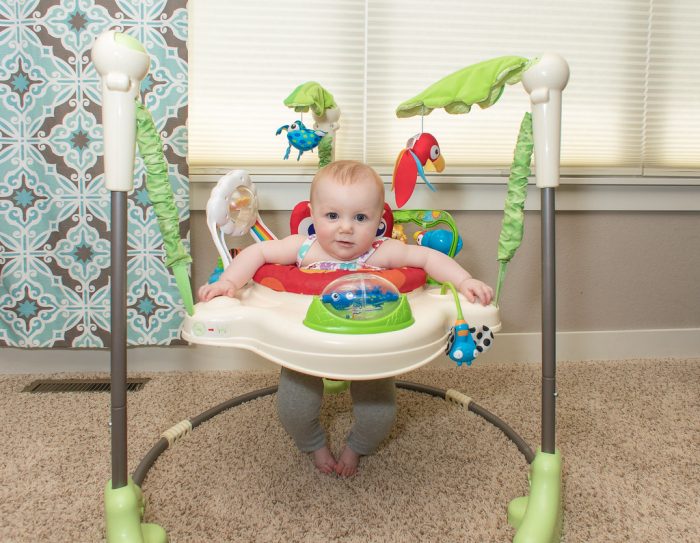 There are many factors to consider when buying for your little one. The price is as important as the safety features and quality of the materials used. To help make shopping easy for you, we compiled a list of the highly-rated baby jumpers from Amazon, and we included their specific features to help you narrow down your options. If you continue reading, you will also discover more FAQs to help you get a better idea of what might be best for your baby.
What Is A Baby Jumperoo?
Jumperoo is a product from Fischer price that babies starting to move on their own begin to use. Babies love jumperoo because it lets them move around, and helps develop his leg muscles over time. There are many popular options, including the Fischer Price Rainforest Jumperoo that many parents like to use.
Jolly Jumper with Stand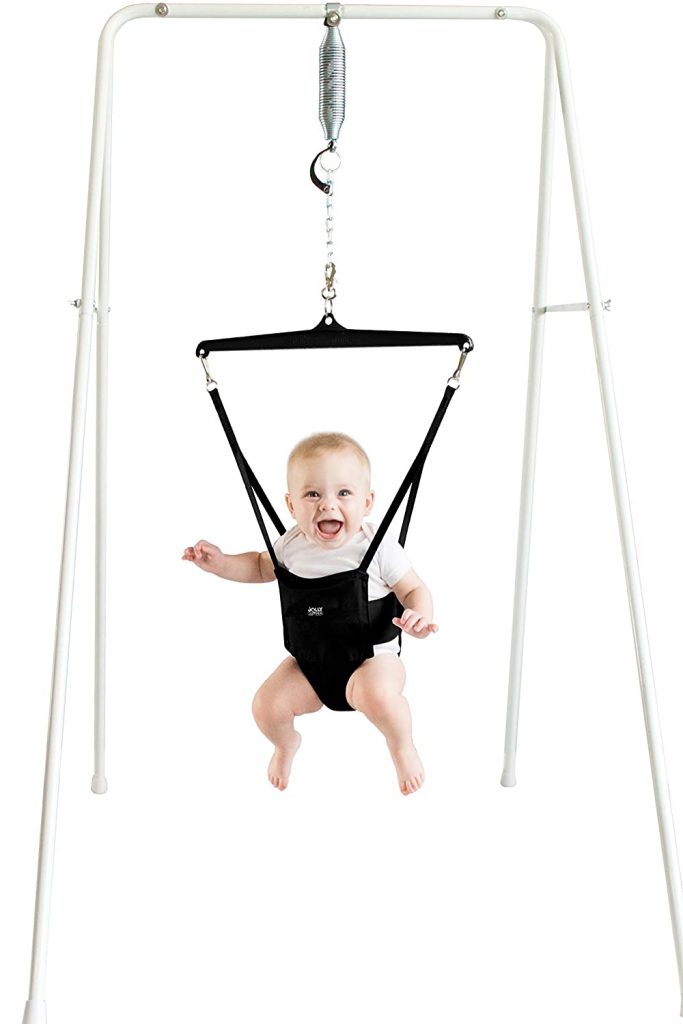 Special Features:
It is the perfect toy for your baby as soon as they start getting active. It is designed to help develop their motor skills, strengthen their muscles and improve their balance while keeping them sage at all times.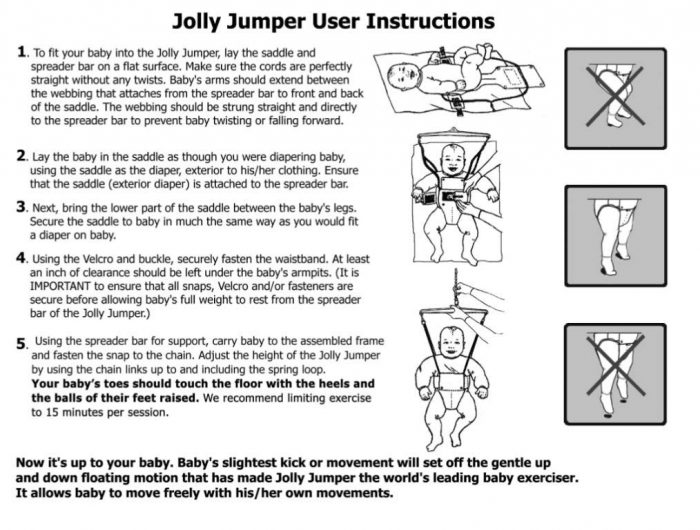 Fisher-Price Pink Petals Baby Jumperoo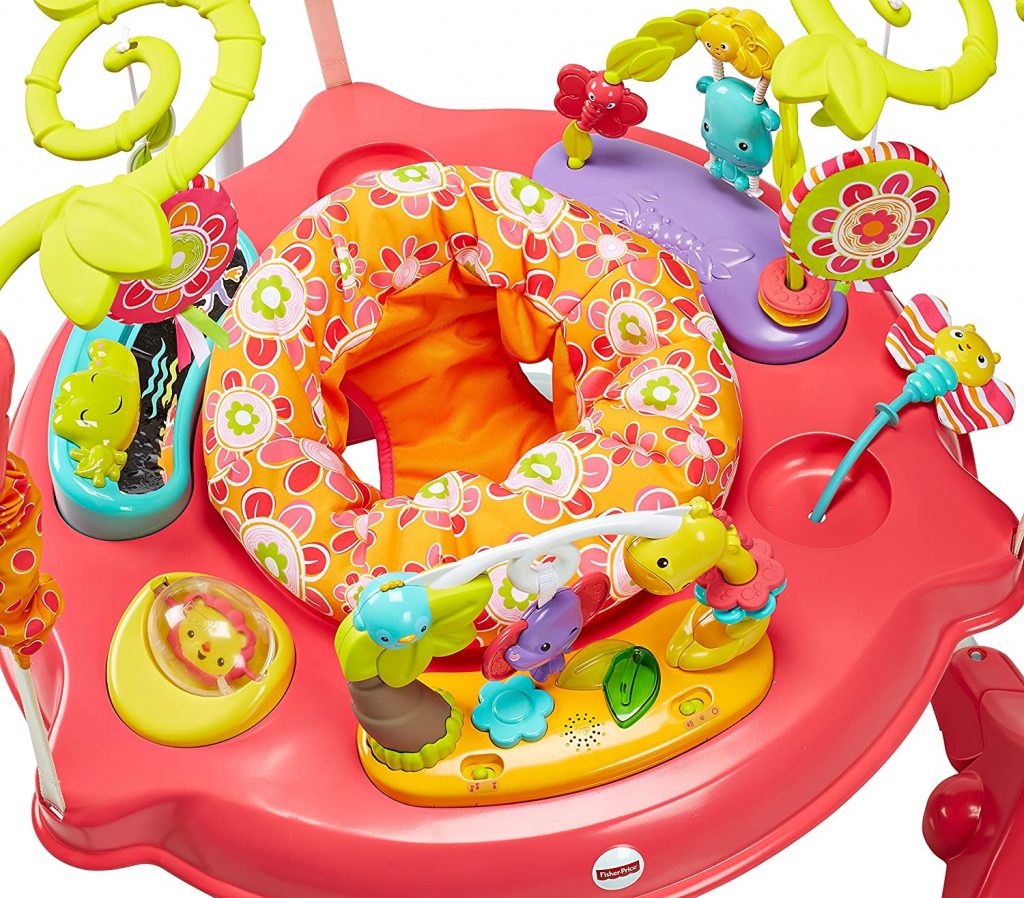 Special Features:
The Pink Petals from Fisher-Price is loaded with features that will surely entertain your baby. It has music, lights and sounds that your kid can enjoy while they jump nonstop all day.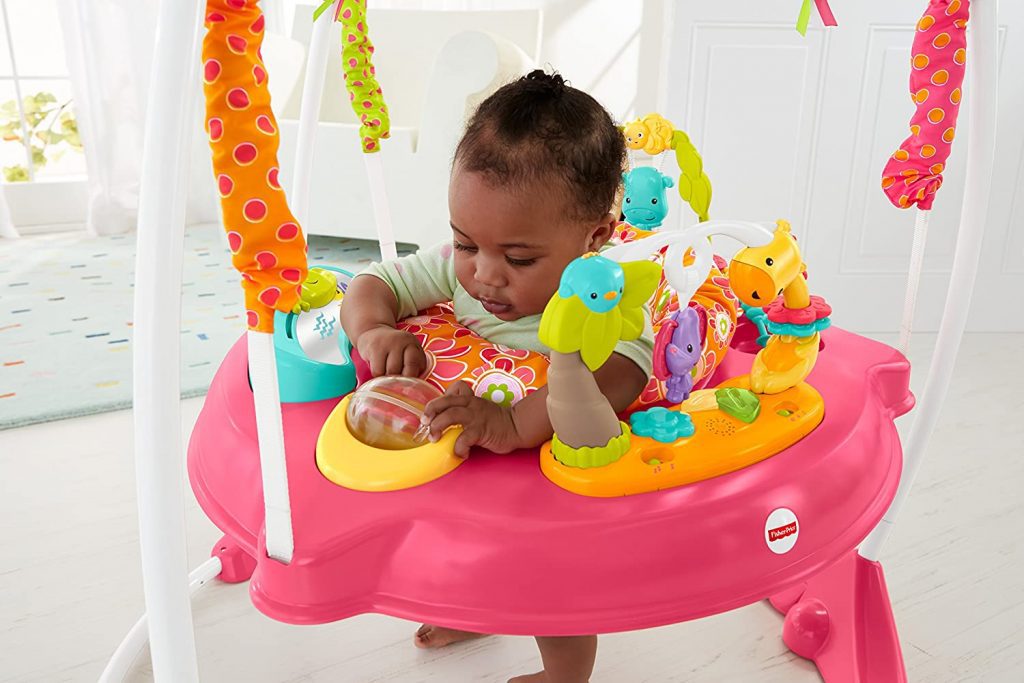 Fisher-Price Color Climbers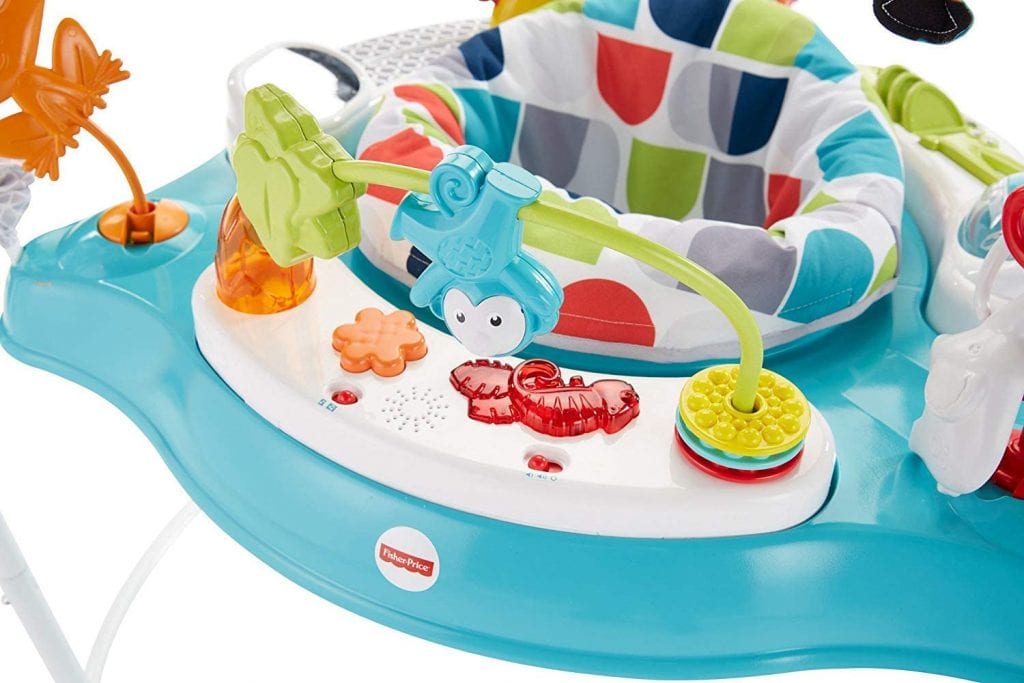 Special Features:
This is an amazing purchase and it comes with many toys that your baby can play with. It is also very sturdy and made with high quality materials that will keep your baby safe while engaging in 360 degrees of play.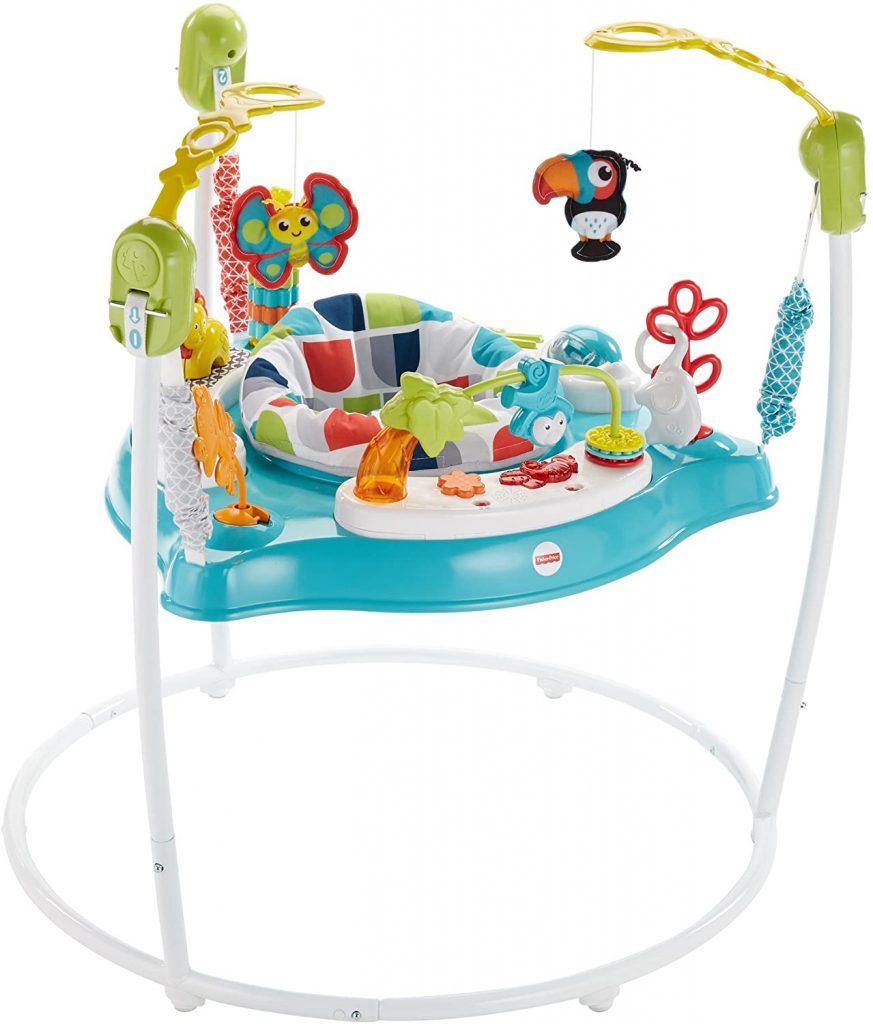 Fisher-Price Rainforest Jumperoos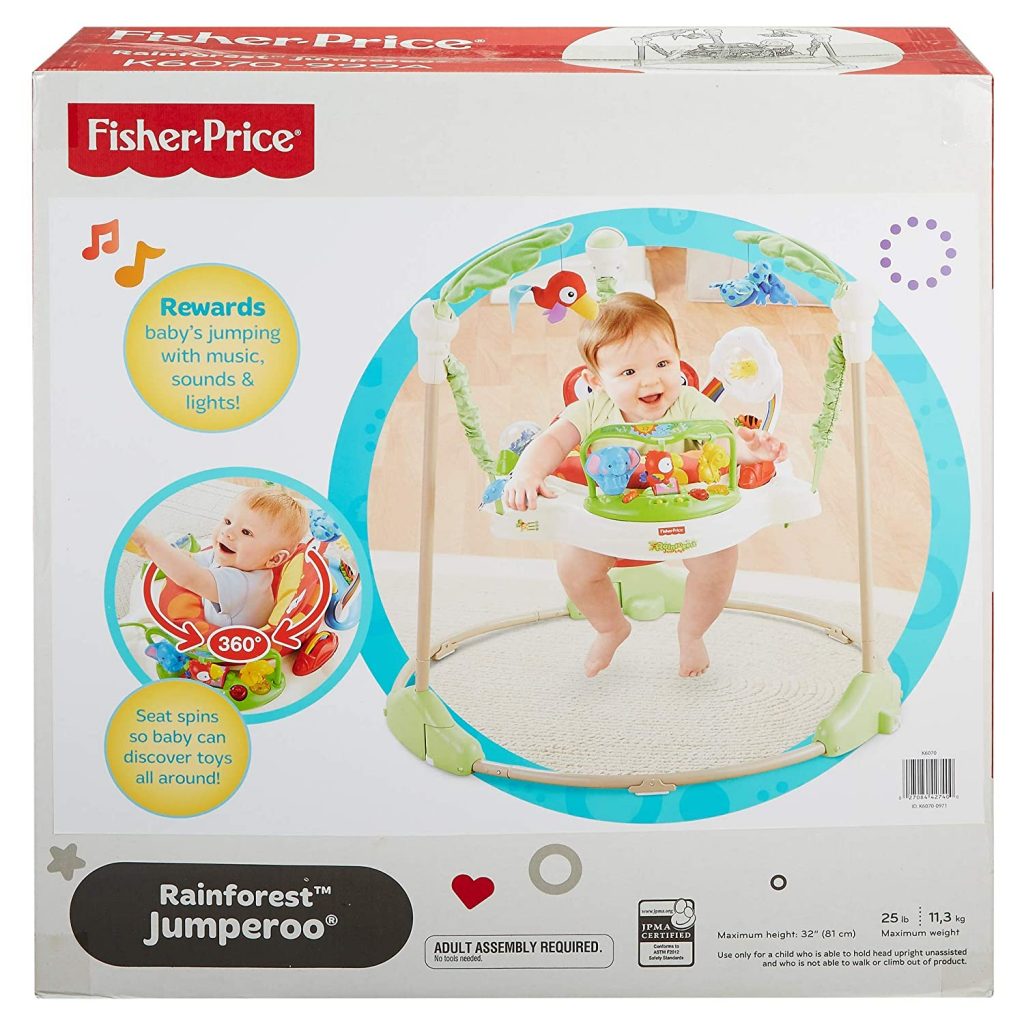 Special Features:
If you are looking for a bouncer that is easy to assemble, this toy is the best product for you. It is also very portable and easy to carry anywhere. This will give your baby loads of fun without compromising the space in your room.
While this jumperoo can help build leg muscles though, some parents may worry about whether or not babies want to use this Fischer price item. The Jumperoo is a good investment since many parents can entertain their child, and also help them grow stronger. After 1 month of being carried, usually, babies can use this new and exciting device. But, if a baby does use this Fischer Price jumperoo product, there are a few concerns.
Letting your child use this at an early age will help your child stand much faster, and these do come with a fun activity center, along with supporting devices. However, there is a chance that hip dysplasia might occur if a baby uses it too much, so as a parent, you may wonder when the perfect time is to use it.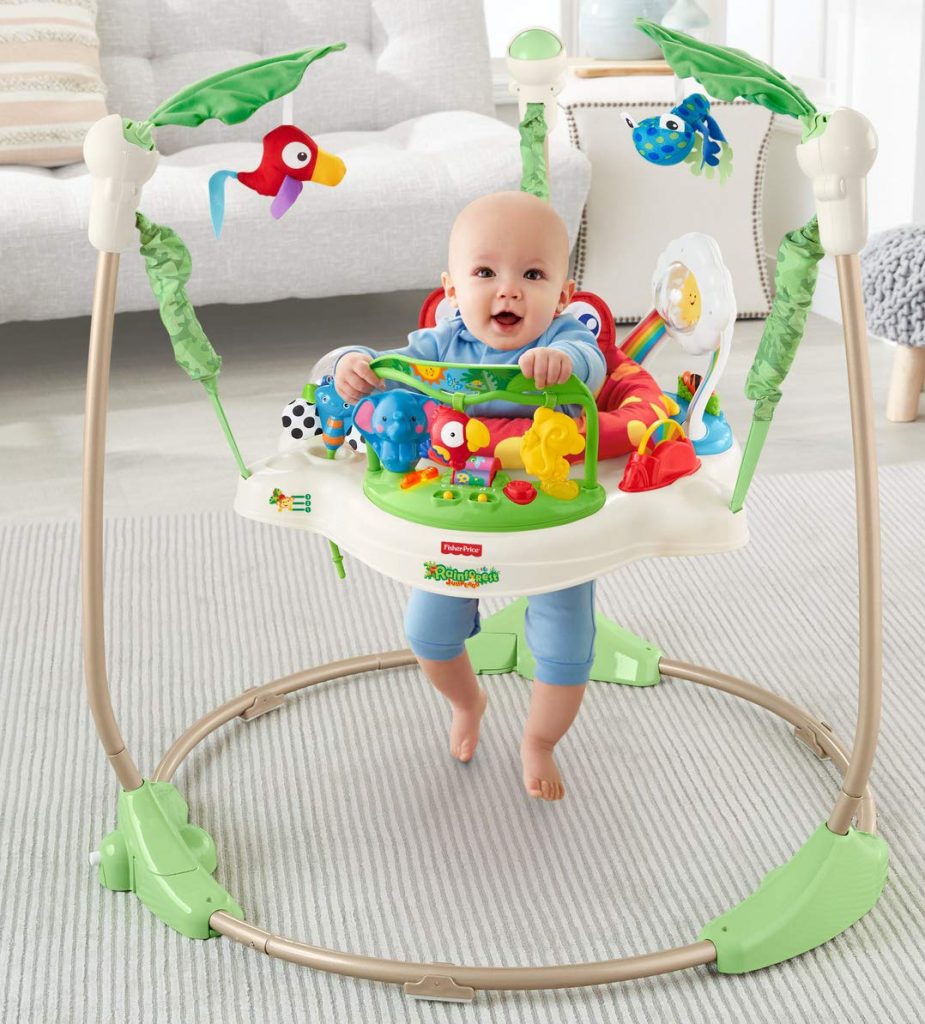 A baby jumper also lets your child learn to stand on two legs. It of course, supports the child and will help the child get a feel for their feet.  It helps with developing the child's muscles too, in order to help them hold their bodies up.
Baby Jumperoo can offer entertainment to your child, but you may not know when it's best to use this item. We'll go into this here, and we'll tell you when you should use a baby jumper, and when you should wait before letting your child try this.
Frequently Asked Questions
At What Age Can A Baby Use A Jumper Safely?
There are different types of Baby Jumper, so you should always check the specific baby jumper you purchase for the recommended age the manufacturer designed it for. There are various seat designs, differing support mechanisms, and other safety features that manufacturers, like Baby Einstein, include in their products to make them good for use with all different ages of infants.
Can I Put My 4 Month Old In It?
Typically, yes you can put your 4 month old in jumperoo. 4 months is the most common age for parents to start putting their babies in jumpers. That being said, you need to do a little research and select one that is meant to be used with a younger infant.
Recommended ages will be included on the packaging for baby products. You'll see that the popular Rainforest, by Fisher Price, has a recommended age range of 6-12 months. Always check that you're using a product that is well suited for your baby's age.
The best time when can baby use a Jumperoo is usually when they're able to do some movement, but not a ton. If you notice a time when can baby do this, chances are, that's when they'll be able to use it. The best time to buy one of this, is when the crib babies love is starting to fit to their size, and also a time when can baby use this successfully. If they're crawling around, this might be good for them.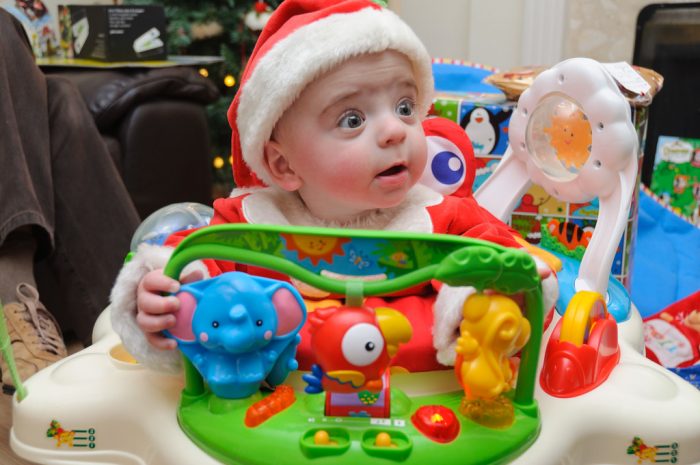 What Age Can You Start Using An Exersaucer?
An exersaucer is slightly different than products like the Rainforest because it's intended to be used with babies that are able to sit on their own without having to use their arms for support. Most of the time, babies start being able to sit without support around 7 months, so that's when you can start using an exersaucer, usually.
Should Babies' Feet Be Flat In Baby Bouncers?
While you may think your baby's feet should be flat on the floor when they're using the Rainforest, or any other type of jumper, that's a common misconception. The best positioning for your baby is actually to have them able to reach the floor with their tiptoes or the balls of their feet when they're standing still.
Once your child gets the hang of the jumper and starts bouncing harder, you don't want their feet slamming down flat onto the floor. By setting the height where they can reach the floor with only part of the feet, it allows for safer jumping so they don't hurt their feet or legs. It also causes them to have to use the muscles you want them to for their development.
How Should A Baby Sit In A Jumperoo?
Your baby should be placed facing the front of the seat at all times. Don't ever put an infant in facing backward. This leads to a lack of correct support, and thus could result in injury.
You should adjust the height of the seat so your baby's feet can reach the floor but are not all the way down flat when they're at rest. The child's feet need to be able to touch the floor enough that they can push up off of it enough to get a good bounce.
Most jumpers have multiple heights you can set them to so they grow with your baby. For instance, the Rainforest has three different height settings to use. You'll want to make sure you're adjusting it as needed to keep it set to the optimum level.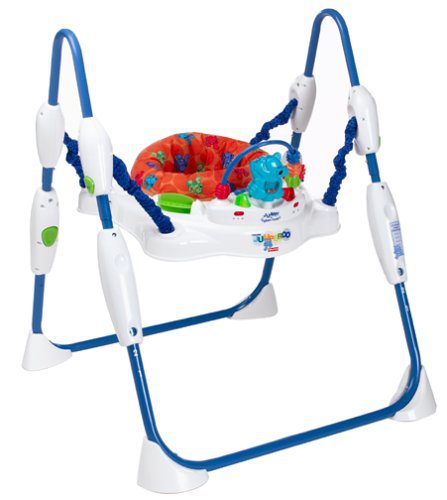 Is Jumperoo Good For Baby?
Products like the Rainforest can be good for baby. The trick is not to overuse them so that you fail to give your baby all of the other activity and stimulation they should be getting.
Just as with any other kind of product, you need to have a good balance amongst all of the activities you do with your baby. Use the baby boncer in moderation to get the benefits out of it for your child.
Baby Einstein or the Rainforest Jumperoo have toys and colors that are meant to help your baby develop their fine motor skills, stimulate growth in the brain, and pair those with helping their gross motor skills to develop, also.
Is Jumperoo Dangerous For Babies?
Baby jumpers can be dangerous if used improperly or without adult supervision. Parents should read all of the instructions about where to put their Rainforest or other type of bouncer. Babies should also never be left alone in it Some reports have been made about babies injuring themselves by bouncing into walls or furniture, being pushed by other children while in the jumperoo, or getting fingers pinched in the springs.
The other potential hazard for a baby that is dangerous comes from sleeping in the jumper. Should your baby fall asleep in the Rainforest, or any kind of bouncer, you should move him or her to a proper sleeping environment, as their airway could become restricted so they won't be able to get enough oxygen.
With a baby jumper, many parents should never leave a child unattended. This might seem like a given, but at an early age babies can hurt themselves, so if you're not careful, it can be a dangerous thing.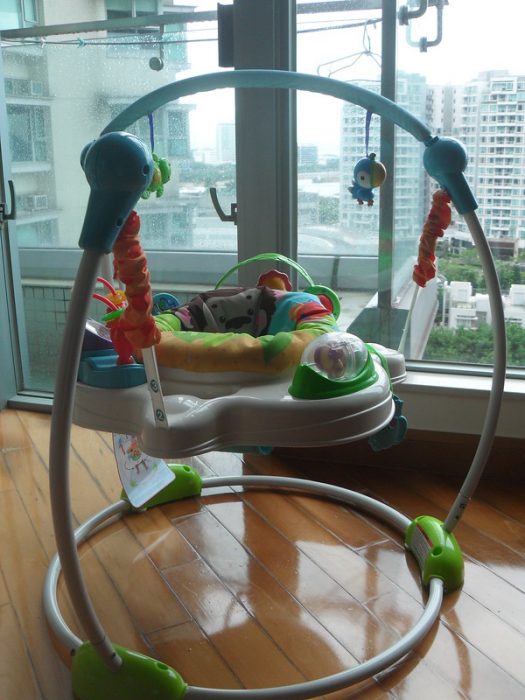 Why Are Bouncers Bad For Babies?
Jumpers can be a very convenient place to put babies that frees up parents so they can get other things accomplished. That's fine for a short period of time, and as long as the parent is still in the room with the child to supervise them. However, too much time in jumperoo means the baby isn't getting enough time to work on other skills on the floor, or to socialize, or to interact with the environment around them.
Is it Bad For Babies' Brain?
Some pediatricians and child development psychologists have expressed concern that using products like the Rainforest and other jumpers can slow a child's development down. They often will miss out on other activities and opportunities for exploration because they've been placed in a jumper seat.
It's thought that babies who spend too much time in jumpers take longer to develop spatial awareness, as well as to grow their confidence. It could also cause a delay with sitting on their own and crawling.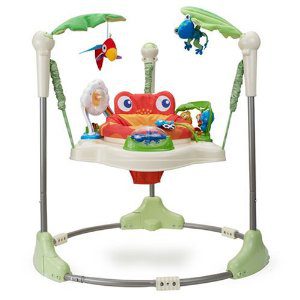 How Long Can A Baby Be In A Jumperoo?
There's no set answer to this question. There are certainly benefits for your baby from sitting and playing in a bouncer. You need to make sure that you balance their playtime in the jumper with their other activities. A rainforest Jumperoo can be lots of fun for your child, but he or she needs much more than just fun. Make sure they get time to do all of the other developmental activities they should be doing and you'll ensure you have a happy and healthy little one.
What Is The Best Baby Jumper?
To choose the best baby bouncer, you should get one that fits a baby your size. Generally, the best is a Fischer Price one, since they are usually high quality options. The best one is the Rainforest because it is the best all around.
The best baby bouncer for backyards and playrooms is the Jolly Jumper since it is a stand and baby exerciser, and it is the best to get the kid moving.
If you want a good oversized jumper, the best baby jumper for that is the Evenfall Exersaucer. This is the best for those who want something which is stationary, and also comes with activities for the baby to do, making it one of the best baby bouncer options on the market for those who want something to entertain the kid.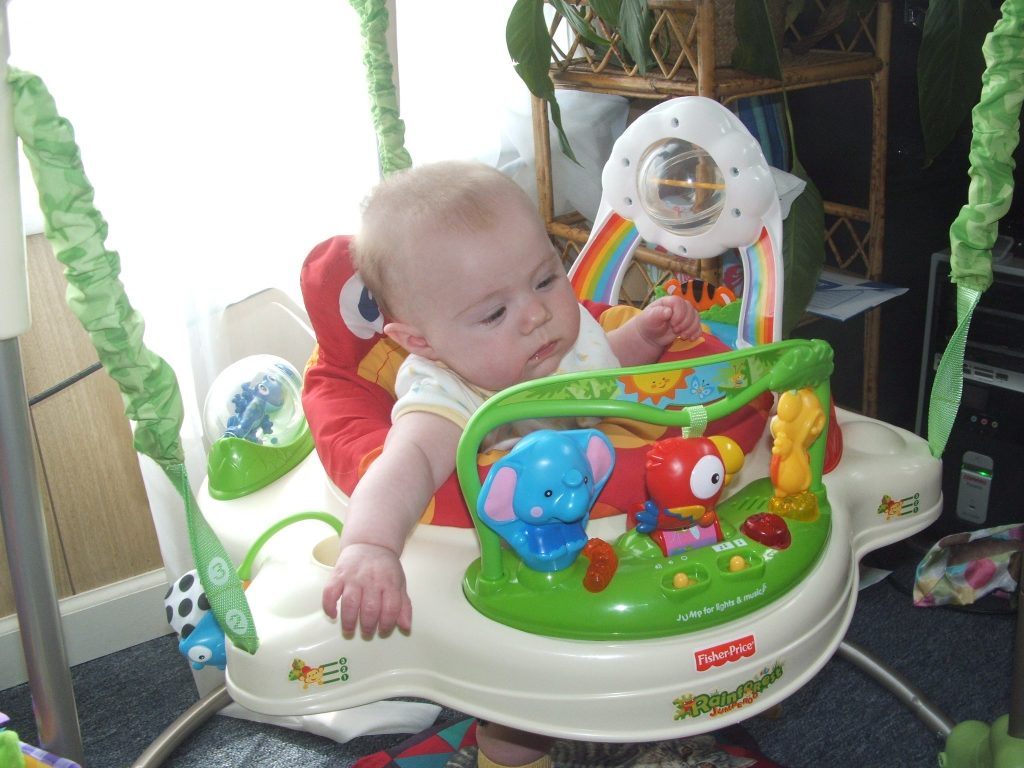 Conclusion (Does Your Baby Need A Jumper?)
Choosing the best for your child is important, and this includes baby jumpers and the baby bouncer. With this, you learned everything you need to know to give your child the best baby development and growth experience through a baby bouncer, along with concerns and worries that might be present. Follow these, and hopefully you'll be able to, with this, help your child learn to walk and move faster than ever before and in a healthy manner!
Other Resources
Disclaimer: FamilyHype.com (Family Hype & FamilyHype) is a participant in the Amazon Services LLC Associates Program, an affiliate advertising program designed to provide a means for sites to earn advertising fees by advertising and linking to Amazon.com.
Last Updated on July 6, 2022 by Rejie Salazar
DISCLAIMER
(IMPORTANT)
: This information (including all text, images, audio, or other formats on FamilyHype.com) is not intended to be a substitute for informed professional advice, diagnosis, endorsement or treatment. You should not take any action or avoid taking action without consulting a qualified professional. Always seek the advice of your physician or other qualified health provider with any questions about medical conditions. Do not disregard professional medical advice or delay seeking advice or treatment because of something you have read here a FamilyHype.com.