Shall it be Tula vs Ergobaby?
When looking for a baby carrier, your baby's comfort and safety should be the number one thing you look for. While this is extremely important, your comfort is just as important. In no way should it be downplayed by the toll it can take on your body as a parent to carry another human being. So we will be talking about the popular baby carriers in this article.
We also included a list of the most raved about Tula vs ergobaby carrier on Amazon to give you an idea of what your options are. Ergo Baby carrier and Tula carrier are two baby carriers that are popular now.  Which one is better? Tula vs Ergobaby? Each baby carrier has detailed features that you can look at to finally decide which one is best for you and your little one. If you're a new mom and you feel like you need more information before buying, you can read the entire article to discover both brands' differences and benefits.
Ergobaby Embrace Cozy Newborn Baby Wrap Carrier (7-25 Pounds), Pure Black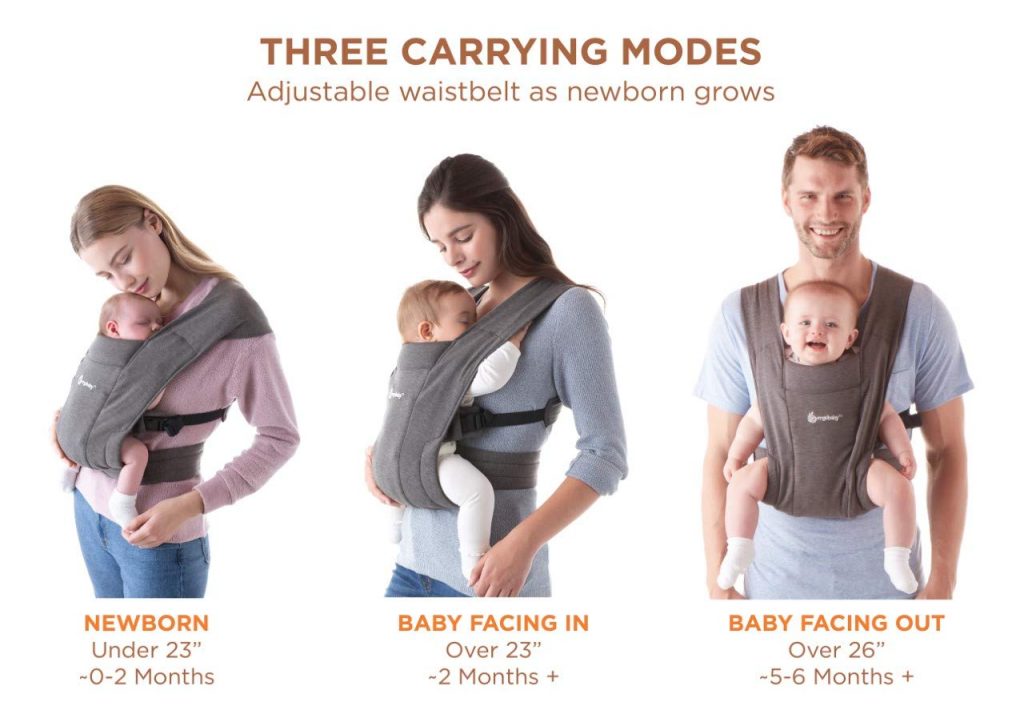 The baby warp from Ergo baby is made from 79% polyester, 17% rayon and 4% Spandex which makes it a great carrier.
One of the best soft structured carriers is the Ergo Baby Carrier. The Ergo carrier is very soft, lightweight and can be easily folded to fit in a bag.
Soft structured carriers like Ergo carriers are easy to use and need no wrapping or tying, both you and the baby will be comfortable. It is easy to navigate to keep your baby close.
Tula Baby Carrier – Baby – Archer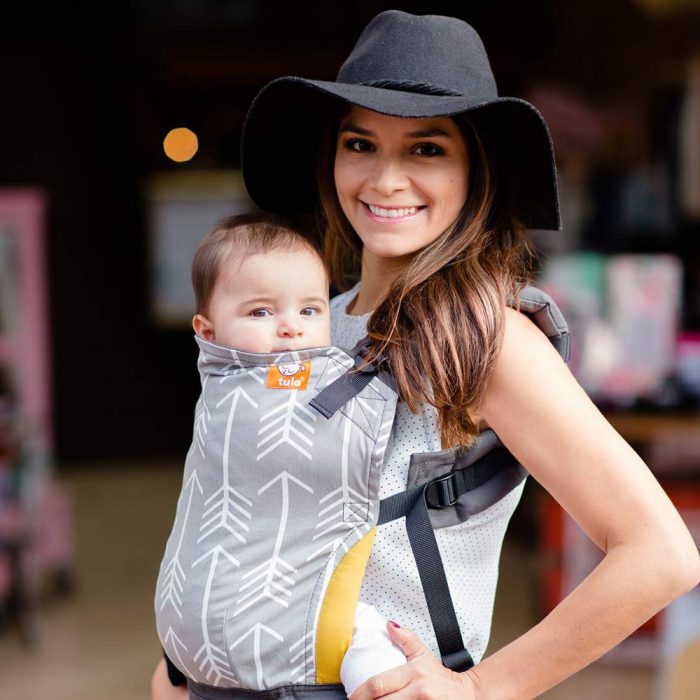 The baby carrier from Tula can be used in a bunch of carrying positions that can be done mostly hands-free. For front and back carries, it provides an M position seat which supports the baby's body without compromising positioning and body development.
It is ideal for babies up to 14-45 pounds.
According to Amazon reviews, unlike other carriers, the Tula does not give motion sickness when worn.

Baby Tula Explore Baby Adjustable Carrier 7-45 Lbs.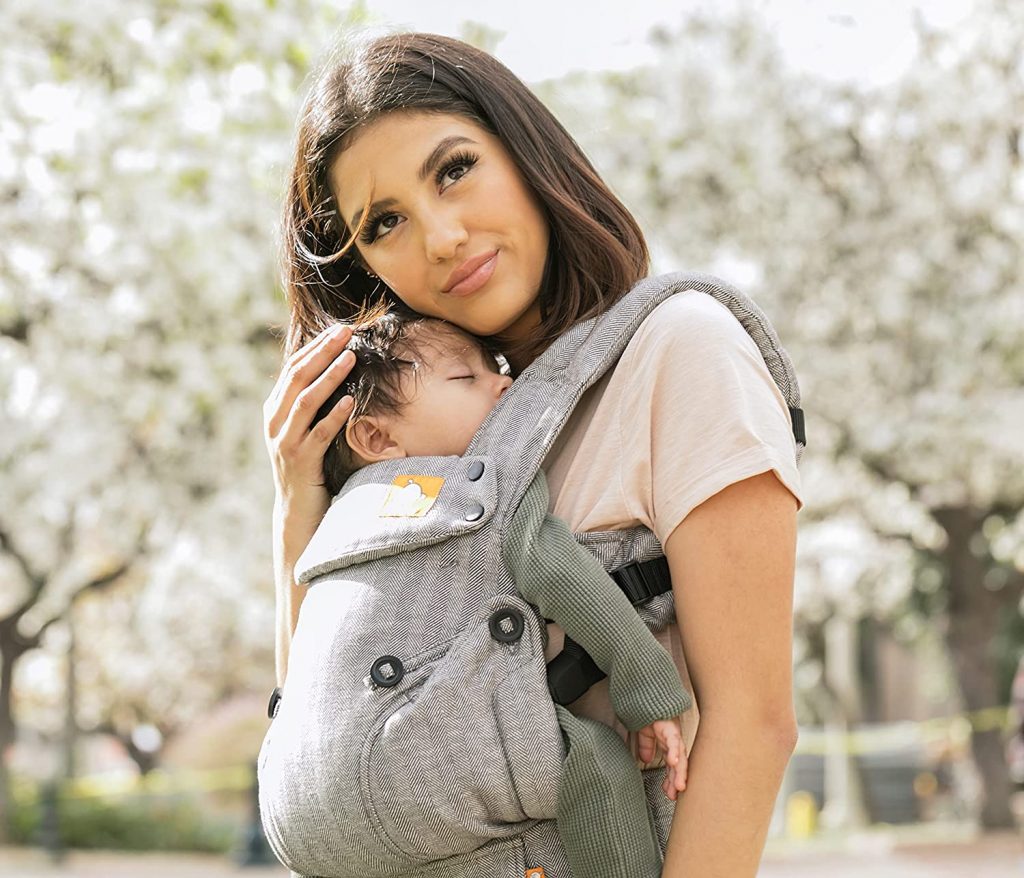 The Tula Explore baby carried offers multi-position carry. It can be worn with the baby facing out, in or with the baby on the back as a back carry.
It is designed for ergonomic positioning which promotes healthy hip and spine development for your little one.
It is made of breathable materials and 100% soft cotton. It is easy to clean and it is machine washable.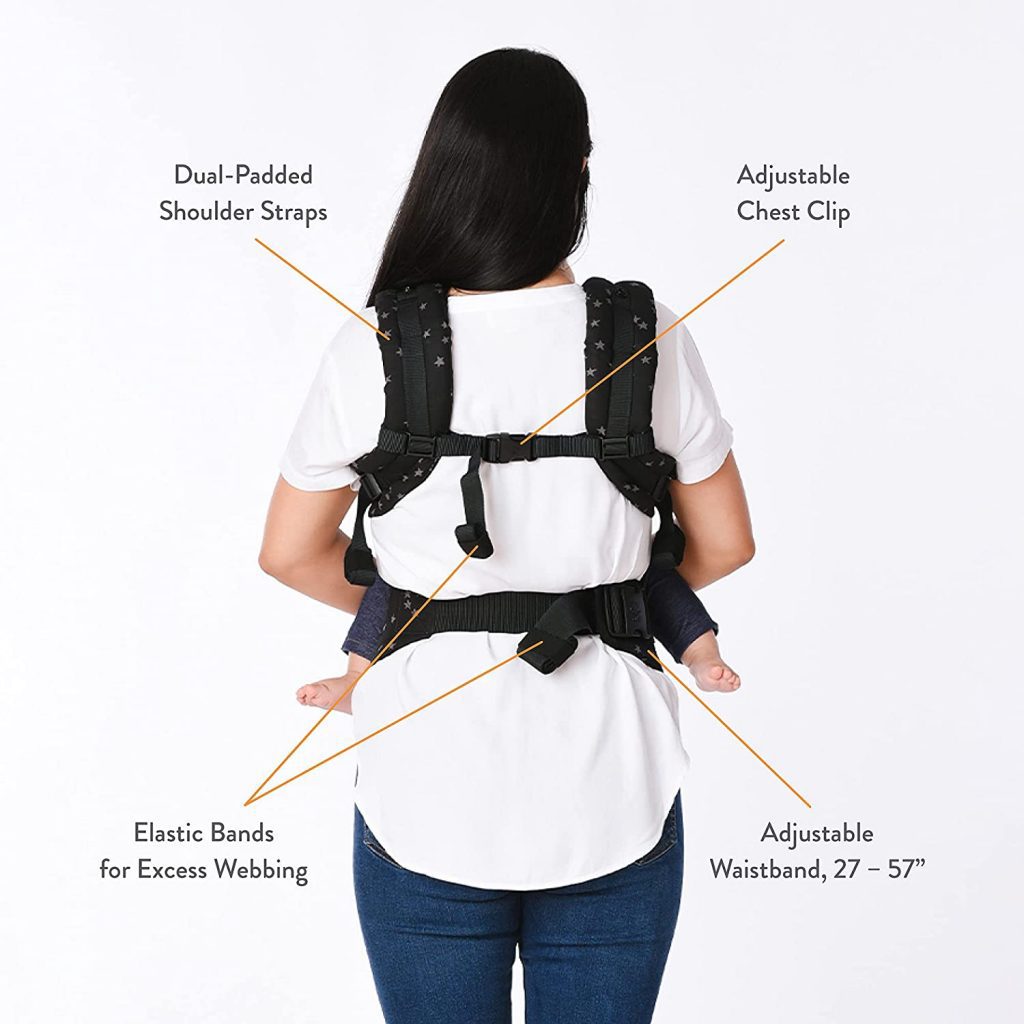 Baby Tula Coast Explore Mesh Adjustable 7
It comes with a large breathable mesh panel which keeps the baby and wearer cool as it provides additional ventilation.
It allows more carrying positions when carrying the baby and it supports the baby spine and hips when sitting on it. Most are hands-free.
It comes in different beautiful fun prints and colors and it can be used from newborn to early toddlerhood. Perfect for young babies and older babies.

The ErgoBaby Omni 360 comes in two different materials, anti-microbial fabric or mesh. 

The Ergo Baby Omni 360 is one carrier that has sun protection in the form of a removable hood to protect your baby's head. You don't have to worry anymore when it comes to head support. This carrier also comes with a detachable pocket perfect for storing pacifiers and other small things.

The Ergo Baby Omni 360 can be worn in four carrying positions: the ergonomic front carry that is facing the parents, the facing out front carry (forward-facing option), back carry, and hip carry option. 

The ErgoBaby 360 is one of the best baby carriers because it features a padded waist belt that helps with lumbar support. The shoulder straps of the ErgoBaby Omni also cross to help with lumbar support and overall back health. A baby wearing an adjustable shoulder strap is, especially if it is for long periods of time. 
Ergobaby Vs Tula
Carrier
When it comes to the ergobaby vs tula carriers, they may seem the same at first glance. But this is not the case and there are significant differences that you should be aware of before choosing Tula vs Ergobaby.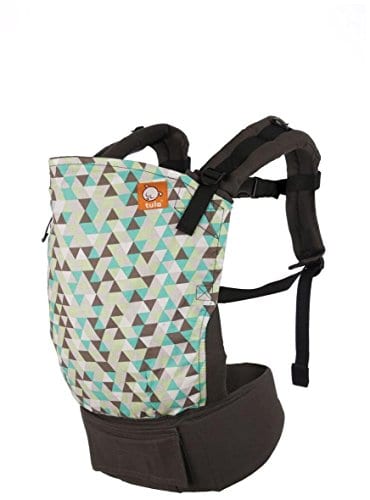 How They Are Used
The first main difference between the Tula vs Ergobaby is how they are used. The Tula toddler carrier can be worn on the front or the back, but the main thing here is that it comes in multiple sizes. The Ergobaby be worn in four different ways, which makes things easier for you and for your baby. You can position it either on the front either facing inward or outward-facing, back carry, or as a hip carry option. This allows carrying positions of your baby in the way that he or she is most comfortable, potentially preventing gas or fussing.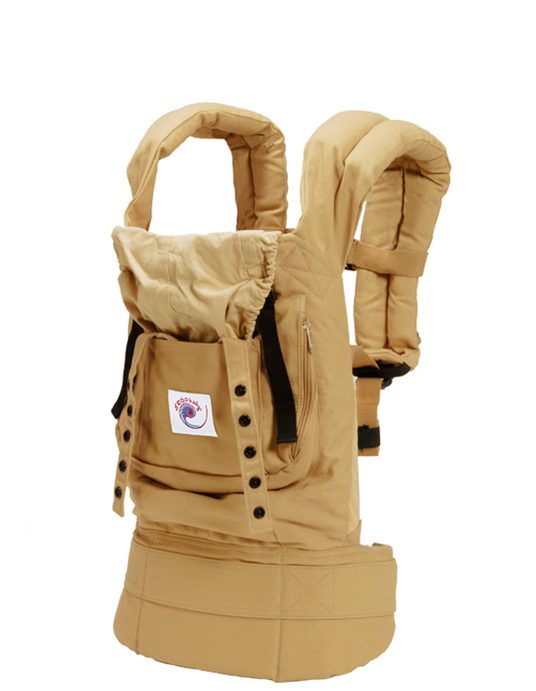 Benefits For Parents
Tula vs Ergobaby? In this regard, both the Tula and the ErgoBaby Omni have the same benefits. They both feature thick waist straps that will help to provide you with comfortable support to help carry the weight of your baby. Both are designed with the appropriate amount of support for your hips and lumbar, as well as neck support. So in this regard, they are similar.
The largest benefit for babies when it comes to the Ergobaby is that they are able to accommodate multiple positions, whether front-facing, outward-facing, or hip carry. This means that your baby will always be in the most comfortable position for them because they have options to try out.
After taking a look at the differences, it is safe to say that the best baby carrier from Tula vs Ergobaby is Tula. The first reason behind this is that the Tula free baby carriers allow for a larger weight. The weight range of a standard Tula baby carrier is 15-45 pounds. This means that you can keep this for a long time without having to purchase a new one. The second reason why it is the best baby carrier is that a majority of the straps and belts will click in. As a parent, this should give you comfort in carrying your baby and knowing that your child has been safely strapped into place. This is better than the velcro that the Ergobaby has.
Is The LILLEbaby Better?
When compared, the Tula vs LILLEbaby are very similar. They both have hoods to protect your baby from the sun or the rain. Both the Tula and the LILLEbaby Complete baby carriers have extra padding where the leg openings are located, which provides extra comfort for your baby. The Tula and the LILLEbaby Complete are also similar in the waistband. Both waistbands are padded and soft while providing the wearer with the support they require.
Where the LILLEbaby Complete baby carrier passes the Tula as the best toddler carrier in this instance is that the LILLEbaby Complete can cross the straps, in addition to the normal rucksack style. Both versatile methods help with lumbar support. This versatility is what sets the LILLEbaby Complete apart from the Tula as the best baby carrier. Not only should the baby have options for how to be worn, but the parent should also have options for how to wear the baby.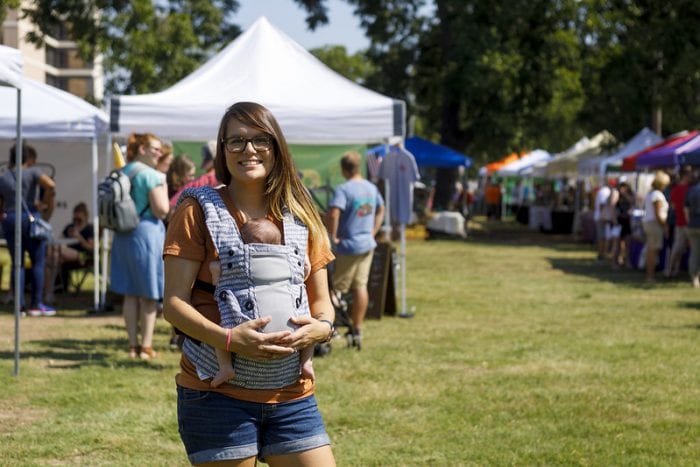 Out of the options available through Ergobaby, the best baby carrier is the Ergo Omni 360. It comes newborn ready and when your baby is ready, they can sit in a forward-facing position. Another reason why the Ergo Omni is the best baby carrier is that it has a maximum weight of 45 pounds so you can continue to carry your child into their toddler years. All the while, giving you the lumbar support you need. 
The benefits of the Ergo Omni 360 continue in that it can be worn with the straps crossed. This helps the Ergo Omni fall into the category of the best baby carrier because crossable straps mean more lumbar support and comfort for the parent and baby wearing. One last thing that makes the Ergo Omni the best baby carrier is that it comes with a small, detachable storage pouch (small pocket) that is handy for carrying pacifiers or your phone and a sun protection hood for your baby's head.
Does ERGO Own Tula?
At this time, Ergoababy does own Tula. Ergo bought Tula to be able to use their baby carriers as their own. It has been said that both companies will continue to operate as their own entities, with each keeping its own names and headquarters. The two carriers' companies will now be working together to supply all the parents with their baby carrier needs. With that being said, it is Ergobaby that bought Tula.
Which Lillebaby Is The Best?
The Lillebaby best baby carrier is the Lillebaby Complete Airflow. The LILLEbaby Complete model is the best because it offers six different carrying positions. These six carry positions of the LILLEbaby Complete include fetal, infant, facing out, facing inward, back carry, and hip carry which all ensure ergonomic positioning and your lumbar support as you wear it and carry your baby.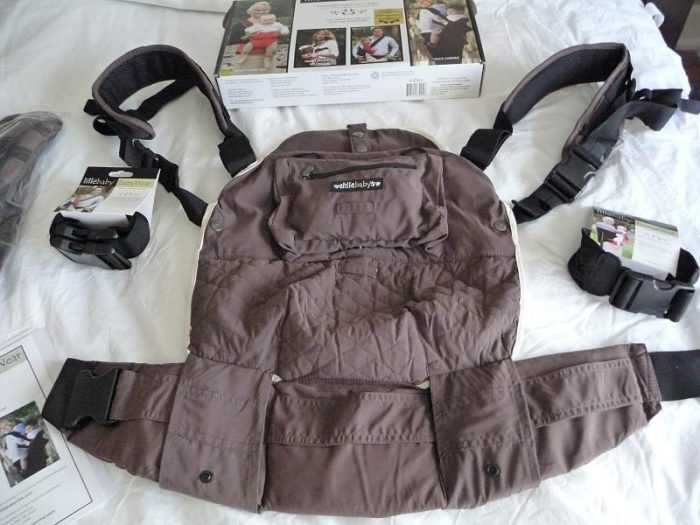 This is also considered the best baby carrier because it comes with a thick waist strap that will help to evenly distribute the weight of your baby while helping with lumbar support. One last reason why this is the best is because of the immensely breathable fabric that it is made out of. Your baby will be cool and comfortable no matter what position they are sitting in.
Can You Use Tula vs Ergobaby In Terms Of Infant Insert?
It is not safe to use an Ergo infant insert with a Tula. Each brand of baby carriers is made with infant inserts that fit the necessary dimensions. If you were to use an Ergo infant insert with a Tula, you run the risk of your infant slumping down in the baby carrier. This will then restrict their airways and can lead to problems getting air. So the answer is no, you cannot use an Ergo infant insert with a Tula.
Is Tula Suitable For A Newborn?
Yes, the Tula is suitable for a newborn as long as you have the newborn in an infant insert. The infant insert needed for your newborn is recommended while they weigh between 7 and 15 pounds. The infant insert is needed also because it helps your baby remain in a position that helps with the correct maturation of their spine, neck, back, and supports hip health. The infant insert is also needed to reduce the chance of hip dysplasia. 
Is Tula Worth It?
After weighing the pros and the cons, Tula baby carriers are worth it if you plan on using yours for the entire time. It may have a steep price, but this is outweighed by all the benefits this baby carrier offers. The Tula free is the best when it comes to how much weight they can hold because not all baby carriers can hold up to 60 pounds. This hip belt is also stylish that can fit your personal style while still keeping your baby in an ergonomic position to support hip health.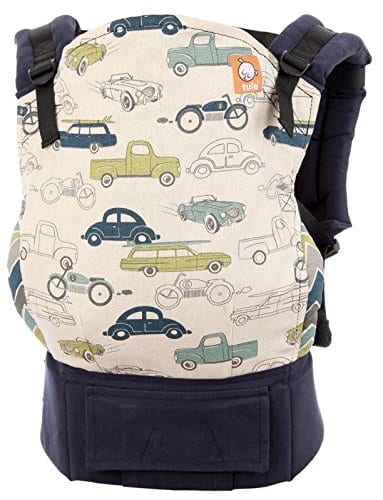 Is Tula The Best Baby Carrier?
Tula is indeed the best baby carrier available, especially the Tula Free to Grow structured carriers. The Tula Free to Grow is the best because fits your newborn and grows with them. The Tula Free to Grow carrier can carry a newborn as small as 7 pounds up to older babies and toddlers as large as 45 pounds. Keep in mind that an infant insert is needed to carry your newborn. Another reason why the Tula Free to Grow Carrier is the best baby carrier is that there are multiple inward facing positions that you can place your baby in. This helps with their comfort, keeps their hips healthy, and it will also benefit you are you breastfeed as the baby's head and the baby's face is in the right position.
Last Updated on November 22, 2022 by Inma Barquero
DISCLAIMER
(IMPORTANT)
: This information (including all text, images, audio, or other formats on FamilyHype.com) is not intended to be a substitute for informed professional advice, diagnosis, endorsement or treatment. You should not take any action or avoid taking action without consulting a qualified professional. Always seek the advice of your physician or other qualified health provider with any questions about medical conditions. Do not disregard professional medical advice or delay seeking advice or treatment because of something you have read here a FamilyHype.com.