A jungle gym can be lots of fun for your toddler. Who doesn't love seeing your toddler climb up the monkey bars, go down a slide, and just enjoy themselves in the process? However, you should consider the safety of the jungle gym before you buy it.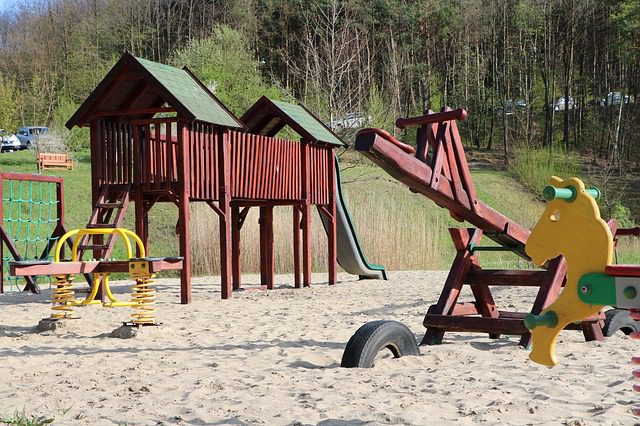 Jungle gym equipment for kids typically goes through some rigorous testing for safety. That being said, a full review can't really reveal all of the potential safety hazards that could arise. Once kids have played on the play set for a while, you may start to see where the problems lie. That means that checking out reviews from past users is a really good idea. 
While most jungle gyms for toddlers are safe, some have some problems, and you may want to avoid them. Here are the few things to look for when you're buying a jungle gym for a toddler.
Durability 
That is perhaps the most important one of all. When you buy a jungle gym, make sure it can handle your toddler's roughhousing. A jungle gym that can fall apart can end up injuring a toddler, or at the very least, disappointing them. 
It's important that you understand, too, that the durability of jungle gym equipment for kids will only be at a specific level for the ages of children the kids gym set is made for. If older, heavier kids play on an activity play set that's the perfect size for kids from 2-5 years old, then the durability factor will be less.
Also, since these do require assembly, part of the responsibility is on you. Make sure that you're following the assembly instructions, and don't skip out with the screws or bolts. Even one loose screw can make it less safe for your toddler. Since the nature of jungle gym equipment is such that it's meant for climbing, crawling, swinging, and jumping, you need to heavy duty high standards for putting everything together.
In case you're not confident with your assembly abilities, or you feel like the instructions are too complex, you may need to consider hiring a professional to help you assemble. It can give you peace of mind and allow your kid to handle everything in a jungle gym that is assembled well.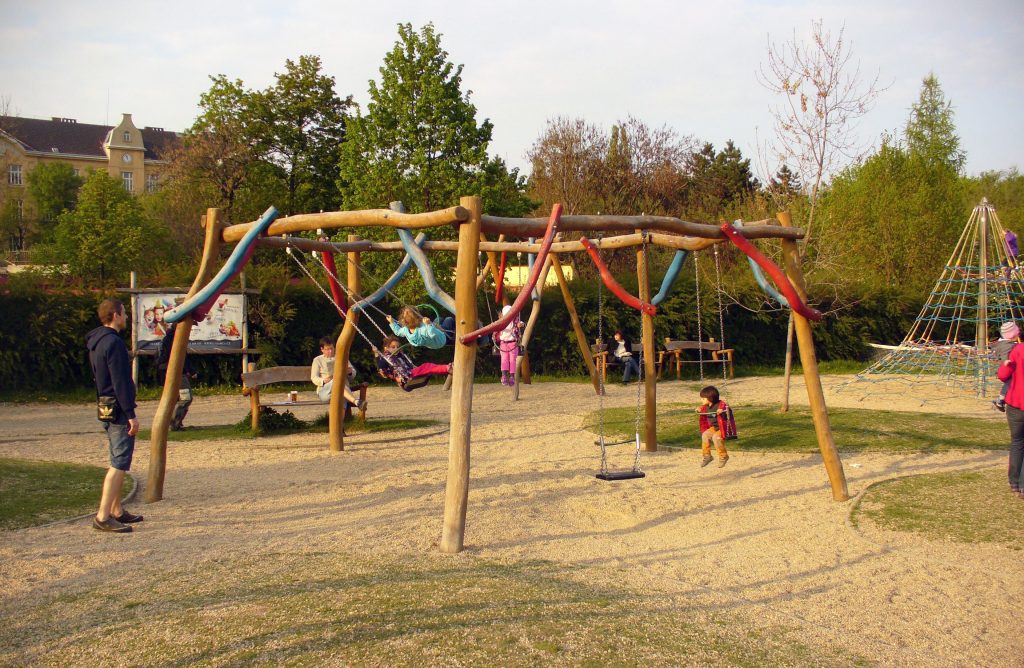 Materials Used 
Many jungle gyms will be made of tough plastic, which is safe for your toddler to use. However, some sets, usually those not meant for toddlers, have metal parts that can poke your toddler. Always check the materials that are used before you purchase so that you don't end up with a jungle gym that could be a hazard. This is especially true for an indoor play gym set. You certainly don't want a set made of metal when a toddler climbing on it in an enclosed space is a possibility.
Safety Mats 
Many of the jungle gyms will be equipped with safety mats. If your toddler falls off it, they will hit the mat and have a comfy landing. That is extremely important when you're choosing a jungle gym, and you may want to buy extra cushioning of your own if you're still unsure about the jungle gym's safety. You can find mats made of soft foam in the toys games departments of many major retailers. Kids love to be daredevils, so the more cushioning you have around, the better.
Toddler Jungle Gym Set Can Handle The Sun 
If you have an outdoor jungle gym, you want one that won't get hot on a summer day. We all know the horror stories about the playground slide being way too hot, burning any kid who gets close. To avoid this, make sure you're choosing the best toddler playground options for your little ones. You don't want your kid to be burned. Luckily, even the metal parts are designed to withstand heat, but you probably want to make sure. Bring it inside if you must. A toddler climbing ladder, monkey bars climbing tower, or any slide equipment for kids can get very hot and all have places meant for touching. You should take a look at what the jungle gym toddler climber equipment is rated at for heat exposure.
Portability 
Okay, this is not a safety issue, but it's important enough to put here. Having a jungle gym you can fold and store with ease is quite beneficial. Not to mention, you can bring the gym outside when it's nice outside, and then indoors when it's dark or when you're dealing with bad weather. You can put one away too whenever your toddler has outgrown it, and you may have another kid on the way. Having a jungle gym that's easy to move gives you options for using it. Also, if it's easy to move, you can take it with you to a new home should you end up moving.
These are just things to consider when you're purchasing a jungle gym. With that said, let's look at some good, safe jungle gyms.
Panda Playground Indoor Jungle Gym
It is an awesome jungle gym for kids up to 5. It has many features that your kid will love. It includes ladders, rope, a slide, and more. It has easy assembly, so you won't have to worry about messing it up, and it's very portable, making it a killer jungle gym if you want a nice and safe jungle gym for you. It definitely helps your child develop climb and crawl activity gross motor skills.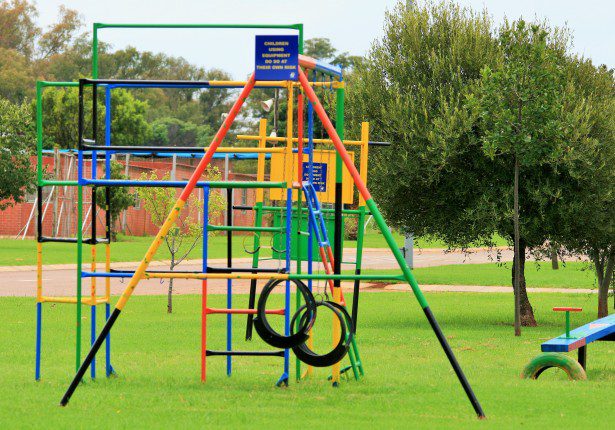 Playz 5pc Kids Playhouse Jungle Gym
It is a jungle gym that has many tunnels and tents your kids can crawl through. What makes this one of the best jungle gyms around is that it's soft, padded, and has nothing your toddler can injure themselves on. It means that it's a home run when it comes to safety. 
This one is great for toddlers and preschoolers, and can even be good for babies that are crawling and sitting up on their own. It has a ball pit with a basketball hoop that kids love. It also has five Velcro balls that come with it so your kids can practice aiming with them at a target on the side of a tent. While you can use this play set outside, you don't want to leave it there. It's made of fabric material that should be stored in and out of the elements to keep it in good shape. 
Want to know the best thing about this one? It doesn't cost much. You can get this playhouse for well under $100.
Lil' Monkey Jungle Gym
The Lil' Monkey Jungle Gym is super easy to put together and can be folded up to be put away within just a minute. This gym set is rated for kids ages 18 months to 5 years old. You can use it inside or outside. Kids love slides and this one has a slide also. Many parents list Lil' Monkey as one of the best products they've bought. It folds down all the way flat so you can just slide it under a bed if you want to. 
This set will help your child develop better muscle tone, motor skills, and balance. Kids can climb all over it and go up and down the slide. There are other products on the seller's list Lil' Monkey manufactures, too. You can order these online and have them shipped anywhere in the United States.
Funny Baby MINI – Kid's Indoor Playground Climber Set
It is a cool little set for toddlers up to seven years old, which is quite good, as it lasts a long time. It is a set that has a metallic frame, but it has no sharp edges. It's sturdy, so your child can climb on it without having to worry that much. It is a set that your kid is going to love. Oh, and it has a gym mat as well, meaning that your kid will be safe should they fall.
Kids love to climb, even from a very young age. This little playset allows babies to use a safe climber gym toy great for helping them develop their muscles, balance, and other gross motor skills. It even has a monkey bars climbing tower section. This set is good for babies who can crawl and for toddler toys, as well.
ECR4Kids GUS Climb-N-Crawl Caterpillar Tunnel – Indoor/Outdoor Fun Kids Play Structure
It is shaped like a caterpillar, and your kid can climb on it and crawl inside of it. It's a cool little jungle gym that because it's grounded, doesn't need that much safety concerns. 
Kids Jungle Gymnastics Expandable Junior Training Monkey Bars
These are some cool monkey bars that your kid can hang from. Their easy assembly means you won't mess up and make them weaker than they should be. Once you put it together, you can attach other things to it like a ladder, swing, rope, and other good stuff.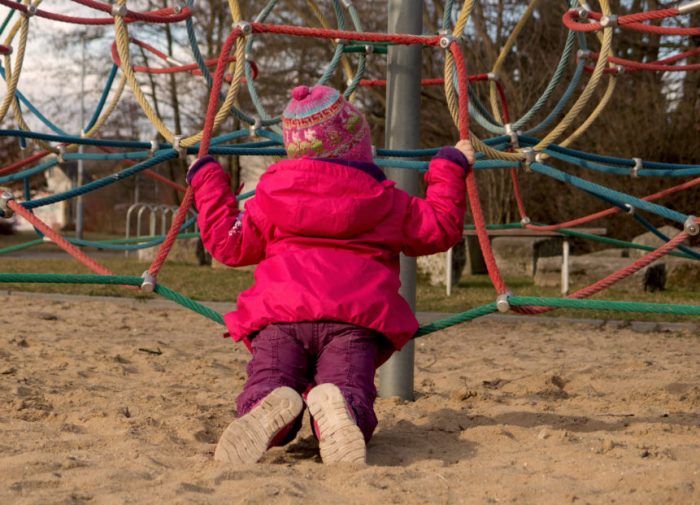 Conclusion 
These are just a few jungle gyms that truly rock in the safety department. Of course, you may want to look at other features besides safety. Safety must be the number one priority, but other features are important too, including: 
Features. Does it have accessories that can stimulate a toddler's curious mind? Bars, rope, moving parts, and the ability to crawl are just a few examples. 
Age range. Is it good for a wide age range, or will you have to retire it once your toddler outgrows it? 
Cost. Does it fit within your budget? Are there more budget-friendly options available? If so, look into those and see if they are safe, too. 
This summer, have a safe and fun time with your toddler. 
Toddler Jungle Gym Set FAQs
What is a toddler's jungle gym set?
Toddler Jungle Gym Set used high-quality colorful play gym equipment, filled with foam pits, inflatable best toddler slides, trampolines, and more. You can find them by many different manufacturers, such as Easternbars climbing toys, Eezy Peezy, and Zupapa, just to name a few. Read more about it here: https://www.scarymommy.com/spotted/toddler-play-gym-indoor-outdoor/.

Are those jungle gyms safe?
There are instances that jungle gym sets may cause a potential risk to children due to heights, broken pieces of plastic equipment.

How much are jungle gyms?
The jungle gym sets sell at a retail price range of $50 to upwards of $500, in some cases. A good idea is to have your child ask for universal gift cards for birthdays or other holidays so they can use them to purchase a new jungle gym.

What does a jungle gym look like?
Jungle gym shapes often include wooden platforms. These go with ladders and railings around the outer edges. They can be shaped like all sorts of things, though. You can have a slide 'n jungle gym, or a climbing tower 'n jungle gym, there many different configurations.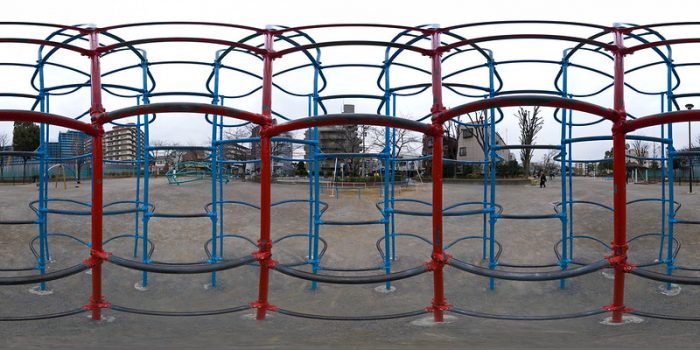 What are some safety rules in the playground?
To avoid accidents, children must consider some safety rules. Sit down on the swing properly and slow down before getting off. Never climb on wet equipment and use both hands when climbing. Avoid walking in front of swings, pushing, or shoving.

What playground equipment is the most dangerous?
A lot of people consider swings as the top playground equipment that is responsible for most children's injuries

Why is playground safety important?
Playground equipment is often heavy. That is why children must take precautions to avoid injuries.

How big is a jungle gym?
Jungle gyms require an access width of 2 meters, and an access height of 3 meters. Check for specs here: https://www.target.com/s/jungle+gym+for+toddler.

Where did the term jungle gym come from?
Chicago lawyer Sebastian Hinton trademarked the Junglegym in 1920. It was from an envisioned structure where children learn about three-dimensional space by climbing to specific x, y, and z coordinates.

How do you make a wooden jungle gym?
First, you need to find a suitable piece of ground approximately 20m. Then secure the columns, attach the rails, position the ring beam, stat decking, install stairs and stringers, attach laths then finish off.
DISCLAIMER
(IMPORTANT)
: This information (including all text, images, audio, or other formats on FamilyHype.com) is not intended to be a substitute for informed professional advice, diagnosis, endorsement or treatment. You should not take any action or avoid taking action without consulting a qualified professional. Always seek the advice of your physician or other qualified health provider with any questions about medical conditions. Do not disregard professional medical advice or delay seeking advice or treatment because of something you have read here a FamilyHype.com.