Ah, the beach. Whether it's warming up or cooling down, you may be thinking about a trip to the beach locally or for vacation, and how much fun it will be for you and your child. If you're feeling this way, a sand pail can be right up your alley for you and your child.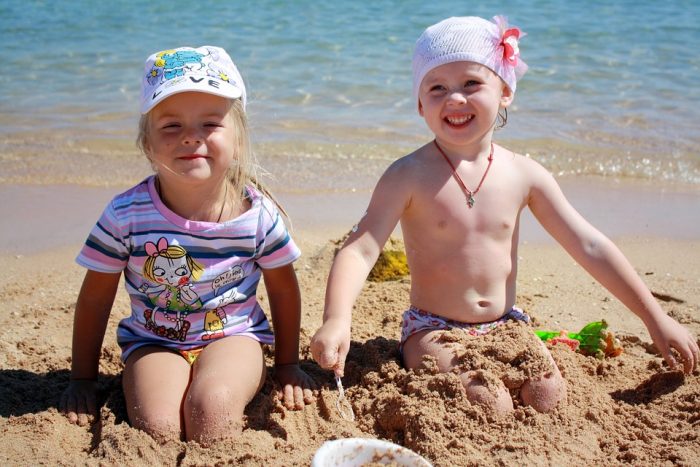 A sand pail is a staple of a child's beach time fun. The beach bucket sand toy has a history that spans way back for some time. Most of us can remember playing with beach pails, sand buckets, and sand toys set pieces. When you think of a child and the beach, you tend to think about ice cream, walking around in the water, and of course, making sandcastles. A sand pail and shovel set can help your kid do that and more, and here are a few reasons why it's a must.
Sand Pail: Great For Kids Of All Ages
If you have a young toddler, a sand pail can show them how they can put stuff in a container. You can watch your baby put sand inside the bucket and then watch as they pour it. They may notice the sand makes a shape, and this may encourage creativity. You can observe as your little one has hours of fun in the sun with simple, inexpensive beach toys.
Older kids can use pails to make some stunning sandcastles. Kids these days have quite a few artistic skills hidden under their belt, and you'll be surprised at what kinds of castles they can make if they set their mind to it. You can actually find some more complex sand castle building kit beach toys that still won't cost very much.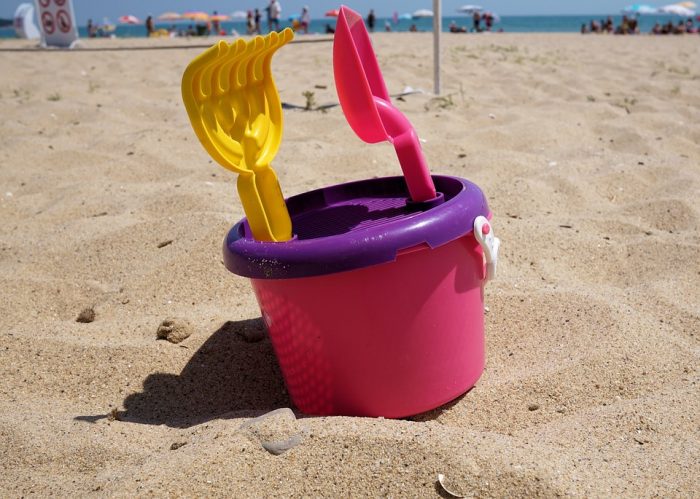 It's Affordable 
With a sand pail, you don't need to spend a lot of money to have a lot of fun. A sand pail is affordable and accessible for anyone to implement. We say to try out a sand pail and get one for only a few dollars. Of course, there are higher-end models, which we will discuss later. But, ultimately you don't need to break the bank to get some super fun beach bucket sets and other beach toys for your kids.
What To Look For In A Sand Pail 
Here are a few things you should look for when you purchase a sand pail. 
Materials 
What materials do you want your pail to consist of? Most cheap sand pails have plastic material. While this plastic does work in most situations, some plastics are made better than others. You may find a container that is from cheap materials that are no good. On the other hand, you may find a sand pail that is made from more durable plastics as well. 
More metal pails can be useful for more durability. Just make sure you get one that doesn't get hot quickly. The other thing to think about here is the weight of the beach bucket. Generally, a metal beach bucket will weigh more than a plastic one. Small children will need lighter plastic sand toys so they can pick them up.
Packability 
Many of these pails should be easy to carry. It may be just a pail, but when you have multiple buckets, you want one that is collapsable and easy for a child to move around. Try out a few and see what a difference they can make if they are packable. Imagine that you've purchased a sand castle building kit full of sand toys 16 piece full. Consider how you're going to tote that to the beach. A set for kids like that should be easy for them to carry themselves.
Handle 
A pail should have an excellent handle that makes it easy for you or your child to carry it. Again, some grips are made better than others. Some allow easy transport, while other handles make it more difficult to transport and a bit of a challenge. It's best if you have a large beach bucket with a nice handle to carry all of the other beach toys in.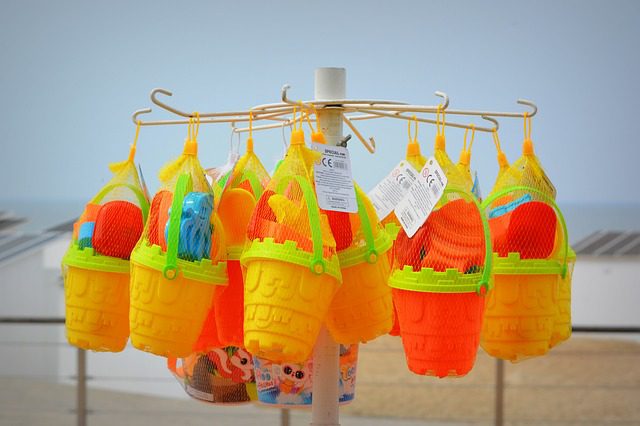 Accessories
Some pails will include other accessories to make the beach much more fun. For example, they may consist of a shovel that makes playing in the sand much more fun. Some may consist of extra pails for more fun with you and your kid's siblings. Beach bucket sand toys come in different shapes and sizes. Choose a set for kids that will play to their interests.
Shape 
Some pails are shaped like castles or other cute forms, making it easy for your child to create some cool sand structures with them. Just give them to your child and see what kind of magic they can create with them. You may want to go for a full on beach sand castle building kit and see what kind of impressive things they can come up with.
Pails To Check Out 
With that said, here are some beach toys and beach bucket sets you should check out.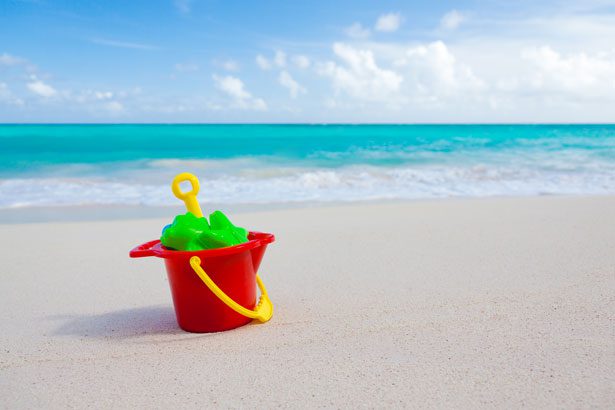 Fun Land Beach Pails 
These pails are stackable and come in three sets of three colors. It also has 12 shovels as well. It's quantity over quality, with these pails being ideal if you want to take multiple trips to the beach and have a kid who won't be too hard on the pails. These are super affordable. You can get a 12 pack of 5 inch beach pails and sand shovels for under $30. These are great for giving as party favors at a birthday gathering you're having for your little one at the beach. All the kids in attendance can use their beach bucket while they're celebrating the birthday. You can read more reviews here.
Italia Metal 
These pails come in a variety of colors and are made from metal, making them much more durable. Their rims are luckily not sharp, and they have smooth handles that rotate. However, there is a bit of a problem with the paint chipping, so be warned of that. 
You can order these from Amazon in packs of 6. They come only as the beach bucket itself, though. You'll have to purchase shovels and other sand toys separately.
ToyZe Foldable Pails 
These pails are easy to store, thanks to their hooks, and you can clean them in your dishwasher as well. They are made from silicone materials, which are quite durable and allows for plenty of play. Also, these pails are collapsable, but some dislike the hassle the process is, so make sure you know how to collapse. 
The great thing about having collapsible beach toys is it makes it so much easier to pack them in the car and tote them to the beach. In fact, you could have a large beach bucket that you could throw all of your foldable sand toys into.
Tevelo Big Sand 
This one is a bucket that is has a castle-like shape. The possibilities, as you may imagine, are endless. You can easily create a sandcastle with them, and your kid can be quite creative. Just give them this bucket and see what kind of magic they can work with it. It's a bucket that has its own carrying bag, and it's great for all settings with sand. Try it out and see what your kid can do with it.  
You can get this in a 12 piece set. It has the main beach bucket, a few types of shovels, a rake, and a number of other beach sand toy options. It's not an actual sand castle building kit, per se, but the beach toys will be fun for most younger children. Check it out here: https://www.sears.com/tevelo-baby-beach-toys-big-sand-bucket-12/p-A067949284.
Miniland Special 
This pail is indeed unique. It's a pail that is quite tough. If you have a kid who is a bit rough with their buckets, get them this. It's smooth, allows for a good grip, and helps your kid if they need a pail that can survive the most stringent activities. Plus, it's easy to pour and comes in a variety of colors. 
There are other beach toys for sand you can get to go with this Miniland Toys beach bucket. There are beach sand strainers, sand toy scoops, and a beach sand toy spade. You can get the whole set to match in color.
AquaVault Packable Pails
This pail is great for traveling because of how you can collapse and store them when you're not using them. These pails are available for all different kinds of kids and come in BPA-free materials for maximum safety and fun. You can put food in them, too.
Each of these comes as a beach toys beach set for kids that has one collapsible beach bucket and sand shovel. They're made of a silicone type substance that can get wet and is flexible. The only thing is when they're dry, these toys for sand get the sand stuck to them. You should be able to easily rinse it off, though.
Sand Pail Conclusion
Beach toys, beach bucket, toys for sand, whatever you want to call them, building kit beach toys are so much fun for all types of kids. Whether it's just a simple sand toys beach bucket or a large kit of sand toys, 16 piece set, kids are so imaginative they can make anything like this fun at the beach. It's the same reason children are so good at arts and crafts, they can pretend better than most adults. If you're headed to the coast, get your kids a building kit of beach toys for beach sand, then you can just sit back and relax.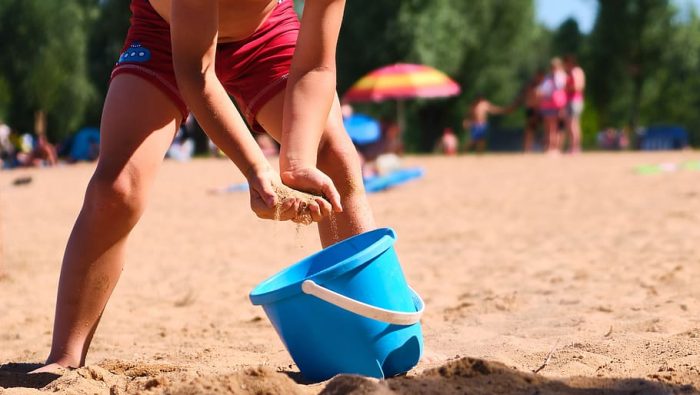 FAQs
What is a sand pail?
A sand pail is a plastic container with one open side and a flexible handle that goes across the lid.

Should kids bring a pail set at the beach?
It depends on which beach you are visiting. Not all beaches allow guests to play with sand. However, you can always choose a beach that does allow it. Then you'll want to take a toys sand set for kids along with you.

Is playing with sand helpful for my child's development?
Yes, sand play is excellent for your child's development. It can boost their social interaction skills and relationship with peers.

What are the perks of playing with sand?
Playing with sand allows kids to improve their motor skills and creativity. It is helpful for sensory exploration, as well. Some beach toys and sand toys promote learning about movement for children.

How old should my baby be before trying sand play?
Your baby should be at least 1.5 years old before they can try and play. You may wait a little longer if you are worried about your child's safety.

What tools are in a sand pail kit?
A sand pail kit typically consists of little shovels, rakes, and multiple-sized buckets. Some sets have molding shapes as well, such as seashells, submarines, etc. A kit of beach toys is beach themed most of the time.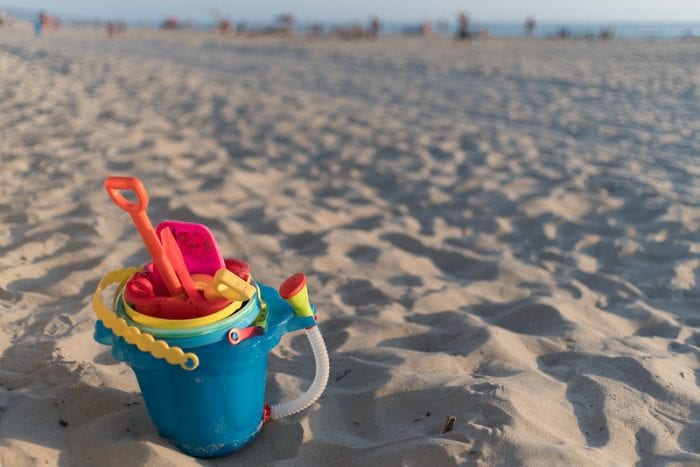 Is a sand pail made of plastic?
Yes, a sand pail has plastic materials. It is not ideal for making it out of metal because the material is already massive and can become rusty over time. Beach toys and sand toys are the easiest to play with when they're made of plastic or silicone.

How can you make a sandcastle?
You can make sandcastles by packing sand with a little bit of water. You need to know the proper ratio of the two to ensure that the sandcastle will not get destroyed quickly. The right beach toys and sand toys will help you with this.

Why is the bottom of a sand pail round-shaped?
The bottom of a sand pail is round so that you can dump out its contents without anything getting caught in the corners.

Where else can I use a sand pail?
A sand pail can double as an emergency fire bucket. You can use it as well as a storage for the kids' little toys. In some cases, your kids could use a sand pail for arts and crafts.

Is there a difference between a bucket and a pail?
No, there is technically no difference between a bucket and a pail. However, a bucket has more uses than a pail.

How can I keep my baby safe during sand play?
You can keep your baby safe by keeping an eye on them during sand play. That is especially true if they are too young to know that sand is inedible.

What makes a sand pail enjoyable?
An ideal sand pail has thick, durable plastic materials. It is also free from harmful chemicals like phthalate and BPA.

Can a sand bucket help put out the fire?
Yes, a sand bucket can help put out the fire. You can fill the pail with sand and dump it over the flames.

Is sand flammable?
No, sand is not flammable. It is usually made from silica and used to put out fires.
Last Updated on April 17, 2021 by Marie Miguel
DISCLAIMER
(IMPORTANT)
: This information (including all text, images, audio, or other formats on FamilyHype.com) is not intended to be a substitute for informed professional advice, diagnosis, endorsement or treatment. You should not take any action or avoid taking action without consulting a qualified professional. Always seek the advice of your physician or other qualified health provider with any questions about medical conditions. Do not disregard professional medical advice or delay seeking advice or treatment because of something you have read here a FamilyHype.com.