Tents can capture the imaginations of children around the world. To a kid, a tent is more than just a place where you sleep when you're camping. It's a portal to adventure. Kids from around the world make their tents their headquarters, love to role play in the tents, and have so much fun.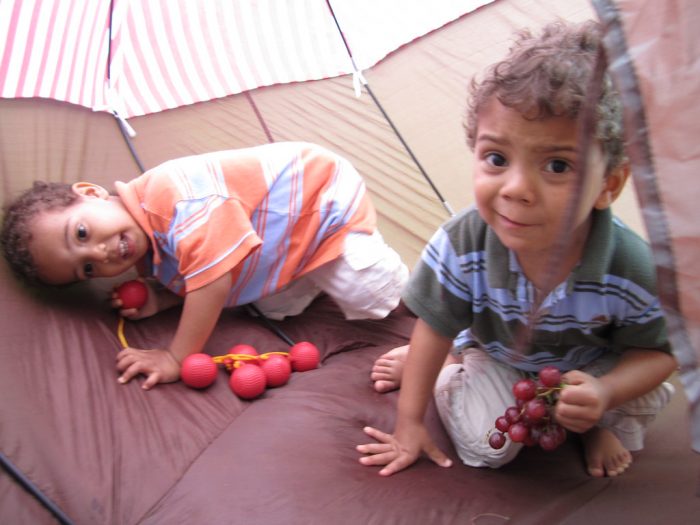 Pretend play is very important for children. A kids play tent can be so many different things in their imaginations. It can be princess castle play time, a kids teepee play time, space play time with glow in the dark stars inside, and all sorts of other fun play places that can be indoor or outdoor. If you've considered giving a child a tent for toddlers or even young children, here are a few reasons why you should go ahead with it.
It Gives Your Child The Illusion of Privacy 
When your little one enters the tent, they feel like they've been transported into another world. This allows them to feel like they're isolated from their parents and other peers. Of course, you can still watch them and see what they're doing, but to the toddler, they are in an entirely different world, and it's okay for them to pretend like that is the case. Get themselves a cool little tent and see what we are talking about. 
Sometimes when kids play, they don't want anyone to watch them. Having a cool pop up play tent to hang out in gives them a place where they can pretend play whatever they want without feeling like they're being watched.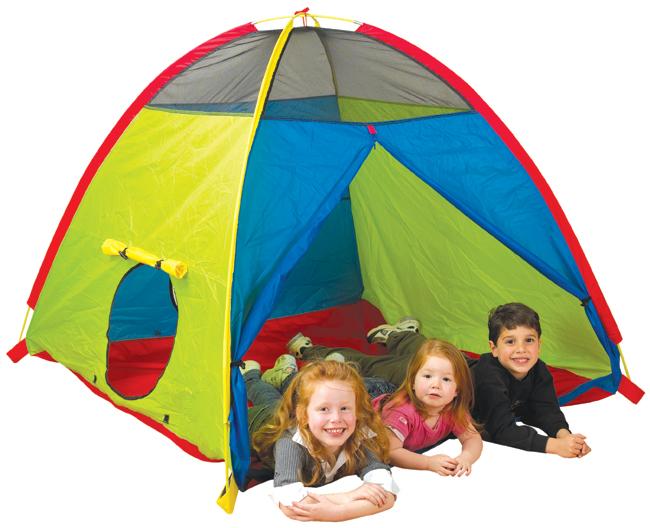 Great For Inside Or Outside 
Toddler tents can be set up outside to give your child the feeling of camping, but they're great for the indoors as well. Your kid can set them up indoors and feel like it's a new room of the house, and it's a room all to themselves. It's great for a rainy day, and your kid may even fall asleep in the tent. 
Though it's great to use them for indoor and outdoor play, make sure you bring the pop up play ten for kids inside when play time is over. Kids' play tents could get ruined if they're left out in the elements a lot. 
Themed Tents Encourage Imagination 
There are many tents designed to have a theme, from a school to a castle. Your child can pretend like they are the king or queen of their own castle and have many imaginative stories based on this. You will love watching as the kid has some fun and imaginative play, and it will be something that will last you a long time.
You can get an elaborate princess castle play tent, a kids' play tent house, a teepee tent for kids, or even kids tents that have glow in the dark star lights in them. You can even get a pop up play tent that has fun features like tunnels that connect the ends and a ball pit to play in.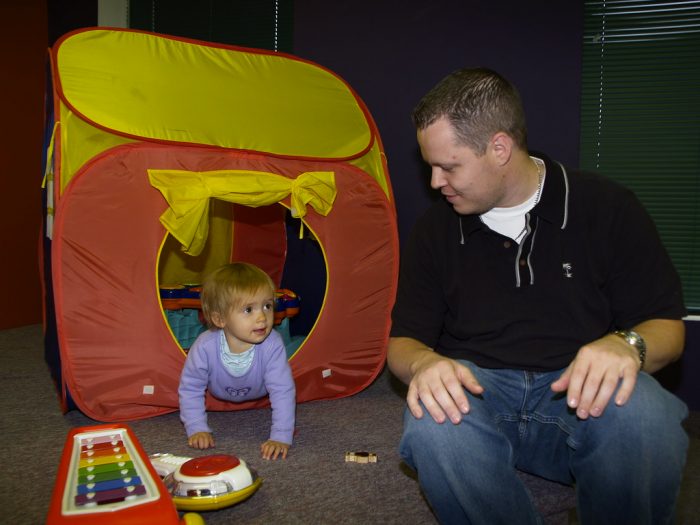 Easy To Set Up 
Toddler tents are easy to set up, take down, and carry with you. This allows for some portable fun. Your kid's eyes will light up as you bring them their tent when you're traveling or when you have to move indoors or out. Make sure that you read all the instructions for storing the tents before you carry it. You don't want to lose any pieces. 
You'll even find there are many kids' play tents that have a carrying bag included. You can pop up the play tent, let the children play, and then take it down to put right back in the carrying bag. It's usually just a couple of easy steps to set up and take down a kids play tent.
Easy To Clean 
Kids are messy. They eat food in the tent, and uh oh! They spilled it everywhere. Luckily, toddler tents are designed with messy kids in mind. You can wash the tents via a machine, and they are as good as new. Definitely something that's worth checking out with all these tents. 
Also, many of the kids' play tents don't have floors in them. So, when kids spill something, the tent for kids will often come out clean anyway. 
Other Activities 
Some toddler tents come with more activities than just a tent. They may have connecting tunnels your child can use for escaping or for traveling between tents. There may be an activity center your child can use as well. And, you can get one with a designated ball pit. Having variety means that your child will love spending hours inside the tent.
Tents That Are Worth Checking Out 
With that out of the way, let's look at a few tents that you may want to consider getting for your little one.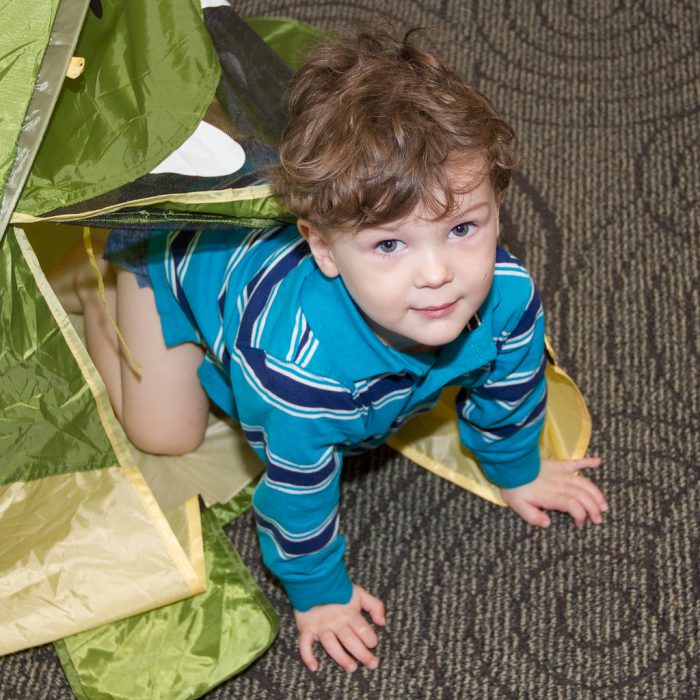 Petra Tunnel Play Tent
This is a tent that has a tunnel that connects two different tents. This makes it great for multiple people, or just for your child if they want to have some fun. These tents have their own areas as well, and you can store them through a carrying case. Not to mention, they are easy to clean as well. 
The Petra Tunnel Kids Play Tent can be used for children as young as one year of age. It's easy to transport in its case that is zippered. It's a durable pop up play tent that's also super lightweight. It's an indoor outdoor tent for kids that folds all the way down to just an inch.
POCO DIVO Crown Princess Castle
This is one heck of a castle. Your daughter will feel like she is the princess of her own pink castle, and it has so many features, you'll wish you had one. What makes this awesome is that it has outdoor protections. The mesh windows can prevent invaders from attacking the castle. And by invaders, we mean bugs and other nasties. Stay away, invaders!
The set up and take down of the Crown Princess Castle play tent for kids takes just minutes. You don't need tools for any of it. The mesh windows allow more air to get in the kids' play tent. The shape of the princess castle play tent makes it easy to put in any room or anywhere in the yard. Boys and girls will both enjoy this kids tent, but you'll also find there's a boy's version of this tent house, too. It's blue with stars and moons on it. If you have girls and boys in your house, get both and let the castle play time begin.
Pacific Play Tents Kids Clubhouse
This is a cool little clubhouse where kids can gather and have fun. It's so big, and you can fit quite a bit inside its interior. It's durable, making it great for the outdoors. You can even buy attachments for even more fun. 
This tent for kids is good for both boys and girls. It looks like a wooden clubhouse where children play in a yard or up in a tree. This one doesn't have a floor so you can put it anywhere and not have to worry about damage or spills. Kids can play in this tent for indoor and outdoor time. Overall, we recommend you try this one out too, especially if your kid has siblings or a lot of friends. 
Trademark Innovations Giant Teepee
This teepee is huge, and has a floor you can roll out, a cotton exterior, and so many different ways to have fun. The kids teepee play tent stands 6 feet tall. It's held up by four New Zealand Pine wooden supports that are very durable. This is good for indoor and outdoor play times. 
One of the coolest things about this kids teepee play tent is it's made of cotton canvas that is all white. Your child can decorate their teepee kids tent with oil or water based paints to give it a personal touch. Even the carrying bag is canvas, so it can be decorated, too. This teepee tent for kids makes for a good pretend play space, but also a place for creativity.
Your kid will use this teepee as their own base, where all adults take the back seat. Try this teepee out today.
Dexton Great Plains Teepee
This is a cool little teepee that include stickers that glow in the dark. Your kid can feel like they are observing space as they look to the sky above. There is no complications in setting it up, and its opening allows for the easiest access possible. Great for young children who just need a cool tent to sleep in.
The Great Plains Teepee play tent is 7.5 feet tall. It's a good choice for both boys and girls. This another kids teepee tent that is made of canvas so it can be painted. It's a tent for indoor and outdoor play. Kids can play in a teepee tent indoor setup or outside for an exciting adventure.
Playz 5Pc Kids Playhouse Jungle Gym
As you can figure out from the name, there is a lot to do with this jungle gym. This jungle gym has many different tents, tunnels, and an area where children can play. The Playhouse Jungle Gym includes a ball pit, a basketball hoop, a Velcro dart board, and more. There are two tunnels that connect each kids tent and the ball pit to each other. Boys and girls will both love this colorful tent for kids. 
This fun tent for kids is safe for children to play in. It's made of materials that are free of all harmful chemicals like lead, latex and phthalates. It's also 100% BPA-free. Parents also like that this kids tent has a money-back guarantee. 
It has the feel of a playground and your child can invite their friends to have a great time playing sports, hide and seek, and in the ball pit. It's another jungle gym that is great for children of all ages, and we highly recommend you try it out.
Kiddey Knight's Castle
This is one heck of a castle. It has a door that keeps the invaders at bay, windows covered in mesh, and all the castle aesthetics you can shake a sword at. It's big enough for any child, and it's easy to carry around as well. 
The Knight's Castle play tent really has the look of a castle. It's great for boys and girls, both. This one can serve as a princess castle or a prince castle. It also comes with a shield and sword set to play with for castle play time. The kids pop up indoor and outdoor tent folds down flat and can be toted in its bag. The whole thing only weighs 2 lbs. This tent even has ground stakes so you can secure it to the ground outside.
Your kid will feel like the leader of a country until it's time for them to go to bed. Then, no knights or dragons can save them!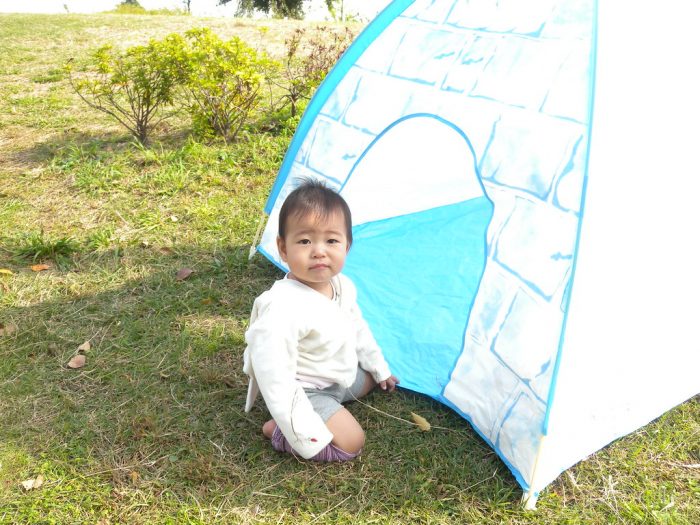 Conclusion On Toddler Tent
A tent can be great for many kids. If you're someone who wants to have a good time, watching your kids stretch their imaginations, an indoor and outdoor tent house or kids teepee tent can work for you.
Toddler Tent Frequently Asked Questions
What are the best tent toys for boys?
Tent toys for boys we like are the USA Toyz Rocket Ship Play Tent for Kids. It's blue with stars on it and has the shape of a rocket ship. It comes with a space projector toy that displays pictures that glow in the dark on whatever you shine it at. 
Another tent toys for boys that we like is the FUN LITTLE TOYS Kids Pop Up Play Tent with Kids Camping Gear Set. This is a great set for indoor and outdoor play. It comes with 18 pieces in all. Boys and girls will both like playing with this fun camping set.
What's the best teepee tent for kids?
We have two for the best teepee tent for kids. One is the Kids Teepee Tent with Mat & Light String & Carry Case by Tiny Land Store. This one comes with a padded mat and a string of star lights. It has enough room inside for 2 kids to play together in this kids indoor tent. It's also covered under a manufacturer warranty.
The other best teepee tent for kids is the Teepee Play Tent for Kids by Wilhunter. This one also comes with star lights, but also a colored flag, feathers, and a carrying case. It's ASTM certified so girls and boys can all be safe while they play. It's ok for indoor and outdoor play time and is our pick for the best portable teepee tent. It's super easy to break down and to set up.
What's the best princess castle play tent?
The Sunnyglade Princess Castle Play Tent is big enough for multiple children to play in together. It can be used as an indoor and outdoor tent. It comes with awesome star lights that make the princess castle glow in the dark and look magical. Kids can fill it with anything they want to play with. It can be a home, a kids indoor ball pit or an outdoor ball pit, or even a covered picnic area. The princess castle should not be left outside but can be used for indoor and outdoor play. You can check more options here at Walmart.
Are play tents good for boys and girls?
Boys and girls definitely both like to play in different kids indoor tents. There are many different kinds to choose from, including those that have a ball pit, tunnels, various themes, and even sports games to play. There are some that come with strings of star lights, too. Girls and boys will both love those. You can choose one made specifically for boys or for girls, or just choose one that will appeal to all kids.
Can all play tents be used for indoor and outdoor play?
Not all play tents are meant for indoor outdoor play. However, there are many girls boys tents that can be used for both indoor and outdoor play. Just remember that you don't want to leave a play tent outside all of the time as it will get ruined with too much exposure to the elements.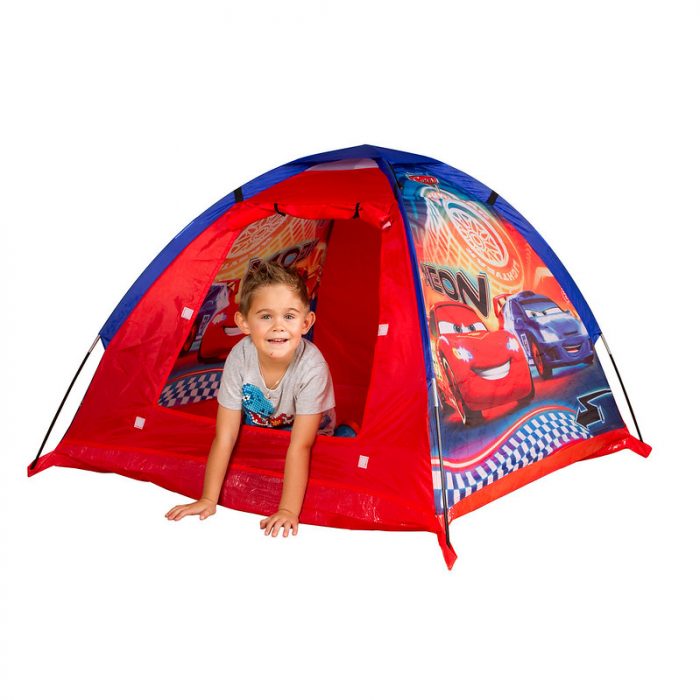 What is the best indoor outdoor play tent with a ball pit?
The 3-in-1 Kids Ball Pit Play Tent with Crawl Tunnel by Kiddzery is one of the best indoor outdoor ball pit play tents on Amazon. It has a fun rocket and star design, can fit up to three kids at a time, and can hold 600 balls. Note that the balls are not included with the purchase. You can carry the tent from indoor to outdoor spots with ease because of the carrying case it fits into. It's themed to where girls and boys will both love it.
Can I use gift cards to purchase indoor outdoor play tents?
Gift cards for Amazon can certainly be used to purchase indoor outdoor toddler tent. There are plenty to choose from that come with everything from dart boards, to basketball hoops, to star lights, and more.
Last Updated on June 25, 2022 by Jejomar Contawe
DISCLAIMER
(IMPORTANT)
: This information (including all text, images, audio, or other formats on FamilyHype.com) is not intended to be a substitute for informed professional advice, diagnosis, endorsement or treatment. You should not take any action or avoid taking action without consulting a qualified professional. Always seek the advice of your physician or other qualified health provider with any questions about medical conditions. Do not disregard professional medical advice or delay seeking advice or treatment because of something you have read here a FamilyHype.com.