The microwave revolutionized cooking at home for families. It was invented in the 1940s but wasn't largely popular until the 1980s. Today, nearly all homes in the United States have at least one microwave.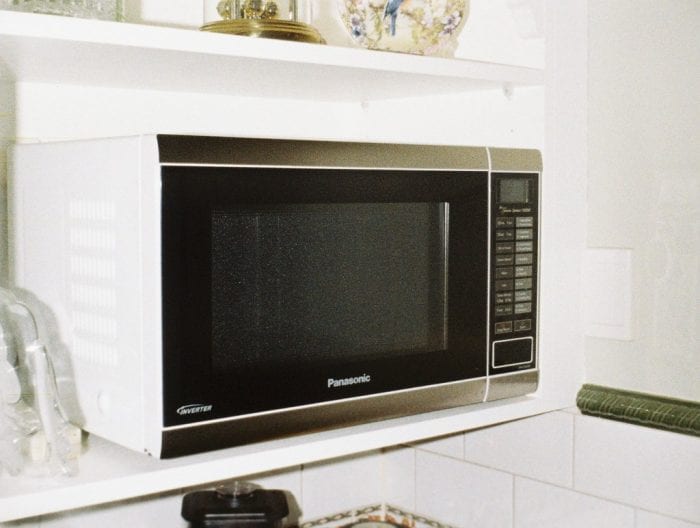 Choosing the best microwave for your home begins with the type of microwave oven you need—countertop microwave, above-the-range microwave, suspended microwave, or convection microwave. Decide what size your family needs. Choose the appropriate wattage. Then make your final choice based on the features that are important to you.
With all the different types of microwaves there are now, it can be tough to choose the best microwave for your home. That's where we come in. Our guide for choosing the best microwave gives you tips for making the best decision for your household. Read on to find out more!
What Is The Best Microwave For Home Use?
Homes that are small with little room for large over-the-range microwaves are better suited for small countertop microwaves. This category doesn't get high marks for performance. Small countertop microwaves are typically underpowered. The upsides of this category include affordability, defrost ability, and available bonus features.
Medium to large homes often have the space for an over-the-range microwave. Over-the-range microwaves are generally a combination of a microwave and a stove hood vent. Make sure you measure the space available between the cabinets located on either side of the range. Also look into the installation requirements for each over-the-range microwave you're considering.
Homes where someone wants to do more different kinds of cooking with their microwave are well-suited for a convection microwave. Convection microwaves give you the ability to roast and bake full meals in a fraction of the time it would take in a conventional oven. Microwaves and convection heat both cook the food. Food cooks faster and more evenly.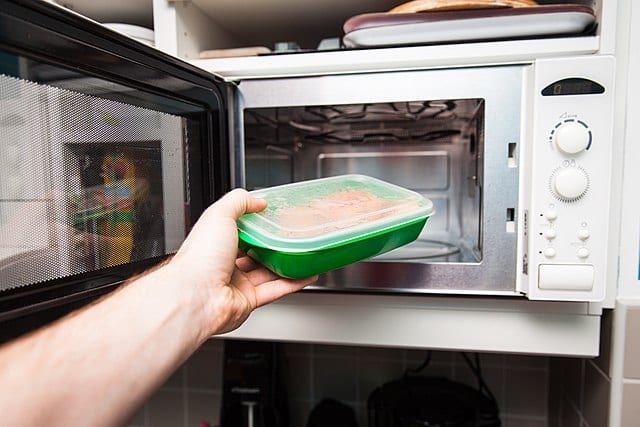 What Should I Look For When Buying A Microwave?
Key factors to look for include the size, power, and extra features. Here's a breakdown of what's important.
Size
Size matters with regards to a microwave. Both capacity and physical footprint must be considered. Choose the right capacity based on the needs of your household. Choose the right footprint based on your kitchen space.
Microwave capacity is measured in cubic feet. The typical range is from 0.5 to 2.2 cubic feet. Capacity varies across different types of microwaves. The largest microwaves are usually the built-in style.
Microwaves require a certain amount of space. The size is indicated by width, height, and depth of the exterior. Make sure you measure your available space before purchasing a microwave.
Wattage
The microwave's wattage indicates how much power it cooks with. Higher wattage makes for fast cooking. Packaged foods typically indicate different cooking times for different wattage levels. Microwave wattage levels range from 600 to 1200. 
Extra Features
Microwaves have many more features than they used to. Extra features make cooking more convenient, more efficient, and produce better and faster results.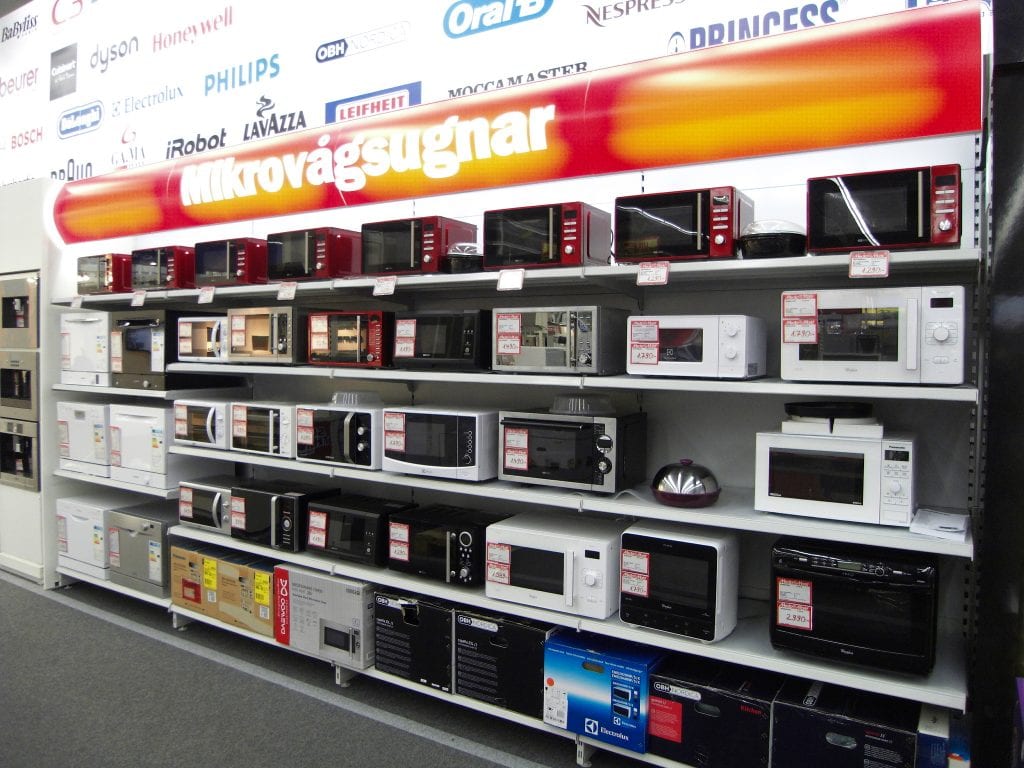 Presets – Some microwaves have preset buttons to use for cooking specific foods. 
Sensors – Sensors inside the microwave monitor the humidity level throughout the cooking session. It adjusts cooking levels and times based on the level of moisture detected.
Program options – Choose the time to cook. Choose the level of power for cooking. Program options let you customize your cooking session.
Quick defrost – Microwaves thaw meat and defrost frozen vegetables in minutes. 
Smart technology – WiFi technology has made its way into microwaves. Monitor timers, use Alexa voice control, and scan-to-cook all your family's favorite foods. 
Best Microwave Options
Time to look at some available microwaves. Remember to look for the important factors mentioned above. It helps with your decision-making process.
Toshiba ML-EM45P(BS) Countertop Microwave oven with Smart Sensor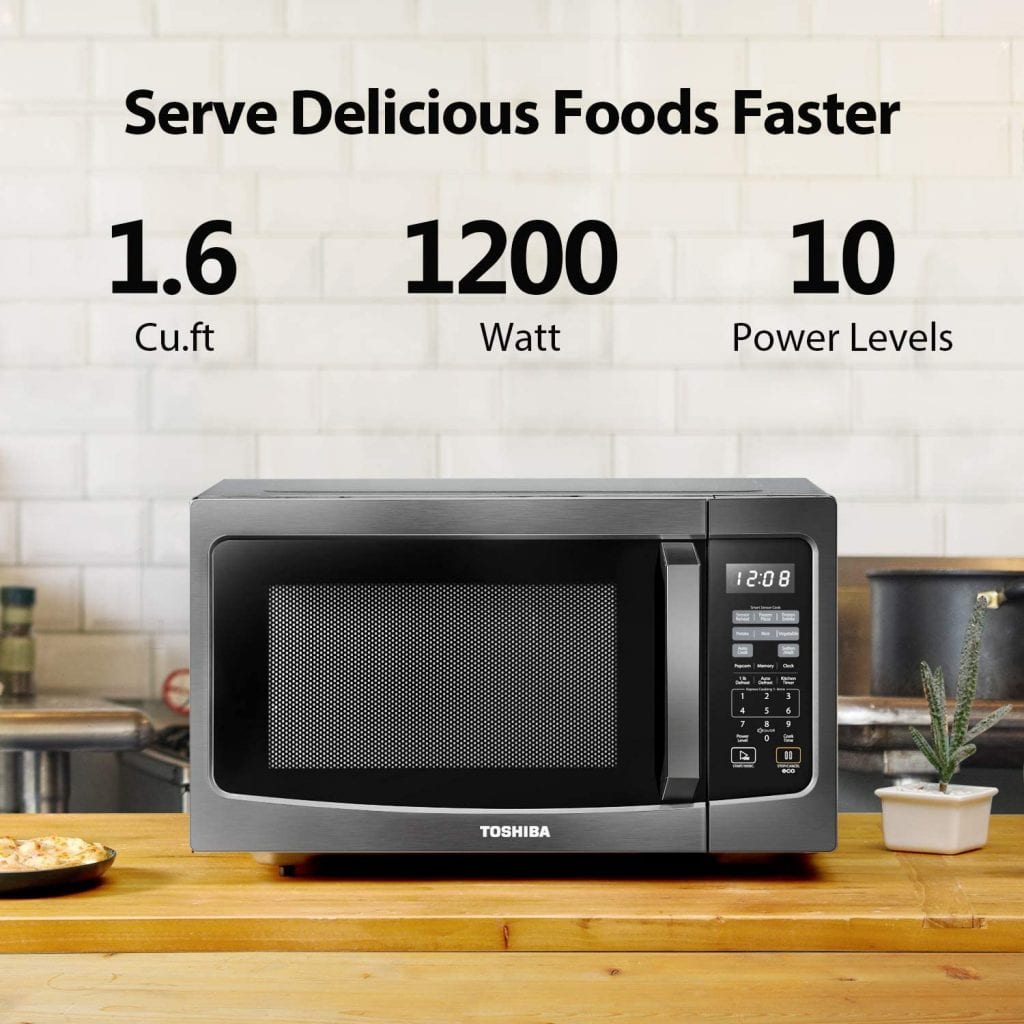 This is a 1.6 cubic foot countertop microwave with a 1200-watt power output. It comes with preset buttons for cooking pizza, vegetables, and potatoes. You'll have the option to turn the sound on or off. Eco-friendly mode helps save energy which results in money savings, as well. The smart sensor keeps track of the humidity level inside the oven to give you the most efficient cooking experience possible. The two color choices are black stainless and traditional stainless. 
Pros:
Budget-friendly option
Nice aesthetic
Cooks evenly with sensors
Position memory turntable resets to original safer position
Pre-sets make cooking easier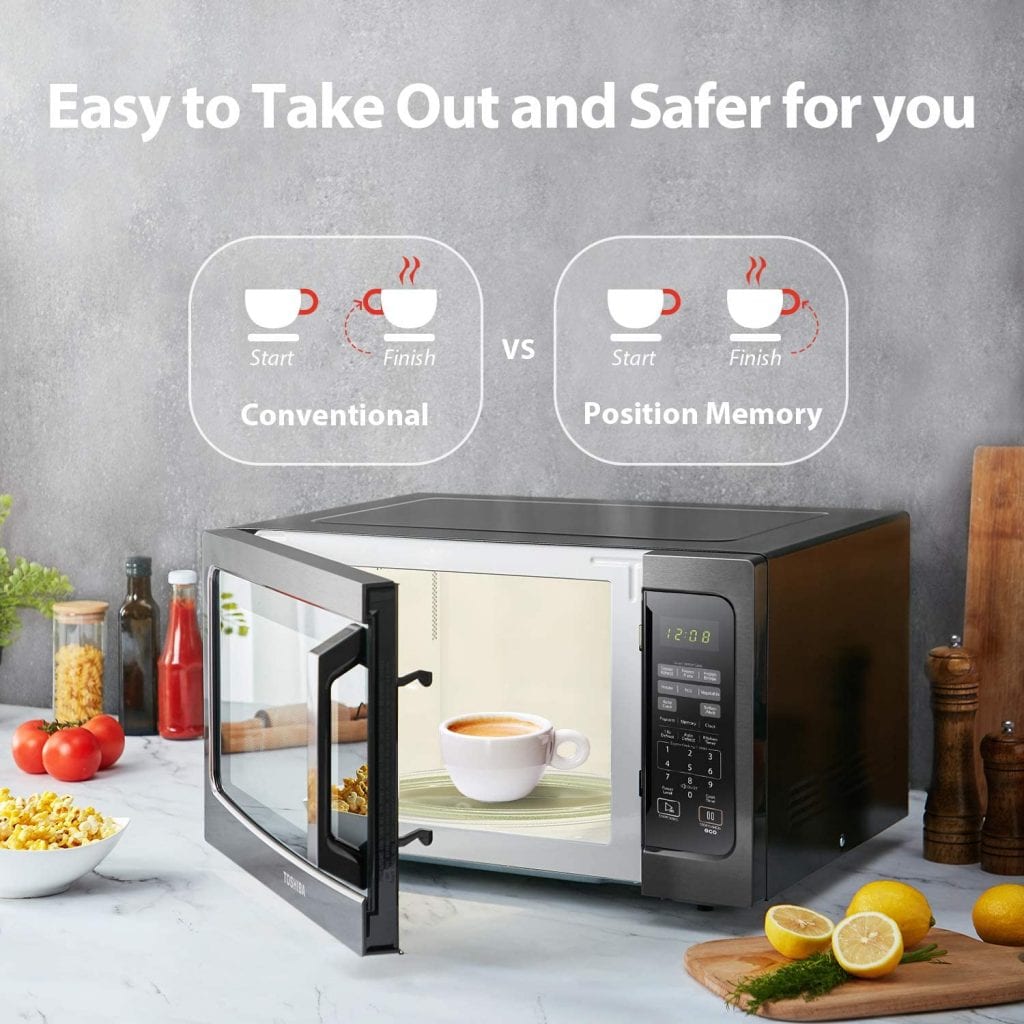 Cons:
Hard rubber feet slide easily across countertops
Stainless steel is only on face of microwave
Buttons are dark; hard to see
Toshiba EM131A5C-SS Microwave Oven with Smart Sensor
This is another countertop microwave by Toshiba. It's smaller than the previously mentioned model at 1.2 cubic feet. Buyers get a choice of black stainless or traditional stainless steel. The panel is easy to use. The interior is easy to clean, also. You can turn the sound off if you'd like. It has 10 power settings pushed by 1100 watts of power.
Pros:
6 auto pre-set buttons with sensor cooking
Inexpensive option
Interior features easy-to-clean coating
Save power and money with Eco Mode
Small footprint
Cons:
Custom defrost starts cooking food
Manual is unclear
Can be noisy
Panasonic Compact Microwave Oven with 1200 Watts of Cooking Power
This is a compact countertop microwave ideal for apartments, condos, or homes with little counter space. It won't need much room in your kitchen. It has a 1.2 cubic foot capacity and 1200 watts of power to work with. Choose from black, stainless steel, and white. The control panel is easy to use and includes an LED display at the top. Control your microwave manually or through smart controls. This countertop microwave is designed with inverter technology that helps food cook more evenly.
Pros:
Includes 15 sensor cooking settings
Compact, space-saving design
3 color choices to match your kitchen
Inverter technology cooks food all the way through for efficiently
Includes 11 power levels
Cons:
Pricey for size
No one-button starts
Interior light is dim and narrow
SHARP Stainless Steel Carousel 1.8 Cu. Ft. 1100W Countertop Microwave Oven
This is the largest of the countertop microwaves on our list. It has 1.8 cubic feet in its interior. It comes in stainless steel and black. It has a 15-inch glass carousel turntable with plenty of room for most food items. The display is bright and easy to see with an LED-lit screen. Choose from 10 power levels pushed by 1100 watts of power.
Pros:
Large capacity well-suited for families
Precise Cook Sensor Technology
Accurate defrost selections
One-button start options
Low-profile countertop microwaves
Cons:
30 second button doesn't work to add onto another time
Noisy operation
Measuring For An Over-the-Range Microwave
Making sure you have the correct measurements for an over-the-range microwave is critical. Here are steps to help you get measurements just right.
Take a picture of a current over-the-range microwave, if applicable.
Measure the distance between the two cabinets where the over-the-range microwave will be installed. Have someone take a picture of the measurement.
Measure the height of the space for the microwave. Again, get a picture of the measurement.
If there's an existing microwave that sticks out from the cabinetry, measure how much and snap a picture of that too.
Finally, measure up from the cooktop to the bottom of the over-the-range microwave. 
Make note of other details, like if the backsplash goes all the way up behind the microwave or stops at the bottom. Also, the venting setup could be useful. 
Use all the information gathered to choose the right size over-the-range microwave for your kitchen. It's important to get precise measurements when looking at over-the-range microwaves. If something is off, you may have to return it.
Conclusion
The best microwave must fit your kitchen. Smaller households with one or two people living together don't need a huge microwave fit for a family of seven. Choose the right type for your needs—countertop microwave, over-the-range-microwave, convection microwave oven, suspended microwave, or built-in microwave. Find the right capacity. Make sure you measure correctly for over-the-range microwaves and look for the features your family will make the most use of. The best microwave makes cooking fast, efficient, and easy for any type of kitchen.
FAQs:
Which brand of microwave is best?
GE, Panasonic, and Whirlpool are all highly rated by Consumer Reports.
What is the best countertop microwave on the market?
Amazon Basics Works with Alexa S9N29R is cheap and outperforms other compact microwave models.
Which microwave is best for 2020?
The best overall is the Panasonic Microwave on Amazon.
How long should a microwave last?
A well-maintained microwave should last around 7 years. Those who use theirs more may not get as much life out of theirs. 
Is a 1200-watt microwave good?
1200 watts is ideal for cooking in most environments. More watts mean more cooking power and faster cooking times. 
Are there any microwaves not made in China?
Yes, there are. High-end models from many of the heavy hitters in the industry are not made in China. Also, luxury brand Miele, is not made in China.
Is 900-watt microwave enough?
900 watts is enough to get food cooked fast and evenly. It's a mid-range power level.
What is the easiest microwave to use?
One of the easiest microwaves to use is the Farberware – Classic Countertop Microwave Oven.
What brand of microwave lasts the longest?
Breville, LG, Signature Kitchen Suite, and Maytag are top of the list for most longevity.
Disclaimer: FamilyHype.com (Family Hype & FamilyHype) is a participant in the Amazon Services LLC Associates Program, an affiliate advertising program designed to provide a means for sites to earn advertising fees by advertising and linking to Amazon.com.
Last Updated on July 5, 2022 by Marie Miguel
DISCLAIMER
(IMPORTANT)
: This information (including all text, images, audio, or other formats on FamilyHype.com) is not intended to be a substitute for informed professional advice, diagnosis, endorsement or treatment. You should not take any action or avoid taking action without consulting a qualified professional. Always seek the advice of your physician or other qualified health provider with any questions about medical conditions. Do not disregard professional medical advice or delay seeking advice or treatment because of something you have read here a FamilyHype.com.