Nothing more can put your mind at ease when traveling with your child than having a safe place or seat for them. Remember that it's significant to find the right convertible car seat as much as you can to keep them safely seated and comfortable always in the car as they go on a journey with you. A car seat like the Evenflo Titan car seat is durable and can provide ultimate protection while traveling with your little one. Nothing can beat the peace of mind you get knowing that you have safety measures in place at all times, day in and day out when you're with your precious baby.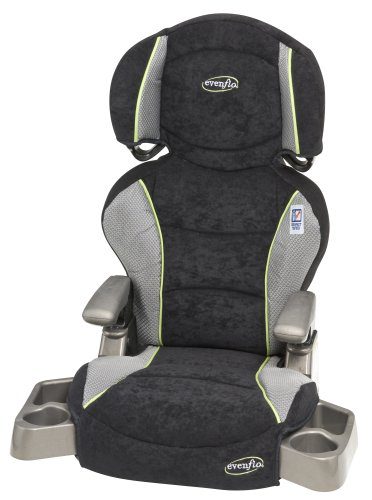 We realize how crucial it is to buy the best car seats for your little one, hence, we made a comprehensive review of one of the most popular car seats on the market today, the Evenflo Titan. To help you discover more choices, we also included the best alternative car seats and more FAQs on this site.
Things You Need To Learn
This Evenflo seat model is also known as the Evenflo SureRide Titan 65. Titan 65 is a convertible seat available in the market for quite a while now. This car seat has briefly received its fair share of positive and negative feedback from verified customers, which we will discuss more in detail, so keep on reading.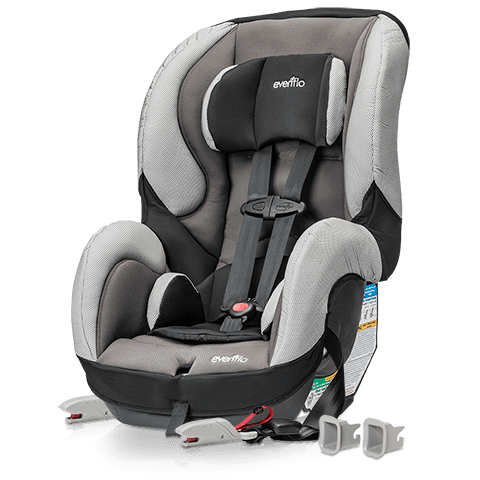 Features
Like many Evenflo car seats, this convertible car seat can accommodate rear-facing installation for toddlers with a weight range of 5 lb up to 50 lb and forward facing installation as well from 22 lb up to 65 lb. This car seat has six years expiration date, and with proper care for the seat itself and its cloth pads, you can use it much longer or pass it along with your child's other siblings.
Materials
The Evenflo car seat is made with durable materials, high-quality fabric, and soft foam to keep your child fuss-free throughout the car ride. Maintenance-wise, cleaning is easy as this car seat is machine washable.
Safety
As part of its safety features, the Evenflo car seat comes with the e3 Expanded zone of protection, which utilizes three layers of impact-absorbing foam to protect your little one against a side-impact crash or sudden break.
Comfort
For head support and added comfort, Evenflo Titan has an extra removable head and body pillow to position smaller infants. The pad can be removed to allow additional space when the child gets bigger.
Fit
It grows with your child and allows six harness height positions and up-front adjustment for a snug and accurate fit. The car seat is also lightweight and can be transferred easily from one car to another.
Price
Compared to other car seats, it is considerably cheaper and costs around $150-180 depending on where you buy it. We highly recommended that you check online and compare prices before you purchase the car seat.
Pros:
It can fit mid-sized or smaller cars since it is narrow-based and can work around most vehicle seats. It will not cramp the space in your car as it maximizes the space designated for the car seat.
It is easy to carry around since the weight is not heavy. It also allows UAS and can be installed with a strap seat belt once your child is 55 lb. The car seat is also suitable for land and air travel as it installs easily on plane seats.
It has removable body pads and a replaceable 5-point harness to accommodate your growing child. Its materials are also easy to clean and maintain – make sure to wash it in cold water and put it on a delicate cycle in your washer.
Given the years that you can use it, it has a fantastic price point. It fits your child from birth until 6 or 8 years of age, depending on their weight and size.
It has more legroom for rear-facing, and it offers extended use of the forward-facing mode with its external widest point at 19 inches.
It can possibly be used as a convertible car seat for a long course of time, and it may also be converted into a booster seat.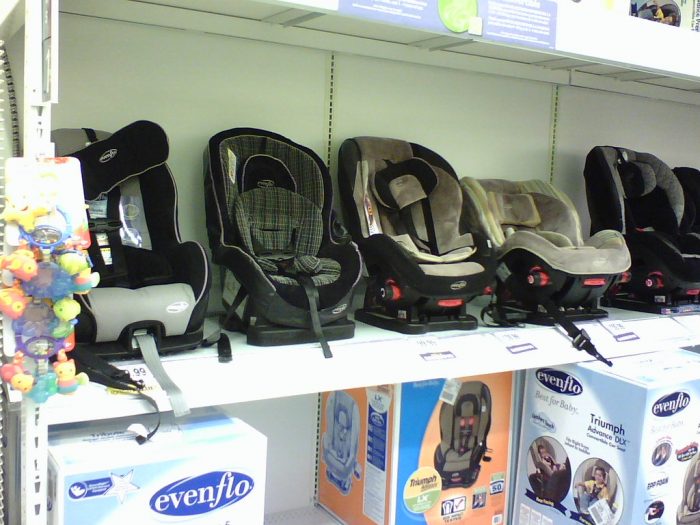 Cons:
The strap can be twisty, and it only has basic hook-style UAS connectors.
A convertible car seat has a low height and seat weight limit in the rear-facing position, which means your child may outgrow the seat sooner than you think.
The Harness pads are positioned closely on the sides, which some kids may find bothersome.
It only allows a single recline stand for rear-facing and does not allow overhang.
The Velcro straps at the front are easy to miss, and often they snag on the child's shoes or accessories.
A convertible car seat is generally larger and heavier in weight than infant car seats, making them more difficult to transport and install.
Lastly, a convertible car seat can be less inexpensive than an infant car seat, costing you more money.
What Are Your Other Options When It Comes To Convertible Car Seats?
There are other models that you can consider if you want to compare your options before buying, some may even offer booster options and canopies or easy installation where a seat belt strap is not required to hold the car seat in place.
To name a few, here is the list of car seats that can serve as an alternative to Titan. You might want to consider checking the prices, the features, instructions for installation, and the benefits of a forward-facing car seat, having tether and lower anchors, as well as the weight of it and the kind of car seat that suits any age of your kid.
Evenflo Symphony Elite Car Seat
The Evenflo Symphony car seat will not disappoint as it offers versatility and deliver easy installation. It claims that it can be installed in 60 seconds or less, which busy parents can take advantage of.
Besides the SureLatch Technology, it can also hold a baby from 5 lbs up to 110 lb and is designed for long-term use.
The only downside of the Symphony Elite is its price as it cost way higher than other Evenflo car seats. 

The Latch system for car seats is for children's safety. The LATCH (Lower Anchors and Tether Anchors for Children) system is a tighten anchor point system that allows you to install a child safety seat without using a seatbelt on your children. Lower anchors are the metal bars or hooks that are located on the lower part of a car seat. These lower anchors are used to secure the car seat to the vehicle's lower anchor points. On the other hand, the tether anchors are an important part of a car seat and should be checked regularly for wear and tear.
It is important to use the LATCH system because it provides a more secure contact and can help prevent the seat from becoming loose or cramped in a crash.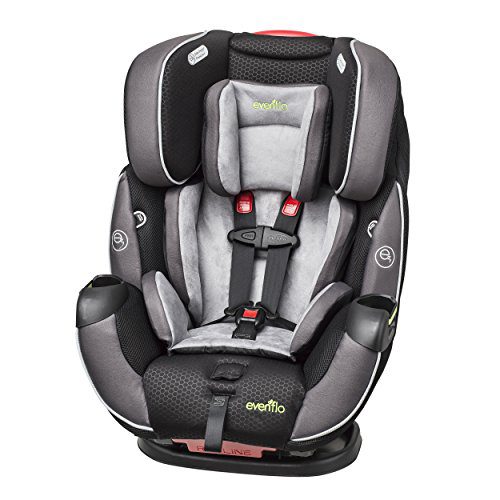 Nurture DLX Car Seat
This is one of the lightest options today for babies. It's a perfect option for outgoing parents who like traveling often.
Nurture DLX's primary goal is to offer convenience, which has successfully done so, given its portability and extra features. Pricewise, it is affordable. However, because of its lightweight, it can switch easily with car movement. With the details having an overall weight of just under 8 pounds, the Evenflo Nurture DLX is one of the lightest infant car seats on the market today.
EveryStage DLX Car Seat
If you're looking for a car seat that your child can use from infancy until they are ready for a booster, the EveryStage DLX is the best seat option there is.
It latches quickly, offers maximum safety and protection, and it can hold up to 120 lbs. You also will not need to break your budget for its prices in buying it since it is budget-friendly. Nevertheless, it has its flaws, just like other car seats. According to reviews, it is quite heavy and may be an awkward option for travel.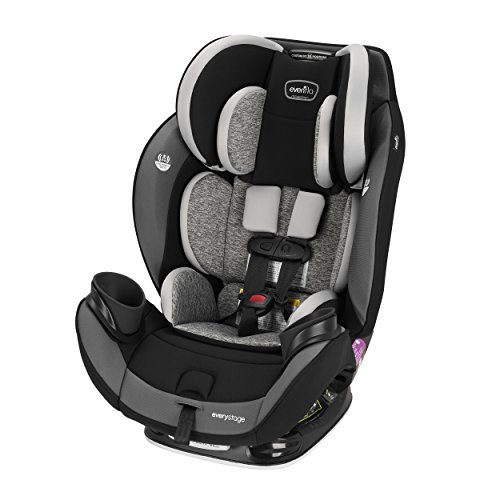 Evenflo Car Seat
10 Frequently Asked Questions 
Are Evenflo car seats good?
Depending on what you need for a car seat, you can consider it a good option if you are leaning toward budget-friendly and versatile.
Are these Titan car seats FAA approved?
Some but not all. Their car seats with internal harnesses and harness slots are the only car seats approved for airline use.
What is the best Evenflo convertible car seat?
Many convertible car seats from the brand offer the best features depending on the category you are looking for. It is best to compare and see the manual to check which will benefit your children more.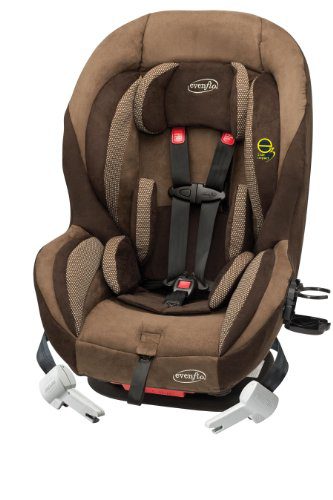 How long is this infant car seat good for?
Depending on the manufacturer, the normal lifespan of a car seat is between four and six years. A sticker that gives the serial number also contains the date of production and the date it must be used. Mostly, the average lifespan of a convertible car seat is seven years. However, certain models may last longer.
Additionally, with a few notable exceptions, most Evenflo car seats become unsafe to use six years after the date of manufacture. All-in-one car seats, such as the Gold Revolve360, EveryKid, All4One, and the EveryFit, have an expiration date of ten years after the manufactured date. Because it is an all-in-one car seat that may be used for a longer period, from a baby seat to a belt-positioning booster, the Symphony car seat series has an expiration date that is eight years from the date it was manufactured.
Moreover, it is likely that your child will use several different types of car seats between the time he or she is born and the time they reach a height of 4 feet 9 inches or as they age. These car seats include an infant car seat, a versatile convertible car seat, a front-facing only car seat, and finally a belt-positioning booster or booster seat before they are ready to use the seat belts in the vehicle alone.
Are these infant car seats safe?
Evenflo Car Seats are designed with the user's well-being in mind first and foremost. Every car seat undergoes extensive testing by the company. Evenflo is not only well-known for being one of the safest car seats available on the market, but it also makes an effort to deliver the cheapest and lightweight Infant, Convertible, and Booster Car Seats. This is because it values the safety of its customers above all else.
Do All their car seats fit in Evenflo strollers?
Evenflo car seats are compatible with strollers made by the same company, even if the strollers are not very impressive. They are also compatible with the Mountain Buggy Nano and other strollers that fasten the car seat in place using bands or ties rather than adapters and clips. Check if this also fits average newborns.
Since not all brands of baby car seats and strollers are compatible, you will need to check the manual to see whether there is an adapter available that will allow you to connect the car seat you want to the stroller you want are considering. Adapters for car seats simply attach a stroller to an infant car seat. You may buy a travel system, which is a package that includes a stroller and a car seat that is compatible with it. If you buy the stroller and the car seat separately, however, it is likely that they will not operate together as a unit.
Can you use this car seat without the base?
It is not necessary to have the base to use your car seat world correctly; it is more of a convenience item than anything else. Your infant car seat should be able to fit into the base, where it will then be secured in place. This is the base's primary function. The LiteMax Infant Car Seat Base is designed with an easy-to-install base that comes with a one-step vehicle belt lock-off with the purpose of providing a safe and speedy installation. Because of this innovation, the growing child safe seat is not only held in place securely but is also much simpler to remove.
Is Graco compatible with Evenflo?
Car seats made by Evenflo do not have good compatibility with strollers made by other companies, such as Graco. Each manufacturer creates items with distinctive characteristics that may or may not be compatible with those of another brand. Before making a purchase, it is essential to determine whether or not the items will work together. In addition, Graco baby car seats are the only ones that are suitable for use with Graco strollers. You won't need an adapter since the Graco baby car seat can be attached to the Graco stroller with only a simple click.
What Is Evenflo Compatible With?
The following types of strollers are suitable for use with the Infant Car Seat Adapter:
Evenflo Advanced SensorSafe Titan Pivot Xpand Smart Modular Travel System
Evenflo Pivot Xpand Modular Stroller
Evenflo Pivot Xpand Modular Travel System
By adding the adaptor, the carrier can accommodate a maximum of two infants OR one infant and one toddler. The adapter may be installed in either the top or bottom position in order to have it face the parent. Bear in mind that baby car seat manufacturers will, on occasion, make modifications to the models that they produce.
Are there any recalls on their car seats?
Evenflo does not currently have any active recalls for its car seats. Nevertheless, you should make it a habit to check with the manufacturer to find out whether there has been any product recalls in the recent past. Because a car seat recall has the potential to compromise the safety of your child's car seat, staying up to current on them is very vital to note.
What country is Evenflo made in?



What kind of car seat should I buy for newborn?
For a newborn, an infant car seat is recommended. Brands/models such as the Diono Radian RXT, Chicco KeyFit 30, Graco SnugRide SnugLock 35, Britax B-Safe Ultra, and Maxi-Cosi Mico Max 30 are popular choices. These infant car seats are designed to provide proper support, safety, and comfort for newborns with features like a secure harness system, removable newborn inserts, and compatibility with strollers for convenient travel systems. It is important to consider factors such as safety ratings, ease of use, and compatibility with your vehicle and lifestyle when selecting a car seat for your newborn.
How do I know if my Evenflo car seat is expired?
How do you use an Evenflo car seat for a newborn?
Who are the top 3 competitors of Evenflo?
Last Updated on May 10, 2023 by Inma Barquero
DISCLAIMER
(IMPORTANT)
: This information (including all text, images, audio, or other formats on FamilyHype.com) is not intended to be a substitute for informed professional advice, diagnosis, endorsement or treatment. You should not take any action or avoid taking action without consulting a qualified professional. Always seek the advice of your physician or other qualified health provider with any questions about medical conditions. Do not disregard professional medical advice or delay seeking advice or treatment because of something you have read here a FamilyHype.com.