Garmin watch is best for anyone who likes to get outdoors and do physical activities. The best Garmin watch is great for tracking progress and cardio advanced training tools for runners. Garmin watches are for those who like to go hiking or climbing in rugged areas. They will find the Garmin Fenix line to be their best partner in their physical fitness. Then, there are those who want a fitness tracker and a smartwatch who will surely fall in love with a Garmin watch as well.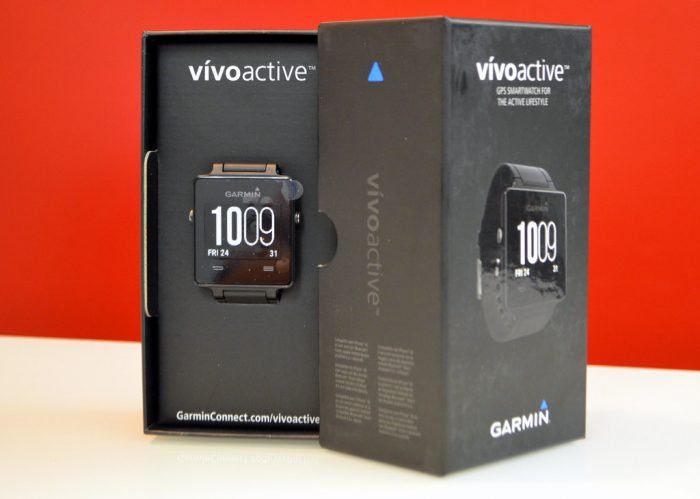 The Garmin Vivoactive watch serves as a fitness gps tracker and smartwatch. There is a wide variety of Garmin watches to choose from. So, how do you find the best one? For starters, choose based on what you'll use it for. Look at what training features each provides, like the standard fitness metrics, but also extras, such as heat and altitude, golf swing info, and more. Compare the impressive battery life of different watches. The smartwatch features need to be considered, also, including amoled display type, Garmin Pay integration, bezel design, and onboard music. Of course, you have to compare the prices powered, too.
There are more best Garmin watches than you probably thought there were aside from Garmin instinct, Garmin enduro, Garmin Epix Sries, and Garmin coach for example. We'll check out a few of them on Amazon further down in this article with the best prices and features. We're going to spend the next few sections looking at how you should choose the right Garmin watch to match your needs.
Best Garmin Watch in the Market
Garmin Watches Features
The best Garmin products were designed around the needs of people who like to get outdoors and do physical activities. There are a number of different lines that include training features for running, rugged exercise, golfing, cycling, and even triathlon training. You can choose the best watch type that fits with the activities you like to do. For instance, if you're someone who does some running and other types of exercise regularly, the Forerunner 245 is great for that. It's small, light, and comes with onboard storage so you can add tunes to your workouts. If you are just getting into some jogging every once in a while, and you don't want to be bothered with too much complexity, the Forerunner 45 is your best bet.
You can test Garmin watches and choose the best with specialized features, too. The Approach S62 can help with your golf game. You'll have easy access to information about thousands of golf courses, a shot-tracking function, built in GPS distance reading, and even a built-in virtual caddie to help you choose a club. Add to that its smartwatch features and Garmin Pay, and you have the best and all-around useful tool.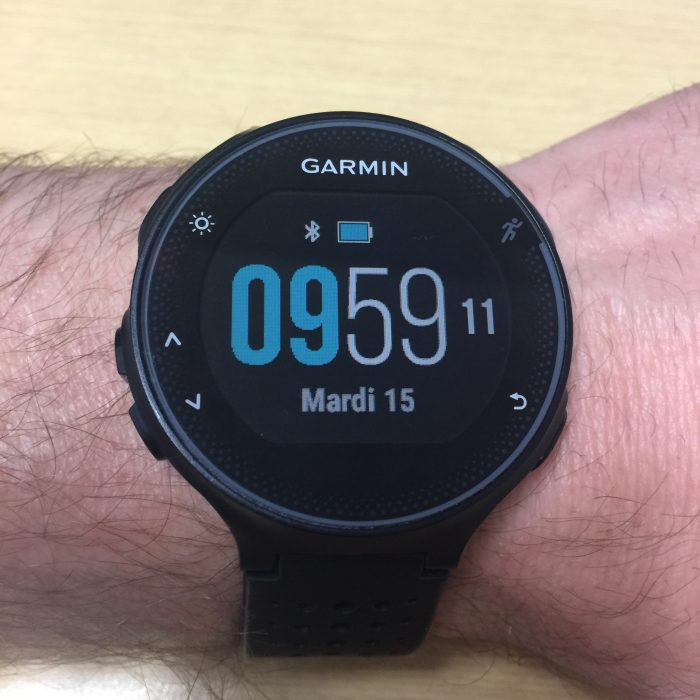 Just like any other type of smartwatch or basic fitness tracker, the batteries won't all be the same. You may have a need for your watch to last for days and days before having to be charged. There are some options, such as the Forerunner 945 which have a long battery life that can last for up to 14 days, while others, like Forerunner 745 will only go up to 7 days. That's a significant difference that should be taken into consideration.
You'll want to compare the typical smartwatch features from Garmin to Garmin, such as the Garmin Vivomove Sport and Vivoactive. Not all of them have touchscreen displays. You can get a Vivoactive with a touchscreen and a Forerunner with a touchscreen. The Fenix is controlled with buttons, however. Also, most of the Forerunner watches aren't touchscreen, either. The bezels are different between different watches, as well. Some rugged watch have stainless steel scratch-resistant bezels that are better for more rugged activities performed outdoors.
Though Garmin watches are marketed more toward those with needs for monitoring their activity and physical training, they can also be used like many other smartwatches. You can get one with Garmin Pay integrated into the design. You can also choose a Garmin watch that allows you to view your text messages and receive your calls, too. Not all designs feature this, though. Also, you won't be able to respond to texts or calls on a Forerunner, Fenix, or any other line of Garmin watches if you have an iOS device.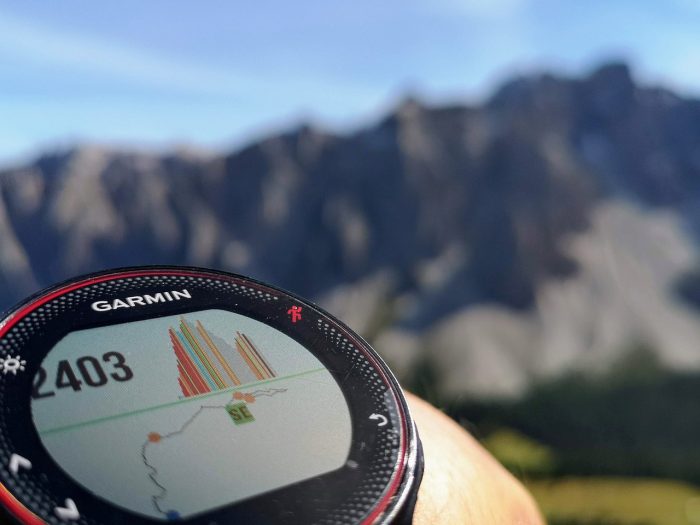 The option to have onboard music on your Garmin watch is one that many active people look for. Not all Garmin watches have the storage space available to have onboard music included. If this is important to you, make sure you look for storage capacity.
The price range for Garmin varies a lot. Set a budget for yourself. Chances are you'll be able to find a Garmin watch with a price that you can afford.
Garmin Watch
Garmin
The best Garmin overall is the Forerunner 245. You can get the music edition of this watch and you'll have the storage available for onboard music. It has water resistance down to 50 meters. It includes a heart rate monitor, sleep tracking, and plenty of other training metrics. The battery can go up to 7 days without a charge if you're not using GPS technology, and 24 hours if you have the GPS on the whole time. This thing can track a lot of different health metrics, including a menstrual cycle. And the price is very reasonable.
Is It Worth Your Money?
Fitness trackers and smartwatches are not necessities, so we always have to ask ourselves if it's worth it to spend money on these types of items.
If you will be using most of the features integrated into the Garmin watches then they are worth it. Using a fitness tracker to help you train physically can greatly increase your efficiency. You'll also have ways of tracking your progress with a Forerunner, Fenix, or other Garmin types.
It's not worth it to spend hundreds of dollars on Garmin Forerunner there is just to use it as a step counter and calendar. If you're not someone who will make use of all the watch has to offer, you might want to save that money for something else.
Garmin – Garmin Models
Vivoactive4 – GPS Garmin
Garmin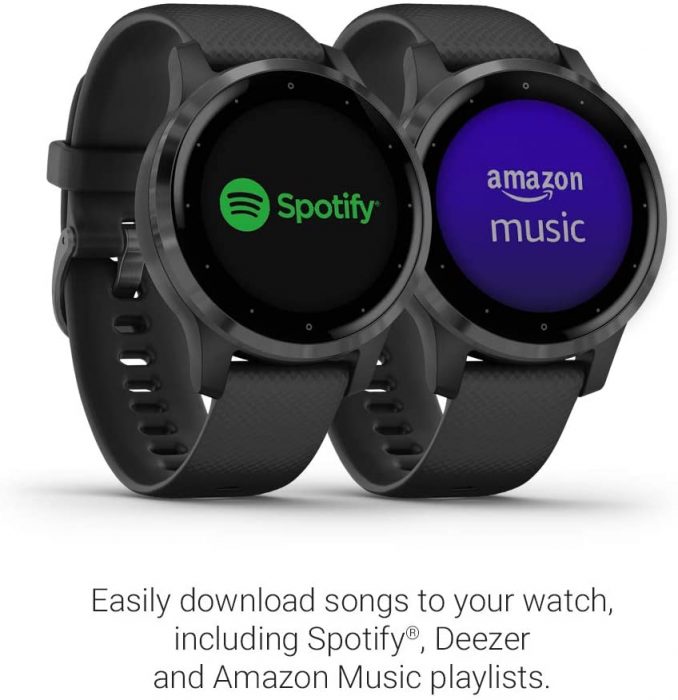 One of the best features of the Vivoactive 4 is onboard music to listen to while you get your physical fitness on. There are a number of pre-installed animated workouts stored in the watch. You'll have many options for tracking different metrics, including body battery energy and pulse. The solar battery life can be as long as 8 days in smartwatch mode. There are thousands of free watch faces to choose from so you can customize the look of your Vivoactive. There's even built-in incident detection that can alert someone to a possible injury for certain activities.
Vivoactive 4 Pros:
This watch can download music straight to the Garmin device, no phone needed
Animated workouts are easy to follow in this best Garmin watch
Body energy monitoring allows you to best plan workouts according to your body
Get all notifications right on your Garmin watch
Watch includes Garmin Pay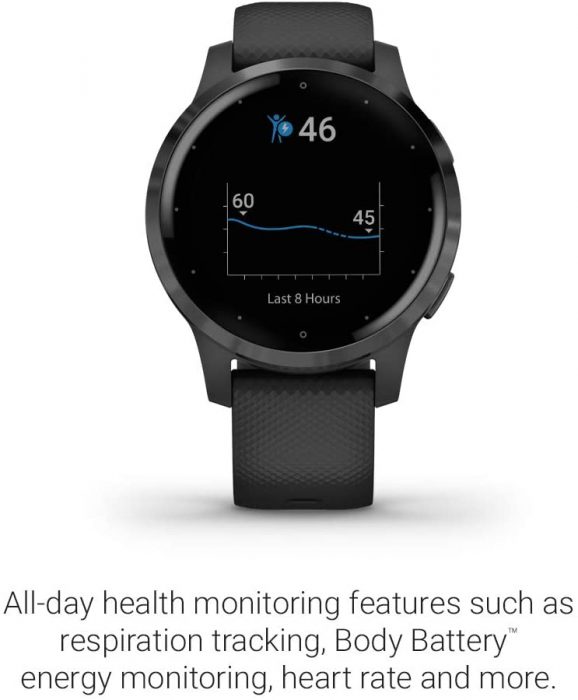 Vivoactie 4 Cons:
Short battery life when using GPS or music on Garmin watch
Garmin watch face stands off wrist more than previous models
No interval timer on this Garmin watch
Vivoactive3 GPS Garmin
Garmin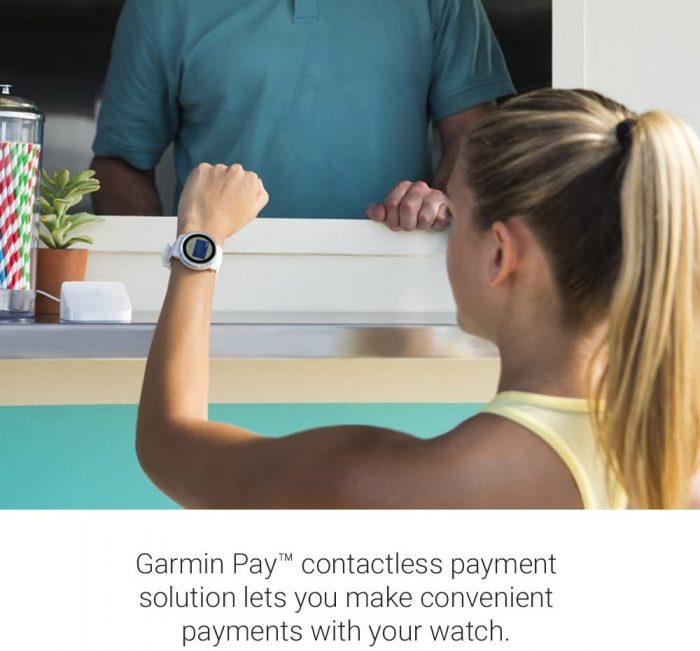 The Vivoactive 3 is an older model and thus comes at a lower price than the 4. You can use this watch in the rain or for swimming. The display is easy to read even if you're standing under the brightest sun. These watches from Garmin connect with your phone to receive notifications and read texts or emails. It also has a power glass screen for convenience and there are some pre-set workouts in the watch. It does not have the onboard music capability that the Garmin Vivoactive 4 has, though.
Vivoactive3 Pros:
Very affordable Garmin watch, best for those on a budget
This Garmin watch is comfortable enough for all-day wear, best for active users
Water resistant Garmin watch, enough for the shower and the pool
Many different free Garmin watch faces
Metric tracking on this Garmin watch is consistent with other kinds of devices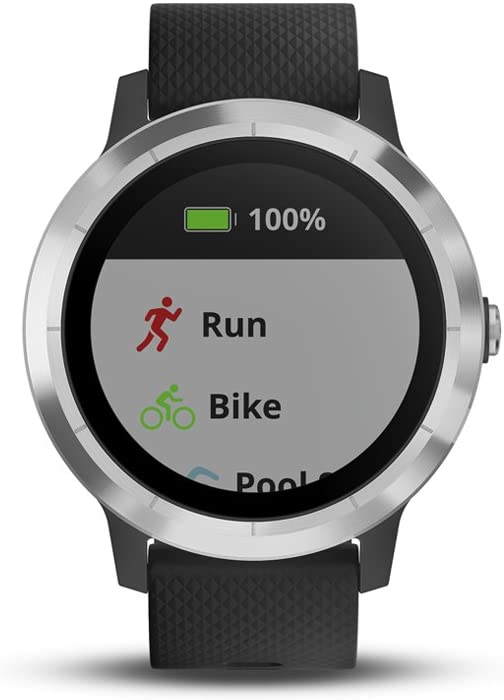 Vivoactive3 Cons:
Garmin Pay is limited to only certain bank cards
Backlight drains the battery of this Garmin watch
Distance tracking is inconsistent
Garmin S62 GPS
Garmin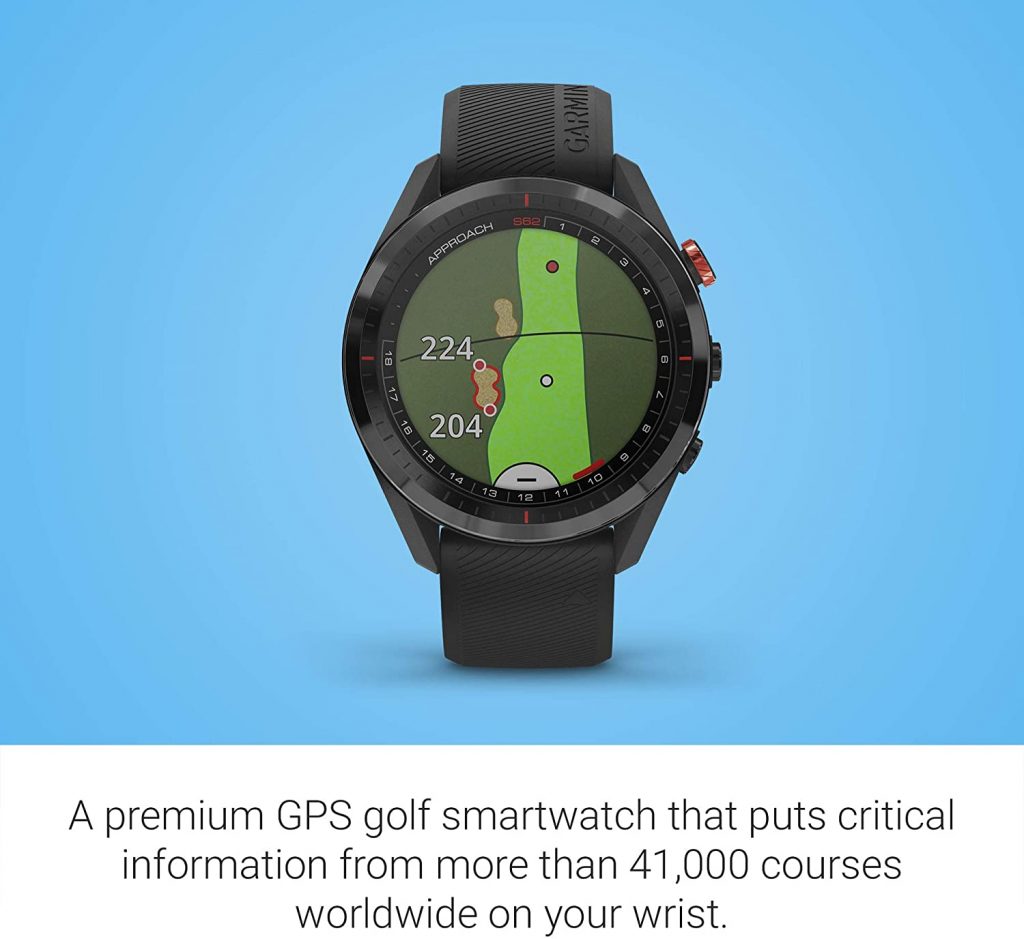 According to a leading digital publisher, this is certainly the best watch for golfers. It gives you course-related information right on your watch, including specific details about each hole. You'll enjoy the mapping feature with its full color screen. You'll even have a built-in virtual caddie to help with choosing your clubs. The display is a touchscreen with a scratch-resistant bezel all the way around it. The watch can help you with distance tracking, tell you where hazards are located, and pin positioning. It comes at a higher price point than some of the other future brands but is very specialized.
S62 Pros:
This Garmin watch is best for golfers
This Garmin watch has a larger screen to give you the best user experience
Good for everyday wear, too
Can measure the wind speed and direction
Works as a smartwatch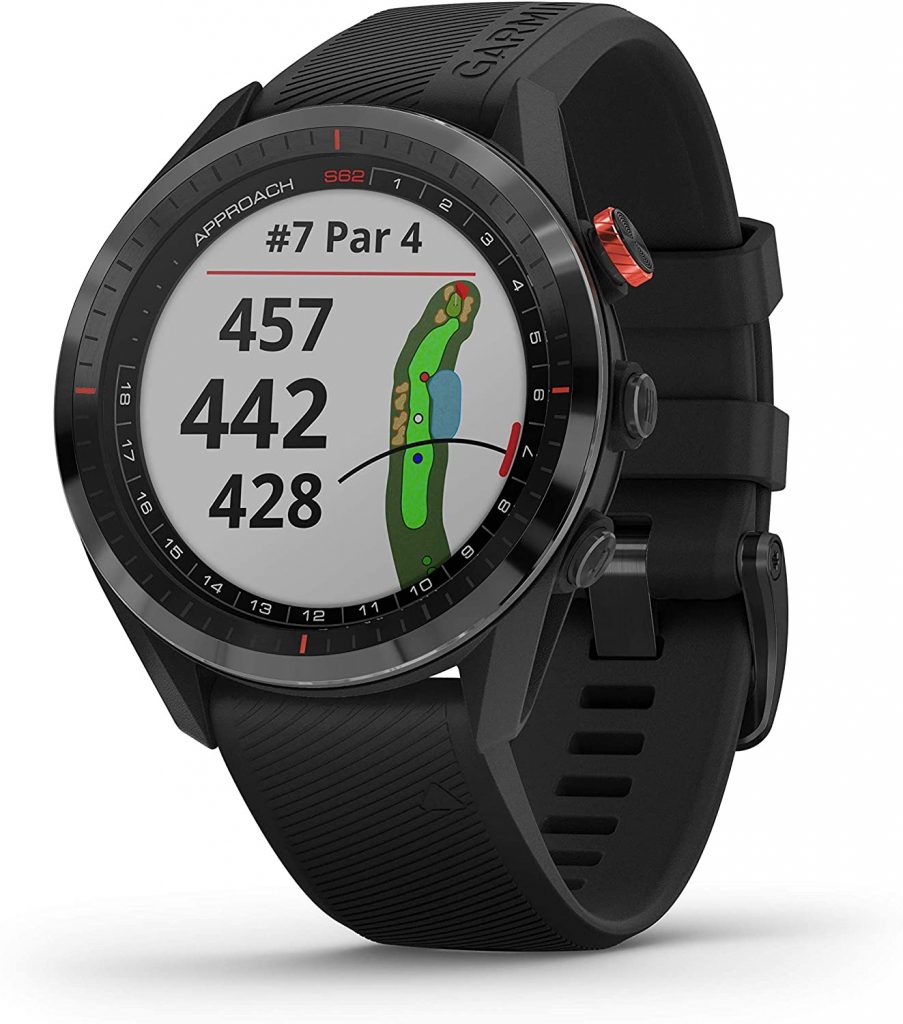 S62 Cons:
Pricey Garmin watch
Garmin connect app needs some work
Touchscreen performance
Garmin S10, Golf GPS
Garmin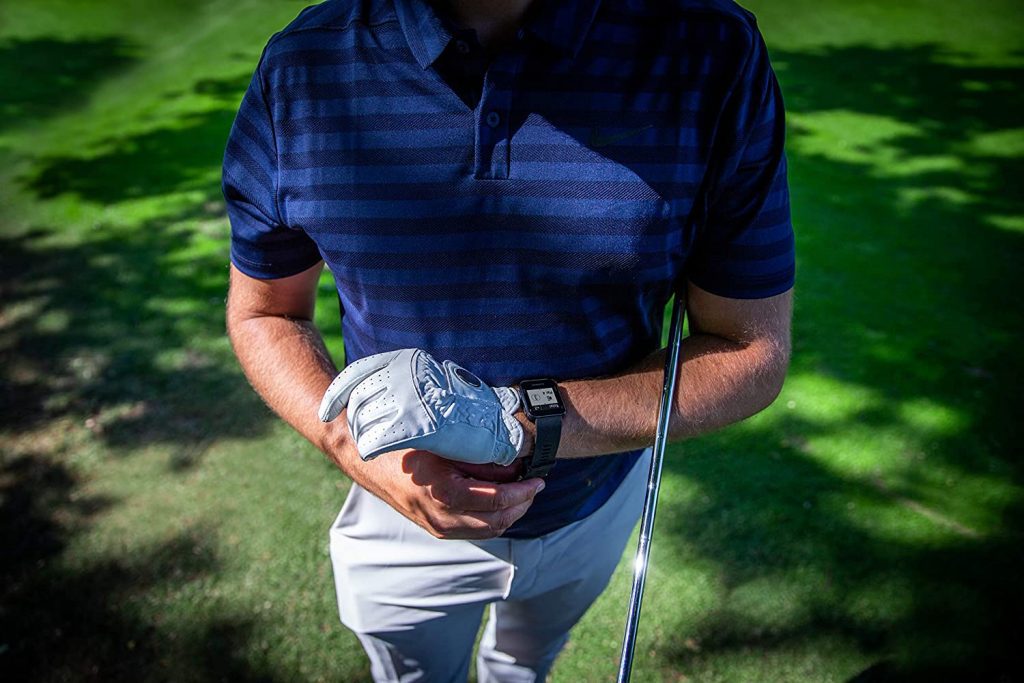 This one has a square watch face, rather than the round one on the updated models. The display can be seen inside or outside, even under the bright sun. The battery life isn't quite as long as the newer version but still gives you up to 12 hours when in GPS mode. You can have your watch keep score and keep track of the distance you've covered and how long you've been on the course. The price on this version of the Garmin Approach is much less than the newer version listed above and is considered one of today's best deals.
S10 Pros:
Highly affordable best Garmin watch
Game tracking at its best
Lightweight and comfortable Garmin watch
Very easy to use Garmin watch, best for every day use
Accurate metric tracking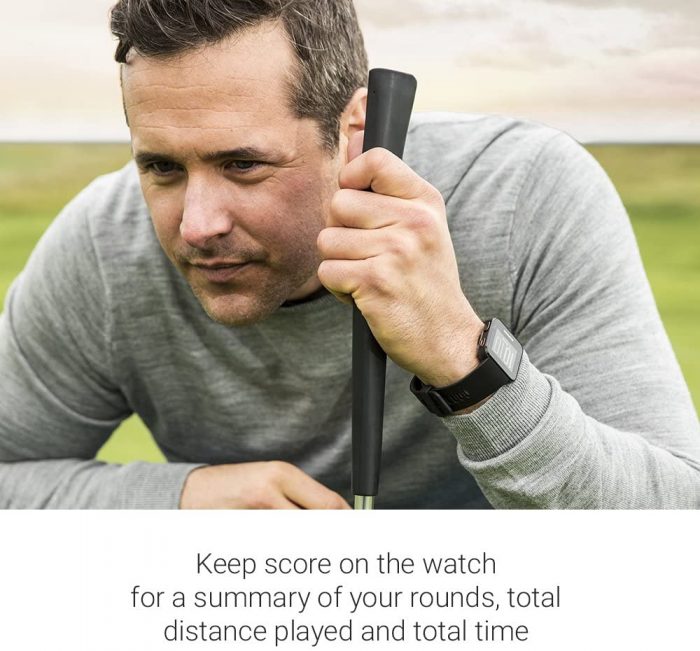 S10 Cons:
This Garmin watch has a small screen
Pretty basic tracking
No Bluetooth
If you can narrow your options down to what line of Garmin watches is best for you—Forerunner, Vivoactive, Approach, or Fenix—that's a good way to start your decision-making process. Then you can compare the fitness tracking capabilities of each model within the series you like the most.
Best Garmin Watches – 
Final Words
Garmin come in different versions. This means that you can definitely find the right Garmin model that works right for your kind of use.
Someone who just wants the best overall option should go with one of the Garmin Forerunner watches. They have the most to offer to the widest variety of users. Make sure you look into what smart features are available with each watch you consider.
Look at the screen and the aesthetic. If you're looking for a smartwatch to help track a specific type of activity, choose one of the specialty models.
Make sure you don't overspend, and you get something that has features you will use so you get as much value from it as possible.
Best Garmin Watch – 

Frequently Asked Questions
Is Garmin better than Apple watch?
The Apple watch ranks better than any Garmin in most categories. If you want the Garmin watch that can compete at the highest level with Apple, go with the Fenix 6 Pro. The most competitive lines of Garmin with regards to Apple Watches are the Forerunner and Fenix series.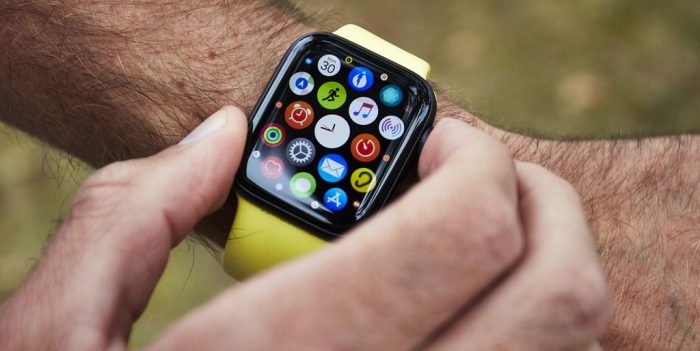 What is the best Garmin watch face?
You'll have to decide what's important to you. The SHN TxD face shows you plenty of metrics and can be customized with the colors you like. It's compatible with the Fenix, Vivoactive, and Forerunner.
Is Suunto better than Garmin?
Suunto can do just about anything that Garmin can and vice versa. They're both good choices for running and other blood oxygen sensor fitness tracking. Each has some strengths over the other.
Is Garmin better than Fitbit?
Garmin offers a wider variety of looks and features with their watches. For that reason, most would benefit more from a Garmin.
How many years do Garmin watches last?
Users report these watches to last from about 2 to 4 years, on average.
Can you text on a Garmin watch?
You can text on some Garmin watches, but only when they're paired with an Android phone. The feature does not exist for iOS devices.
What's the best fitness watch?
Many of the Fitbit models are in the top-rated spots.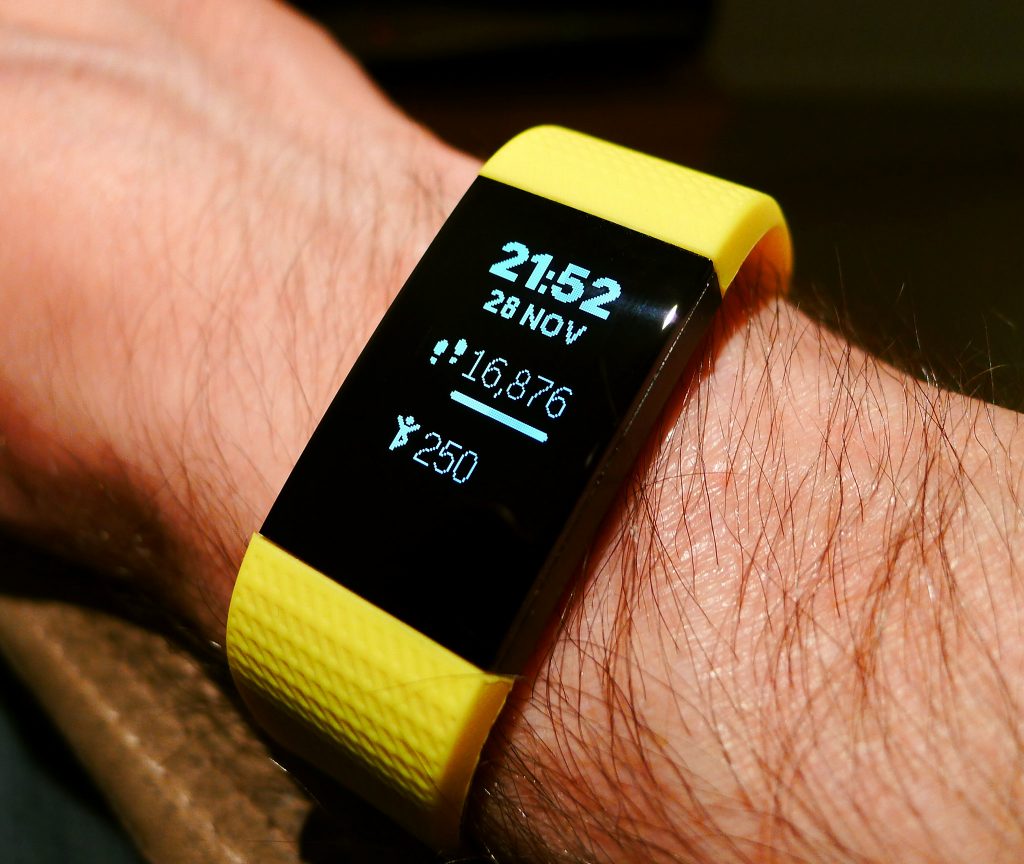 What is the best smartwatch 2020?
The top spot went to the Apple Watch Series 6.
Which model of Garmin is best?
What is the latest Garmin smartwatch?
What is the best Garmin watch for daily use?
What Garmin watch does the military use?
What's the lifespan of a Garmin watch?
Which Garmin is best for ladies?
Can Garmin watch answer calls?
Last Updated on April 13, 2023 by Patrick Magtaan
DISCLAIMER
(IMPORTANT)
: This information (including all text, images, audio, or other formats on FamilyHype.com) is not intended to be a substitute for informed professional advice, diagnosis, endorsement or treatment. You should not take any action or avoid taking action without consulting a qualified professional. Always seek the advice of your physician or other qualified health provider with any questions about medical conditions. Do not disregard professional medical advice or delay seeking advice or treatment because of something you have read here a FamilyHype.com.