Family car camping is something that can bring parents and their children closer while they make lifelong memories together. And what do you need for family camping? You need the top family car camping tents.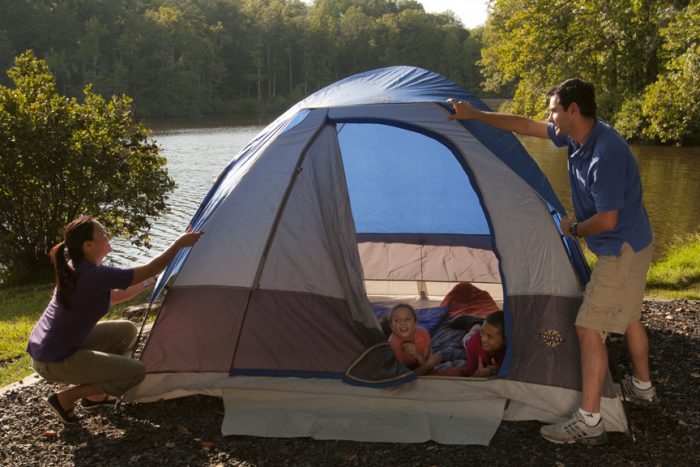 Choosing the right family tent size has to start with how many members there are. You'll need extra space or rooms to accommodate everyone, especially for the tall ones. The more room there is, the more storage space you'll have for everyone's things. The style is important, also. Choose from cabin-style or dome-style. Pick the only one door that you want and the style of them, including whether there are vestibules. Consider the level of difficulty of the setup process. Also, you should use the top screens for your tent.
Before you start shopping, you should set a budget for your camping tent. Prioritize the deciding factors from most important to least and then try to find as much of what's important to your family within your set budget. We're going to discuss the items we mentioned above later in a bit more detail. But first, let's take a look at some top-rated tents in the market.
CORE 12 Person Instant Tent
It has 3 rooms that can fit 12 persons. It's the most ideal for those with older children who will likely be coming and going quite a lot to and from the tent. There are two doors that make it easier for more people to move around comfortably. The cabin-style tent can be set up in less than 2 minutes because the tent poles are already attached to the tent. You just have to unfold it and pop it up. There's also a removable rainfly that comes with it. You can put it on to protect everything from the rain and take it off to help keep the tent cool. It comes packed in a convenient carry bag for easy transport, too.
Pros:
Comes two color options

Super easy and fast setup

Has plenty of headroom to stand up

Two entryways

1-year limited warranty included

Advanced venting system draws cool air in 

Performs well in bad weather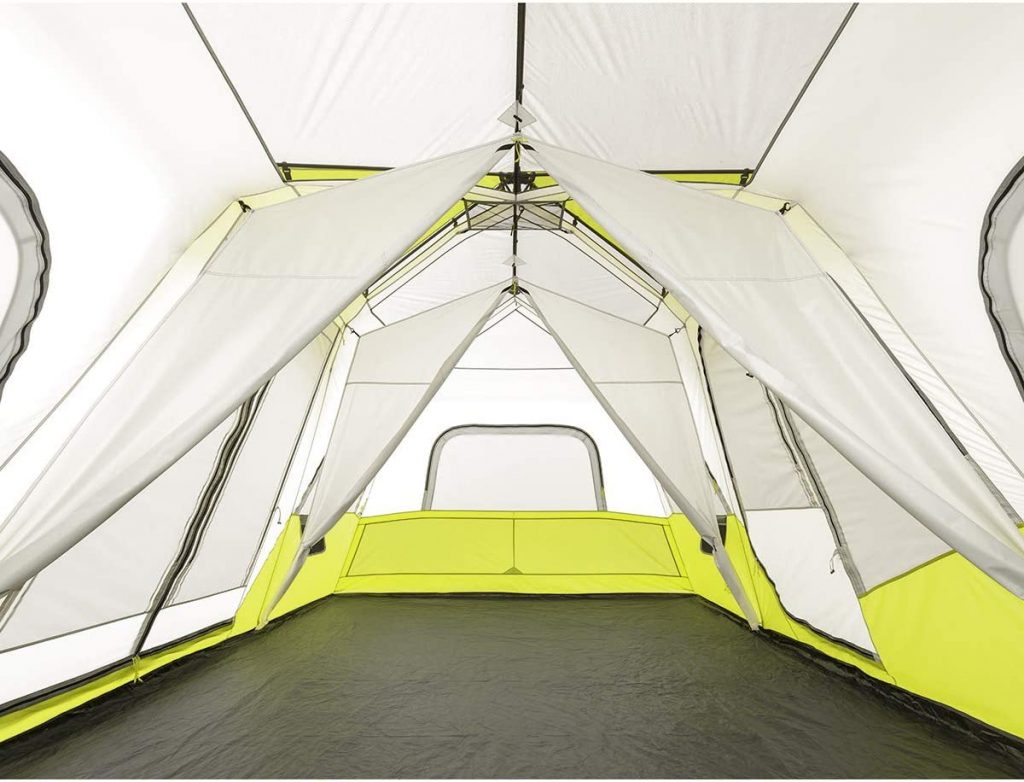 Cons:
No hinged door

Some issues with tent fabric tearing
Coleman 60 Second Setup Backpacking Tent
It can accommodate 10 persons and comes with a lot of bonus features. It has dark room technology that can block up to 90% of sunlight so you and your family don't have to be woken up early by bright light. It's been specially designed to keep all-weather out of your best car camping tents. There are inverted seams and welded corners for that. The guy lines are reflective so they can be seen better, even at night. There is a room divider for those who want a little privacy. And the door is hinged so it's easier to get in and out of. 
Pros:
Heat reduction and darkening help you sleep better and longer

Sets up in a minute

Weatherproof design

Easy-to-use hinged door

Very spacious interior with lots of headroom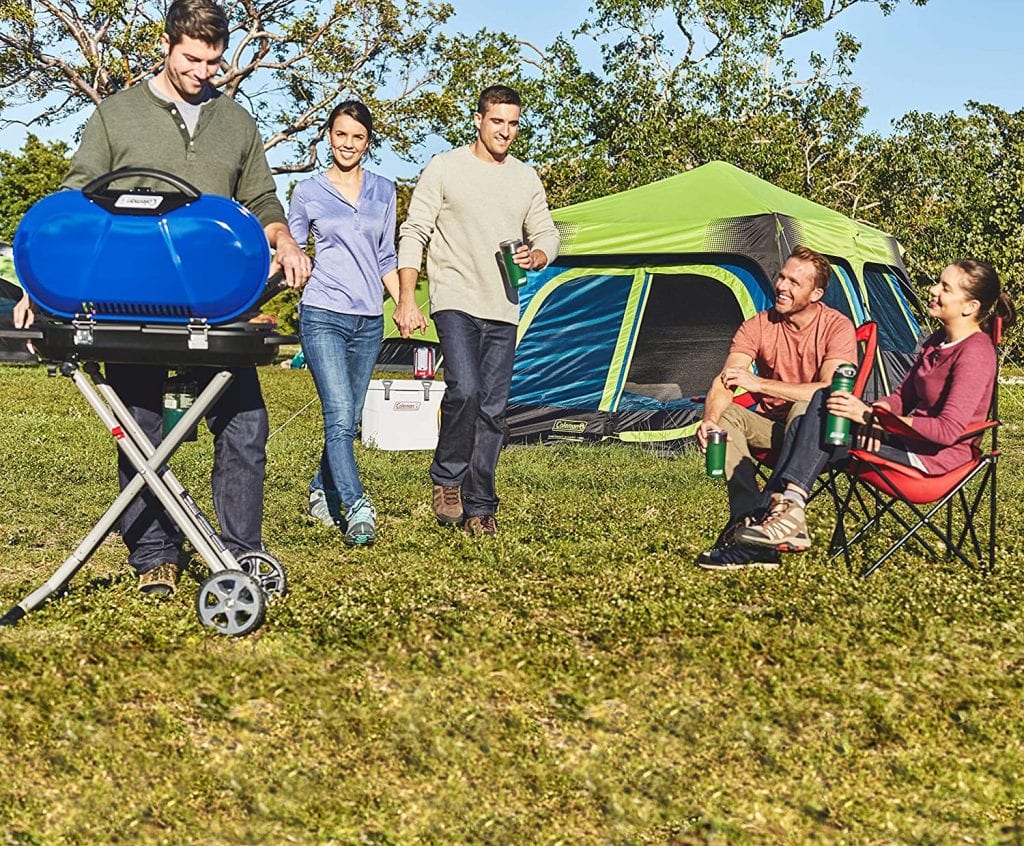 Cons:
Pricey

Rainfly must be sold separately

Stakes may not hold in high winds
UNP 10-Person Camping Tent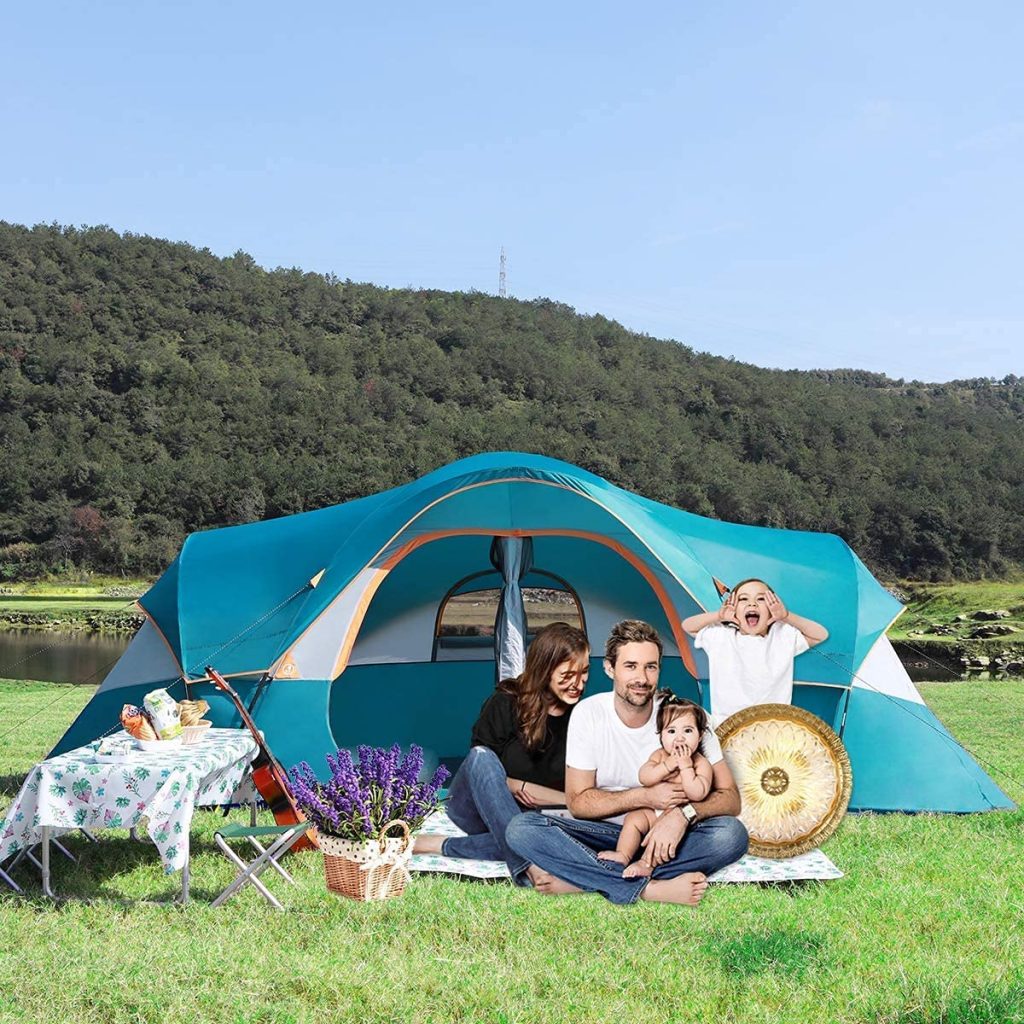 It can fit 10 sleeping bags or 3 queen air mattress making it very ideal for a family. It is waterproof,  weather resistant and made out of Polyester 185T PU1000mm fabric. It comes with a bigger carrying bag that measures 25.6×10.2×10.2 inches. It takes about 8 minutes to set the tent up with two people.
Pros:
Rainproof and waterproof
Super easy to set up
Has a gear Loft to air clothes
With 1-year quality assurance to offer you a risk-free purchase
Easy to repack
Spacious enough for ten persons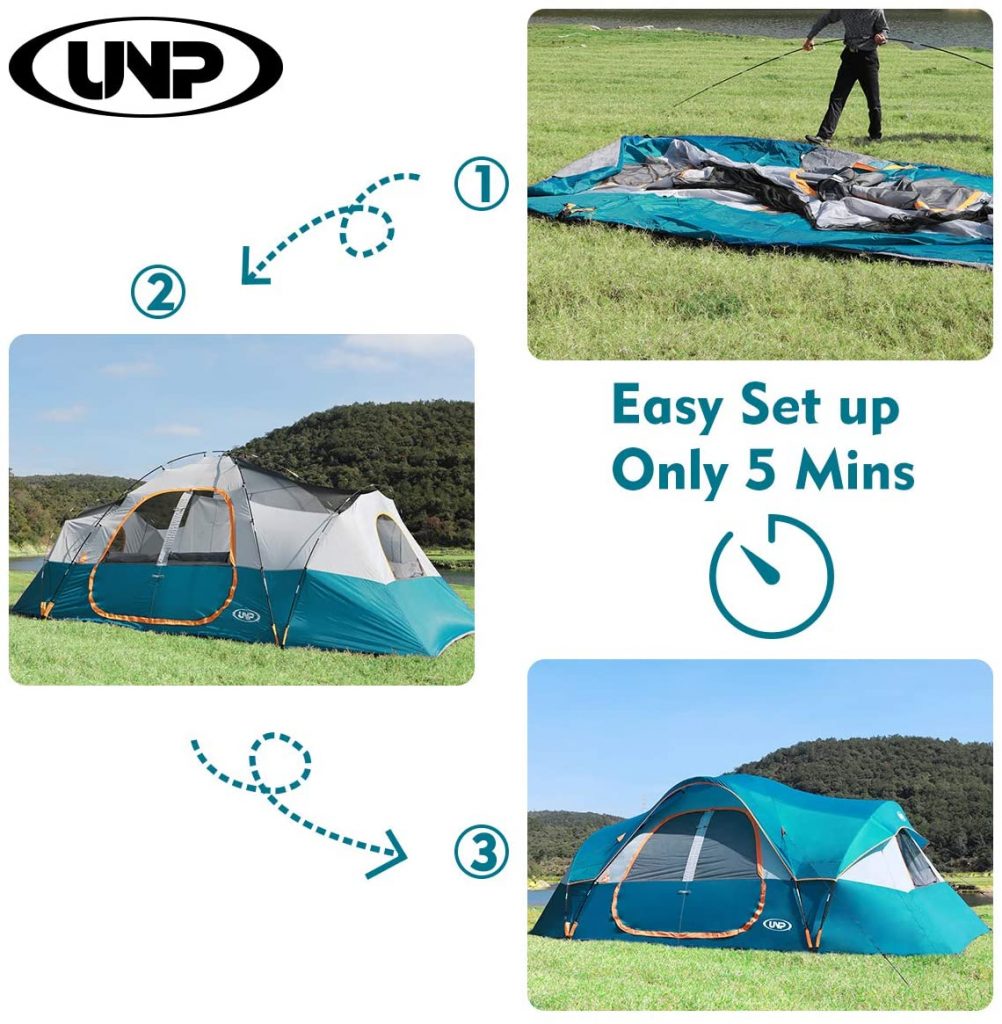 Cons:
Difficult to zip and unzip

Floor is thin
TETON Sports Mesa Canvass Tent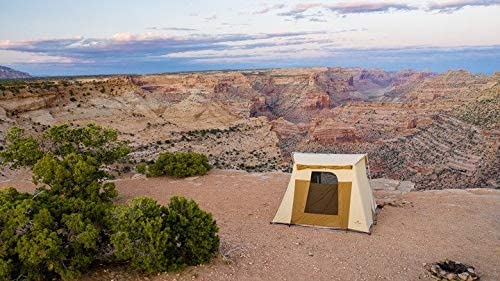 Eight persons can fit here and can be used in warm weather, rainy weather or windy conditions. It's waterproof so you'll stay dry on your car camping adventure. It has extra-high ceilings and an awning over the front entry. It has 2 entries, one in the front and one in the back. There are a couple of power access points where you can run wires into the spacious tent. There are 4 different pocket spaces inside, too. The setup is quick and pretty easy. This isn't meant to be your average camping tent. It's durable and meant to last in any type of weather and terrain.
Pros:
Two extra-large doors make it easy for everyone to come and go

4 season camping tent

Awning keeps the sun off the tent

Rugged and durable

Great customer service from TETON

Handles high winds well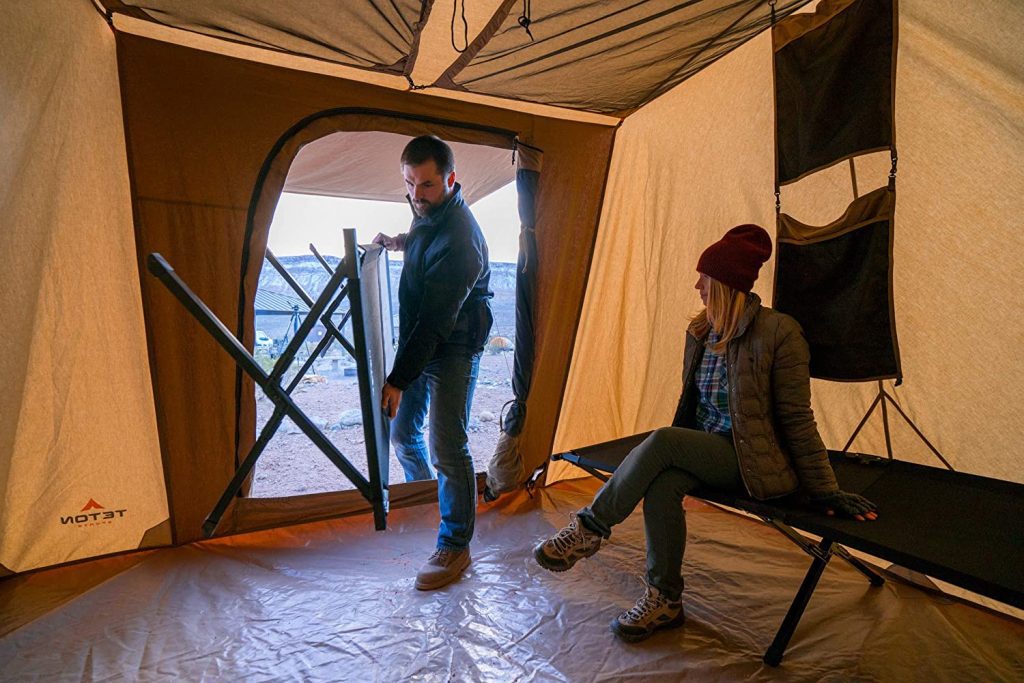 Cons:
Pricey

Repacking can be difficult

The awning should be wider
These are some of the camping tents we think make great options. But it's up to you to decide on which camping tent is the right fit for your household. Now, we'll look at the things for you to consider that will help you make that decision.
Camping Tent Best Size
One of the most important deciding factors, when you're choosing a car camping tent, is the size. The ideal one for a household needs to have more space than one for a couple of adults. Often, young children will need space for their toys and older kids will want space for whatever devices they bring and even just privacy. 
Choosing the size of your camping tent does come down to how many people there are, but also the ages of those people and how many rooms are in the tent. Teenagers will likely want as much privacy as possible. Infants and toddlers may need space for a pack n play. You also should consider what kind of storage room you'll want for your own items. 
If you're the type of person who likes to spread out a little, consider going with a larger camping tent. Just because camping tents have the number of people indicated as a certain amount doesn't mean they can't be used for less than that. You will just be able to enjoy more of your own space.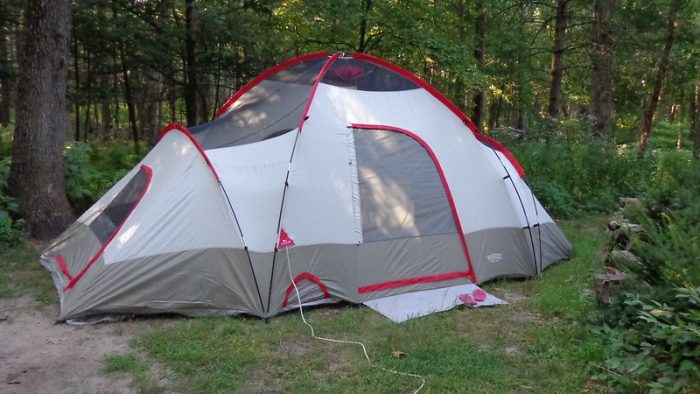 Camping Tent Styles
Generally, there are two types—cabin and dome. They each have their own strengths and weaknesses. Here's a breakdown of the two styles:
Cabin Style
They stand much more upright than dome tents. The walls are vertical or nearly vertical. The interior will feel more open and home-like. You'll have more headroom, and most people will be able to stand up inside. The biggest downside of these, they are more prone to damage from wind and bad weather because of their high profile.
Dome Style
The walls of these tents are sloped and come up to a high point in the middle. You won't likely be able to stand up inside and the interior will feel more closed in. If you're the type of household that will only be in the tent to sleep, then these camping tents are the most ideal for you. They also do much better in the wind and bad weather because of their lower, curved shape.
You can choose from the style of camping tents that will perform better for the environment you'll be camping in, along with the preferences of your household members.
Camping Tents Best Features
The entryways into the tent matter, too. You can decide on how many would be ideal and what type you'd like. Many of the larger camping tents will have a front and rear door. While that may be good for families with older children, those with younger kids may find it a little stress-inducing. It's harder to keep track of the comings and goings through two doors. 
Tent doors are designed to open in a few different ways. There is the triangle design with the central vertical zipper and the horizontal zippers along the bottom. There are dome-shaped doors that open with a curved zipper. There are also hinged doors that have a curved zipper but maintain their shape so you can swing the door open and closed. 
You can also choose tents that have vestibules or awnings that help keep the weather and dirt from getting in through the door. Vestibules are great for giving you a place to keep dirty shoes and boots that's not completely outside but also not inside the tent.
The setup process is something that should definitely be considered when you're trying to choose a tent. You need to look at how many people it takes to set it up and choose based on what will work for your household. You should also look at how long it will take. Tents used to take a long time to set up and the process could be really difficult. It doesn't have to be that way, though. You should look for a tent that doesn't take more than a few minutes to set up.
Beyond that, you can look at the pockets you'll have, whether there's a rainfly, if there are power access points, and whether you'll have a hook inside for a light or a fan. You can also look for the light-blocking fabrics and integrated vent systems that help keep tents cooler. 
Best Family Tents
Final Words
The bottom line when it comes to choosing a tent is that there's not one right answer that works for everyone. You'll have to choose based on the household that you have. You need the right amount of space and the right type, first. Then, you'll want to look at the entries and vestibules. You'll want a fast and easy setup process. And finally, you can look for any bonus features that will benefit your household. Make sure you also comparison shop so you can get everything you want for the price that's right for your budget, as well.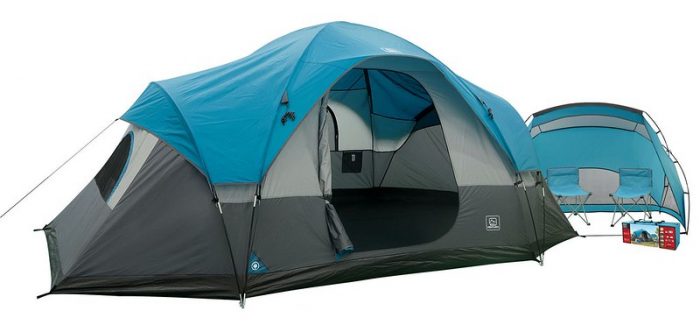 Best Family Tents
Frequently Asked Questions
What Are the top tents for families on the market?
This goes to Coleman for the Cabin Tent. If you want a budget-friendly, go with the Coleman Sundome.
What's the best tent for 6 people?
It is the Skandika Gotland Six Man Tent.
Which tent is worth the money?
This is the Coleman Sundome 6. 
What are the top quality tents available in the market?
The top tent brands include MSR, Big Agnes Copper Spur, Coleman, REI, and Kelty.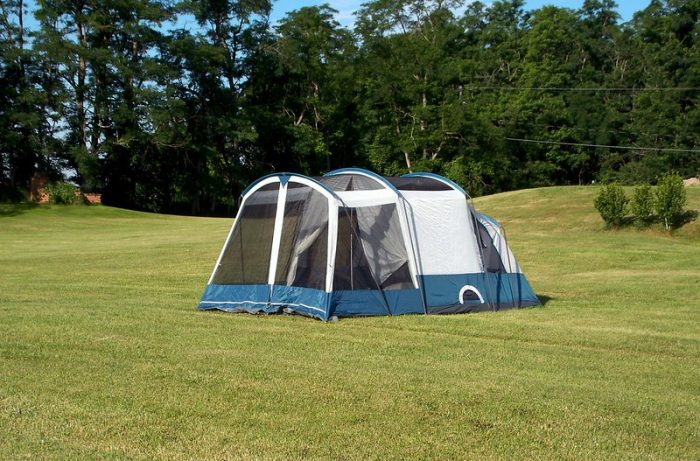 What is the top tent UK?
What is the easiest tent to put up?
Is Eureka a good tent brand?
Is OZtrail or Coleman better?
Are pop-up tents waterproof?
How long will a Coleman tent last?
How many people can fit in a 60×60 tent?
Should I get a 6 person or 8 person tent?
How many people can a 30×60 tent hold?
How many people can fit in a 40×40 tent?
What is the most popular tent size?
Last Updated on May 12, 2023 by Inma Barquero
DISCLAIMER
(IMPORTANT)
: This information (including all text, images, audio, or other formats on FamilyHype.com) is not intended to be a substitute for informed professional advice, diagnosis, endorsement or treatment. You should not take any action or avoid taking action without consulting a qualified professional. Always seek the advice of your physician or other qualified health provider with any questions about medical conditions. Do not disregard professional medical advice or delay seeking advice or treatment because of something you have read here a FamilyHype.com.