The best HEPA vacuum cleaners will not only clean your flooring but also help to keep the air in your home. HEPA, short for high-efficiency particulate air, is a filtering system that traps all kinds of dirt and allergens that the naked eye can't see so they aren't dispersed into the air when you vacuum. Not all vacuums have a HEPA filter, however, those that do can make a drastic difference in the air quality inside your home.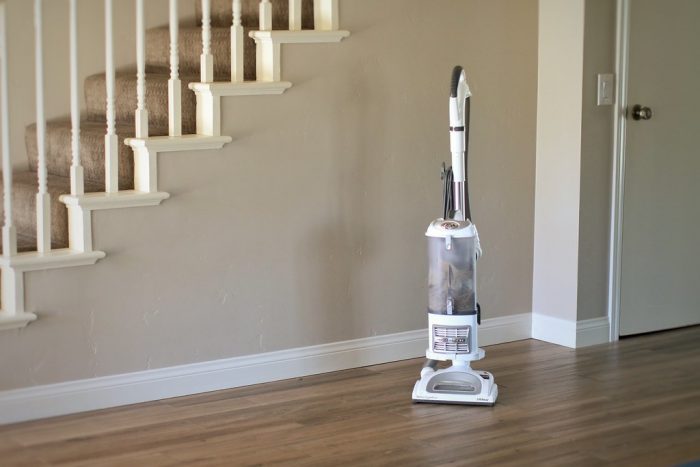 What Are The Things You Need To Consider When You Are Looking For An HEPA Vacuum Cleaner?
So, what are the best HEPA vacuum cleaners and how do you choose one? The size of your home will determine the capacity level you'll need. Consider the type of flooring in your home. Choose the best type of vacuum—upright vacuum, best robot vacuum, best cordless, or canister. Features that make some HEPA filter vacuums better than others include sealed HEPA systems, dual-fan motors, on-hand tools, adjustable nozzles, carpet height adjusters, and convenience factors.
We're going to dig into how to decide for yourself what the best vacuums are with a HEPA filter. Then we'll look at some examples of different HEPA filter vacuums that are on the market now.
Choosing The Best HEPA Vacuum Cleaner
The size of your home should definitely be a deciding factor in the vacuum you choose. You'll have to look at the capacity of the vacuums you're comparing. If you live in a large two-story home, it won't be very convenient for you to vacuum it with a tiny cordless stick vacuum that fills up after completing one room. Having the wrong size vacuum can end up doubling your cleaning time. Who needs that?
Match your vacuum choice to the place you live. A small apartment doesn't need anything more than a lightweight stick vacuum. A larger, single-family home needs at least a medium-sized upright vacuum. In very large homes, you may even want to have an upright vacuum or canister vacuum on one floor and look for the best robot vacuum with a HEPA filter for another floor.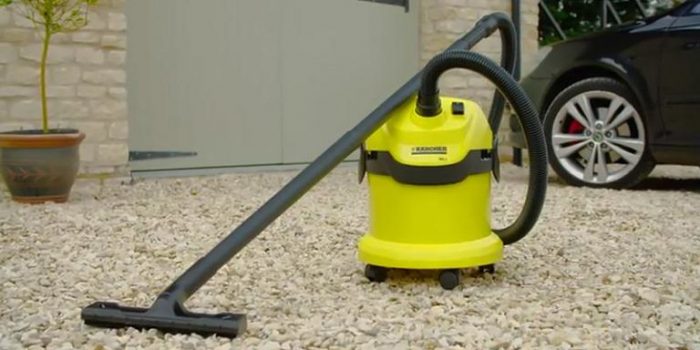 Floor Types Matter Too
Many homes have multiple flooring types throughout. If you have carpet, hardwood, and vinyl, your best option may be a canister vacuum because of their ability to handle all types of flooring without missing a beat.
Homes with a lot of carpet, especially those with thicker, deeper carpet fibers, will do the best with an upright vacuum. You'll usually find the best suction comes with the higher-end upright vacuums. Thick carpet needs a vacuum that can pull the allergens out of it that are buried deep down in the fibers.
What Are the Different Types Of HEPA Filter Vacuums?
There are four main types of vacuums that are equipped with a HEPA filter. Below is a brief overview of each.
Upright vacuum – These vacuums stand upright so they're easy to store in a closet. You can get them in bagged or bagless versions. They're good for carpet as they have beater brushes that work to draw dirt and debris out of carpet fibers. Most can be used for different carpet heights and for hardwood floors.
Canister vacuum – This type of vacuum has two separate pieces that are attached by a long, flexible hose. You can place the canister in the room you're cleaning and easily maneuver the vacuum head around the floor. You can use these with all types of flooring and other surfaces, like furniture and stairs.
Stick vacuum – These are sometimes referred to as sweepers. They're lightweight and are good for cleaning up localized spills and messes. They only have a small dirt cup that should be emptied often. These are basically a cross between a handheld vacuum and an upright vacuum.
Robot vacuum – Robot vacuums don't usually serve as the only vacuum in a home but are great for cutting down on the time you have to spend cleaning your floors. You can program them to run at night or sometime during the day to work at keeping the allergens in your home to a minimum. Some have to be emptied by you while others will empty themselves into a bin incorporated into their docking system.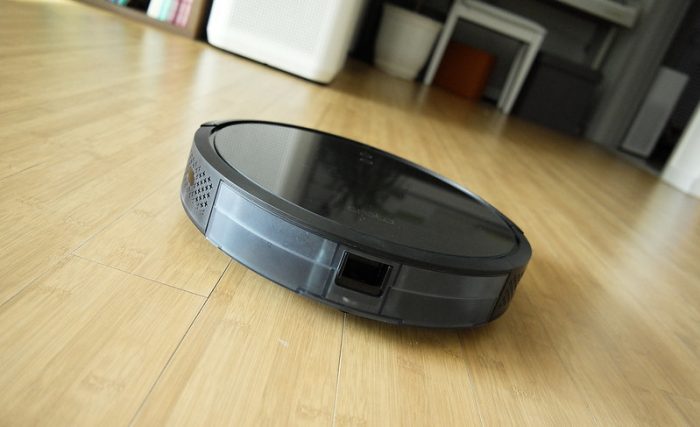 Best HEPA Vacuum Cleaners Features
Make sure you find a HEPA filter vacuum that has a sealed system. Some of these vacuums won't be as good at keeping the allergens trapped within the system. Then the particles get released into the air after being sucked out of the carpet. Sealed systems will have rubber gaskets that keep leaks from happening.
If your home has a lot of carpet, you need to find a vacuum with a dual-fan suction motor, rather than a single fan. The dual fan will give your vacuum more air flow which is what creates the suction needed to pull up dirt and allergens that are way down deep between the carpet fibers. Any vacuum's suction power will be indicated by cubic feet per minute. The higher the number, the stronger the suction is.
You also want to look for vacuums that have all the extra tools you'll want for cleaning in crevices, on and under furniture, up high, and on stairs. Not only that, but it's nice if they are easily stored and handy for when you need them right on the vacuum itself. It makes the vacuum much more user-friendly.
It's a good idea to look for everything to be as adjustable as possible. The nozzle on a canister vacuum should be able to swivel all the way around so you don't have to keep moving the hose or the canister. The brushes on the bottom of an upright vacuum should be adjustable up and down to accommodate different carpet heights. It should also be easy and convenient to switch over from carpet to hard flooring.
Anything that will make your cleaning sessions more convenient is a good thing. Look for the length of the cord and the cord storage. Check for the button placements. Look into how vacuums turn. Small conveniences can make a world of difference.
Best HEPA Vacuum Options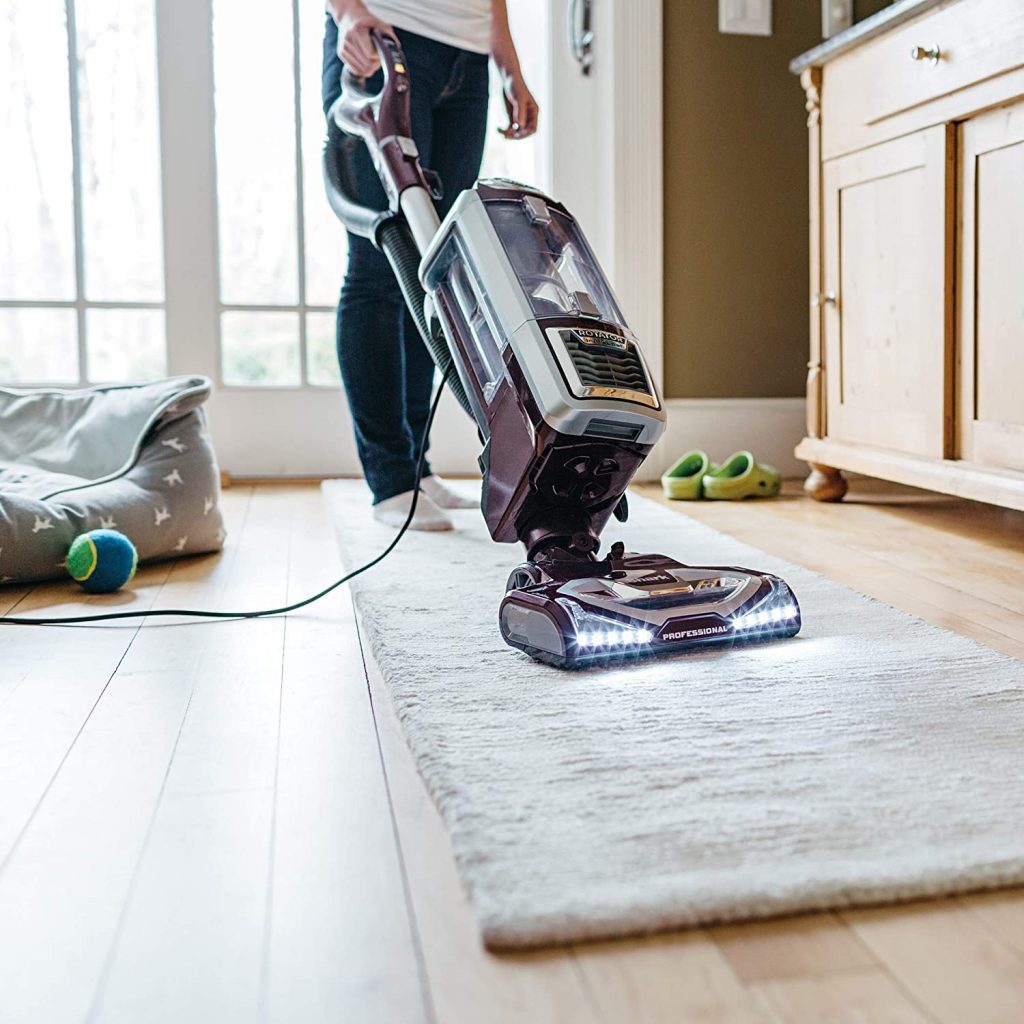 This is an upright vacuum that can be converted into a canister-like vacuum with the Lift-Away design. It comes with three different tools to use for all your cleaning scenarios. The HEPA system is equipped with Complete Seal Technology so all of the allergens stay inside the vacuum. There are LED headlights on the front and 25 feet of cord to work with. The vacuum weighs less than 17 lbs. and is bagless.
Pros:
Lightweight
Plenty of tools
Reusable washable filter
Traps 99.9% of allergens and dust mites
Powerful suction gets all the pet hair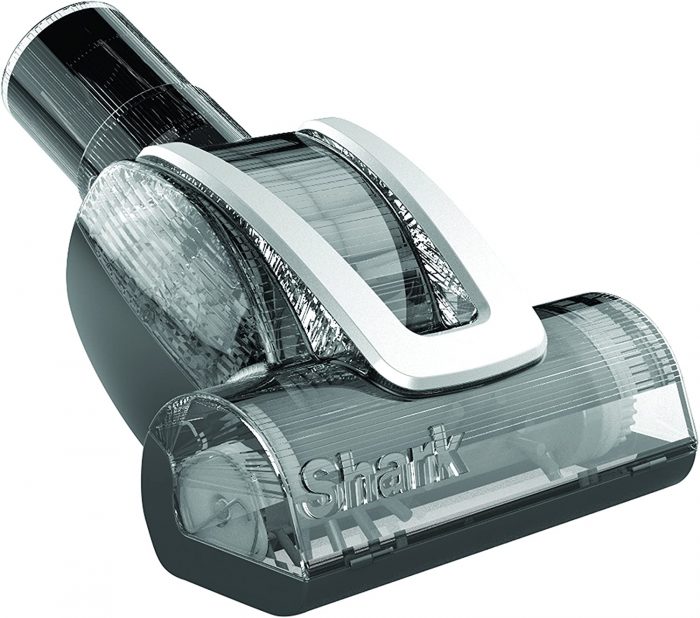 Cons:
Pricey
Doesn't turn as easy on hard floors
Clips for hose and cord aren't strong enough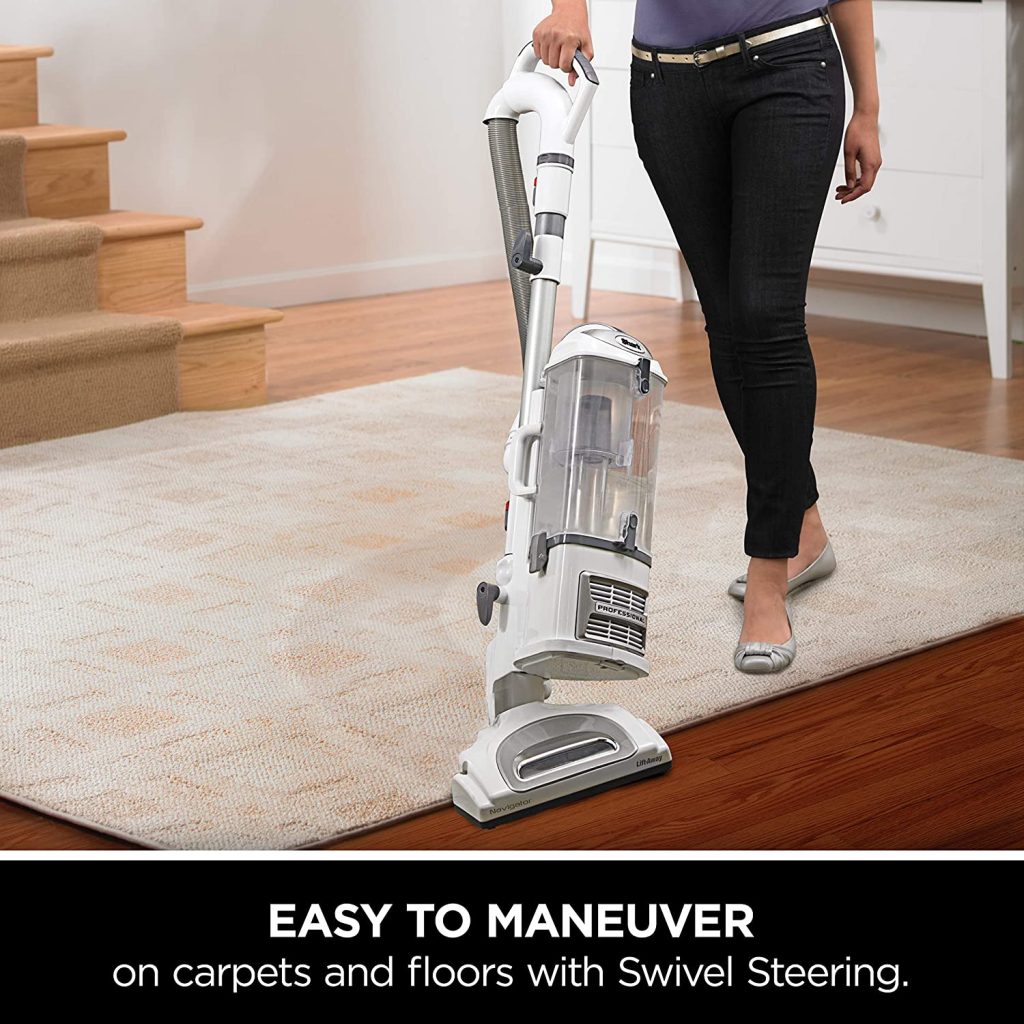 The Shark Navigator is a lighter weight version of the Rotator above. It weighs less than 14 lbs. and has a 2.2-quart capacity dust cup. It still has the Lift-Away design so you can easily use it to clean carpeted stairs and areas that are tough to reach. The HEPA system is completely sealed up so the allergens can't escape. There is a brush roll shut off so you can go from carpet to hard floors with ease. You can get this one for a lower price, too.
Pros:
More affordable
Able to deep clean your carpets
Reusable HEPA filter
Seamless transitions from carpet to hard floor
Easy to maneuver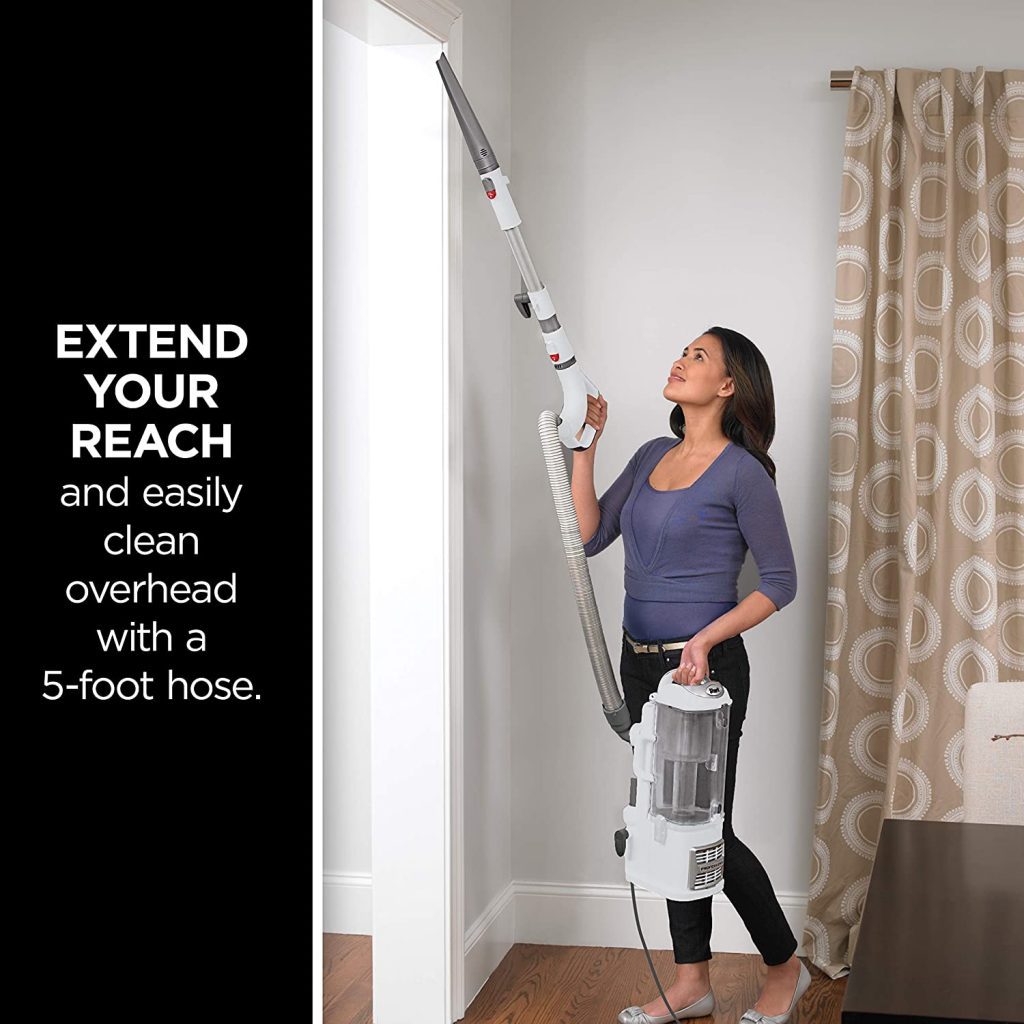 Cons:
Hose is too short
Dirt sticks to dust cup walls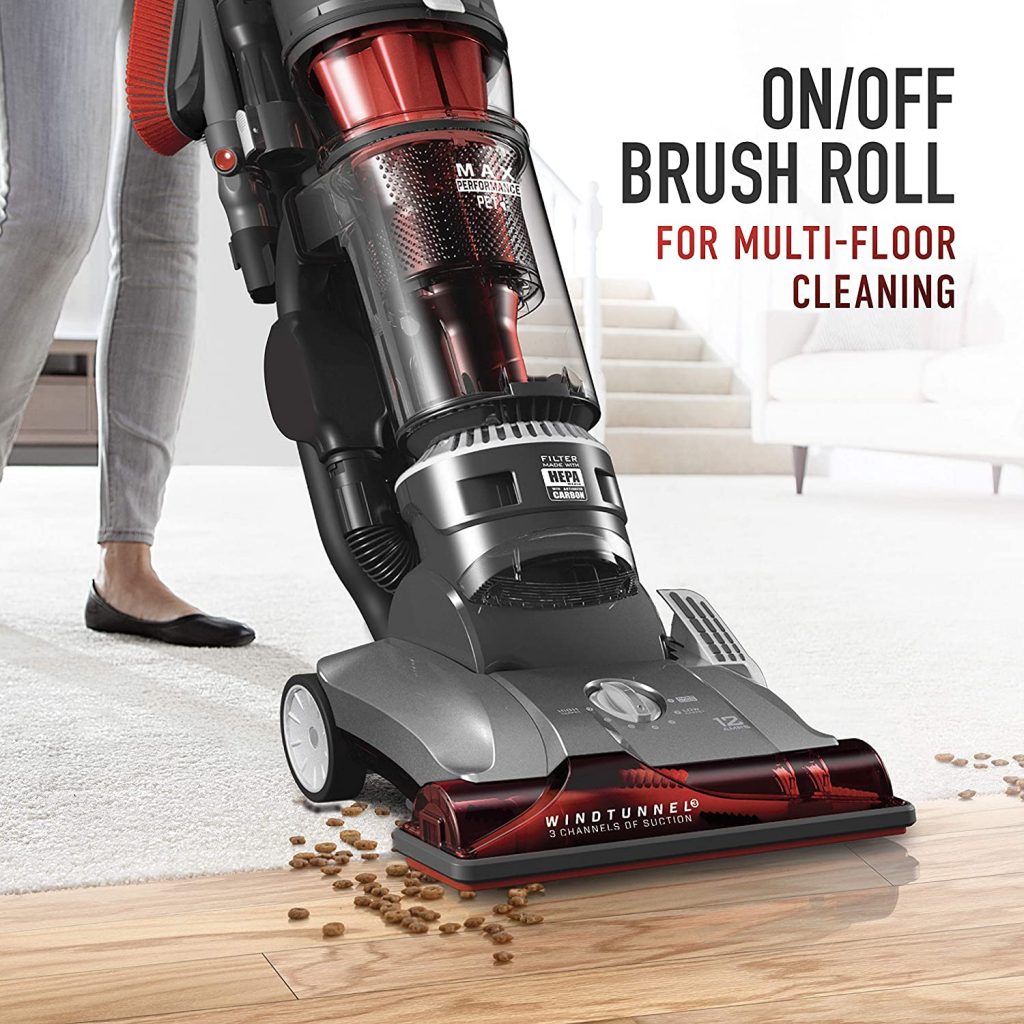 This is a corded, bagless, upright vacuum with a large capacity dust cup. It uses WindTunnel 3 Technology to provide powerful suction through 13 cyclones created within the vacuum. You can easily turn the brush roll on or off with one button push. There are odor-absorbing filters that help to rid your home of the smell of your pets. It comes with four different tools that can be stored with the vacuum, as well.
Pros:
Budget-friendly
Great at getting pet hair up out of carpet
Vacuum propels itself on carpet
Easy assembly
Easy to empty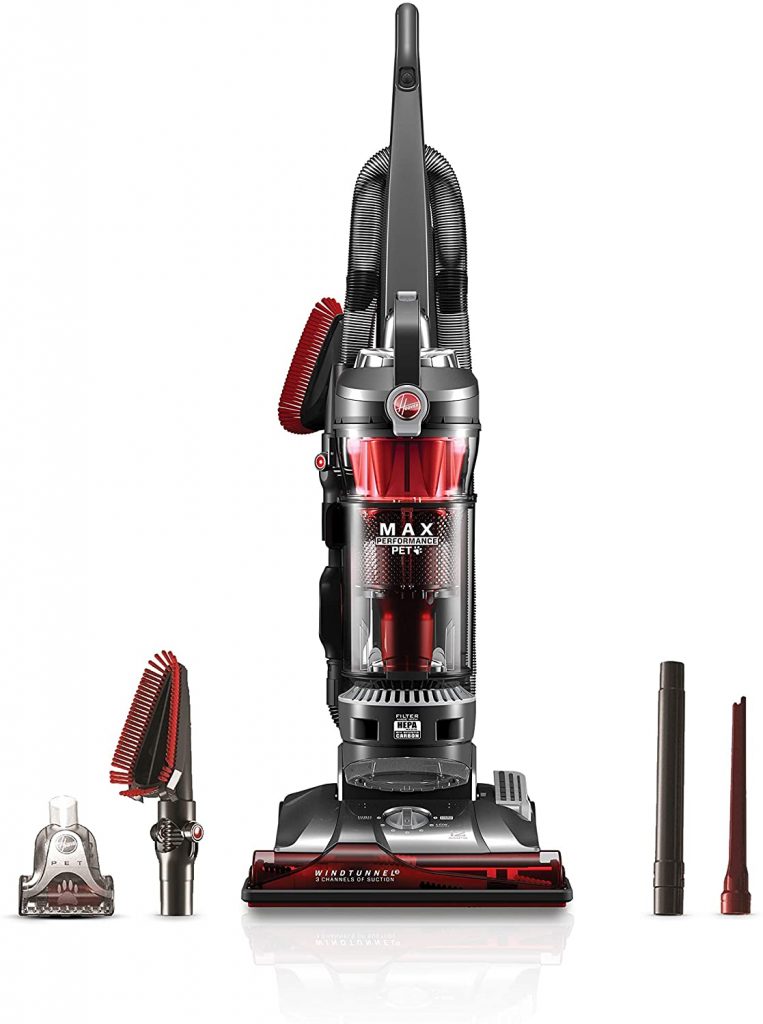 Cons:
Heavy
Tools can fall off easily
No cord retraction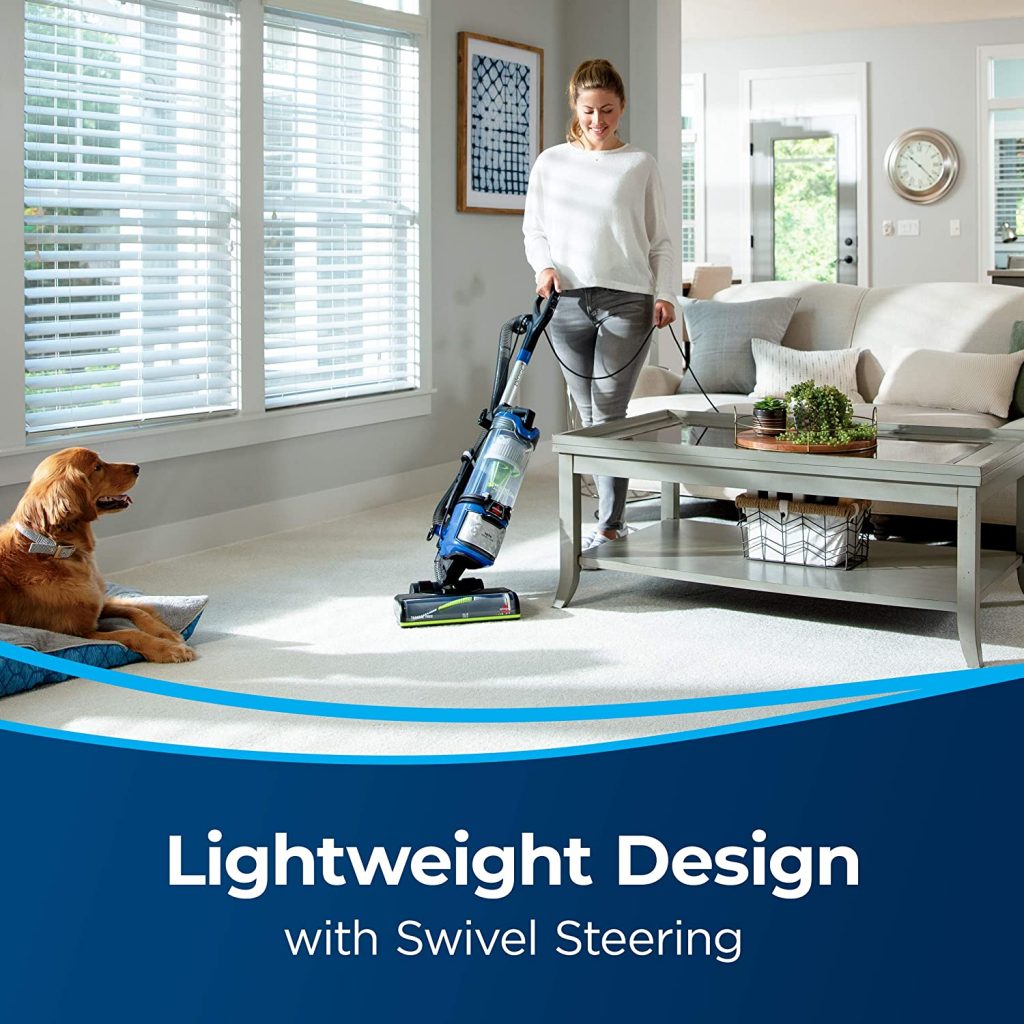 The HEPA system on this BISSELL is sealed so allergens can't get out and into the air in your home. This is a lightweight vacuum that swivels easily and can clean different types of flooring. The brush roll is designed to be tangle-free when it comes to hair and other types of debris. The dust cup is very easy to empty with just a touch of a button. And all BISSELL Pet Vacuum purchases help to save the lives of homeless pets.
Pros:
Budget-friendly
Sealed HEPA system
Hose and wand can reach up to 12 feet
Weighs only 15 lbs.
Tangle-free brush roll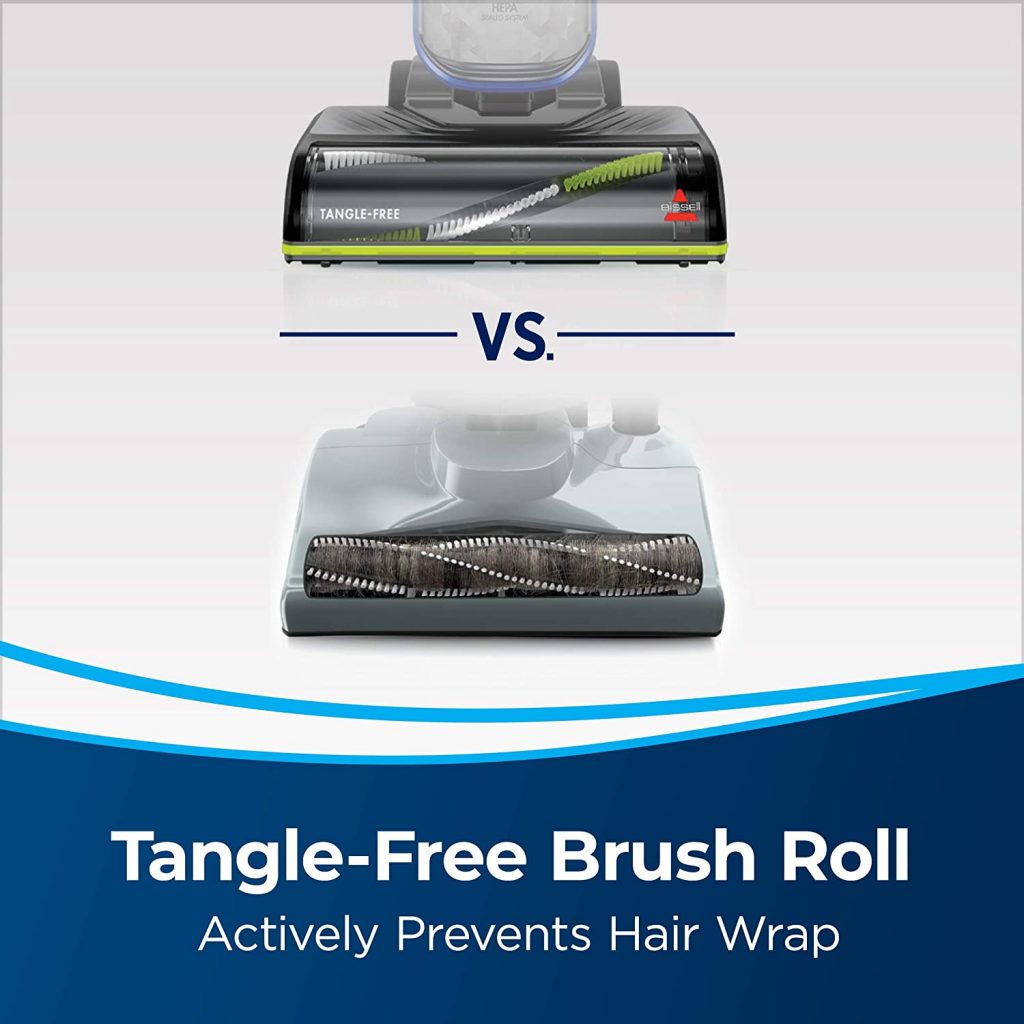 Cons:
Suction is average
Small capacity dust cup
No headlight
Final Thoughts About The Best HEPA Vacuum Cleaner
A HEPA vacuum can greatly increase the quality of the air in your home. You'll want to keep your budget in mind but choose a vacuum that fits your needs. Choose the right type first. Then, look at factors like vacuum weight, included tools, ability to clean your floor types, and convenience features. Choose a vacuum that will work well for the size of your home, also. The best HEPA vacuum will clean your floor well and keep your air quality at its most optimum level.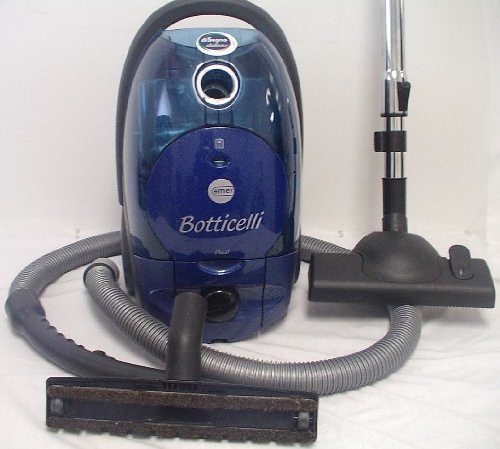 Best HEPA Vacuum FAQs:
Are HEPA vacuums worth it?
Yes, they are. HEPA vacuums are especially worth it for households where someone had asthma or severe allergies. These are good for homes with pets, as well.
What is the best HEPA vacuum bag?
Some of the top-rated HEPA vacuum bags include Kenmore Style O and Oreck Type CC HEPA Upright.
Which vacuum cleaners use HEPA filters?
There are many vacuums that use HEPA filters. It will be indicated in the description of a vacuum that has one. Even some of the best cordless vacuums have HEPA filters.
How much does a HEPA vacuum cost?
There is a range of prices for these vacuums. Generally, you'll pay more for these than you will for vacuums without these filters. An upright HEPA vacuum could cost from $140 to upwards of $1,000.
What is better than a HEPA filter?
An ULPA filter can trap particles that are even smaller than what a HEPA filter can. ULPA filters are more effective and efficient.
Can you vacuum a HEPA filter?
You should vacuum a permanent HEPA filter that is not considered to be washable.
Are Shark vacuums HEPA?
Some Shark vacuums do have HEPA filters, but some do not.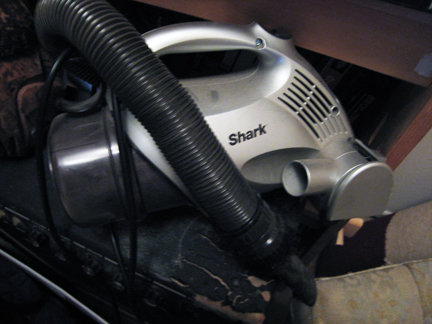 Are bagless vacuums better for allergies?
They can be if they have sealed HEPA filtration systems. However, the emptying process can cause allergens to be released into the air if you do it inside the home. Empty the dust cup in a garage or outside.
What is the strongest vacuum?
The best cordless vacuum for strong suction is the Dyson V10 Animal.
Do HEPA filters remove mold?
HEPA filters in air purifiers can help remove mold particles from the air in your home.
Disclaimer: FamilyHype.com (Family Hype & FamilyHype) is a participant in the Amazon Services LLC Associates Program, an affiliate advertising program designed to provide a means for sites to earn advertising fees by advertising and linking to Amazon.com.
Last Updated on October 11, 2021 by Anna Amad
DISCLAIMER
(IMPORTANT)
: This information (including all text, images, audio, or other formats on FamilyHype.com) is not intended to be a substitute for informed professional advice, diagnosis, endorsement or treatment. You should not take any action or avoid taking action without consulting a qualified professional. Always seek the advice of your physician or other qualified health provider with any questions about medical conditions. Do not disregard professional medical advice or delay seeking advice or treatment because of something you have read here a FamilyHype.com.