You can automate almost all aspects of your home with today's technology. Motorized blinds and shades make it so you can raise and lower your window treatments by pushing a button. What's more is you can control them like you do all the other smart electronics in your home if you choose the best smart blinds.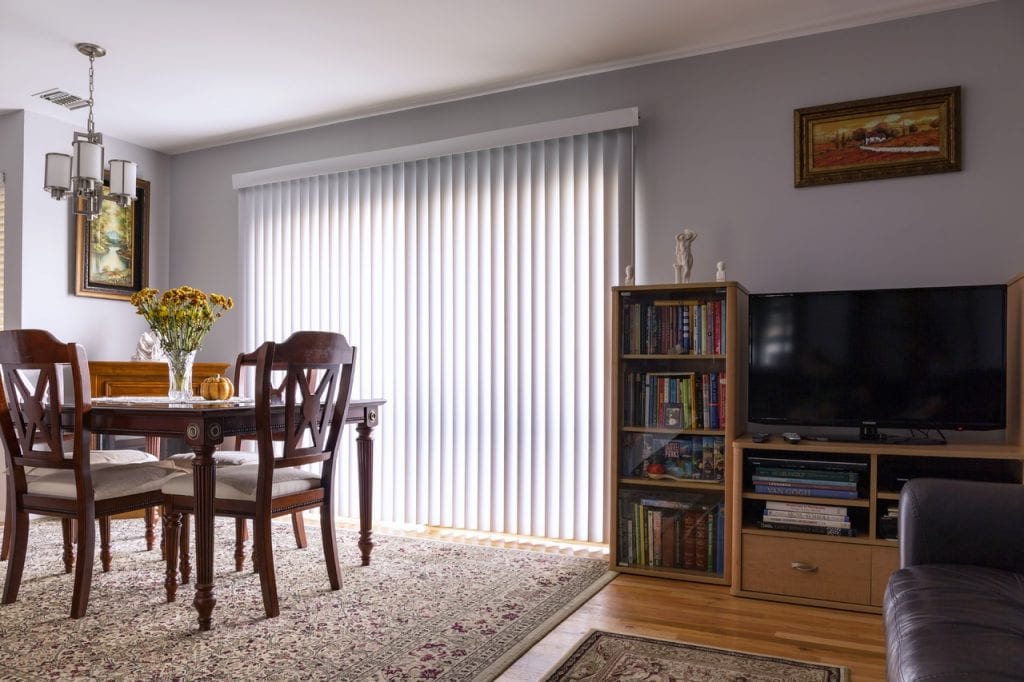 First, choose between motorized blinds and motorized shades. Next, decide what kind of power source you want. Determine how you'd like to control your blinds or shades. After those few choices are made, you can start looking to customize your window treatments through colors, patterns, and opacity. You'll also have your choice of material types and you'll need to set a budget for yourself.
Just below are some examples of motorized blinds and motorized shades you can find on Amazon. Keep reading further for more information about what you should look for in the best motorized blinds. 
Best Motorized Blinds Options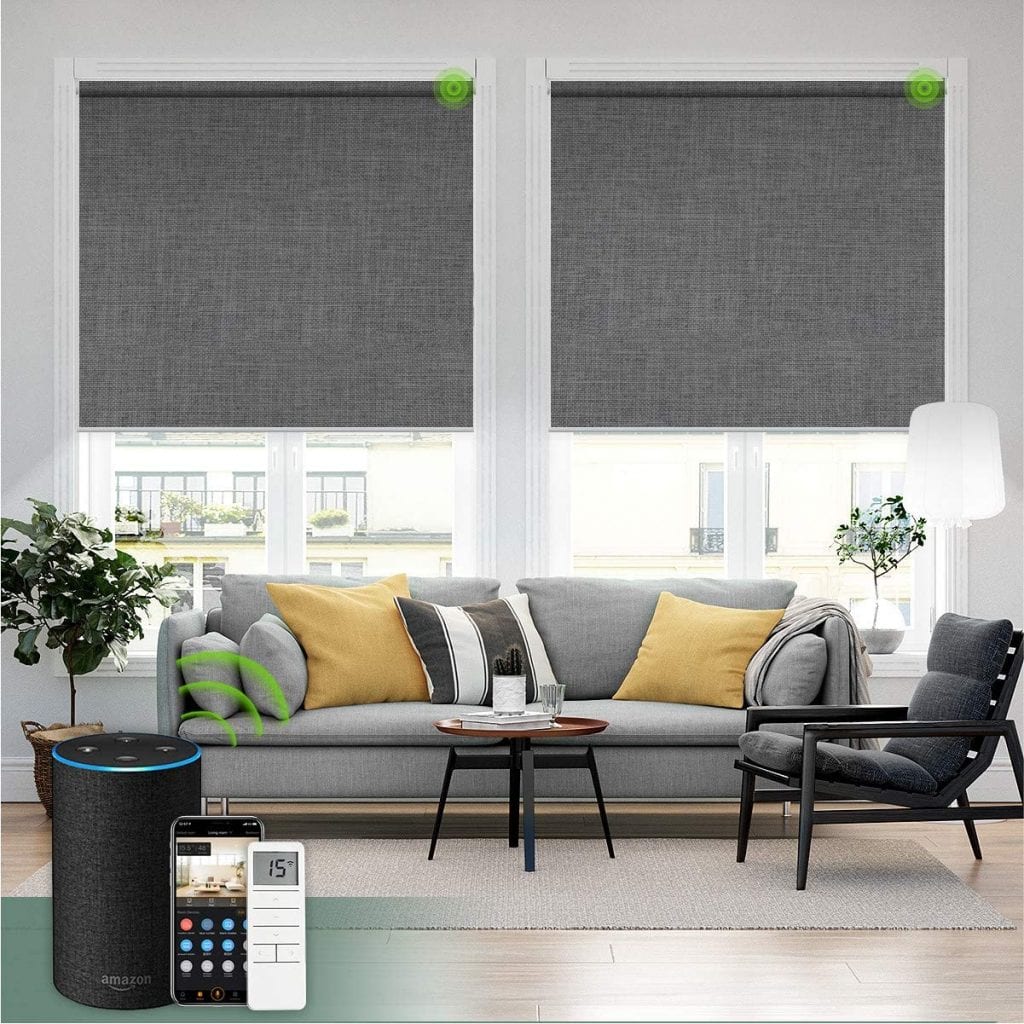 This option comes in a dark grey fabric. It's a smart roller shade that can be controlled with Alexa. You can also set them to go up or down at certain times through the app. The shade material is black-out style, so it keeps light out when you don't want it coming in. The blinds are solar powered making them environmentally friendly. The fabric is textured on both sides and has three layers. Yoolax makes these shades customized just for your order, so you can have them cut to fit any size window.
Pros:
Fabric is triple-layered polyester and durable
Easy to install
No frequent charging
App allows for set it and forget it use
Affordable price
Cons:
Motor is a little loud
Programming remote is tricky
Instructions aren't clear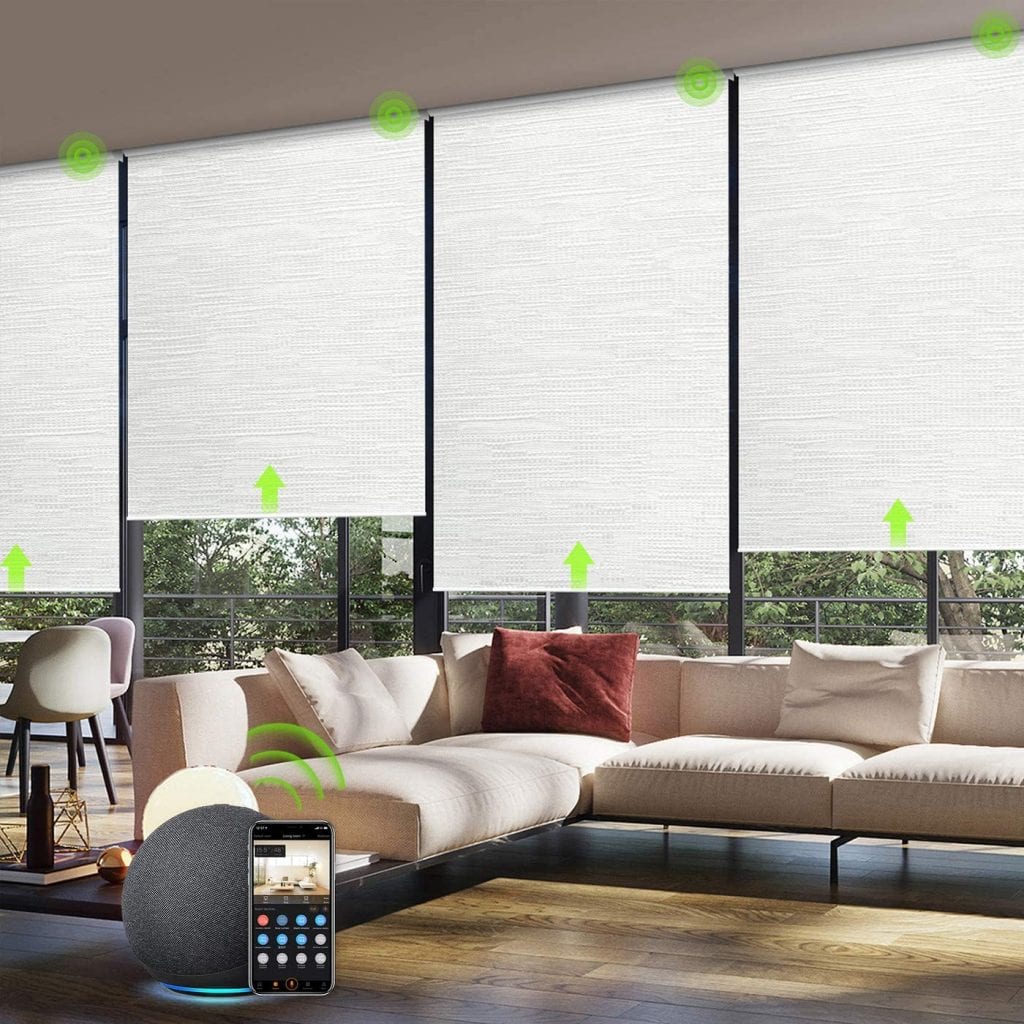 This is another option from Yoolax. These are also blackout roller shades that can be controlled with Alexa. The fabric is jacquard white, and they come with a valance. The power source is a rechargeable battery. There is a reinforced thermal insulated coating on the back of the shades to help with keeping the room warmer or cooler. These shades also provide protection from UV rays. 
Pros:
4 color options
Made-to-order customization
Smart motor that can be controlled through an app
Remote is multi-channel for controlling more than one shade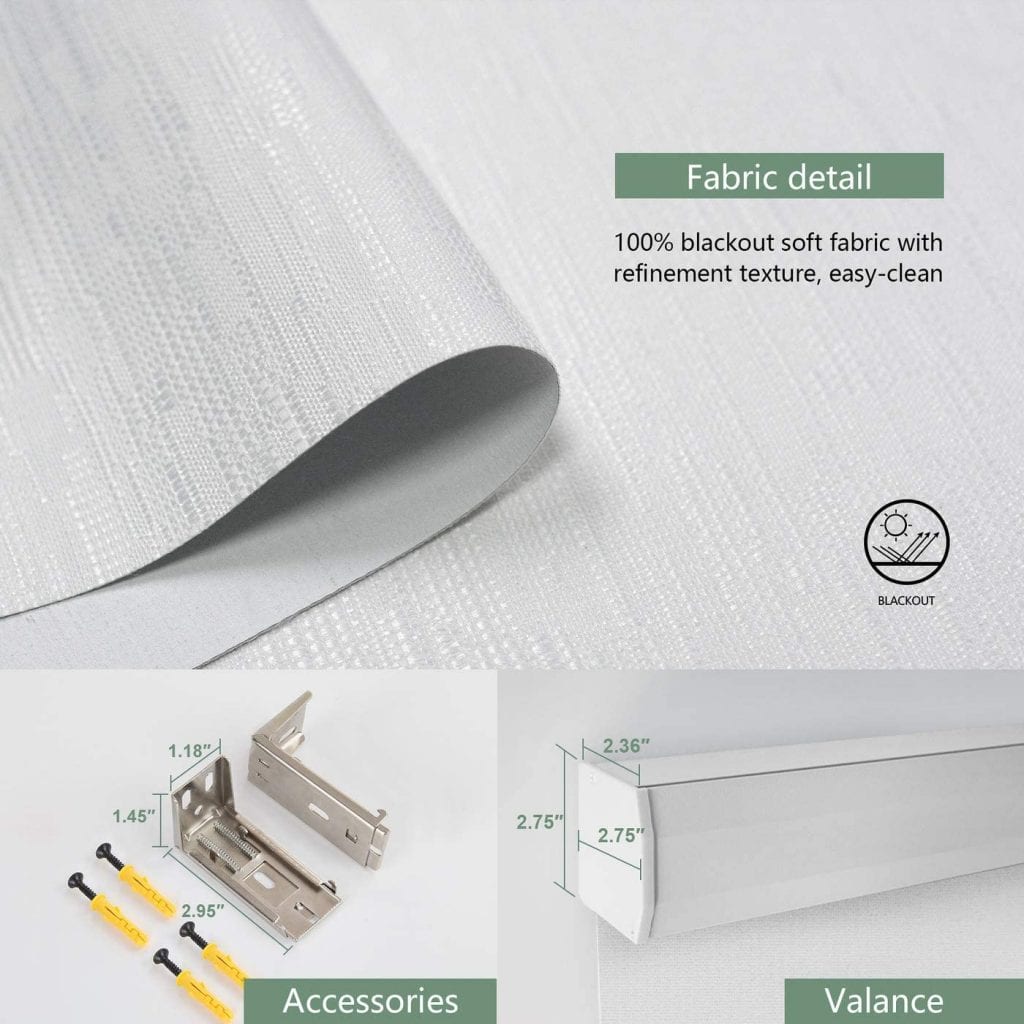 Cons:
Motor is loud
Heavy
Remote does not come with a battery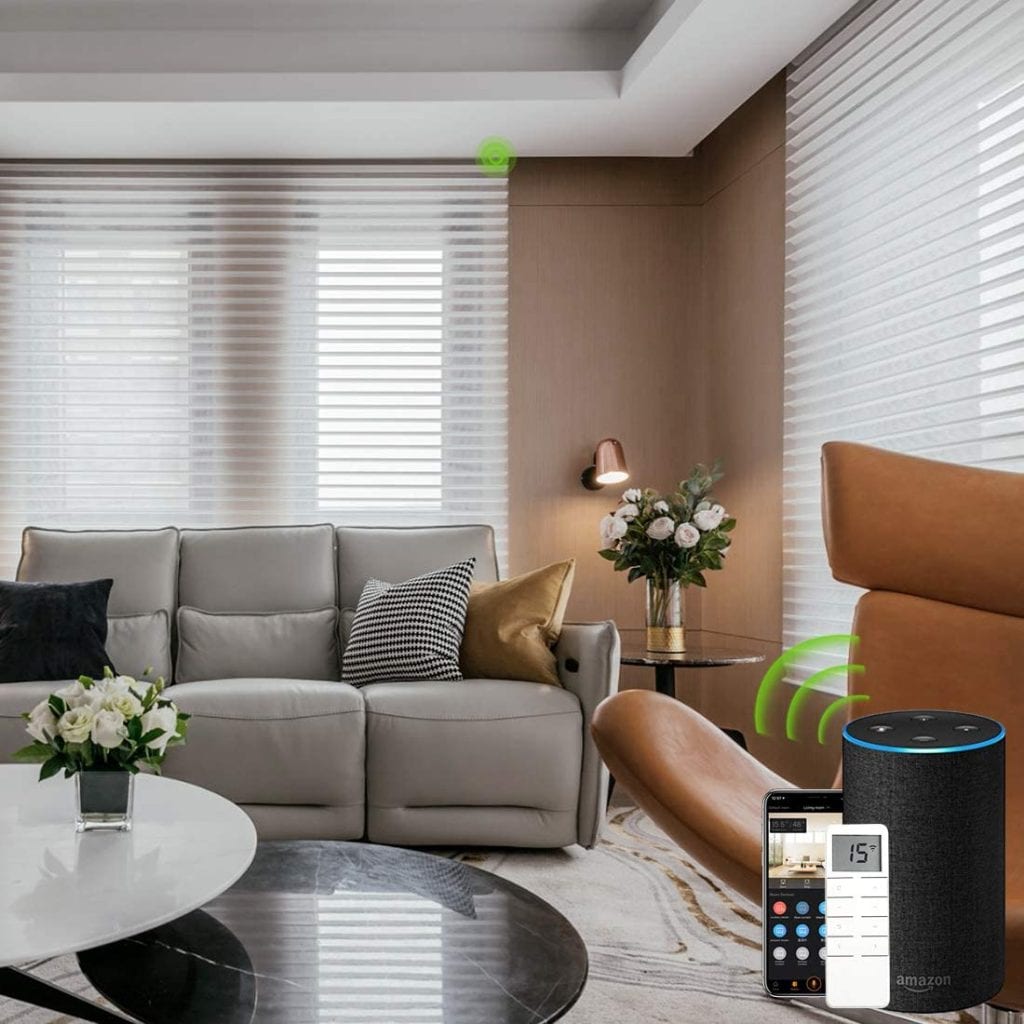 These look more like a cross between motorized blinds and motorized shades. They still block out around 85% of light when you want them to. These are some of the best smart blinds for those who want a lot of privacy but would like some light to make it through. As with the other Yoolax options, you can have these customized to fit any of your windows. They're powered by a rechargeable battery and come with a 15-channel remote.
Pros:
Set a schedule for your smart motorized blinds through an app
Aesthetically pleasing
Affordable
Easy to install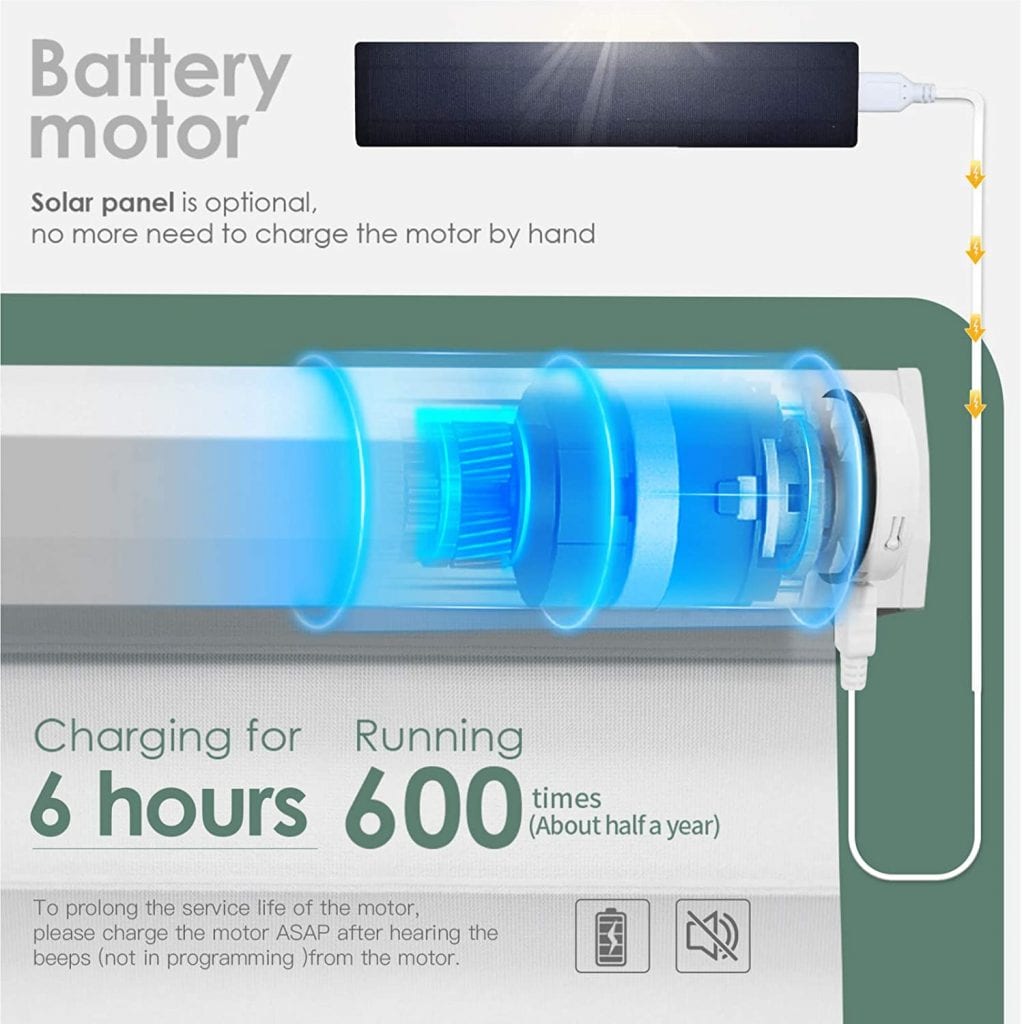 Cons:
Remote is tricky to pair
Angle can't be adjusted when half down
App on iPhone isn't very reliable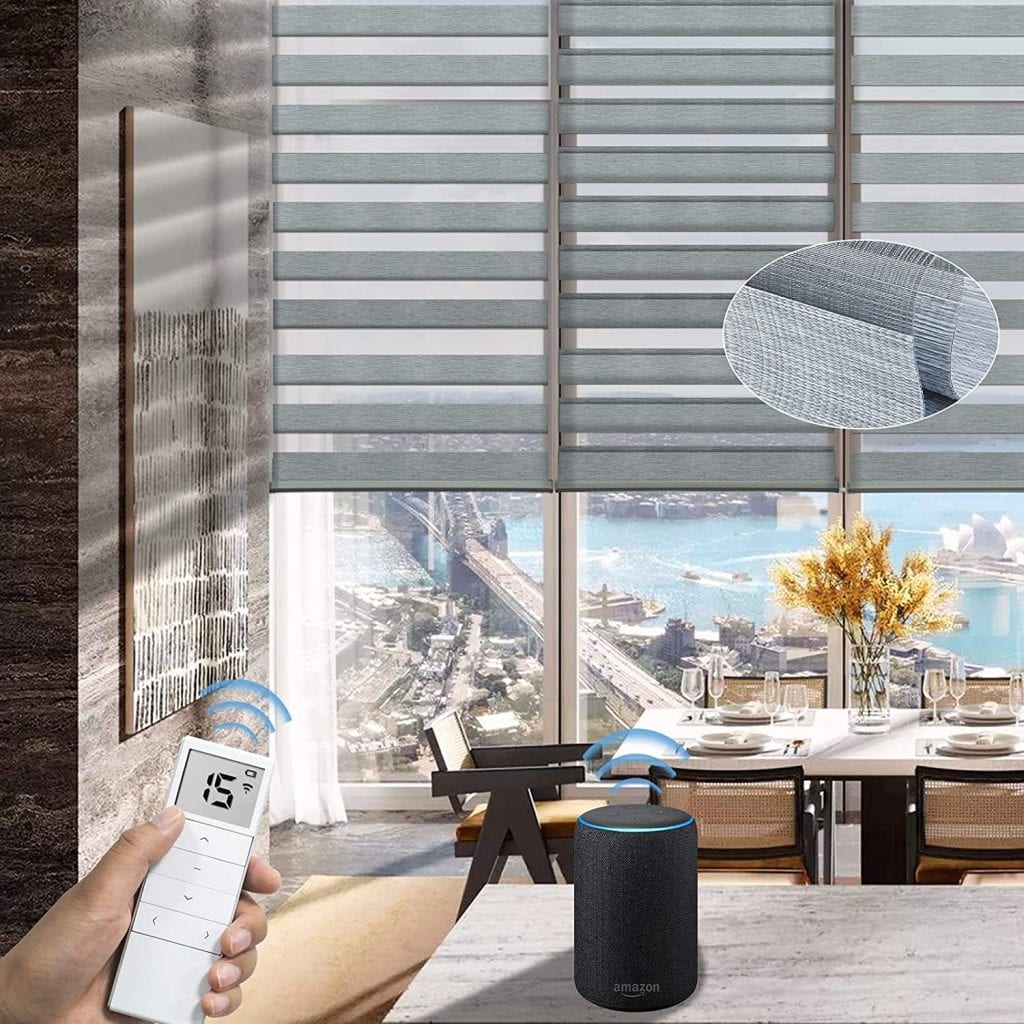 This option from Graywind runs around the same in terms of price. They're zebra blinds which means you can roll them up and down, but also tilt the front and back layer one way or the other to allow light in as with blinds. These can block out up to 80% of the outside light. The power source is a rechargeable lithium battery. There is a 15-channel remote included with the blinds. These can be controlled with Alexa and Google Assistant. They're made-to-order so you can order for any window.
Pros:
Works as a roller shade and as blinds
Control your shades remotely through the app
Compatible with a solar panel
Affordable price
Customized fit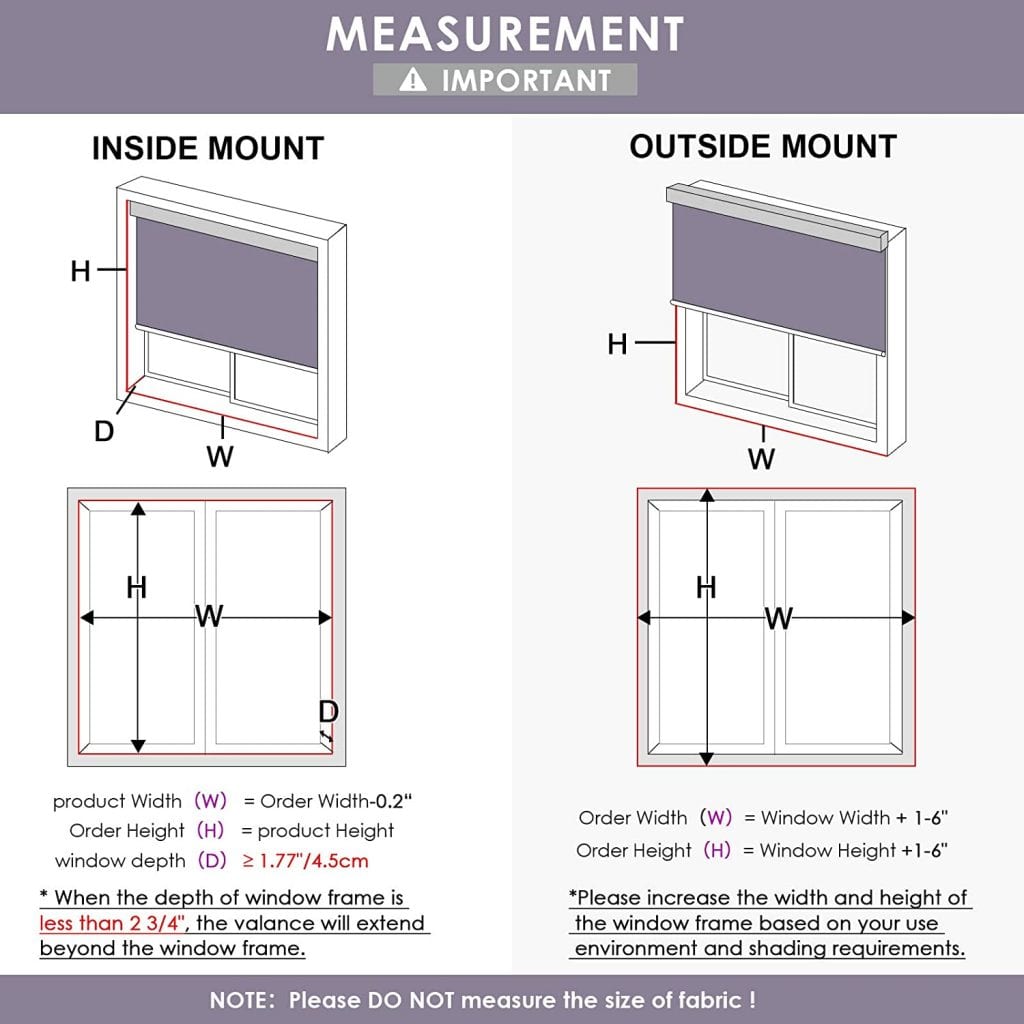 Cons:
Roller speeds aren't always the same
Installation tricky for some
Remote is finicky sometimes
Motorized Blinds Vs. Motorized Shades
There are two varieties of motorized window treatments. You'll choose from the type with a motorized lift or the type with a motorized tilt. Essentially, shades lift and motorized blinds tilt.
Motorized shades can usually be set to roll up to different positions so you can schedule them accordingly for times of day when the sun sits lower or higher. Motorized shades are ideal for common living spaces and high-set windows.
Motorized blinds have slats that you can tilt to allow in as much light as you prefer. They're nice for bedrooms, bathrooms, and street-facing windows. Most of them can be rolled up, as well. 
You also have the option of choosing a combination of the two. As was mentioned above, there are shades that have layers on either side that can be tilted to open the blinds in between them. These can give you a little more privacy while still allowing some light in.
How Are Motorized Blinds Powered?
You'll have your choice of power sources with motorized window treatments, too. There are three power sources which are quite common with these.
Rechargeable battery – You'll get your blinds out before installation and fully charge the battery within the motor. Many of the batteries are lithium so they hold a charge for quite some time. You won't have to worry about charging the battery again for several months.
Solar power – Many motorized window treatment manufacturers also make solar panels that can be purchased to keep your shades powered up. You won't have to worry about charging the battery and it's more eco-friendly.
Electricity – You can install motorized blinds that are powered by plugging them into a wall outlet. This may not be the most convenient option, nor the least expensive. However, if it works best for your household, go with electric blinds.
Ways To Control Your Motorized Blinds
You have a few options for controlling your motorized blinds. One is simply by putting them on a programmable timer so they open and close at pre-programmed times. Once you set the schedule, you won't have to do anything more to open or close the blinds. You can change the schedule accordingly if needed.
You can also have the motorized blinds set to a light switch. You'll be able to open the blinds or close the blinds with a flip of the light switch. It's easy but may not provide the convenience you want. 
You'll get more convenience by using a remote to control your motorized blinds. You can get one with anywhere from 1-16 channels. You can also choose the best smart blinds and control them remotely with an app on your phone. You can control the best smart blinds from outside your home this way.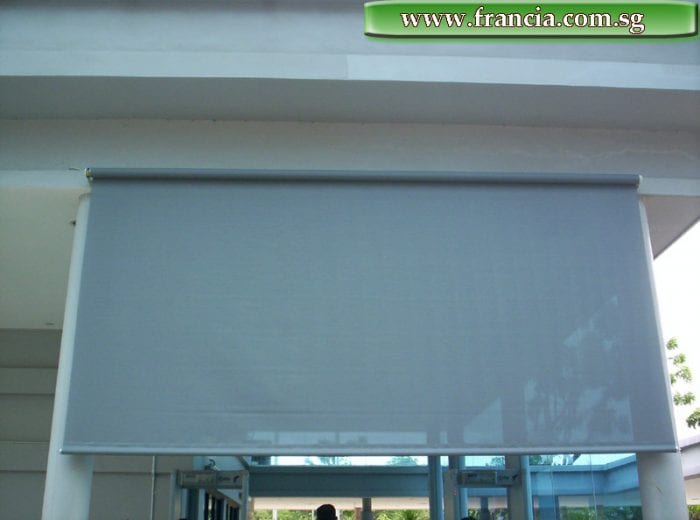 Customize Your Blinds
There are many more options of motorized blinds and shades than there used to be. You'll have your choice of colors and textures. You can choose from different fabrics. You can even choose shades made of UV blocking materials or coated with a layer of UV protection.
Another way to customize your blinds and shades is with your choice of opacity. There are a few different levels of opacity regarding window treatments. 
Blackout – Many people like to have blackout window treatments in their bedrooms to they can block out all light that could wake them up. Blackout shades provide complete privacy and block out all sunlight when they're closed.
Translucent – This level allows some light to come in while not allowing anyone to see in. You will be able to see through them to outside, though. You get privacy but still get light. The other great feature of these is the UV protection they offer.
Transparent – You'll be able to see through these shades and you'll get more light through them than the other options allow for. They help to decrease solar heat that can make your home feel hot and give you solar protection.
How Much Do Motorized Blinds Cost?
The final piece of this is the cost. You should have a price in mind that you don't want to go over before you start shopping for your motorized blinds. If you're planning to choose the best smart blinds, make sure you set your budget high enough to cover them. The best smart blinds will cost more than basic, battery-powered blinds that are set to open or close with a light switch. 
The installation of your motorized blinds will cost you a lot if you hire contractors to do it. Choose blinds that are easy to install and do it yourself to help save a chunk of money.
There is a wide range of prices for motorized blinds. You could be looking at anywhere from a couple hundred dollars up into the thousands. If you take your time and do some comparison shopping, you should be able to find the ideal motorized blinds options right for your home.
Conclusion
Whether you're looking for the best smart blinds or the best basic motorized blinds, there are several factors you'll want to consider. First, decide between blinds and shades. Figure out what power source makes the most sense for your situation. Choose the method of control you like best. Then make selections for how you want the window treatments to look. Fit everything you want into the budget you set for this project and make your choice feeling good about the research you did to get there.
FAQs:
What are the best motorized blinds?
Some that have high marks with reviewers and techies are the Serena by Lutron Smart Wood Blinds. 
Are motorized blinds worth it?
If you have some extra cash to spend for motorized blinds, then do it. They are worth it because of the convenience factor they provide you with. They also add that special something to your home that may be a little impressive.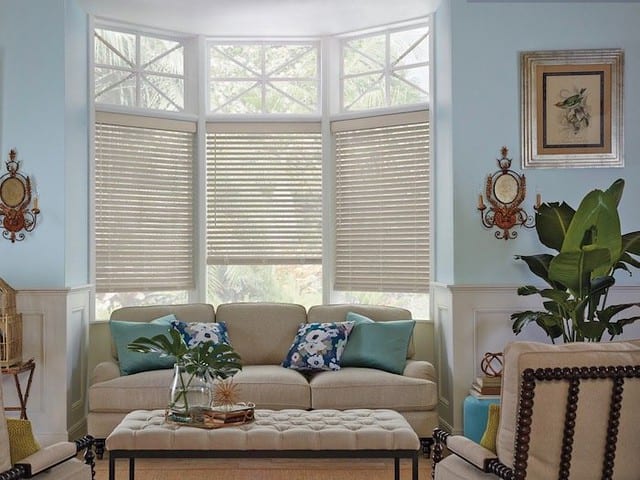 How long do motorized blinds last?
The average lifespan of motorized blinds is about 5 years.
Do motorized blinds use batteries?
Some varieties do use batteries. They're usually rechargeable.
Why are smart blinds so expensive?
The best smart blinds cost more than other window treatment options because of the technology that goes into them. Customers expect reliable motors in the best smart blinds, which takes money and research to provide. Most customers who've purchased the best smart blinds feel they were expensive but worth it.
Are remote control blinds expensive?
Basic motorized blinds that come with a remote control but don't have smart technology built into them are often quite budget-friendly. They'll still be more expensive than traditional blinds but are affordable and can be installed by the homeowner so you can save money there, too.
Can existing blinds be motorized?
Most existing blinds can be motorized by professionals.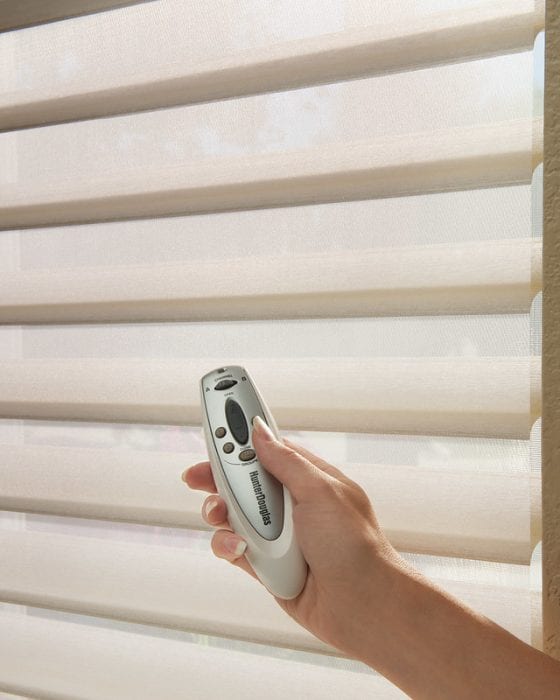 Do Hillarys do electric blinds?
You can find electric blinds with Hillarys.
How do I change the battery in my motorized blinds?
You must turn off the power first. Look for the tube that encases the batteries. There will be a slot to remove. Take the old batteries out and insert new ones.
Disclaimer: FamilyHype.com (Family Hype & FamilyHype) is a participant in the Amazon Services LLC Associates Program, an affiliate advertising program designed to provide a means for sites to earn advertising fees by advertising and linking to Amazon.com.
Last Updated on May 26, 2021 by Marie Miguel
DISCLAIMER
(IMPORTANT)
: This information (including all text, images, audio, or other formats on FamilyHype.com) is not intended to be a substitute for informed professional advice, diagnosis, endorsement or treatment. You should not take any action or avoid taking action without consulting a qualified professional. Always seek the advice of your physician or other qualified health provider with any questions about medical conditions. Do not disregard professional medical advice or delay seeking advice or treatment because of something you have read here a FamilyHype.com.