Mowing the lawn makes the grass healthier and look better. But not all lawns need the same kind of reel mowers. If you have a lot of property with grass, you probably need a ride-on lawn mower. For small lawns, reel mowers are the most suitable option. Reel lawn mowers are economical and good for the environment, too.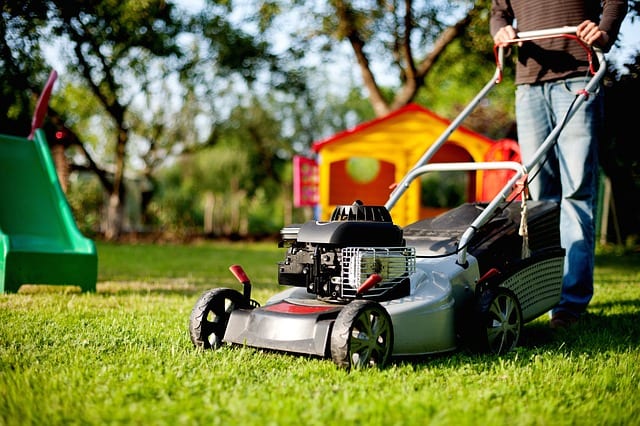 Most reel mowers are manually operated; however, you can choose a powered option if you like. Choose the best reel mower by starting with the blades. You can choose from four to seven blades access that are or aren't covered in nonstick coating. Select a reel mower with the mowing height and swath width you need. Also, look for the extra features you'd like, such as a grass catcher, extra rollers, and comfortable handles.
Reel Mower
Options
There's a level of nostalgia that comes along with a reel mower. They are great options for people with small yards who'd prefer something that needs little storage space, no fuel, is quiet, and mows grass more efficiently. Keep reading to find out more about how to choose the best reel mowers and see some available options.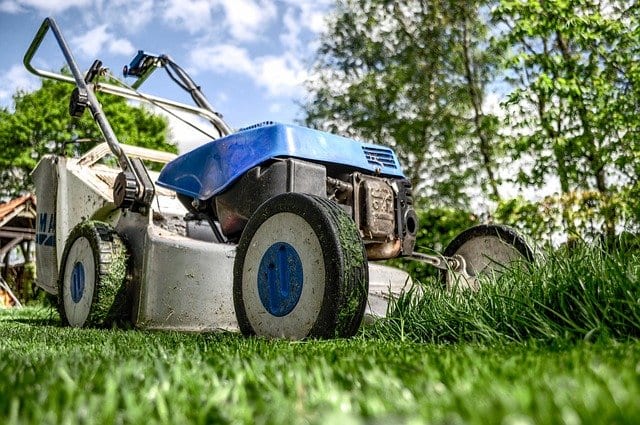 Reel Mowers
Manual vs. Powered
Manual reel mowers are the traditional versions you may remember from childhood. They are powered entirely by the user. There's no need for gas, no cord to work around, and no noisy motor.
The problem with manual reel mowers is they can't cut down grass that's overgrown, even the slightest bit. They're also unable to mow grass that's too thick. Don't choose a manual one unless you intend to mow frequently.
Powered reel mowers run using gas or a battery. They're better at mowing through thicker and taller grass. They also come in self-propelled options. Gas-powered reel mowers are noisy just like traditional mowers. You can get an electric one if you want power with less noise.
The Importance Of Blades
More blades are better for denser grass. Typically, you'll choose between four to seven blades. The average reel mower has five blades. The more blades you have, the cleaner the cut will be, though.
It helps if they have the nonstick coating, so you don't have to put a lot of effort into cleaning off the blades while you're mowing. It keeps grass from clumping up all over the blades.
Cutting Height And Swath Width
The mowing height is not always adjustable on reel mower. Some are set to a standard of 1.5 to 2 inches. That's fine if you have grasses that don't grow tall. Certain varieties grow taller than others.
Grasses like fescue are known for growing taller quicker. You'll need to get a reel mower with an adjustable mowing height if you have taller varieties of grass.
You'll also need to consider your grass type for choosing the swath width of a reel mower. The swath width is the width of the cutting path. It's what determines how many passes you must make to mow the entire lawn.
Swath width on reel mowers is usually between 14 and 20 inches. Denser grass is harder to push a reel mower through. Choose a smaller swath width for grasses, such as Bermuda and zoysia. Grasses like fescue and Kentucky bluegrass are easy to cut, so a wider swath is ideal.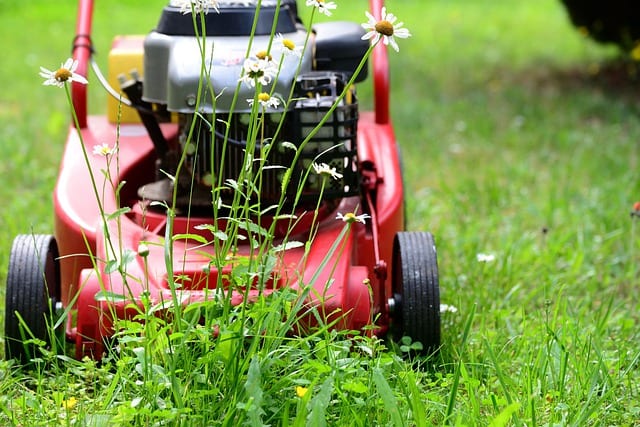 Reel Mowers
Extra Features
Reel mowers are basic in their designs. You can still choose from some nice extra features, though.
A grass catcher is a good option to help things look tidier. It works just like the ones on reel lawn mower. It's attached to the back of the mower and catches grass as it's kicked up. You then empty the clippings into a garbage can.
A reel lawn mower has two wheels at the front or sides of the blade housing. You can opt for a design with additional wheels at the back or more in another position that will help the reel lawn mower roll more easily. You'll get better stability and maneuverability.
You can also opt for upgraded handles. Some are padded for better comfort. They help with better grip and reduce the risk of blisters.
Great States 415-16 16-Inch 5-Blade Push Reel Lawn Mower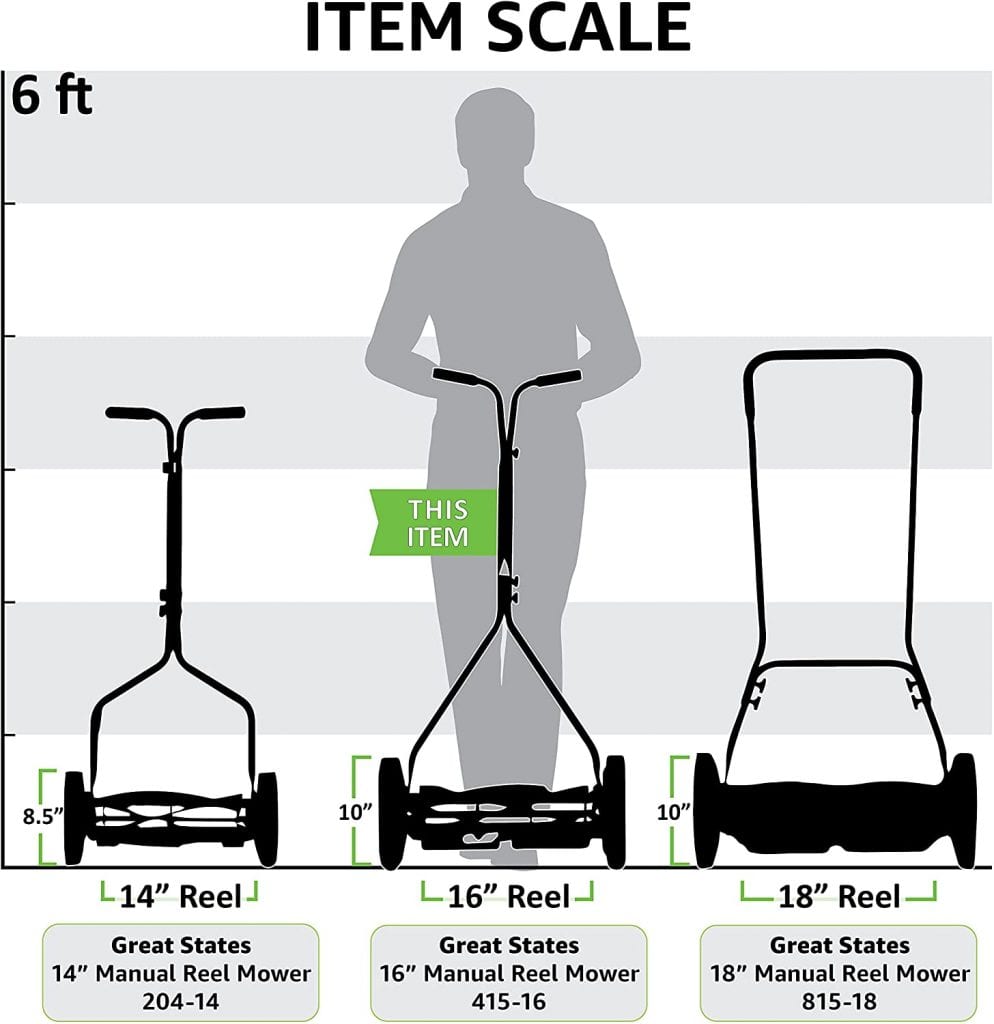 This reel lawn mower has five blades and is completely manual. It has a 16-inch swath width with 10-inch wheels, so it's easy to maneuver through most types of grass. The mower has a t-grip handlebar with pads for comfort. The blades are made of alloy steel. They're heat-treated so they stay sharp for longer.
Pros:
Affordably priced
Lightweight
Easy to maneuver
Leaves lawn looking beautiful
Doesn't throw grass up into the air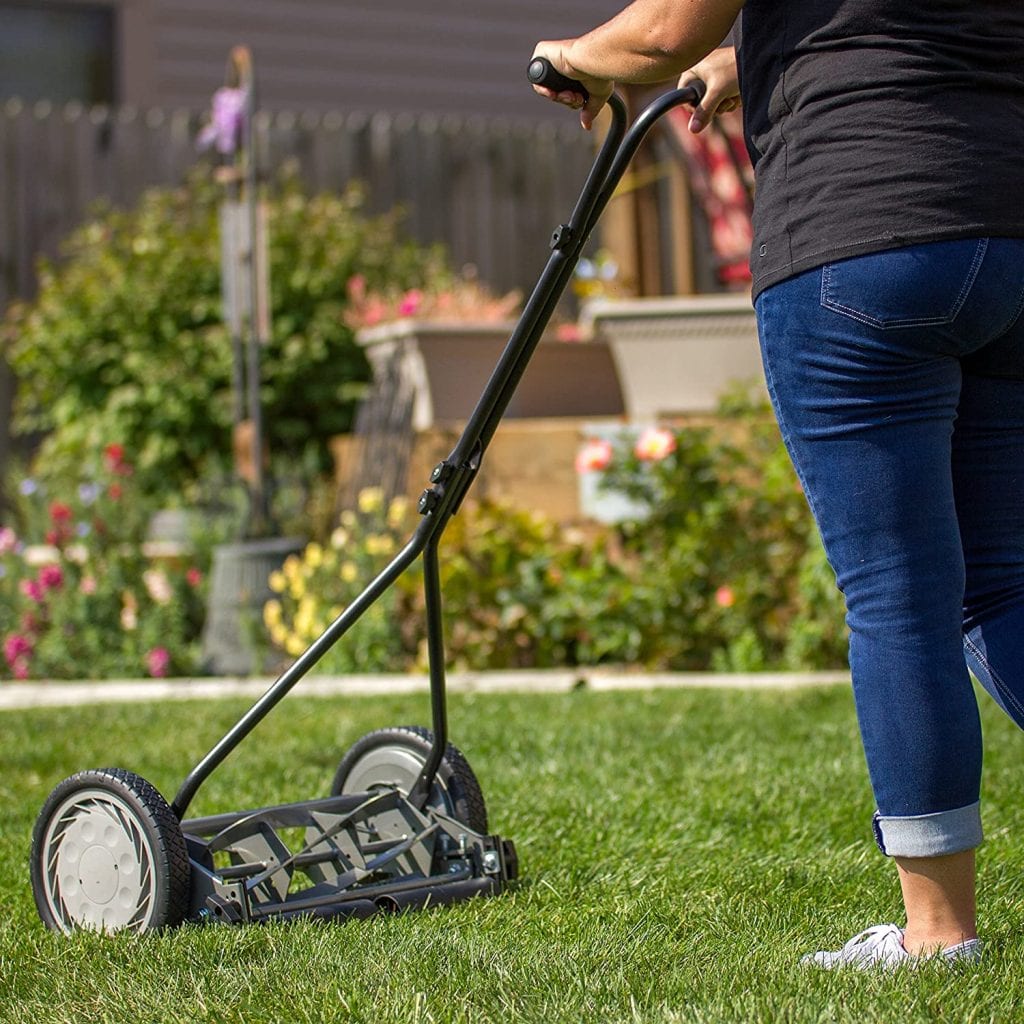 Cons:
Does not cut tall grass or weeds
Requires a lot of push down from user because it's so light
There is a learning curve
Cuts only forward
American Lawn Mower Company 1304-14 14-Inch 5-Blade Push Reel Lawn Mower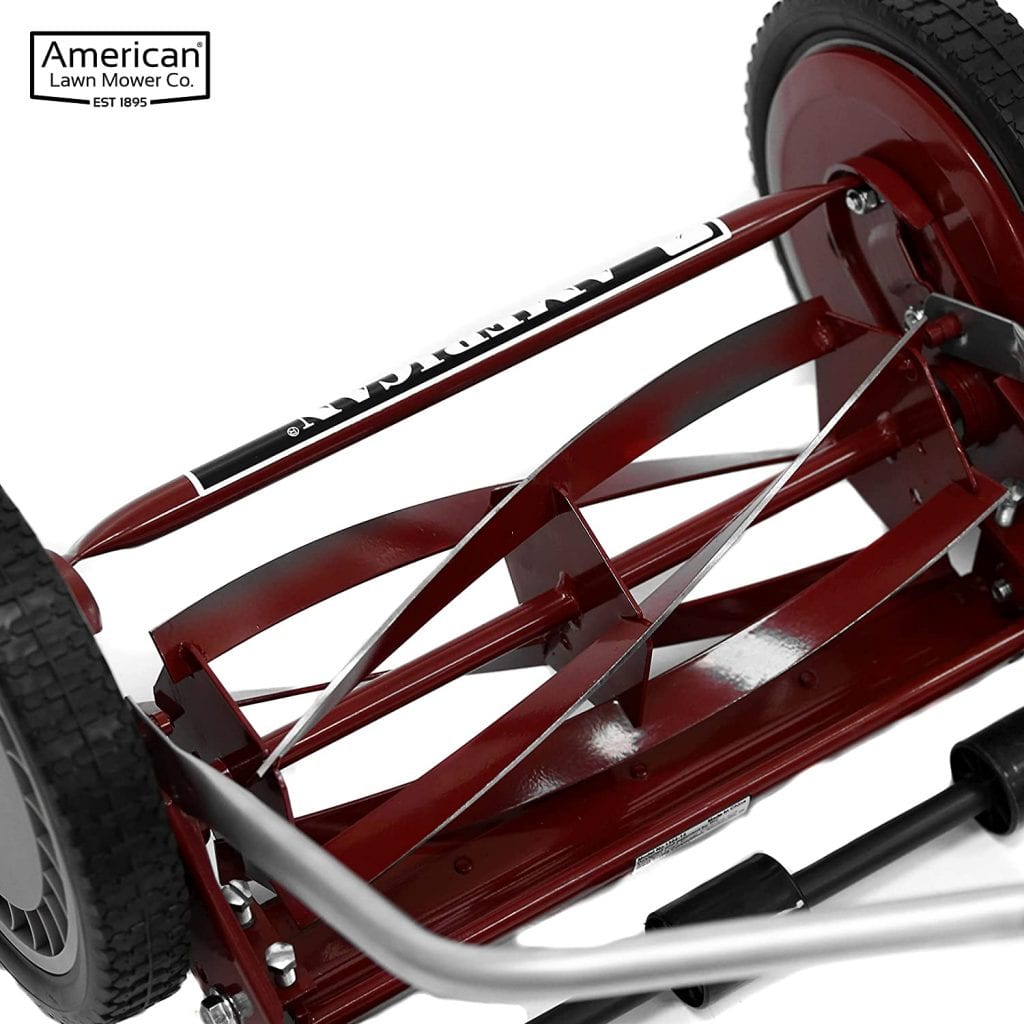 This reel Lawn Mower is manually powered with 5 blades for cutting grass that's up to 4 inches tall. It has a 14-inch swath width with 8.5-inch wheels positioned at each end. The blades are made of alloy steel with heat treatment, so they stay sharp. The blade height is adjustable between 1 and 1.75 inches.
Pros:
Budget-friendly
Lightweight and easy to use
Padded handle grips
Cuts grass beautifully
No gas or loud motor necessary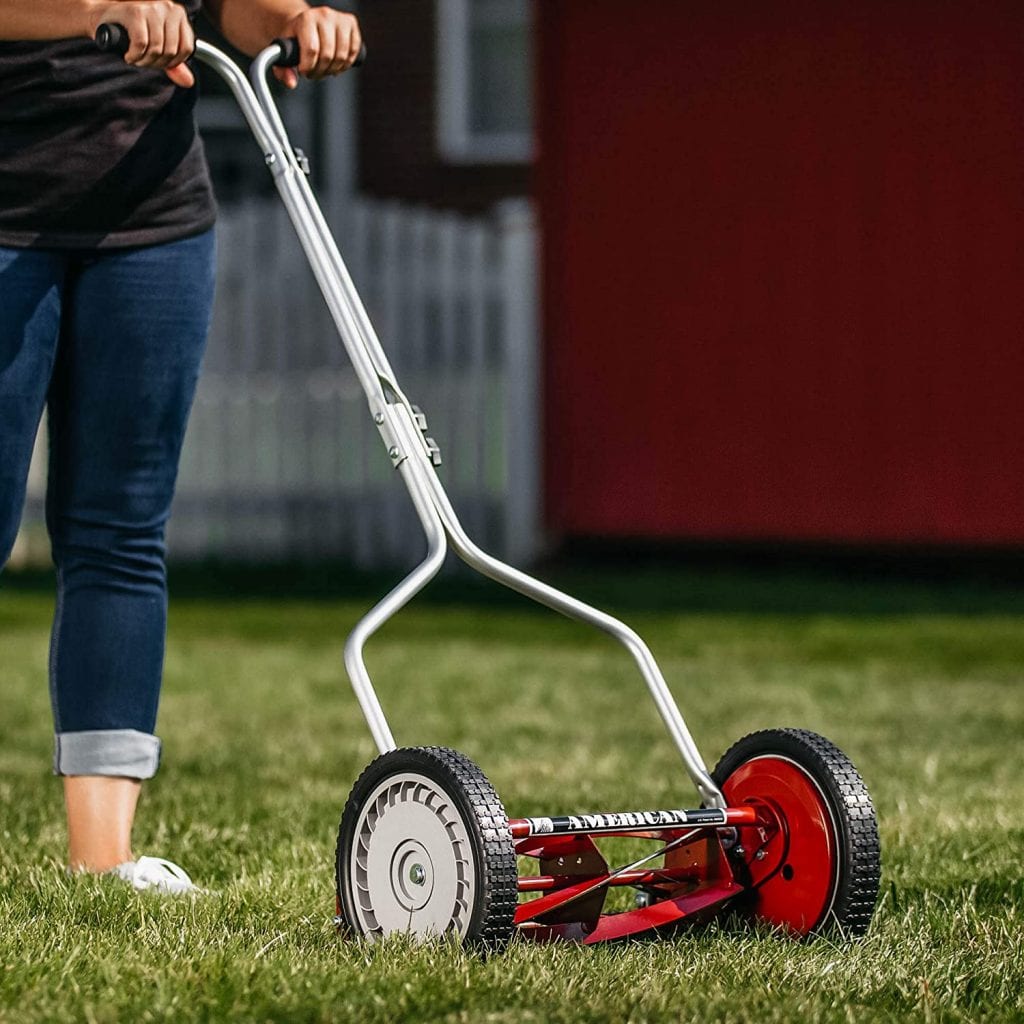 Cons:
Sticks stop the blades
Won't cut crabgrass
Handles bend under a lot of pressure
Heavy
Great States 304-14 14-Inch 5-Blade Push Reel Lawn Mower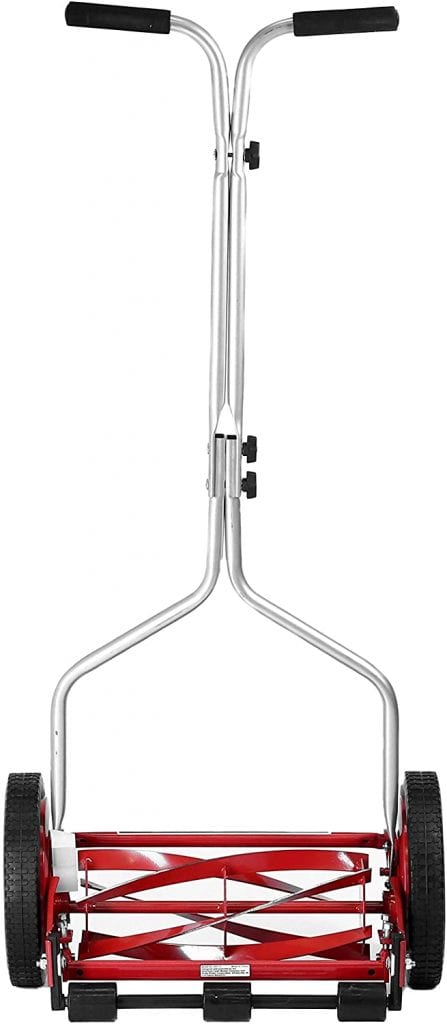 This reel lawn mower has 8.5-inch rubber tires that roll easily over the ground. The 5 blades are made of alloy steel treated with heat to stay sharp. No tools are needed to assemble the mower. It's easy to put it together, as well as use it. It has a t-style handlebar with padded grips. The cutting height is adjustable from .5 to 1.75 inches.
Pros:
Easy to maneuver
Cuts grass precisely
Adjustable cut height
No tools for assembly
Enamel coating prevents rust

Cons:
Heavy
Handle grips slide sometimes
Won't cut anything long
American Lawn Mower Company 1204-14 14-Inch 4-Blade Push Reel Lawn Mower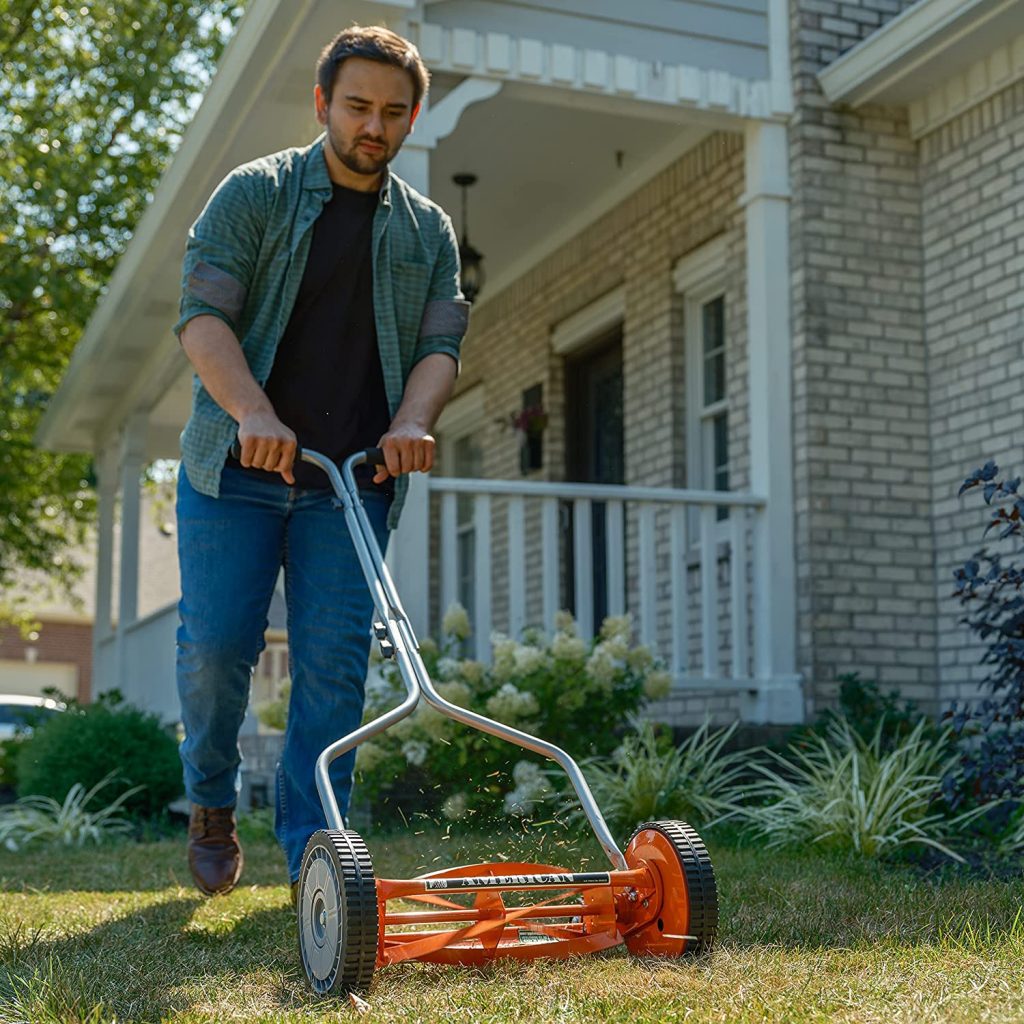 This reel lawn mower by American Lawn Mower Company is the most expensive mower on our list. It has a sturdy 4-blade reel that stays sharp for 3-5 years. It has an 14-inch width with  8.5-inch polymer wheels. The cutting height is adjustable between 0.5-1.75 inches. This one has a T handle. It is easy to maneuver through thicker grass with a wide grip.
Pros:
Wide swath for less paths
Adjustable cutting height
Produces a good close cut
Very quiet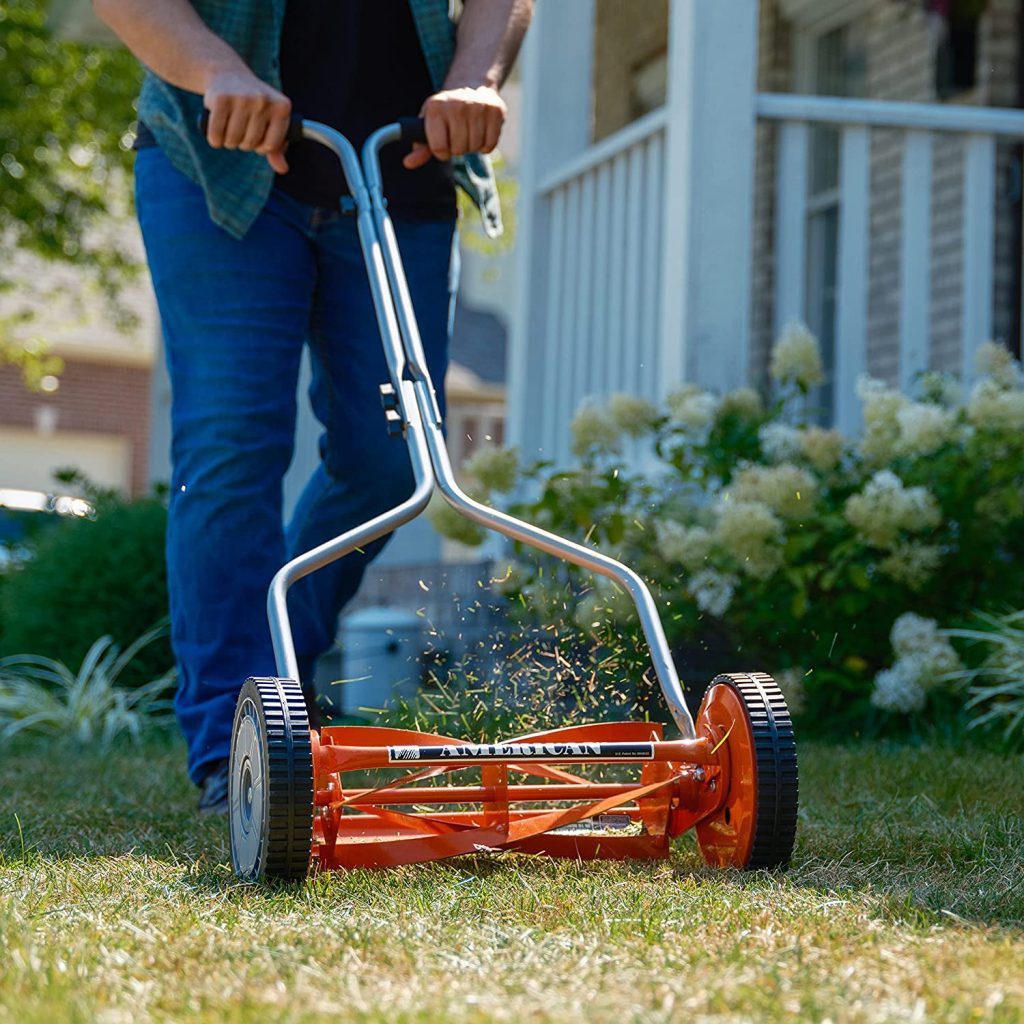 Cons:
Assembly instructions aren't the best
Heavy
Can't cut crabgrass or any tall weeds
Remember, when you're looking for the best reel lawn mower, you need to look specifically for your needs. The best one for you may not be the best one for your neighbor. Match your choice to your needs.
Wrap Up
A reel lawn mower is good for you and the planet in several ways. It requires a little more effort on your part, but it's good exercise. There's no fuel needed if you go with a manual model. You'll save money and you won't have to smell those awful gas fumes or fight with a cord. Choose one with the right number of blades, the best cutting height, and the right swath width for your lawn. Then, look for those bonus features you'd like, and you'll be on your way to having a beautifully manicured lawn in no time.
Reel Mowers
FAQs:
What is the best reel mower to buy?
Great States makes some of the best reel mowers on the market. They're made of high-quality materials, priced affordably, and have several size options.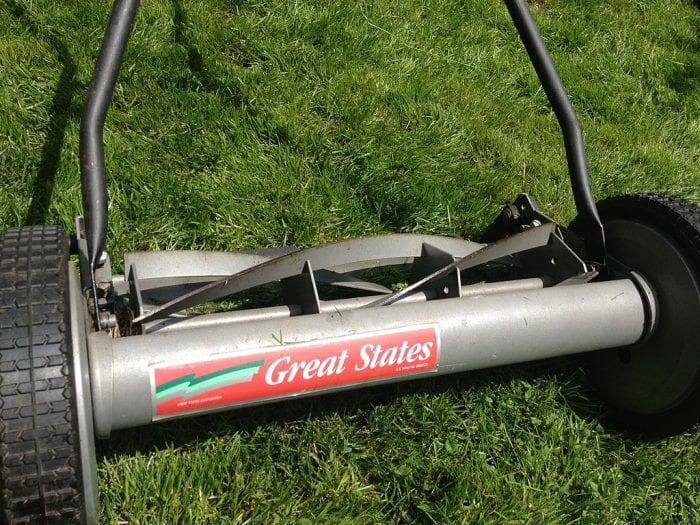 Do lawn mowers cut better?
The best reel mowers cut better than other types of mowers because they leave the grass with a clean scissor-like cut rather than torn grass. Keep the blades sharp and well-maintained to keep getting that nice, clean cut.
Which brand of is the best?
Great States is one of the best reel mower brands. Others worth mentioning include Scotts Outdoor Power Tools, Fiskars StaySharp Max, and American Lawn Mower Company.
Are lawn mowers dangerous?
Reel mowers are the safest of all reel mowers. 75,000 Americans suffer injuries from reel mowing each year. The majority of those involve powered mowers.
How often should you trim with a lawn reel mower?
Even the best reel mowers aren't good at getting through tall, thick grass. You'll want to mow a few times a week during heavy growth seasons. Then, you can probably cut it back to twice a week.
Can you mow wet grass?
You can mow wet grass with a reel mower, but it will be tough. It takes longer and requires more effort.
Why are reel mowers better?
Reel mowers are better for the environment. They're eco-friendly, quiet, and save money. They also cut the grass more efficiently causing less damage to grass blades.
Is it hard to push a mowers?
It can be difficult. Reel mowers don't go through thick or tall grass easily. They also get stuck on any sticks or other hard objects in the lawn.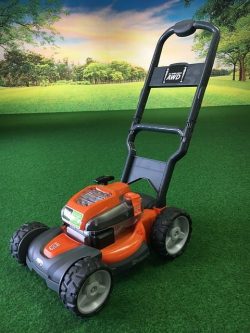 How do you sharpen an old reel mower?
You should buy a blade sharpening kit. You'll put a sharpening compound on the blades. Then take the wheel off. With the wheel off, you'll attach a hand crank to the exposed shaft. Turn the crank in a counterclockwise direction. Keep turning for about 10 minutes.
What are the top 5 riding lawn groomer?
Cub Cadet XT1 LT 42"
Troy-Bilt Pony 42"
Cub Cadet ZT1 50"
John Deer E180 54"
Ryobi 38-Inch Battery Electric Rear Engine Riding Reel Lawn Mower
What is the benefit of using a reel mower?
Why did people stop using reel mowers?
What are the pros and cons of a reel mower?
What's the difference between a reel mower and a lawn mower?
Do reel mowers cut good?
Last Updated on April 13, 2023 by Jeanne Meets
DISCLAIMER
(IMPORTANT)
: This information (including all text, images, audio, or other formats on FamilyHype.com) is not intended to be a substitute for informed professional advice, diagnosis, endorsement or treatment. You should not take any action or avoid taking action without consulting a qualified professional. Always seek the advice of your physician or other qualified health provider with any questions about medical conditions. Do not disregard professional medical advice or delay seeking advice or treatment because of something you have read here a FamilyHype.com.