Isn't it nice snuggling up under a comfy, warm duvet? It's one of life's little pleasures. But some items aren't the quality you want and won't provide you with that same snuggly feeling. Thus, you need to know how to find the best down comforters. So, we're going to tell you! Finding the best duvet must start with choosing inserts. Do you want a goose-down type, a duck-down, or a much better alternative? Next, decide how warm you want it to be. You'll look at the fill power to help you decide on warmth, as well as the fill weight. Other considerations include shell material, stitching, weave, thread count, size, and maintenance.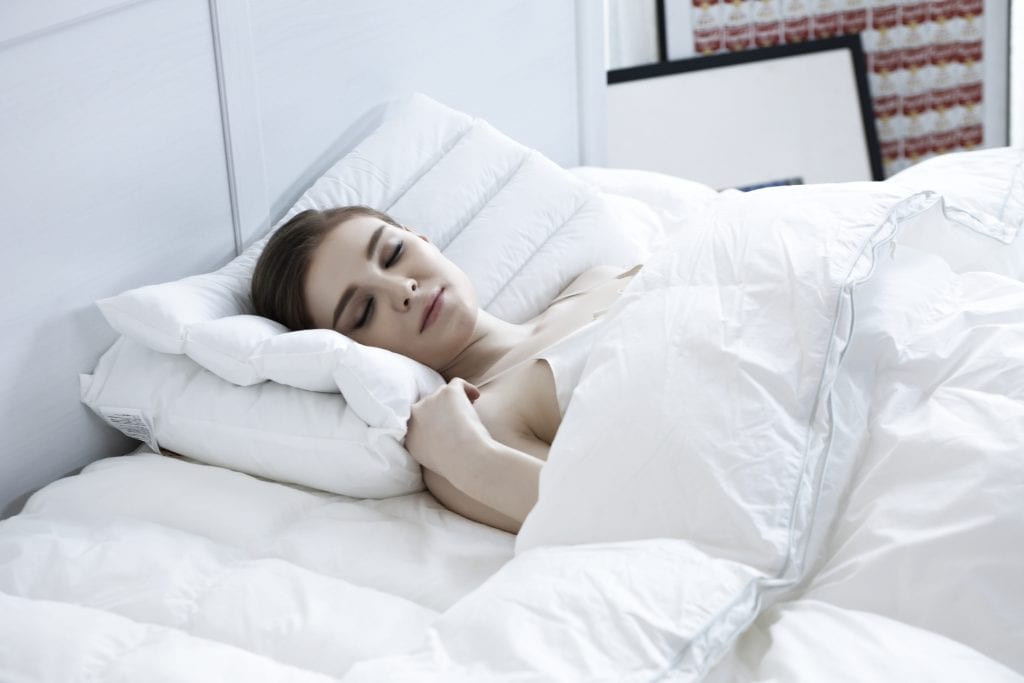 That's a lot to look for. Don't worry, though, we're starting with a deeper dive into the important features of down comforters. Then, we'll look at a few on Amazon. So, keep reading to discover more about how to find the best down comforter for you.
Which Is Better, Duck Or Goose Down Comforters?
Generally, goose down is of higher value than duck down. A goose down comforter usually costs more because of this. Goose down insulates a little better than duck down. But the truth is, both types are used in high-quality products.
If you have a preference of one over the other, choose what you like best. If you don't, though, then pick the best comforter based on other features.
Your other option is to go with a down alternative comforter. Some people don't like real feathers. They prefer alternative materials that don't come from animals. Down alternative is usually made of polyester. It's produced in such a way as to feel like natural down.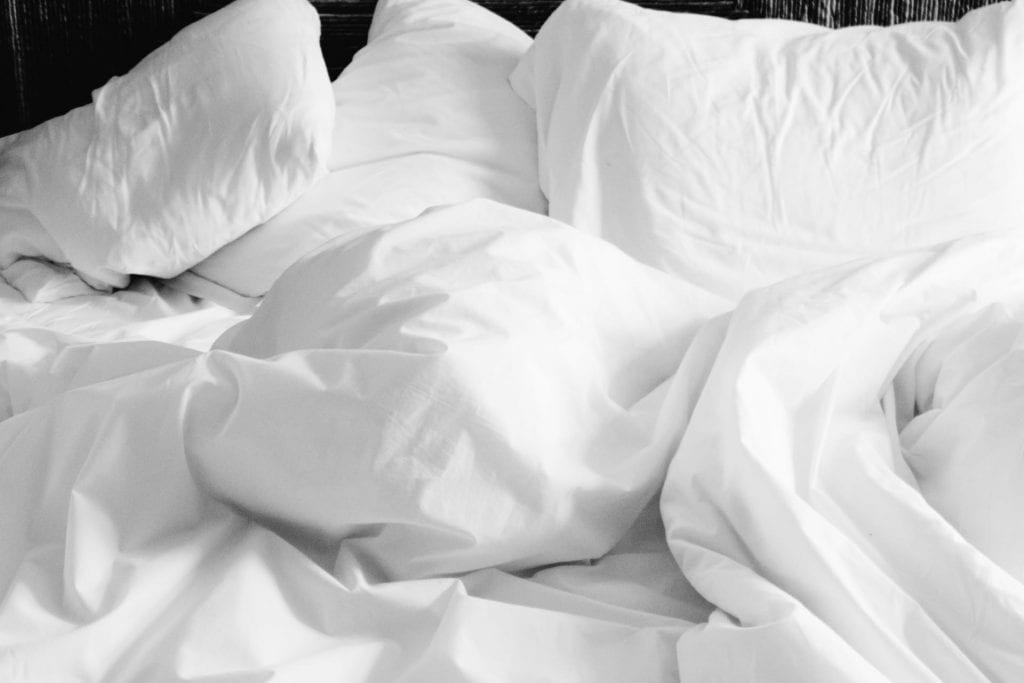 Consider How Warm It Should Be
If you live in a hot climate, you don't need a super-warm down comforter. Likewise, those living in cold climates need something to keep them warm. Consider these two factors when you're looking at how warm a down comforter is:
Fill power – This is measured in grams per square meter, or GSM. More fill power means more insulation, and thus more warmth. The GSM of a down comforter can be found in the product description. Use the following as guidelines:
400GSM or lower for warmer climates and seasons
600GSM or higher for colder climates and seasons
400-600GSM for year-round comforters
Fill weight – The fill weight is measured by how many ounces of filling are inside the comforter. More filling equals more warmth.
How Do I Choose The Best Down Comforter?
We mentioned above that the choice between a duck down or goose down comforter isn't the most important. Another feature that makes a big impact on the quality of the comforter is the shell material.
Down Comforters Shell Material
Manufacturers make the best comforters out of several different shell materials. The two you'll see the most are silk and cotton. Silk is ideal because it's breathable and strong. It's made naturally and usually costs more.
Cotton is also quite breathable. It is processed into a soft material that's easy to maintain. It's the most popular material for bedding.
Down Comforters Stitching
Different kinds of stitching make differences in other factors. The most obvious difference comes in the appearance. Stitching also affects the distribution of the filling. An open design comforter with minimal stitching often leads to clumping of the fill. Patterned stitching prevents clumping.
The four most common types of comforter stitching are:
Diamond quilt
Gusseted
Baffle box
Sewn through
Down Comforters Weave
Two types of weaves are popular for use with down comforter shell materials. These are sateen and percale. Sateen is denser and warmer than percale. It also has a smoother feel.
Percale weave has thinner threads that are woven more closely together. It makes for a more lightweight feeling comforter.
Down Comforters Thread Count
Thread count refers to how many woven fibers are within a square inch of the shell material. The typical range is from 250 to 1,000. It's best to stay at 800 or below. Once you get above that, you run the risk of buying a down comforter that's had single-ply fibers taken apart and then wrapped together with others to create a multi-ply fiber. This process makes the fibers weaker. Manufacturers do this to make it seem the comforters are higher quality than they are.
Down Comforters Size
The size of a duck or goose down comforter varies between manufacturers. The measurements of a queen comforter from one brand to the next are often different. The different measurements make the comforter look different on the bed.
Look for a down comforter that hangs over the sides of the bed. It basically means you'll want an over-sized down comforter. That's what looks the best.
Down Comforters Maintenance
Your final consideration is for the maintenance of the comforter. What is involved in taking care of the comforter?
Down comforters with natural down inside must be dry cleaned. Washing this type of comforter in a washing machine ruins the filling, causes clumping, and damages the shell.
You may want to consider getting a duvet cover. You put the cover over the comforter and secure the corners. It protects the comforter from dirt and damage. When it's time to clean your comforter, you remove the cover and throw it in the washing machine.
Best Down Comforter Options
Time to look at some of the best down comforters for sale on Amazon. Keep in mind the factors we just talked about. It will help you decide if any of these are what you need, or if you need to keep looking.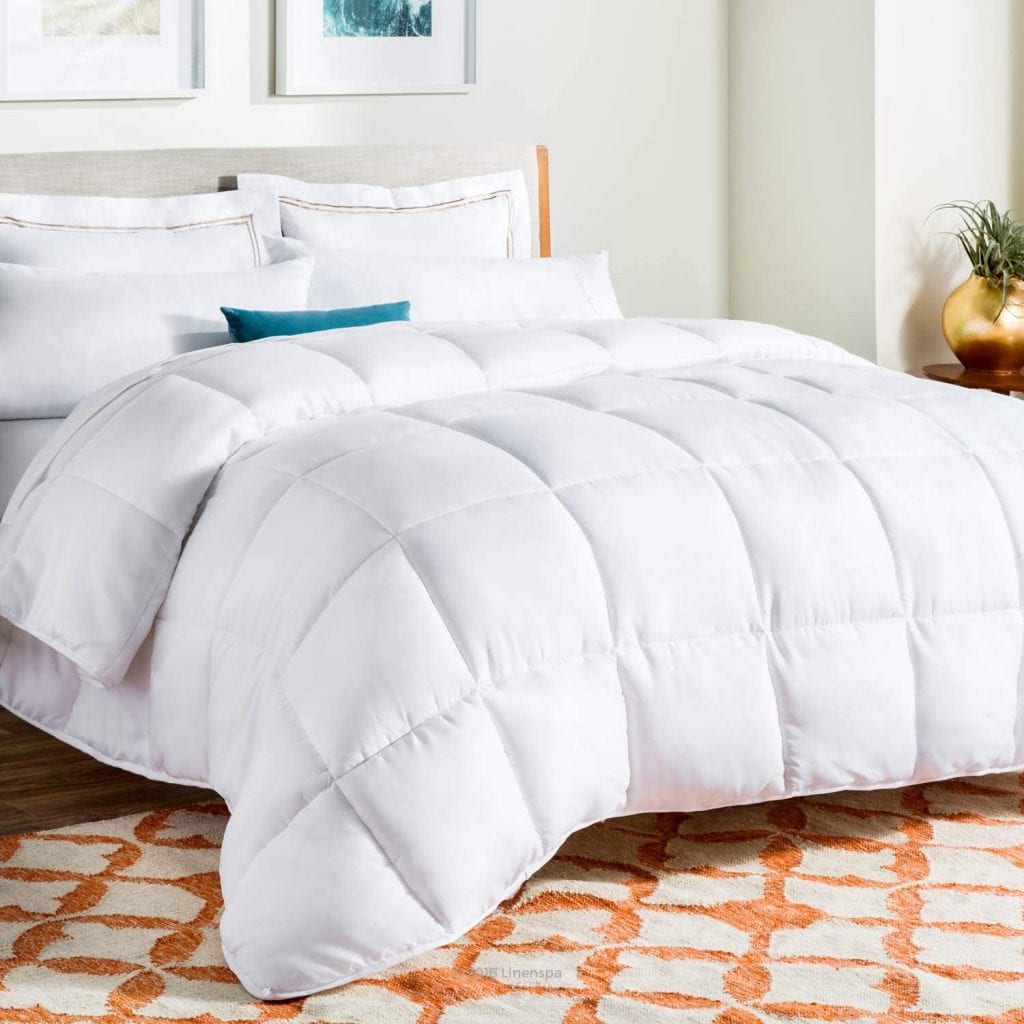 This is a good option for anyone looking for a down alternative comforter. It's good for any time of year and is made of hypoallergenic materials. It comes in several size options, including an oversized queen or king. You can also choose from several color and pattern options. The comforter is machine washable. It's also reversible for maximum versatility. It's a budget-friendly option that's easy to take care of.
LINENSPA All Season Down Best Comforters Pros:
Highly affordable
Many style choices
All-season use
Machine washable
Includes matching pillow shams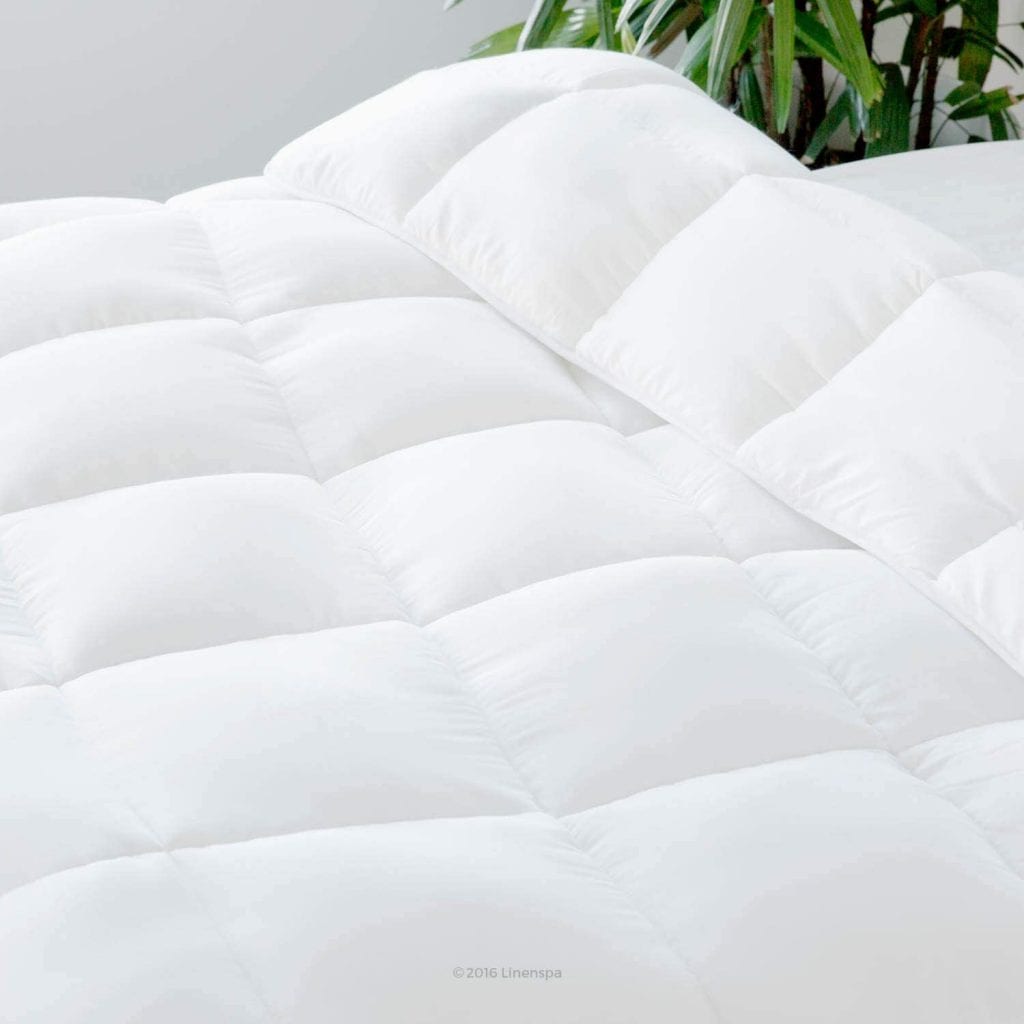 LINENSPA All Season Down Best Comforters Pros:
May be too warm for hot climates
Some issues with stitching coming out
Machine wash may wear down quicker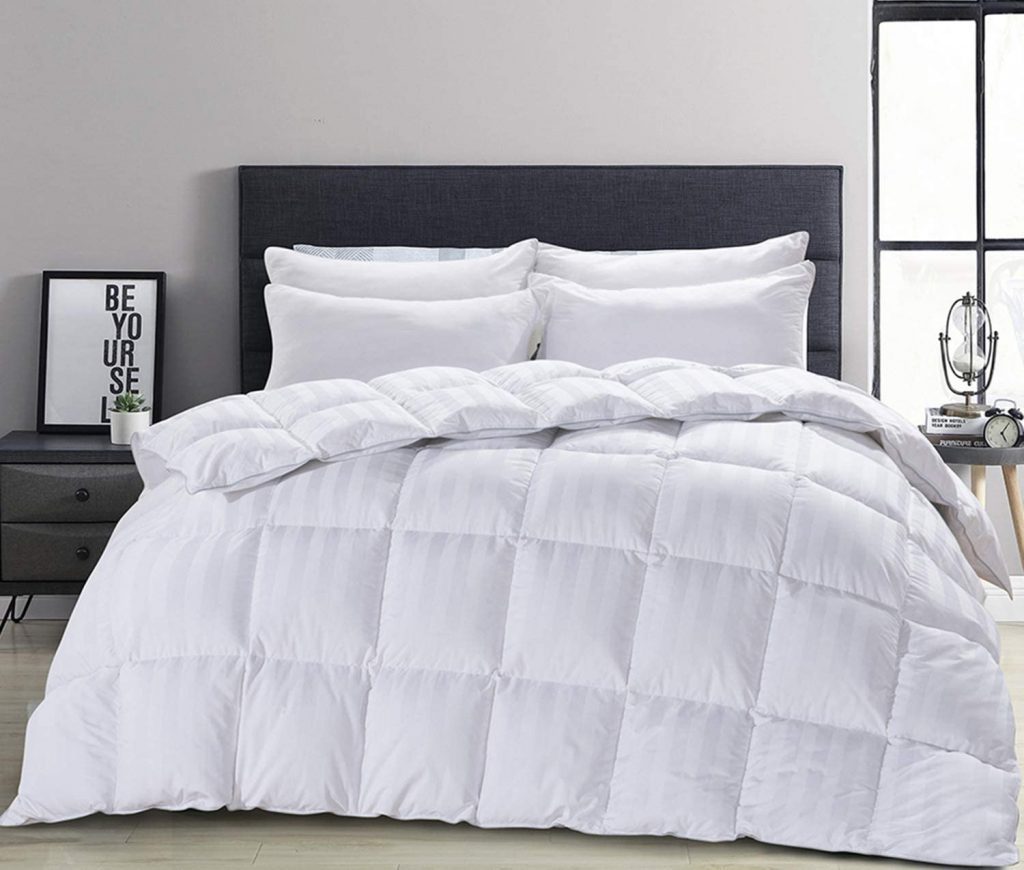 This is a more expensive option relative to the one above. It's a goose down comforter with a 65 oz. fill weight. It has a pinch-pleat stitching design with a cotton shell. The comforter is dry clean only. There are corner tabs for securing a duvet cover. The shell is 100% breathable. The comforter feels lightweight but is still warm. It's ideal for cold weather with a baffle-box stitch design.
HOMBYS California Down Best Comforters Pros:
Elegant design
Warm but lightweight
No feather odor
100% cotton
High-quality product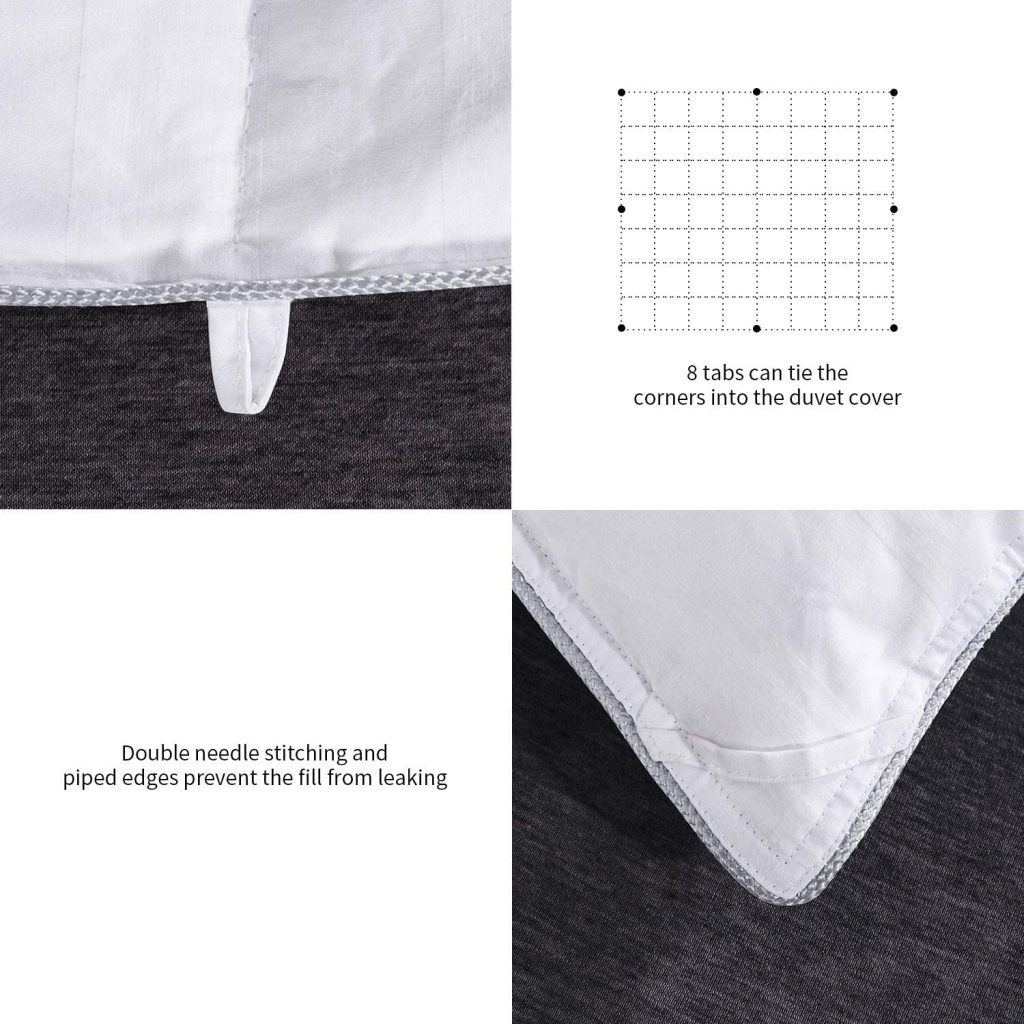 HOMBYS California Down Best Comforters Cons:
Too warm for summer
Soft on the inside but not on the outside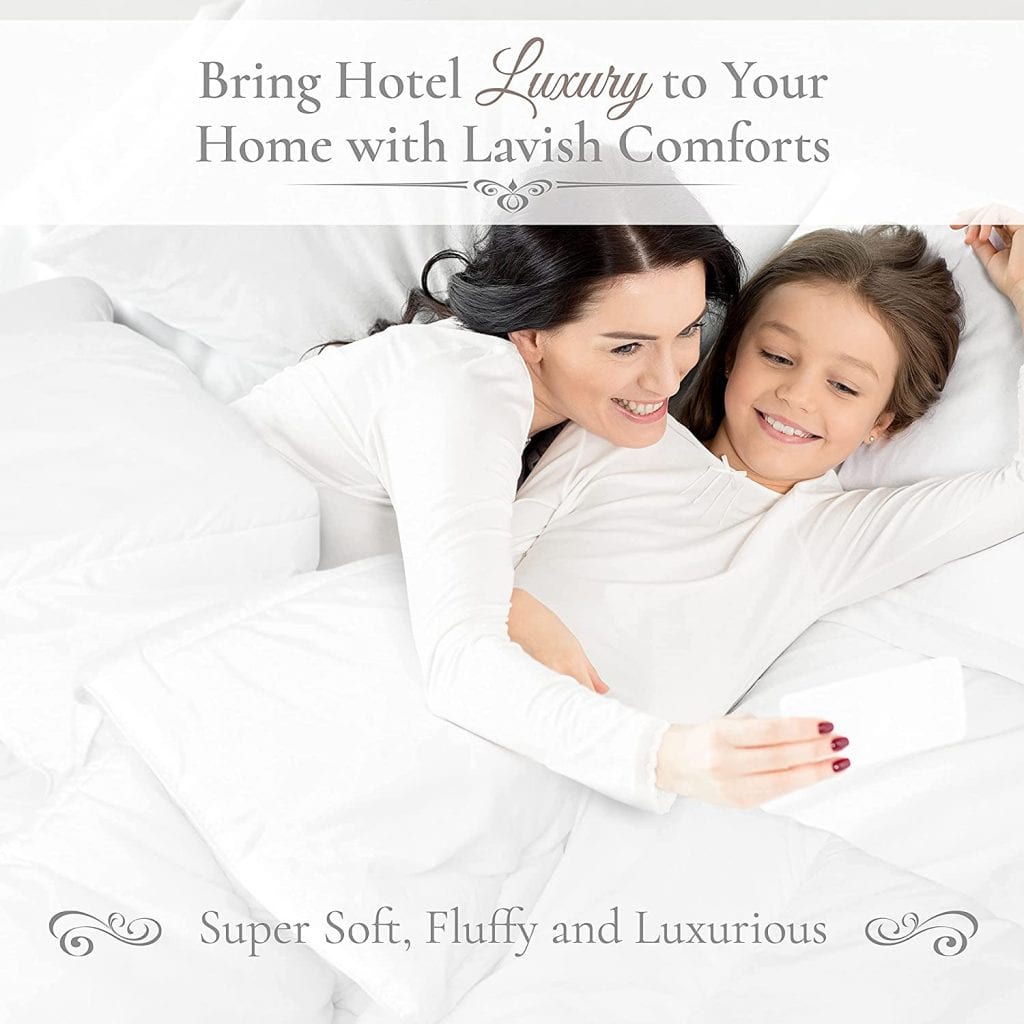 This down alternative comforter is machine washable. The filling is 100% polyfiber that is hypoallergenic. The microfiber shell material is soft and smooth. The comforter has a puffy look and has tabs in the corners to secure a duvet cover. The construction is baffle-box style, so you'll be warm even in the coldest climates. It's affordably priced and easy to maintain.
The Ultimate All Season Down Best Comforters Pros:
Machine washable
Affordable
Hypoallergenic
High-quality construction
Warm and cozy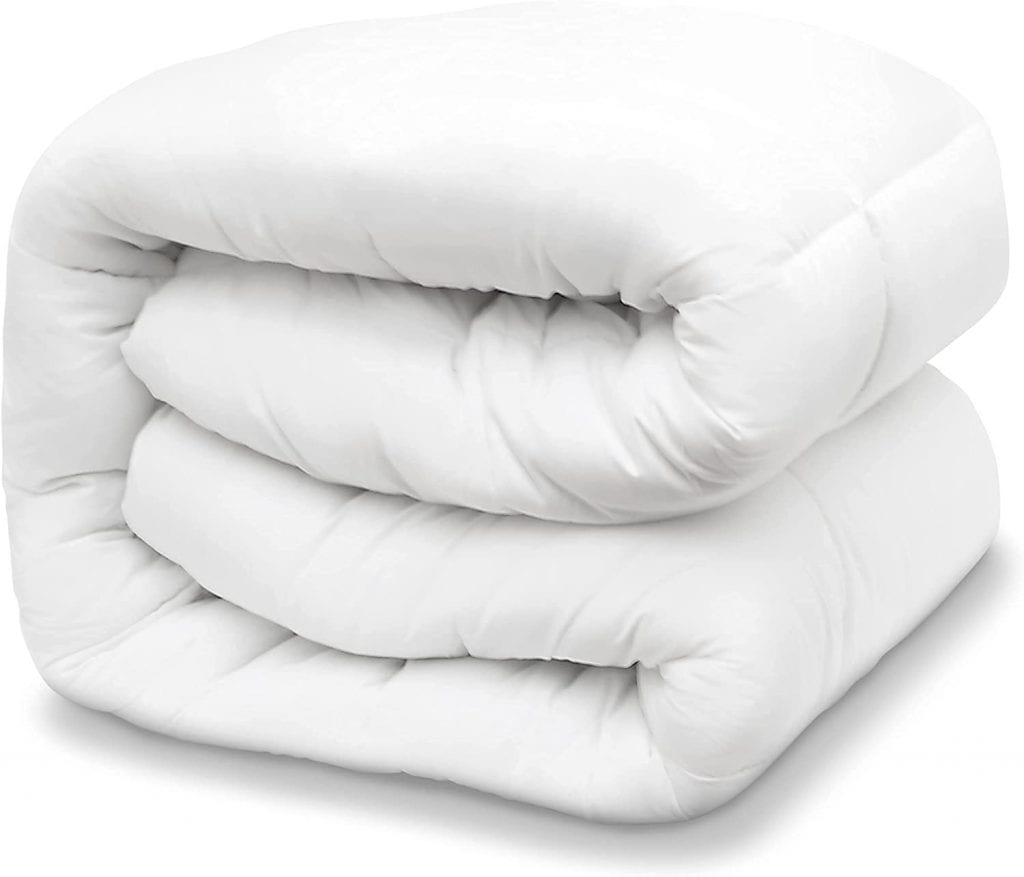 The Ultimate All Season Down Best Comforters Cons:
Heavy
May be too fluffy for some washers
Runs small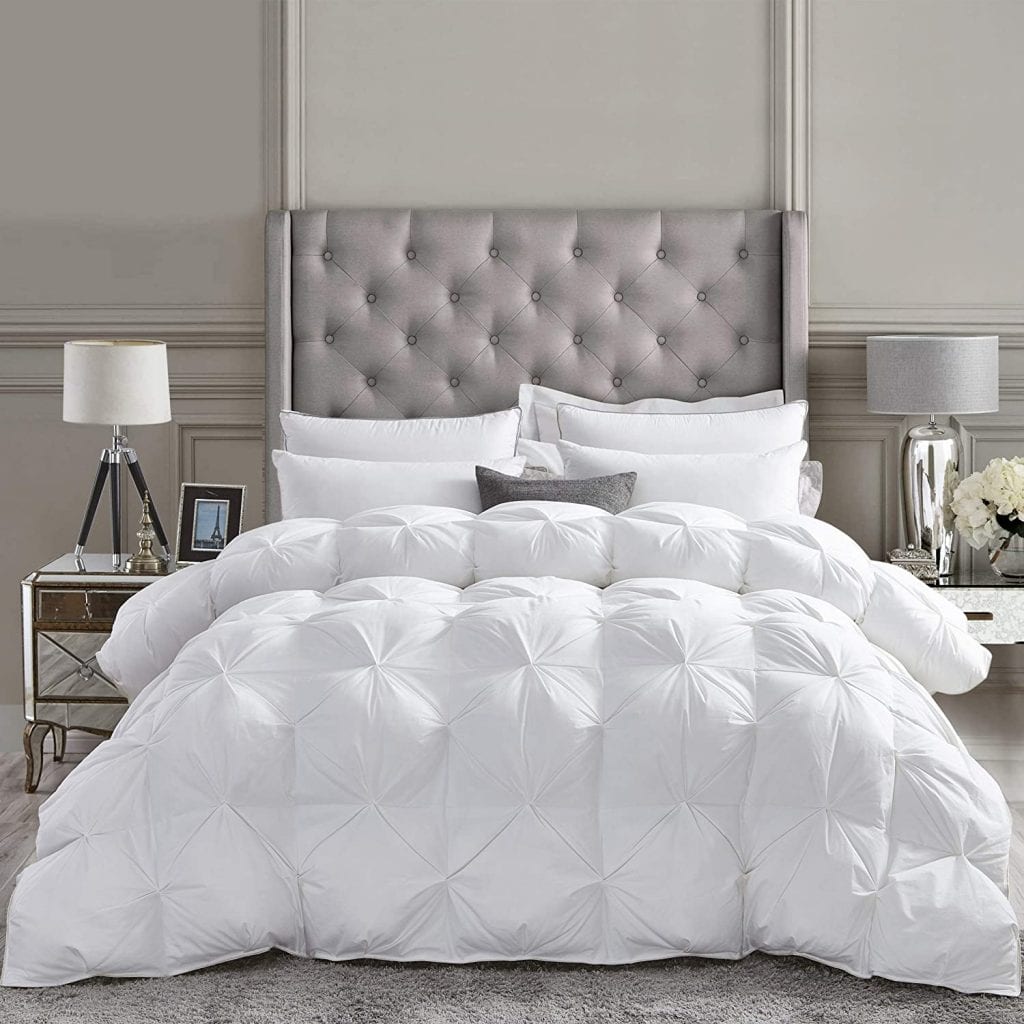 This goose down comforter is lighter than the other on our list. It has a 55 oz. fill weight. The shell is made of 100% Egyptian cotton with a 1200 thread count. The comforter looks elegant with a pinch-pleat design and baffle box stitching. It's warm while still being lightweight. It comes in four size options, as well as four color options. This is an all-season comforter that keeps you warm in the winter and cool in the summer.
Luxurious All-Season Goose Down Best Comforters Pros:
Double-stitching keeps down from coming out
Ultra-fluffy
Goose down is responsibly sourced
Affordably priced
Soft shell material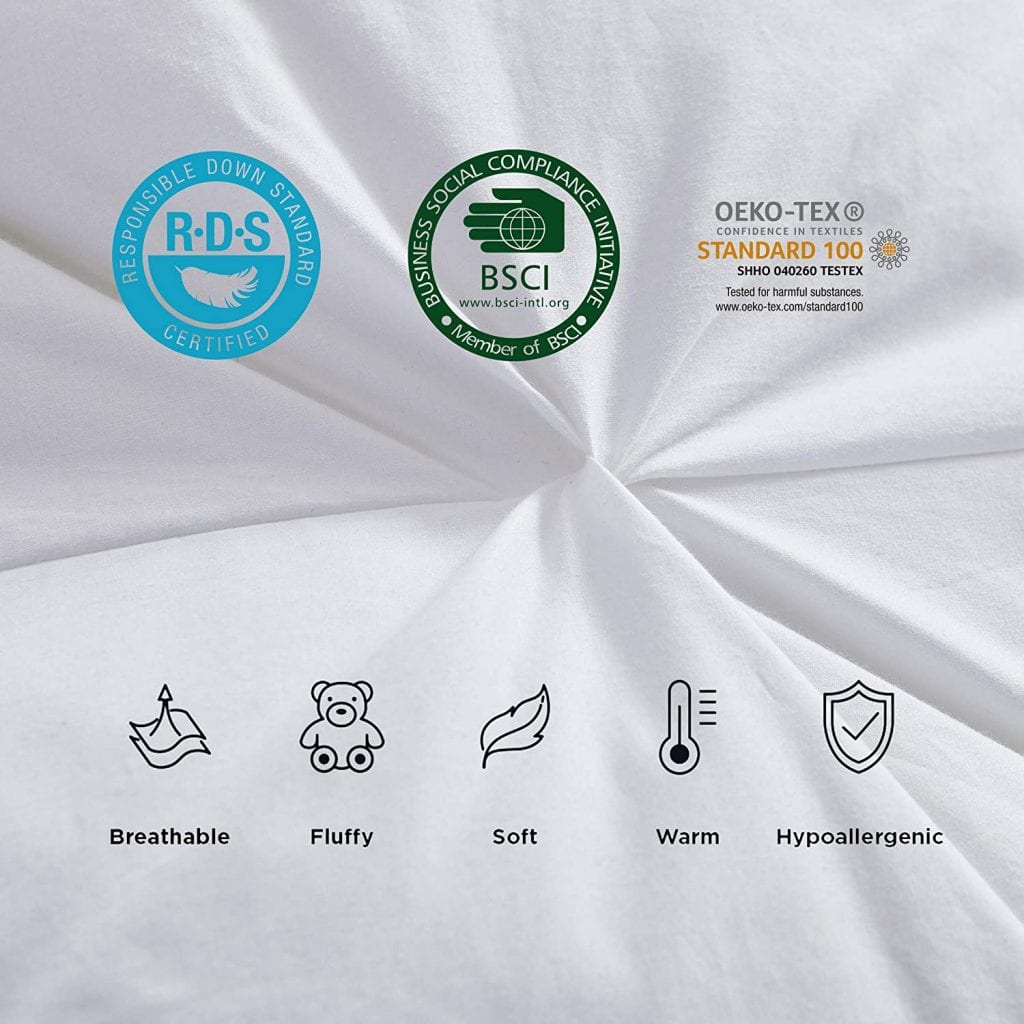 Luxurious All-Season Goose Down Best Comforters Cons:
Heavy
May be too warm for hot climates
Some clumping of down due to large fill cells
Conclusion
It's hard to know what's important to look for when you're shopping for something new. The best down comforter should have the filling you want. It should be as warm as you'd like based on the fill power and fill weight. Make sure you choose a shell material that feels and looks good to you. Also, look at what size you need, how easy it is to maintain the comforter, along with the stitching, weave, and thread count. The right down comforter keeps you cozy and comfortable at any time of the year.
FAQs:
What is the best quality down comforter?
The best overall for quality is the Brooklinen Down Comforter.
What is the best down comforter on Amazon?
The Linenspa Down Alternative comforter has almost 60,000 5-star reviews.
What down comforter do hotels use?
Hotels use down alternatives or blends of alternative materials with duck down.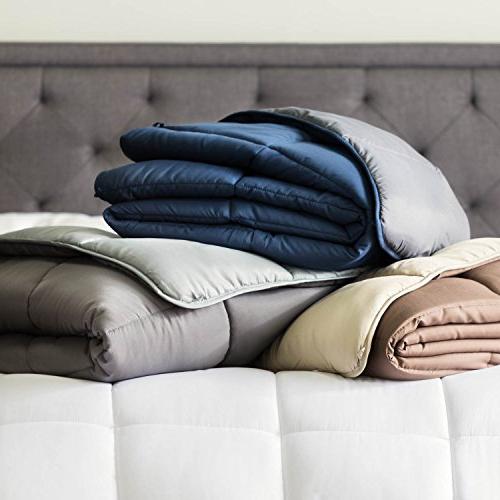 What should I look for when buying goose down comforters?
Look at the shell material. Also, look for the fill power and fill weight so you know how warm it will be. You want to buy a comforter with responsibly sourced goose down, as well.
What is the highest quality goose down?
The highest quality is Hungarian goose down. It's soft and fine. It provides good insulation while still being lightweight.
Which is better, duvet or comforter?
These are similar. A duvet is often meant to be used with a duvet cover. It makes it easier to clean. Most of the time you can take the cover off and throw it in the washing machine. For this reason, a duvet is better than a comforter.
Which brand comforter is best?
Some of the best include Riley, L.L. Bean, and Linenspa.
Why are hotel blankets so comfortable?
Many hotels have bedding made specifically for their rooms. Hotel beds are often the centerpiece of reviews left by customers. Hotel chains choose fluffy bedding, soft sheets, and puffy pillows to make beds more comfortable and inviting.
Disclaimer: FamilyHype.com (Family Hype & FamilyHype) is a participant in the Amazon Services LLC Associates Program, an affiliate advertising program designed to provide a means for sites to earn advertising fees by advertising and linking to Amazon.com.
Last Updated on November 8, 2021 by Marie Miguel
DISCLAIMER
(IMPORTANT)
: This information (including all text, images, audio, or other formats on FamilyHype.com) is not intended to be a substitute for informed professional advice, diagnosis, endorsement or treatment. You should not take any action or avoid taking action without consulting a qualified professional. Always seek the advice of your physician or other qualified health provider with any questions about medical conditions. Do not disregard professional medical advice or delay seeking advice or treatment because of something you have read here a FamilyHype.com.