Projector Screen
There are a lot of ways to enjoy time at home. One is to watch movies. But you can make your movie-watching experience better by getting your own projector and projection screen. These projector screens can turn your regular night into something more noteworthy.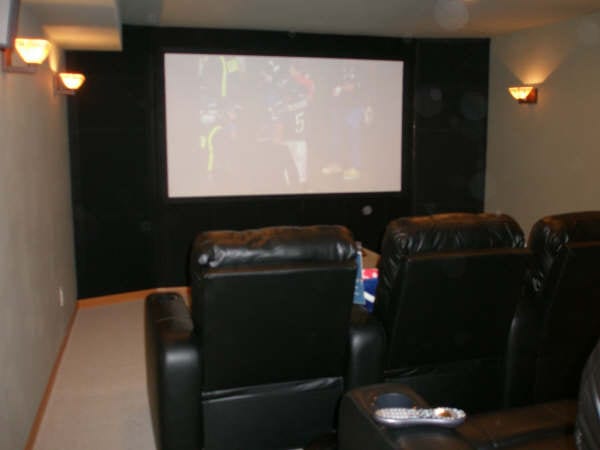 Deciding What You Want
So, what is the best projector screens to buy? First, decide what kind of screen you want. You'll need to choose from several materials. You must carefully consider the size of screen you need. Aspect ratio is important for a screen. Make sure you also stay within a preset price range.
The best projector screens fit the space you have. They're large enough for the audience you expect. They are well-suited for your projector. And they're priced well for your budget. This article is about finding the ideal screen for you to buy. Read on to find out how to choose yours.
Do Projector Screens Matter?
The screen matters as much as the projector. A good quality allows for better color variations, better clarity, a smoother setup, and even better audio, in some cases.
Some screens don't allow audio to come through the material. They wouldn't work well with a setup where the speakers are located behind the screen. Some screens are designed for use in dark rooms. Others are made for use outside. Choose a screen that matches the kind of viewing you'll be doing.
Projector screens can make images coming from a high-end projector look washed out and blurry if they're not a good match for the machine. It's not about buying the most expensive projector screens you can find. It's about matching the screens to the use, the projector, and the audience.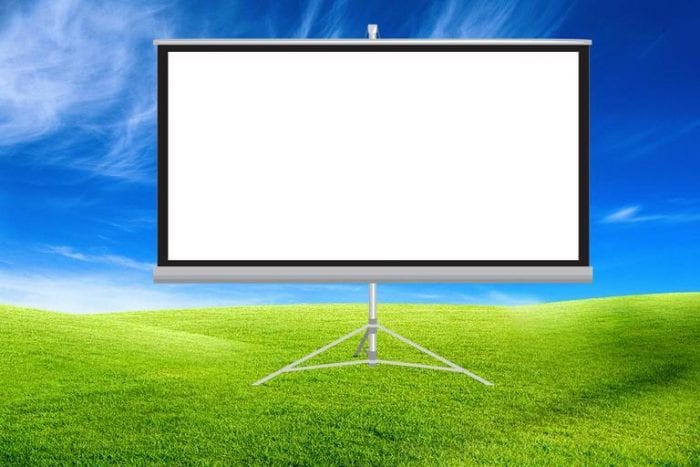 What Works Best For Projector Screens?
The material your screen is made of makes a difference in how the images show up on it. Projector screens are made from different materials because they're designed for different situations. For instance, a matte white screen works well in a dark room. Other screens are better suited for high ambient light environments.
Some screens are designed for rear screen projection, so the images are projected onto the screen from behind the audience. Others are a front projection. High contrast screens give you better contrast in the dark parts of pictures so it's easier to see what's going on.
Projector Screens Size
The size is important. Base your choice on a few factors. How many people will typically be watching? Where are you putting the screen? What type of projector do you have?
Here's how to choose a screen size. The height should be a sixth of the distance from the seats in the furthest row. Seating should start about twice the height away from the screen. Optimum placement is when the bottom of the screen is 4 feet off the floor. The width of the screen depends on the space available. Generally, you'll want a wider screen for a larger audience.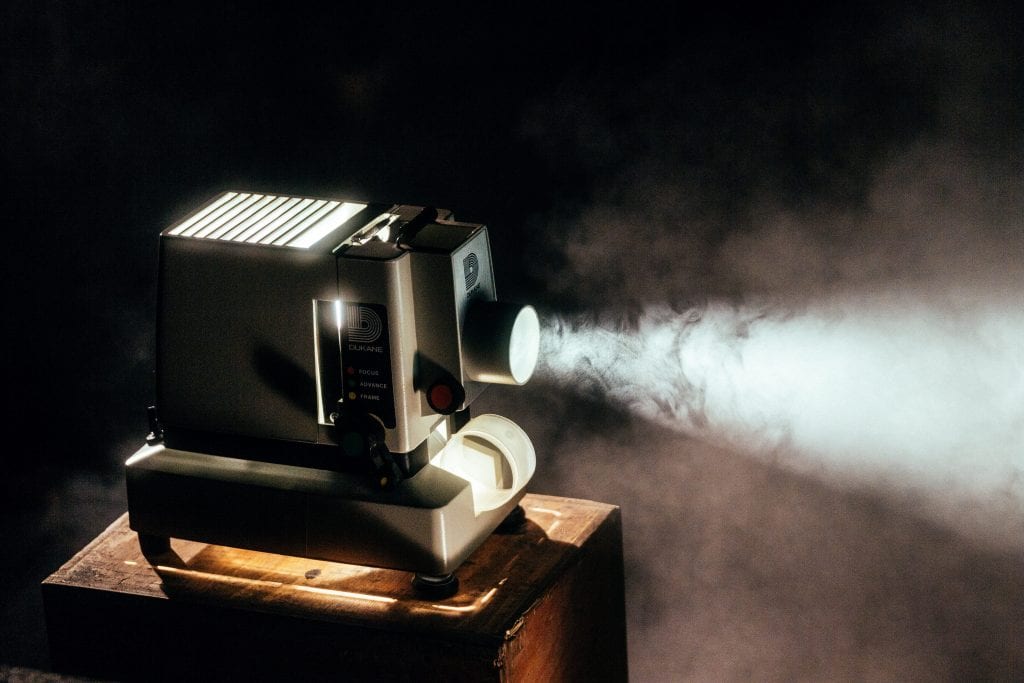 Projector Screens' Good Aspect Ratio
The aspect ratio pertains to the relationship between the width and height of the screen. When the width is larger than the height, you see a picture that's rectangular. However, if the width and height are nearly the same, the picture displays closer to a square.
Three aspect ratios are common—4:3, 16:9, and 16:10. Most home theaters have projector screens with a 16:9 aspect ratio. That's because most of the content you'll project at home comes from equipment that sends signals in a 16:9 aspect ratio.
The most common aspect ratio for presentations in meetings or at school is 4:3. The best match is a 4:3 projection screen for this kind of content.
Keep in mind, you can project 4:3 content onto a 16:9 or 16:10 screen. You'll have black bars at the top and bottom or on the sides of the screen, though.
Best Projector Screen Options
Ready to look at some projector screens for sale? Below is a list of some screens available on Amazon. Check them out and look for the features that serve your needs the best.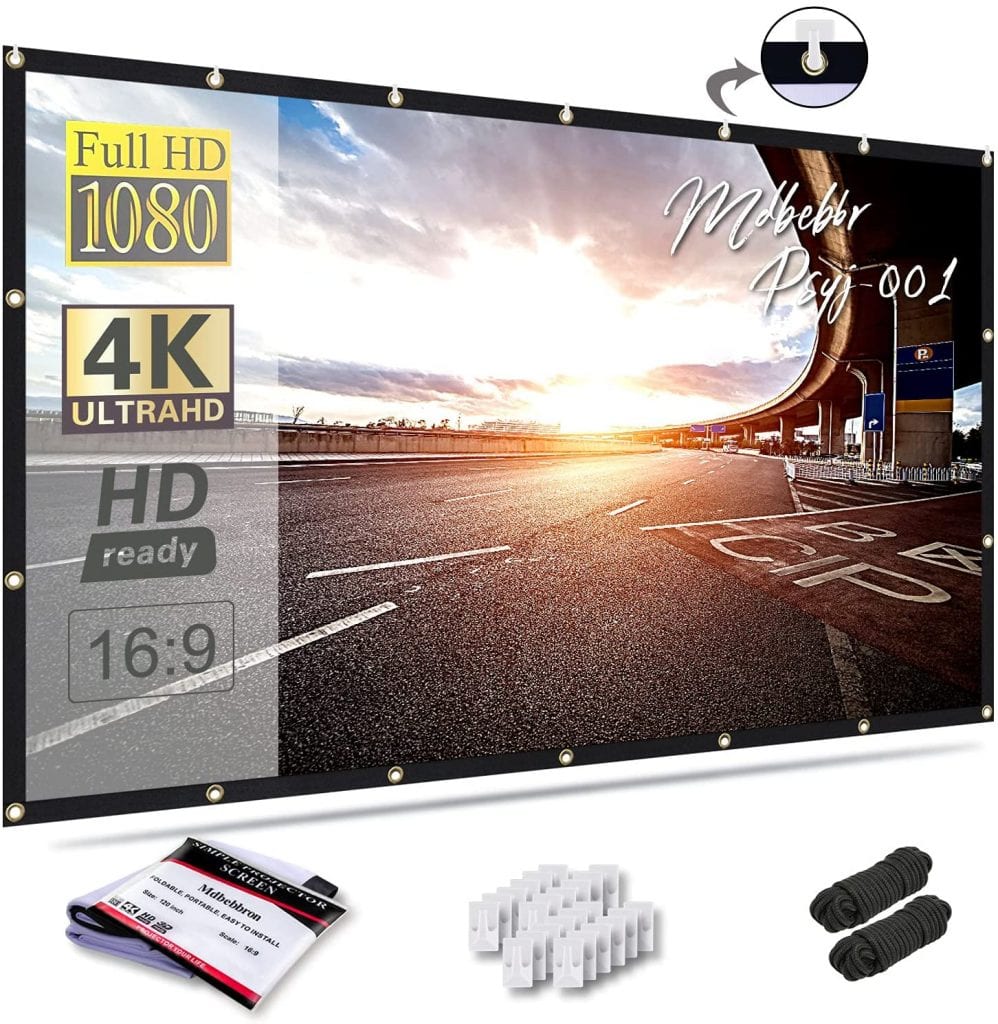 This screen is suitable for use indoors or outdoors. It doesn't matter which side you project onto, it's double-sided. It's easy to fold it up and take it with you camping or anywhere else you want. The anti-crease material makes it so you don't have to worry about seeing lines during viewing sessions. It has an aspect ratio of 16:9. It's lightweight, easy to set up, and made of light-absorbing material that produces a more vivid picture.
Pros:
Highly affordable
Portable and easy to transport
Versatile
Anti-crease and wrinkle for a smooth image
Easy to clean by hand wash or machine wash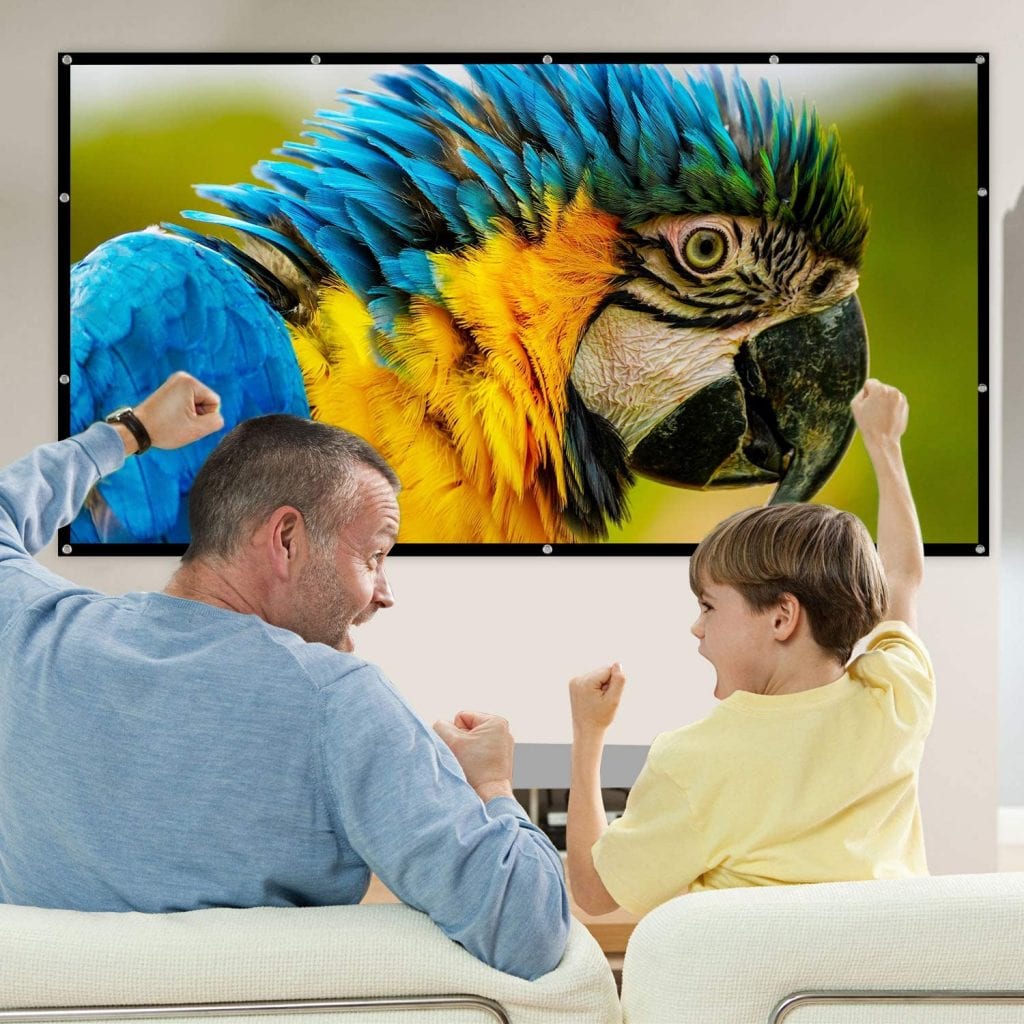 Cons:
Hooks for installation are unreliable
Not waterproof
Needs a solid surface behind or light comes through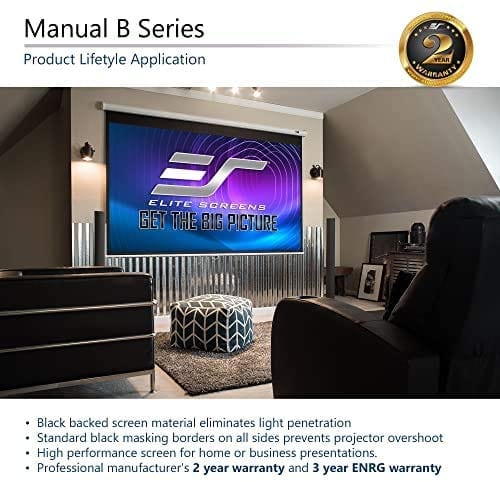 Elite Screens is one of the heavy hitters in the industry. They make high-quality products like this one that are ideal for your home theater. It has a 16:9 aspect ratio on a 100-inch screen. The manual pull-down mechanism allows you to pull it out when you need it and store it away when you don't. There's a slow retract roller inside to keep your screen safe from tears during the retraction process. An auto-lock engages to keep the screen positioned at whatever height you want.
Pros:
Stores away when not in use
Easy to install
The screen has black backing to keep light from coming through
Has a 180° viewing angle
High-quality picture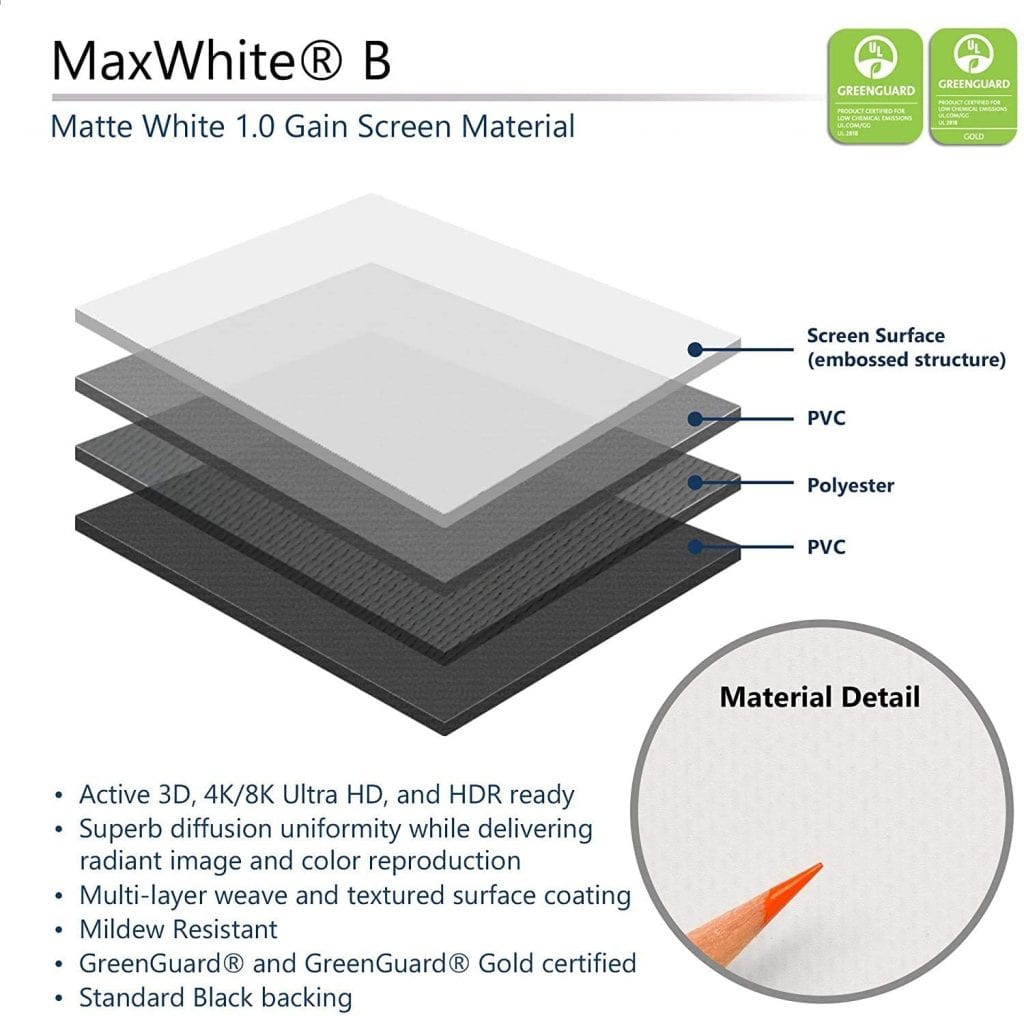 Cons:
Heavy
Not wrinkle-resistant
Retraction is very slow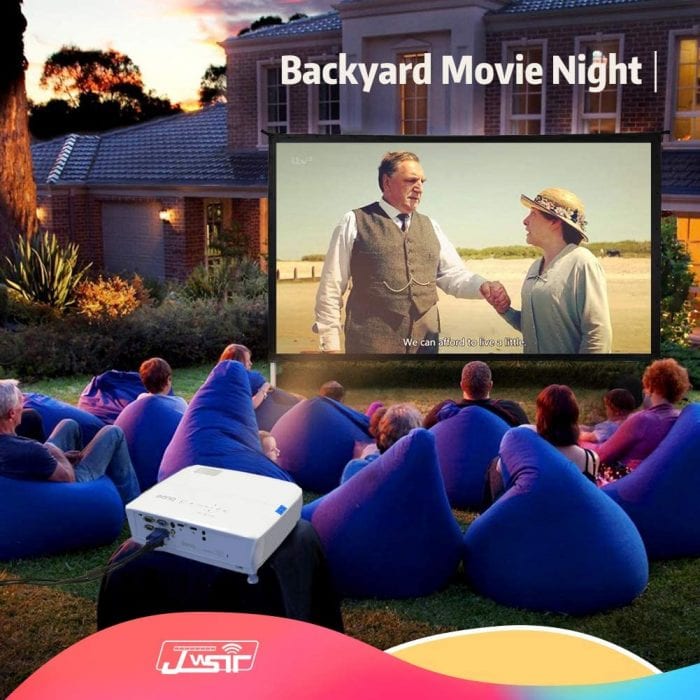 This screen is for use inside or outside. It has a layered screen that's durable and doesn't allow light to pass through. The material is foldable and is easy to transport in a carrying bag included with your purchase. The aspect ratio is 16:9 on a 120-inch screen. You can set up the stand and screen in a few minutes. The screen is made of PVC matte material that is wrinkle-resistant and easy to clean.
Pros:
The stand is included so don't have to hang screen from anything
No wrinkles to worry about
Worry-free warranty included
Carrying case included
Clear picture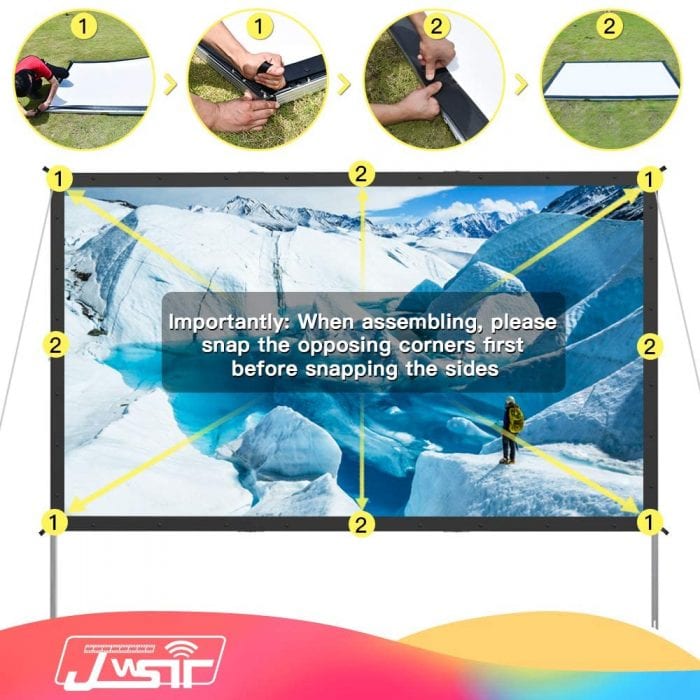 Cons:
Hard to attach and detach screen from stand
Assembly is tough for one person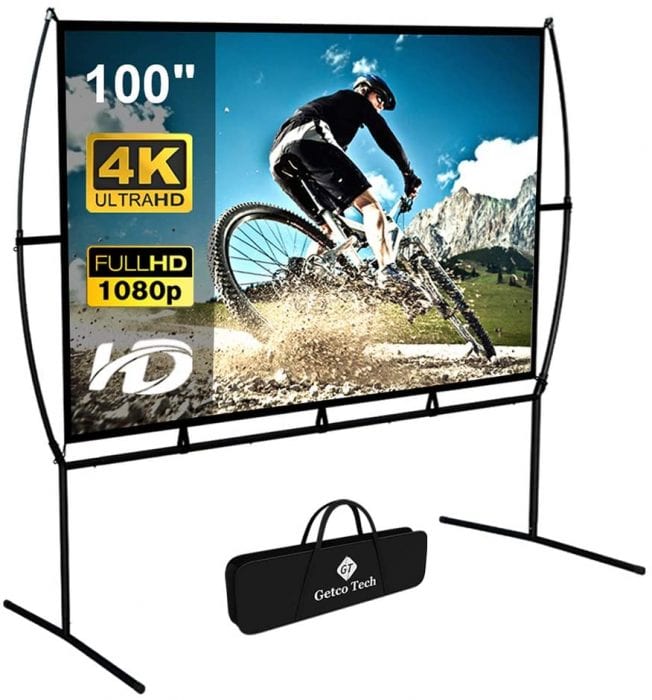 This screen has a 16:9 aspect ratio and a 160° viewing angle. It's a lightweight, portable projection screen that is easy to assemble and convenient to transport in its own carrying bag. You can use this screen indoors or outdoors. It's designed to be simple and assembled in just minutes. But it provides a high-quality viewing experience.
Pros:
Budget-friendly option
Versatile for front or rear projection
Convenient carrying bag included
Frame is sturdy
High-quality picture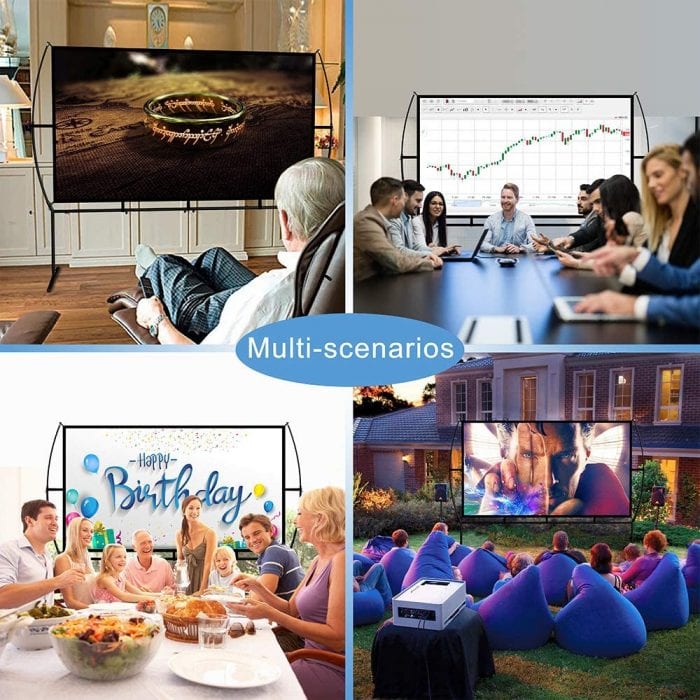 Cons:
Assembly instructions aren't great
Top, center of screen bows down
Projector Screens Conclusion
Projector screens give you a fun way to view movies at home with a different feel than watching on TV. Some can even be used outside or taken anywhere you want to use them. The key is to look for the right size for your space, the right aspect ratio, the material that's right for the environment it will be placed in, and the price that's right for your wallet. Movie nights at your house will be memory-making events with the best projector screens at home.
Projector Screens FAQs:
How much do projector screens cost?
Projector screens range in price. You'll find prices as low as $30 to as high as a couple of thousand dollars.
Is a black or white projector screen better?
Black screens typically produce better dark parts of images. They're also better for rooms with a lot of ambient light. White screens reflect more light and are more versatile.
Are projector screens better than TVs?
This is a preference. TVs have advanced technology built-in that has come down in price to levels that are affordable for most households. You can get a larger screen for less money with a projector and screen. Many projector screens are also ok for use outside. That convenience may be more worth it for some people.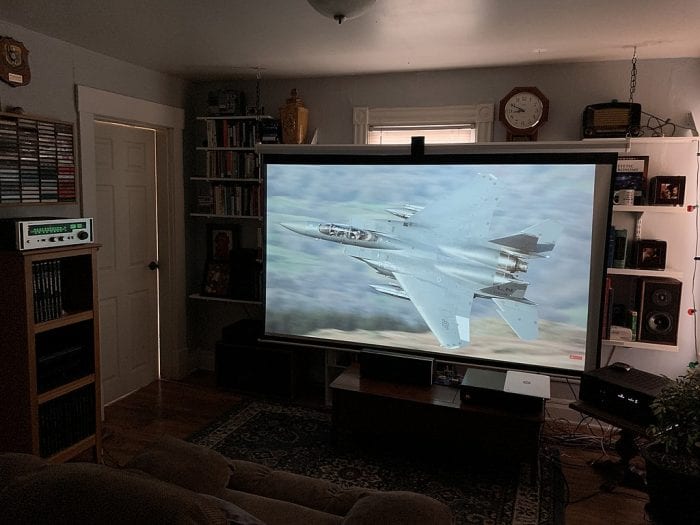 What is the best color for a projector screen to project onto?
Project onto black if you have a lot of ambient light to combat, or if you want more contrast in your colors onscreen. Project onto white for brighter pictures and more versatile use.
Can I use a white tarp for projector screen?
White tarps can serve as projector screens with the right setup. You'll want something to secure it to. You'll also want a solid dark surface behind to keep light from coming through.
Can I use a bedsheet as a screen?
A white or light-colored bedsheet can be used as a screen for a projector. It needs to be secured tightly and have a dark surface behind it.
Is a cheap projector screen worth it?
Many cheap projectors aren't worth it. There are some that are better than others. Don't buy the bottom-rung-priced projectors. Spend a little more and you'll get something that's more worth your money.
Disclaimer: FamilyHype.com (Family Hype & FamilyHype) is a participant in the Amazon Services LLC Associates Program, an affiliate advertising program designed to provide a means for sites to earn advertising fees by advertising and linking to Amazon.com.
Last Updated on November 7, 2021 by Marie Miguel
DISCLAIMER
(IMPORTANT)
: This information (including all text, images, audio, or other formats on FamilyHype.com) is not intended to be a substitute for informed professional advice, diagnosis, endorsement or treatment. You should not take any action or avoid taking action without consulting a qualified professional. Always seek the advice of your physician or other qualified health provider with any questions about medical conditions. Do not disregard professional medical advice or delay seeking advice or treatment because of something you have read here a FamilyHype.com.