You've already made a good decision by opting for a stainless-steel cookware set. Stainless-steel is great for cooking at any temperature, even extremely high temperatures ideal for searing. You also get the benefit of more even cooking because stainless-steel conducts heat evenly. Stainless-steel is healthier than some nonstick cookware sets, as well.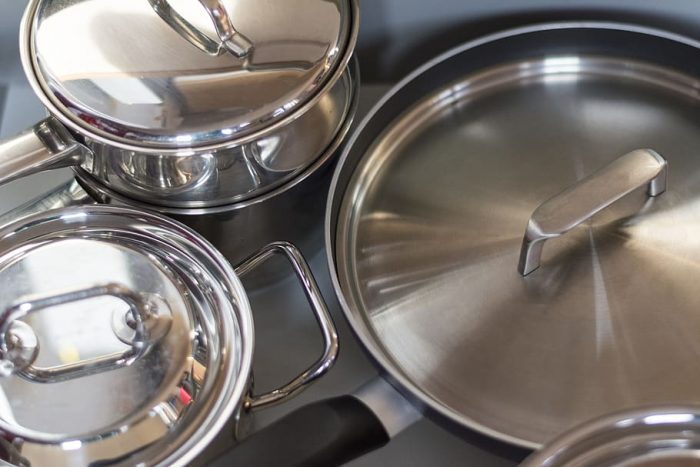 So, how do you choose the best stainless-steel cookware set? Some key factors will help you pick the best cookware set for your kitchen. Here's what you should look for:
Cookware sets with the right pots and pans
#-piece cookware set
Oven and dishwasher safe cookware set
Some of these factors must be catered around your cooking and intended use. Others are best for everyone.
Let's dive deeper into what's important in a stainless-steel cookware set. We'll also look at some good options for sale on Amazon. Keep reading for all the help you need to choose the best stainless-steel cookware set for your home.
What's Inside Counts
Cookware sets made of pure stainless-steel all the way through don't cook as evenly as those with different cores. The core material is important when it comes to cooking efficiency.
Look for cookware sets with aluminum or copper in their cores. These pots and pans have these metals within their bottoms and walls. It helps them conduct heat more efficiently so food cooks evenly. 
You can choose from either aluminum or copper in the core. Or you can find a cookware set with both.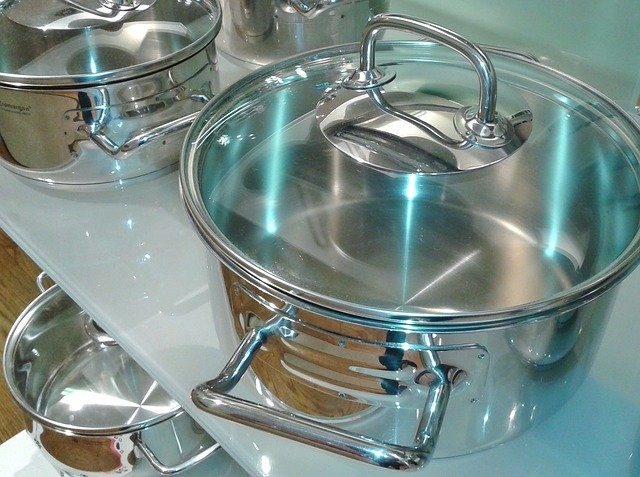 Is 18/10 Stainless Steel a Good Quality?
First off, what is 18/10 stainless-steel? It's stainless-steel that's reinforced with other metals for better durability. 18/10 stainless-steel is good quality. It indicates there's 18% chromium and 10% nickel mixed into the metal. It's highly durable and prevents rust.
Look For The Right Pots And Pans
We all have our own recipes and styles of cooking. Think about the pots and pans you use the most. Those are what you need to look for first when considering different cookware sets. 
Look for a cookware set that has enough pots and pans in different sizes to satisfy all your possible cooking needs. If you're adding this to other cookware sets, consider what sizes you want to supplement.
Handles And Lids Are Important
The quality of the handles and lids is just as important as the metal. Bad handles are prone to breaking off and wiggling. Lids are prone to warping, denting, or breaking. 
Look for how the handle is attached to the pan. Also, you should buy cookware sets with lids included. 
The best stainless-steel cookware sets have handles that can be placed in the oven and are cool to the touch when you're cooking on a stove. If you must get an oven mitt out every time you need to grasp the handle, it's inconvenient. It's also unsafe in a home with children. 
3-Piece Cookware Set
It's up to you how many pieces you want included in your chosen cookware set. We just want to caution you here. Don't be fooled by the number given on the front of the box. 
For instance, let's say you found a 15-piece cookware set you really like. You're thinking it must have seven or eight pots and pans, right? Wrong. When it says 15-piece cookware set, it isn't necessarily referring to only pots and pans. The 15 pieces includes the pots, pans, lids, and usually utensils. 
Make sure you read the description of what pots and pans are included in the set. Also, look for the lids to be included. You should see a list of what's contained within the box somewhere on the exterior.
Oven And Dishwasher Safe Cookware Sets
You'll likely save yourself some trouble if you choose a cookware set with dishes that are oven and dishwasher safe. Some recipes call for a pan to be placed in the oven. You can't do that unless all the materials can take the heat.
The same is true for the dishwasher. It's good to have the option of throwing your cookware into the dishwasher. You may not always want to do that, but it's nice to know the choice is yours.
Best Stainless-Steel Cookware Set Options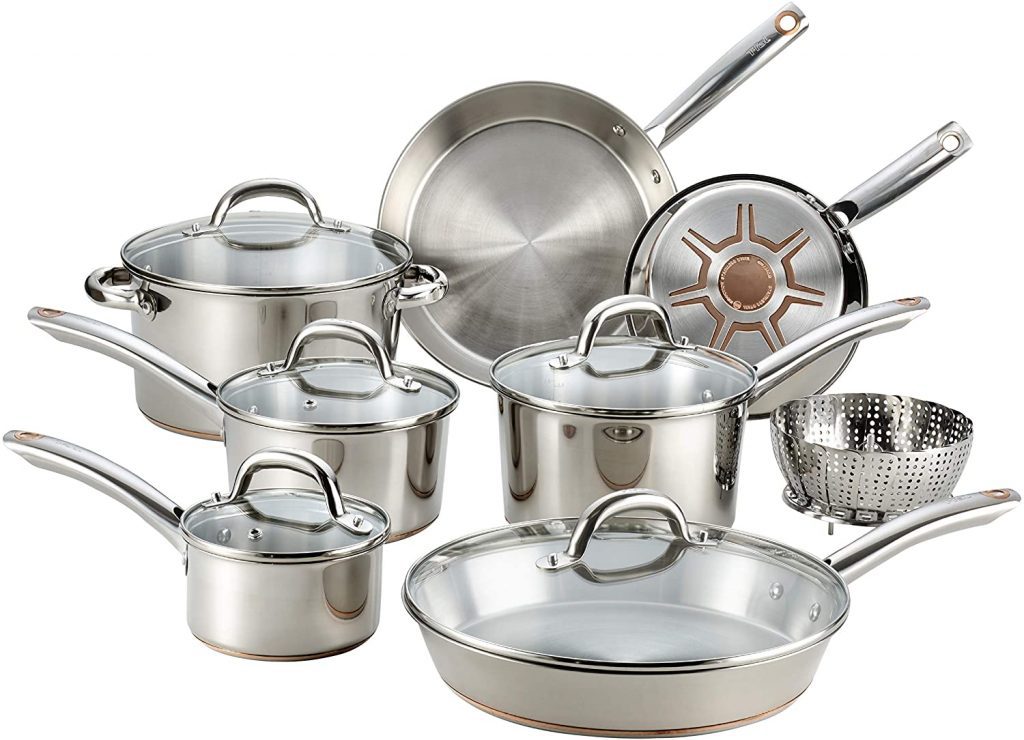 This set comes with a 12-inch frying pan with a lid, as well as 10.5- and 8-inch frying pans without lids. There are four pots included that range from 2 quarts up to a Dutch oven. The dishes in this 13-piece cookware set have both copper and aluminum in their cores. They're also constructed of 18/10 stainless steel. The handles are sturdy. The lids are glass and vented. This set also comes with a stainless-steel steamer.
Pros:
Aluminum and copper core for more even heating
Tempered glass lids help keep heat inside
Oven and dishwasher safe
Includes Thermo-Spot technology so you know when preheated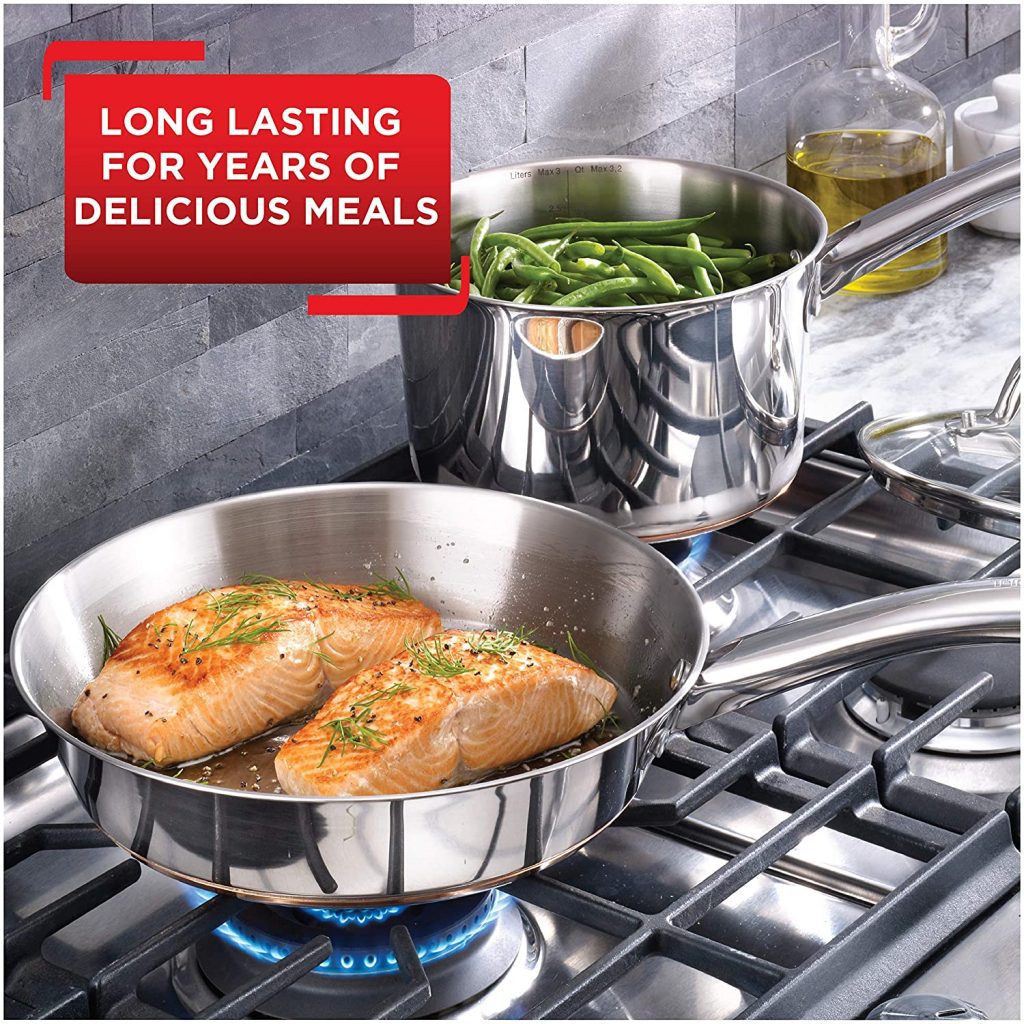 Cons:
Handles are not cool to the touch
Food sticks sometimes
Stainless-steel interior
This 10-piece cookware set includes three pots, two pans, three lids, and two cooking utensils. The lids are made of shatter-resistant glass. All pieces are dishwasher safe. The pots and pans have measurement lines etched in for your convenience. These are safe to use on a convection cooktop. The handles are covered in silicone that's cool to the touch and safe in up to 400 degrees.
Pros:
Affordably priced
Nice design
Easy-to-pour from flared rims
18/10 stainless-steel walls
Lifetime warranty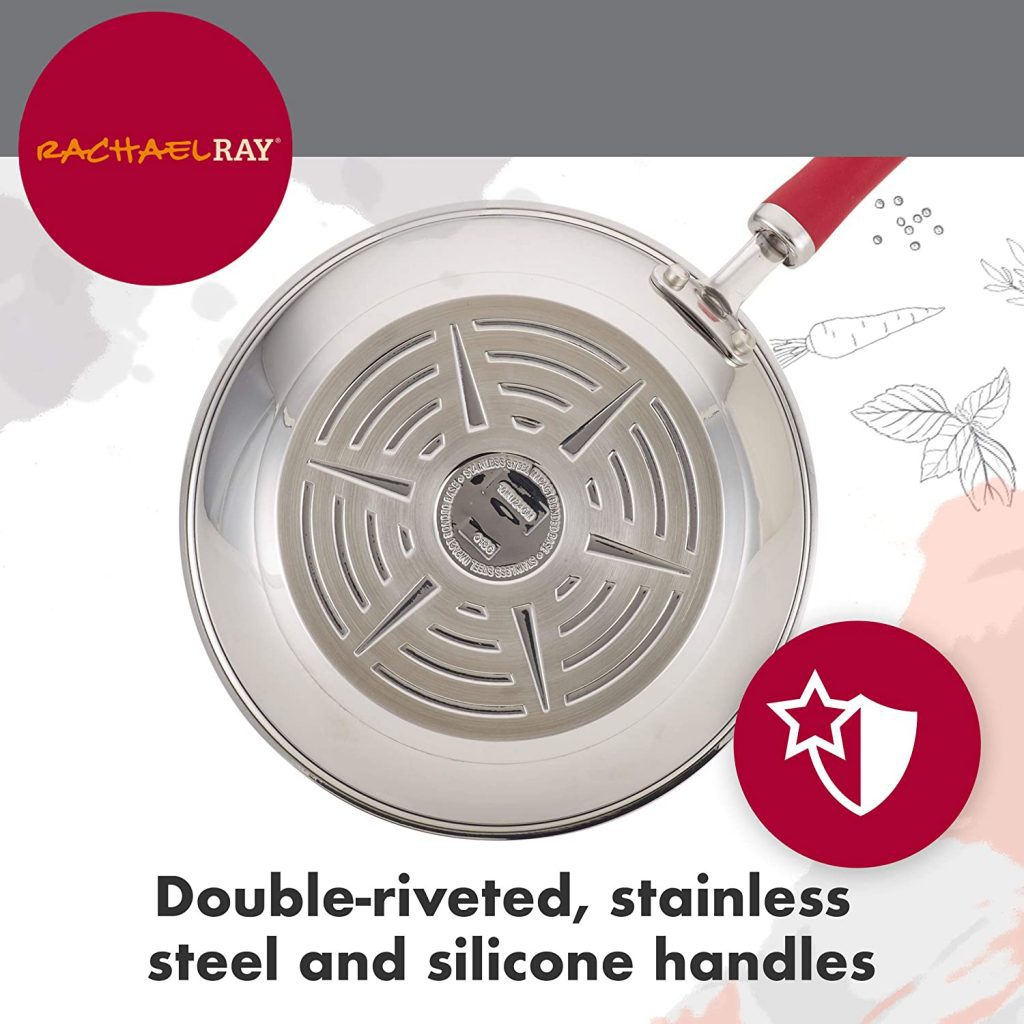 Cons:
Not enough size variability
Food tends to stick
Only three lids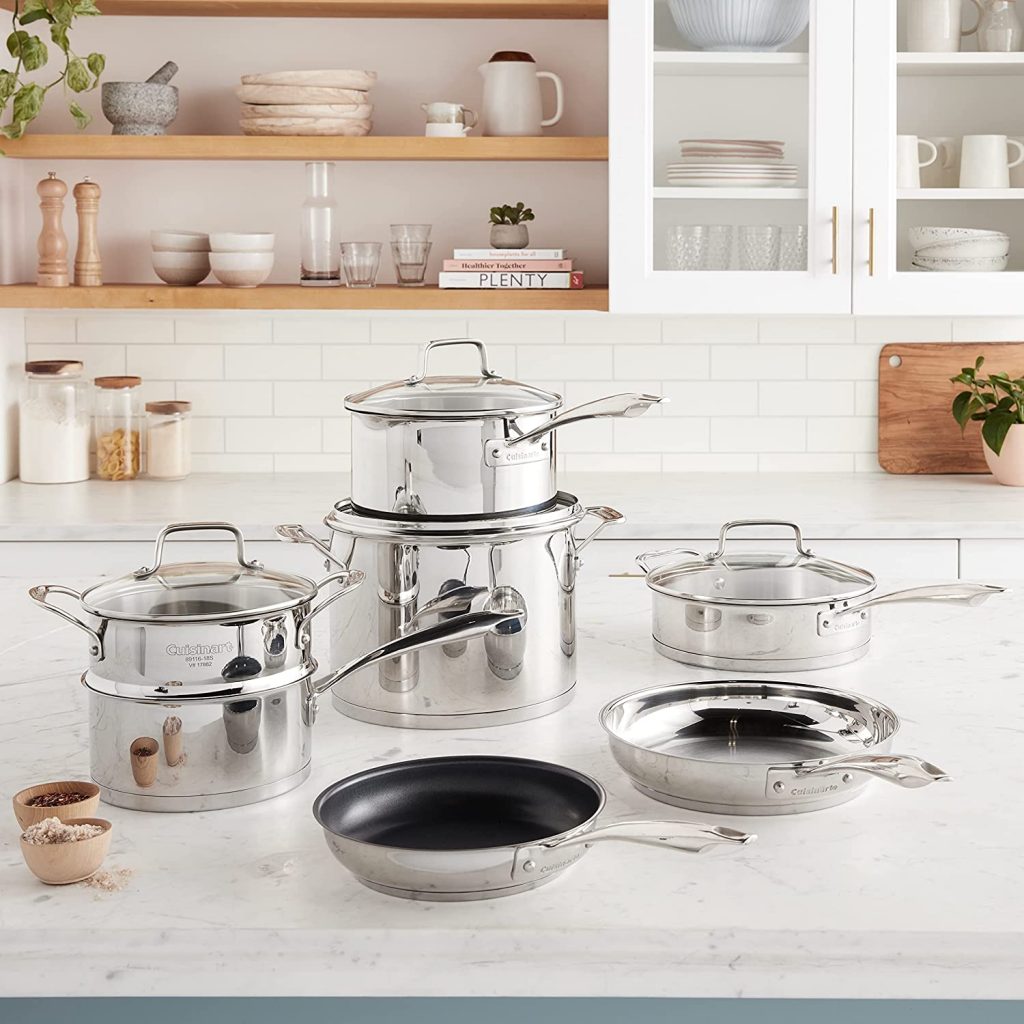 The Cuisinart 11-piece cookware set has something called the PowerBond base. It makes the heating process go quicker. The heat is distributed evenly and fast. The handles are riveted so they feel comfortable in your hand. The four lids are made of tempered glass that traps heat and moisture inside. These are compatible with induction cooktops and are oven-safe up to 500 degrees. 
Pros:
Easy-to-pour rims
High-quality cookware
Dishwasher and oven safe
Good value for money
Cooks evenly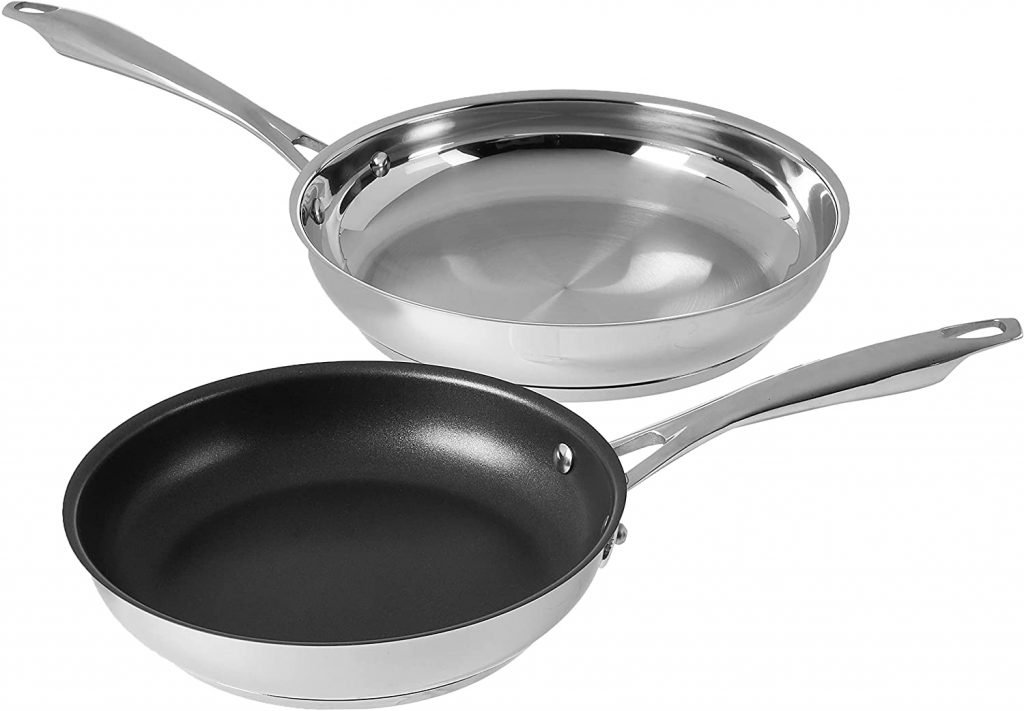 Cons:
Lids get very hot
No vents in lids
Difficult to clean around handle studs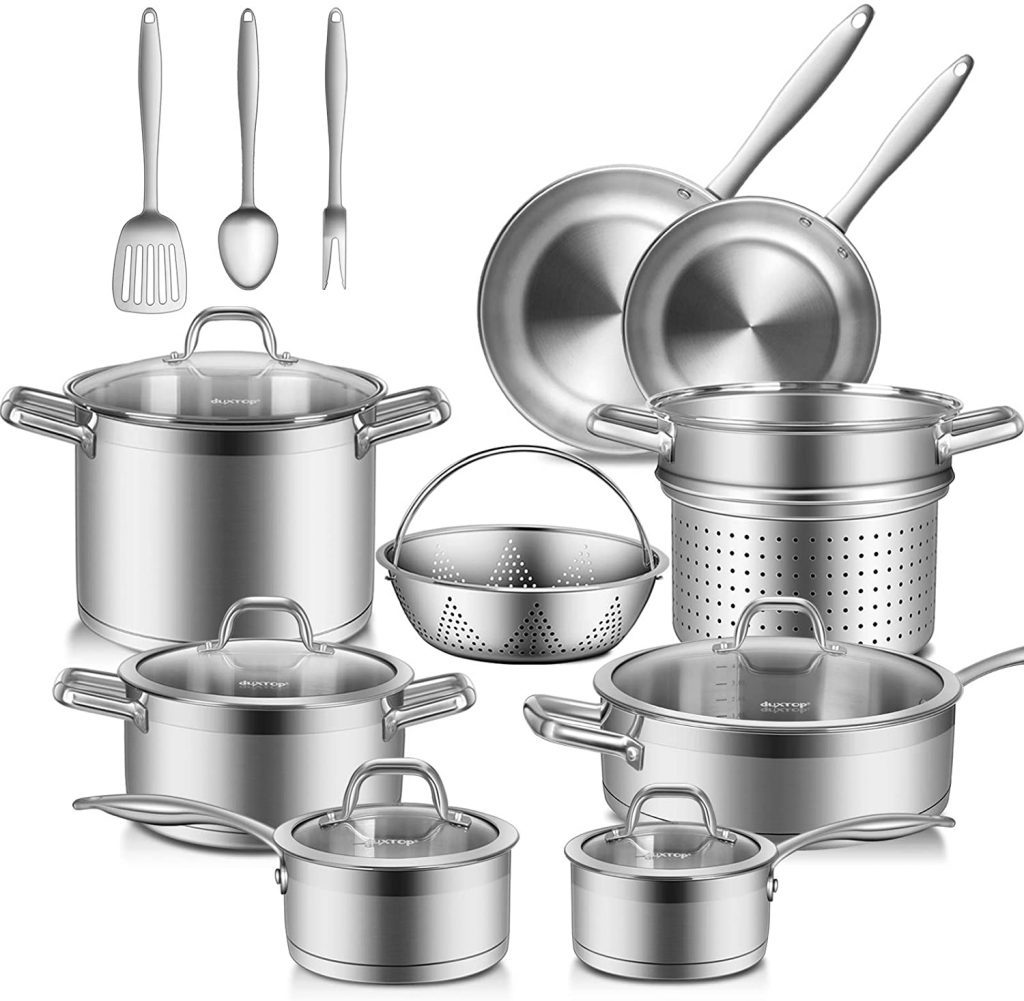 This 17-piece cookware set includes four pots, three pans, five lids, a steam basket, a boiler basket, and three stainless-steel cooking utensils. All pieces are oven-safe up to 550 degrees. They're also dishwasher safe and freezer safe. There is a lifetime warranty included with your purchase. The pots and pans have a drip-free pouring design. The lids are all tempered glass that locks in the moisture and heat. The cookware has aluminum in the base for even cooking.
Pros:
Nice, modern design
Large set with many pieces
Durable
Use with induction, gas, infrared, ceramic, and electric cooking
Made of 18/10 stainless steel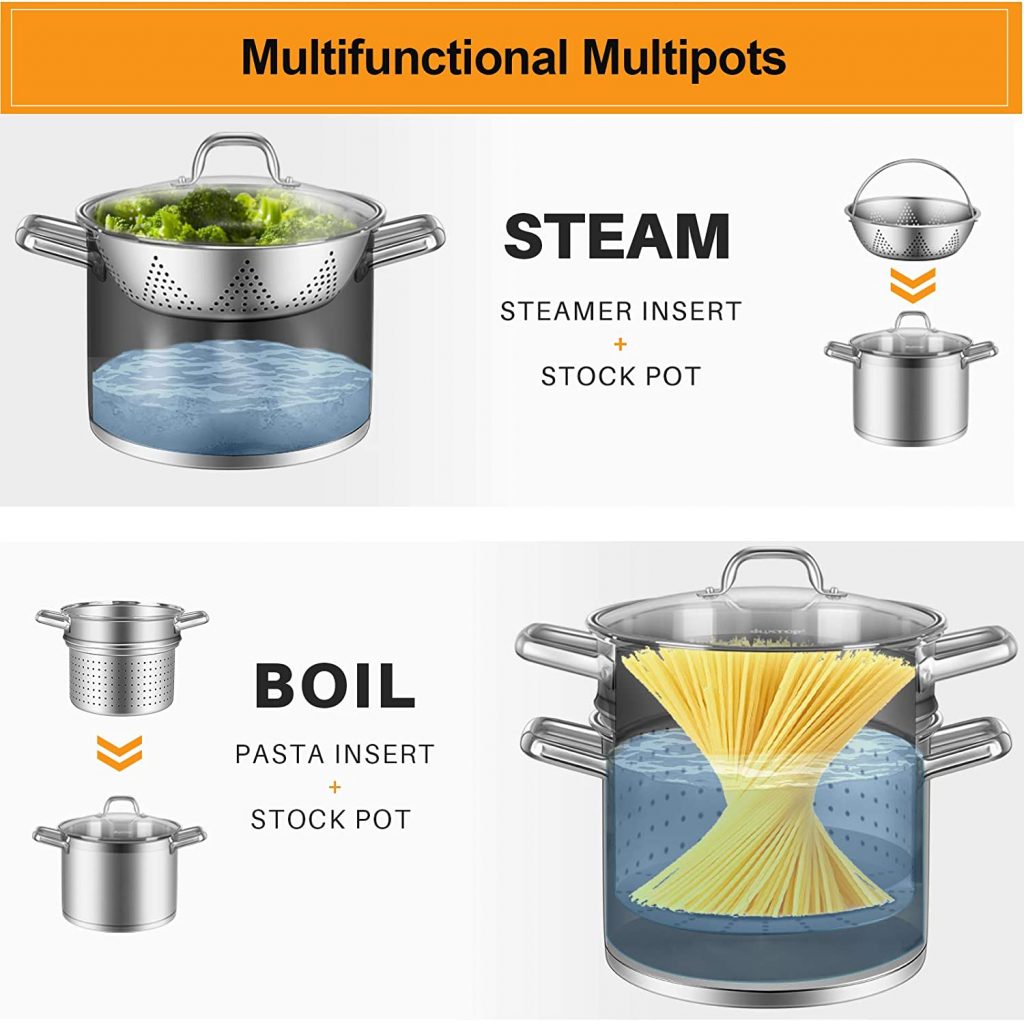 Cons:
Heavy
No lid for skillet
Interior is easy to scratch
What Is The Best Stainless-Steel Cookware Brand?
Kitchen experts don't all agree on the best brand of stainless-steel cookware. The frontrunners are Hestan NanoBond, All-Clad (high-end), Calphalon, and Cuisinart.
The best brand for budget-friendly stainless steel cookware sets is T-fal.
The Bottom Line
Whether you need a small 10-piece cookware set or the largest one you can find, stainless-steel cookware sets are durable, made to cook evenly, attractive, and easy to clean. You need to look for the right quality level, though. Make sure you buy 18/10 stainless steel. It will last the longest. Look for something oven and dishwasher safe. And remember the 17-piece cookware set doesn't have 17 pots and pans. Look for the cookware pieces you need before choosing a set to buy.
FAQs:
What is the healthiest stainless-steel cookware?
Most stainless-steel cookware is made without chemicals. Some are coated to make nonstick cookware, however. The best overall for the healthiest stainless-steel cookware is Cuisinart Tri-Ply.
Is Kirkland stainless-steel cookware good?
Kirkland is made of 18/10 stainless-steel. It cooks evenly and heats quickly. It is a good cookware set.
What is the highest quality stainless-steel?
The highest quality stainless-steel is 304 grade 18/10.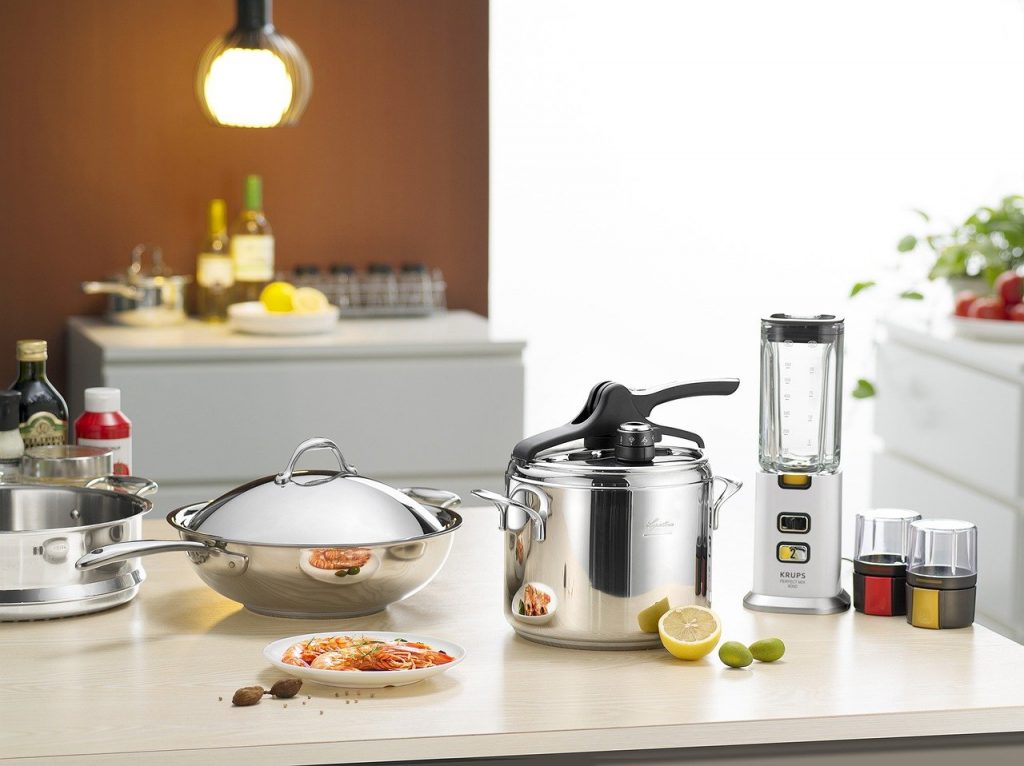 What stainless-steel pans do chefs use?
They use a lot of All-Clad cookware.
What is the healthiest cookware to use?
The list of healthiest cookware includes stainless-steel, cast iron, glass, copper, and lead-free ceramic.
When should you replace stainless-steel pans?
Generally, stainless-steel pans should last a minimum of 5 years. If you notice lots of discoloration, scratching, and warping, it may be time to replace that piece.
What is the healthiest cookware set to buy?
Stainless-steel cookware sets are one of the healthiest types to buy. Many sets have nickel and chromium in the metal. These help stave off rust that can cause your food to taste different.
Who makes Kirkland stainless-steel cookware?
The Kirkland cookware is made in Thailand for its parent company, Costco.
Disclaimer: FamilyHype.com (Family Hype & FamilyHype) is a participant in the Amazon Services LLC Associates Program, an affiliate advertising program designed to provide a means for sites to earn advertising fees by advertising and linking to Amazon.com.
DISCLAIMER
(IMPORTANT)
: This information (including all text, images, audio, or other formats on FamilyHype.com) is not intended to be a substitute for informed professional advice, diagnosis, endorsement or treatment. You should not take any action or avoid taking action without consulting a qualified professional. Always seek the advice of your physician or other qualified health provider with any questions about medical conditions. Do not disregard professional medical advice or delay seeking advice or treatment because of something you have read here a FamilyHype.com.