Vacuum cleaners have been around for quite some time. Many new models have emerged over the years. Today, you can buy everything from canister vacuums to handheld vacuums and even robot vacuums. The classic upright vacuum remains popular to this day, though. More than 40 million vacuums are sold every year, of which most are still upright vacuums.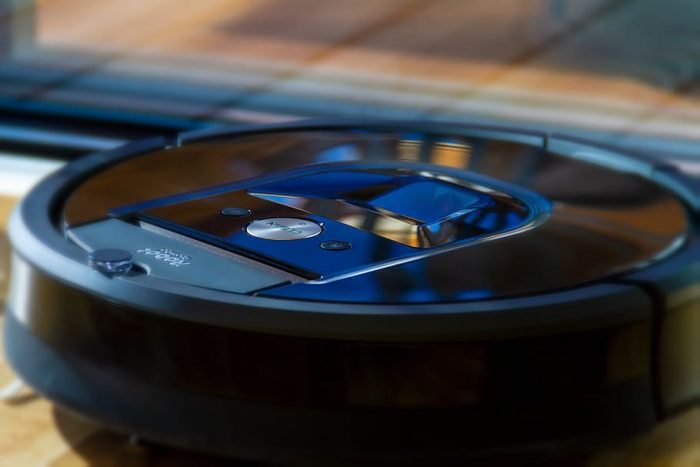 An upright vacuum is good at eliminating dust and dirt from large, carpeted rooms. It's also a good choice for hard floors if you can turn the roller brush off. Decide between single and dual motors. You'll want to choose between bagged and bagless, too. Other important factors to consider include weight, noise, filters, and power.
This is a guide to help you choose the best upright vacuum cleaner. Keep reading for more detailed information about the important factors to consider when you're shopping for an upright vacuum. We'll also look at a few good options of vacuum cleaners currently on the market.
Let's Talk Motors And Power
Vacuum cleaners have motors. The motors are what give them the power to drive the suction. An upright vacuum has either a single or dual motor. 
Single-motor – One motor provides power for the brush and the suction.
Dual-motor – The brush and the suction are powered by separate motors within the vacuum. 
Dual-motor upright vacuum cleaners typically have more power and better suction than those with a single motor. They also usually cost more.
You can determine how good the suction is by looking at the amps and air watts numbers indicated in the vacuum cleaner description. Amps refers to how much power the vacuum can draw from the outlet. Look for 12 amps for the most power.
An even better indication of power is air watts. Air watts includes suction resistance. The most powerful upright vacuum cleaners have 200 air watts, or more.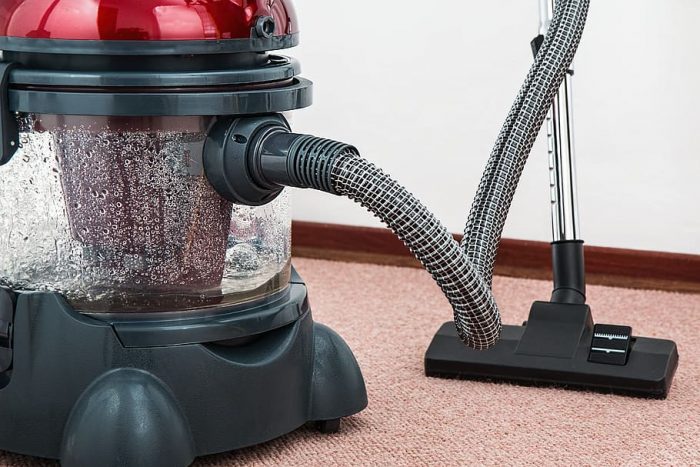 Which Vacuum Is Better, Bagged Or Bagless?
Upright vacuum cleaners come in both bagged and bagless models. Both are good options. Choosing between them is more about preference than anything else.
Bagged vacuum cleaners may be better at keeping dust and allergens contained, especially when it comes to emptying. Some vacuum bags are specially designed to keep dust from getting out into the air during the changing process. The downside is you must keep buying replacement bags.
Bagless upright vacuum cleaners are easy to empty. You can detach the dust container from the vacuum and open the seal. Typically, there's a convenient trigger that opens the bin. Hold it over a garbage can and allow the dust and dirt to fall out. You'll often see particles drift into the air. It's best to empty the bin outside.
Consider Noise Level
Many consumers don't think to consider the noise level of a vacuum cleaner. The reality is some vacuums are louder than others. You should be able to find the decibel level of any options you're considering. If you need something that's quieter, look for 60 to 65 decibels.
Some Vacuums Are Heavy
Vacuum cleaners that weigh a lot are more difficult to use. It's important to consider how much a vacuum weighs because you must push it back and forth across the floors in your home. In a multi-story home, you may need to carry the vacuum up and down stairs, as well. 
Full-size vacuum cleaners can weigh more than 20 lbs. Make sure you consider how much a vacuum cleaner weighs before purchasing.
Filters Are Useful
A vacuum cleaner can help with the air quality in your home, too. If you or someone in your home has allergies, or there are pets in the home, consider vacuums with HEPA filters. 
HEPA filters clear your air of many allergens, bacteria, pet dander, and dust. Some filters are disposable and must be replaced about every six months. Others are reusable. You'll need to wash the filter every six months if the filter is reusable.
Best Upright Vacuum Options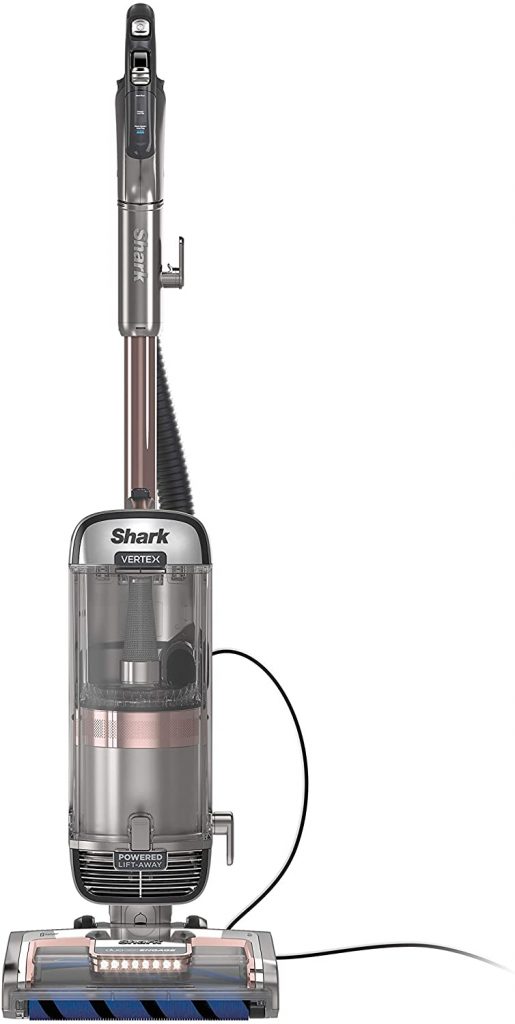 Shark touts this as its most powerful vacuum ever. The DuoClean PowerFins rollers are a combination of rollers that work on all kinds of floors. The design allows the vacuum to get deep down dirt in carpets and capture more of the dust and debris on hard floors. The brushroll is self-cleaning and has an anti-wrap design for keeping hair from wrapping around it. The Lift-Away design allows you to use these Sharks as handheld vacuums, also. 
Pros:
Highly versatile
LED lights allow you to see more dirt and debris
Built-in Anti-Allergen Complete Seal Technology with HEPA filter
Built-in Active Glide Technology
30-foot cord
Lightweight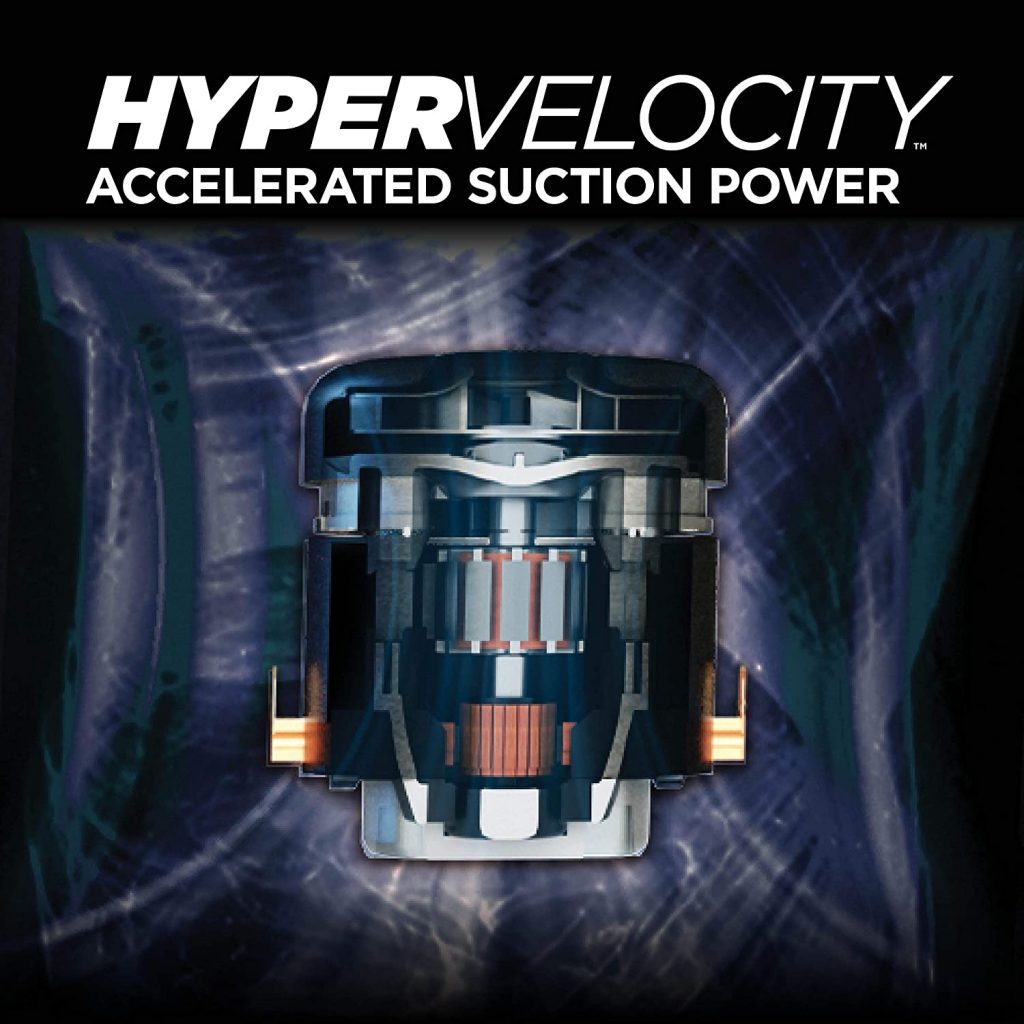 Cons: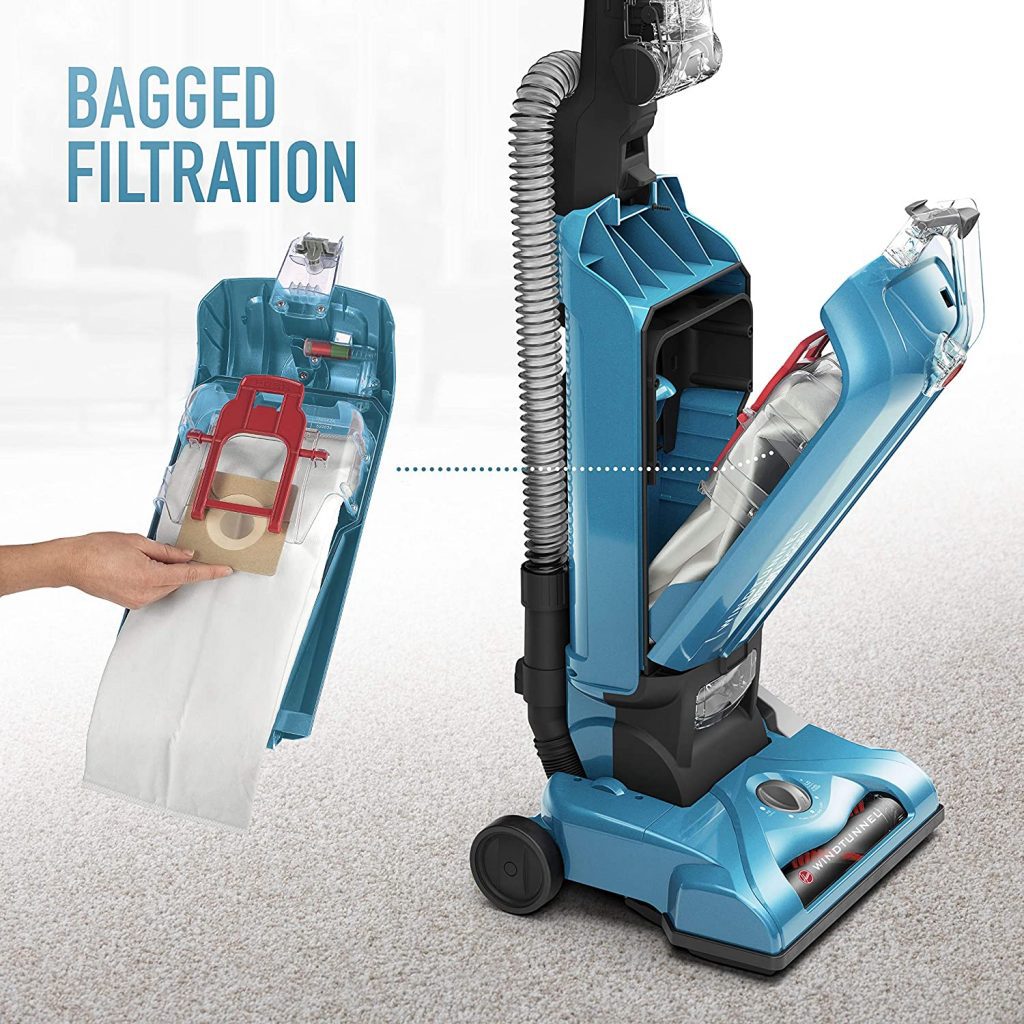 The Hoover WindTunnel bagged upright vacuum cleaner is a more affordable option. With a price tag that's about a quarter of the Shark listed above, it's a bargain. It has a HEPA filtration system to help with cleaner air. It includes a multi-floor adjuster that has five different floor heights to choose from. WindTunnel technology provides more powerful suction. The vacuum also comes with hand tool accessories.
Pros:
Budget-friendly
Long power cord
Lightweight
Includes a 2-year limited warranty
HEPA filter traps 99.7% of dust and allergens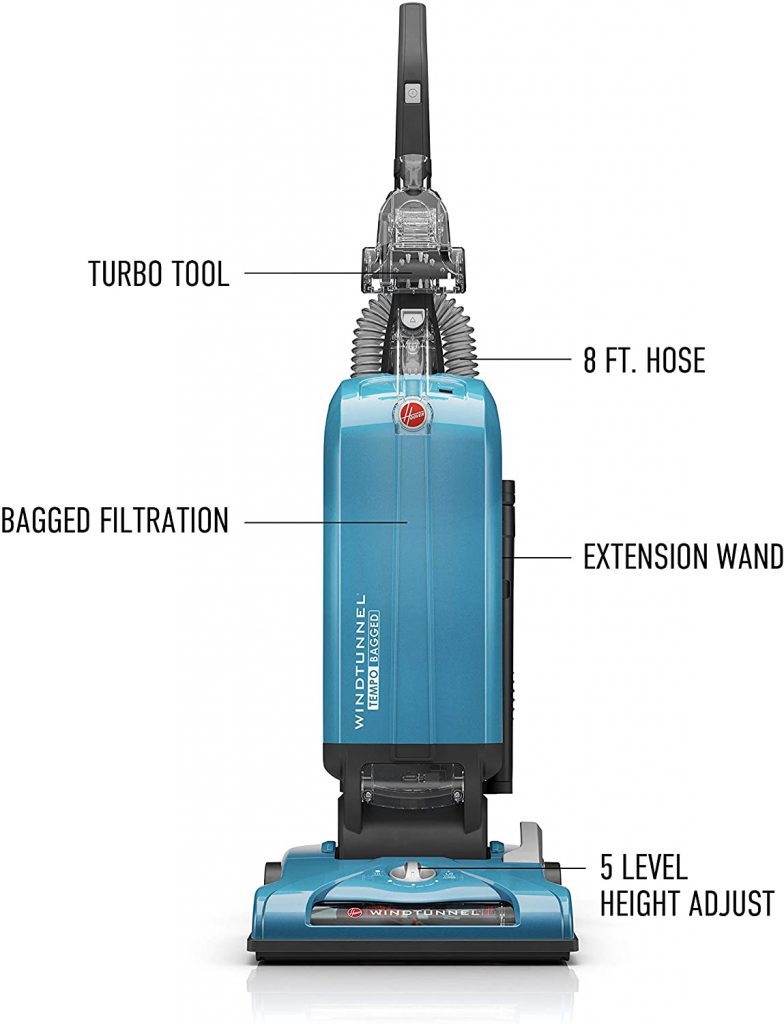 Cons:
Cord is positioned low
Loud
Hose pinches off easily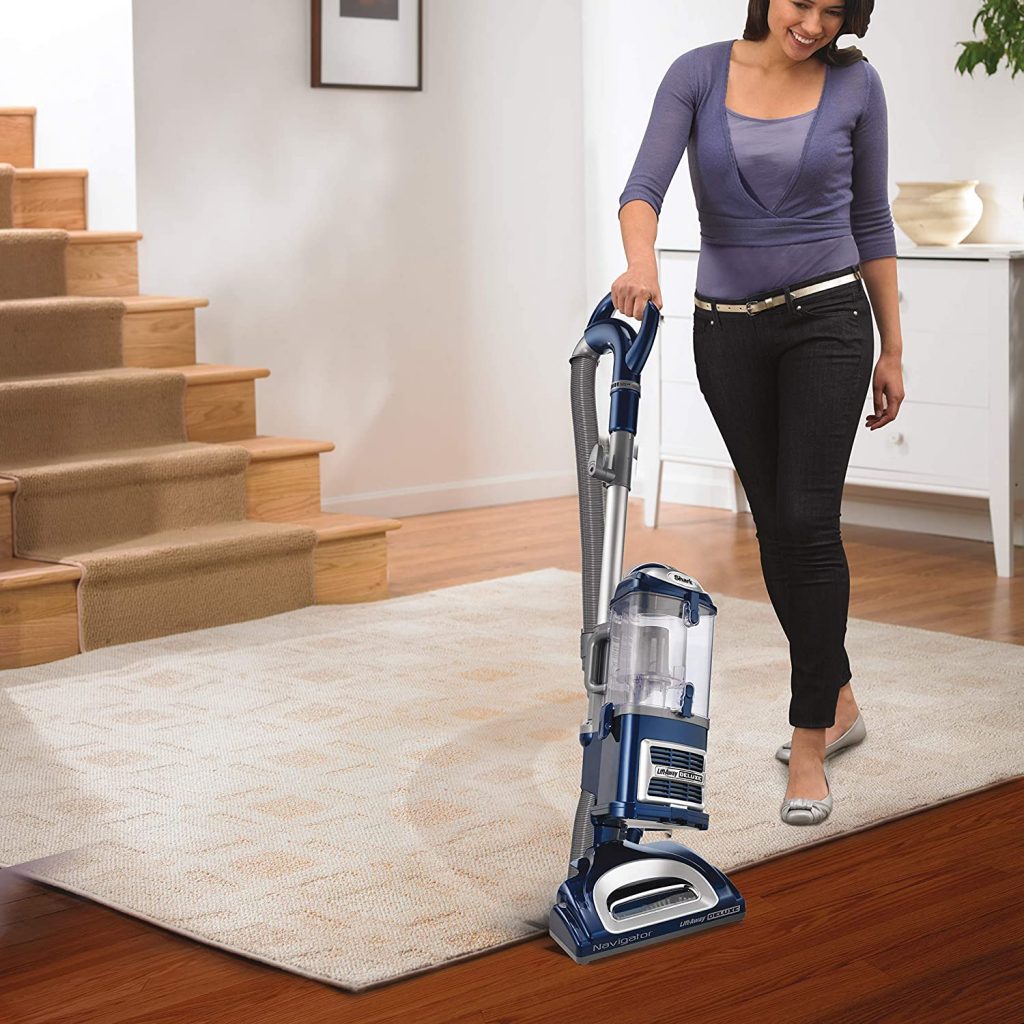 The Lift-Away design of this Shark vacuum cleaner allows you to use it as an upright or handheld vacuum. It comes with interchangeable tools for using with the hose. The dust bin has a large capacity, so you don't have to interrupt your cleaning session to go empty it. The brushroll shuts off for use on hard flooring. It's equipped with a HEPA filter, also.
Pros:
Budget-friendly
Lift-Away design makes vacuum versatile
Equipped with Anti-Allergen Complete Seal
Easy to maneuver
Lightweight
5-year limited warranty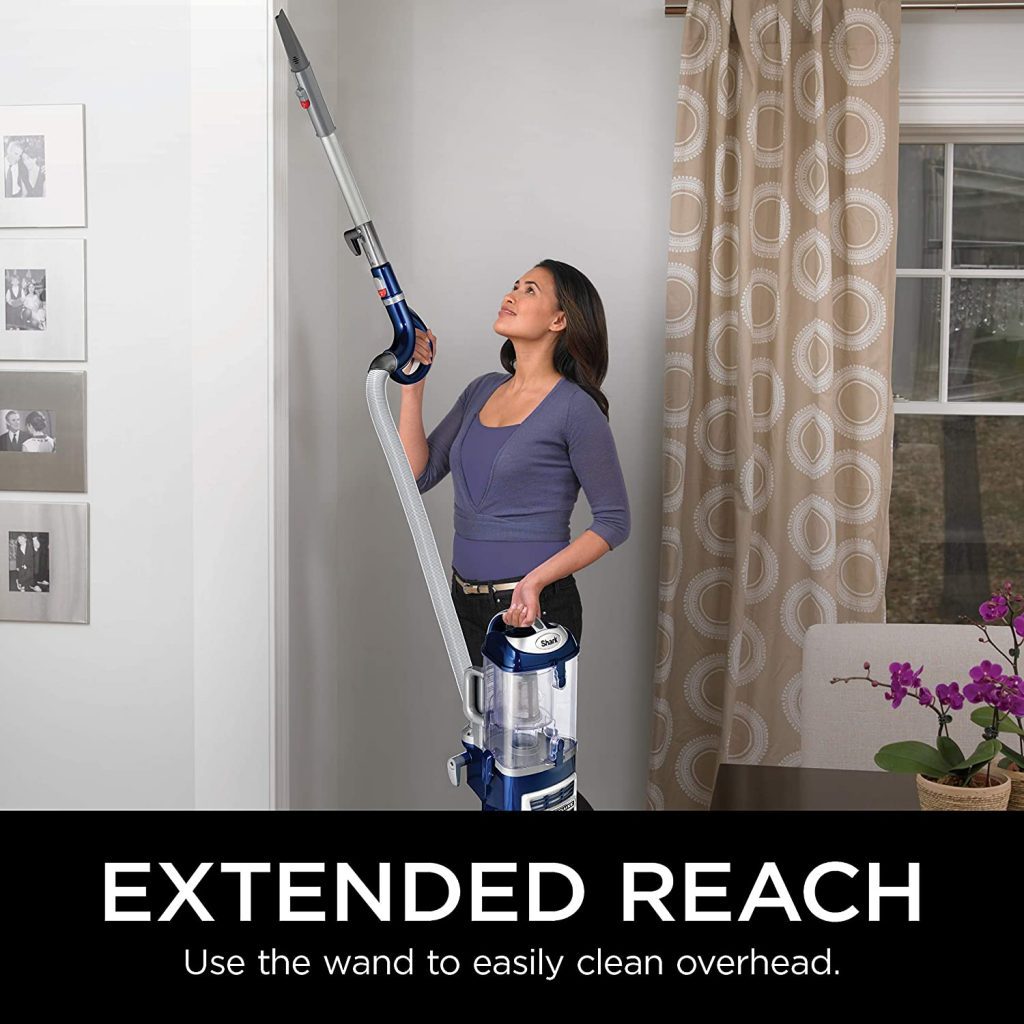 Cons:
Doesn't work as well on thick carpet
No headlight
Vacuum topples over when using hose

This Bissell is the most affordable one on our list. This one is specially designed for picking up pet hair. The triple action roller brush includes scatter-free technology, so your vacuum sucks up more pet hair. The cleaning path is 13.5 inches wide and includes edge-to-edge cleaning power. This is a bagless vacuum with a 1-liter dust bin that's easy to empty. Every Bissell Green Pet purchase helps pets in need. A $10 donation is made to the Bissell Pet Foundation.
Pros:
Highly affordable
Specially designed to pick up pet hair
Easy to maneuver
Wide cleaning head means less trips across floor
Purchase helps save pets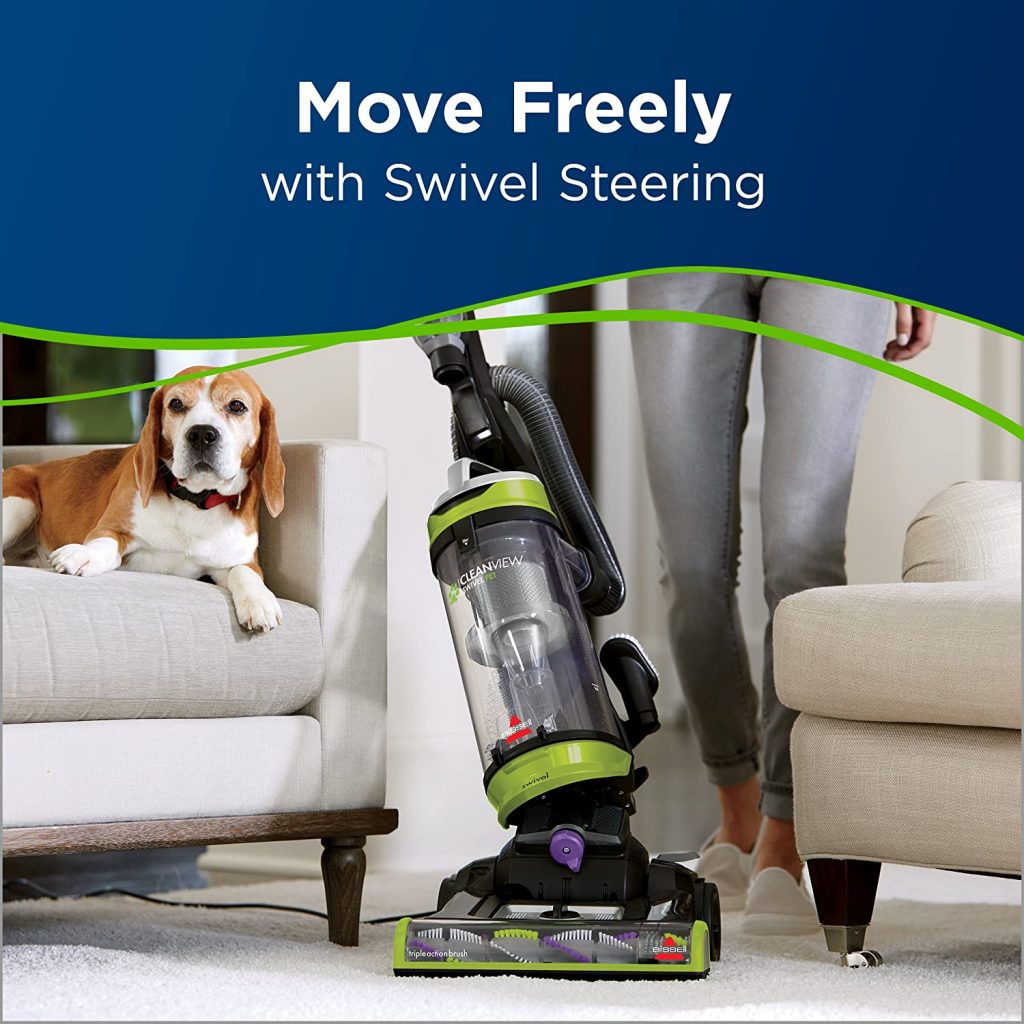 Cons:
Short cord
No storage for pet hair attachment tool
Debris easily gets stuck in roller brush
What Vacuum Does Consumer Reports Recommend?
Consumer Reports rates the Shark Navigator Powered Lift-Away NV586 highly. It's reasonably priced and works well on carpet, bare floors, and pet hair. CR rates it Very Good for the reliability category. It was given an Excellent rating for the owner satisfaction category.
Are Upright Vacuum Cleaners Better?
An upright vacuum cleaner is better at doing more things than other types of vacuums. While other kinds of vacuums are good at doing what they're designed to do, an upright vacuum cleaner is often more versatile. 
You can choose an upright vacuum cleaner that is bagged or bagless, cleans carpets or hard floors, works as a handheld vacuum, cleans under furniture, and more. 
Final Thoughts
The best upright vacuums help keep your home clean by cleaning floors, stairs, and up high. They can even help keep the air in your home cleaner. Look for the power you need, the size you want, and all the extra features that will make cleaning your home easier. Upright vacuums come in almost every price range, so there's one for every budget, too.
FAQs:
Which is the best upright vacuum cleaner to buy?
Shark is recommended by many review sites, as well as Consumer Reports. A good budget-friendly option is the Eureka PowerSpeed Bagless Upright Vacuum.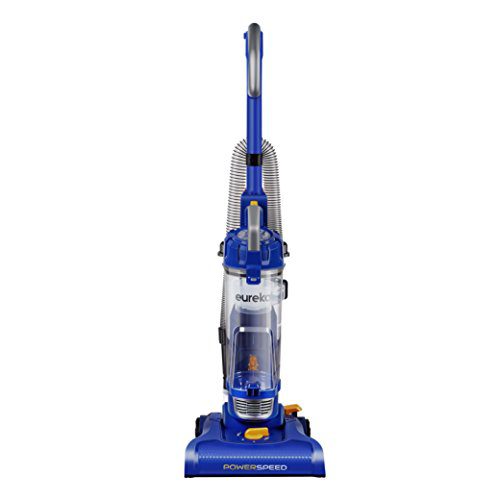 What is the best upright vacuum 2020?
Shark brand vacuums have topped the ratings charts for several years now.
Which vacuum has the strongest suction?
Best Buy gives the title of strongest suction to the Dyson DC65.
What vacuum cleaner do professionals use?
The Hoover Commercial Lightweight Backpack Vacuum, C2401 is one of the best vacuums for professionals.
Are stick vacuums worth it?
Stick vacuums work well on hard flooring. They're worth it if you don't have a huge space to clean. They're also worth it as an add-on to your cleaning arsenal.
Are Shark vacuums better than Dyson?
These two brands are even in terms of quality. Shark has a better range of prices for all budgets. Dyson is a premium brand of vacuums, thus there aren't any budget-friendly options.
Is Miele better than Dyson?
Miele and Dyson are both luxury brands. Both are priced quite high. Both have their own distinctive features. Dyson offers more models than Miele but both brands produce high-quality vacuum cleaners.
Disclaimer: FamilyHype.com (Family Hype & FamilyHype) is a participant in the Amazon Services LLC Associates Program, an affiliate advertising program designed to provide a means for sites to earn advertising fees by advertising and linking to Amazon.com.
DISCLAIMER
(IMPORTANT)
: This information (including all text, images, audio, or other formats on FamilyHype.com) is not intended to be a substitute for informed professional advice, diagnosis, endorsement or treatment. You should not take any action or avoid taking action without consulting a qualified professional. Always seek the advice of your physician or other qualified health provider with any questions about medical conditions. Do not disregard professional medical advice or delay seeking advice or treatment because of something you have read here a FamilyHype.com.