Ice makers are small appliances many of us don't think much about. That is, until we wish we had more ice. If you live in a hot climate, you like to entertain a lot, or you just always use a lot of ice, a countertop ice maker is something to consider. Even if you already have an ice maker built into your refrigerator, a countertop ice maker could be worth your while because it's capable of more.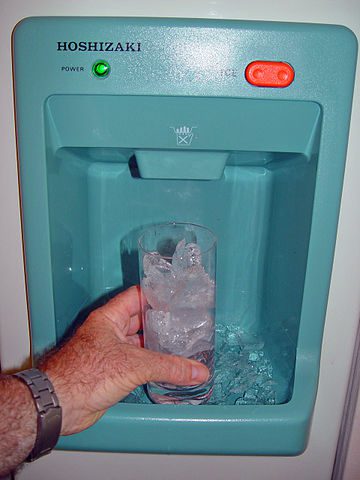 When you start looking for the best countertop ice maker to buy, decide on the capacity you want first. Ice makers vary by ice per day amounts. Then, look for a portable ice maker with a style you like. Choose what shape you want the ice cubes to be, as well as the size you'd like. You'll also want to look at how easy it is to use different ice makers and what bonus features they have.
This article is about finding the best countertop ice maker to buy for your home. You'll learn about what important factors you should look for. We'll touch on how these ice makers work. We'll also go over some frequently asked questions about these small appliances. Keep reading for answers to all your questions about finding the best countertop ice maker.
How Much Ice Per Day Would You Like?
We said above you should decide on the capacity first. Look at the ice production levels of all the ice makers you're considering. The production capacities vary from about 20 lbs. of ice per day up to around 50 lbs. or more.
It's important to understand that production capacity and storage capacity are two different things. You may choose an ice maker that can make 35 lbs. of ice per day, but it's not likely it will store that much. You will probably need to empty the ice every few hours to make room for more and to keep it from melting.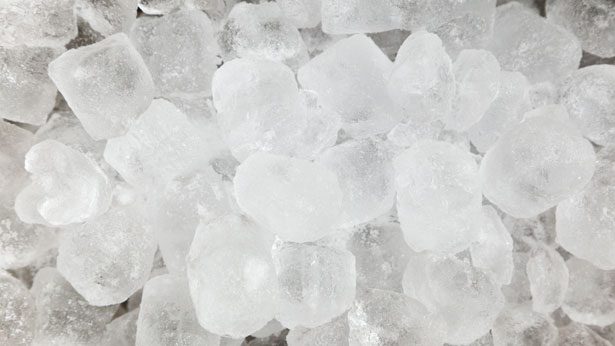 Ice Makers Don't All Look the Same
As you start shopping for your portable ice maker, you'll notice they don't all look the same. If yours is going to be a countertop ice maker to use in the kitchen, you should look for one that matches the décor you already have. You could also choose one that adds a little extra style to the room. 
Ice makers come in different colors, finishes, shapes, and sizes. Look around for the one that will look the best in your kitchen.
Ice Cubes Don't All Look The Same Either
Here's something fun—you can choose the shape of your ice cubes! Generally, you'll find six common shapes. 
Crescent
Full cube
Half cube
Nugget
Bullet
Gourmet
What's more, is you can choose an ice maker that makes one shape of ice cubes, or you can look for ice makers that produce all of them. You can choose from different sizes of ice cubes, too.
Ease Of Use
Ice makers should be easy for you to use. If it's too complicated, move on and look for a different one. Ultimately, there shouldn't be a lot of effort on your part. 
You do want to make sure you look at what maintenance is needed to keep your ice maker functioning well and the ice cubes clear and clean. One nice feature is a self-cleaning option. If you are considering one that doesn't have the self-clean option, check out the reviews to see what people have to say about cleaning the machine.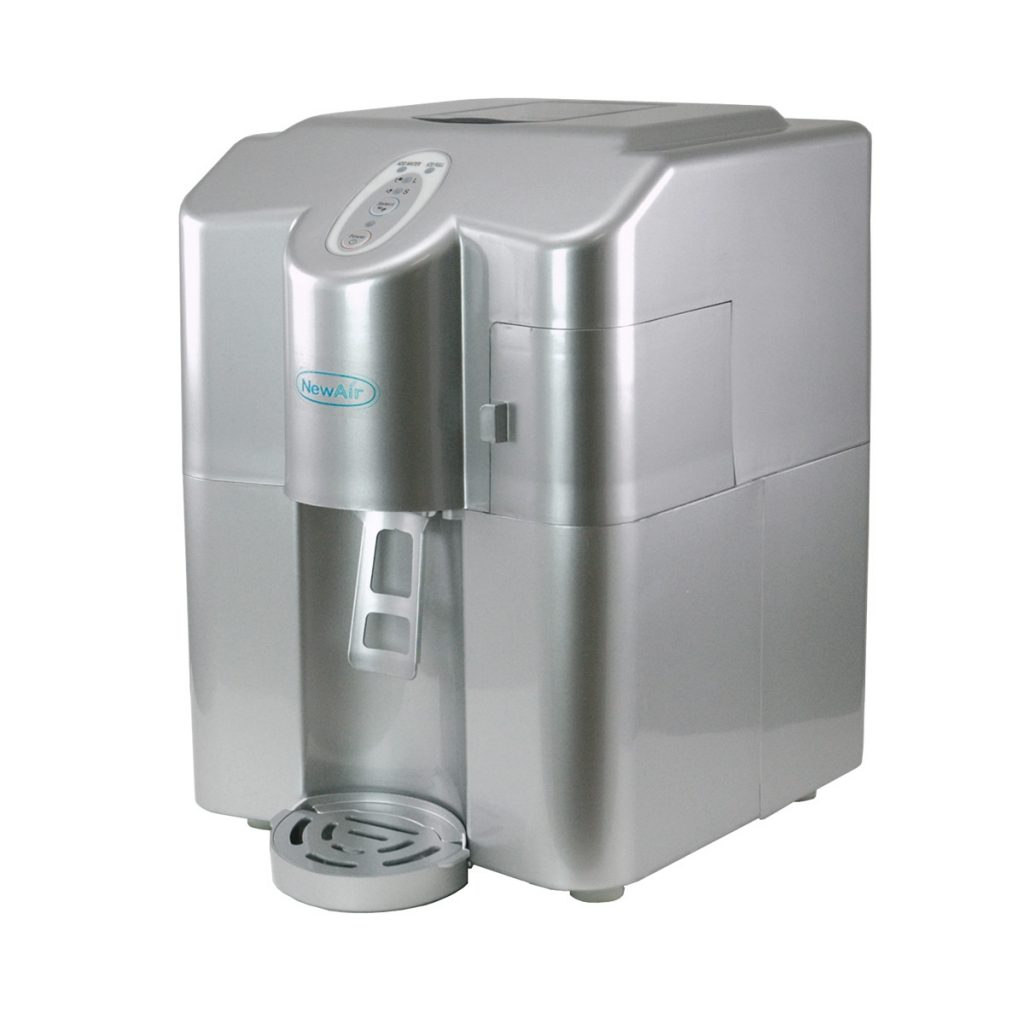 Bonus Features
An automatic timer lets you set specific start and stop times for your ice maker. It's useful for when you're getting ready to host a party or event and you want to make sure there's enough ice ready by a certain time. You can simply set the timer and go about your tasks without worrying about the ice maker.
Another good bonus feature to look for is the EnergyStar certification. This helps you keep your electricity bill lower. Your ice maker won't need as much energy to produce ice if you choose one that is certified.
Best Countertop Ice Maker Options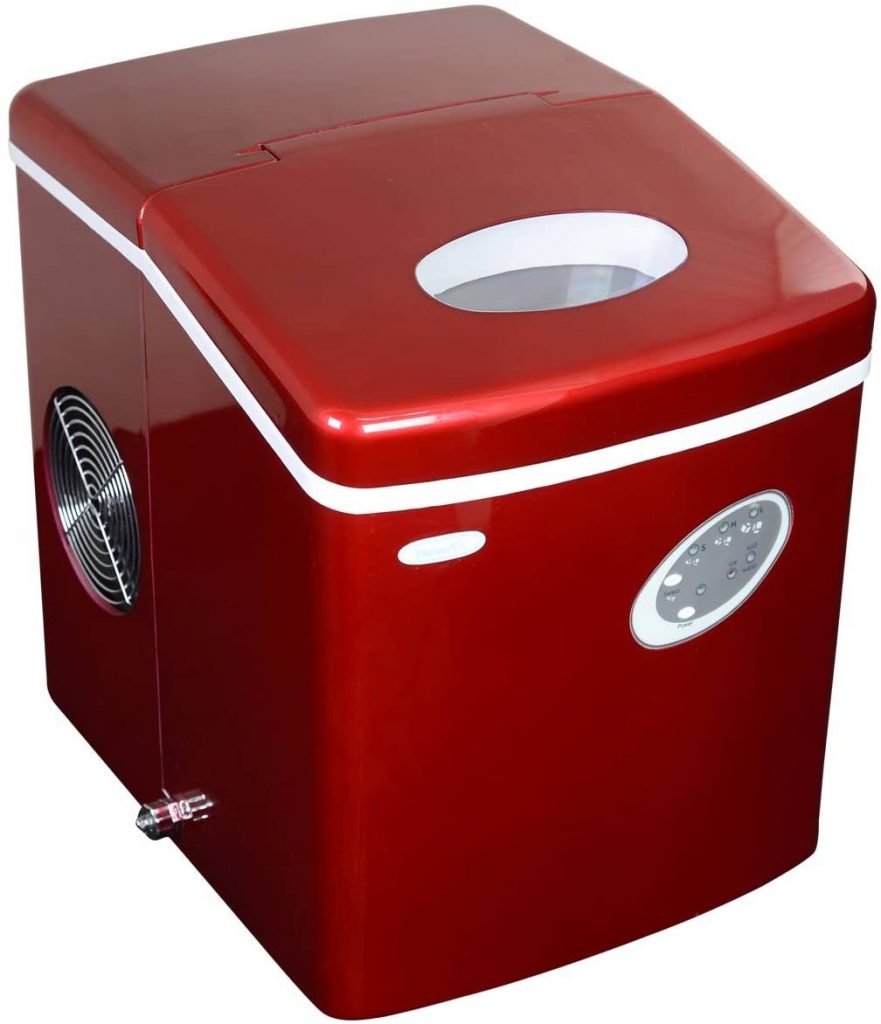 This ice maker is designed to fit in small spaces. It can sit on your countertop without taking up too much room. It's a good option for apartment kitchens or in campers. It's equipped with indicator lights to let you know when it needs to be drained and when the ice basket is full. It can produce up to 28 lbs. of ice per day. It makes three sizes of bullet-shaped ice. It's extremely easy to use, too. Plug it in, fill it with filtered water, and power it on.
Pros:
New batch of cubes every 6 to 15 minutes
Side-mounted drain makes cleanup easy
Easy to use
Fits almost anywhere
Includes 1-year warranty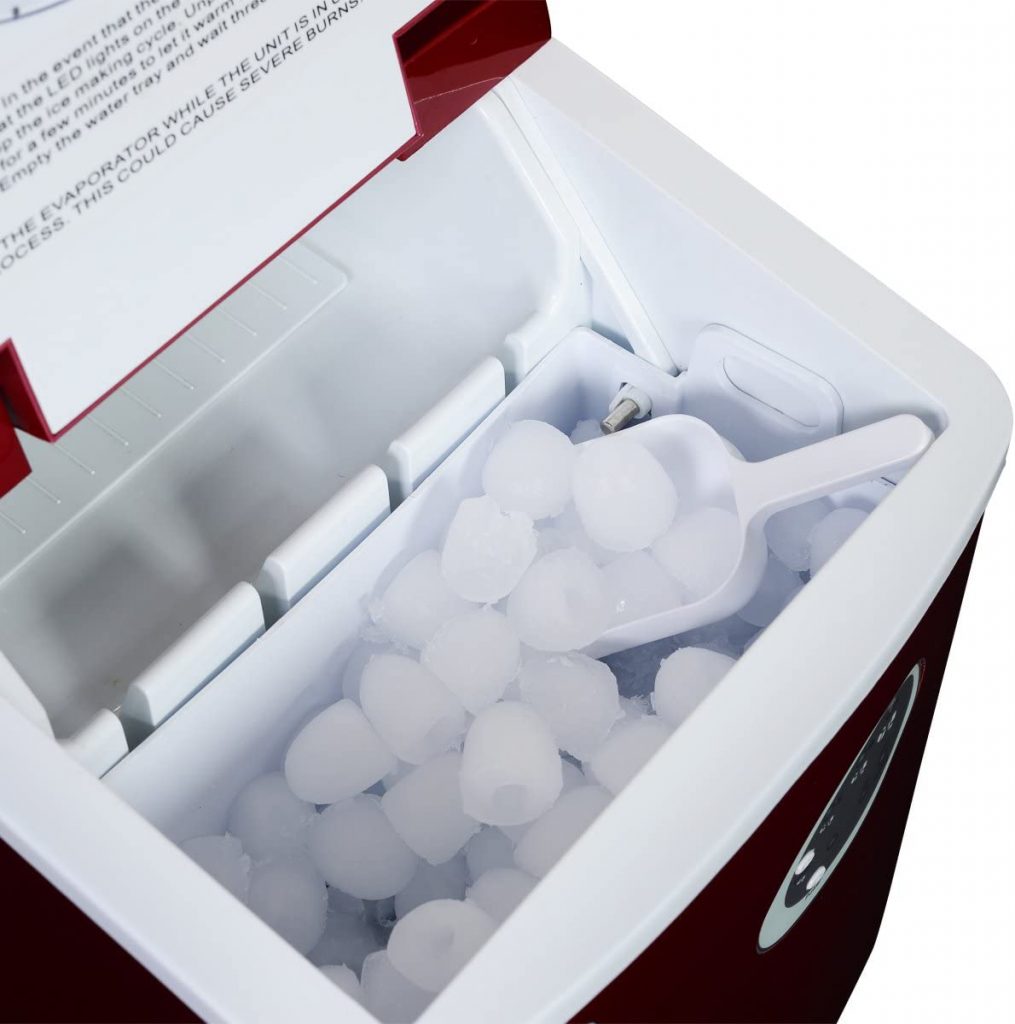 Cons:
No chilled storage
Somewhat noisy
Ice melts quickly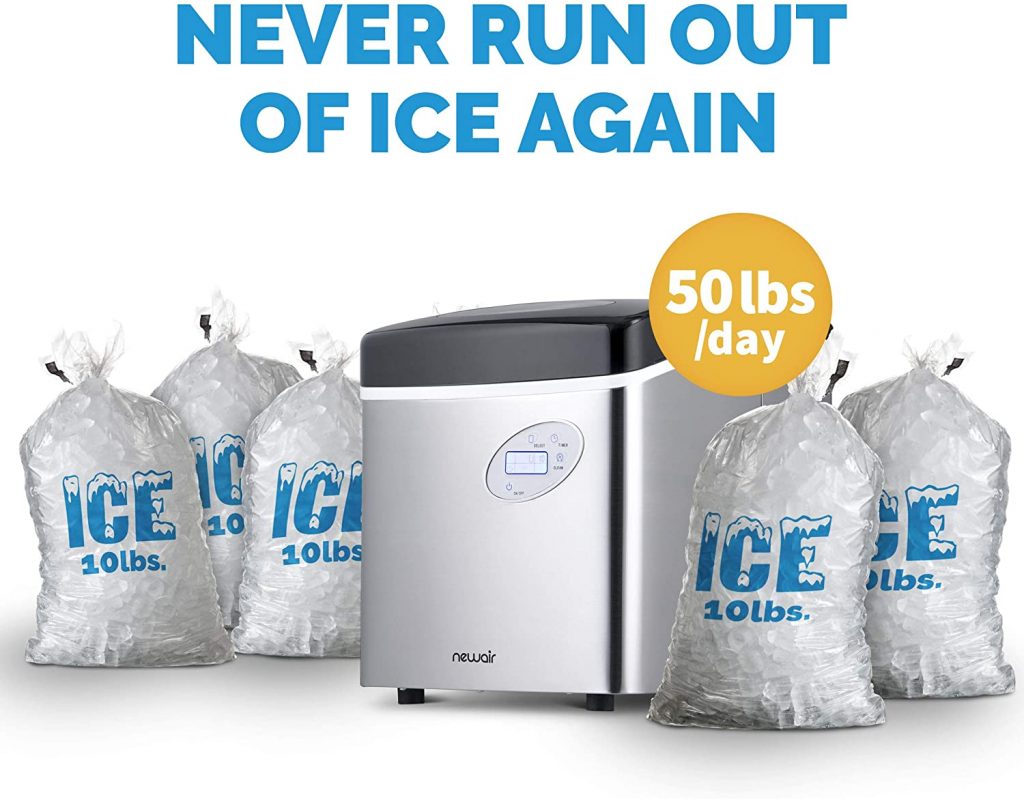 This is a large capacity countertop ice maker. It makes up to 50 lbs. of ice per day. It's capable of producing 12 pieces of ice every 7 minutes. It has an indicator light to let you know when to empty the water. Operation is simple with push button controls. It includes safety features, such as overflow protection and an automatic shut off. The NewAir has a small footprint, even with a 50 lb. production capacity. It also includes a self-cleaning option, a timer, and choice of ice size.
Pros:
Attractive design
Includes ice scoop and basket
High-capacity production
Makes ice fast
Easy to use and clean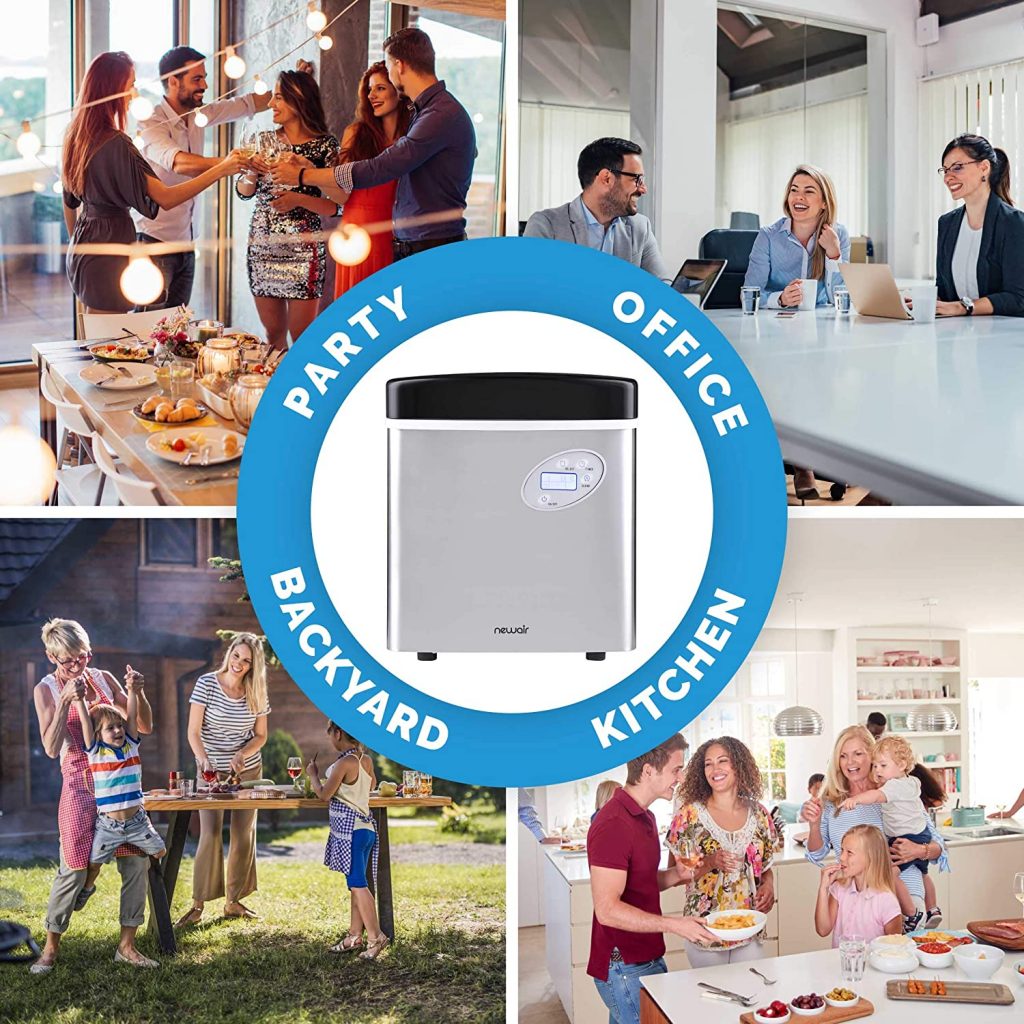 Cons:
Noisy
Produces a bit of heat
Heavy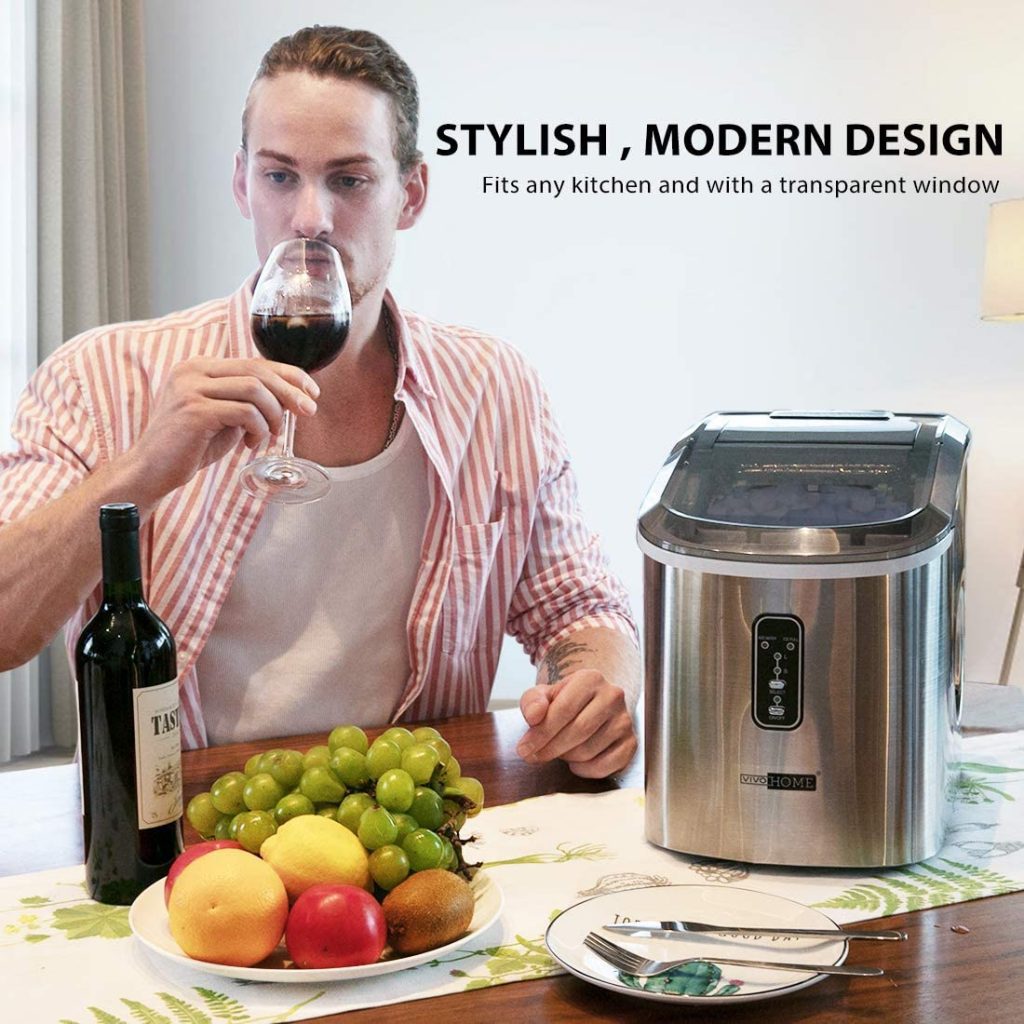 This stainless-steel portable ice maker has a slim design making it easy to position anywhere. It has a budget-friendly price and a lightweight body. It's easy to set up and use, too. Plug it in, add the water, and you'll have a batch of ice in 6 to 10 minutes. There are indicator lights to tell you when you must add water and when to remove the ice from the bucket. The lid is transparent, so you can see the ice inside, as well. 
Pros:
Affordable
Quiet operation
Fast production
Compact design for easy placement
More lightweight and portable than larger styles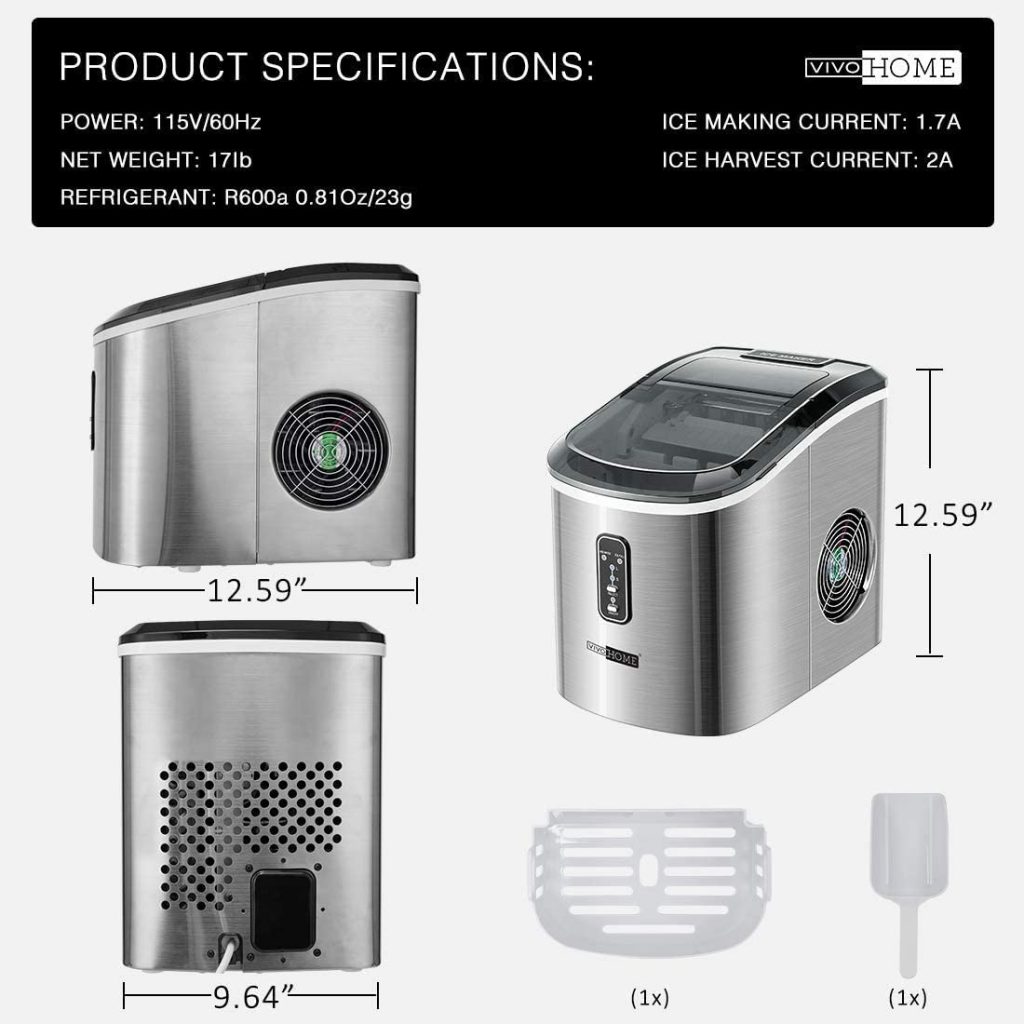 Cons:
Low production capacity per day
Ice sticks together
No chilled storage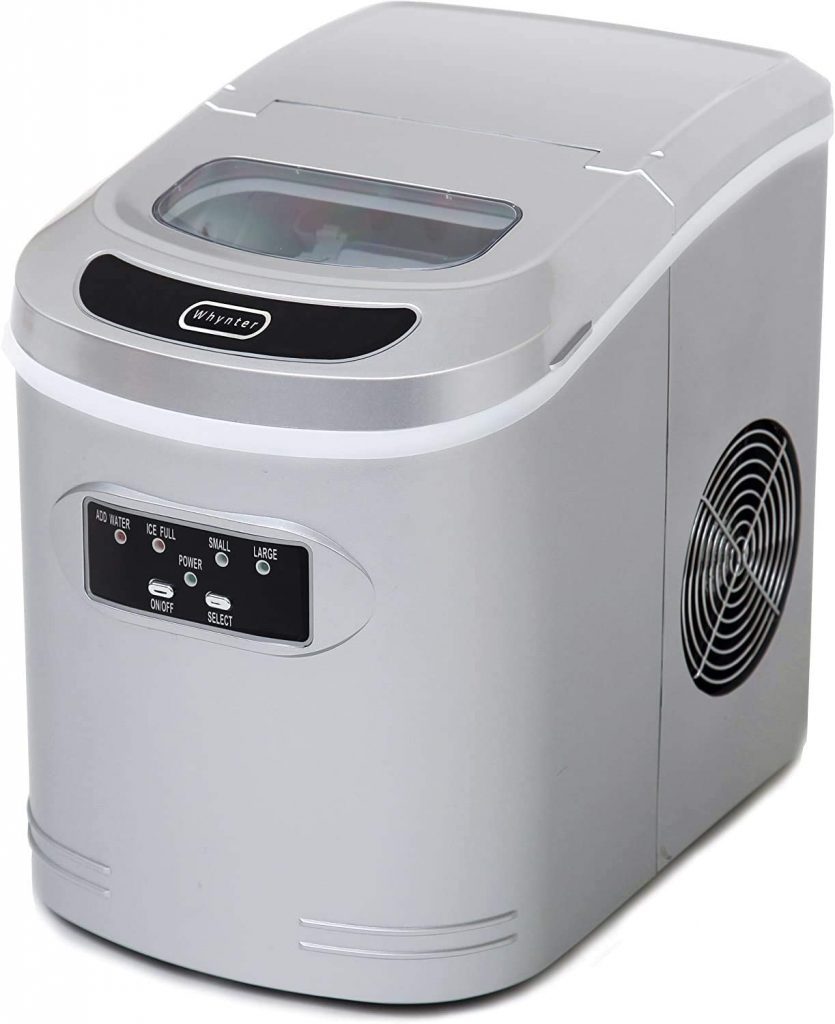 This one has an attractive design that comes in three color choices—black, red, and metallic silver. It can make up to 27 lbs. of ice per day. You get a choice between two sizes of ice cubes. The water reservoir holds up to 2.2 liters. The unit is lightweight and slim enough to fit in tight spaces. It's easy to use. Everything is controlled through push buttons on the front of the unit. There's no need to ever drain the water. Melted ice gets filtered back through to make new ice.
Pros:
No draining necessary
Side vent allows for easier placement
3 color choices
Lightweight 
Affordably priced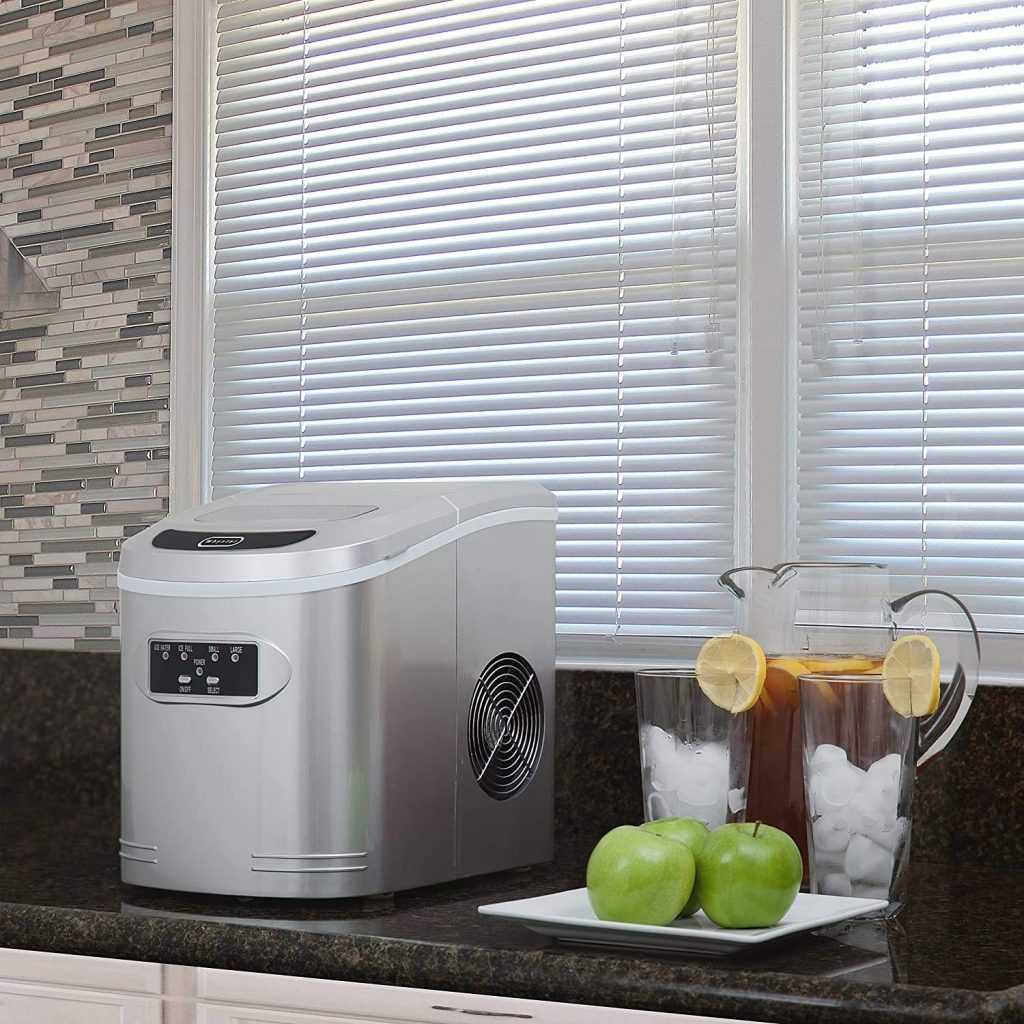 Cons:
Noisy
No chilled storage
Bullet ice is small
Are Countertop Ice Makers Worth It?
These appliances are worth it for many people. You can take them camping or on trips, serve a crowd of people cold drinks, and fill your freezer with plenty of ice to keep on hand. 
You don't have to spend a lot of money to get one, though the price range is broad. You should make sure to choose yours wisely, so you get the use out of it you want. The better choice you make, the more worth it it is to get one because it meets your needs.
What's The Best Water To Use In A Portable Ice Maker?
Use filtered water to get the best tasting ice. You should only ever use water that is deemed ok for drinking. You should also only use water that's between the temperatures of 51º F and 90º F. 
Always replace the water in the reservoir after 24 hours. Water that's been sitting can develop bacteria that is potentially harmful. Start each new day of ice making with fresh water.
Conclusion
The best countertop ice maker to buy will fit well in the space you have and with your décor. Look for one to make ice as quickly as you'd like, so it produces the ice per day you need. Check out any bonus features different ice makers have. Also, choose a machine that makes the shape and size of ice cubes you want. Ultimately, you'll save money, time, and energy by getting the ideal countertop ice maker for your needs.
FAQs:
Who makes the best countertop ice maker?
Frigidaire is known for making an excellent countertop ice maker that's compact and affordable.
Is there a countertop ice maker that keeps ice frozen?
Generally, countertop ice makers don't keep ice frozen. They're designed to slow down the melting of the ice with insulated bins. When the ice does melt, the water flows back into the reservoir where it started to be reused. 
What is the best clear ice maker?
The NewAir Countertop Clear Ice Maker Machine makes up to 40 lbs. of clear ice per day. It's compact and easy to use
Do countertop ice makers use a lot of electricity?
Some ice makers use a lot of electricity. It's best to look for one that has the EnergyStar certification.
Do portable ice makers need a water line?
Most of these don't need a water line. You will manually add the water needed to the reservoir.
Why are nugget ice makers so expensive?
The nugget shape is not as common in ice makers. It's soft and easier to chew. It requires special technology to produce, thus ice makers that generate nugget-shaped ice cost more.
How long do portable ice makers last?
Ice makers should last up to 5 years. You may get double that time out of them if you maintain them well and you aren't using them every day. 
Should you turn off your ice maker?
You should always turn a portable ice maker off when you're not using it.
Disclaimer: FamilyHype.com (Family Hype & FamilyHype) is a participant in the Amazon Services LLC Associates Program, an affiliate advertising program designed to provide a means for sites to earn advertising fees by advertising and linking to Amazon.com.
DISCLAIMER
(IMPORTANT)
: This information (including all text, images, audio, or other formats on FamilyHype.com) is not intended to be a substitute for informed professional advice, diagnosis, endorsement or treatment. You should not take any action or avoid taking action without consulting a qualified professional. Always seek the advice of your physician or other qualified health provider with any questions about medical conditions. Do not disregard professional medical advice or delay seeking advice or treatment because of something you have read here a FamilyHype.com.