There's not much that's better than homemade ice cream. For starters, it's creamy and fresh and you can make flavors that you and your family like the most. Even better than that, though, is you get to know exactly what went into that ice cream before enjoying it. Having your own ice cream maker means you never have to worry about what's in your ice cream, how long it's been sitting in the freezer at the store, or anything else.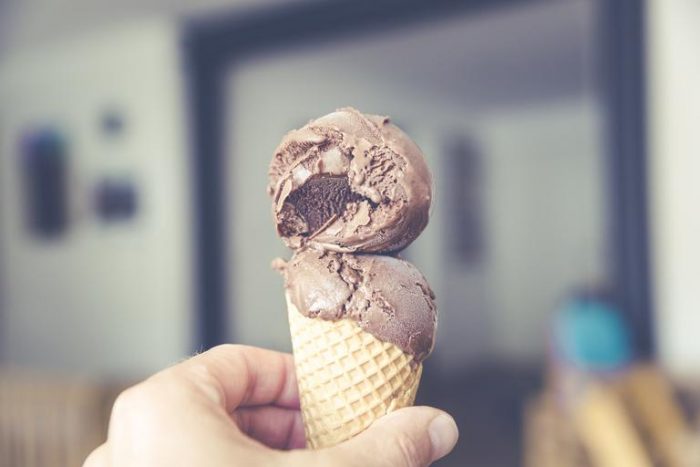 How do you find the best ice cream maker, though? You'll choose from three types of ice cream makers—ice and salt, electric frozen bowl, or compressor. You'll need to look at these factors:
Cost
Ease of use
Capacity
Speed
Texture result
Ease of cleaning
Noise level
Aesthetic
Bonus features
Make a prioritized list of the factors that are most important to you and set a budget for your ice cream maker. That will make it easier for you to find what you want for the price you're comfortable with.
Let's start this article by looking at some of the ice cream makers that are selling right now. We'll look at some pros and cons of each and then get into a deeper discussion of what to consider when you're choosing an ice cream maker for your household. 
Best Ice Cream Maker Options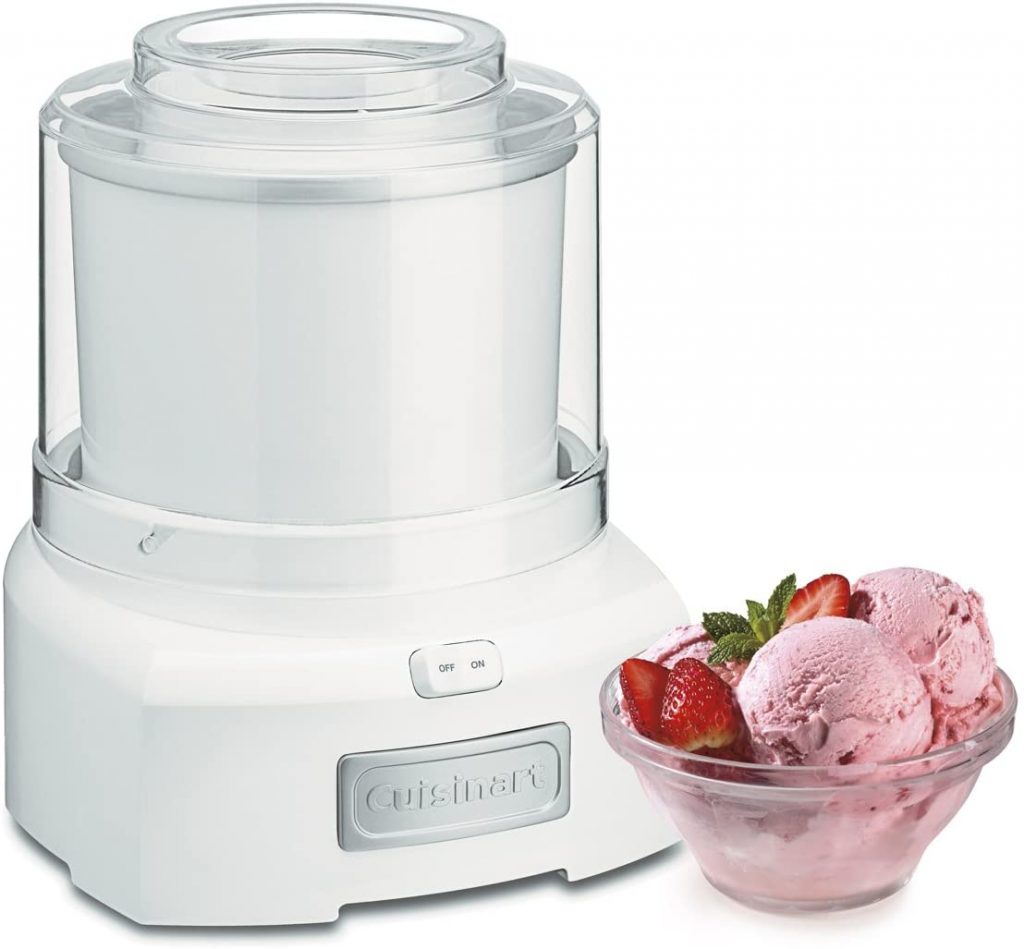 This Cuisinart ice cream maker is fast and very easy to use. You can make your ice cream in less than 20 minutes. The design of this one makes it where you can easily add more ingredients without making a mess and without having to remove the entire lid. It has a clear lid that goes down over the whole bowl and has a spout at the top. The spout has a wide mouth where you can add the additional ingredients you want to. It has enough capacity to make up to 1.5 quarts of ice cream at a time. It also comes with a mixing paddle that makes it easy to scoop and scrape the frozen dessert of your choice out of the bowl.
Pros:
Super easy to use
Comes in 6 different colors
Works fast
Lasts for a long time
Comes with 3-year limited warranty
No need for ice

Cons:
Runs loud
Bowl is not dishwasher safe
A little tough to get all of the ice cream out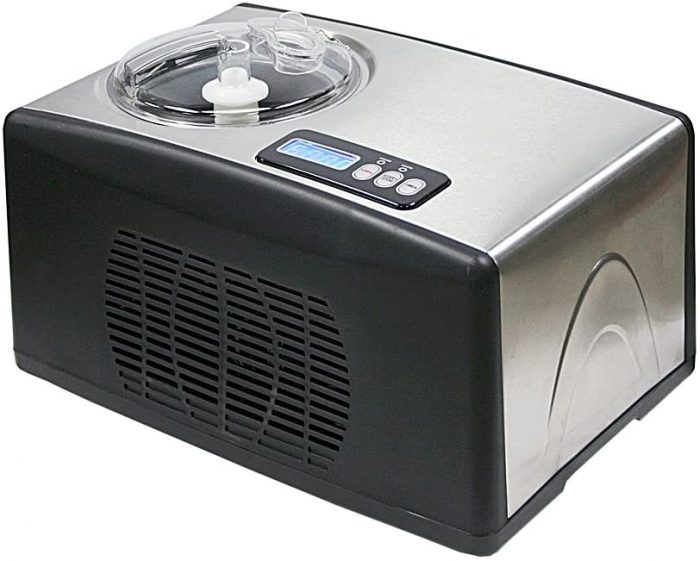 The compressor ice cream makers take most of the work out of the process. There's no need to pre-freeze the bowl with this machine. It has a digital LCD display where you can see the time left. It has a capacity of 1.6 quarts and has a stainless steel finish. The Whynter Automatic ice cream maker has an aluminum mixing bowl that is removable, as well as a churn blade you can take out so they're easy to clean. The motor is protected by an automatic function that will shut it down if the contents freezes too much to where it could cause damage. You can make ice cream, frozen yogurt, or sorbet in this machine.
Pros:
Award winning machine
Has a built-in audible timer
Easy to clean the parts
No need to pre-freeze due to compressor
Fairly quiet operation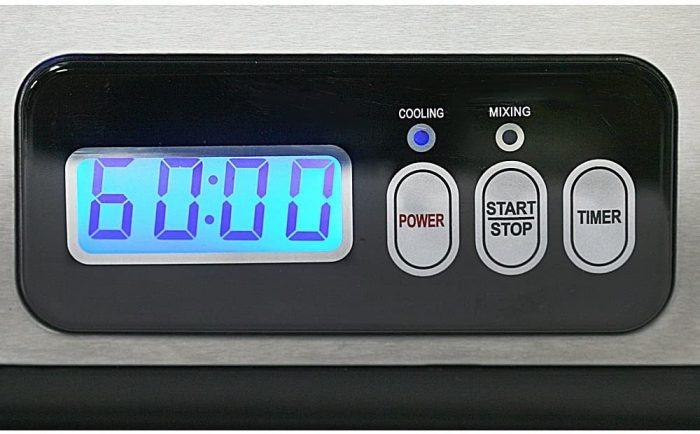 Cons:
Pricey
Needs a lot of counter space 
Small capacity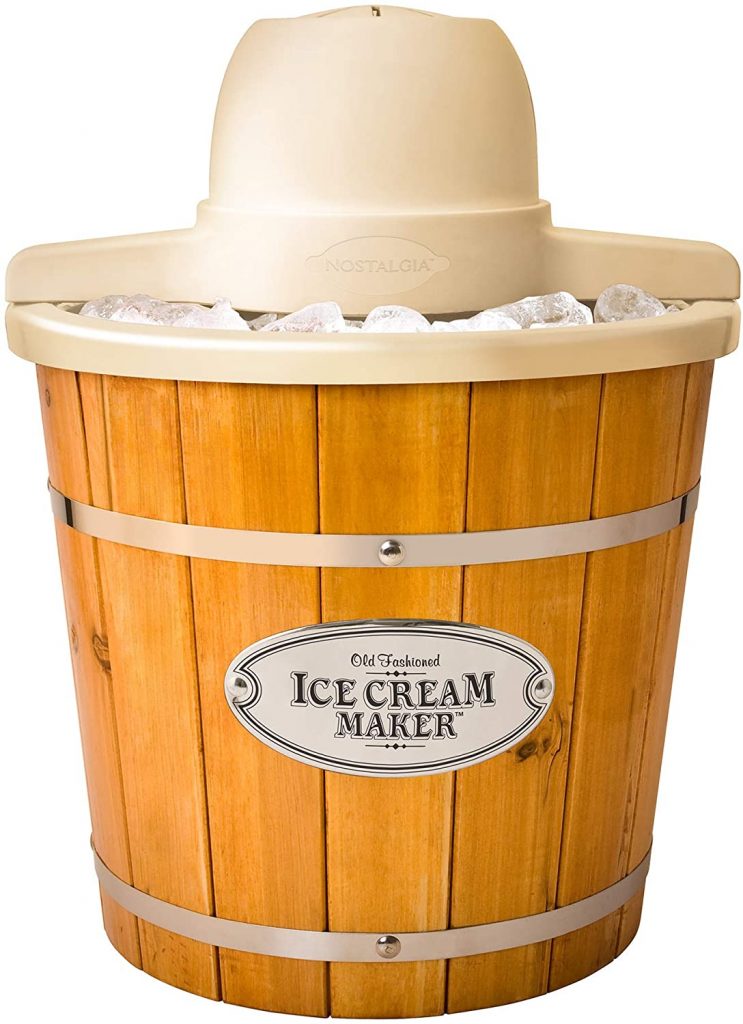 The Nostalgia Electric Ice Cream Maker is made of light-colored wood and looks very old fashioned. It has a large 4-quart capacity but a very budget-friendly price. You can make your favorite flavors of ice cream easily with the Nostalgia ice cream kits. It's simple. You pour in the mix, layer the ice and salt, and then let the machine do the churning for about 20 to 30 minutes. The bucket is easy to clean and easy to store, too.
Pros:
Very affordable
Has a fun style
Electric but looks like old-time ice cream makers
No pre-freezing
Small physical footprint
Large capacity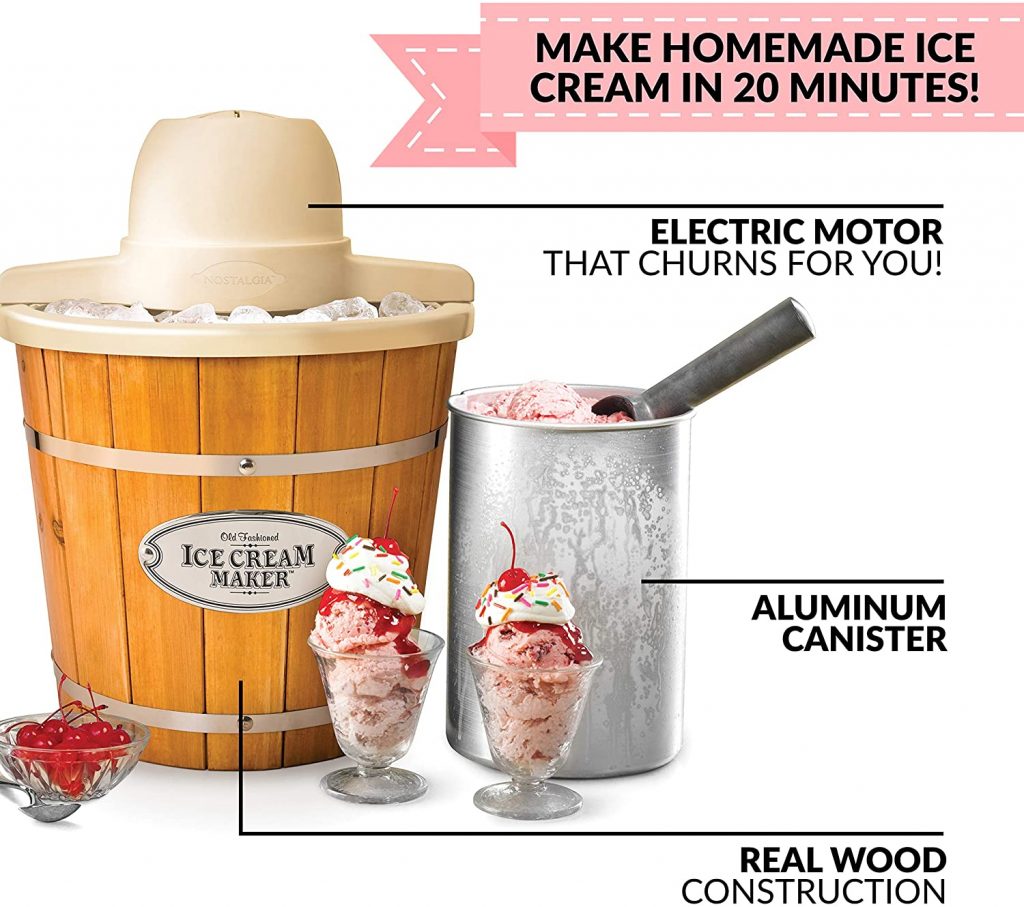 Cons:
Longer ice cream set times
Motor doesn't secure in place
Using ice and salt gets a bit messy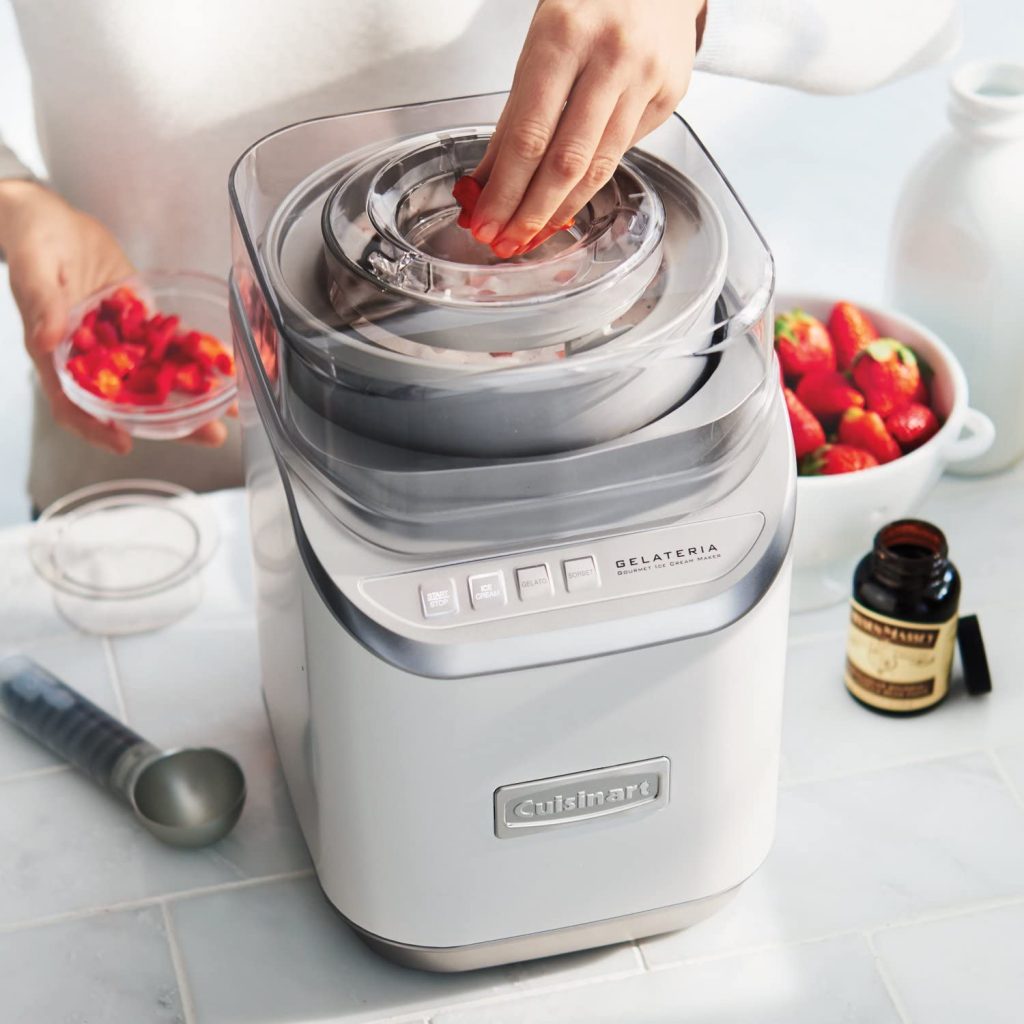 This is one of the best ice cream makers for the average-sized family. It has a 2-quart capacity. There is a control panel on the front that lets you select from different speeds and settings. The lid includes an ingredient spout so you don't have to remove the lid during the process. You can simply pour the ingredients through the spout. There is also a measuring cup integrated into the lid. 
Pros:
Comes with an improved paddle for removing ice cream from machine
Multi-functional to make ice cream, frozen yogurt, gelato, or sorbet
Automatic shut-off built in
Very small physical footprint
Makes smooth, tasty ice cream in just 20 minutes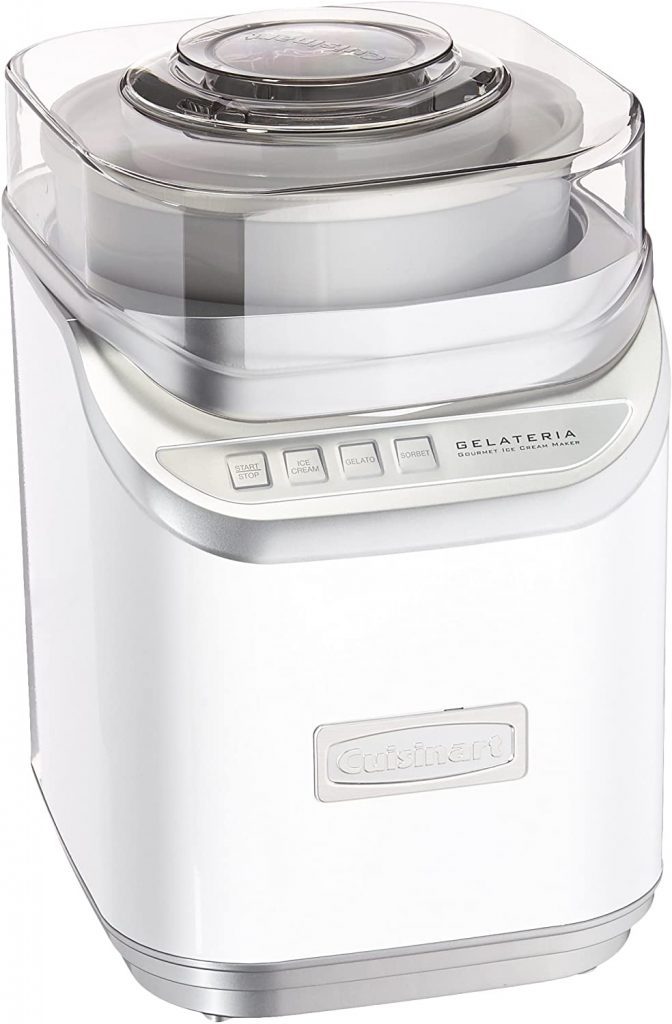 Cons:
Noisy 
Process of getting ice cream out is messy
Capacity of final product is less than advertised
Are Ice Cream Makers Worth It?
Ice cream makers aren't a necessity, not even a little. So, deciding whether it's worth it to buy one is really an individual decision. There are definitely some benefits that can make it worth it to purchase one. 
First, you get to make the ice cream you want with the types of ingredients you want. This is highly important for people with health issues that aren't supposed to have certain types of ingredients that are found in store-bought ice creams. When you make your own ice cream, you can substitute ingredients for others. You can sweeten your ice cream with something other than sugar. You can use non-dairy substitutes. It's your choice. 
You can also make fresh ice cream for your friends and family, rather than serving them ice cream from a grocery store freezer. There are many delicious ice cream brands to choose from, however, you don't know how long a tub has been sitting in the freezer when you purchase one. You'll be able to tell your guests and family exactly when the ice cream was made when you have your own machine.
You can make it more worth it to have your own ice cream maker by choosing one with the right price for your budget. There are some ice cream makers that have very inexpensive price tags. If you're on a tight budget, don't go with the best ice cream maker on the market with all the bells and whistles that costs hundreds of dollars. That won't be worth it.
How Does Homemade Ice Cream Compare To Store-Bought?
Homemade ice cream will likely win in a taste test against store-bought ice cream every time. The ice cream we buy in grocery stores can be very delicious, especially the high-end brands that provide consumers with smooth, fresh-like tasting decadent flavors. But homemade ice cream doesn't have stabilizers, added thickeners, or artificial ingredients that counteract the "fresh" taste. Homemade ice cream made with natural, fresh ingredients will have a taste and quality you can't get with store-bought ice cream.
The other part of this is you can give your ice cream as much or as little flavor as you want it to have. That alone makes homemade ice cream better than store-bought.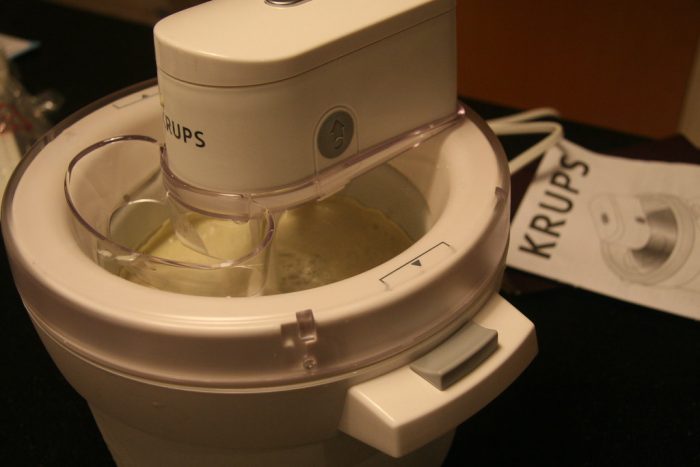 Is Homemade Ice Cream Cheaper Than Store-Bought?
In the beginning, you may feel like it costs much more to make homemade ice cream than it does to just buy it at the store. That's because you're buying the best ice cream maker and then all of the supplies needed to make your frozen treat of choice. Once you have the supplies on-hand, though, you'll find that it costs you quite a bit less to make batches of your own ice cream. 
Once you recoup the cost of the ice cream maker, the difference in the price per serving of homemade ice cream versus store-bought ice cream comes out to the homemade serving being less than half the price of the store-bought. So, you'll pay less and have better tasting ice cream, too.
Final Thoughts
Do you need one of the best ice cream makers for your home? No, you certainly do not. That doesn't mean you shouldn't get one if you and others in your household like to have a frozen sweet treat sometimes. The best ice cream makers will allow you to eat and serve ice cream, frozen yogurt, gelato, and sorbet that is cheaper and better tasting. You can choose the type that is right for your needs, as well as the speed, the amount of work you want, the look, and the size that's ideal. Impress yourself and your guests by offering freshly made ice cream whenever you're entertaining.
FAQs:
What is the best ice cream maker for home use?
The best overall for home use is the Cuisinart ICE-70 Electronic Ice Cream Maker.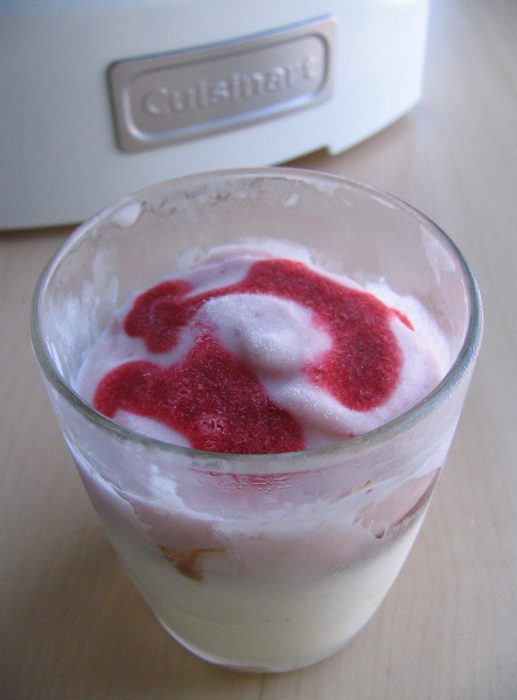 Which is the best ice cream machine?
This is different, depending on who you ask. It's between the Whynter ICM-201B and the Pure Indulgence 2-Quart Automatic Ice Cream Maker.
What is the best ice cream maker in Australia?
The best overall in Australia is the Cuisinart Ice Cream and Gelato Maker. It's high-end with a high price.
Where can I buy the best ice cream maker?
You can conveniently order many ice cream makers from Amazon. You should also be able to find some of them at major retailers.
What else can you make in an ice cream maker?
You can use your ice cream maker to chill wine. You can make slushies, frozen hot chocolate, frozen adult beverages, frozen pie filling, and sorbet.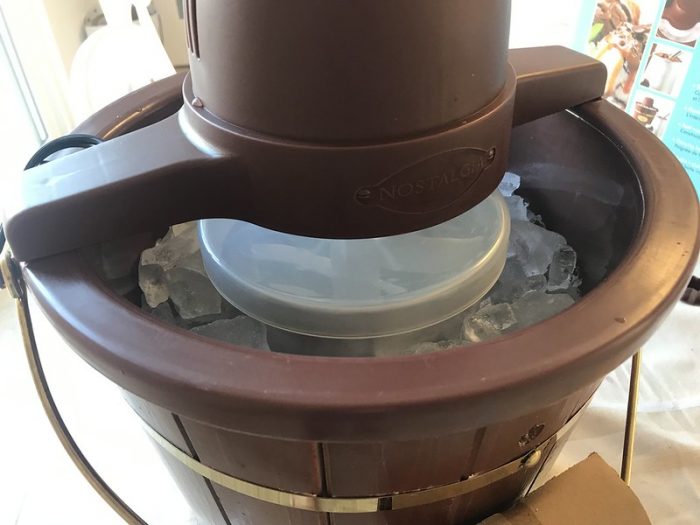 How long should you churn ice cream?
You'll find the exact time for the texture you like the more you get used to making ice cream. The recommended range is from 25 to 40 minutes.
Do ice cream makers freeze the ice cream?
Yes, they do. They don't all do it in the same way, though. Some ice cream makers will require that you pre-freeze the mixing bowl. Others have their own compressors making it where you don't have to pre-freeze anything.
Disclaimer: FamilyHype.com (Family Hype & FamilyHype) is a participant in the Amazon Services LLC Associates Program, an affiliate advertising program designed to provide a means for sites to earn advertising fees by advertising and linking to Amazon.com.
Last Updated on May 27, 2021 by Marie Miguel
DISCLAIMER
(IMPORTANT)
: This information (including all text, images, audio, or other formats on FamilyHype.com) is not intended to be a substitute for informed professional advice, diagnosis, endorsement or treatment. You should not take any action or avoid taking action without consulting a qualified professional. Always seek the advice of your physician or other qualified health provider with any questions about medical conditions. Do not disregard professional medical advice or delay seeking advice or treatment because of something you have read here a FamilyHype.com.