The best mini fridges serve many purposes. People buy them for small apartments or dorm rooms. Others purchase them to place in bedrooms for skincare. Still, others will put them in offices, basements, or even back patios. Campers have mini fridges often, as well. Whatever your reason is, you likely want the best compact fridge your money can buy.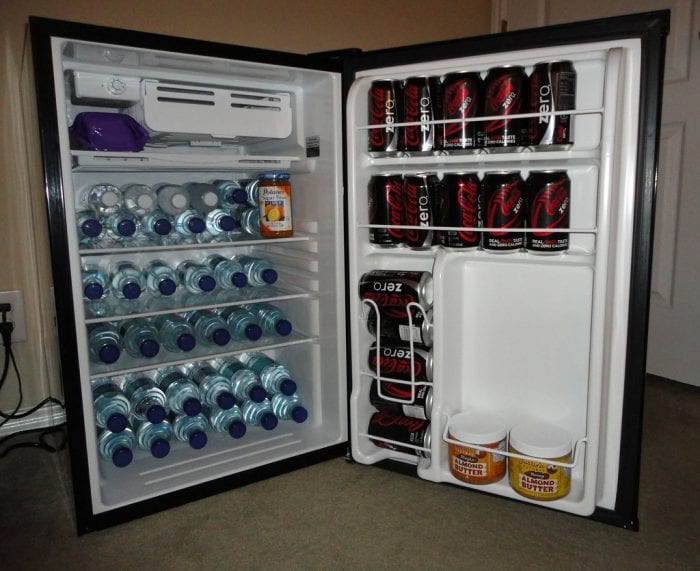 So, what is the best mini fridge to buy? The best mini fridges will be well-suited to what your intended use is. Choose a size that will accommodate what you want to store in it. Use will also determine whether you want a two-door mini fridge with freezer, or not. Decide the installation design you want. Various features are available on certain mini fridges. Prioritize those and choose an option with all you want for what you want to pay.
Before we talk further about what you should look for, let's look at a few options for the best mini fridges. You'll start to get an idea of what may work for your situation.
Best Mini Fridges
This is an ideal mini fridge for a dorm room. It comes in 8 color choices and has a single reversible door so you can position it wherever there's space. You can level it with adjustable feet, as well as adjust the temperature with an accessible dial. Inside is a small freezer box. The 3.2 cubic foot capacity allows for room to store some groceries, drinks, and leftovers. 
Pros:
Easy to match any décor
Fits almost anywhere with easily reversible door
Freezer included inside
Nice aesthetic
Energy efficient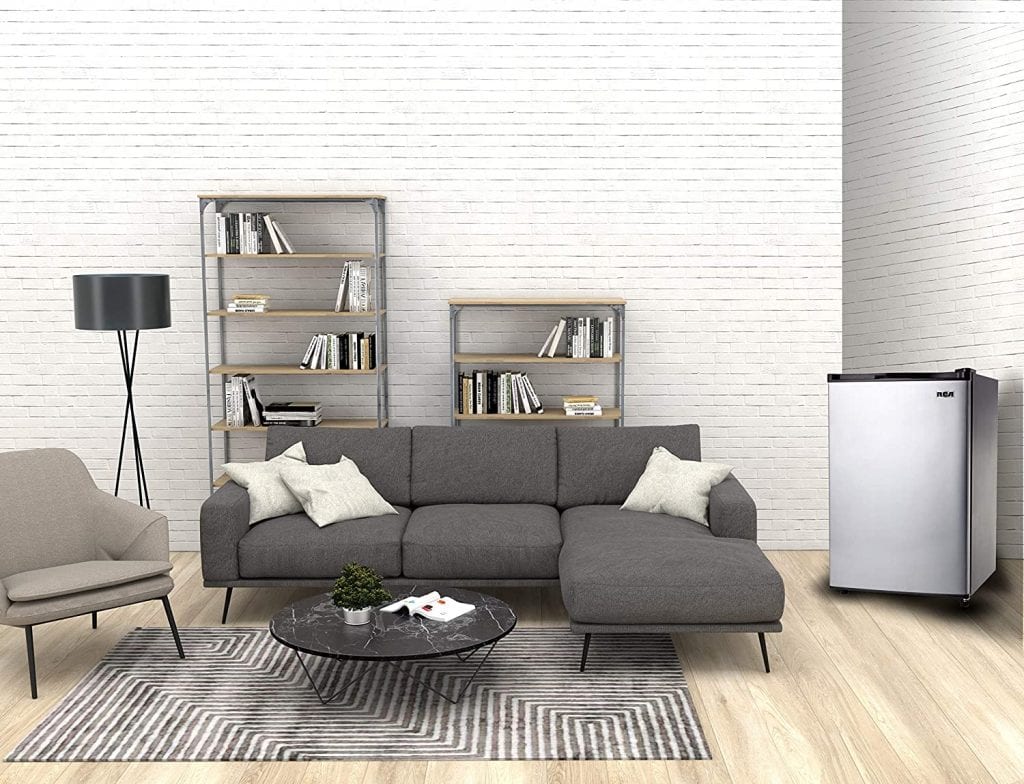 Cons:
Heavy
Somewhat noisy
Runs colder than setting says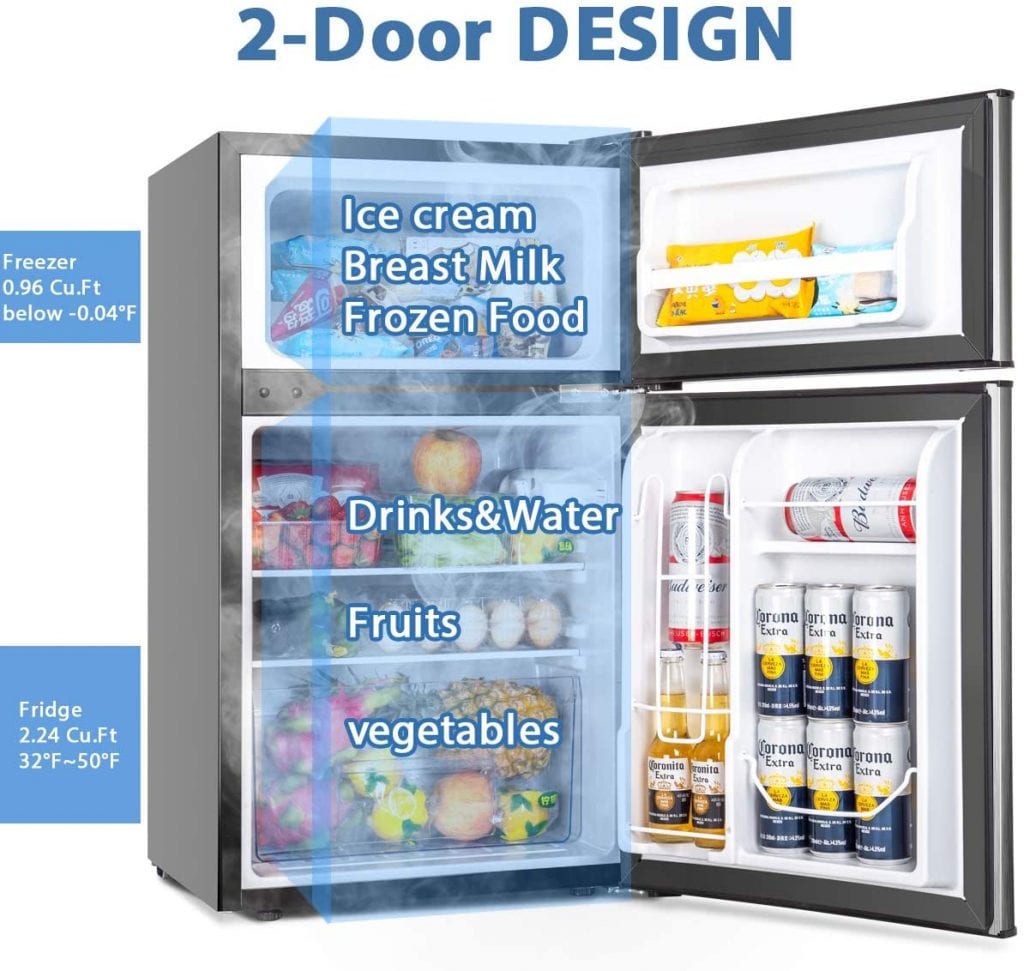 This is a two-door mini fridge with a freezer. It's an ideal addition for most dorm rooms or studio apartments. It also works well for office settings. The capacity is split between 0.96 cubic feet of freezer space and 2.24 cubic feet of refrigerator space. You'll have 7 levels of temperature adjustment. The powerful compressor keeps the noise level down for anyone who'd like to place this fridge in their bedroom. LED lights illuminate the inside of the fridge upon opening the door. The feet are adjustable, and the door is reversible.
Pros:
Easy to install
2-door mini fridge for easy access
Automatic lights inside
Quiet operation
Microcellular foam technology makes sure food stays cold with less energy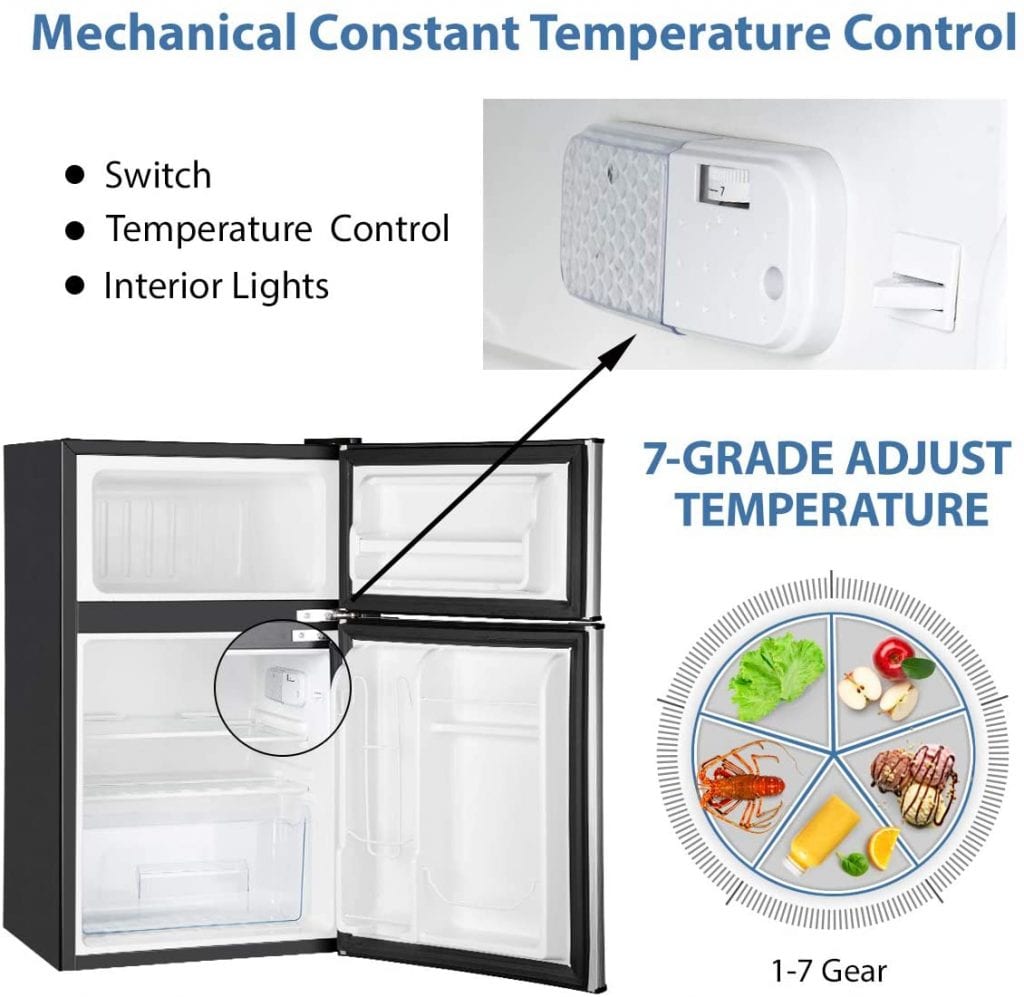 Cons:
Uneven cooling in fridge
Crisper drawer sits on floor of fridge
Top shelf falls short of the back wall of fridge
This single door mini fridge comes in black, white, and gray. It has a freezer box inside. The door is reversible so you can place the fridge wherever you have space. It has a modern design and removable shelves so you can set it up how you want. It's easy to clean, operates quietly, and has 3.2 cubic feet of storage space.
Pros:
Energy efficient appliance
Easy-to-clean interior
Recessed door handle 
Includes can dispenser storage
Operates at only 45 dB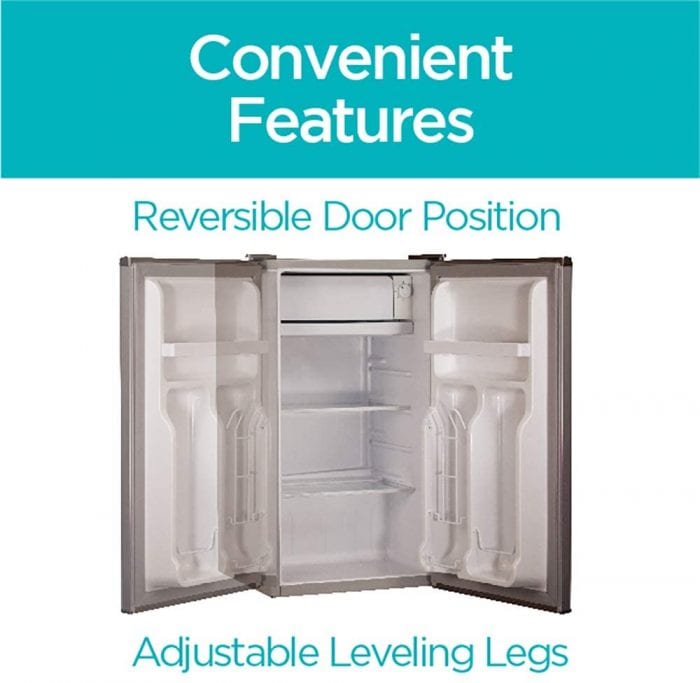 Cons:
Freezer isn't cold enough for some frozen items
Not cold enough for hot climates
Poor packaging
Are Mini Fridges Worth It?
A mini fridge is worth it in situations where a full-sized refrigerator isn't needed or feasible. People buy them for a multitude of reasons. Here's a list of some of them:
Dorm rooms
Office fridge
Beer fridge
Camper fridge
Storing breast milk
Skincare products
Insulin or medications
Supplement to a full-size
Game room or basement fridge
It's up to you what you use your mini fridge for. If you choose wisely, the best mini fridges are worth the money.
What Size Do I Need?
Look at how much space you have for your mini fridge. Some of your decision on size must be determined by where you're going to put it. Choose your capacity based on how much food or other items need to fit inside. 
Many refrigerators are measured in cubic feet. A 3.2 cubic foot mini fridge is average sized and is what you see in many hotel rooms. Mini fridges for skincare products are usually much smaller and portable, in some cases. Other kinds of mini fridges measure capacity in terms of what goes inside. For instance, a wine fridge is described by how many wine bottles will fit.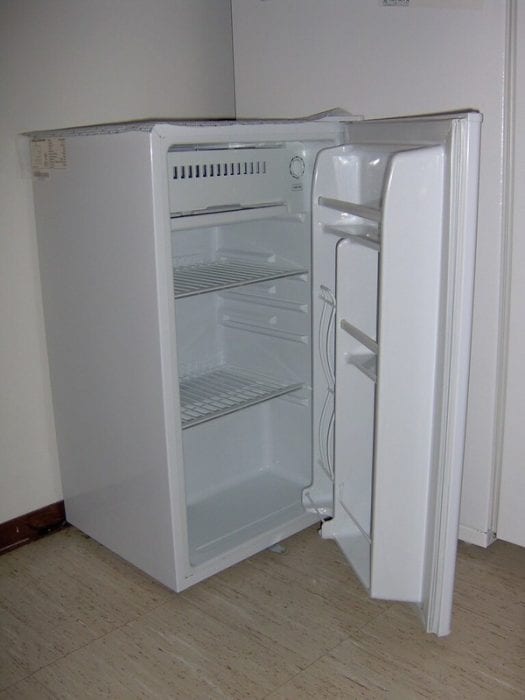 Are One- Or Two-Door Mini Fridges Better?
Whether a one- or two-door mini fridge is better comes down to if you want a freezer or not. While many one-door mini fridges have freezer boxes inside, they don't function well as freezers. Consumers often report their ice cream melts and things don't stay frozen. If you want a freezer for storing frozen items, go with a two-door mini fridge.
Can You Put A Mini Fridge On A Counter?
Mini fridges are used for storing all sorts of items. That has prompted manufacturers to design a few different kinds of mini fridges. 
You can put a mini fridge on a counter if you get one designed for it. Many of the best mini fridges for skincare products are made for putting on counters and tables. They're also portable so you can take them with you on trips.
Other mini fridges are designed to be installed under countertops. These are built-in mini fridges. You'll see these often in kitchens where there are wine fridges.
Are Mini Fridges Expensive To Run?
Generally, no, they're not expensive to run. Check how much power each mini fridge uses to operate and compare that against others. Running a mini fridge for a full year shouldn't cost you more than $50. Look for the best mini fridges with Energy Star ratings and it will cost less than that.
Conclusion
A good quality mini fridge will keep your food cold and fresh, your beer cold and handy, or your skincare products cold and ready for use at all times. The size you need should be determined by where you're going to put it and how much you need it to hold. Decide between a freezer with its own door or a freezer box inside the fridge. Make a priority list of features you like and pick a mini fridge with those features for a price you can afford. 
FAQs:
Is it dangerous to have a mini fridge in your room?
Mini fridges are not dangerous to have in bedrooms. The only risk associated with this situation is you won't be able to sleep due to the loud noise some of them make.
What is the lifespan of a mini fridge?
Mini fridges don't last as long as full-sized refrigerators. Nine years is the average lifespan of a mini fridge.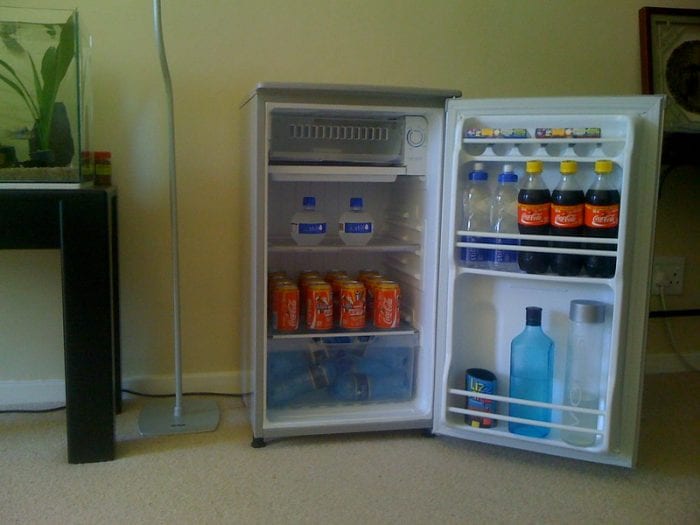 Do mini fridges consume a lot of electricity?
They do not. Average mini fridges consume between 233 kWh and 310 kWh per year.
Are mini fridges loud?
Mini fridges have a reputation of being loud. A good compressor should bring the noise level down, though. Check the decibels before you decide on a mini fridge.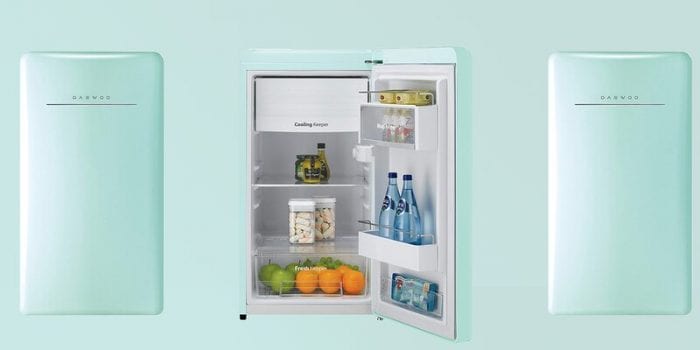 What should I put under my mini fridge?
Many owners will put a piece of wood, a plastic mat, or a kitchen mat under their mini fridges. It helps protect flooring materials.
Where should you not put a mini fridge?
Don't put your mini fridge next to a heat source. Ensure you aren't blocking the fridge ventilation system with its position. Don't place them in hot garages. Carpet isn't ideal for mini fridge placement, either.
Disclaimer: FamilyHype.com (Family Hype & FamilyHype) is a participant in the Amazon Services LLC Associates Program, an affiliate advertising program designed to provide a means for sites to earn advertising fees by advertising and linking to Amazon.com.
Last Updated on July 15, 2021 by Marie Miguel
DISCLAIMER
(IMPORTANT)
: This information (including all text, images, audio, or other formats on FamilyHype.com) is not intended to be a substitute for informed professional advice, diagnosis, endorsement or treatment. You should not take any action or avoid taking action without consulting a qualified professional. Always seek the advice of your physician or other qualified health provider with any questions about medical conditions. Do not disregard professional medical advice or delay seeking advice or treatment because of something you have read here a FamilyHype.com.