Toys for dogs is a necessity!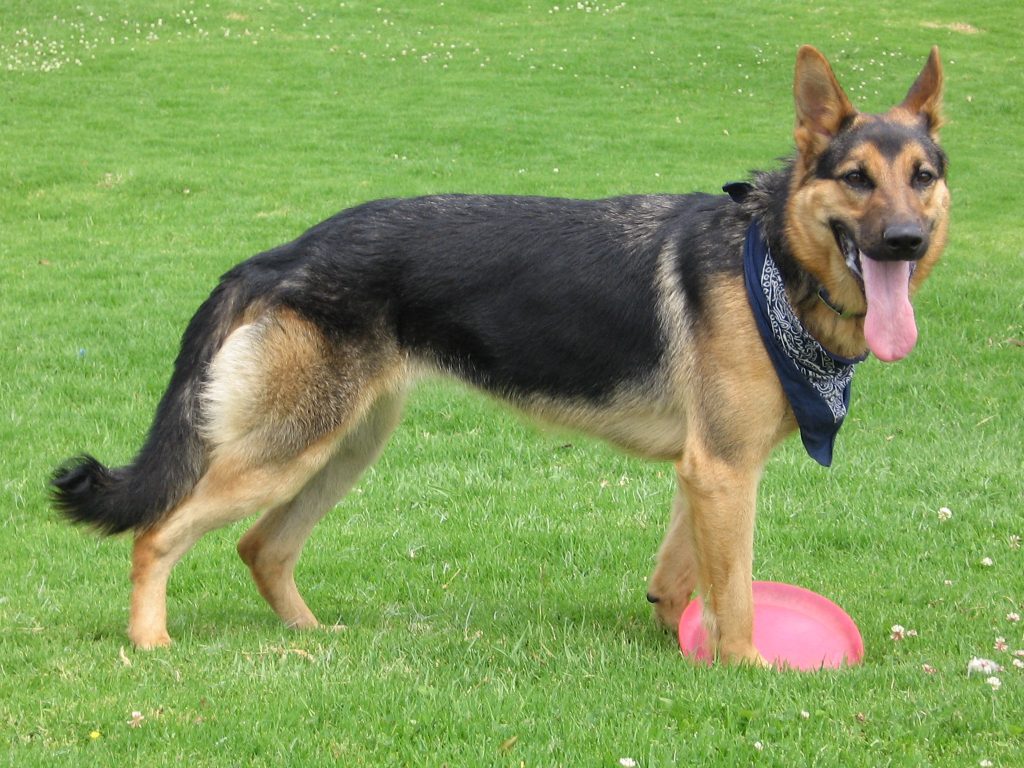 Puppies love to chew. That's one of the most accepted truths in the dog world, as true as the fact that the sky is blue, and the grass is green.
Finding dog toys that play on those tendencies is a great idea since it can also save your shoes down the line. Entertained dogs make many better-behaved dogs, so finding the right toy can go a long way.
This is especially true for German Shepherds. As large breed dogs with high intelligence, it's important to give them a toy that's the right size for them.  German Shepherd puppies are bigger than full-sized little dogs, so you'll need to keep that in mind.
Getting the best toys for your precious pup can be hard.  Even just playing fetch with them requires a toy that won't get broken down when you play tug o war. When choosing puppy toys, you need puppy toys for German shepherds that will last, because these little guys are strong and have sharp teeth.
Some pet owners struggle with finding the right toy for their GSD puppy because these dogs are big and can be aggressive with the toy.  Dog training is a necessity for this, but the problem is, with some of these toys, they tend to break down over time.  Do not buy a fetch toy that's cheap and isn't made of high-quality materials, which is why if you plan on playing fetch with this dog, you need a fetch toy that will last like Kong Tire dog toys.
A dog ball is another type of toy that's great for a young pup because it lets them run around. They can be a fetch toy, but the problem is, their puppy's teeth are strong, so you might be playing fetch at the dog park, but then, the fetch toy accidentally breaks too.
Finding a good chew toy for German Shepherds is a bit harder because you need something that will last. But we'll tell you about the top toys that dogs love, especially German shepherds.  Be mindful of how much you'll have to play with these dog pups. A GSD pup has a lot of energy that they're ready to spend, and you should be ready to dedicate a lot of time to dog training, and of course, feeding them plenty of dog food.
Here, we'll talk about the leading toys for German shepherds, and what are good chew toys that will stimulate them. Understanding the top toys for German shepherds is important because like other dogs, German Shepherds need that stimulation. Getting them the toys will help keep the pup busy for hours, and during this developmental stage, it can help properly stimulate German shepherds.
German Shepherds are great dogs, but like every puppy during the puppy stage, they can be a literal nightmare if you're not careful. German shepherds are smart dogs, but they require training just like every other dog. That's why we'll highlight the top toys for German shepherds here, and why these are considered the top on the list for them to use.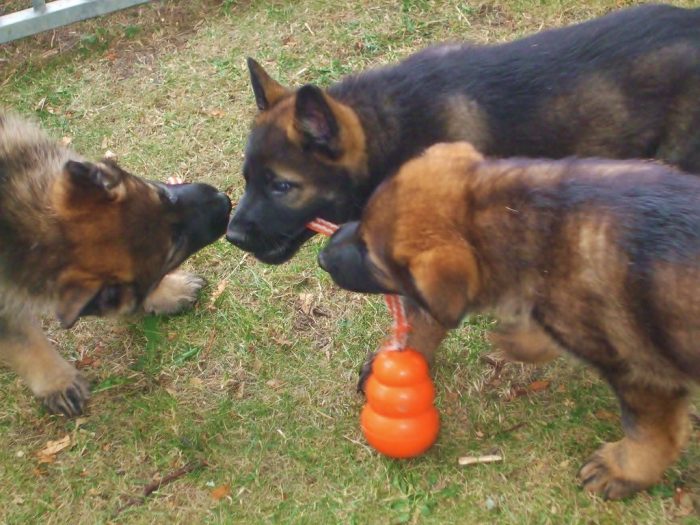 You'll also want toys that can challenge them. A German Shepherd puppy has a lot of brain power and can learn quickly with repetition, so it's a good idea to have a variety of toys on hand that help them work through different situations. A toy that involves working a treat out of a rubber container is often a favorite. Getting a German shepherd puppy a toy with a hollow center where they have to work to lick the peanut butter out of it is quite great for them to try as well.  Peanut butter is a great reward for a German shepherd puppy because this is a treat for them.  These dogs love peanut butter, and like any other dog will work for that peanut butter. However, if you're thinking about using only peanut butter it may not be advised because some German shepherd puppies can't handle a lot of peanut butter, so keep that in mind. Frozen treats can be an alternative.
They'll also love a dog toy that you can use in playing tug with them. Those kinds of toys also generally require more thought for your dog and will help strengthen the bond between you two. Your German Shepherd puppy will treasure the time you spend with them and learn from it. The ideal toys for your German shepherd puppy for that are fetching toy types, and things you can throw around like balls with unpredictable bounce that they really get to enjoy.
Lastly, you'll want to consider your dog's dental health, making sure they don't have sore puppy gums when choosing toys. Some toys, like dental sticks, can promote good teeth health and makes a great chew toy choice for German Shepherds. A lot of the best toys for this also will say on there that they'll focus on dental health to avoid bleeding gums. You can choose the best toys for the job from this. And that, combined with certain dog foods, can help give your pooch the oral health they need.
Best Toys For German Shepherd Puppies
Features To Consider When Buying Best Toys
Not all toys are suitable for German Shepherds, there are certain features that you should consider when buying a German shepherd dog toy.  With a German shepherd, there are a few different toys for German shepherd features to consider, and here, we'll highlight the best dog toy features to consider.
Strength: the best toys for German shepherd puppies usually are those that are strong.  If you want it to last, then buy toys for German shepherd puppies that are made for bigger, more aggressive adult dogs. That isn't to say that your German shepherd is going to be aggressive, because dog training can change any dog. But, if you want it to last, get them something that they will enjoy.
Natural Rubber: the best toys for German shepherd puppies are those made with natural rubber. Natural materials are better than synthetic because natural rubber is built to last, and when choosing toys for German shepherds, you need something that will last and can be used with bigger teeth. A German shepherd has quite the bite strength, and when you're looking for toys for German shepherd puppies, natural rubber will last longer. Also, when using this for dog training, the natural rubber will feel good on the dog's mouth and teeth.
Simple to use: when choosing toys for German shepherd puppies, you want something for them to use. The best toys are those that are simple, and effective, and usually, the toys for German shepherd puppies involve some motions that are simple enough for a puppy to understand.
Thinking Toys: as a German shepherd puppy gets older, you might want to get them something that does involve some thinking. Dog training toys are good for this since with dog training, you're showing them how to use different toys to entertain themselves. The best toys for German shepherds usually are either simple toys they can use and be aggressive, or those which will help stimulate their thinking so they don't tear up your place.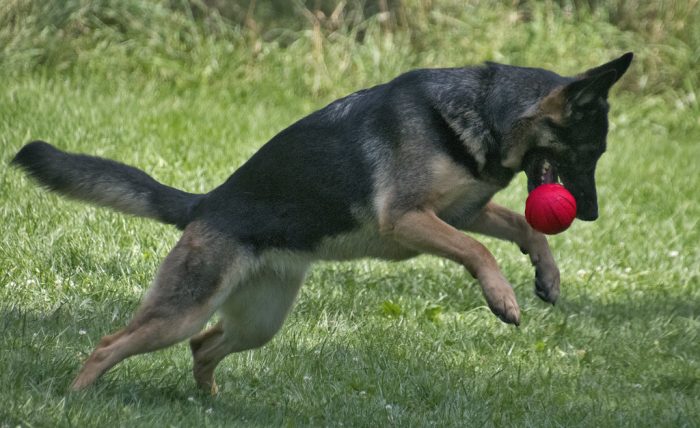 Best Toys For Best German Shepherd Puppies
The Round-up: Our Favorite Best Toys
There are many different kinds of playthings out there made for big dogs that love to chew. We've come up with a list of some of our favorites that will keep both your dog's mind and body busy as they play.
Treat Toys
KONG Extreme Goodie Bone Large: KONG has been one of the dog owners' favorite brands of rubbery chew toys for a long time. One of the things that make their products great is the features that allow you to incorporate treats and challenges into your dogs' chewing experience. These are the top toys for dogs with the natural instincts to chew, and they also offer treats.  Dog foods are good for their growth and health, but if you want to give your pooch something other than a dog toy every now and then, then a treat toy is the ideal toy for your German shepherd puppy.
Combining durable rubber with treat pockets, this toy is sure to become a household favorite for you and your pup alike. The so-called "Goodie Gripper" holes that suspend treats on either end of the bone will make your pup figure out how to work for their treats, keeping them busy and content for longer. This chew toy is made to last and is made with natural rubber that will last a long time.  This is a good toy for German shepherds because dogs love to work for the treats that are in this, and this is a toy for German shepherds that will keep them entertained.
Kong Classic Dog toy: if you're looking for a chew toy that will not be destroyed, then this might be an ideal dog toy for your puppy. Kong classic is pretty much an indestructible dog toy for a German shepherd dog.  They are available in both small breed and large breed options, but Kong Classic is the original indestructible dog toy. They are perfect for dog treats, and Kong Classic is made to last.  This is a chew toy that very few German shepherds can chew through, and it is considered the leading chew toy for helping a dog get it out of their system. This is the right toy for German shepherds because it will give them a lot to do, and this dog chew toy is practically indestructible. Kong Classic is a cheap dog toy, and you'll be impressed by the way the toy hold up.
West Paw Zogoflex Tux Treat Dispensing Dog Chew Toy: Similar to the Extreme Goodie Bone, this chew toy can hide a goodie inside. This kind of toy provides mental stimulation for your puppy, which is very important to their development.
This is the right toy for stimulating your puppy's sense to chew because it is built to last. A German shepherd does love to chew, and you'll notice your German shepherd puppy may get bored, or maybe your puppy needs something to do. Well, this can be the perfect dog toy for the job since it sits perfectly on their teeth, and gives them that stimulation they need.
This particular toy is a great choice because it can hide different kinds of goodies inside, from bones to kibble, so if you want to vary up the treat selections, this is a good choice. You can also choose to purchase the toy with treats included. If your German shepherds have a certain treat that they like, then this can be the toy to fill up, and let them have at it.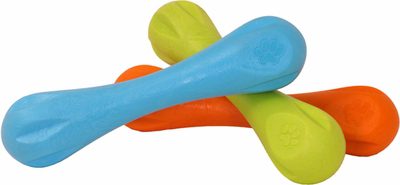 Chew Toys
Nylabone Flavor Frenzy Power Chew Dog Toy: This XL, beef-jerky-flavored chew toy is an excellent choice for any puppy that love to chew. It's longer lasting than other similar chew objects because of the hard material it's made out of. German shepherds love these meaty flavors, and your German shepherds will love to use this.  It's the dog toy you need if your dog wants something meaty and filling.
Although we think the beef-jerky flavor is the greatest, it also comes in Philly Cheesesteak and Bacon, Egg and Cheese flavors if you want a little variation.
XL Dog Rope Toy for Aggressive Chewers: A puppy loves to chew, and German Shepherds are no different. In fact, you may find that your pup is a little obsessed with chewing. In order to distract them from potential targets around the house, it's important to have fun chew options available. This is the right toy if you don't want your dog chewing up your stuff, or if you have a German shepherd puppy that is always looking to get into your stuff. A rope toy is the top dog toy for the job too because this is one you can use with your German shepherd together as an aggressive tug o war game with your German shepherd.
This three-pack is a great choice for your puppy because the variation will keep them entertained and the extra durable design will help keep them busy with the toy longer. A bonus? It also acts as dog floss, helping out their teeth. This is the top dog toy for stimulating their senses, but also, one of the best toys to help those aggressive chewers.  This is also one of the top dog toys if you're worried about your German shepherd getting into your stuff, because you can train your German shepherd to go for this rather than the new furniture, and it could save you a few headaches.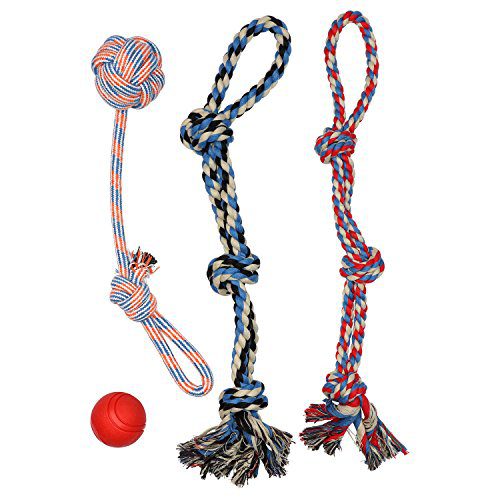 Interactive Toys
Pet Artist 3 Handles Bite Pillow: This style of toy is the favorite of many dog trainers, but you can use it at home with your dog, too. It's great for tug and bite games as well as training. Your German shepherds will enjoy this one, because German shepherds will enjoy this pillow that's made of a hard cloth, but also it has a fun rope that your German shepherd can take a bite out of and love.
Be aware that this toy is made for you to use with your dog and does not have the kind of durability to be left along with the puppy, since it will be shredded to pieces quickly if you do. That said, it's a wonderfully interactive toy to get you and your pup bonding – and training – in no time.
Kong Tunga Wunga Dog toy: This is another dog toy for German shepherds and is considered one of the top toys for aggressive dogs.  This is a rope toy, which is essentially a rope they can hold onto and play with. This is a great dog toy because it lets them get their aggression out, and you can use this to play with them too.
Frequently Asked Questions:
What Are The Top Chew Toys For German Shepherd Pups?
Two of our favorite chew toys for German Shepherds are the Nylabone Flavor Frenzy Power Chew Dog Toy and XL Dog Rope Toys for Aggressive Chewers. It's great to have variation in chew toys, so if your puppy gets bored with one, they can move on to another. That's especially true with highly intelligent German Shepherds that need lots of mental stimulation. Your German shepherd will be quite happy if they have a chew toy, since they're one of the top toys for German shepherds to stay focused and happy.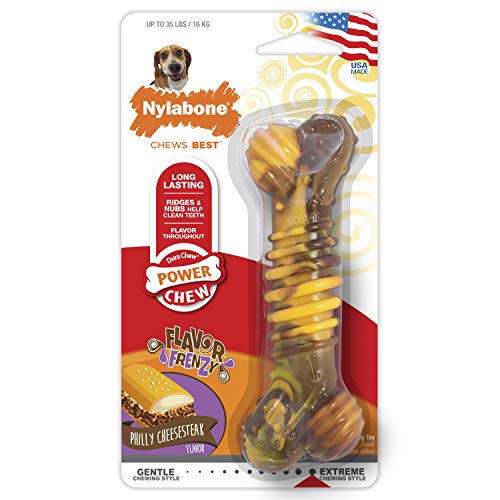 Mental Stimulation of Dog?
You can mentally stimulate German Shepherds by choosing the perfect toy that require them to work to get a treat or to try to solve a problem. You can also try to rotate toys or provide a wide variety, so your dog has many options as to which toy they have access to.
It's also important for you to play with your German Shepherd puppy. There's no better stimulation than interaction, whether it's through a tug game with a Bite Pillow or just tossing a rope toy around the room.
Be aware that German Shepherds are susceptible to hip problems, so it's a good idea to limit running games according to your veterinarian's advice on that matter. The right toy for German shepherds are usually chewy toys rather than running toys because of this. If you notice your German shepherds are having issues with running and movement, then you may want to start refraining from it. But, German shepherds typically display these kinds of problems down the line, so it's ideal to see your vet if you suspect something is wrong.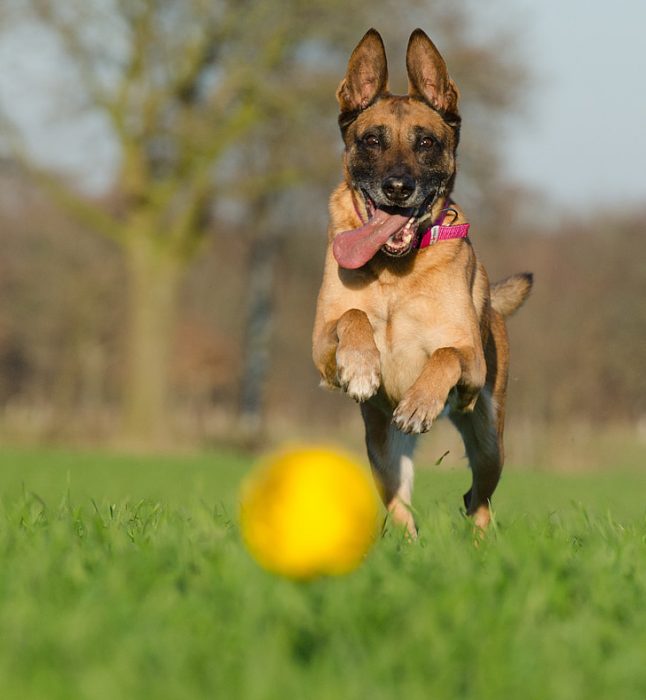 What Are The Perfect Toys For German Shepherd Pups?
A great toy for German Shepherd pups need to be durable enough to last through long chew sessions. You'll want toys made from nylon if possible and look for toys labelled for large toys and "aggressive chewers," that way you know you've chosen the right size and durable toy.
Really, the best toys for German shepherds are those which they will use.  German shepherds need to be stimulated.  They won't be happy unless they're running around doing something, and German shepherds are very reliable dogs.  The best toys for German shepherds are those that will last a long time.
The Kong toys are the best toys for German shepherds because they are great for filling up with treats. Remember, German shepherds love to stimulate their brain and do things, and if you give German shepherds something they need to think on, then they will be happy. German shepherds typically love this one too because they will be able to gnaw on them quite readily, and most German shepherds can be entertained with these toys.
Another one of the best toys for German shepherds is of course a rope toy. German shepherds, especially puppy German Shepherds, will crave playtime.  During the puppy stage, German Shepherds require a lot of attention. They're cute, but German shepherds are very quick to tear your furniture and other items if you're not careful and training them. The best toys for German shepherds are of course those that you can give to the dog and have them entertained.
The best toys for German shepherds at the end of the day are something that German shepherds would use.  If your German shepherds aren't using them, then it means it's a bad toy for them.
It's also a good idea to choose toys that provide mental stimulation for your German Shepherd puppy since they'll be learning from everything they do. Toys that require them to work a treat out of a container are great choices, like the West Paw Zogoflex Tux Treat Dispensing Dog Chew Toy.
What Can I Play With My German Shepherd Puppy?
Do German Shepherds Like Toys?
What Toys Do German Shepherds Like?
How Often Should I Play With My German Shepherd Puppy?
What Do German Shepherds Like the Most?
Do German Shepherds Like Balls?
Last Updated on May 14, 2023 by Inma Barquero
DISCLAIMER
(IMPORTANT)
: This information (including all text, images, audio, or other formats on FamilyHype.com) is not intended to be a substitute for informed professional advice, diagnosis, endorsement or treatment. You should not take any action or avoid taking action without consulting a qualified professional. Always seek the advice of your physician or other qualified health provider with any questions about medical conditions. Do not disregard professional medical advice or delay seeking advice or treatment because of something you have read here a FamilyHype.com.