Protective gears are a very important piece of equipment when you are buying it for your little one, especially for football.  There are so many things that could and may happen that could harm your child.  A teen football headgear prevents a range of injuries like concussions the best they can.  Parents must take into careful consideration when buying football headgear to protect their children.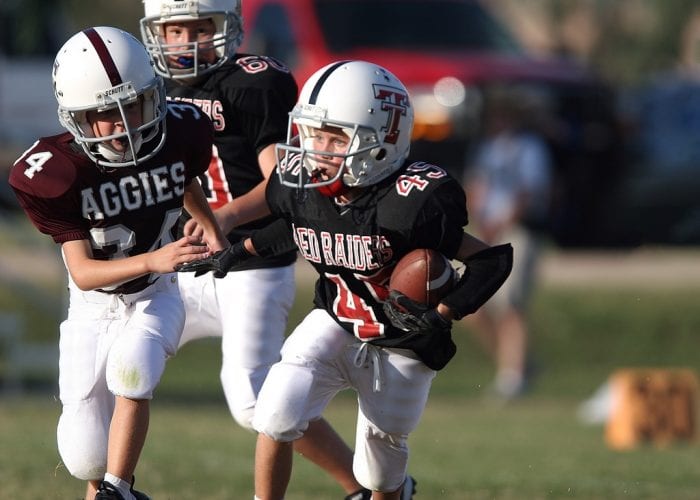 What Are The Best Youth Football Helmets To Prevent Concussions?
There are many teen headgears out there you can find that are listed top ten.  One of the top ones and most recommended to buy is the Schutt Youth Air XP or Hybrid VTD or Hybrid Pro VTD football headgear without a face mask (you can always order a facemask if you need to).  Now, I could give you a list of which one is the top head protection and which one does not give the better protection but instead I can tell you what to look for when looking at headgear.
What Helmet Is The Safest?
When thinking about the safest headgear for linear and rotational acceleration on the field, you need to look at the football headgear itself.  Here are a few things to look out for:
Safety Standard:  Each headgear has to pass a safety standard.  Once the headgear has passed this safety standard, the headgear receives a sticker.  You should look for a sticker by the 
NOCSAE or the National Operating Committee on Standards of Athletic Equipment.  If you see this sticker, you know that the headgear has been proven to be safe.
Measurement Testing or Fitting:  You will need to have your child try on the headgear.  It has been said that a player should try on at least 3 headgears before deciding to see which one is the perfect fit.  One headgear that may be perfect for one player, maybe different for another.  The headgear should not be too loose but make sure it is not too tight either.  You don't want to suffocate while playing even in the medium heat out there.
Outer Shell: Football is growing in its aggressive nature. Make sure the outer shell is tough and durable.  If you aren't for sure, make sure that sticker is on the headgear.  And always go with a new headgear.  Don't use a used one.
Inner Padding: Although inner padding isn't the most important aspect of a football helmet, your player still needs to be comfortable.  Make sure the padding isn't too soft or too hard and that it isn't suffocating.  You don't want your player getting distracted by the uncomfortable fit.
Helmet's Weight: It may seem that a lightweight helmet's ability to protect seems less trustworthy, but this is untrue.  
Helmet's Performance: Many light helmets work just as good as or even better than heavier football helmets.  It also reduce linear fatigue because it weighs less.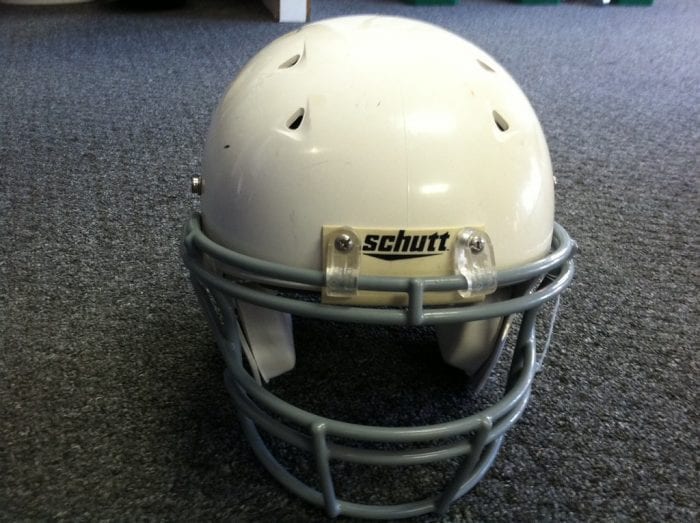 How Much Does A Football Helmet Cost?
A decent football helmet costs anywhere from fifty to several hundred dollars.  One of the better brands, Schutt, has one that costs as little as seventy dollars.  This may be a little pricey for a parent who may not have a lot of income but there is no price to safety. Check for prices here.
How Long Do Football Helmets Last?
A teen headgear can last about ten years, but the NOCSAE suggests that is stretching it.  If your child had a bad hit in that headgear and received a concussion (because as much safety as there is, this still can happen), then you should get a new headgear.  If the standards of headgear change over the years, it is suggested to change out the football headgear as well.
Are These Products Dangerous? Is It Safe For Kids?
Football headgears can be dangerous if they aren't strong enough to protect your child's head.  If the teen football headgear has been damaged by previous tackles or by some environmental accident, then it will not protect your child appropriately. If there are cracks, rips, or tears, you need to retire that helmet.  If the chin strap doesn't work correctly, retire the headgear.  Just like car seats and other safety products, materials become weaker over time and can be harmful to your kids if worn during a sport match.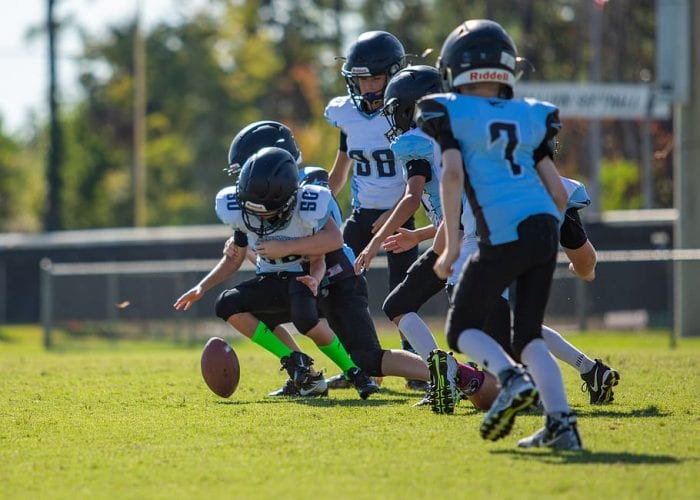 Do Youth Football Helmets Really Help?
Yes!  Football headgear is being redesigned every day to only help protect.  It has been proven that headgear has reduced injuries through many studies.  Although this piece of equipment doesn't prevent all concussions, it helps prevent a lot more.  It is like having a protective barrier over your brain like your skull.  If your skull was not there, then your brain would be harmed more frequently.  
How Well Does A Football Helmet Really Protect Against Impact?
Many studies have proven that wearing a football helmet, even as a teen, helps reduce the risk of brain injury.  This is very important because children and teens have critical brain development at this time.  Teen football headgears are only there to help and it does not damage wearing a headgear.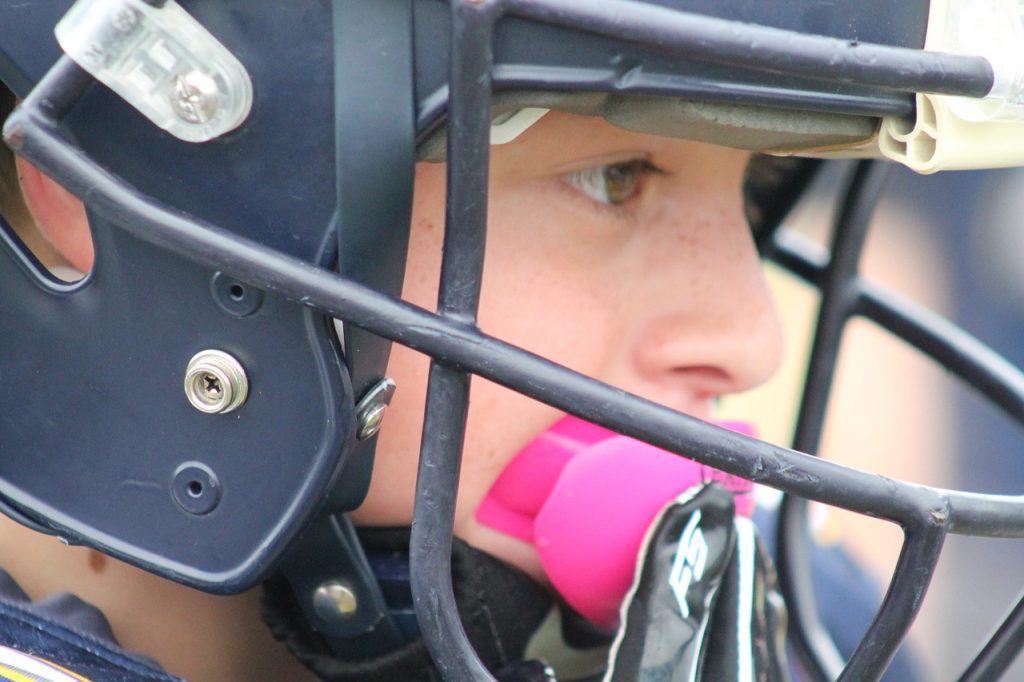 There are security ratings to consider when you are buying a teen football headgear for your kid.  The most imperative information to remember is that helmets only help your child when tackled, even if they are all small children.  Anything could happen and a teen's headgear only provides that protection if your kid hits their head on the ground or another player.  Safety is always important and should be your one concern, especially since reoccurring concussions can cause long-term effects on the brain.
Frequently Asked Questions
What is the safest football helmet 2022?
Which helmet is better Schutt vs Riddell?
What is the best youth football helmet to prevent concussions?
Is Xenith Youth X2E better than Riddell?
Are Xenith Shadow XR Youth helmets good?
Are Schutt Vengeance A3, Vengeance Pro, and Vengeance A11 helmets good?
What helmet does Tom Brady wear?
Are Youth SpeedFlex helmets safer?
What football helmet is the lightest?
What's the difference between youth and varsity helmets?
How do I choose a youth football helmet?
What is better F7 or SpeedFlex?
Are Xenith helmets good?
What is the lightest helmet in football?
Why are SpeedFlex helmets so popular?

Last Updated on April 12, 2023 by Nisa Jabajab
DISCLAIMER
(IMPORTANT)
: This information (including all text, images, audio, or other formats on FamilyHype.com) is not intended to be a substitute for informed professional advice, diagnosis, endorsement or treatment. You should not take any action or avoid taking action without consulting a qualified professional. Always seek the advice of your physician or other qualified health provider with any questions about medical conditions. Do not disregard professional medical advice or delay seeking advice or treatment because of something you have read here a FamilyHype.com.