When choosing the best shampoo for poodles, you need to keep in mind many factors. Poodles are world-renowned for their beautiful coats, and many owners feel that it is one of the things that sets their dogs apart from other dogs.
But, poodle owners know that the price of the beautiful coat is taking care of it. In order to give it the love it deserves, you need to pick out the best shampoos for your poodle's needs. The best shampoos need to combine gentle cleansing with agents that soothe your dog's skin and eliminate odor. That's a tall order.
Fortunately, many pet companies understand the importance of a good shampoo. Hence they created the best formulas with organic ingredients to keep your pets fur clean and nourished. To give you an idea, we made a list of the best shampoo for poodles from Amazon, and we included a product description for each to give you the chance to compare. If you continue reading, you will also learn more FAQs and tips to keep your dog's mane healthy.

The Oatmeal & aloe dog shampoo aids with itching and scaling. It has hypoallergenic formula which is ideal for pets with sensitive skin and allergies.
It is made in the USA and from federally regulated manufacturing facilities.
It has a deodorizing effect which keep your fur babies smelling fresh plus it has whitening effect for pets with white or lighter coats.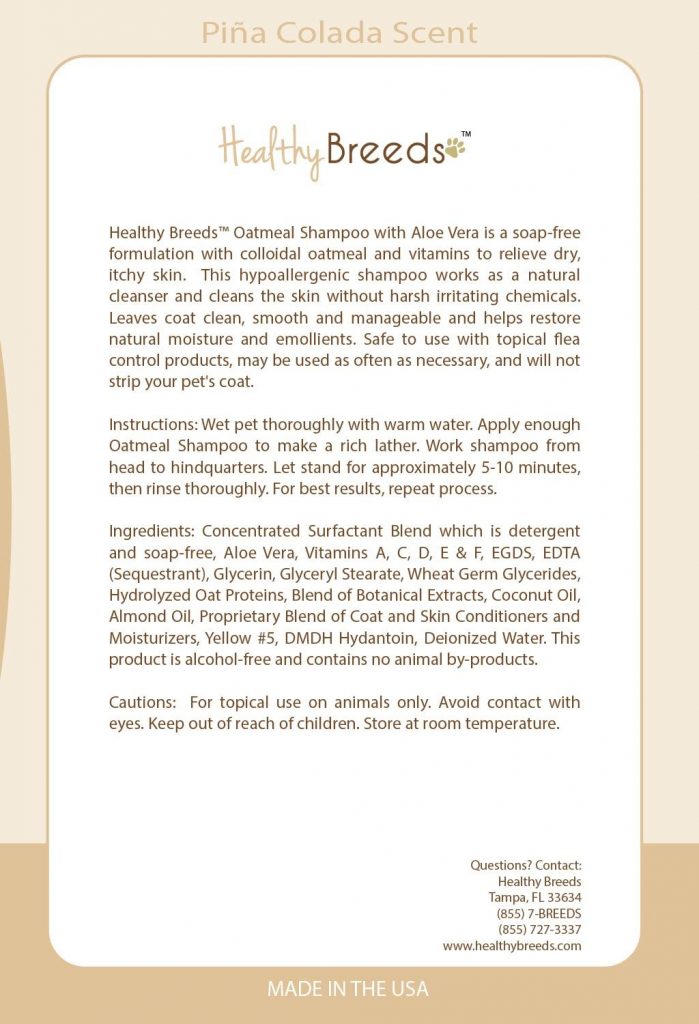 The Colloidal oatmeal that this shampoo contains helps soothe your pets sensitive skin, it also contains jojoba which relieves flaky dry skin.
The shampoo is infused with lavender oil that adds calming effect and combats dog odor.
Its clinical formula has high quality ingredients and essential oils making it vet recommended.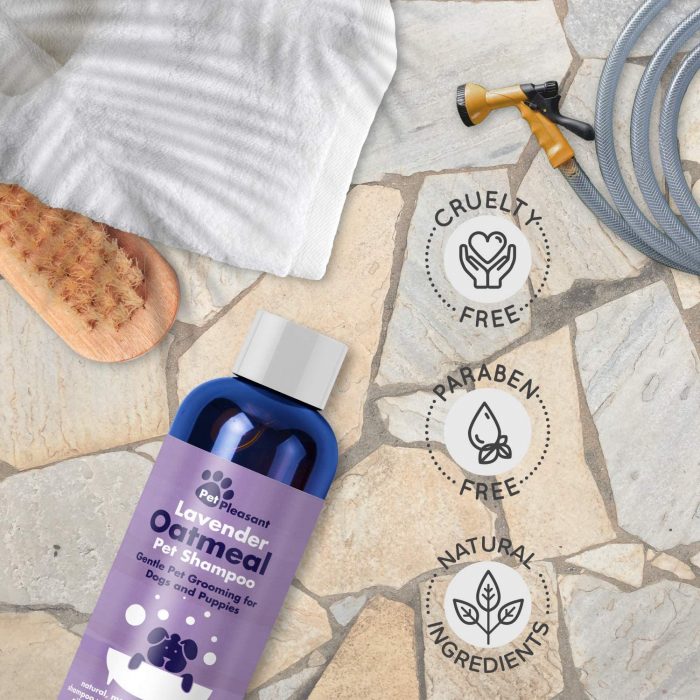 The Shampoo + Conditioner contains no alcohol, no sulphates, no added colors, no harsh chemicals and no fragrance.
It is touted to be the shampoo of choice for pets with food allergies, grass and flea bites since it is PH balanced for sensitive skin.
It is aloe enrich and made from all natural ingredients.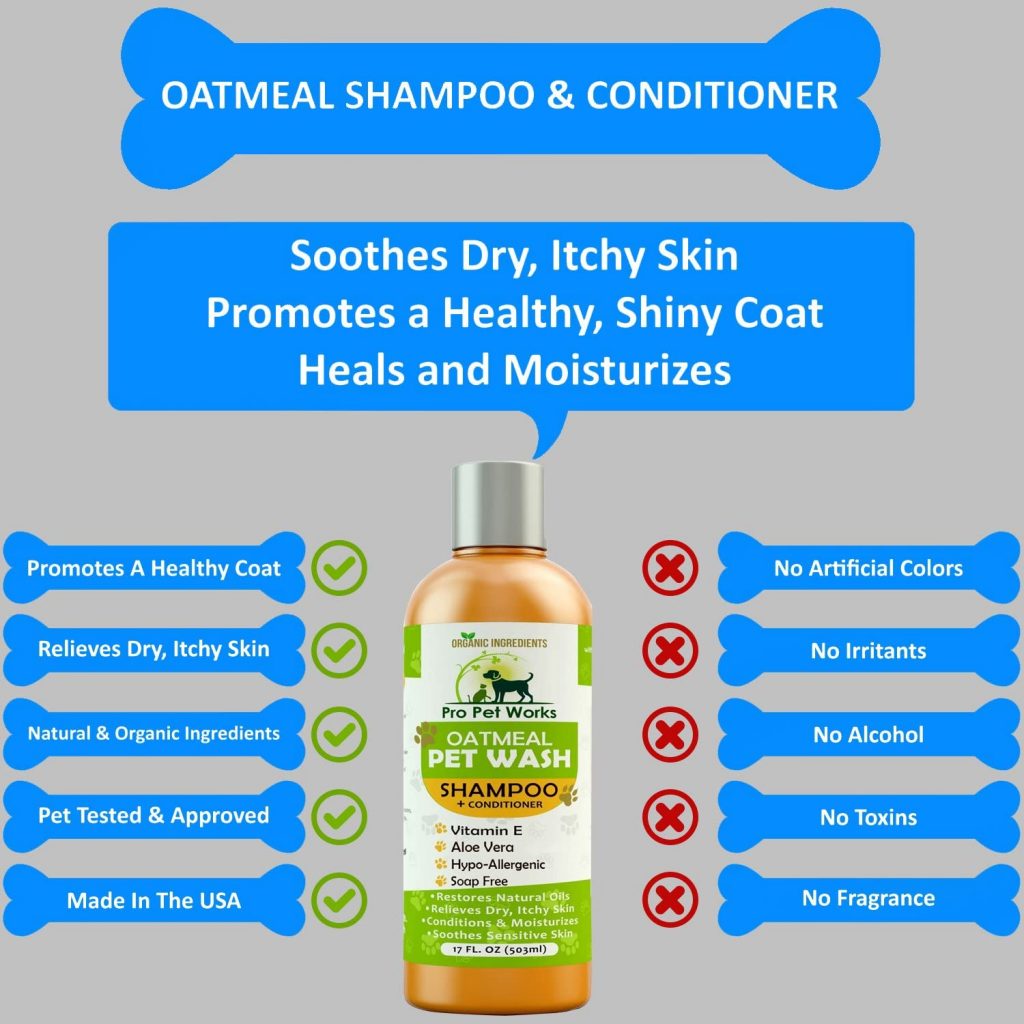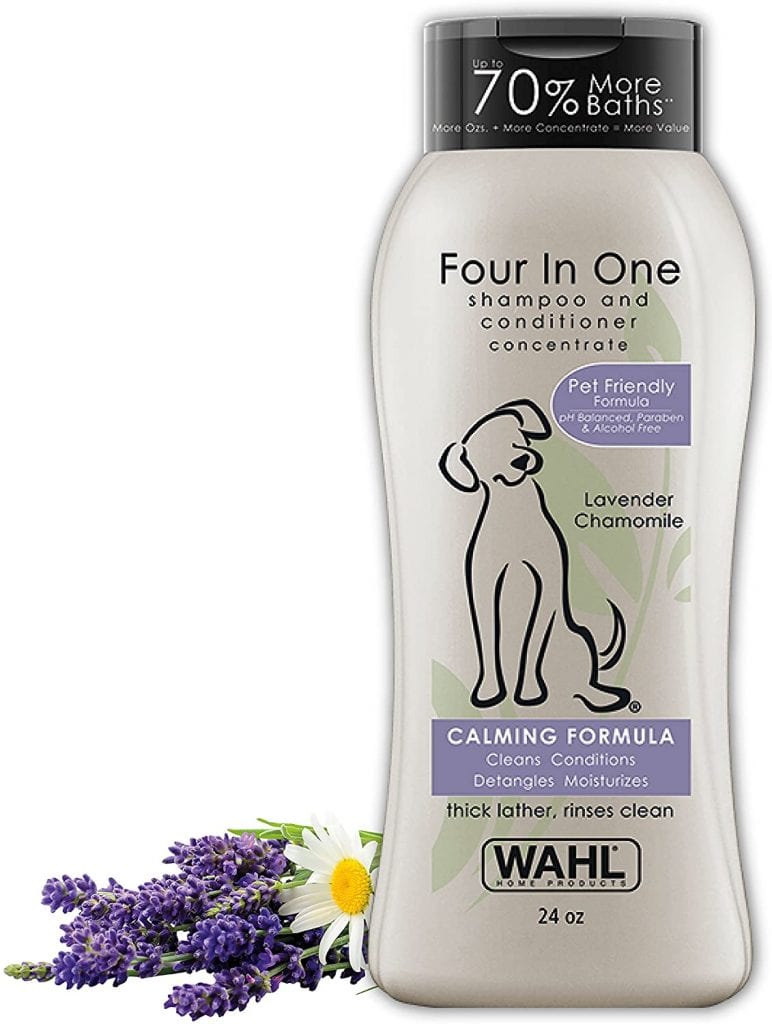 The 4 in 1 Calming pet shampoo is is ph balanced, paraben free, alcohol free and PEG 80 free, it is best for cleaning, moisturizing and keeping the fur tangle free.
It contains a higher concentrate of coconut derived sodding agent which makes it potent, meaning you don't need a lot as little goes a long way.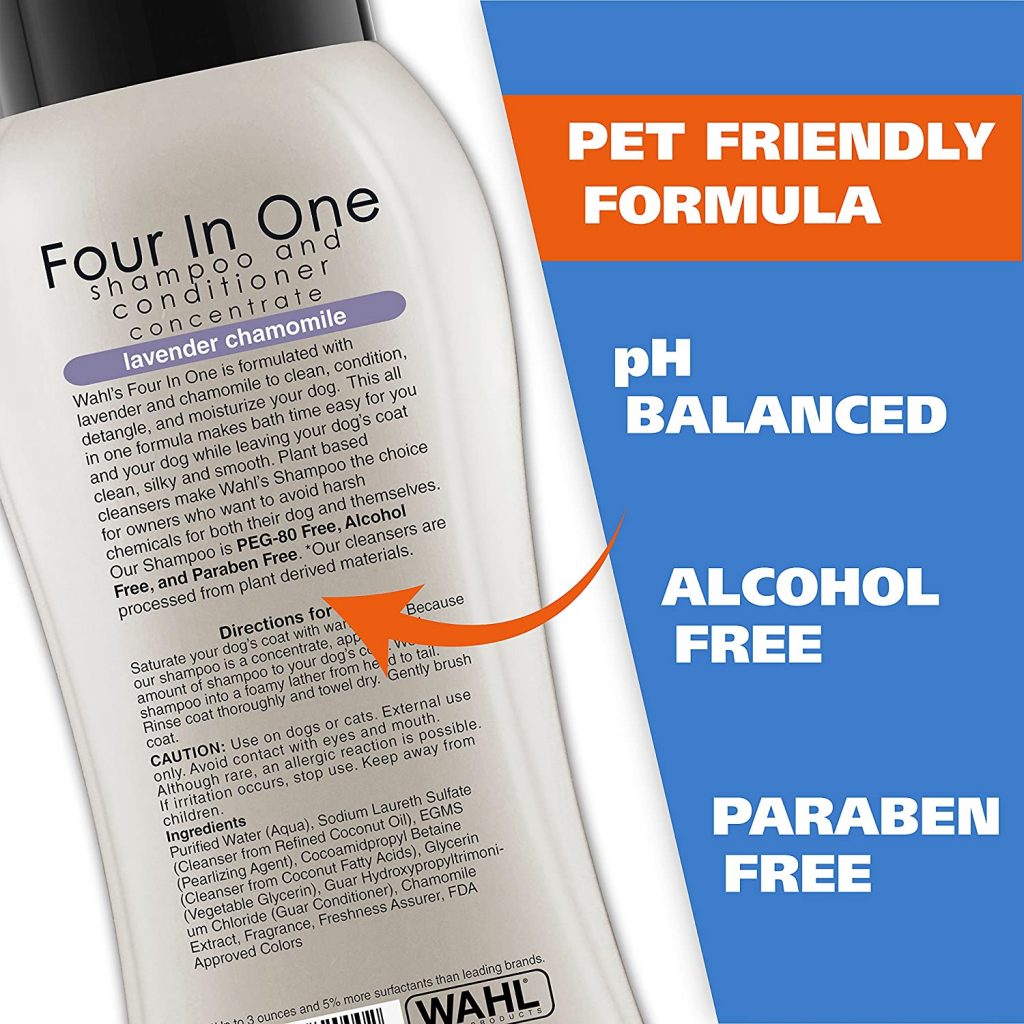 Considerations When Choosing Shampoo For Poodles
When choosing the best shampoo for poodles, you'll need to keep in mind several different factors.
First, the best shampoos for poodles will depend on what kind of shampoo you need.
Do you need a texturizing shampoo? A puppy shampoo? A color enhancing shampoo?
Choosing between the different kinds is the best way to get started on figuring out which are the best shampoos for your poodle.
All dog shampoo is different, and when choosing shampoo for your poodle, not just any old dog shampoo will work. You need a dog shampoo that works for the poodle's coat. 
 You also have to understand when buying shampoo for your poodle, a poodle's coat is different from say the coat of a German Shepard. A poodle's coat tends to have sensitive skin, and your poodle puppy is different from other dog breeds.  A poodle's coat also needs constant care and the right dog shampoo has to be the kind without harsh chemicals and is good for sensitive skin. 
The best shampoo for dogs may not work for every single dog breed. Another thing to understand is that a poodle puppy may have more sensitive skin than a poodle's coat.  That means, an adult poodle's coat may use different dog shampoo than the sensitive skin of a poodle puppy. Getting one for sensitive skin that works for their coat and skin is good for poodle owners to get your poodle puppy smelling fresh and great.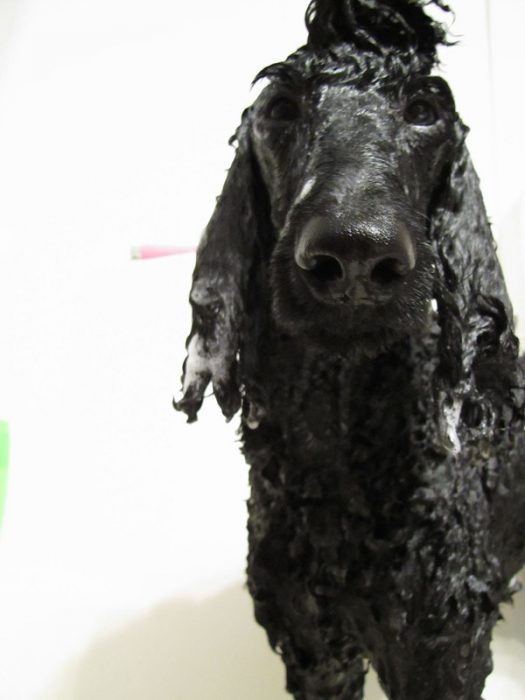 Never Use Human Shampoo-Go Breed-Specific 
You might look at the dog shampoo and wonder if hey, does human shampoo work? 
Nope, that isn't the case.  Poodle owners may make this mistake, but it will create irritated skin, and mess with the natural oils of a poodle's skin.  Not only that, but a lot of our shampoos have harsh chemicals which will hurt the poodle's skin. When bathing your poodle, try to get breed specific dog shampoo. 
Why get breed specified dog shampoo? Well, it is shampoo that can help with a poodle's coat.  Dog shampoo for one coat and skin may not work for another, especially if that dog shampoo is known to create itchy skin. So, when bathing your poodle, try to get breed specific. 
If you can't go breed specific, always get sensitive skin.  Poodles do have sensitive skin, and dog shampoo for sensitive skin usually will help with it.  Sensitive skin shampoo also won't hurt them if you're worried that the dog shampoo is too abrasive. And most poodles tend to have sensitive skin, so dog shampoo for this is good.  Breed specific shampoos for dogs also are made as a dog shampoo that works for that breed. Some dogs need breed specific shampoos, and of course, poodles are one of those breed specific bathers, so when bathing them, get one that works for them. 
You should also consider the pH of the shampoo.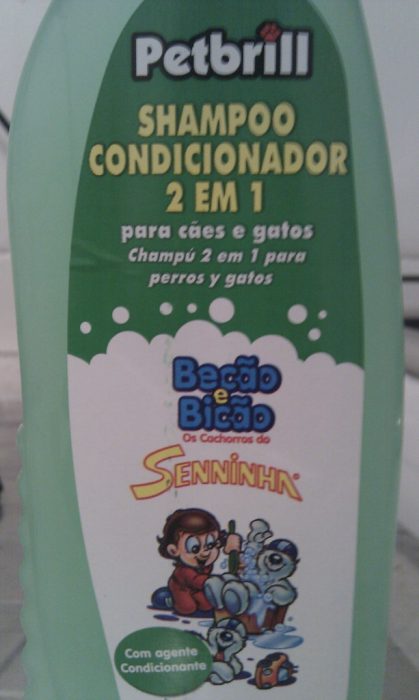 The best shampoos for poodles don't contain soap, which makes it easier to rinse your dog – meaning they are less likely to deal with itchy or dry skin later. They also have a pH in the range of 6.5 to 7, which is very different from the pH of human skin.
Lastly, look at the ingredients. The best shampoo for poodles should contain mostly natural ingredients to pamper their skin and promote a pleasant smell.
The best shampoos are also hypoallergenic, which is especially important when looking for the best shampoo out there for poodles since poodles often face skin allergies.
The Best Shampoos For Poodles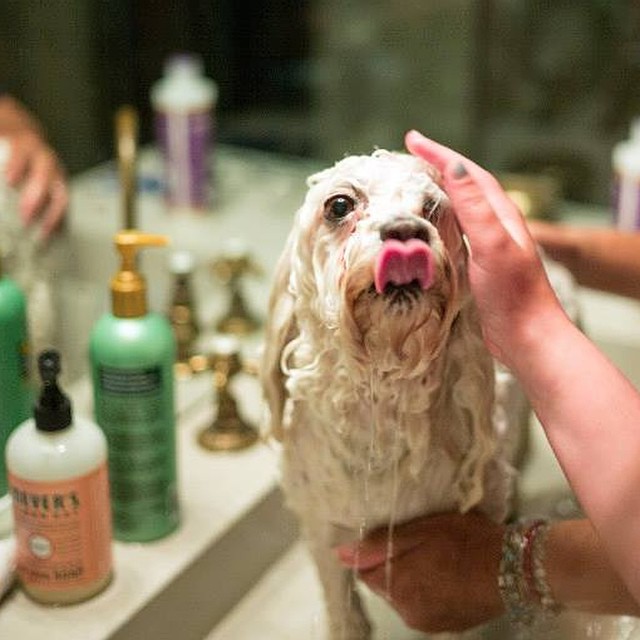 This is the overall best shampoo for poodles, and, really, all kinds of dogs, according to our research. The simple formula helps keep price down, while maintaining quality high.
Let's face it, you don't want to spend a fortune on your dog's shampoo, so the best shampoos for dogs always combine affordability with excellent features, something we believe this shampoo does extra well.
It is also gentle on your dog's skin and contains botanical extracts which will leave your poodle's coat with a pleasant smell when you finish bathing it.
Our favorite part of all, though, is that this is a 2-in-1 shampoo and conditioner option. In addition to being affordable, the best shampoos for dogs make bathing them quick and easy. There's nothing quicker or easier than only having to lather them up once, right?
Buddy was is also one of the best poodle shampoos because it works for plenty of dog breeds. With buddy wash, it's a good dog shampoo since it comes with plenty of different features. It is a shampoo and conditioner, and the beauty of this dog shampoo being a shampoo and conditioner is that it's basic, and very easy too use. With the buddy wash shampoo and conditioner, it does have a good odor for a dog shampoo without being too much for your poodle. 
Some dogs however don't like the buddy wash shampoo and conditioner because buddy wash is very strong in scent, and some dog breeds don't really like the scent of buddy wash. However, buddy wash is a good shampoo if you need something simple, and a high quality dog shampoo that will help your poodle get the bathing it needs during bath time. 
This is a great dog shampoo especially for poodles, and is good for many dog breeds that have sensitive skin and are prone to yeast infections. Yeast infections tend to happen in poodles, so a good shampoo that's high quality goes a long way. 
This dog shampoo contains aloe Vera in it.  A dog shampoo with aloe Vera is good because it can help to hydrate the skin, and a good poodle shampoo does that.  This dog shampoo does work for cats too, and it offers plenty of different benefits to your furry friends.  This dog shampoo is gentle on the skin too, and it doesn't contain dyes or parabens, so it's a good shampoo made with high quality ingredients. 
While it is a good shampoo for the price, one of the downsides to this dog shampoo is that it can be a bit pungent. But if you're looking for a more cost effective dog shampoo then this poodle shampoo is a must for bath time. 
Plenty of dog breeds and cat breeds can benefit from this kind of dog shampoos, but this is also one of the best poodle shampoos since it's very gentle. 
This is another great poodle shampoo that has a wonderful scent. It is a poodle shampoo that is great for bath time. While it works with many dog breeds, sensitive skin dog breeds will benefit from this poodle shampoo, since it is a poodle shampoo that is tearless and soap free. 
During bath time, you can use this poodle shampoo to offer a 4-in-1 series of benefits that this type of dog breeds can benefit from the most. It is made with high quality ingredients, and these high quality ingredients also deodorize the skin and coat, which many dog breeds benefit from. 
This is one of the best poodle shampoos, since when it comes to many dog breeds they don't normally fully deodorize.  But, this is also one of the best dog shampoos since it is also gentle on puppy skin.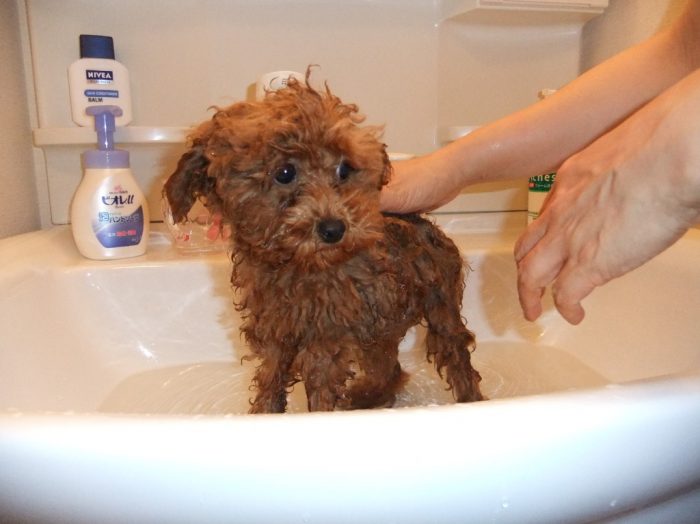 This is the best shampoo if you have a poodle with sensitive skin prone to allergies. It is also the best shampoo choice if your poodle has dry skin because of the aloe content.
Conscious dog owners, holistic veterinarians and natural groomers all also agree that this is one of the best shampoos all around because of the natural and whole ingredients this shampoo includes.
Only 2% of dog shampoos are USDA-certified organic and this is one of them, since it has many ingredients certified to food standards, like coconut oil and lemongrass essential oil (which also acts as a natural flea deterrent. This is one of the best poodle shampoos because its very soft on the skin, and it's one of the few dog shampoos that's actually certified to certain standards. Most dog shampoos don't have ingredients that are certified like this, but this is one of the best dog shampoos for you to try. 
If you're looking to make sure your dog has a luxury, natural experience, at a reasonable price tag, the 4 Legger shampoo is the best shampoo for you and your poodle.
The best poodle shampoo does vary, and there are some dog shampoos that work well, and others that don't. The best poodle shampoo is one that's gentle on the skin, and the best poodle shampoo is  one that isn't too harsh on the skin.
Understand that not all dog shampoos are created with sensitive breeds in mind. Some dog shampoos are for thinner coats, other dog shampoos are for thicker coats. Thankfully, these dog shampoos that we've listed here are pretty versatile, and you can try each of these dog shampoos and see what works for you. 
If you have cats, the dog shampoos that work for them as well may be a good investment, since it will save you some cash too! 
Frequently Asked Questions:
Can you use human shampoo on poodles?
You cannot use human shampoo on poodles, and you really shouldn't use it on any kind of dogs. This is because dogs' skin has a different pH than human skin, and shampoos for humans are formulated for human skin pH, while shampoos for dogs are formulated for their skins' pH.
Additionally, even the best shampoo for humans may irritate dogs' eyes more than a dog shampoo – which is usually made not to irritate dogs' eyes – so you also should avoid it for that reason.
The best shampoos are the shampoos made for dogs with natural ingredients and appropriate pH.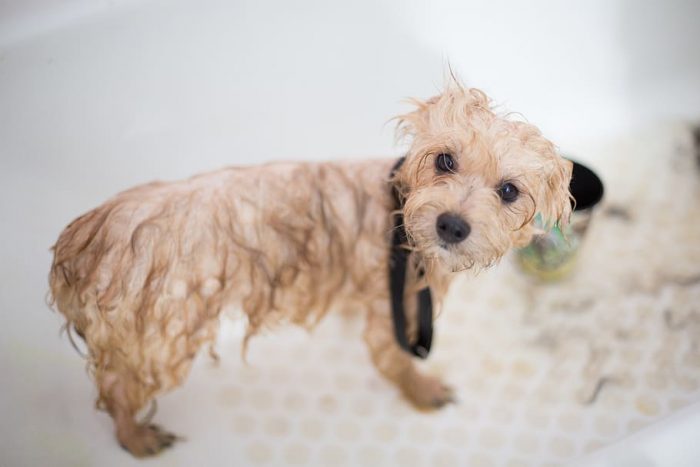 How often should a poodle be bathed?
Most vets recommend bathing your poodle every three weeks. If you were to bathe your poodle more often than that, then their skin could become dry and their coat might start to look dull, even if you're using the best shampoo for poodles.
 You should consult with your vet if possible, because if you dog has dry skin or any other medical problems, then they may recommend that you bathe your dog less frequently or use a specific kind of shampoo for poodles with dry skin.
How can I make my poodles hair soft?
There are many things you can do to help moderate your poodles' hair texture. One of those things is bathing your poodle with the right frequency. You should bathe your poodle about once every three weeks, using a shampoo for poodles.
You also can choose a conditioner to help keep your dog's hair extra soft. The best shampoos are the ones that are actually 2-in-1 shampoo and conditioner, because they speed up the whole process.
Lastly, you can consider a deep cleansing shampoo. These kinds of shampoos are the best shampoos for poodles with rough coats, because they can eliminate elements that may be making your poodle's coat rough.
In addition to bathing habits, you should brush your poodle's hair at least 2-3 times a week. Brushing their hair helps stimulate circulation and distribute their skin's natural oils, which leads to both healthy hair and healthy skin.
What shampoo is best for poodles?
Our favorite shampoo for poodles is the Buddy Wash Original Lavender and Mint Shampoo and Conditioner. It's one of the best shampoos out there for dogs in general because of its versatility easy of use, price and delightful smell.
You can use it as a shampoo for poodles, but also as the best shampoo for any kind of dog you own, provided they don't have any additional skin or hair issues to take into consideration.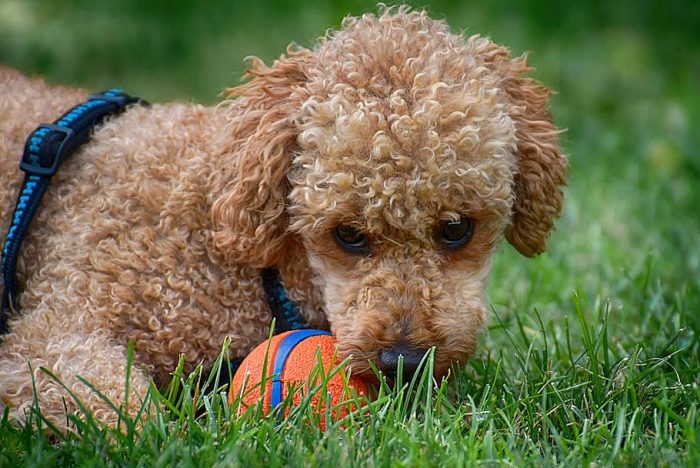 How often should I comb my poodle?
You should brush your poodle at least 2-3 times a week, and up to once a day. Brushing your poodle's hair often can help to avoid any mats or tangles forming in their hair. It also helps to stimulate circulation and distribute the natural oils on your dog's skin to promote hair and skin health.
Getting a good brush and setting a routine is a great way to make sure both you and your poodle are happy with their hair brushing routine.
Last Updated on May 16, 2021 by Marie Miguel
DISCLAIMER
(IMPORTANT)
: This information (including all text, images, audio, or other formats on FamilyHype.com) is not intended to be a substitute for informed professional advice, diagnosis, endorsement or treatment. You should not take any action or avoid taking action without consulting a qualified professional. Always seek the advice of your physician or other qualified health provider with any questions about medical conditions. Do not disregard professional medical advice or delay seeking advice or treatment because of something you have read here a FamilyHype.com.