Are you looking to take your gaming experience up a notch, or two, or three? Ready to splurge on a brand-new gaming monitor but not sure of what the best gaming monitors are? Well, you're in the right place. We're going to look at the best 4K monitors right here.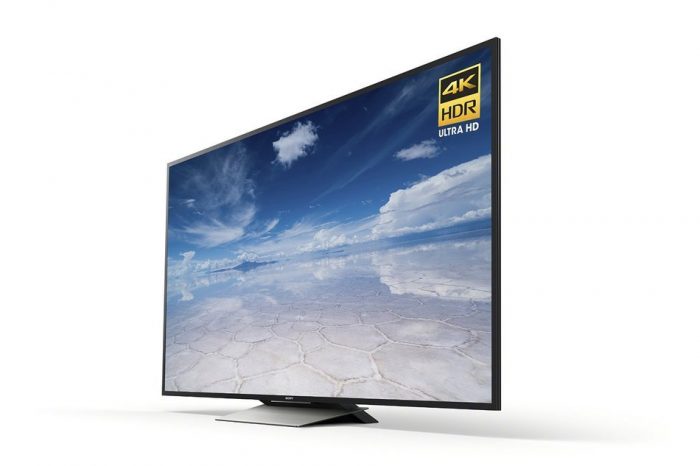 Let's talk about how you choose the best 4K monitor. Think about the size you want first. From there, you'll look at the different types of 4K gaming monitors—TN Panels, IPS Panels, and IGZO Panels. You'll want to choose the highest refresh rate you can find, as well as the best response time. Other considerations have to do with the screens color accuracy, brightness, contrast, and any backlight compensation. Make sure you also consider what connections each gaming monitor comes with.
It's important for you to know what to look for in the best 4K monitors before you start shopping for one. The features of these gaming monitors were developed to make the gaming experience better, more immersive, and more life-like. If you're able to give yourself the best gaming experience possible, isn't that what you want to do?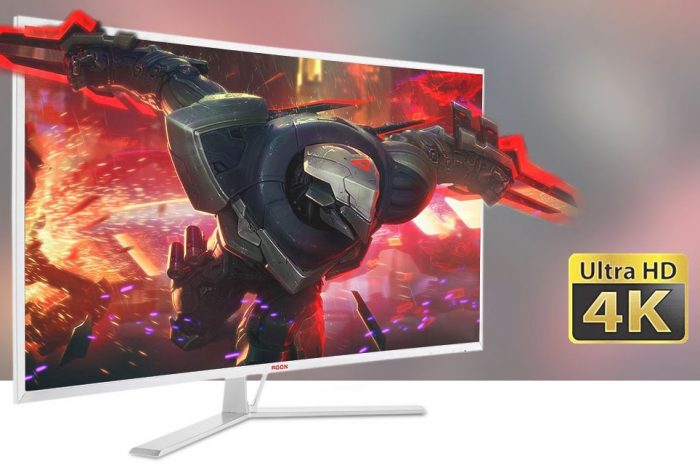 Is A 4K Monitor Worth It In 2020?
A 4K gaming monitor is definitely worth it for a household with an avid, or even mildly avid, gamer living in it. Most of the games that are coming out are being released in 4K resolution so it makes sense for gamers to have a screen that is capable of displaying the scenes in the most crisp and clear image they can. 
The future of gaming may even be heading toward needing a 4K monitor. Eventually, just like every other type of advancing technology, what once was top-of-the-line will become obsolete and you won't be able to use it for new gaming systems or new games. 
The details you can see on a 4K monitor will help you with your gameplay, even. It will make it where you see things happening in real time when you couldn't before. You'll never miss a moment or pass by a hidden secret in a game again. 
What To Look For In A 4K Gaming Monitor
In this section, we're going to talk about the features that are the most important for providing you with the gaming experience you're likely looking for. These are the things that will make the most noticeable differences between playing on the best 4K monitors and playing on something with lower resolution.
Screen size – 4K gaming monitors are all about immersing players in their games. The bigger your monitor is, the better it will be at giving you that more life-like experience. 
Monitor type – There are three kinds of monitor types you'll see referenced when it comes to the best 4K monitors. 
TN Panels – This type would be best for the somewhat avid gamer, the younger gamer, or the beginner. They're less expensive, but have pretty fast response times and good color accuracy. The features are just simpler.
IPS Panels – These have sharp images and great color but may be a little slow for the extremely avid gamer. The response rate is slower than that of the TN Panels.
IGZO Panels – This type will pack the most power and usually cost the most. They have a transistor base design that allows for more energy to be consumed. They're usually smaller by mass, but more powerful.
Refresh rate – This is the rate at which the image on your TV changes. It's expressed as number of times per second. Most TVs have a refresh rate of 60Hz. The higher a refresh rate is, the less motion blur you'll see during your gaming sessions. Look for a gaming monitor with a higher refresh rate.
Response time – The response time is what it takes a pixel to change its color. If you have slow response times, you'll have an almost ghost effect left on the screen as the pixels change. The typical range for this is 1 to 4 milliseconds.
Color accuracy – The color accuracy will make it easier to see the details in scenes. Some newer gaming monitor options are moving away from the accuracy of colors. Make sure you find one that has good color so you don't get left behind in your gaming experiences.
Brightness and contrast – These go hand-in-hand with color accuracy. You want the scenes to pop and the brightness to be there as the game designer intended. The contrast you see on the screen is important, too, because without it, you'll have a tough time seeing in dark scenes. 
Backlight compensation – This is what helps to illuminate the screen of your gaming monitor from behind. It will help you by giving you sharper images, cleaner lines, better colors, and more vibrant pictures.
Connectivity – Make sure the gaming monitor you're looking at getting has the 4K HDMI support you need, as well as available USB ports. Then, be careful about the cables you use, too, because you need them to be certified for the use they're meant for. Using uncertified cables can lead to a loss of speed and other functionality.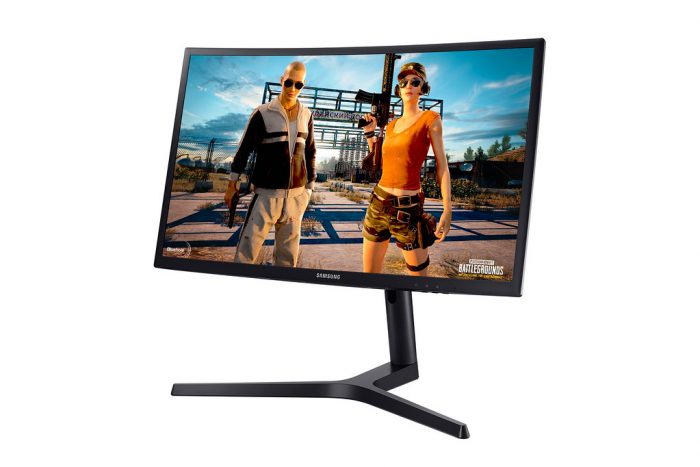 Can You Tell The Difference Between 1080p And 4K?
This is a question that gets debated a lot. The best 4K monitors should give you the best gaming experience you can get. However, that may come down to some of the other features that a 4K monitor has, like better refresh rates, better color accuracy, or better response times. 
The human eye can't really notice a huge difference between 1080p and 4K unless it's at the exact optimum position away from the display. That might mean you need to think about where you're placing your screen when you're trying to give yourself the best gaming experience. 
Best 4K Monitor Options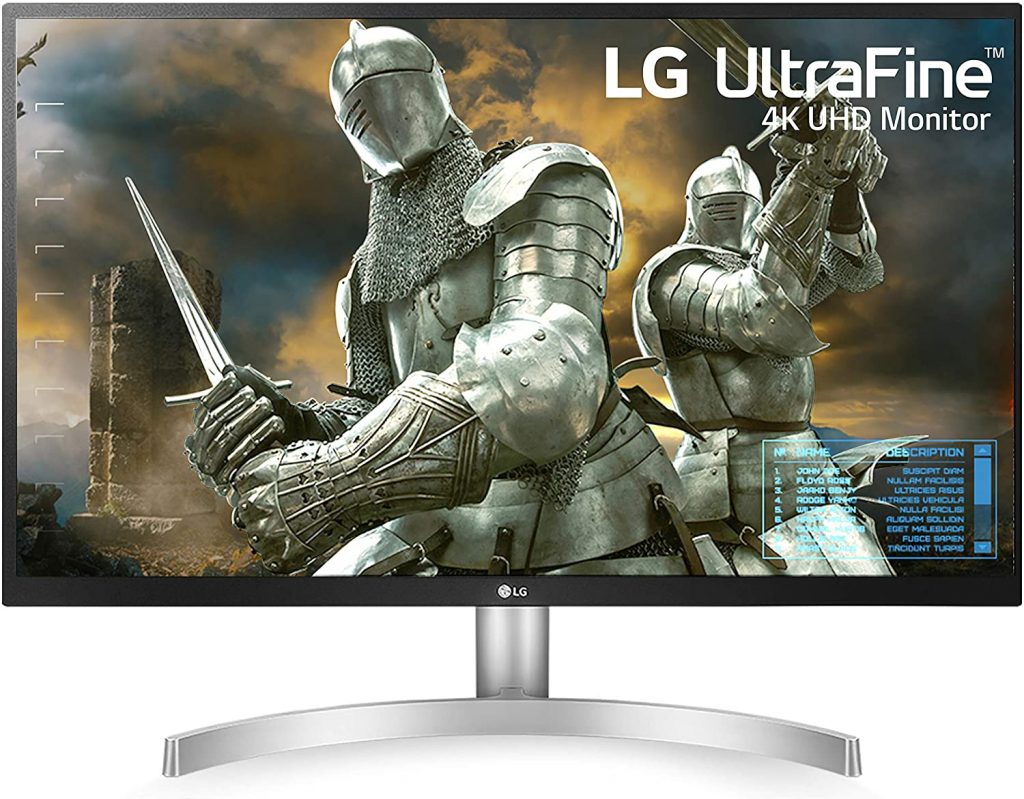 This is a high-quality monitor from LG that is equipped with HDR so you get the most crisp picture possible. It has a wide viewing angle and color accuracy that is at 98% coverage. You won't get the choppiness you get with other monitors due to the Radeon Freesync Technology that keeps all communication from the processor moving smoothly. There are different game modes to choose from that will optimize settings for the different kinds of games you play. You can control your screen settings right on the display with an easy-to-find menu, too.
Pros:
Beautiful vibrant display
Good quality with affordable price
Versatile monitor
High level of color accuracy
Modes to customize your gameplay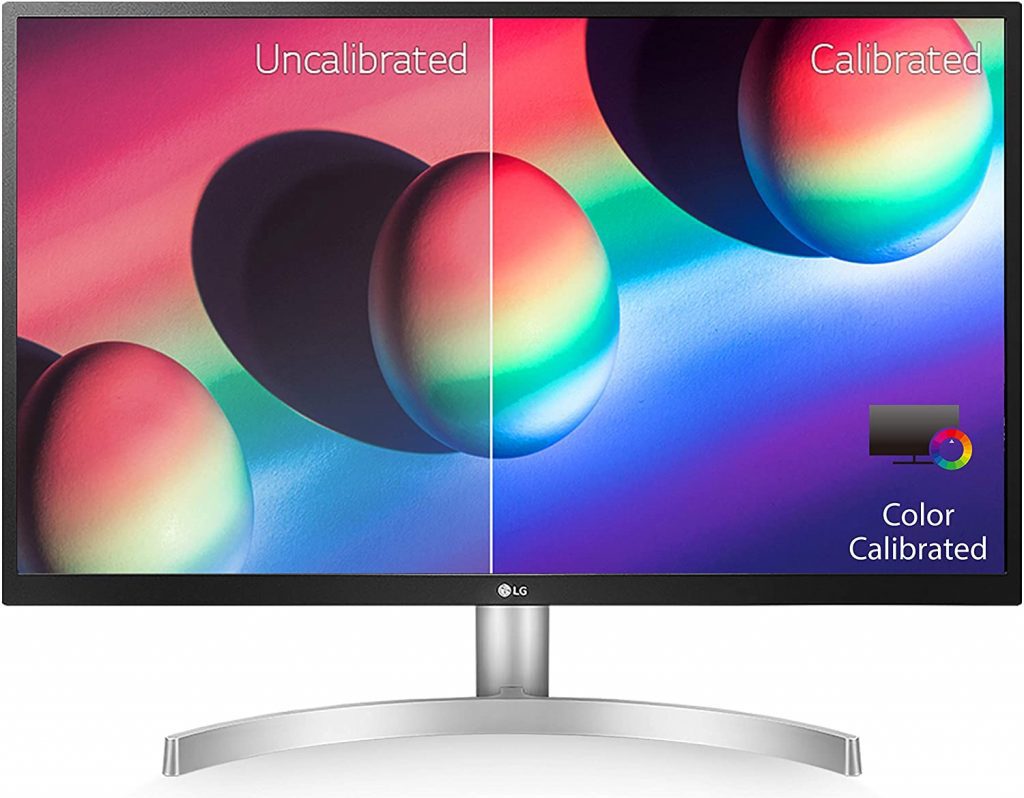 Cons:
May be too basic for avid gamers
Refresh rate could be higher
Can experience light bleed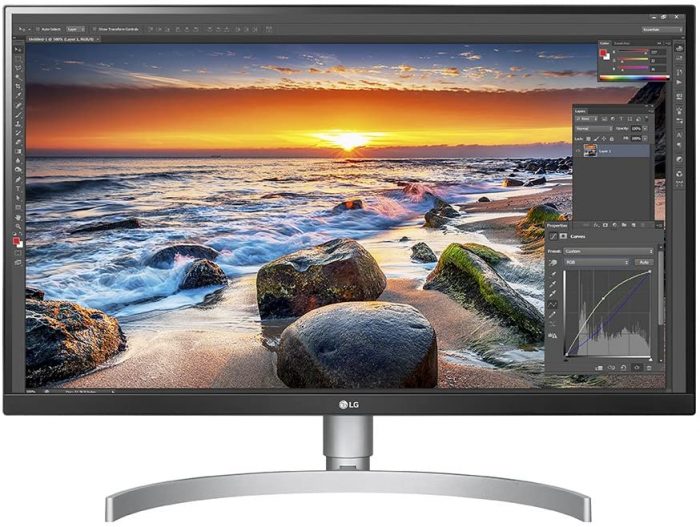 This LG monitor has a higher price tag than the one above. Its display is nearly edge-to-edge. The color accuracy coverage you get is more than 99%. You'll see almost every color imaginable in true-life tone. This is ideal for seeing every detail of a scene you're playing or for anyone working with photos or videos. The connections are available for everything you'll want, including USB Type-C. There are all sorts of advanced gaming features built into this monitor, too, so you can easily turn on settings optimized for certain types of games.
Pros:
Adjustable for almost all angles
Connection for USB Type-C
Image quality is great
Good on-screen control responsiveness
Easy setup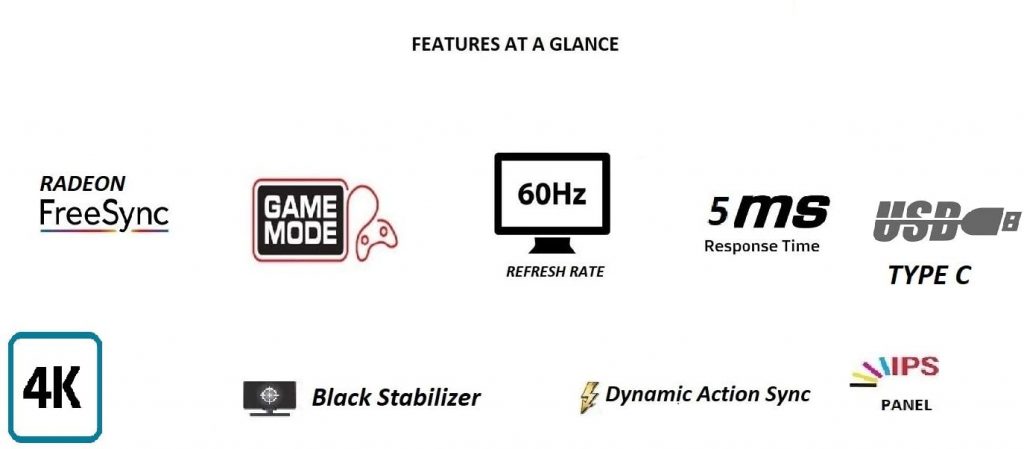 Cons:
Backlight bleed
Speakers aren't great
Slow to wake from sleep mode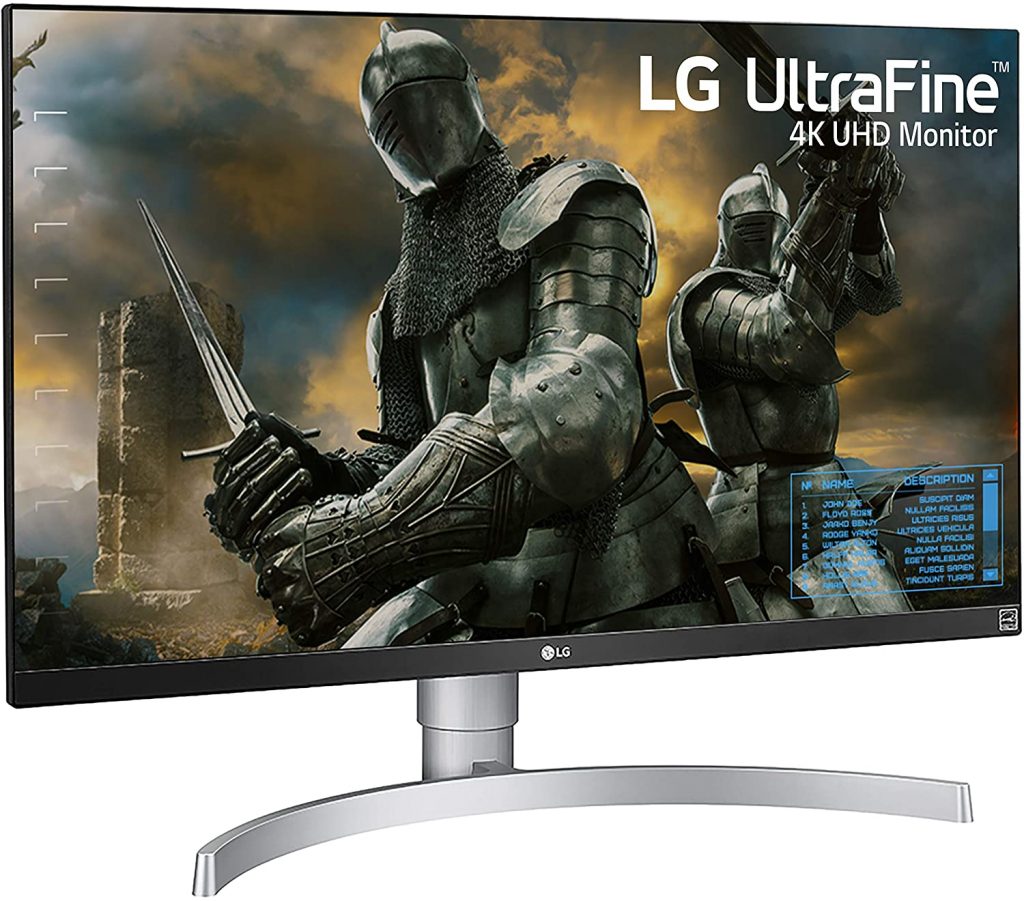 This gaming monitor by LG also has a 99% color gamut so you see every picture the way it's meant to look. It's equipped with HDR10, as well, so you get the full depth of every image. The monitor has upgraded security that helps ensure you're seeing the actual 4K content, not some copy someone put out there to be streamed. You'll have AMD Freesync so you don't have to deal with any hiccups while you're playing and everything moves the way it's supposed to. You can adjust your display, too, so you get the best angle for your room.
Pros:
Advanced gaming features give you presets for types of games
Near perfect color accuracy
Extra security
Easy-to-use on-screen controls
Very clear pictures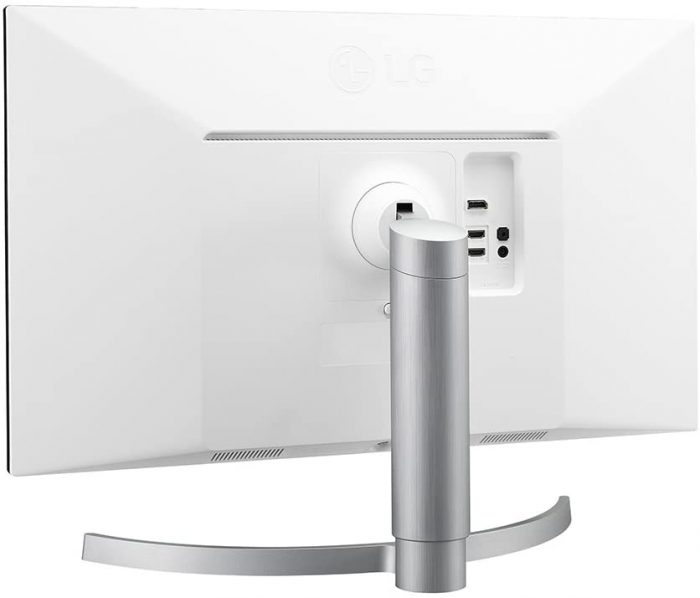 Cons:
Some issues with development of dead pixels
Somewhat basic compared to other options
Not enough manual adjustability for settings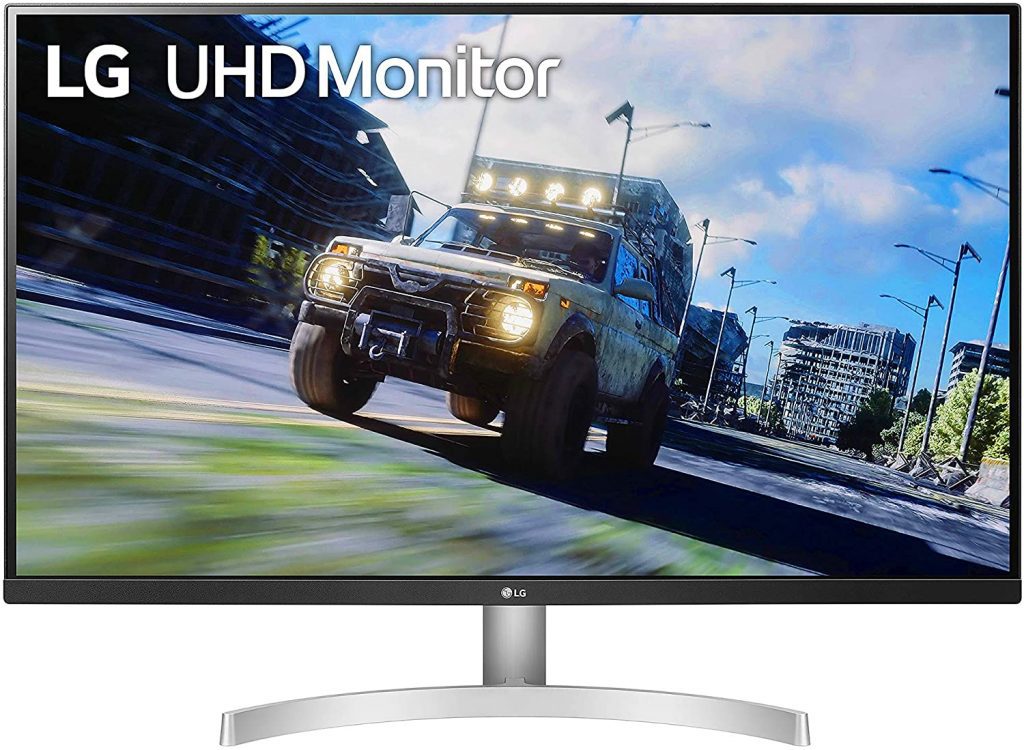 This is a larger monitor but with a lesser color accuracy of 90%. It is HDR10 compatible and is nearly edgeless on three sides. The AMD FreeSync keeps your games flowing in life-like motion so you can get an edge on other gamers. The sound quality is pretty good and your display will be crisp and clear so you don't miss a detail. You'll see plenty of contrast so you get the depth of the blacks and the bright of the white tones. 
Pros:
Large monitor
Good picture quality
Supports 4K streaming
Great uniformity of color across display
Affordable price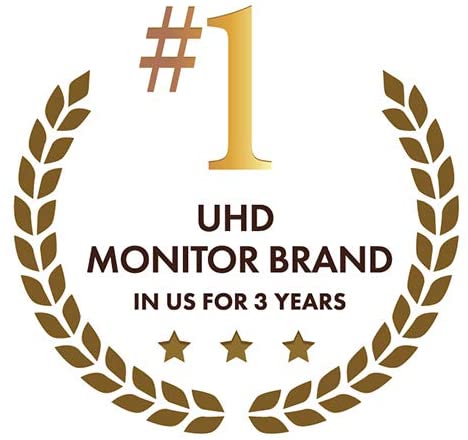 Cons:
Lose brightness around edges
Limited viewing angles
Basic and lacking some connection options
Final Thoughts
Gaming is a great way to relax and let the world melt away around you, especially in times of high stress. With a 4k gaming monitor, it's even easier. When you start looking for the best 4K monitor, look for the screen size you want first. Then, consider the type of panels you want and check out the color accuracy coverage rate. You'll want a good refresh rate and response time, too. Finally, make sure you get all the connection options you want and land on the monitor with the most of what you want at an affordable price. You'll find the immersive game experience is one that allows you to do what you love at a higher level of quality.
FAQs:
What is the best 4K monitor?
The very best 4K monitor is the LG 27GN950-B. It's an IPS type with a 144Hz refresh rate and 1ms response time.
Should I get a 2K or 4K monitor?
If you are an avid gamer, you should go with a 4K monitor. Most of the future content will be coming out in 4K so you will be next gen ready.
Is 4K 60Hz better than 144Hz?
No, it is not. 60Hz is the average refresh rate for a gaming monitor. If you want something better, go with one that has the 144Hz refresh rate.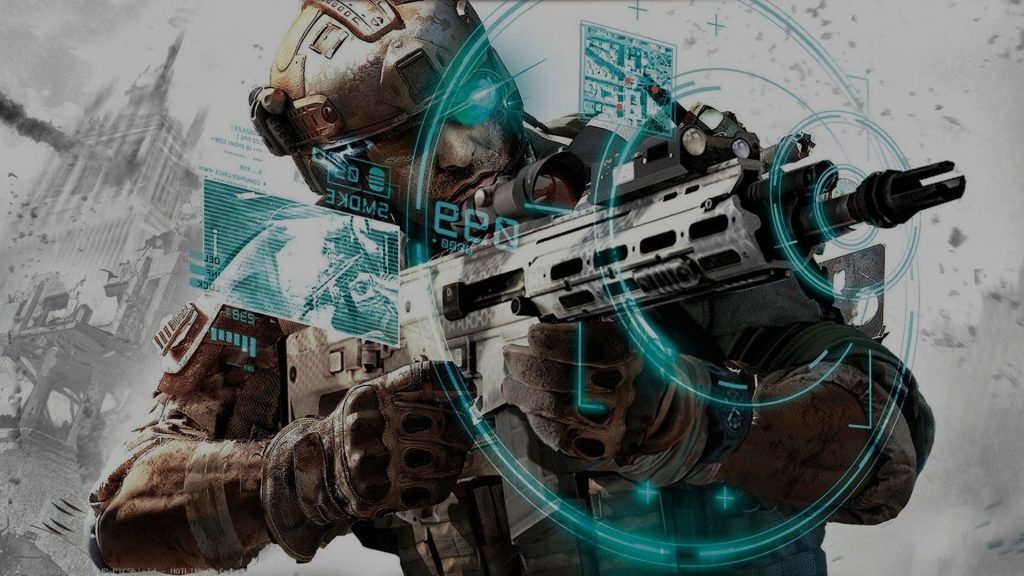 Is 4K better than 144Hz?
These are two completely different measurements. They're referencing different things. 4K is the resolution on the screen. It's a measurement of the number of pixels. 144Hz is the refresh rate. This is the number of image changes there are within a second.
Is 1920 x 1080 resolution 4K?
No, it is not. 4K is a resolution of 3840 x 2160 pixels.
Is 4K better for your eyes?
It's not really better for your eyes, though some viewers report they feel better with the crisper, clearer picture.
Should I get a 4K monitor for PS5?
If you want to see the content the way it's intended to be seen, then yes. PS5 was created with the more advanced technology so you can see your games with higher resolution.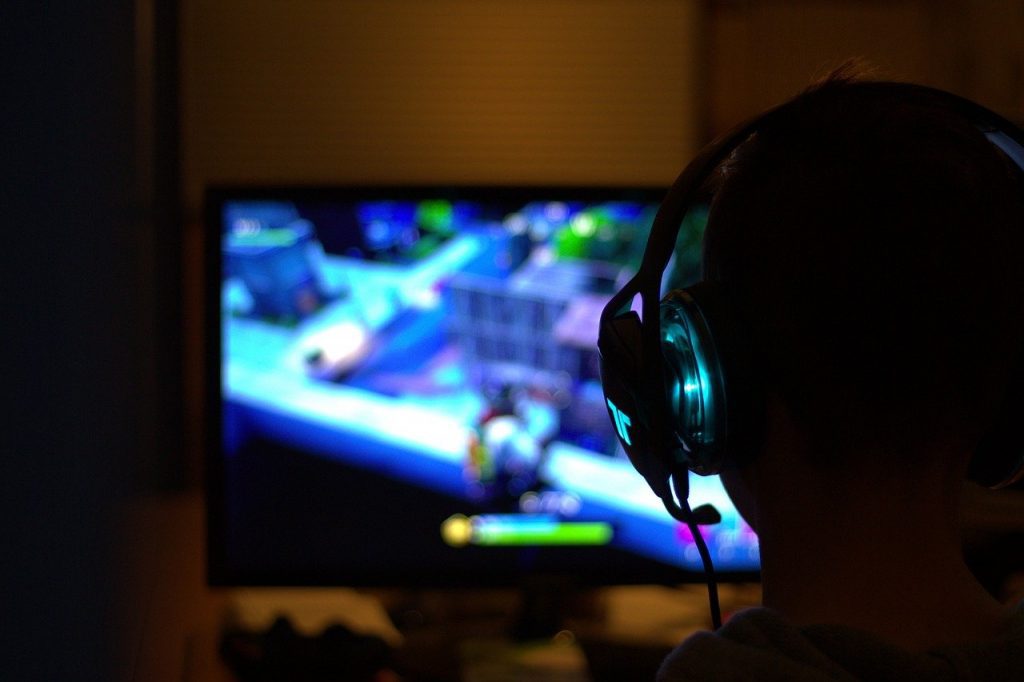 Is 4K 240Hz possible?
Not at this time. You won't find this available anywhere. There are claims of it, but it's not possible yet.
Disclaimer: FamilyHype.com (Family Hype & FamilyHype) is a participant in the Amazon Services LLC Associates Program, an affiliate advertising program designed to provide a means for sites to earn advertising fees by advertising and linking to Amazon.com.
Last Updated on May 28, 2021 by Marie Miguel
DISCLAIMER
(IMPORTANT)
: This information (including all text, images, audio, or other formats on FamilyHype.com) is not intended to be a substitute for informed professional advice, diagnosis, endorsement or treatment. You should not take any action or avoid taking action without consulting a qualified professional. Always seek the advice of your physician or other qualified health provider with any questions about medical conditions. Do not disregard professional medical advice or delay seeking advice or treatment because of something you have read here a FamilyHype.com.