Home theater systems have become more popular over the course of the last year. With the closures of places we went to find entertainment and restrictions for going out anywhere, many of us have been trying to up our entertainment game at home. At the core of all the good home theater systems are the best AV receivers. These are basically the control towers of your home theater systems. You will use the receiver to operate the system and customize your entertainment experience.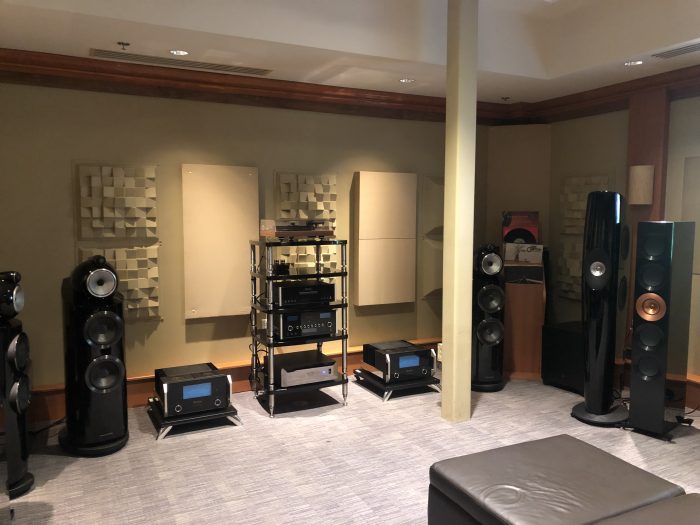 Choosing the best AV receiver for you home can be done by considering several factors. First, how many speakers will you be hooking up and what kind of connections will you need, now and in the future? Next, make sure you're getting a receiver that can handle 4K video if you have a 4K TV or will. You'll want to look into Dolby Atmos for the best surround sound. Make sure you get one with the common HDR formats. Finally, make sure you get a receiver that can do multiple rooms if you're intending to use yours that way.
Even if you don't know a lot about electronics and the best AV receivers, you can still shop for one with confidence if you do your research. This article is aimed at helping people understand how to choose an AV receiver that will fit their needs and give them the entertainment experience they're looking for. Once we've talked about receivers in more general terms, we'll take a look at some that are available on the market now.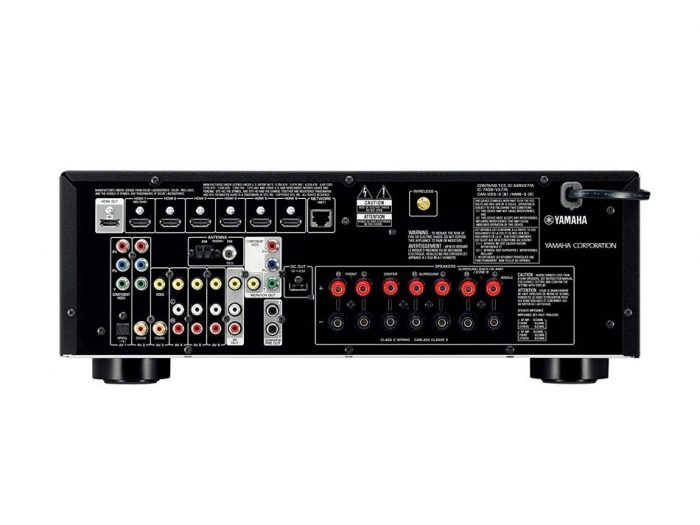 All The Connections
You need to have a pretty good idea of how you plan to use your AV receiver. There are different ways of connecting to a receiver, as well as different types of devices you would want to. The most obvious use is for a transfer of sound between a TV and external speakers for a surround sound audio experience. There are other types of connections you may want at a later time, though. 
One that many people want is the ability to connect wirelessly. You can look for a receiver that has Bluetooth capability, Airplay, and more so you can play music from your other devices with easy. 
The number of speakers you intend to have connected through the receiver is important. AV receivers have channels that will be indicated by a number to tell you how many there are available. Those channels are what let you know how many speakers you can connect. Essentially, one channel is equal to one speaker. For a basic surround sound system, you have to have at least five channels.
It's important to think about the future, too. You may want to connect other devices to your AV receiver later on. Next generation gaming systems may come out or new types of video players. If you don't have the connection ports or types to support those, the new technology won't do you much good anyway. 
Making sure the receiver you choose is ready to transmit 4K video is important now, too. With the amount of 4K content there is and the number of households with 4K TVs in them, it just doesn't make a lot of sense to go with an AV receiver that can't support 4K video.
All The Sound
One of the main reasons people look for an AV receiver for their homes is because they want to have good surround sound for watching movies, sports games, and their favorite shows at home. Dolby Atmos can give you the kind of sound you're looking for when it comes to home theater.
So, what is Dolby Atmos? This is the technology that's going to give you the most immersive experience. The quality of the sound will be such that you can hear every little detail that was put into the scene. You'll feel the depth of the emotion in loud high volume scenes, hear the whispers of voices that are hushed, and feel sound coming at you from every direction the way it is meant to be.
Dolby Atmos takes sound from a one-dimensional, flat level and turns it into a three-dimensional soundscape that is all around you. It will take your entertainment experience to the next level. Denon AVR has a whole line of receivers you can check out with Dolby Atmos technology integrated into their designs.
All The HDR Formats
If you're looking to set up the best at-home theater entertainment experience, then you'll be going with a TV with HDR. HDR is short for High Dynamic Range. This is what gives your picture more brightness and greater contrast between colors and different tones on the screen. 
HDR comes in more than one format. There are five, at the moment—HDR10, Dolby Vision, HLG, HDR10+, and Advanced HDR by Technicolor. The most common one of these is HDR10. It scooted past the older version of Dolby Vision to claim the top spot. However, Dolby Vision is not out of the picture. The other most common is HDR10+. Try to get an AV receiver that allows for multiple formats of HDR, and most of all these three most common.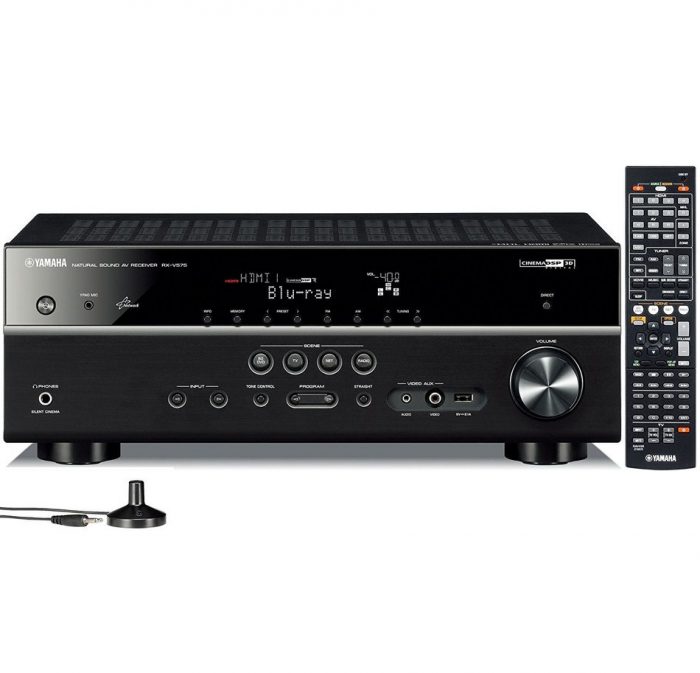 All The Rooms
Besides just watching movies in a room with speakers all around, you may also want to use your AV receiver to listen to music throughout your home. If that's you, and you'd like to pump that music into multiple rooms in your house, you'll want to get a receiver that can support that. 
There are multiple manufacturers that make receivers capable of driving the music into rooms located throughout your home. One of the best in the business is the Denon AVR HEOS AVR-X2700H.
It's time, now, to look at some specific models of receivers that are good choices for your home.
Options For The Best AV Receivers For Home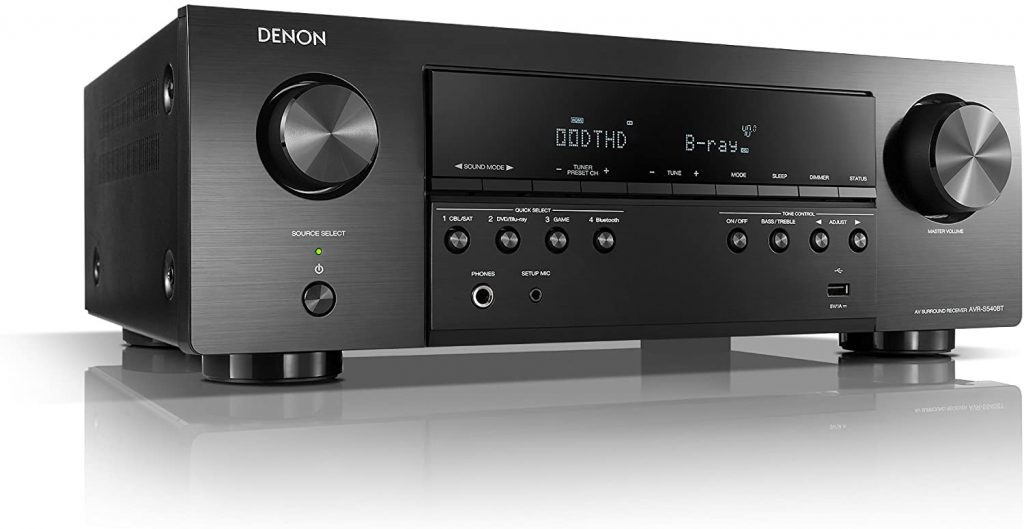 This Denon AVR gives you the connections you need, including 4K Ultra HD, so you can take your home entertainment experience to the next level. There's also a USB connection, and the receiver has built-in Bluetooth. It's compatible with HEOS Link, too, so you can do all of the wireless music streaming you want. It's setup to handle HDR and has five amplifiers built-in to drive the power further and harder for your immersive experience. You can customize your audio settings and save them for whatever kind of activity you're doing, as well.
Pros:
Has the channels to set up surround sound
Connect through Bluetooth to listen to your playlists
Small physical footprint
Compatible with multiple formats of HDR
Affordable option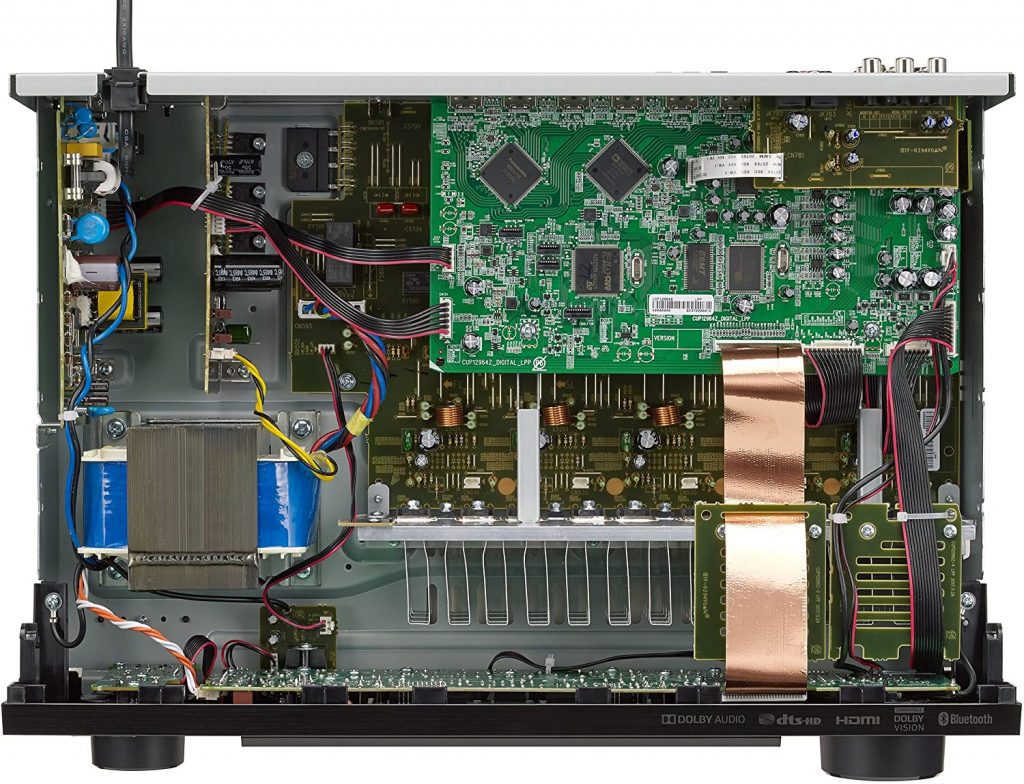 Cons:
Setup is difficult for many
No channels for additional speakers
Bluetooth connections can interrupt programming
This 7.2 channel AVR has Dolby Atmos integrated into the design. You'll have multiple connection ports, as well as wireless streaming capability. There are dual HDMI ports and it's fully prepared to handle the transmission of 4K video. It's equipped to handle the most common formats of HDR, too. You'll have enough channels to support a surround sound system for your living room and other speakers for playing music. You can use Alexa voice control, too, for added convenience. This one is capable of a multi-room setup for those who want music throughout their homes.
Pros:
Dolby Atmos for the most immersive experience
Phono input for listening to records
WiFi enabled
Multiple HDR formats
Next gen ready

Cons:
No manual volume control
Setup is difficult
Instructions with unit are lacking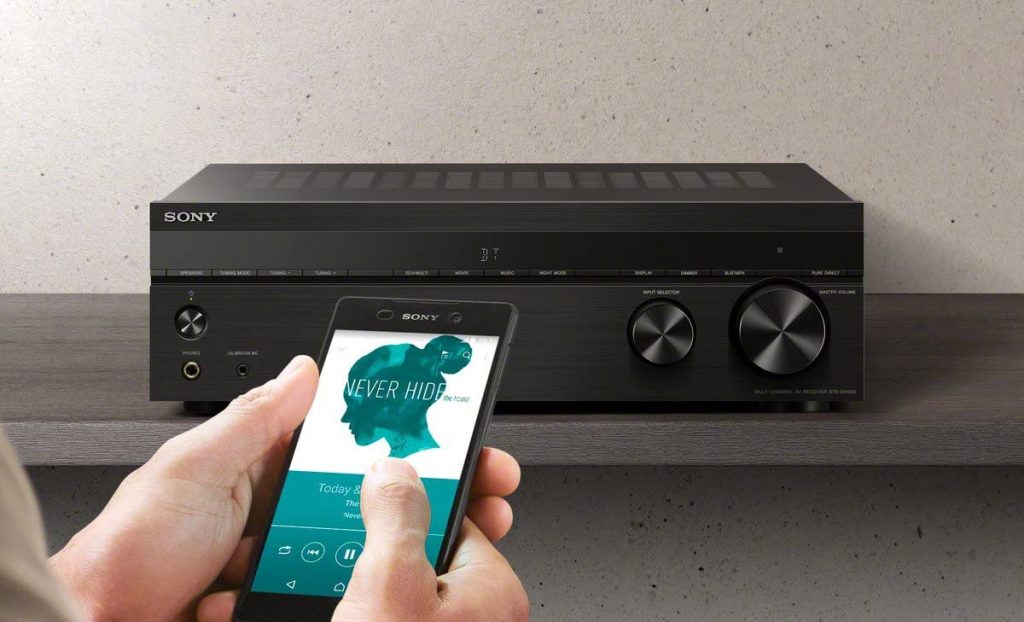 This is a very affordable option from Sony. It's ideal for those looking for a control center for driving their surround sound system in the living room. It supports 4K resolution and HDR formats. There are four HDMI inputs and it's Bluetooth capable. There is smart technology used in the design so you get the optimal audio experience for whatever you're watching or listening to. This isn't a whole house kind of AVR, but it works great for one room or a small apartment.
Pros:
Very affordable
Bluetooth connectivity to stream your playlists
Plenty of connection ports
Good sound quality
Future ready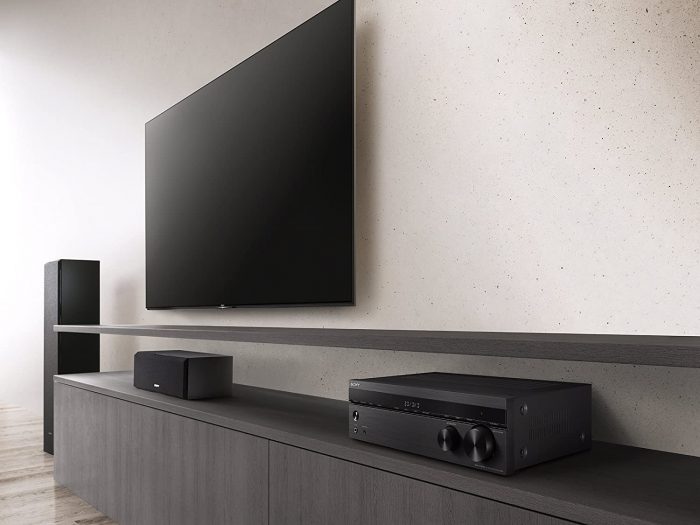 Cons:
No Dolby Atmos
Included remote not compatible with some other Sony products
Basic unit

This is a less powerful version of the Yamaha we mentioned above. It has less channels so you couldn't do the multi-room hook up like the 7.2-channel AVR, but it's great for surround sound to your main TV. There is auto-calibration technology built into the receiver so your sound is always optimized. You'll have the support for your 4K HDR screen. You'll have four HDMI inputs, as well as one output. You'll also have Bluetooth and wireless connectivity for streaming music and other things you want to listen to.
Pros:
Everything you need for an ideal home theater setup
Mic included in box
Future ready for next gen gaming and viewing
Plenty of connection options
Very affordable

Cons:
Unit runs hot
Pretty basic unit
Configuration a little confusing
Conclusion
There are many reasons to want a Denon AVR or any other brand of receiver to use in your home. This type of product can take your entertainment experiences to a whole other level. You'll want to shop around for the level of technology that will keep you prepared for the future. You'll also want enough channels to support the speakers you intend to connect. Make sure you're getting one that supports multiple rooms if you want sound throughout your home, and comparison shop so you can get the best price possible.
Disclaimer: FamilyHype.com (Family Hype & FamilyHype) is a participant in the Amazon Services LLC Associates Program, an affiliate advertising program designed to provide a means for sites to earn advertising fees by advertising and linking to Amazon.com.
Last Updated on May 19, 2021 by Marie Miguel
DISCLAIMER
(IMPORTANT)
: This information (including all text, images, audio, or other formats on FamilyHype.com) is not intended to be a substitute for informed professional advice, diagnosis, endorsement or treatment. You should not take any action or avoid taking action without consulting a qualified professional. Always seek the advice of your physician or other qualified health provider with any questions about medical conditions. Do not disregard professional medical advice or delay seeking advice or treatment because of something you have read here a FamilyHype.com.