While some people are unsure if you need to wear a life jacket for a jet ski, we're here to tell you that if you are not a strong swimmer or if you will have a young person (under the age of 12-14) on your jet ski, you will need a life vest.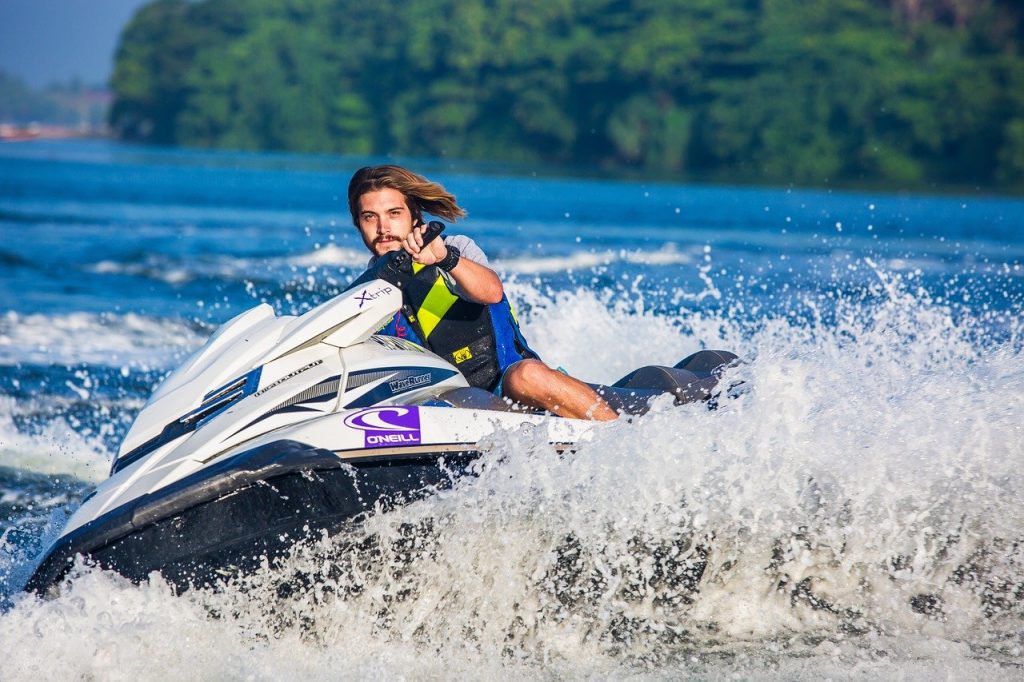 Of course, state laws vary regarding life vest use while operating or riding on a jet ski, it is always a good idea to err on the side of caution and use the appropriate device if you're unsure. It would be better to be properly outfitted and avoid any accidents than the alternative!
Although the fit is extremely important when it comes to choosing life vests, you should also make sure to opt for a USCG-approved vest if possible to ensure high quality and good design. It's not worth cutting corners when it comes to your safety.
Reasons For Wearing Jet Ski Life Jackets
People often ride jet skis for the thrill of it. A jet ski usually goes anywhere from about 40 mph up to about 70 mph. That's pretty fast. That also means, there's the possibility that the rider will be thrown off of the personal watercraft at some point. For this reason, all riders should wear jet ski life jackets. You can find them to fit all budgets and all riders. The best jet ski life jackets may cost you up around $100, but will be absolutely worth it in the event you end up in the water. Here's what you should look for in a jet ski life jacket:
Made of lightweight, high quality materials
Designed to provide the rider with comfort (breathable, slim fitting, etc.)
Allows for freedom of movement
Coast Guard approved life jacket
Style 
Now, we'll take a look at some specific jet ski life jackets that we recommend for those who want to live the best jet ski life.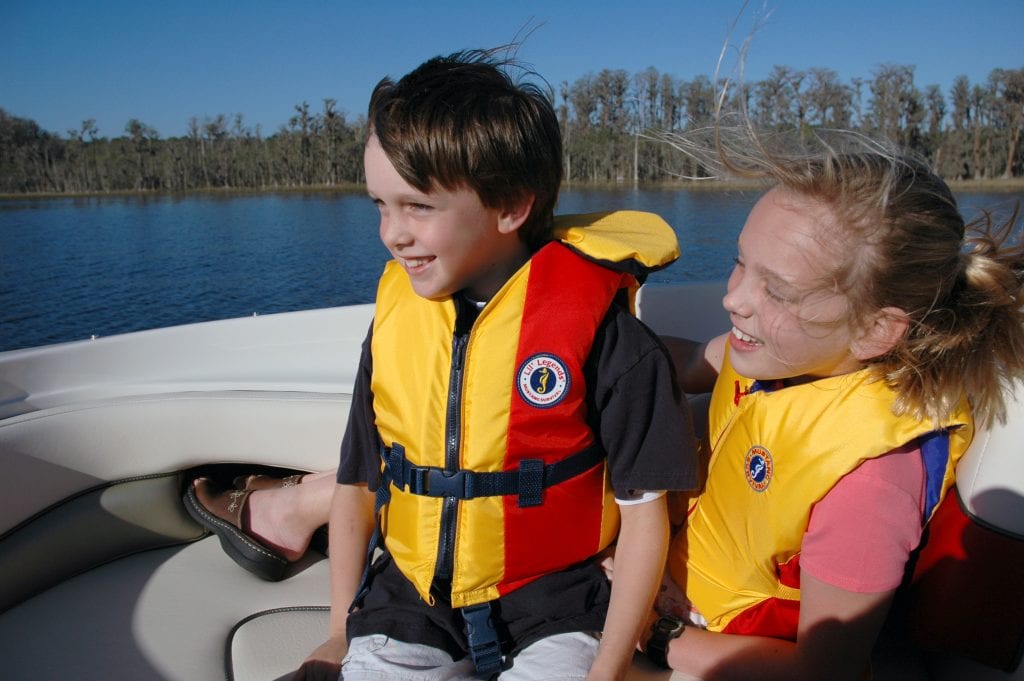 Some of our favorite life vests for jet skis include the following:
For Adults
O'Brien Traditional Neoprene Adult Life Jacket – A traditional vest made to keep adults safe and comfortable while engaging in any sport in the water, this life vest is one of our absolute favorites. It comes in a men's version, or you can get it in the women's life jacket. The O'Brien Traditional is a neoprene life vest that is super sleek and form fitting so you have absolute freedom of movement when you ride. It has a zipper in the front, as well as two buckle belts so you can get a nice snug fit from your ski vest while you engage in fun water sports.
O'Neill Men's Superlite USCG Life Jacket – A comfortable no-nonsense, high-quality life vest adequate for a variety of activities, we'd recommend this vest for someone looking for a men's fit. The O'Neill men's Superlite USCG Life Vest is more affordable than the O'Brien mentioned above. This is still a USCG approved life vest that is lightweight and fits snugly to the body so you can move freely when you ride. These O'Neill men's life vests are good for all types of water sports.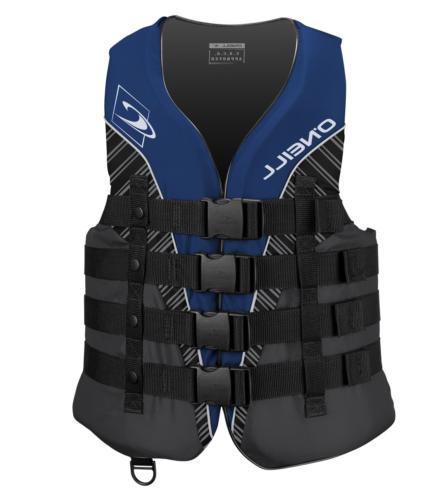 O'Brien Women's Impulse Neo Life Jacket – For a fit that many women might find more comfortable for than the male version of the vest, we'd recommend this USCG approved vest, that she'll be happy to wear! Just be sure to choose the proper size. There are recommendations from some of the personal flotation device manufacturers to consider going up one size from your normal fit so you get a more relaxed fit. 
O'Neill Men's Reactor USCG Life Vest –  This vest has a snug and slim fit. Riders can move around and stay comfortable throughout their ride. There are sizes all the way up to 3XL. The inside of the O'Neill Men's Reactor USCG Life Vest is a segmented foam core, which allows for great mobility. This is one of the best life jackets when it comes to quality and durability. It has overlock stitching, expansion panels, a front zipper that's heavy duty, and a lining made of 100% polyester. It's a USCG approved life jacket meant for use with all kinds of water sports. 
Body Glove Women's Phantom USCG Life Vest – The Women's Phantom from Body Glove is a USCG approved life vest that can be used with confidence on a boat, on a paddle board, on a Sea Doo, or with any other type of personal watercraft. These jet ski life jackets have a neoprene vest outer shell that's super durable. They're some of the best life jackets with an advanced air foam technology that makes everything lightweight and comfortable. 
For Children
Although young children should not ride on a jet ski, some young people (around the ages of 10-14), may have the opportunity to do so, and it is extremely important that they are properly outfitted. Finding the right size for children is extra important, and we have one favorite to recommend for children in the afore mentioned age group:
Stohlquist Fit Youth PFD – Kids': This USCG approved type 3 kids' vest is both affordable and comfortable – two must have's for kids engaging in water activities. These are rated for kids who are 50-90 lbs. It's one of the best jet ski life jackets for kids because of its low profile. It has thinner panels in the back that are foam filled and allow kids to move freely. These are USCG approved life vests that are great for boating, paddle boarding, and riding a personal watercraft like a Sea Doo.
Conclusion
As with any water sport, there are going to be those who choose not to wear a jet ski life jacket. However, life vests are there to save your life in the event of an unfortunate accident or situation that could arise. The best jet ski life jackets won't make you feel restricted or uncool. You can find the perfect USCG approved life vest to meet your needs and fit your style. We recommend that you look through our list of the best life jackets to find the one that matches what you're looking for the best.
Frequently Asked Questions:
What type of life jacket do I need for a jet ski?
Most states don't have a specific requirement regarding which kind of life jacket you should use for a jet ski, but some experts recommend a type 3 life vest for most jet ski users, as long as you will be supervised while operating the PWC. A type iii life jacket is meant for calmer inland waters where riders in need of rescue could get help quickly. The type iii won't rotate an unconscious rider over to float on their back, so that's something to consider when you're deciding on what jet ski life jacket you should get.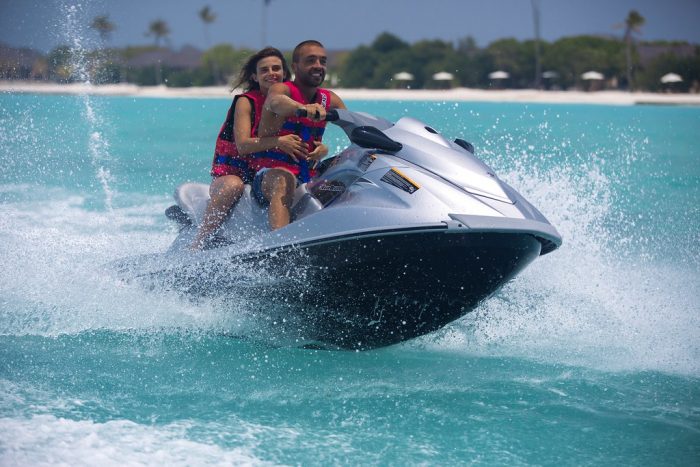 Do you have to wear a life vest on a jet ski?
State laws regarding life vest use on personal watercraft (PWC – the legal category under which jet skis fall) vary, but many state laws require life vest use for children under the age of 12-14. It is a good idea to check with your individual state's laws in order to ensure that you're complying with them, and when in doubt, wear one. A Sea Doo or other type of jet ski can sometimes go up to 70 mph. At speeds like that, things happen that cause riders to fall off. Jet ski life jackets save lives in these cases.
What is the difference between PFD and life jacket?
The primary difference between a PFD and a life jacket is that a PFD (personal flotation device) is made to keep the wearer safe while conscious, while a life jacket can work while the wearer is unconscious.
This has to do with the positioning of the material that makes the device float. In a life jacket, that material is toward the front of the wearer's body and positioned in such a way that they should float face-up on their back, thus making them in theory safe for someone who is unconscious. The best life jackets can actually rotate an unconscious wearer, who has fallen into the water, over onto their back so they do not drown.
That said, with so much bulk near the front, many competent swimmers engaging in supervised activities or swimming opt for a PFD for their safety instead of a USCG approved life jacket, due to comfort.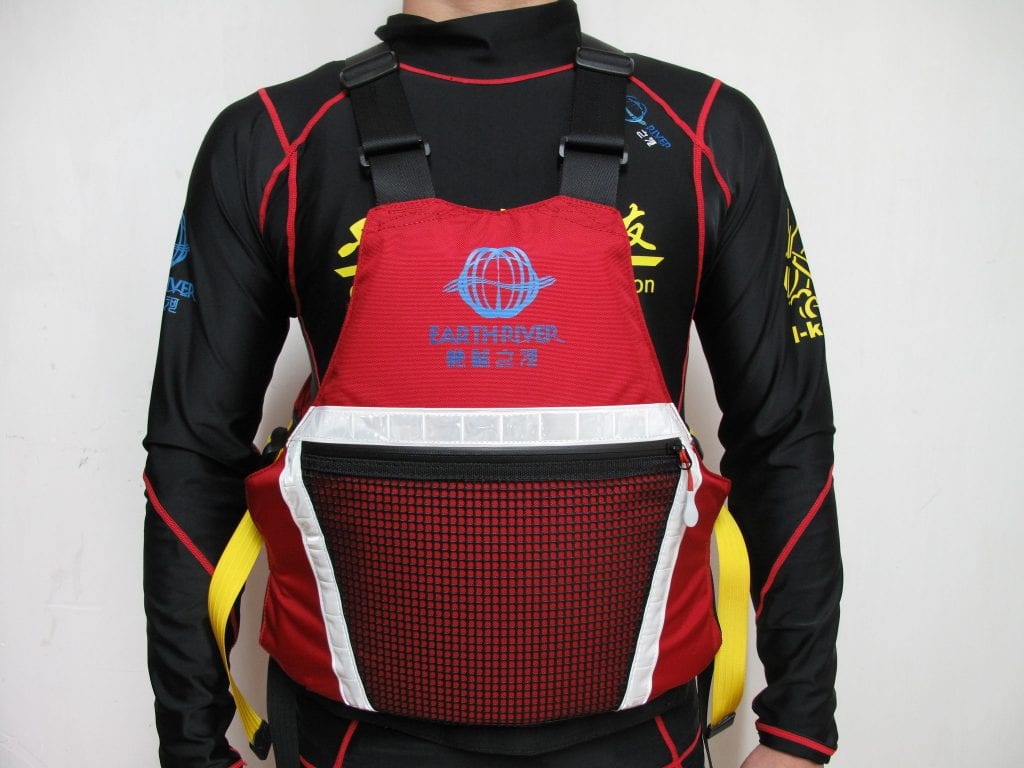 How often should you replace life jackets?
You should replace a life vest every 10 years or any time it may have undergone some kind of damage either mechanical or due to the sun, or the jacket has mold. You should also replace a life vest if it not longer fits to ensure maximum safety. Jet ski life jackets that don't fit properly won't be as effective.
What is the safest life vest?
Type 1 lift vests are known as the safest kind of life vests because they are designed to keep an unconscious wearer's head above the water due to the distribution of the floating materials. This means that even if the person were not found immediately, they would still likely be safe from submersion for a certain period of time.
Type 2 and 3 life vests are made for supervised activities or activities where rescue would be quick, since they may not protect unconscious wearers.
Interestingly enough, there are no United States Coast Guard-approved type 1 life vests, so you may consider opting for an approved version to ensure quality and adequacy of the life vests if you're unsure which to buy. The USCG will only approve the best life jackets that have been proven to do the job they were designed to do.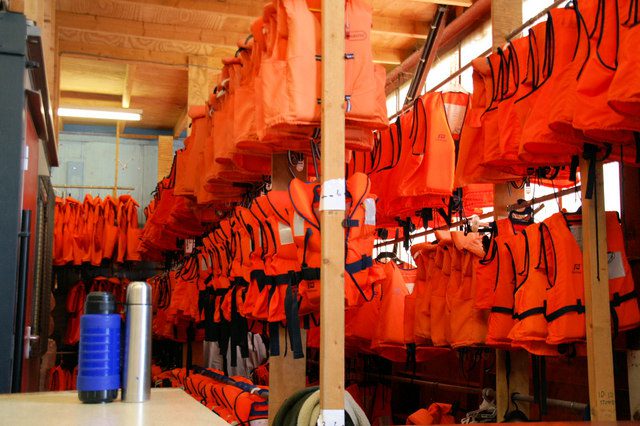 What is the difference between Type 2 and Type 3 life vests?
Type 3 life vests don't keep the wearer afloat as well for as long as Type 2 life vests, but they tend to allow for more range of motion and users often find them more comfortable. Many of the jet ski life jackets you'll find are Type 3.
It is suggested to use Type 3 life vests for supervised activities where rescue would be almost immediate if the wearer were to need it, while Type 2 life vests are suitable to activities where rescue would be fast.
The key difference between life vest types related to how much effort the wearer would have to do to keep their body and head afloat.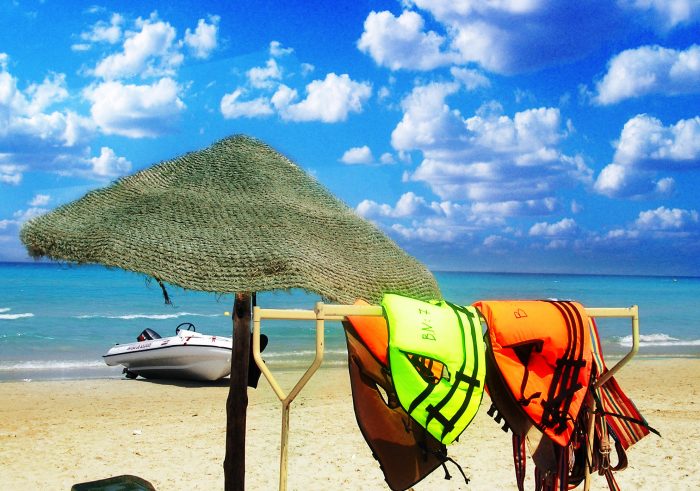 Neither Type 2 or Type 3 life vests are suitable for rough water and shouldn't be relied on for a user that may not be rescued quickly because they are not necessarily may for the wearer to float on their back (head up/above water).
In the case of jet skiing or riding a Sea Doo, as long as you are accompanied, either a Type 2 or Type 3 life vest would be suitable, with a Type 3 life vest likely more preferable due to the range of motion and the supervision that jet skiing usually entails.
Last Updated on June 3, 2021 by Marie Miguel
DISCLAIMER
(IMPORTANT)
: This information (including all text, images, audio, or other formats on FamilyHype.com) is not intended to be a substitute for informed professional advice, diagnosis, endorsement or treatment. You should not take any action or avoid taking action without consulting a qualified professional. Always seek the advice of your physician or other qualified health provider with any questions about medical conditions. Do not disregard professional medical advice or delay seeking advice or treatment because of something you have read here a FamilyHype.com.