Choosing the right car seat for your little one means doing a whole lot of research to find something that really works. If you're looking at Graco car seats you might want to look a little closer at the Snugride Click Connect 35. This is car seat system for your infant that comes with an easy to carry baby seat that clicks into a car seat base that stays in your car. But is it really a good option? Does it do everything that you want from a car seat for your child? We're going to take a closer look and find out.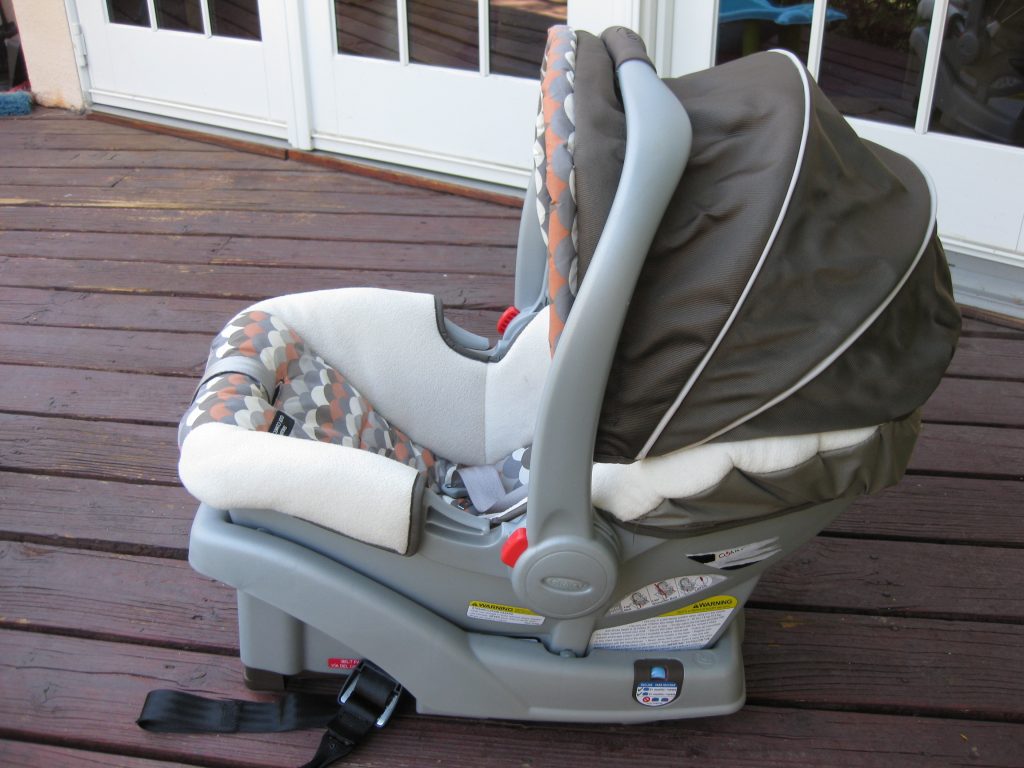 Aside from the comprehensive review of the Graco Snugride Click Connect 35, which we will discuss later in the article, we also included a list of the highly-rated Graco car seats from Amazon to show you what options you have before you make your purchase. We also included a product description for each item so you can compare and finally decide which feature you like in a car seat.
You'll want to look at the safety ratings for this car seat which give it a 7 out of 10 when it comes to crash test ratings. The Snugride Click Connect 35 is designed to do well in this case and it's simple to install either with or without the base. You'll also get good limits when it comes to the weight and size of the seat itself. This makes it easier for you to transport the seat as needed.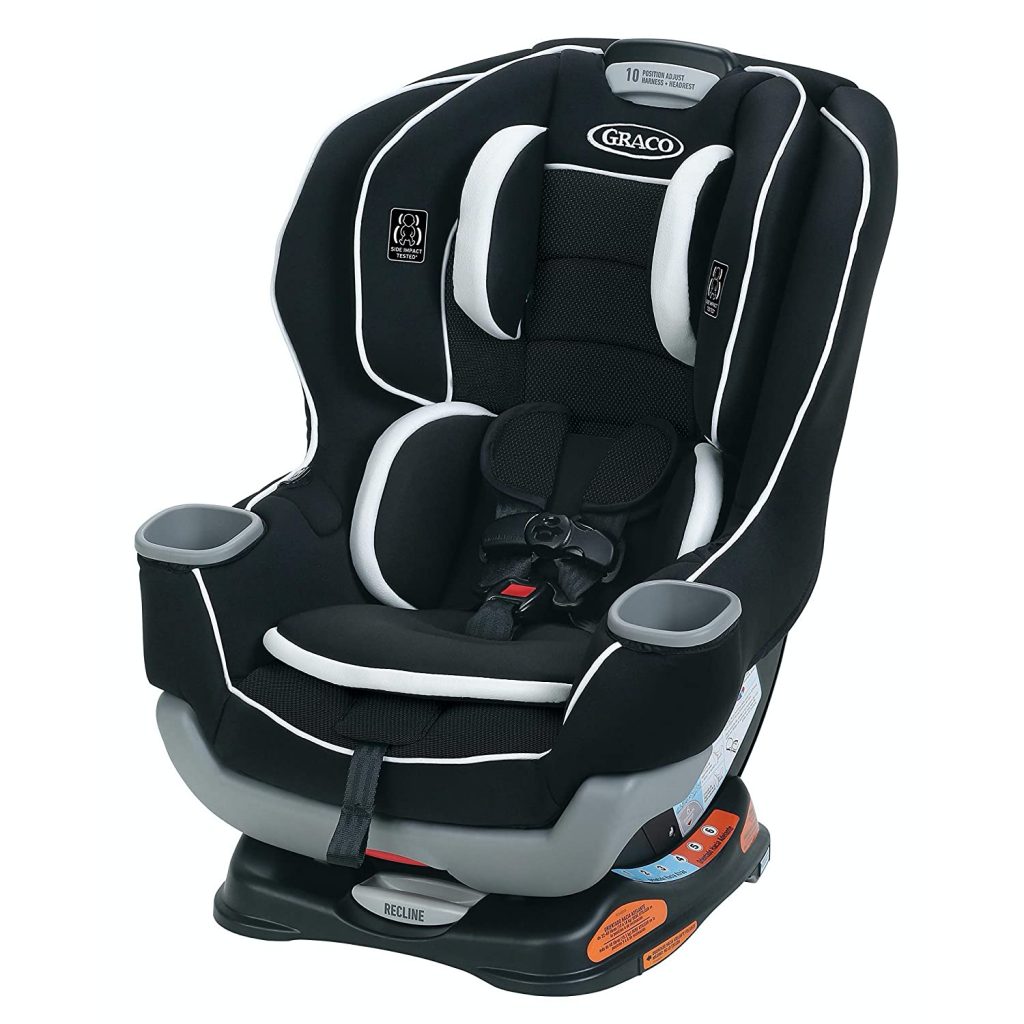 The Graco's Extend2fit is a great option for parents who prefers the rear-facing mode as it has a unique design that allows 4 position extension panel adjustment to give additional legroom as their child gets bigger.
It also has incomparable safety features that helps keep the child harm-free on crashes and accidents.
Extend2Fit car seat allows a child to seat in a rear-facing position from 4 to 50 lbs while 22 to 65 lbs in a forward-facing.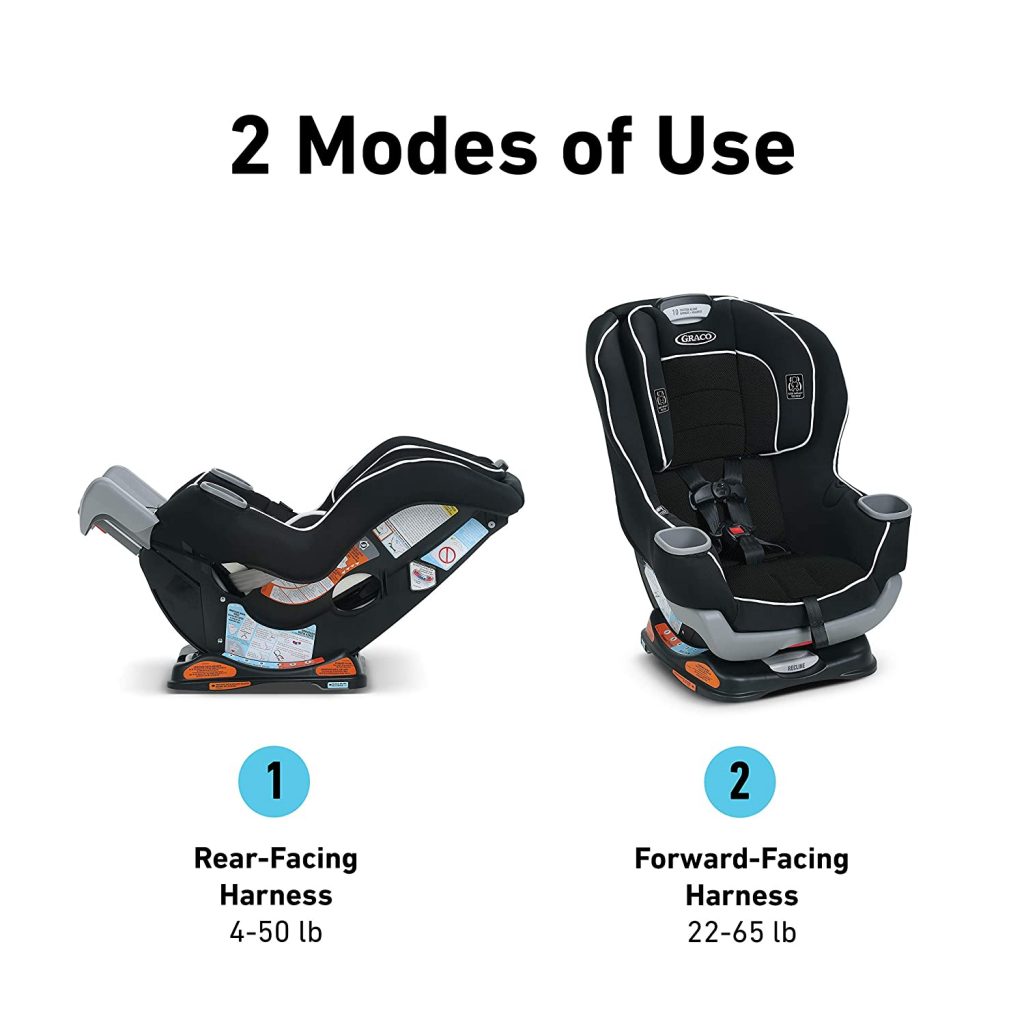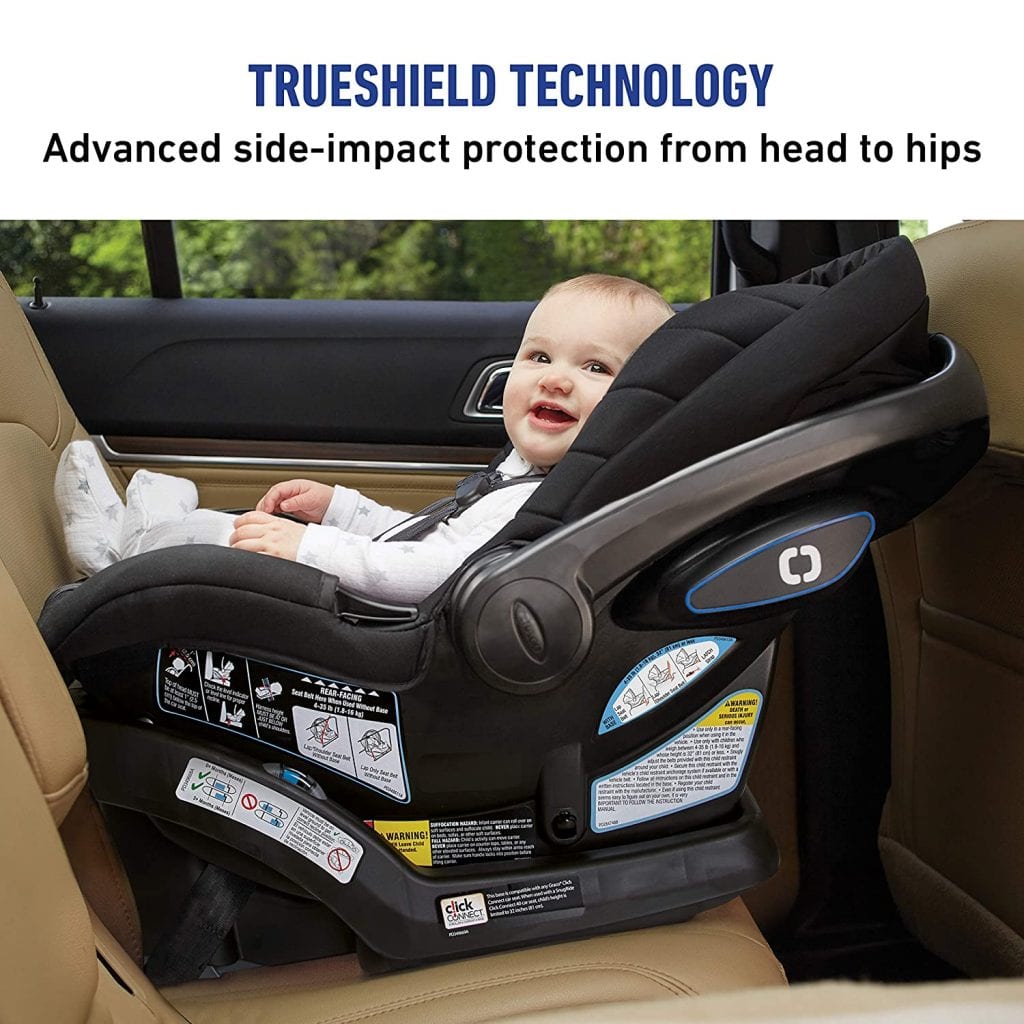 Graco's SnugRide Snuglock 35 LX offers safety and convenience like no other. It can be easily adjusted and attached and it can be adjusted in 4 position to fit it perfectly in your vehicle.
It has been Engineered and crash tested to pass the US standard FMVSS 213.
This Snuglock 35 from Graco is known to have TrueShield Technology that assists in protecting your baby in rear-facing position from 4 to 35 pounds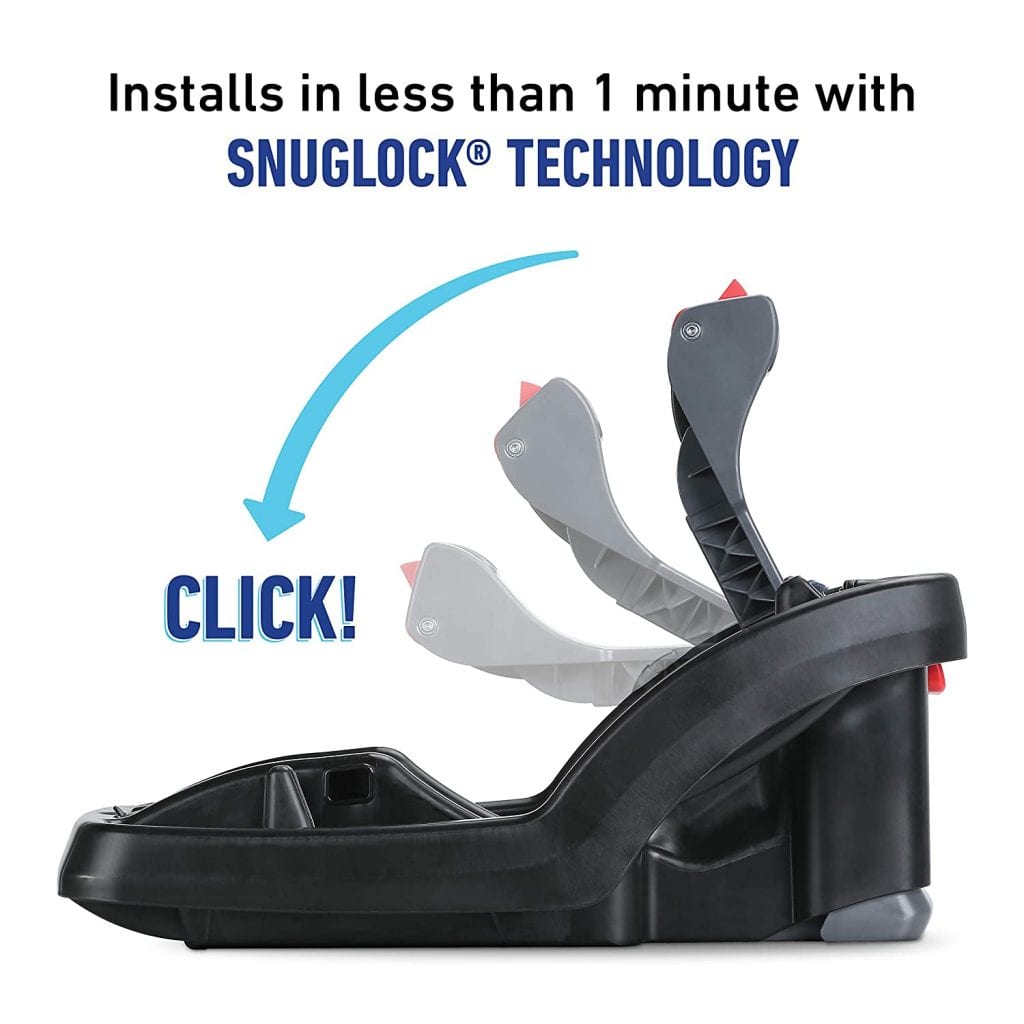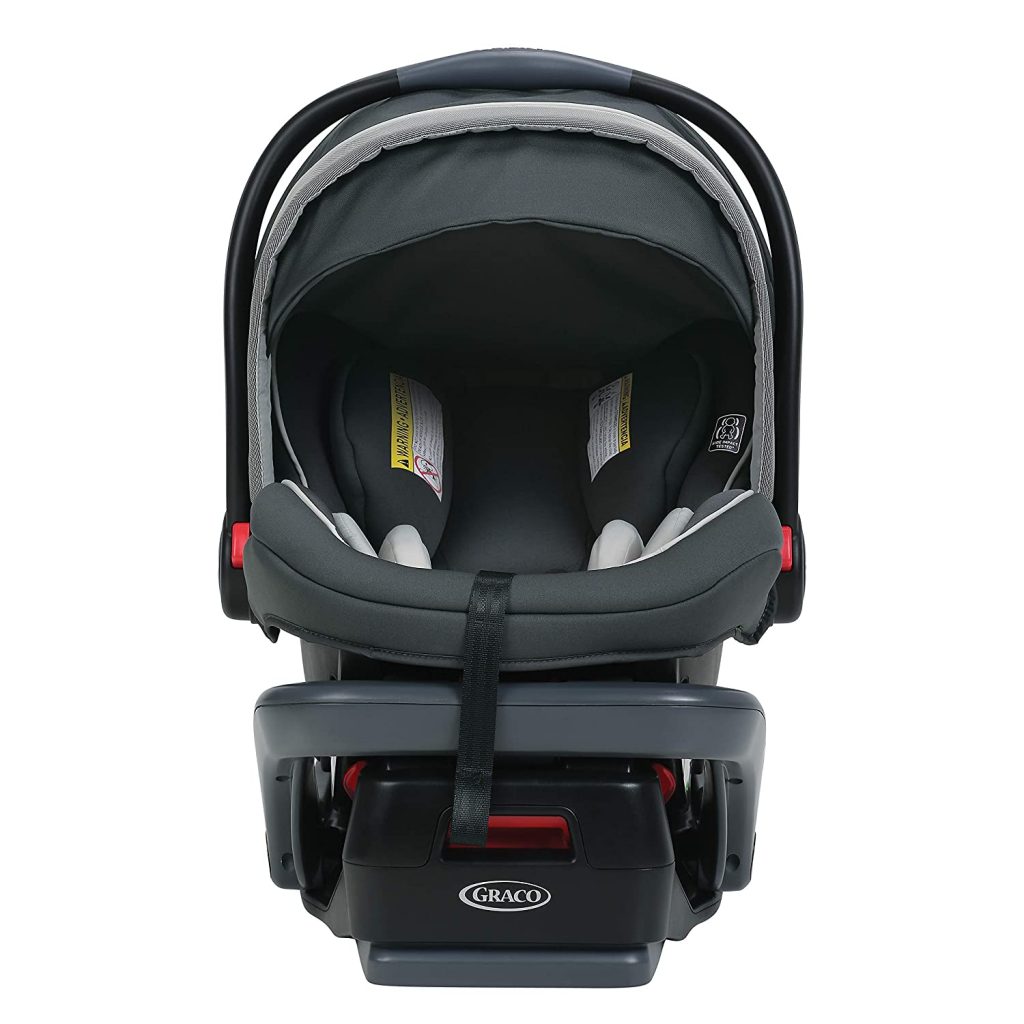 The Elite infant car seat features a sweat free 3 step installation system so you can attache the car seat to your vehicle without putting too much time and effort.
It is also equipped with a safety core and sturdy frame to keep your child safe from frontal crash impact.
This SnugLock 35 Elite features a rotating canopy to provide shade to the baby and allow him as well to enjoy sunlight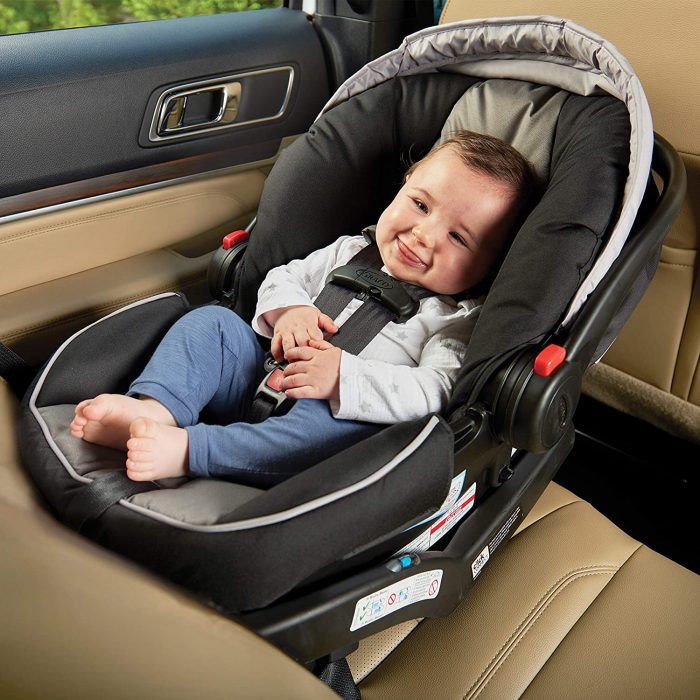 The SnugRide SnugLock 30 infant car seat offers basic car seat features that promotes safety and comfort for your child.
It is also lightweight and easy to install to most Graco Click connect stroller to create a travel system.
This SnugLock 30 is recommended for babies weighing 5.5 to 30 pounds.
Adjustable base, lightweight, and easy to read indicator are the top features that most mothers love about this Graco car seat.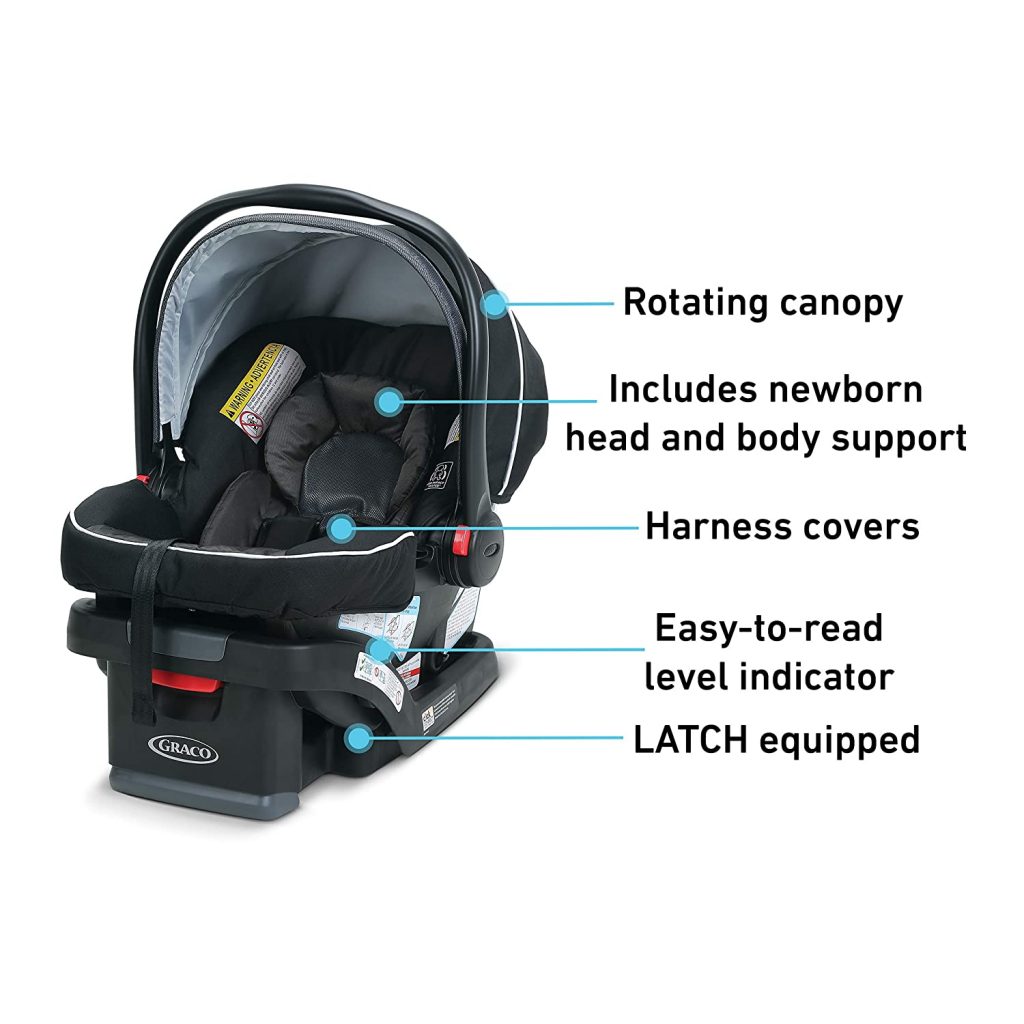 With Graco's SnugRide 35 you will get a moderately priced option that is relatively comfortable for your little one, whether they're using it as a rear-facing or forward-facing position option. You'll also get the Graco Click Connect feature, which is great for transferring your seat to different vehicles or even snapping it into a stroller to take your child for a walk. You can take your baby from car to stroller with ease.
You should definitely keep in mind the length of time you can use this Graco car seat as well. In fact, it's rated to last up to 7 years, which gives you plenty of time for your child to use it and grow alongside it. That means it's a great car seat for parents who plan to have additional children because it won't expire before the other infants outgrow it. 
How Long Is A Graco SnugRide 35 Infant Car Seat Good For?
The Graco SnugRide 35 is designed to last for 7 years. After that time the car seat is considered expired and should be disposed of. You'll know how long it's good based on the date printed on the back of the seat. Your expiration date is 7 years from that manufacture date as long as the car seat has not been involved in an accident before that time. It's very important that you adhere to the guidelines set about the expiration of your infant car seat. The expiration dates have been set based on a lot of research in the transportation industry that shows how car seats wear down after time. An infant car seat starts to break down and then it won't protect your baby the same way.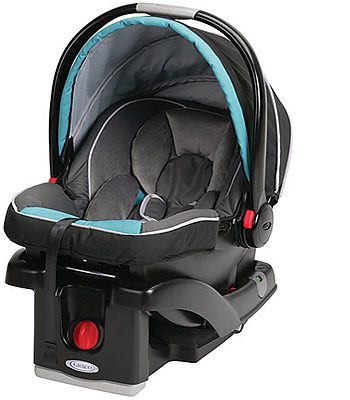 Graco SnugRide: Is It Compatible With Click Connect?
You are able to use the Graco SnugRide with any Click Connect stroller. The two units are compatible with one another and will connect safely for your little one to enjoy a ride wherever you want to go. You'll want to make sure you are aware of just how the seat connects and make sure that it's fully attached before using the stroller. 
The Click Connect system is something Graco designed to make parents' lives more convenient especially for parents are buys and on the go. Your infant car seat installs easily into the car seat bases using click connect components. You can also carry baby from car and easily make the connection to Graco strollers with one hand. With your secure connection to Graco strollers, you can then just take off on your way. The Graco SnugRide 35 Lite Infant Car Seat makes it easy to carry your baby anywhere without a lot of effort. 
How Long Do You Use The Infant Insert In Graco Car Seat?
The infant insert is designed to be removed when your infant is able to wear the harness at or below their shoulders. They should also fit well into the seat. In general, this is when the child is approximately 12 pounds, which is the maximum weight that your child should use the infant insert of the car seat. If they are above 12 pounds they should no longer need this insert. 
The insert is meant to keep a newborn baby snug and comfortable when they're riding in car seats infant sized. An infant insert allows for the infant car seat to last longer for your baby to ride in. Strollers and infant car seats wouldn't last but a month or two if they weren't compatible with some sort of newborn insert. The newborn supports keep baby snug for those first couple of months.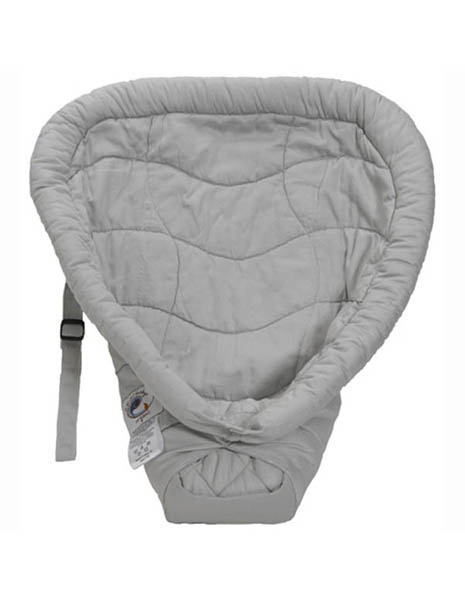 How Do You Use The Graco SnugRide 35 Infant Car Seat?
The Graco SnugRide 35 car seat is not complicated to use. All you have to do is simply attach it into your vehicle and then secure your child into it. They will be better protected for your next drive. Remember to secure the harness properly and keep it snug against their chest to provide support and keep them firmly in the seat without sliding. 
You can use the Graco SnugRide 35 Lite Infant Car Seat with or without the infant car seat bases. When you are using the infant car seat bases, you can connect them with the LATCH system to the anchors found in most newer model cars. This is super convenient when you have multiple cars in the household that the baby will be riding in sometimes. It makes it where you can simply click the car seat in and out of the vehicles without having to deal with a seat belt or with taking the baby out of the carrier.
Your other option is to use the Graco's SnugRide 35 Lite Infant Car Seat without the car seat bases. In this case, you secure the infant seat easily using vehicle seat belt by threading it through the guides built into the car seat. Whether you use the seat belt or LATCH system to secure the car seat in your vehicle, you can be at peace with the fact that your baby will be well protected by the Graco SnugRide 35 Lite Infant Car Seat in the event of an accident. 
What Is The Difference Between The Graco SnugRide 30 And 35 Infant Car Seats?
These two car seats are actually very similar to one another other than the weight specifications. The 30 is designed for children who weigh up to 30 pounds while the 35 is designed for children who weigh up to 35 pounds. Both of these Graco strollers and infant car seats have the same specifications and features aside from the weight limits. The 35 is the newer version and the car seat supports baby weights of up to 35 pounds.
You'll also find the Graco SnugRide 35 Lite Infant Car Seat to be slightly heavier than the 30. They're both considered to be a lightweight infant car seat but the 35 car seat weighs almost 3 pounds more than the 30. The SnugRide 35 Lite Infant Car Seat supports more weight and height for your baby, but also weighs more itself.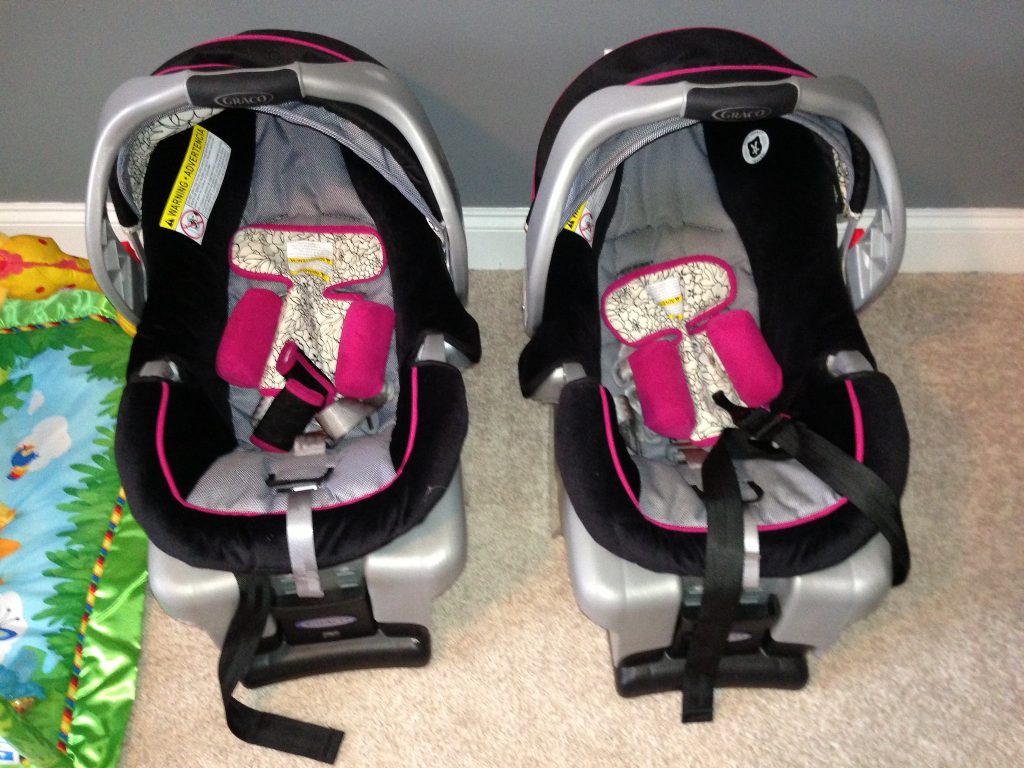 What Strollers Are Compatible With Graco SnugRide Click Connect 35 Car Seat?
There are actually a number of different strollers that are compatible with the Graco SnugRide Click Connect 35. Look for any stroller that has a Click Connect base and you will be able to connect your car seat into it with no problem. The car seats infant carriers that do this help to make parents' lives much easier due to the added convenience. Often, parents have a lot of other items to juggle when they're going anywhere with an infant. So, being able to just easily move your child from the car to the stroller without a big fuss or hassle adds value to the SnugRide 35 Lite Infant Car Seat for parents.
SnugRide 30: Does It Fit In Snugride 35 Base?
The Graco SnugRide 30 and SnugRide 35 each use the same type of base, which means that you are able to interchange the bases between them. You can also use the same Graco base for the 35LX and the 40 as well as other Click Connect rated seats.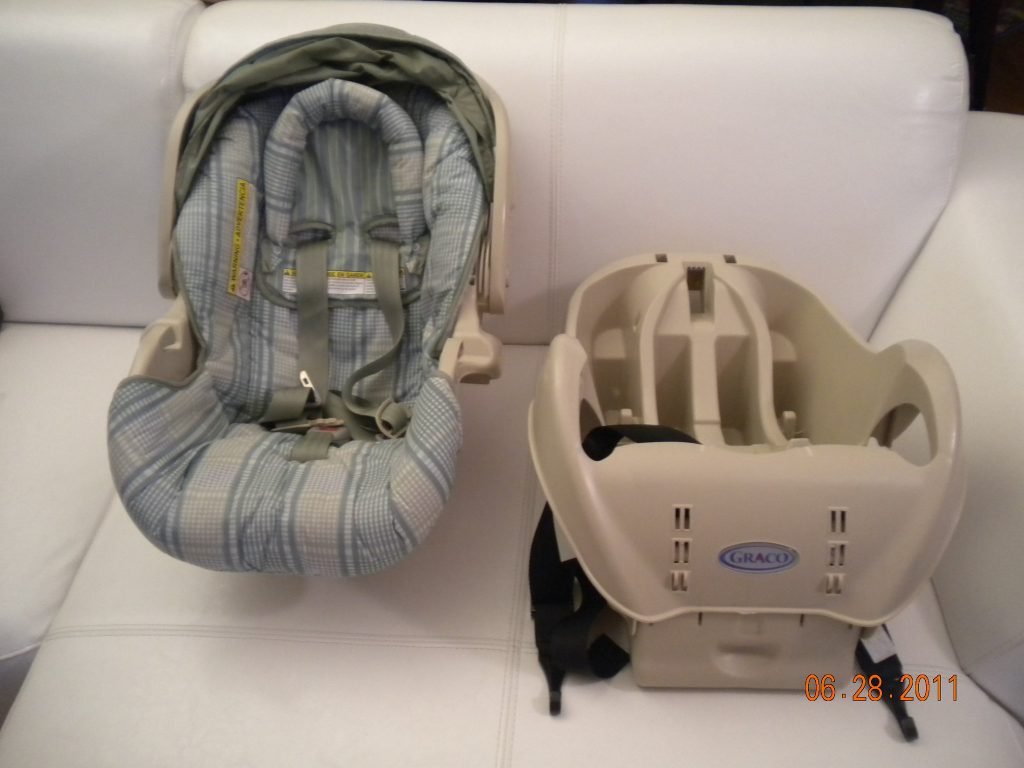 Can Graco SnugRide 35 Car Seat Face Forward?
This car seat by Graco is actually designed to be a convertible car seat, which means that you can turn it around to face forward when your child is old enough to do so. You are also able to use it as a rear facing seat for smaller children who are not ready to sit facing forward. You should not turn a child around to sit forward facing until it is safe to do so, however. There are safety guidelines in place for when you should turn a child around.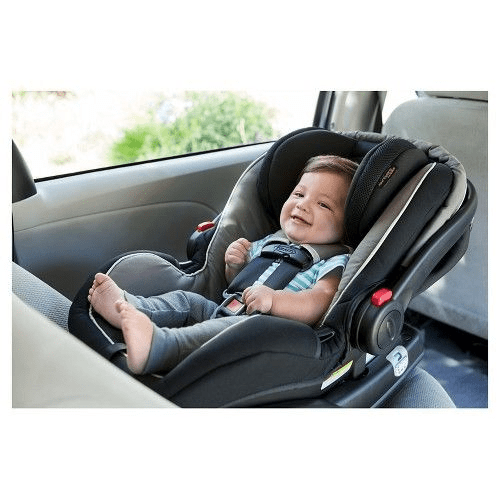 How Do I Use The Graco SnugRide 35 Without The Car Seat Base?
If you don't have the base for your car seat make sure that you are strapping it into the seat securely and that you tighten down the straps to make sure that it's not going to move. This car seat is safer and more secure when used with the base that is designed for it, however it can be used without this base when necessary. There are vehicle seat belt guides on the sides of the car seat. These are there for you to thread the seat belt through before clicking it into the seat belt lock that's down in the seat. Once you've done that, you'll pull the seat belt all the way out as far as it can go and then let it retract back into the seat back. That will lock the seat belt in place and secure the infant car seat for a safe ride. 
Graco SnugRide Click Connect 35: What Strollers Are Compatible With It?
There are a number of different strollers that are compatible with this car seat. You want to look for any strollers that are marketed as compatible with Click Connect. This will allow you to choose a stroller that you like that also has compatibility with the car seat that you already have. Luckily, there are plenty of different stroller options and styles to choose from. You'll also find there are a number of stroller attachments that work as adapters for securing infant car seat carriers into them. If you find a stroller that isn't readily compatible with your infant car seat, then at least check to see if there is an adapter available that will work for your needs.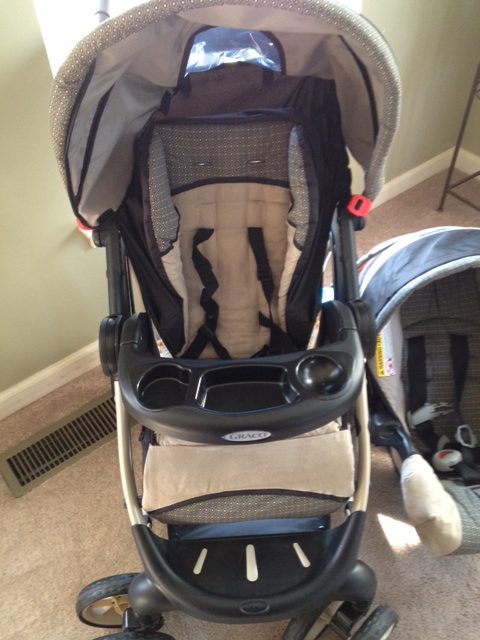 If you're looking for an infant car seat and you like the Graco SnugRide 35 you're definitely getting a quality seat. This one is rated moderately well for its class and provides your baby with a safe and secure place to sit during car rides. The Snugride 35 by Graco also can be transitioned from an infant, rear-facing seat to a forward-facing seat, which extends the lifespan of the seat and saves you money. The Graco SnugRide 35 Lite Infant Car Seat is a quality piece of baby gear that will keep your child protected in a crash, while at the same time, make your life more convenient and your little one more comfortable when they ride. Graco Snugride 35  infant car seat also has high safety grades and won't cost you a fortune to get.
How Much Does The Graco SnugRide 35 Weigh?
Snugride 35 car seat from Graco weighs 7.5 pounds and measures 28″ x 18.7″ x 15.6″.
How Much Does The Graco SnugRide SnugLock 35 DLX Weight?
The SnugRide SnungLock 35 DLX is heavier than the regular Snugride 35. It weighs 17.5 lbs with a dimension of 30.67″ x 18.66″ x 15.59″.
Is The Snugride 35 By Graco FAA approved?
SnugRide 35 is FAA approved. You can check the aircraft approval statement on the back of the infant car seat.
Graco Snugride 35 Other Resources And Reviews
Check Graco Infant Car Seats Car Seat Hub Facebook – Twitter – Youtube
Visit LuciesList Instagram For Updates On Graco Infant Car Seats And Strollers
Graco Sungride 35 review on Youtube
Contact the following for more inquiries on Graco Snugride 35 and other leading infant car seat:
LuciesList Phone Number
Babylist Email – Phone Number 
Disclaimer: FamilyHype.com (Family Hype & FamilyHype) is a participant in the Amazon Services LLC Associates Program, an affiliate advertising program designed to provide a means for sites to earn advertising fees by advertising and linking to Amazon.com.
Last Updated on May 15, 2021 by Marie Miguel
DISCLAIMER
(IMPORTANT)
: This information (including all text, images, audio, or other formats on FamilyHype.com) is not intended to be a substitute for informed professional advice, diagnosis, endorsement or treatment. You should not take any action or avoid taking action without consulting a qualified professional. Always seek the advice of your physician or other qualified health provider with any questions about medical conditions. Do not disregard professional medical advice or delay seeking advice or treatment because of something you have read here a FamilyHype.com.