There are some places where you can live without air conditioning much of the time. That being said, even in those places, there are also times when you might wish you had it. This is the perfect scenario for small window air conditioners. A small window air conditioner is energy efficient and can give you the comfort you want when things get hot outside.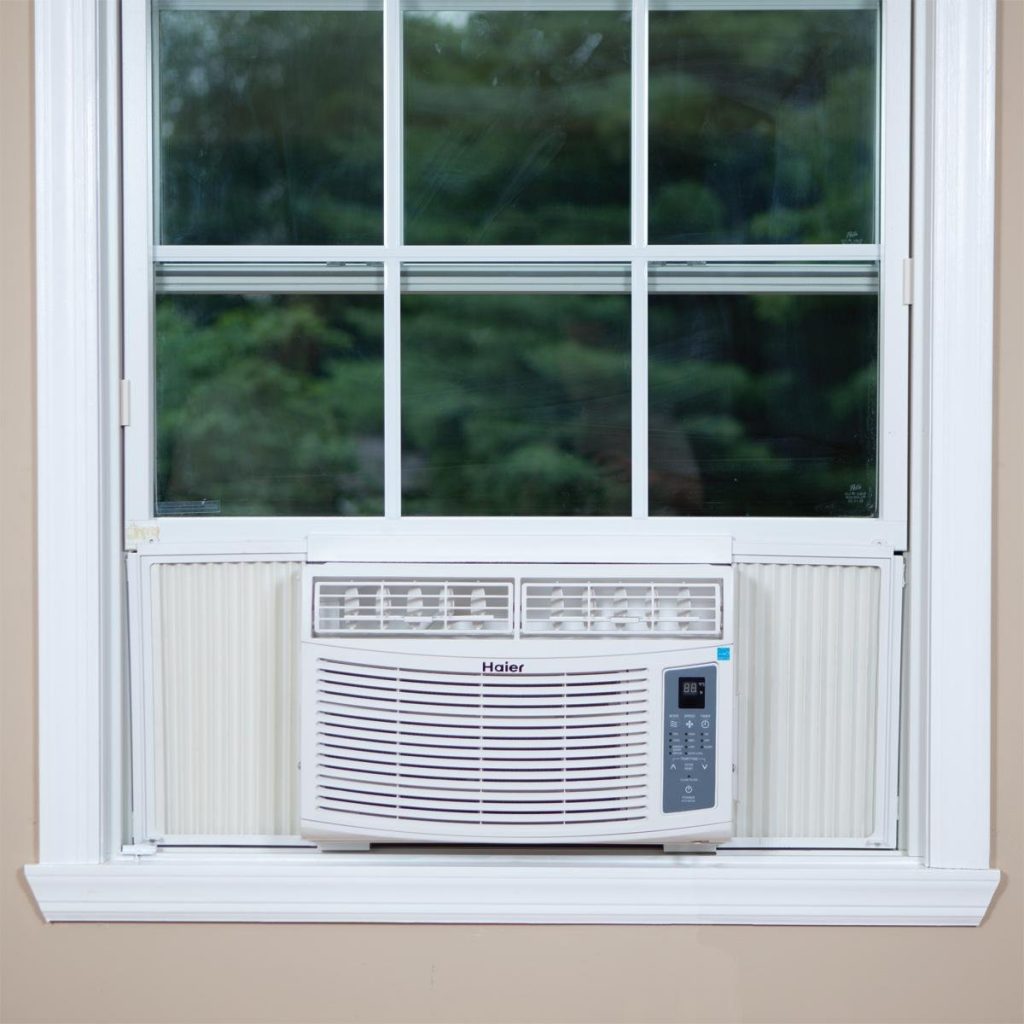 So, what is the best small window air conditioner? The first thing to look at is the level of BTU window air conditioners have and their sizes. Make sure to measure your window so you get the size that will fit. The BTUs will tell you how much power you'll have to cool the room. A larger room will need a higher level. Check the noise level of the unit. Look at the controls and if there are timers or other automatic functions. Finally, consider the weight of the units you're looking at so you know how tough it might be to install it.
Let's take a few minutes to look more in depth at what you need to look for in the best small window air conditioners, then we can talk about some that are currently being sold. 
What Is the Smallest Size Window Air Conditioner?
Generally, you'll be able to find small 5,000 BTU window air conditioners that are best for rooms no larger than 10 x 10 or 12 x 12. They shouldn't cost you much, they'll be lightweight and easy to install, but you'll still be able to put it in the window so it won't take up any of your room space.
You may find that it's easier to get larger window air conditioners that are meant for more average sized rooms. You don't want to install one of those in a tiny room, though. Here's why. Since they're meant for cooling larger rooms, they'll likely cool your room off too much making it uncomfortable to be in. And in doing that, they'll use more energy than is needed to cool the room, thus driving your power bill up. 
It is important that you go with a window air conditioner that's right for the space you're wanting to cool down. It will save you money, as well as be better for the planet, as a whole.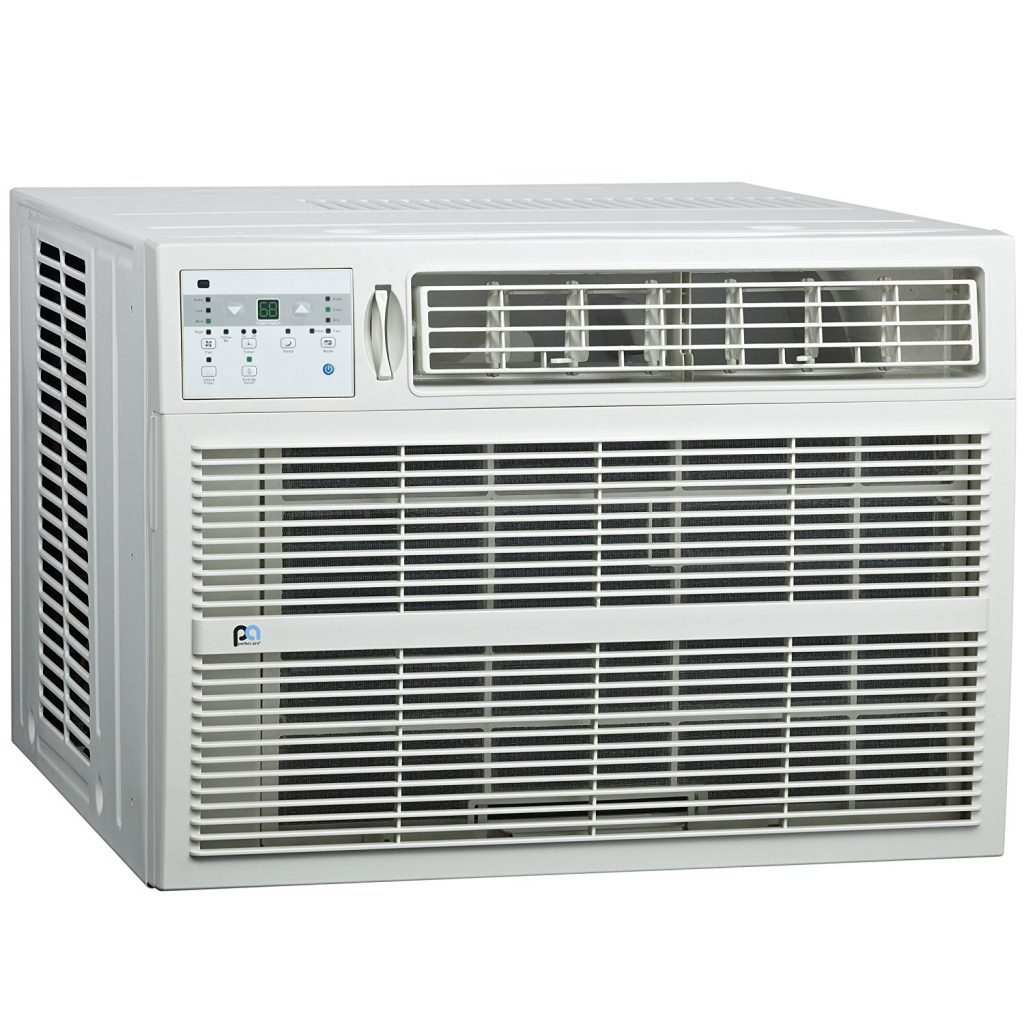 How Do You Fit a Window Air Conditioner In A Small Window?
Sometimes, you'll find that even the smallest windows will still have gaps around the unit after adding the side curtains these AC units come with. That's ok. When you measure your window, you want to know what the height and the width is of the opening. Then, look for the small window air conditioner that is the closest match in height and width so you have the best fit. Once you slide it into the window opening, then you'll address any gaps.
If you do need to fill in the gaps, the best thing to do is to push the window air conditioner all the way up against one side of the window frame. On the other side of the unit, you can use foam tape to cover the gap between the window air conditioner and the window frame. Most window air conditioners will come with some of this foam tape for sealing up the edges. If you need more of it, you can easily find it at any hardware store.
It's extremely important that you fill those gaps in and seal up the edges around the window air conditioner. This will keep you from having air leaks. You don't want your cool air getting out or the hot air getting in through any cracks. It will make your air conditioning less effective and very inefficient. The unit will have to work extra hard trying to get the temperature down to what you've set it at.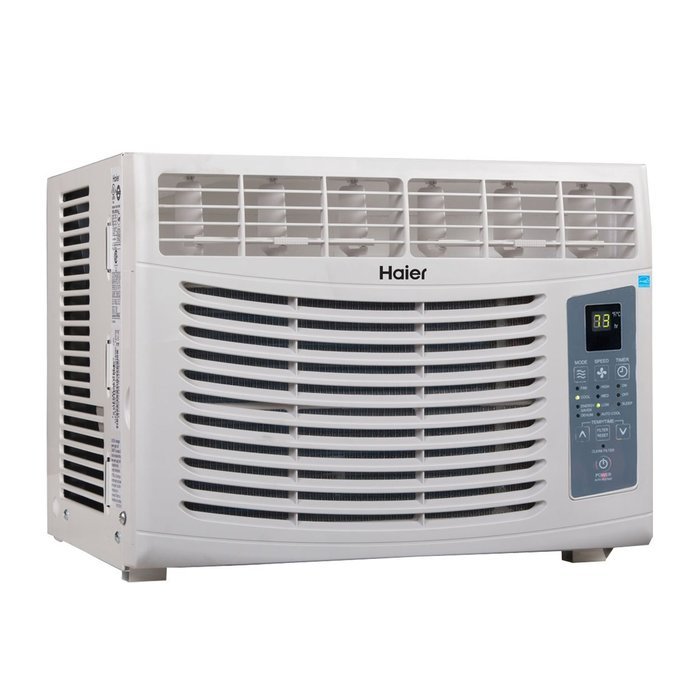 What Should I Look For In A Window Air Conditioner?
We've mentioned the BTU levels as being a highly important factor to look at when you're shopping for the best small window air conditioners. If the room you're trying to cool down is considered to be large, you'll need to look for a higher power unit. The opposite is true for smaller rooms. For instance, if you're looking for window air conditioners to cool your living room that is anywhere from 350-650 square feet, you need to look at 9,800-12,500 BTU window air conditioners.
There is a general rule for this computation. For every square foot of space in the room you're wanting to cool, add 20 BTUs. It's a general rule, so there are some things that will alter that some. High ceilings will require more BTUs, as will large windows. You can also take into consideration the amount of shade or sunlight the room gets and how many people are typically in the room at one time.
Another big factor to consider when you're looking for the best small window air conditioners is the noise level. Not all consumers think about this. It's especially important for rooms where you'll be sleeping with the air conditioner on and rooms where you want to be able to concentrate without interruption. A noisy air conditioner can make it hard to focus. Window air conditioners shouldn't be very loud as the majority of the unit will be outside the room. This is something that's different from a portable air conditioner that is entirely inside the room.
You want the controls to be easy to understand and to do as much as you want them to. Some higher end window air conditioners have features that include timers, automatic shut offs, and programmable functionality. Make sure you can see the control indicators well enough for them to be useful, and that you're getting the features you want.
Lastly, check the weight of the unit. Typically, the more powerful an air conditioner is, the heavier it will be. If you are buying a 12,000 BTU window air conditioner, it's likely going to be heavier than a 5,000 BTU window unit. The weight is important because it will help you determine how hard the installation will be and if you should have someone else come and do it.
Best Small Window Air Conditioner Options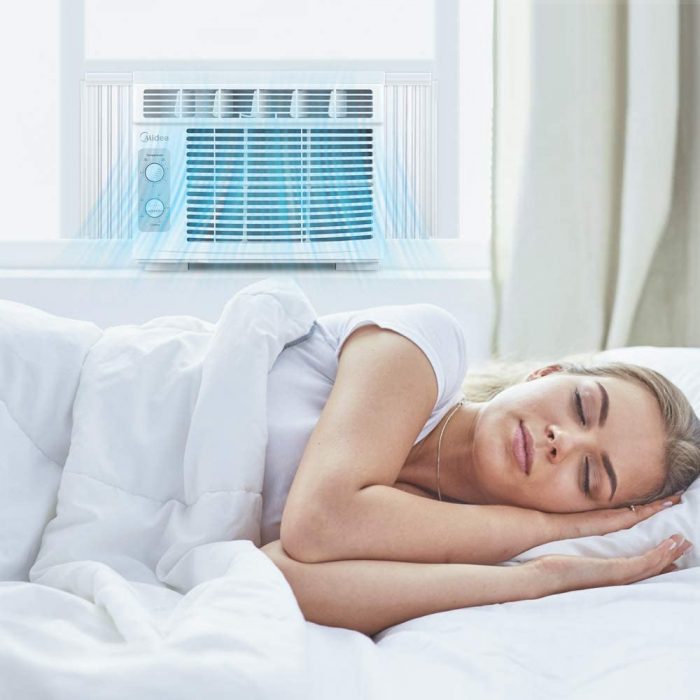 This is ideal for small rooms like bedrooms or home offices. It's a 5000 BTU window unit that is easy to use and will cool the room down quickly. You shouldn't have any trouble installing it with the accessories that are all included with your purchase. It's meant for windows that are anywhere from 23-36 inches wide. It is rated highly for energy efficiency so your power bill shouldn't change much. You'll also have a washable and reusable filter included so you don't have to spend money for replacements.
Pros:
Super affordable
Easy to read dials
Internal fan helps cool room faster
7 temperature settings
Installation can be done by one person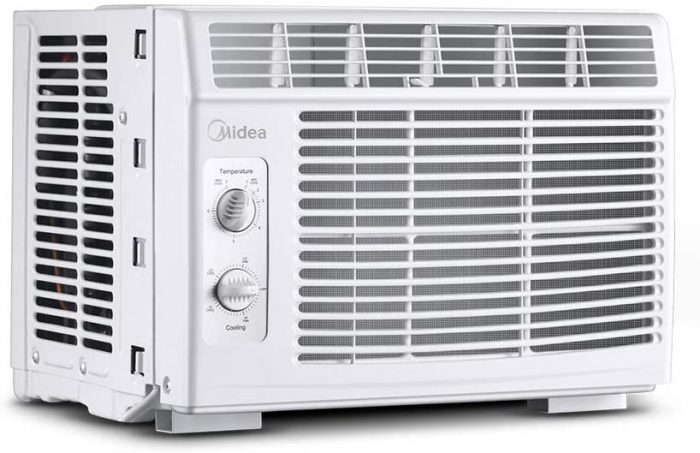 Cons:
Loud operation
No drain hole for built up water
Gaps in unit allow bugs into home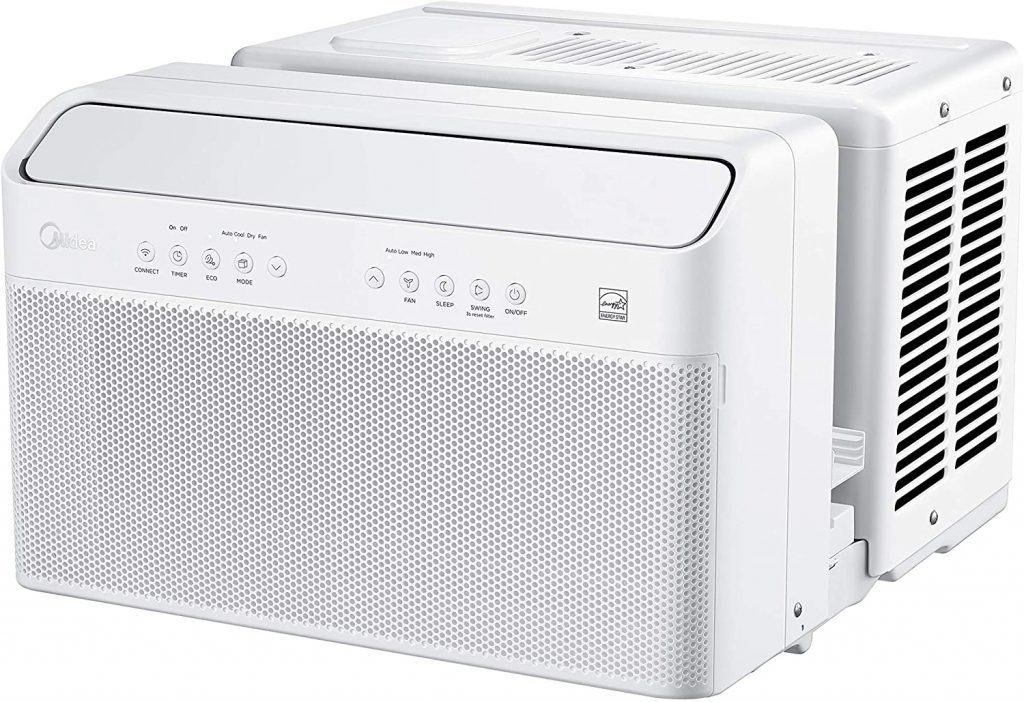 This 12,000 BTU window air conditioner is meant for cooling a larger room in your home like a living room or a den. It runs quietly and efficiently so it saves you headaches and money. It comes with a remote and is enabled for Alexa voice control. It's pricier than the unit mentioned above, but you get a lot for your money. The installation for this unit is sturdy due to extra brackets that are included for stabilizing the unit within the window frame. You'll be able to download the MideaAir app that lets you control your air conditioner from anywhere.
Pros:
Extra sturdy installation
Awarded ENERGY STAR efficiency certification
Very quite operation
Smart control through WiFi
Window can still be opened after installation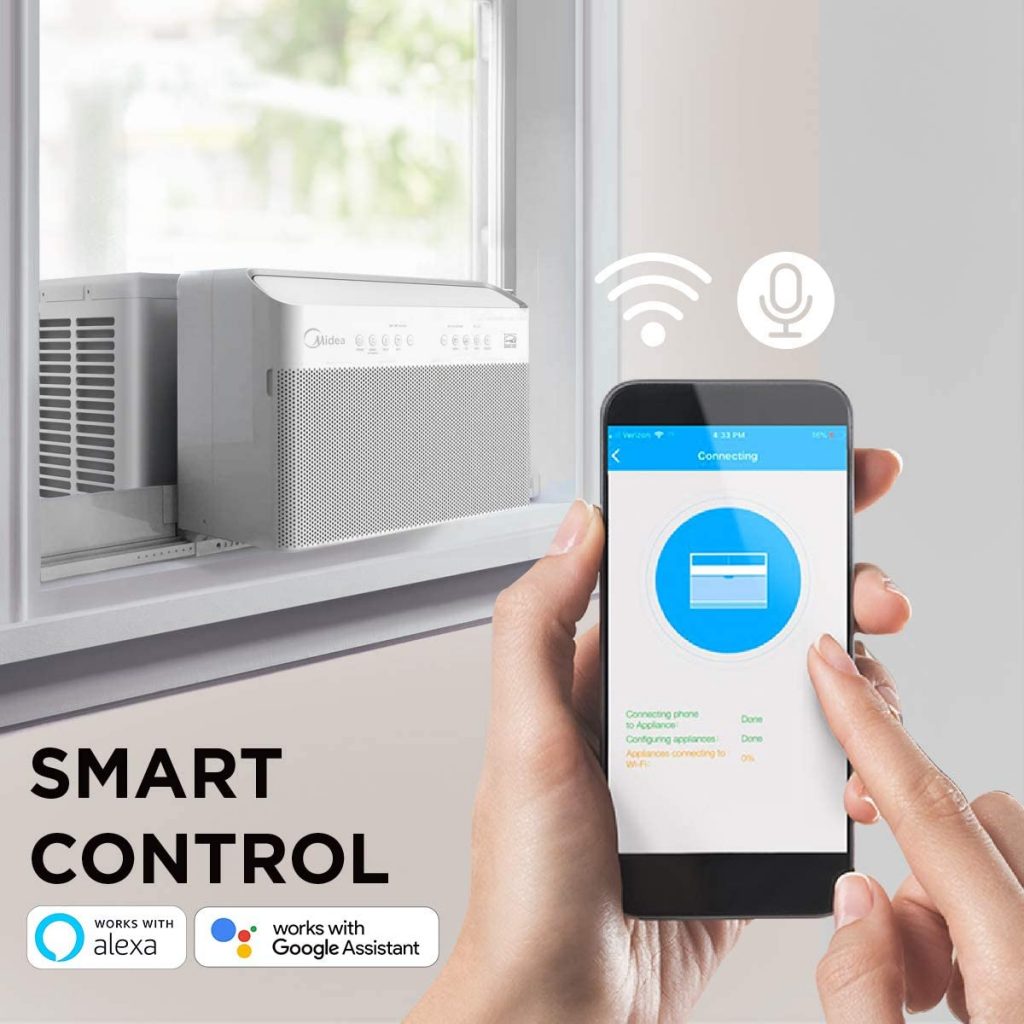 Cons:
Pricey
Heavy unit
Difficult to install
Instructions not well written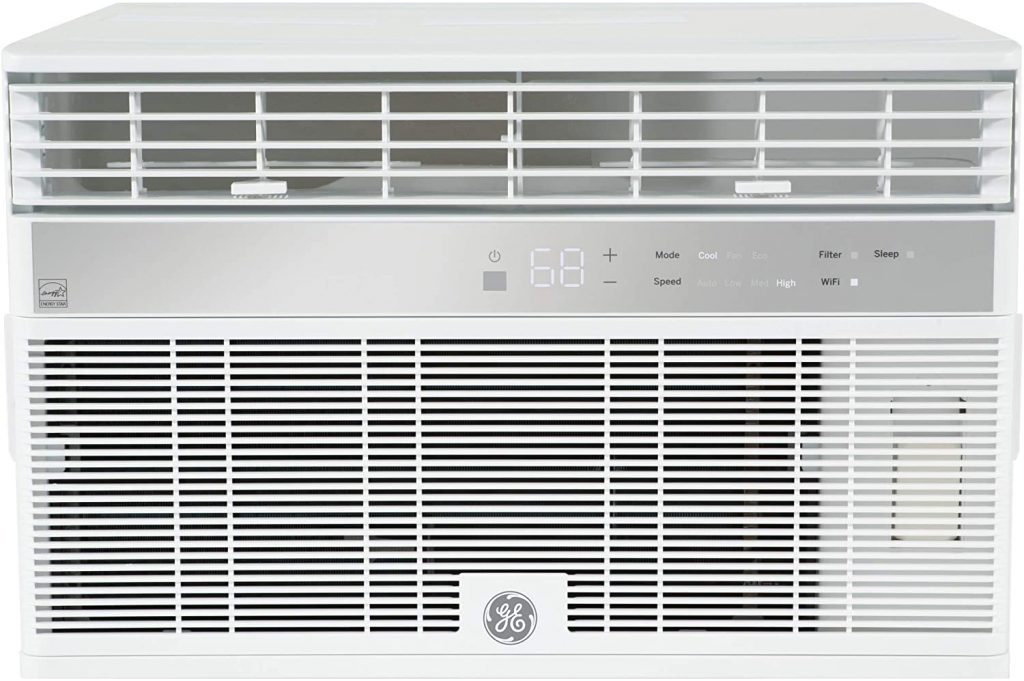 You can use this 10,000 BTU window unit in a medium to large room. It is WiFi enabled so you can control this air conditioner with Alexa, your Google Assistant, or through Apple HomeKit. There are three different cooling speeds and fan speeds so your room can be cooled down quickly. This unit uses less energy than most of its competitors, too, so you can use it without running up your power bill. The mounting kit and a remote control are included with your purchase.
Pros:
ENERGY STAR certified for efficiency
Easy installation
Digital controls
Smart functionality
Cools quickly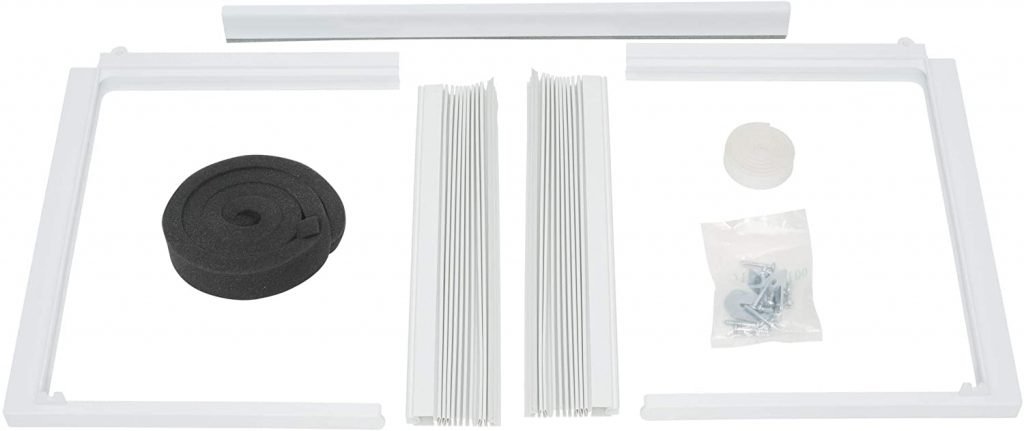 Cons:
Quite noisy
Temperature set points have too big of a range
Heavy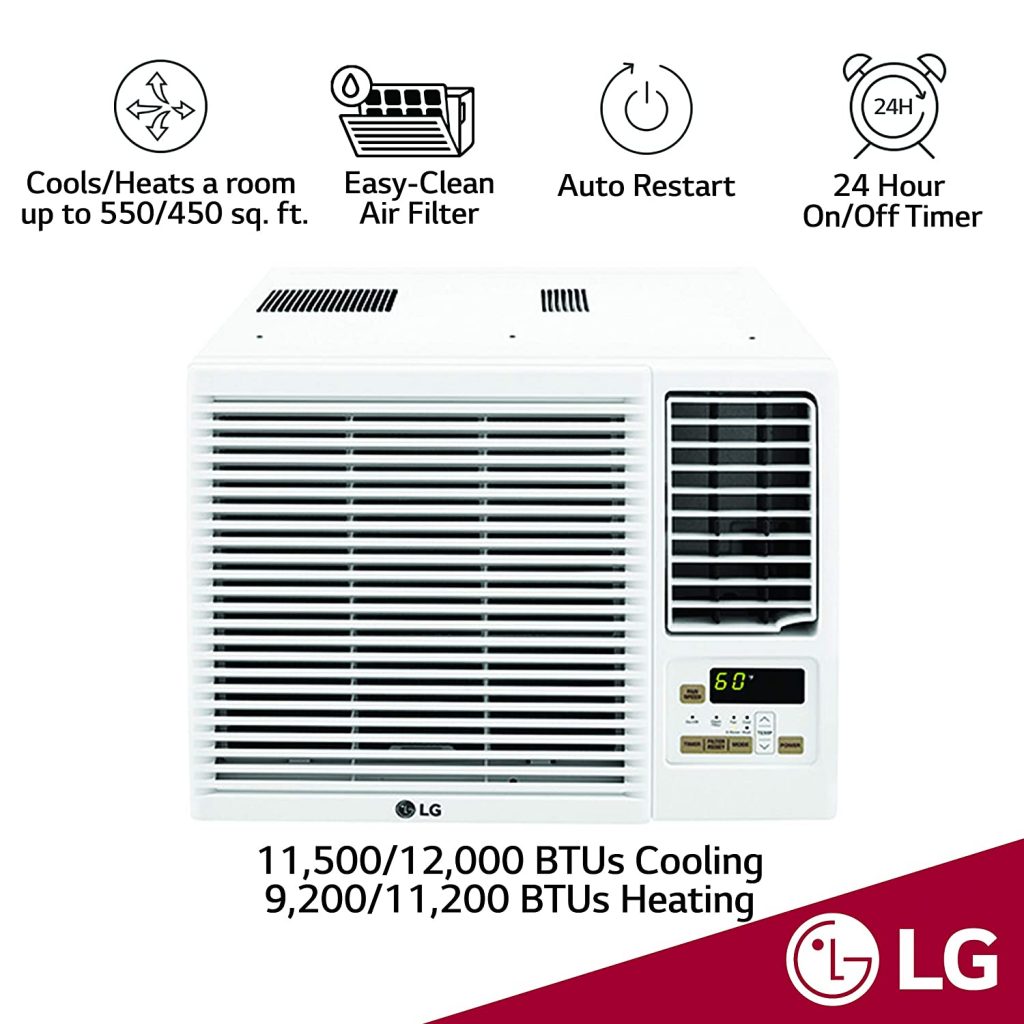 You can cool a larger room with this LG 12,000 BTU window air conditioner. It is energy efficient and has two cooling speeds and fan settings. The cool thing about this unit is it can also function as a heater in the cold months. That means you're getting much more for your money. It cools rooms quickly. The control panel is digital and easy to use. One thing to note is you'll need a 230V outlet to plug this unit into. 
Pros:
Dual functionality
Easy to use control panel
Cools quickly
Energy efficient
Cools well with high ceilings
Cons:
Runs a bit loud
Super heavy
Temperature fluctuates broadly from set temp
Conclusion—What Is the Best Small Window Air Conditioner?
The biggest consideration is the power level because that's what determines the size of room the air conditioner will be able to cool effectively. Your living room will need something like a 12,000 BTU window unit to cool it down to a comfortable level quickly. From there, you want to look into the noise the unit makes, as well as the control panel and additional features. You also don't want to forget checking out the weight of each unit you consider. Make sure to shop around so you can buy the best small window air conditioner to fit your budget, too.
FAQs:
What brand of window air conditioner is the quietest?
Haier is the brand rated highest for quiet window air conditioners.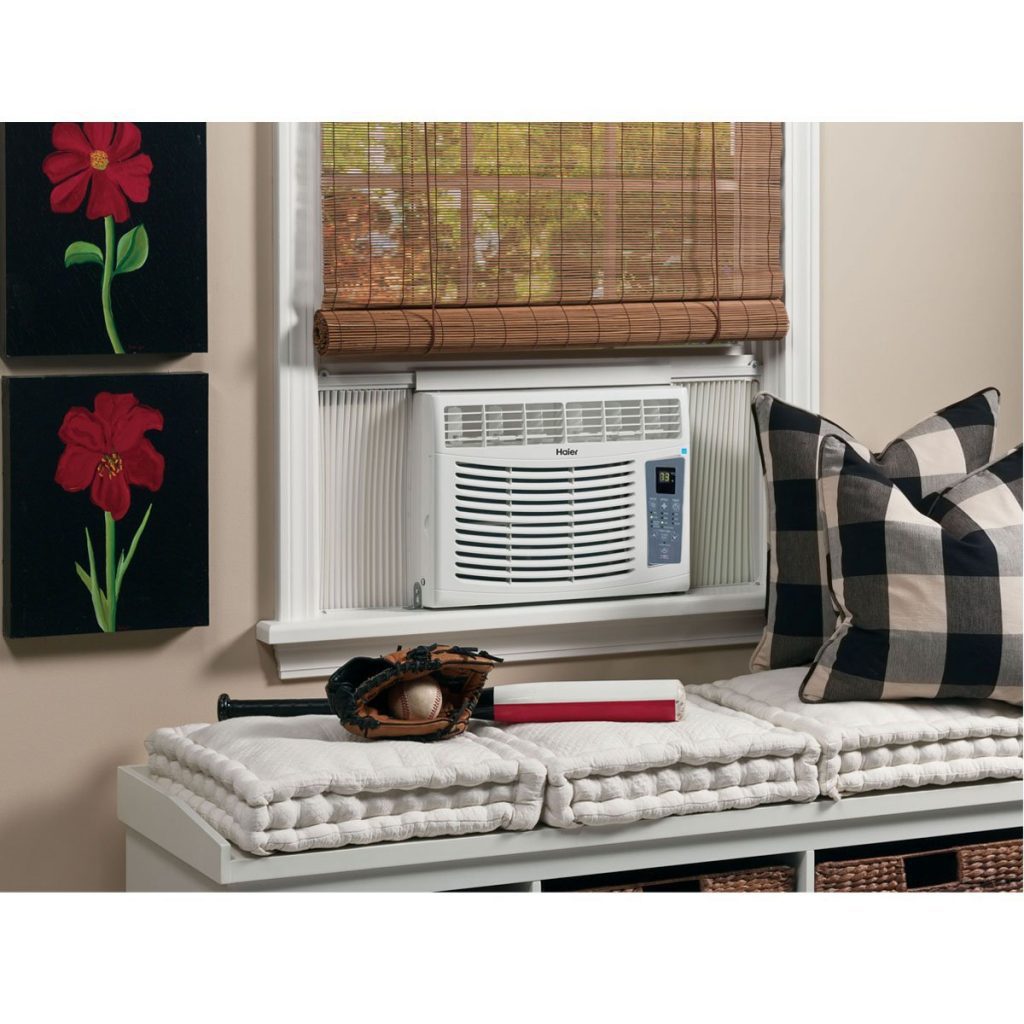 What's the best window air conditioner?
The best overall is the LG LW8016ER Energy Star Window Air Conditioner.
What are the top 5 air conditioners?
LG LW8016ER Energy Star Window Air Conditioner
87050 Window Mini-Compact Air Conditioner
FFRA0511R1 Window-Mounted Air Conditioner
Energy Star Window Smart Room Air Conditioner
Cool Connect Smart Window Air Conditioner
How many BTU do I need for a 12×12 room?
You'll need about 6,000 BTU.
Can you put an AC sideways in a window?
You cannot do this. They can be put on their sides for shipping, however, they should never be installed that way. It messes up the dehumidification function they provide.
How much does a small window air conditioner cost?
They will usually cost you between $150 and $500.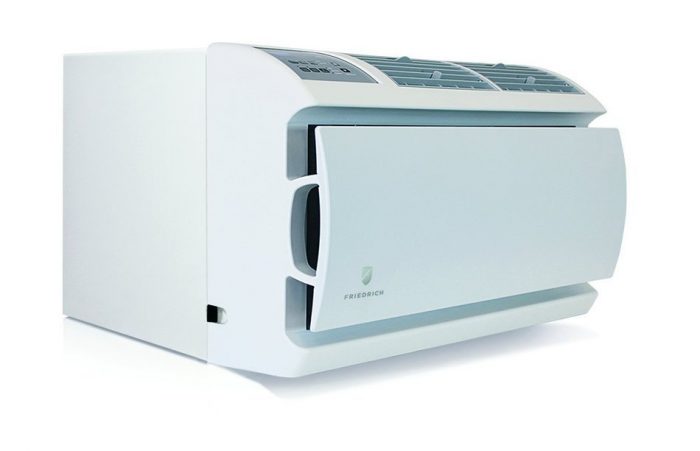 Which AC makes less noise?
You can find quiet air conditioners from Haier, LG, and Frigidaire.
Disclaimer: FamilyHype.com (Family Hype & FamilyHype) is a participant in the Amazon Services LLC Associates Program, an affiliate advertising program designed to provide a means for sites to earn advertising fees by advertising and linking to Amazon.com.
Last Updated on May 22, 2021 by Marie Miguel
DISCLAIMER
(IMPORTANT)
: This information (including all text, images, audio, or other formats on FamilyHype.com) is not intended to be a substitute for informed professional advice, diagnosis, endorsement or treatment. You should not take any action or avoid taking action without consulting a qualified professional. Always seek the advice of your physician or other qualified health provider with any questions about medical conditions. Do not disregard professional medical advice or delay seeking advice or treatment because of something you have read here a FamilyHype.com.