The top stove isn't part of the everyday things we look to buy for ourselves or our homes. Though there will come a time when you will need to purchase a stove, your day will likely come as you're reading this article. Electric ranges or stoves are popular because they're often easy to clean and easy to use. But knowing what to look for in an electric stove isn't always as easy. Although this article is about electric ranges, know that there are also gas ranges that you can consider.
Best Electric Ranges
What To Look For
So, how do you figure out what best electric ranges to buy? You'll have to decide what type you want—slide in models of electric stoves, freestanding electric stoves, convection oven electric stoves, or double oven electric stoves.
We will now look at the best electric ranges in the market. However, we must look at the features and some things you should know before we check out specific models.
Best Premium Electric Ranges
When looking for top electric ranges that are the best to buy, you have to start with what type you want. Here are the most common options in the market: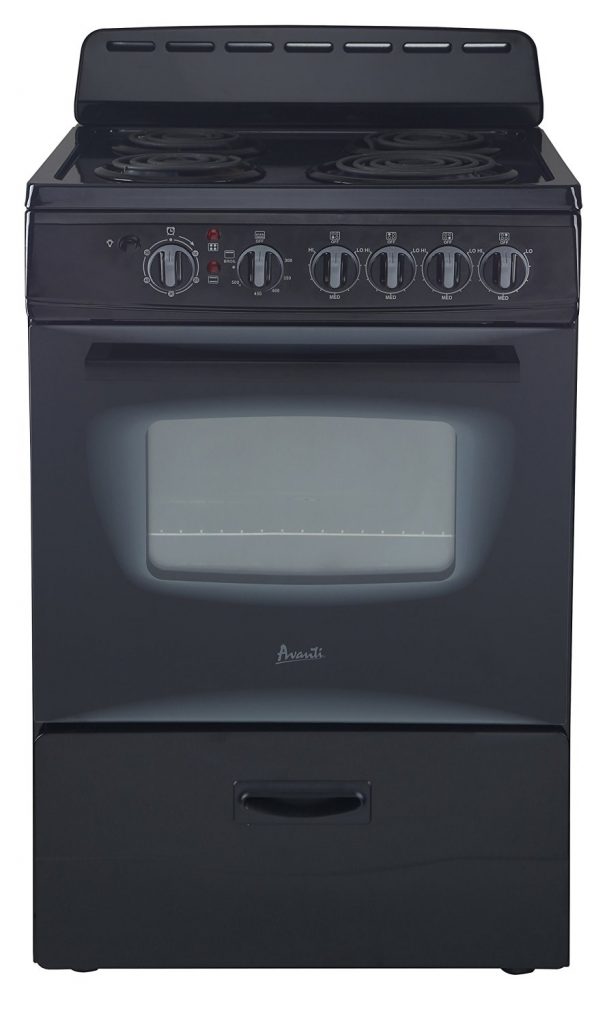 Slide-in electric range – It has single oven racks underneath that slides in between your countertops. The top of the smart range sits flush with the countertops on either side. Sometimes they will have a backsplash portion and sometimes, they won't.
Freestanding electric range – This type is what most people are familiar with. You could essentially put this one anywhere. It can go between countertops or stand by itself wherever you want to place it.
Drop-in electric cooktop – You have to have a cutout in the countertop where you want to drop in your electric cooktop. It does not have an oven underneath. Instead, there is usually a bank of cabinets underneath.
Convection or double oven electric range – It has different types of ovens on the bottom. You can get a convection oven option, a double oven that could even include a convection oven or different sizes of ovens.
Self-cleaning electric range – Make sure you look at the self clean function of different electric ranges you're considering. Some are self-cleaning. However, others are not. Choose based on what level of effort you want to put into cleaning your electric oven and stove.
Electric Range Space
Measure your storage space to ensure you choose an electric stove that will fit where you intend to put it. The measurements should include the unit's height, width, and depth.
Best Ranges Heat Source
You'll also want to look at the heat sources of different stoves. Some bridge burners will have radiant heat elements in the cooktop. Those are the most common. You can also get stoves with elements that use halogen heat. That means you'll have half radiant heat and half conducted heat. The halogen heat elements will help your food cook more evenly.
Choose between a coil burner cooktop or a smooth cooktop. S
mooth cooktops are easier to clean and have heat indicators to let you know when a burner is hot. Coil burners are more common and tough to clean, but you may get better heat from them, and they're better for more cookware and dishes.
Best-Priced Ranges
You'll find that a freestanding best range, or any other type, is usually less expensive than its gas stove counterpart. The average price stove of an stove is about $360 to $1,800. You'll find that the larger you go, the more you'll pay.
You will also pay for additional burners. The design and brand you choose will affect the price, as well.
With the range of prices being so broad, it's extremely important that you comparison shop when choosing the best electric range to buy for your needs. You'll also find a difference in the prices of the types of electric stoves. For instance, a freestanding electric stove will have a different average price than a drop-in electric stove. The best thing for you to do is to set a budget before you start shopping, prioritize the features you're looking for, and then choose the option that has the most features on your list within your budget.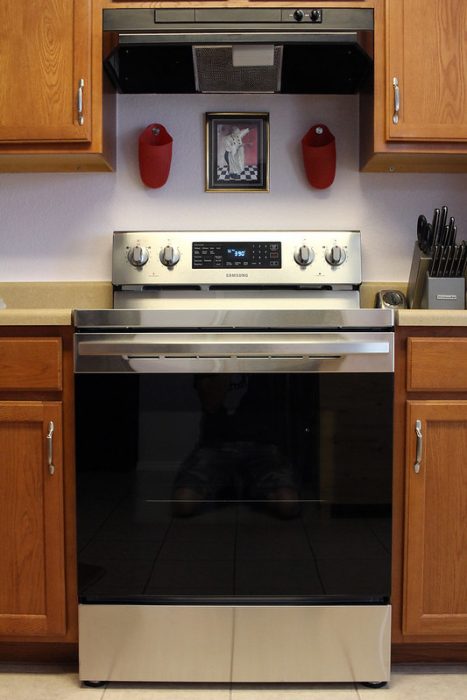 Is Power-Operated Better Than Gas?
Some reasons are that an electric stove is better than a gas stove. For starters, they work better for cooking power at low temperatures. A gas stove can be tough to cook at low temperatures because the flame can only get so small before going out. You'll find it easier to tweak the amount of heat to exactly what you want with an electric stove.
Some people feel that electric stoves are safer.
There is no risk of a gas leak with this type of home appliances.
Many newer gas stoves have auto-stop technology that turns off the gas when no flame is detected.
If you go with the smooth top electric stove, they're much easier to clean than gas stoves.
You can just wipe them clean like a countertop. No parts to disassemble for cleaning, which takes more time and effort.
Some prefer electric stoves, and those prefer gas stoves. You'll have to weigh out the pros and cons of each type to decide what makes the most sense for your home.
Frigidaire Electric Stoves

This 5.3 cubic feet electric from Frigidaire measures 29.25 x 29.87 x 48 inches.
It has four burners and is made of stainless steel with interior lightning. It is also auto shut-off and with touch controls of the console.
Pros:
With 4.3 out 5 ratings on Amazon
Large range of power settings
With Auto Shut-Off Electronic Kitchen Timer
Durable stainless steel build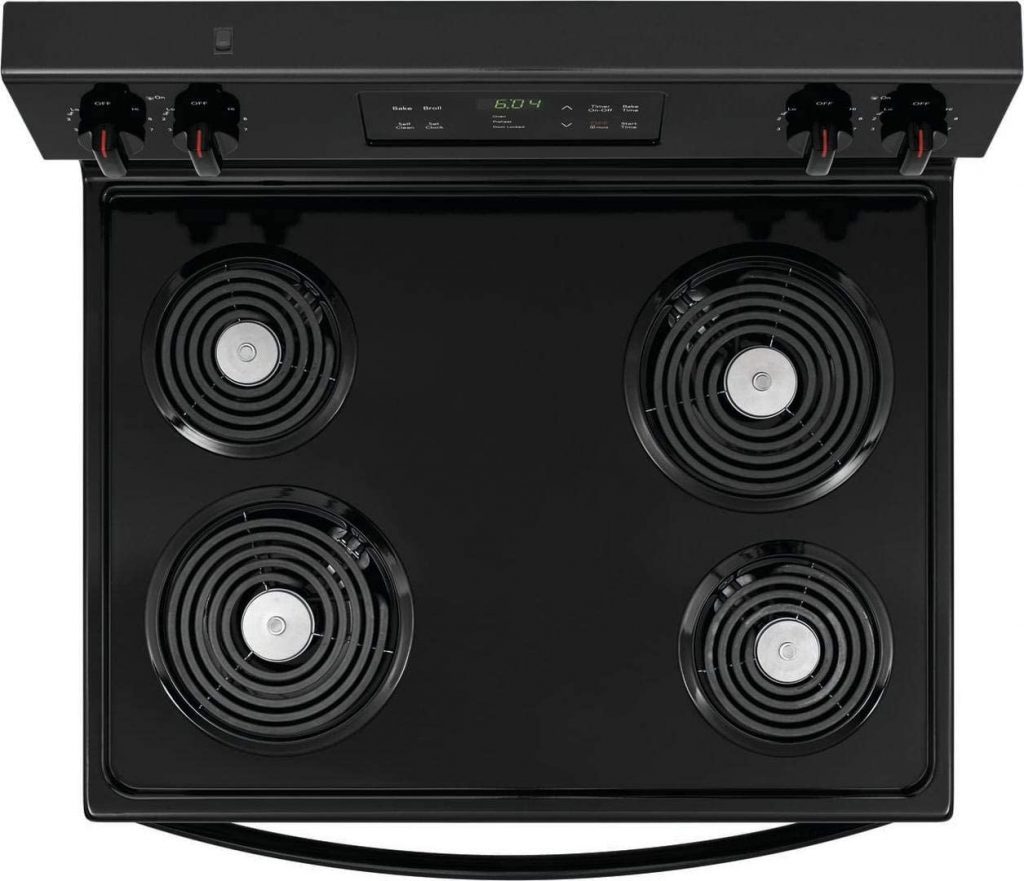 Cons:
Not in perfect condition when received
Empava Electric Stove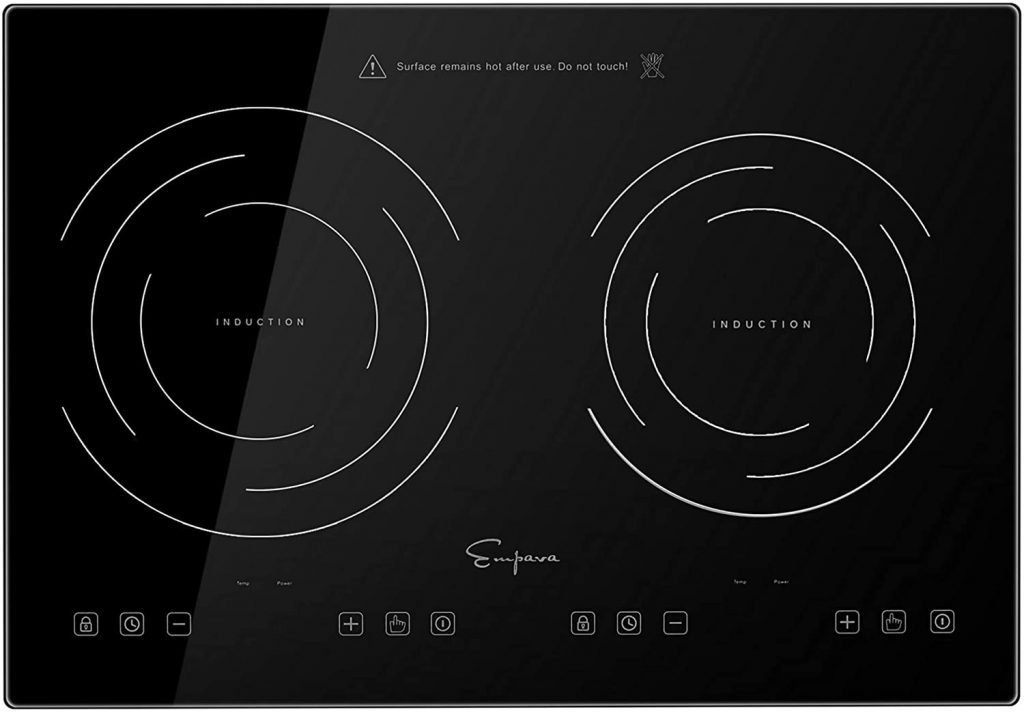 This Empava cooktop has two heating elements under a smooth glass top. This one has to be installed to the countertop so it's not portable like the last one. These are good for small kitchens and apartment kitchens where there isn't enough large oven space for a freestanding electric range. There is a built-in timer, as well as child lock for when you're not using your cooktop. You can control this range through the LED touchscreen display at the front of the cooktop. There are 9 different temperatures to choose from. It has a modern design and can be purchased for less than $200.
Pros:
Very affordable
Nice aesthetic
Easy to clean
Induction cooktop so no hot edges
Can be used with all sizes of cookware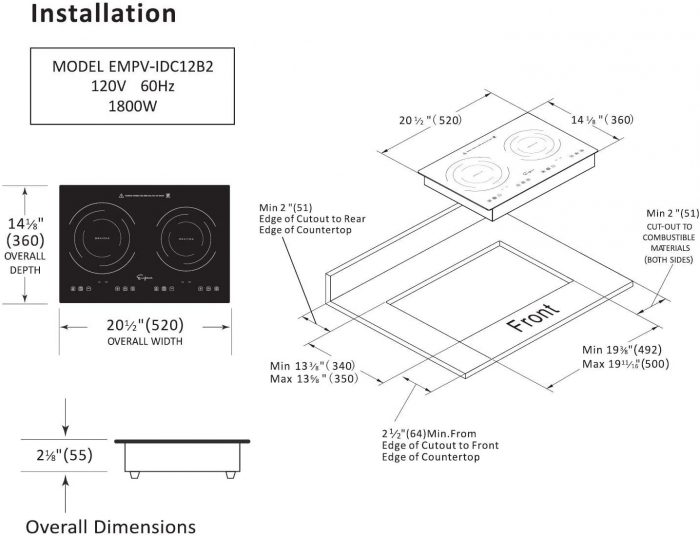 Cons:
Noisy fan operation
No precise oven temperature settings
Empava Cooktop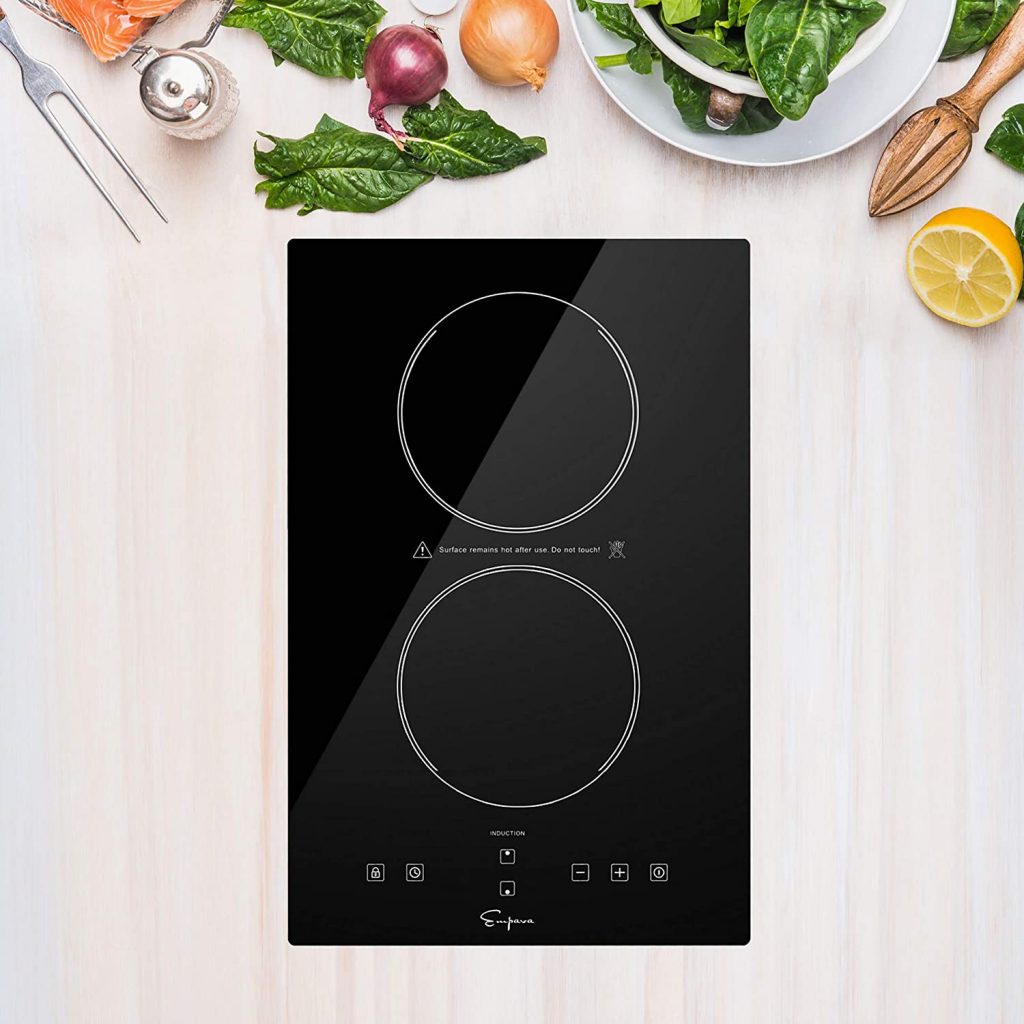 This is the vertical version of Empava mentioned above. It's designed with a beautiful and elegant-looking smooth tempered glass surface that is very easy to clean, but you can use it to cook larger meals. It cooks through induction heating, so you don't have to worry about any hot edges. This vertical induction cooktop has a hot surface indication (H) to let you know when elements are hot to the touch. You can control your burners with the LED touch display at the front of the range and use the built-in timer to shut things off automatically if you like.
Pros:
Easy to clean
Aesthetically pleasing
Affordable
High power heating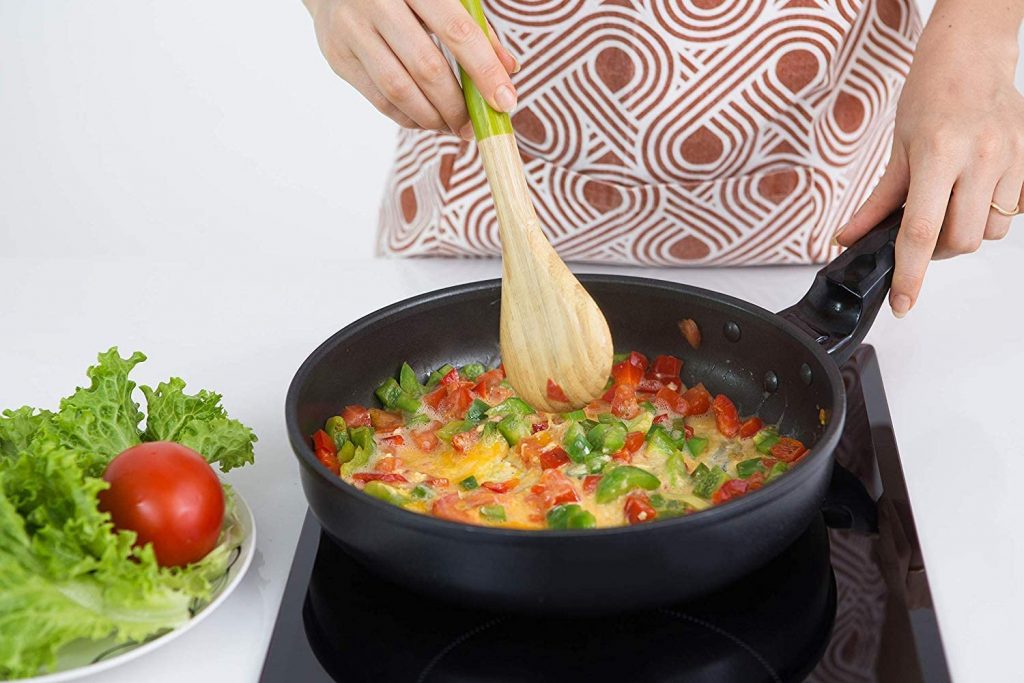 Cons:
Cannot use both burners at full power simultaneously
Fan can be loud
Hard to set precise temperatures
Frigidaire Best Range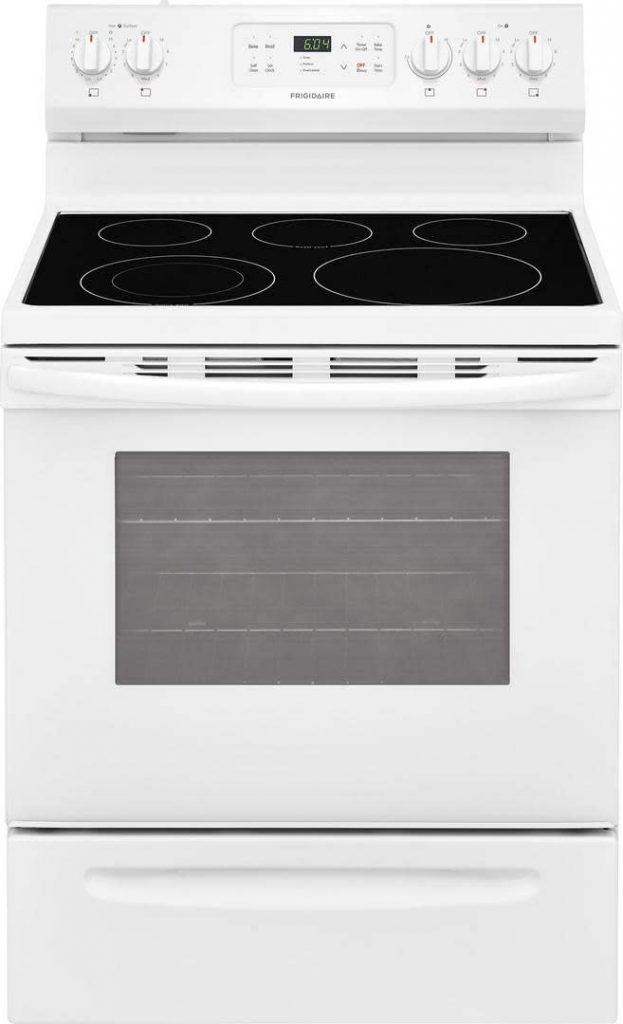 This freestanding electric range by Frigidaire has a low to the mid-range price tag. This type of range is best to buy for a full-sized kitchen that can accommodate a freestanding electric range. You'll have five burners to cook on and a 5.3 cubic feet oven underneath. It comes in white, black, and stainless steel to match most kitchens. There is a keep warm section on the range top. You'll have an easier time cleaning the gas ovens since it has a self-cleaning setting and the cooktop is smooth, making it easier to clean.
Pros:
Easy to use
Plenty of cooking space
Affordable price
Three color choices
Can be placed wherever there's room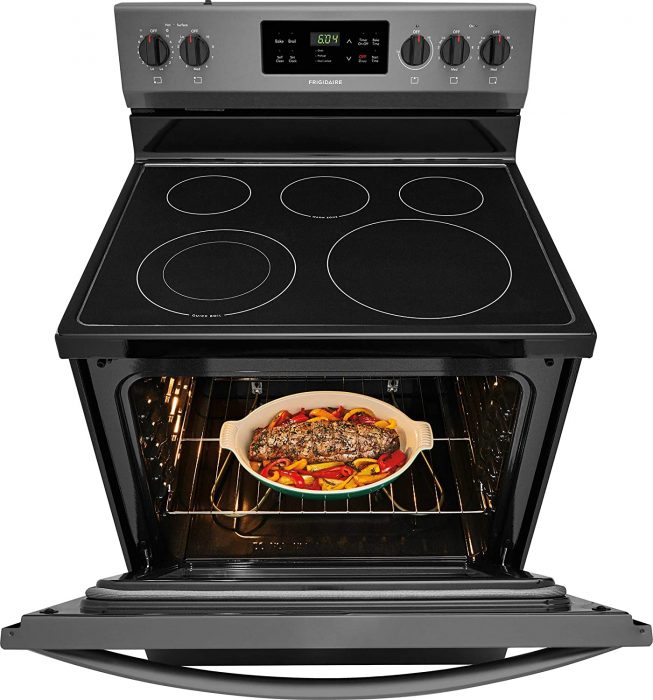 Cons:
No premium features
Very heavy
Conclusion
If you need a new electric range or an induction stove, make sure you take a little time to find the right one for your household. You want to choose the right type, whether countertop, drop-in, or a freestanding range. You also want the number of burners best for your cooking style. Look into the safety features, the power you'll get, and the type of heat source they cook with. Choose everything you want in a range that will fit your budget. Then, you may be cooking on the freestanding range of your dreams, or whichever type you prefer, sooner than you thought.
FAQs
What is the most reliable brand of electric ranges?
Which brand electric stove is best?
What is the top selling electric range?
Which is better GE or Whirlpool ranges?
How long should an electric range last?
Do electric stoves use a lot of electricity?
Is Maytag and Whirlpool the same company?
Is GE a good electric range?
Are Samsung ranges good?
Does Whirlpool make good ranges?
Disclaimer: FamilyHype.com (Family Hype & FamilyHype) is a participant in the Amazon Services LLC Associates Program, an affiliate advertising program designed to provide a means for sites to earn advertising fees by advertising and linking to Amazon.com.
Last Updated on October 4, 2022 by Marie Miguel
DISCLAIMER
(IMPORTANT)
: This information (including all text, images, audio, or other formats on FamilyHype.com) is not intended to be a substitute for informed professional advice, diagnosis, endorsement or treatment. You should not take any action or avoid taking action without consulting a qualified professional. Always seek the advice of your physician or other qualified health provider with any questions about medical conditions. Do not disregard professional medical advice or delay seeking advice or treatment because of something you have read here a FamilyHype.com.