What Are Screen Rooms?
Outdoor rooms or tents can be set up in your backyard or at a camping site. The best tents give you a secure place to have fun and hang out with friends and family while you're outdoors. They can give you instant protection outside the comfort of your home.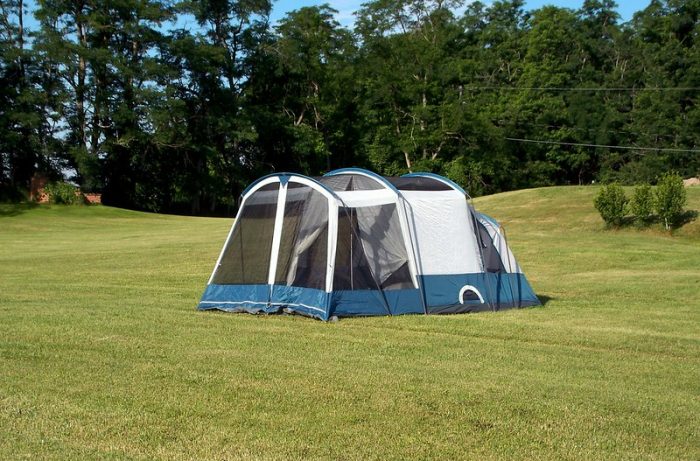 Selecting the top screen rooms requires choosing between an instant setup and a non-instant setup screen version. From there, decide on a size big enough to accommodate your family comfortably and the screen shape that will work the most efficiently. Consider how portable you need your screen to be. The environment you'll be in is important when looking at materials. And don't forget to compare prices.
Before we look at some of the best screen tents available, let's discuss the different features and how you can decide what's best for your family.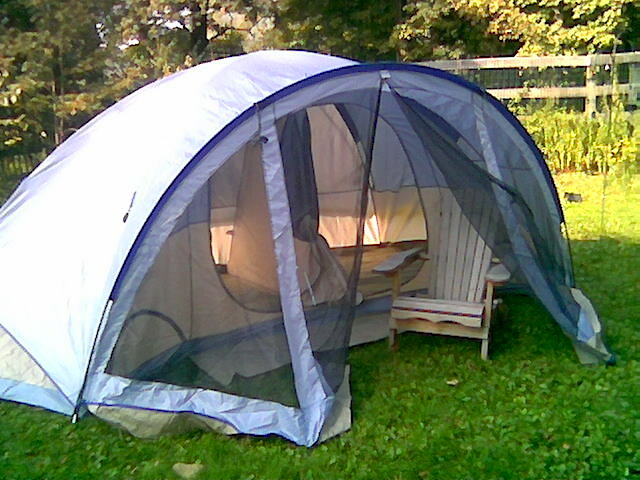 Instant Vs. Non-Instant Screen Houses
Choosing between instant and non-instant camping screen houses is just about how much work you want to do to set things up. It's much like your sleeping tents. Some of those are also considered to be instant.
Instant means that the screen frame, which holds up the body and gives it its shape, is attached to the body already. Most also have an attached floor and large doors. Essentially, you'll be able to pop the entire structure up, secure it, and you're good to go. A non-instant type requires building the frame and attaching the awning poles manually to the material since they don't have pre-attached poles. It's not a lot of work, but more than an instant model will take.
Best Screen Features
Size
It might be easy to just go with the biggest model you can find. Sounds great, right? Not necessarily. You want something large enough to comfortably accommodate your family in terms of both sitting space and headroom. However, you also want something easy to transport for camping and storing at home. The bigger you go with screen shelters, the heavier and bulkier they get. You need to weigh the pros and cons of the product you're interested in. There should be a balance between the screen tent's size and its portability.
You can start by looking at the standard size, 10' by 10'. That size is large enough to cover a standard-size picnic table and camp chairs for six people. From there, you can decide to look for a bigger or smaller peak height. If very tall people are going to use the room, it's best to look for one that can adjust to a taller height. If you tend to go camping alone or with just one or two companions, a smaller tent should be comfortable enough.
Along with the size, you should look for the shape that will benefit you the most. They come in more shapes than you would think. You can get a square, rectangle, hexagon, round, or dome shape. Assess how you will use the room to help decide which shape will be the most suitable for your particular needs. Most screen rooms are set up with three awning poles.
Portability
Do you need a portable screen? The portability of the screen rooms is highly important for those who will be using them on camping trips and different adventures. There are a few factors to consider here. You want to make sure your screen can be folded up and transported easily. The best options are screen rooms that are easy to carry around and set up.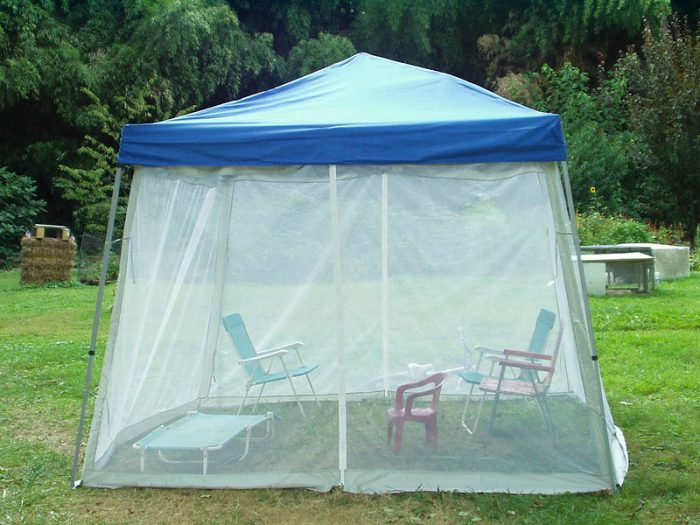 Weight
Look at how heavy the screen room is. If you're going to be trekking all over trying to take it with you, you need to look for a lightweight option. This is especially true if you're hiking on foot. In these cases, lightweight screen rooms are best.
Packaging
How the screen is packaged can make a huge difference in how portable they are. You want something that folds up to a manageable size for toting around. It can be very awkward to carry if it's too big and bulky.
Ease Of Carry
Some screen rooms are extremely easy to carry when packaged. Some are stored in bags with wheels and handles. Others have handles for carrying them. Still, others have straps that allow you to wear the bag like a backpack or across your body. Some brands sell bags or carriers as add-ons.
Top Screen Tents
Coleman Skylodge Instant Canopy Shelter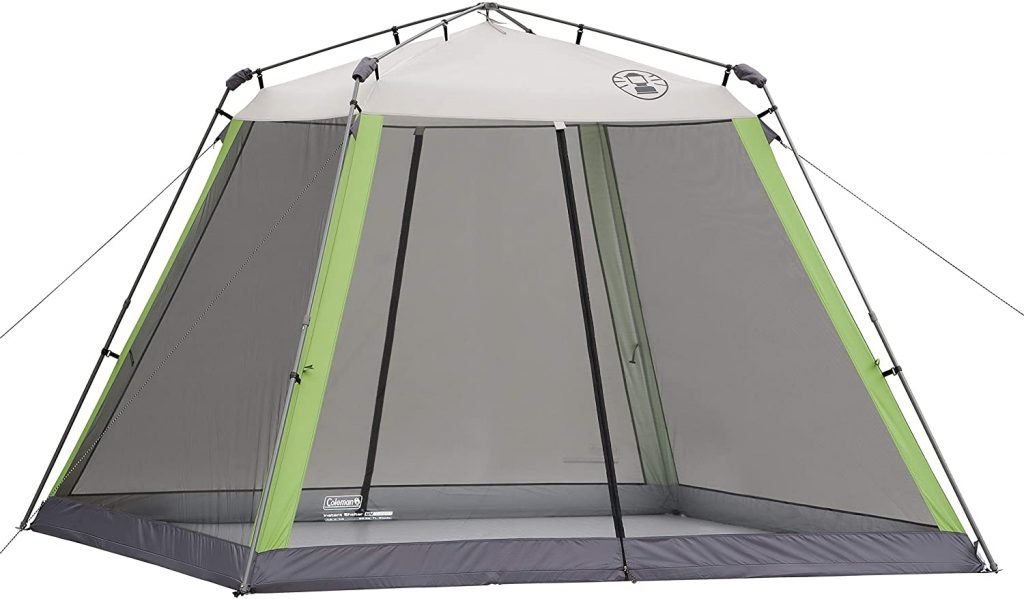 Coleman is one of the most popular names in the industry regarding anything related to camping and the outdoors, including screen houses. The Coleman Screen House Tent is high quality but affordable. The poles are made of steel. The top is made of UVGuard material, giving you UPF 50+ protection from sun rays. The lines are pre-attached, so you can safely stake your tent down. It raises to 7 feet at the center and is 15 by 13 feet on the ground. This is a good screen option if you're on a budget but don't want to skimp on quality.
Pros:
This is one of the top screen houses available on the market. It is very affordable and won't break the bank. It also has durable steel poles that are easy to set up, even for beginners, making installation quick. It offers good sun protection, too. Another good thing is that the screen has loops you can use to hang lighting inside the room for visibility during the night. According to reviews, this camping screen house shelter does a good job of keeping bugs and insects out.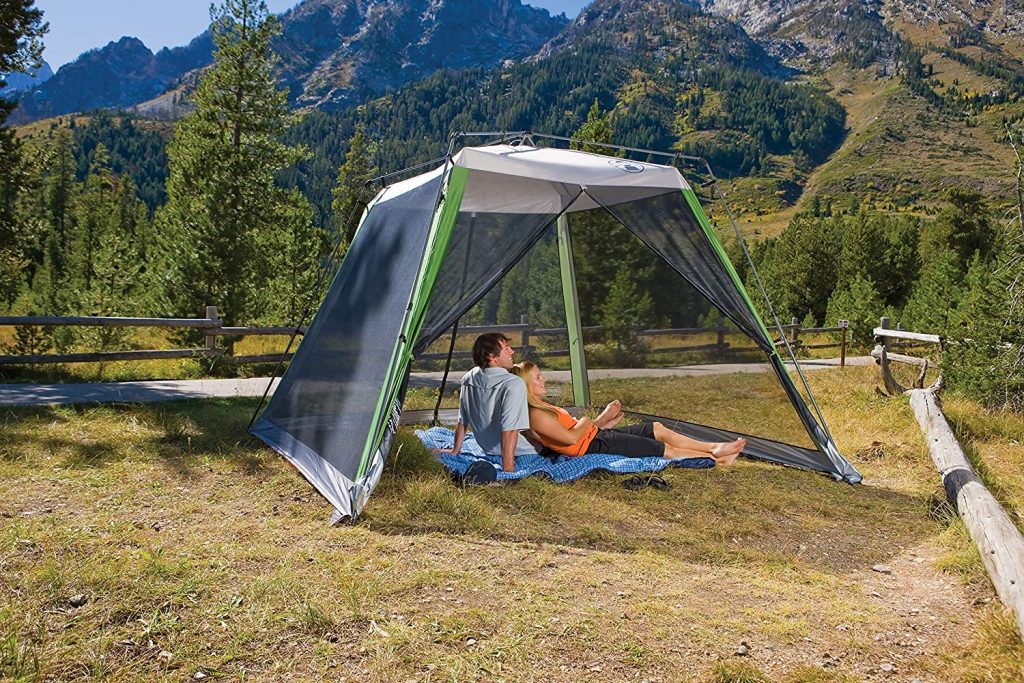 Cons:
According to reviews, some cons of this model include being a little too cramped for setting up over a picnic table. Some have also expressed concerns about laying the screen out before setup. One other issue is that the stakes aren't very hefty. This screen model is most suitable for solo campers or very small groups.
Core Cabin Best 11-Person Shelter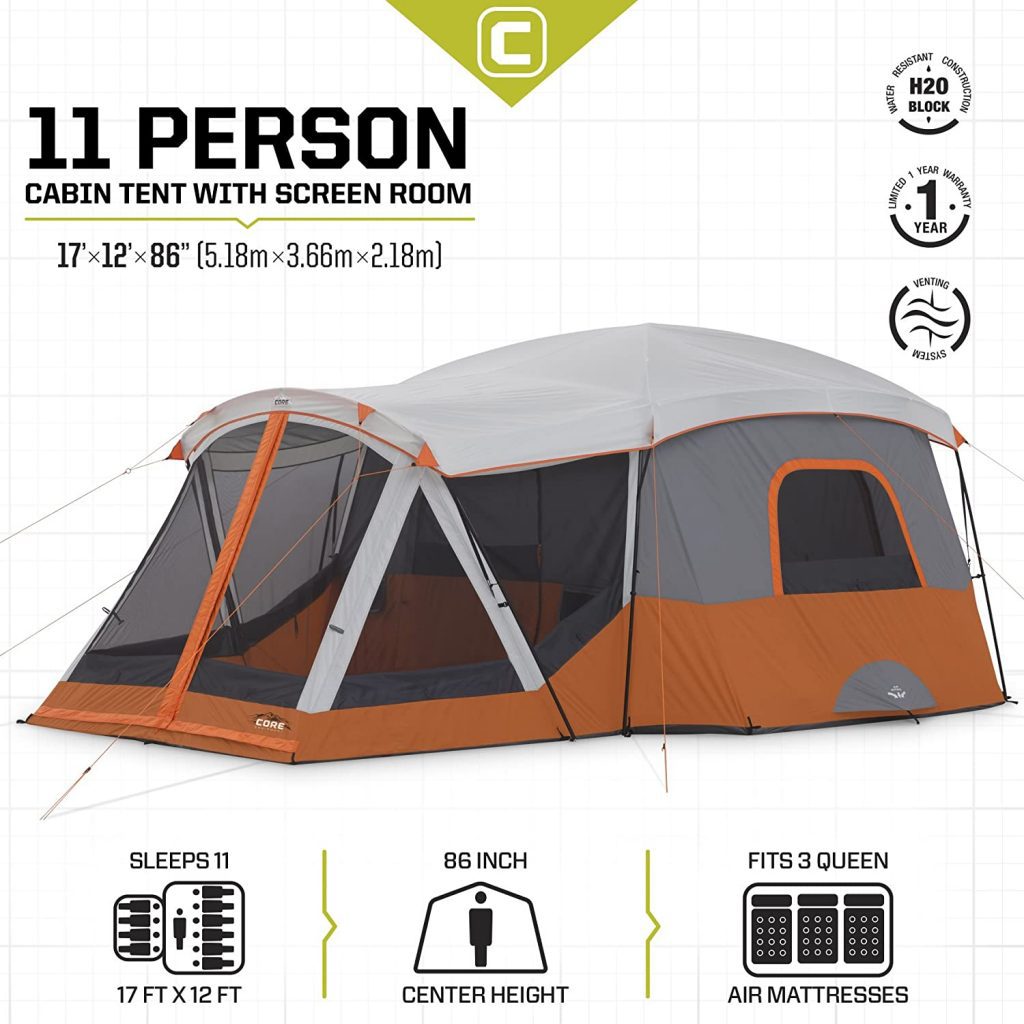 This one is a little different because it's an actual tent with a screen room built into it. There is room inside for three queen-sized air mattresses. The front room of the structure is a great place to eat snacks or relax and read a book without being bothered by the bugs. It comes with a rain fly and a convenient carry bag. There is an electrical access port on the side of it. The screen tent room is very versatile. You can zip up the side panels on it at night so someone can sleep in there. The material is water-resistant, as well.
Pros:
This is one of the top screen models on the market, particularly because of its capacity and interior space. You'll be able to bring this on trips with your entire family and not feel cramped. Because of its size, it also allows for better air circulation while offering good weather protection. It also has a water-resistant roof. It's also easy to set up, so you won't encounter any installation issues. It has a carry bag, making it easy to lug around on trips.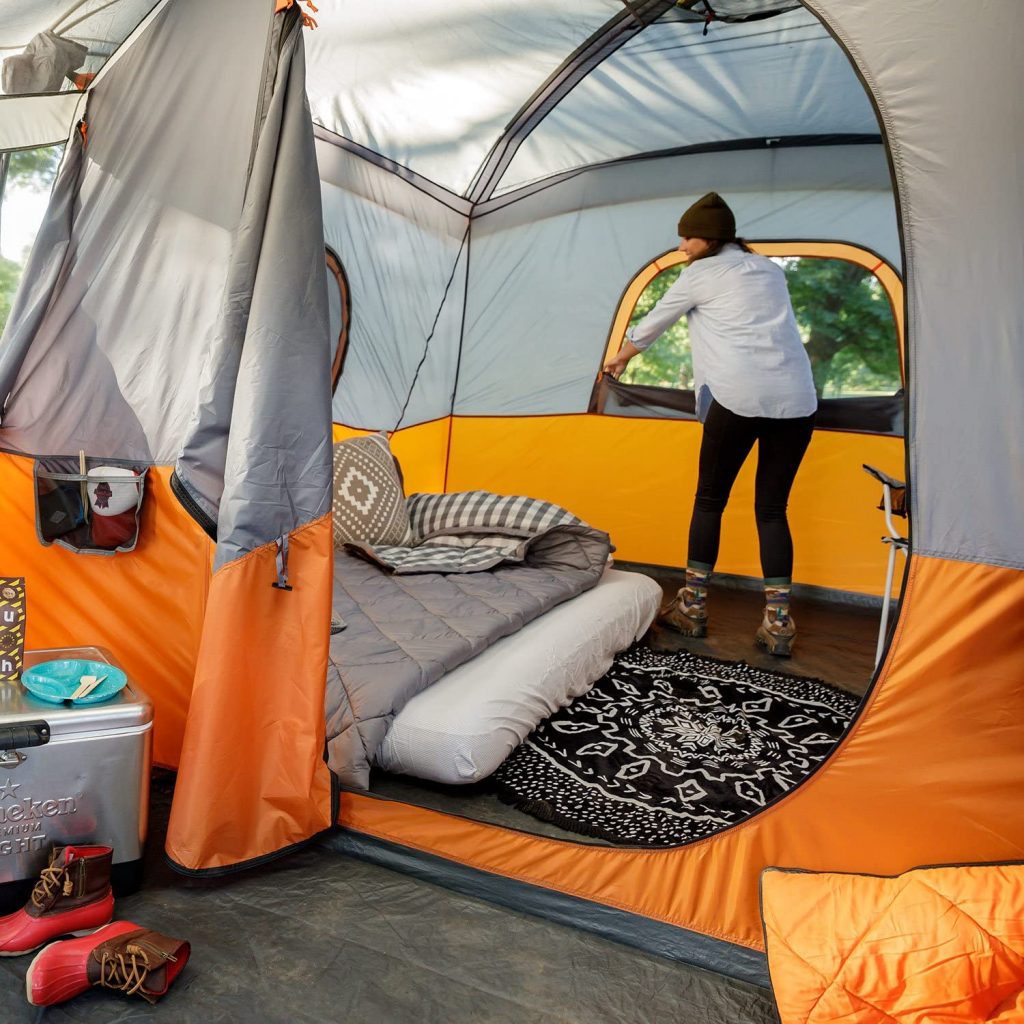 Cons:
While its size is one of its main selling points, it does make it quite heavy, which may be a con for some people. It also doesn't have a second entrance, so you'll have to maneuver around other people to get in and out. Another con is that it might be too big to set up at certain campsites. It's advisable to do your research beforehand to make sure it can fit in the area where you plan on setting up camp.
Alvantor Pop-Up Screen House For Outdoor Camping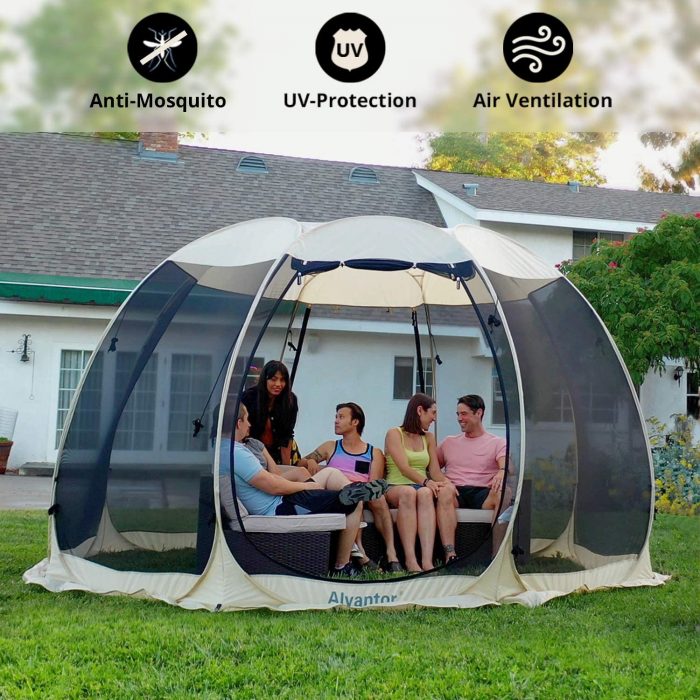 If you need a lightweight screen house, you can get the Alvantor Screen House Room in varying sizes and floor dimensions to accommodate 4 to 15 people. The larger you go, the more it will cost. The design of these is round and dome-like. You can assemble these screen tents in just minutes with their instant pop-up design. They're made of lightweight materials that are easy to carry. Despite their sturdy construction, they shouldn't be used in high-wind environments, but they do offer sufficient rain protection. These can be used in your backyard or packed up and taken on your camping trips with you. The poles are made of fiberglass, so they're sturdy but lightweight. This is the best option for big families and large friend groups.
Pros:
This is another popular choice among many campers due to its ample room design and easy installation. It is a spacious screen room and protected space, and it's great for family camping trips. According to reviews, it also does a good job at keeping bugs out, and it holds up well against moderate winds. It's also very portable and lightweight, making it one of the best screen options for quick camping trips and adventures.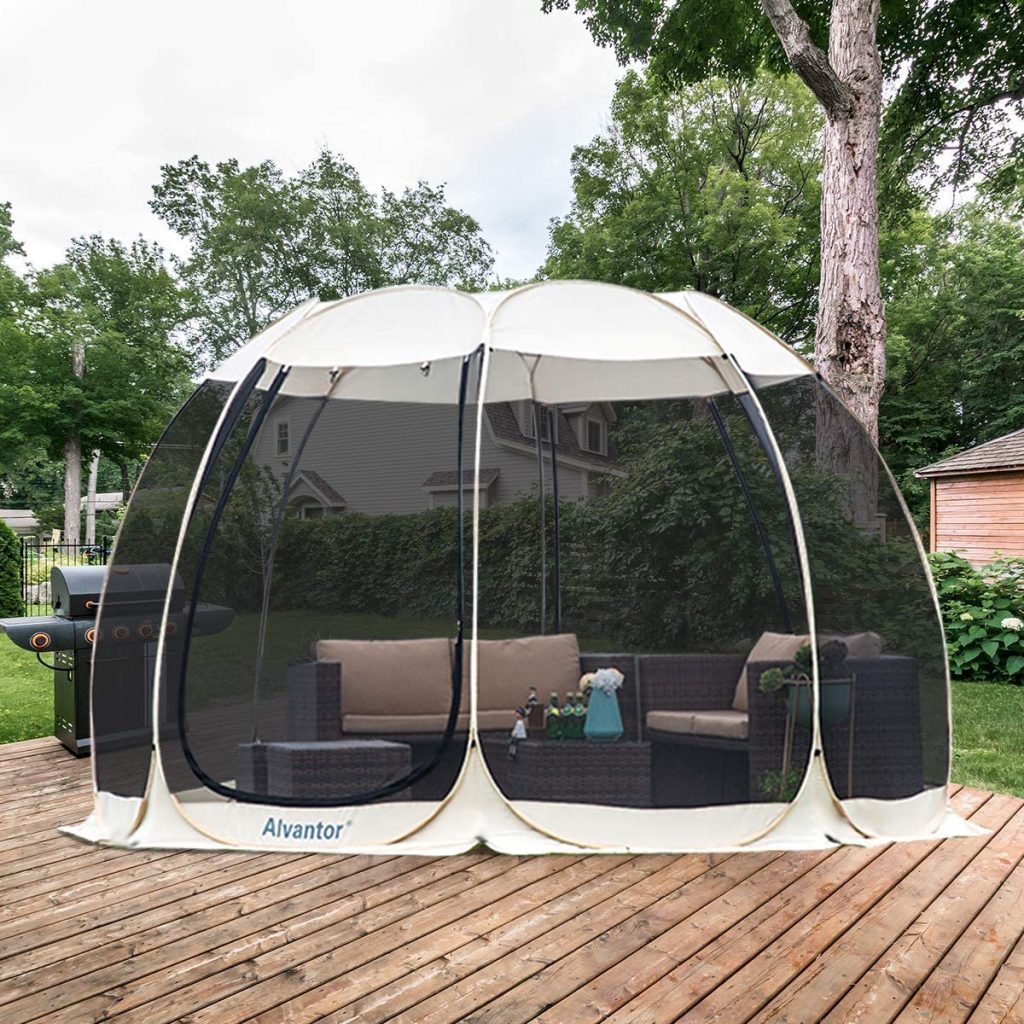 Cons:
According to those who have used this model before, its stakes aren't very heavy-duty. This may be a con to some campers. Water also tends to collect on top of the structure, so you'll need to watch out for that. Another con is that it can be a bit difficult to repack once you're done using it.
Coleman Dome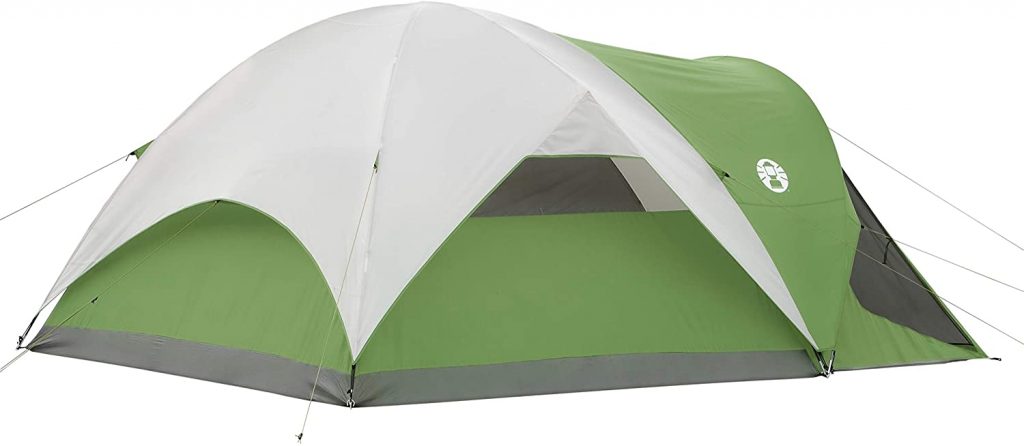 This is another model with a versatile mesh screen on the front. You can opt for a 6- or 8-person room. The room has a rainfly and features that make it more weatherproof. There are welded corners and inverted seams to help keep the water out. The poles of this model were designed to handle wind and weather well for additional wind protection. The tent is lightweight and easy to transport in the carrying bag.
Pros:
This particular model is very easy to set up. Its mesh windows and mesh walls are great at keeping out dirt and debris, making it easy to keep the inside clean and tidy. It also has great ventilation while keeping the rain out. This is a very affordable model, but it's also very reliable. By purchasing this, you'll be getting great value for your money.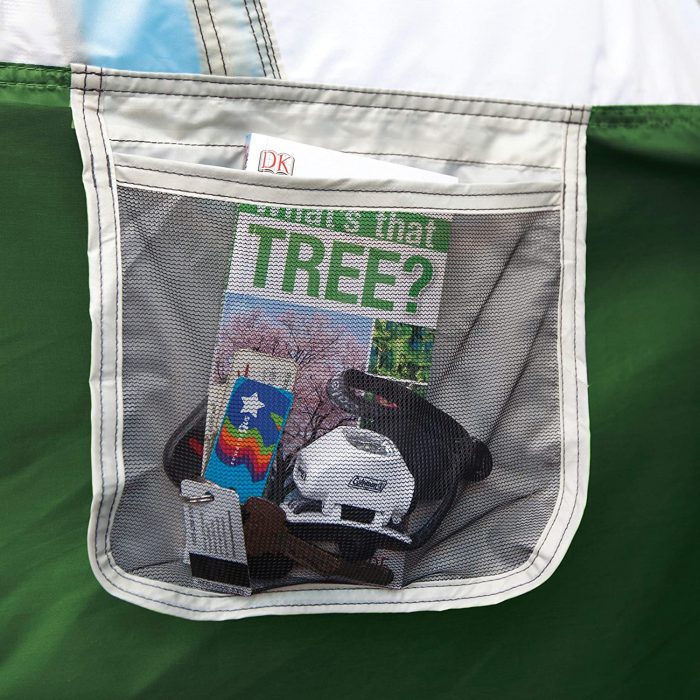 Cons:
According to reviews, the screened porch area does get a bit wet when it's raining. Another con is that the entire back panel is made of mesh panels, which means you'll be sacrificing your privacy. It's also a bit difficult to repack after use.
Best Screen Rooms: Conclusion
Screen tents are not necessary but can be very useful at home and out camping. Putting a tent over a picnic table allows you and your family to eat meals without being harassed by pesky bugs. The best models come in easy-to-carry bags so that you can take them anywhere, but for other models,  carry bags are sold separately. You can even look for a wheeled carry bag for added convenience. You'll also want to look for the right size and shape for your needs. You should also consider the tent's packed size.
You'll also want to decide how much work you want to do to set it up or take it down. Look for one with a quick and easy setup process and high-quality materials. Consider the materials and the durability and match those to your environment. You want to pick the best model made of durable materials and sturdy wind panels to protect against bad weather. Always stick to a pre-set budget to feel good about your purchase.
Frequently Asked Questions
What's The Best Screen Room?
The Coleman Screened Canopy is one of the best screen tent options.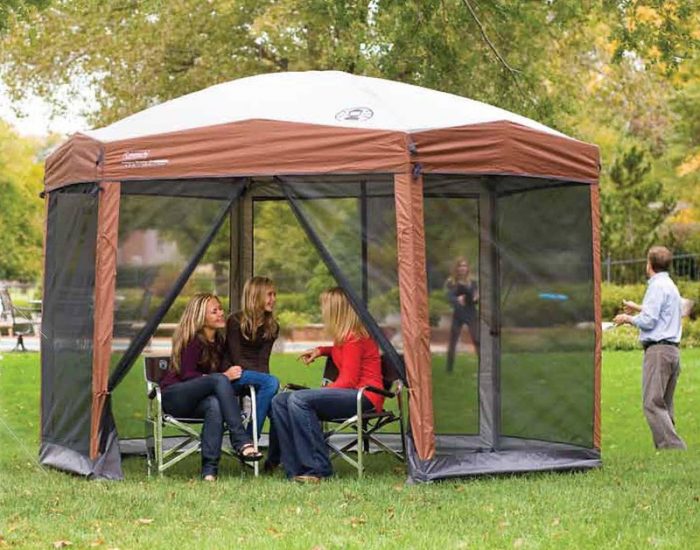 How Do I Choose The Best Screen?
The Eurmax Premium Screen House 10×10 Pop-Up is one of the best screen houses for camping. It's a durable screen house and is very easy to set up. It also has a higher wind resistance than other screen tents. That said, the right option depends on your needs and preferences. Do you need something with two doors for easy access? Are you looking for UV protection? Are rain panels important to you? Are you after a budget screen house?
What Is The Top Pop-Up Screen Canopy On The Market?
The highest-rated overall pop-up canopy is the ABCCANOPY Pop-Up Canopy. It has an easy pop-up design and excellent reviews from people who have used it on camping trips before.
What Are The Most Popular Screen Tents?
One of the best options for camping is the CLAM Quick-Set Escape. Many people also like the YDYL Screen House and the Tailgaterz Magnetic Screen House. The REI Screen House Shelter and REI Co-Op Screen House Shelter are also good options that come highly recommended for easy setup. Eureka Northern Breeze is another good option for the best screened shelters for bug protection.
What Is A Screen Tent?
It protects against insects and sun rays when you're eating outside or just hanging out. Most don't have floors and usually have a zippered door with a water-resistant top.
Are Coleman Canopies Waterproof?
Some of them are, while others are only water-resistant, and some are meant only for providing shade.
How Do You Make A Small Pop-Up Tent?
You can make a small pop-up with some spring steel wire, thin steel plates, waterproof UV-resistant canvas, pliers, scissors, a sheet, small magnets, and a sewing machine. You'll also need to sew in zipper doors.
What Is A Canopy Tent?
A canopy has a fabric top that is attached to a pole structure. Its roof poles provide a sheltered area from the sun and light rain in some cases. Canopies are an easy and efficient way to keep yourself protected from the weather and other elements when you're out camping with your loved ones.
What Is The Best Waterproof Canopy?
The Eurmax 10×10 Ez Pop-Up Canopy is a good waterproof canopy.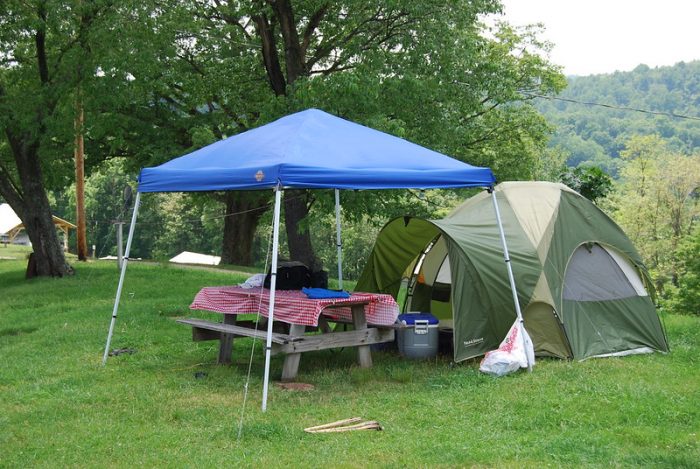 What's The Easiest Screen Room To Set Up?
What Is The Best Canopy On The Market?
Are Canopies Waterproof?
Are Screen Rooms Worth Your Money?
What Is A Magnetic Shelter?
What Should You Avoid When Buying A Screen?
Last Updated on April 14, 2023 by Jeanne Meets
DISCLAIMER
(IMPORTANT)
: This information (including all text, images, audio, or other formats on FamilyHype.com) is not intended to be a substitute for informed professional advice, diagnosis, endorsement or treatment. You should not take any action or avoid taking action without consulting a qualified professional. Always seek the advice of your physician or other qualified health provider with any questions about medical conditions. Do not disregard professional medical advice or delay seeking advice or treatment because of something you have read here a FamilyHype.com.