The global pandemic pushed many of us to take up new hobbies and pastimes. One that caught the interest of many people is quilting, along with other kinds of sewing. A good sewing machine is a must for anyone looking to take these kinds of hobbies to the next level.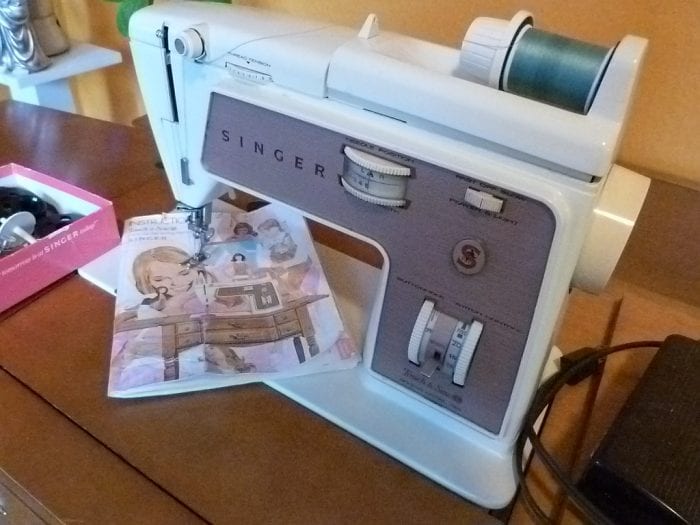 The best sewing machine to buy must match the types of projects you'll be using it for. You'll find differences in durability, complexity, and maintenance levels. Choose from sewing machines that fit your skill level, also. Set a budget for your machine before you go shopping, so you don't overspend. 
By the end of this article, you'll be able to choose the ideal sewing machine to fit your needs. We'll look at some examples of sewing machines currently available for purchase on Amazon, too. Let's start by looking at the important features to consider when shopping for the best sewing machine.
What Are The Types Of Sewing Machines?
Many types of sewing machines exist. It's one of the reasons it can be tough to figure out what the best sewing machine to buy is. For our purposes, we're sticking to the best sewing machine for home use. And we'll go with the three most common.
Electronic sewing machines – These start at a step above the original mechanical sewing machines. They can do some decorative stitching with a few more options than non-electronic models. They're powered by electricity and have dials for making selections.
Computerized sewing machines – These have display screens and many options for different stitch types. You can customize all sorts of designs. You'll also have options for many automatic functions, such as needle threading and embroidery stitching.
Quilting sewing machines – The quilting machine is designed to handle larger volumes of fabric. Quilting requires space for more fabric and needles that can sew through thicker fabric. These sewing machines are built for keeping your large projects stable while sewing.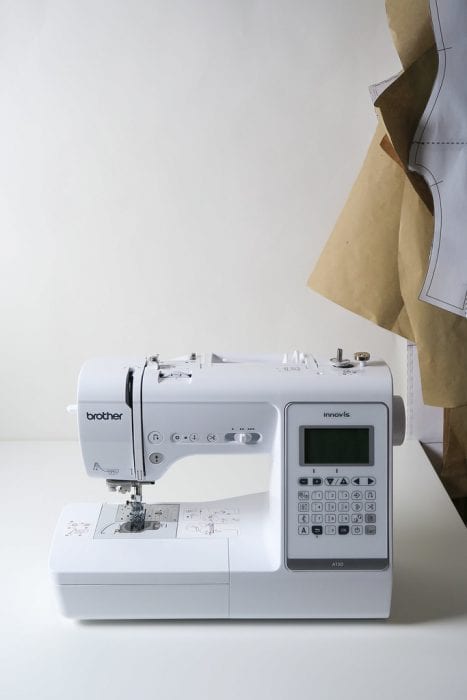 How Do I Choose A Sewing Machine As A Beginner?
Start by looking for one that's durable enough to take on the projects you have in mind. Sewing machines, like all consumer products come in different levels of quality. Some projects are tougher on a sewing machine than others. Choose one that will last through the sewing you intend to do.
You also need to think about the complexity of projects you'll be taking on. If you want to have the ability to put intricate designs into your sewing projects, it's best for you to get a computerized sewing machine. These let you map out different stitch designs and patterns and make selections you can see on a display screen. If you don't need a lot of stitch options, something more basic will make the best sewing machine for you.
Consider the level of maintenance you'll have for each potential sewing machine option, too. Some require more than others. Look at how easy it is to clean each machine, how often they need to be serviced, and if they come with a dust cover.
What Is Good For Beginners?
The best sewing machine for your needs also must match your skill level. If you're just beginning your sewing journey, don't buy the most complicated machine you can find. A computerized sewing machine may be too overwhelming in the beginning. 
Instead, look for an electronic mechanical sewing machine with a few stitch options to learn on. You can always sell that machine later and purchase a computerized sewing machine when you're ready to take on more complicated sewing projects. 
One of the best sewing machine options for beginners is the 7363 Confidence Sewing Machine by Singer. It has enough options to get you started, adjustable speed, and options for helping you grow as a budding tailor.
Best Sewing Machine Options
Time to look at a few good options. Keep in mind there are many more to consider. It's up to you to decide what features are most important for your needs.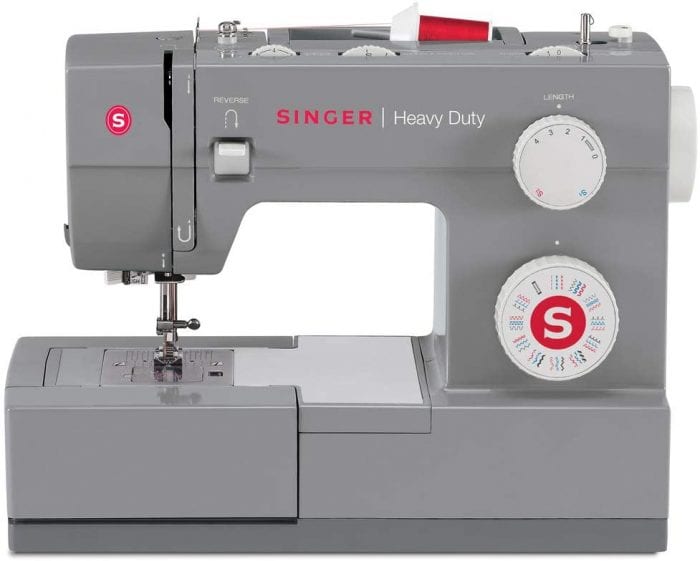 This SINGER sewing machine has a metal frame that helps keep it steady and makes it more durable. It comes with several accessories, such as various presser feet, edge guides, needles, bobbins, and more. There's an accessory tray built into the machine where you can store them all, too. You can switch the lever to sew in reverse for stronger stitches. There are 110 stitch application options, and you can sew at up to 1100 stitches per minute.
Pros:
Has an automatic needle threader
Easy-to-load bobbins
3 needle positions so can sew through thicker fabric
Includes 25-year limited warranty
Easy to reverse stitch for reinforced stitching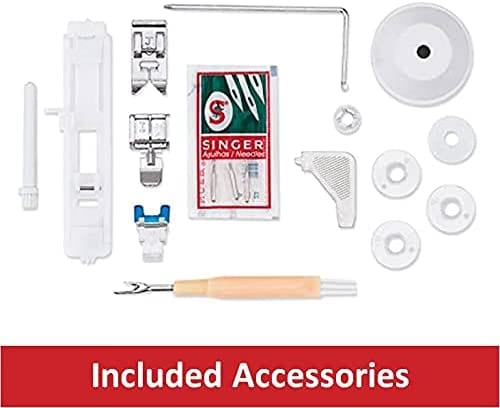 Cons:
Automatic threader can be tough to use
Too basic for complex projects
Instructions are lacking in detail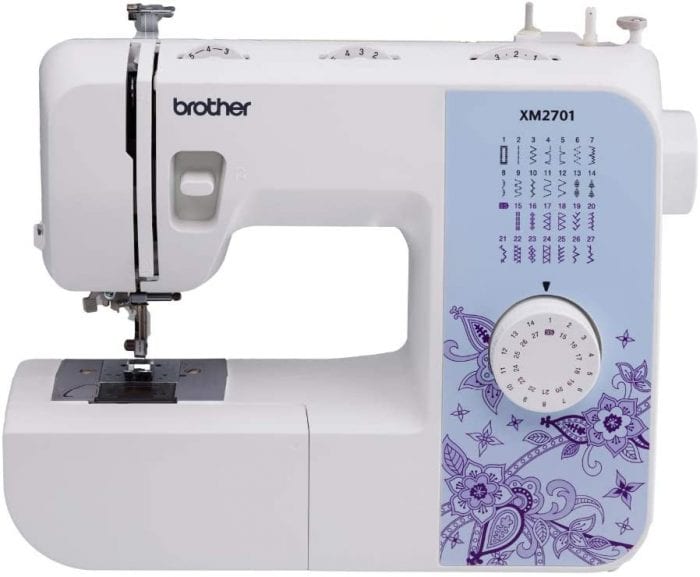 This is a treadle-powered sewing machine that's light enough to transport to and from sewing machine groups and classes. It's electric, as well. It comes with 6 kinds of presser feet and includes a 3-piece needle set. There's a drop-in top bobbin. You can use the automatic needle threader to make it easier for setting up. It's a good option for beginners but has enough settings to support more advanced skill levels, as well.
Pros:
Lightweight and portable
Bobbin is jam-resistant
Comes with an instructional DVD
Free arm gives more versatility
Highly affordable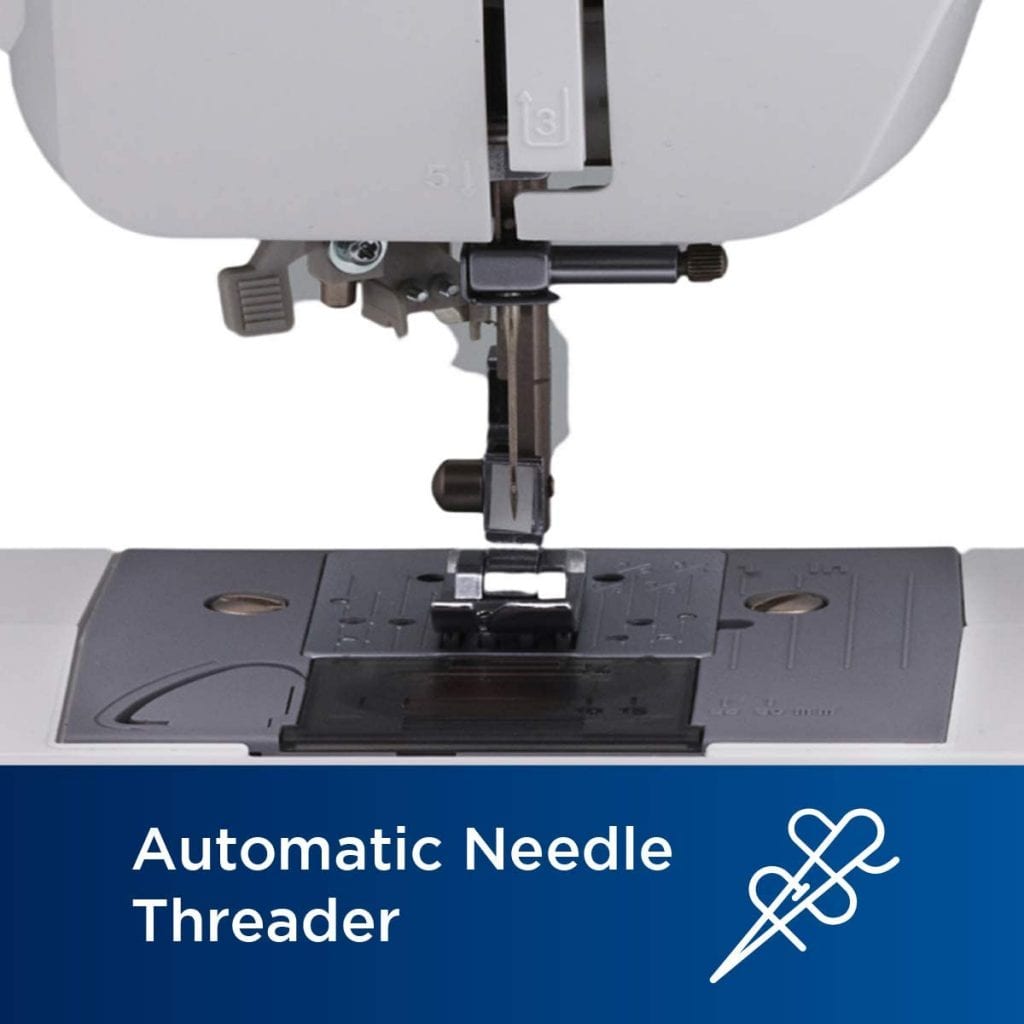 Cons:
Noisy
LED light isn't bright enough
May need to purchase additional presser feet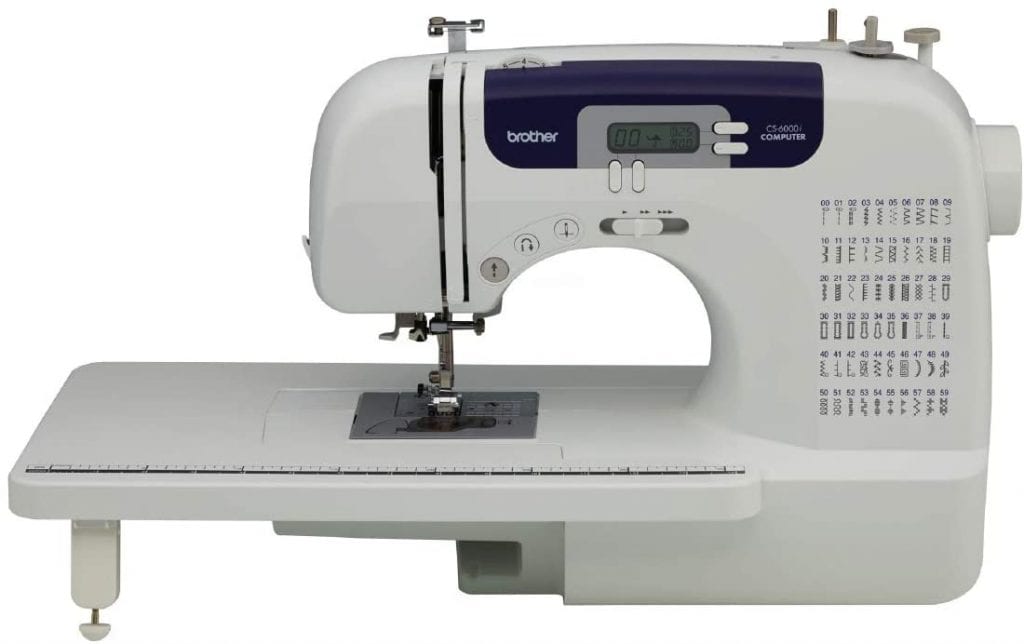 This Brother is well-suited for various skill levels. You can use it for all sorts of projects, including quilting. It comes with 9 presser feet and has the wide table fit for stabilizing larger pieces of fabric. There's a small 2-inch LCD display for seeing your selections. You'll have your choice of 60 stitches, as well as 7 different auto-size buttonholes.
Pros:
Great value for money
Automatic needle threader and jam-resistant bobbin for more convenience
LCD display makes it easy to select your stitches
25-year limited warranty
Hard case included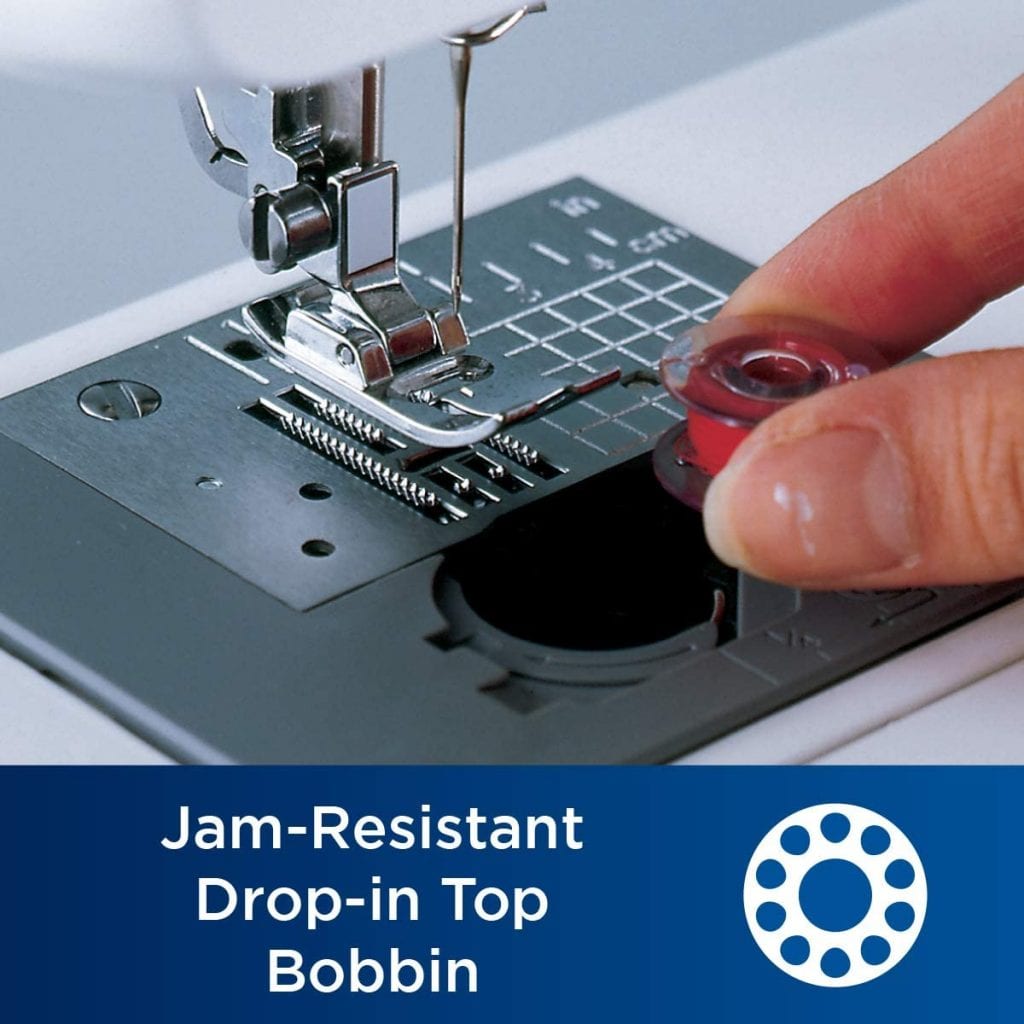 Cons:
Some issues with tension setting
Not great for thick fabric
Light could be brighter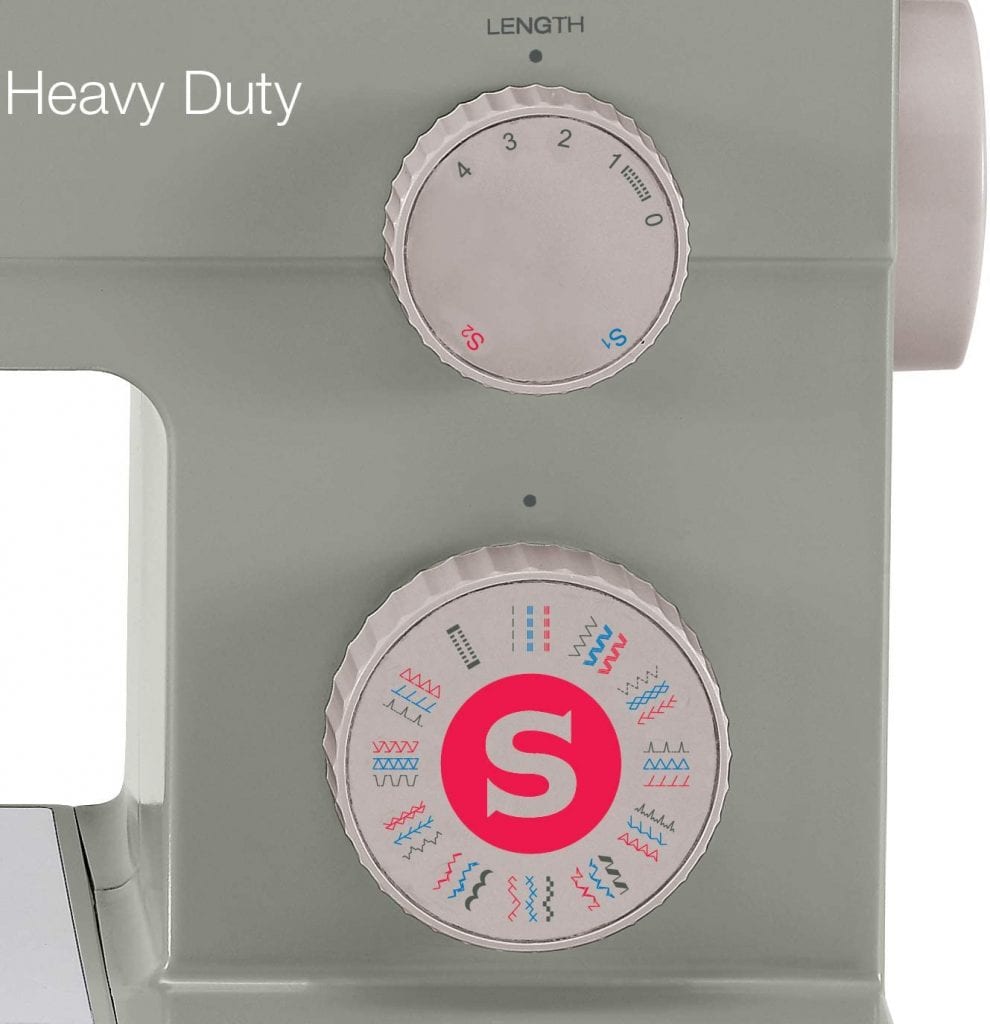 This sewing machine is the more skilled sibling to the first on our list. The SINGER 4452 sewing machine has additional accessories so you can work with a wider variety of fabrics. You also get a dust cover, a stronger motor, and the one-step buttonhole process. You'll be able to sew through thicker fabrics and choose from 110 stitch applications.
Pros:
Priced competitively
Stitches through thick material like denim and leather
Lightweight, yet durable
Built-in accessory tray for storage
Powerful motor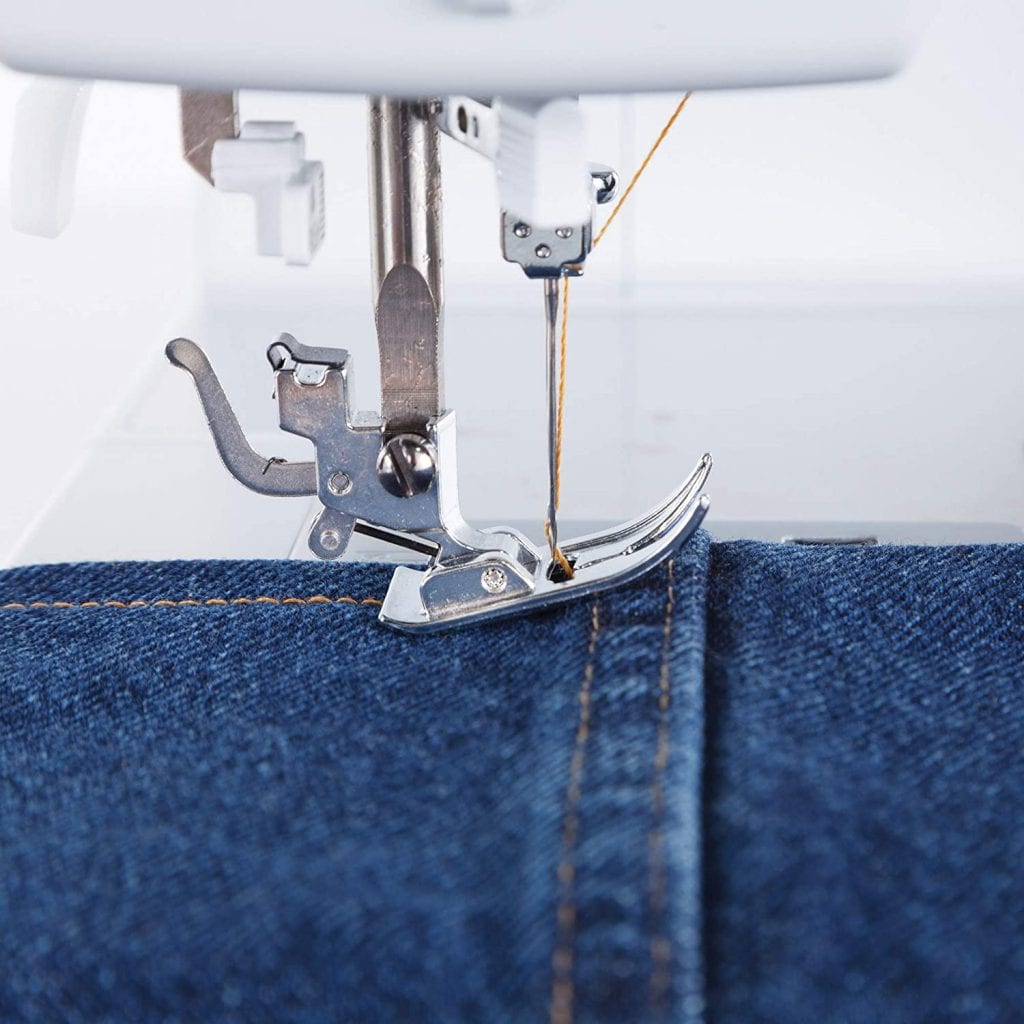 Cons:
Poor light
Loud
Not advanced enough for highly complex projects
How Much Does It Cost?
The price will depend on the type you choose and the skill level it's meant for. None of the machines in our list are much more than $200. However, there are some highly specialized and professional machines that go for $1,000, or more. 
Cheap beginner level sewing machines are typically less than $100. A good mid-range machine will cost up to around $300. 
You'll pay more for complex computerized sewing machine than you will for basic electronic mechanical ones. Shop smart and stay within the budget you set for yourself by comparing prices.
Final Thoughts
The best sewing machine to buy will give you the ability to produce the results you want. It will also have the right price for your budget. You should look at the durability, the complexity of the machine, and the level of maintenance involved. Whether you're looking to get the best sewing machine for beginners or an expensive computerized sewing machine to make intricate designs, the features you need to look at are basically the same. You'll simply choose the best sewing machine for your needs.
Sewing Machines FAQs:
Are expensive sewing machines worth it?
Generally, expensive sewing machines are built off a reputation for results. They're worth it if they will serve your purposes better than others. That being said, it's not necessary to overspend on a sewing machine when there are plenty of high-quality alternatives for less money.
What is the best inexpensive sewing machine in the market right now?
This title goes to one from our list, the Brother XM2701. It's easy to use, includes 6 presser feet, and has an automatic needle threader.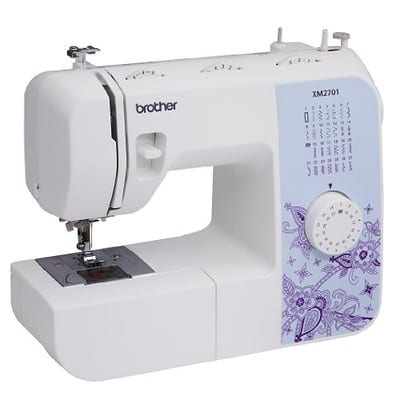 What is the easiest thing to sew for beginners?
Small useful items are the easiest things to start with. Examples include a phone-charging station, a zipper pencil pouch, and luggage tag labels.
What is the most reliable brand?
Brother is the most reliable with SINGER right behind.
What is the most expensive?
There's a computerized sewing machine by Quattro that costs upwards of $9,000. It has a zoom-in camera right above the needle so you can see your stitching up close. You can even use your computerized sewing machines on autopilot. You'll enter a program and watch it sew a seam all on its own.
Disclaimer: FamilyHype.com (Family Hype & FamilyHype) is a participant in the Amazon Services LLC Associates Program, an affiliate advertising program designed to provide a means for sites to earn advertising fees by advertising and linking to Amazon.com.
Last Updated on September 28, 2021 by Anna Amad
DISCLAIMER
(IMPORTANT)
: This information (including all text, images, audio, or other formats on FamilyHype.com) is not intended to be a substitute for informed professional advice, diagnosis, endorsement or treatment. You should not take any action or avoid taking action without consulting a qualified professional. Always seek the advice of your physician or other qualified health provider with any questions about medical conditions. Do not disregard professional medical advice or delay seeking advice or treatment because of something you have read here a FamilyHype.com.