In the market for new kitchen appliances? Maybe you're doing a kitchen renovation, so you want the best appliances you can find? Induction cooktop make the cut for being best-in-class for kitchen appliances. They make cook times half the time and end results better. You must know what you're looking for, though, to get the most benefit.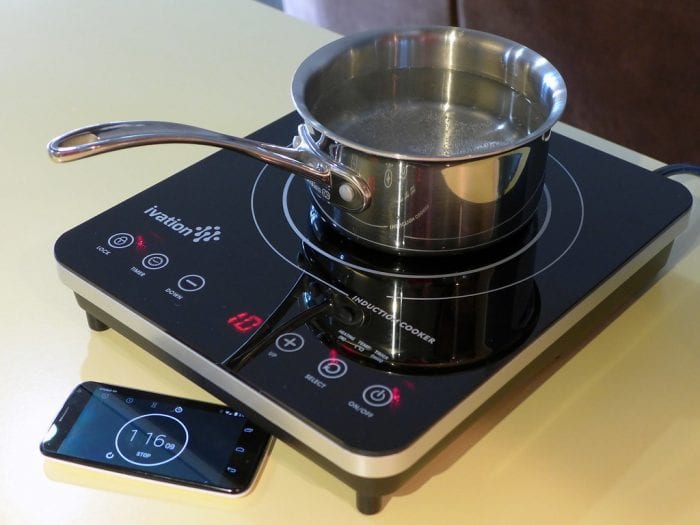 Induction Cooktops
Choose the best induction cooktops by first choosing a size. Decide how many induction zones you want to have. Also, look at how large the zones are. Determine what type of control panel works best for your needs. Induction cooktop come in a range of power and temperature settings, so choose one with what's right for your cooking power needs and style. Finally, choose a cooktop with all the bonus intelligent features you will use.
Before we see some of the options for induction ranges on the market, we're going to talk about how you choose the best one. It will help you when you're reading the descriptions of appliances to know what is most important to you. So, let's get started!
What Should I Look For When Buying Induction Cooktops?
The size of the induction cooktop is the most important, so that's where you should start narrowing things down. You must know where you're going to put it before choosing the size. You may have to take some measurements if you're looking to replace another type of drop-in cooktop. Once you know what size you're getting, then start looking at more of the details.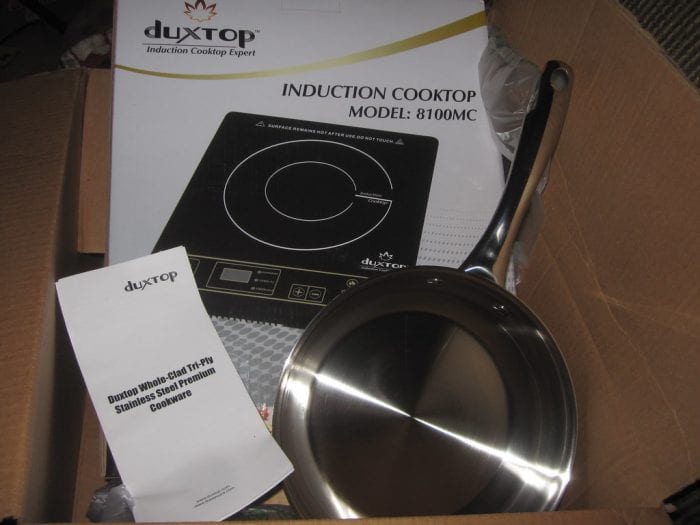 Cooking Zones
Together with the size of the cooktop goes the number of cooking zones. An induction cooktop often come with 1 to 5 cooking zones. It means you can cook multiple foods at the same time in their own zones.
One or two cooking zones will likely come as a portable induction cooktop. Those with more are usually stationary.
Cooking zones themselves are also different sizes. Typically, the size of the induction zone is clearly indicated by an outline. Larger cooking zones accommodate oversized cookware. If this is meant to be your main cooktop in the kitchen, it's best to go with larger induction ranges with multiple cooking zones in various sizes.
Control Panels
Generally, three types of control panels exist for most cooktops—button controls, knob controls, and touch controls. Choosing between the three mostly comes down to preference. Keep in mind that touch sensor control panels usually make the price higher. Also, look at the placement of the digital controls. They shouldn't be too close to the elements.
Power Settings And Temperature
You're looking for the temperature intervals for this. The best induction cooktop have smaller intervals between temperature settings. This is because the temperature can be tweaked more precisely.
Induction cooktop is best with a temperature range from 140° to 430° F. You also want to make sure the induction setting automatically starts at a low temperature setting.
Look for a cooktop with high power output. 2100 watts is ideal. Some induction cooktops come with maximum power levels of 1500 to 1700 watts. These won't cook much faster than the best electric stovetops, though. They are good for saving on your power bill, however.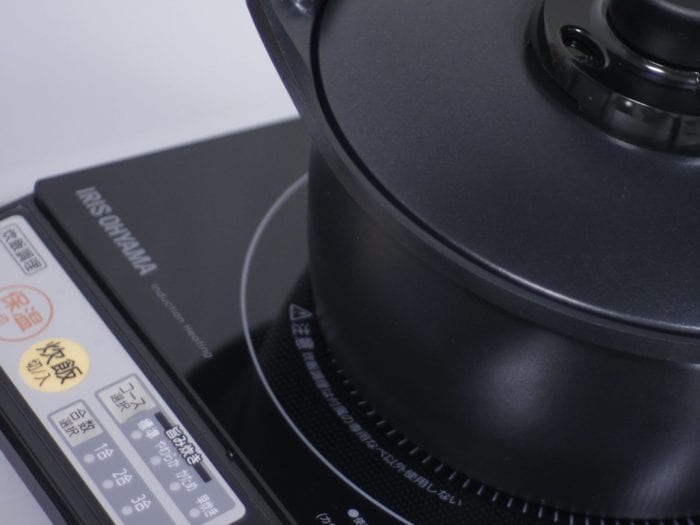 Induction Cooktops
Other Features
Look for timer settings on the best induction cooktops. Not all of them have separate timers, so if it's an important feature for you, check to make sure it's there.
Preset cooking programs are included in some smart induction cooktops. You'll simply put the pan for melting butter on the cooking zone, select the appropriate preset, and watch it cook. It makes it where you don't have to keep tweaking the power and heating elements throughout the cooking process.
Some upscale induction ranges have a voltage display, along with an electrical consumption indicator. You can keep track of exactly how much electricity you're using.
Automatic pan detection is a useful feature that keeps your home safer and keeps you from wasting energy. Once you take your cookware off the cooktop, it turns off.
Safety smart features you can opt for include:
Small item detection – Ensures the cooking zone turns off if something too small to be cookware is placed in the zone.
Safety sensors – Monitors the temperature of the bottom of your pan. It's to keep an empty pan from catching fire should it get left on the range.
Child lock – Almost all induction ranges include child control lock. Children won't be able to turn anything on with this smart features.
Overflow control – Should boiling liquid overflow onto the cooktop, you'll hear an audible alert, and the cooking zone will turn off.
Guided cooking- Guided cooking feature plans out every stage of the cooking process, making it incredibly simple and effortless.
Now, let's look at induction ranges and cooktops currently on the market.
Induction Cooktops
Duxtop Portable Induction Cooktop, Countertop Burner Induction Hot Plate with LCD Sensor Touch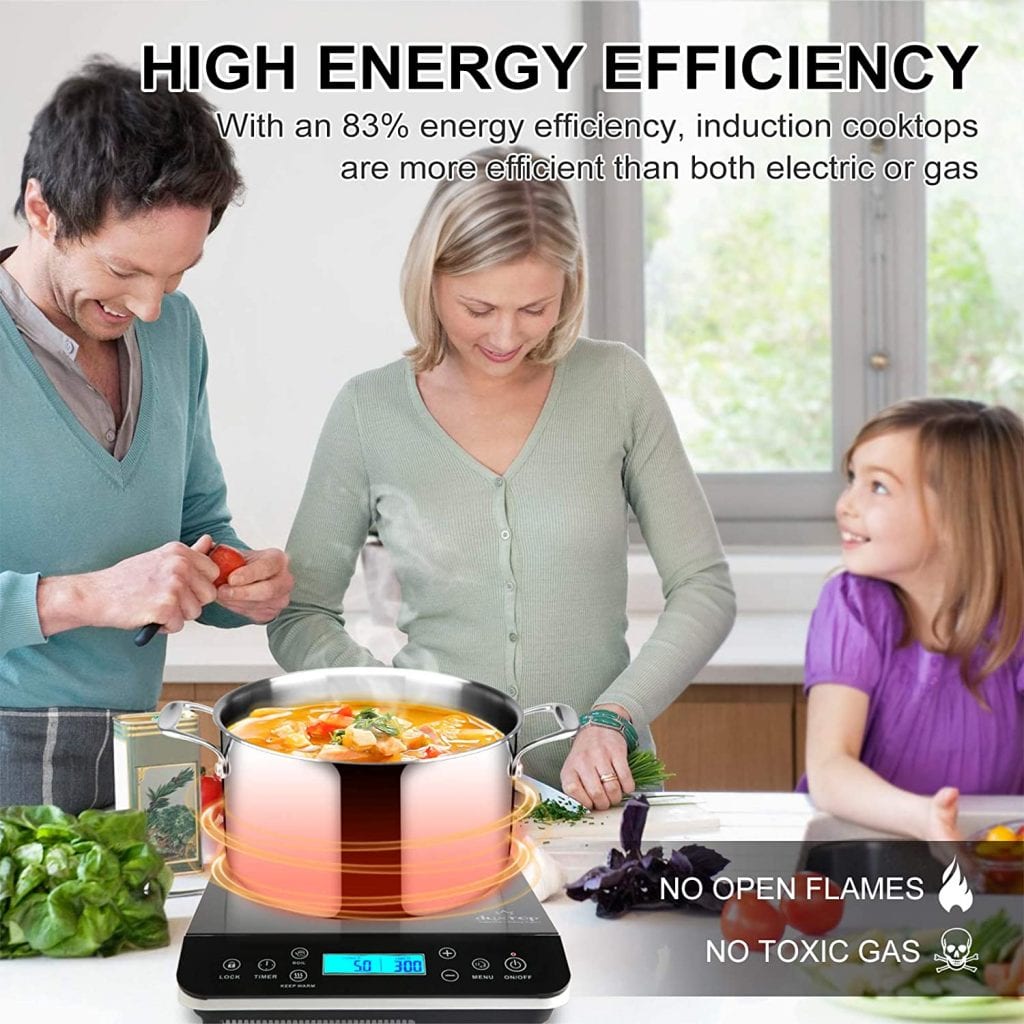 You can use this induction cooktop almost anywhere. It cooks with up to 1800 watts of power. You'll have the option to cook at 20 different power levels. It's highly energy efficient. It has a touch control panel with a small LCD display for viewing power levels and time settings. Numerous smart features include auto-pan detection built into the design. If it's turned on and nothing is put on it to cook, it will automatically shut off.
Pros:
Budget-friendly
Portable
Nice looking design
Easy to clean
Includes a fast boil button
Plenty of safety features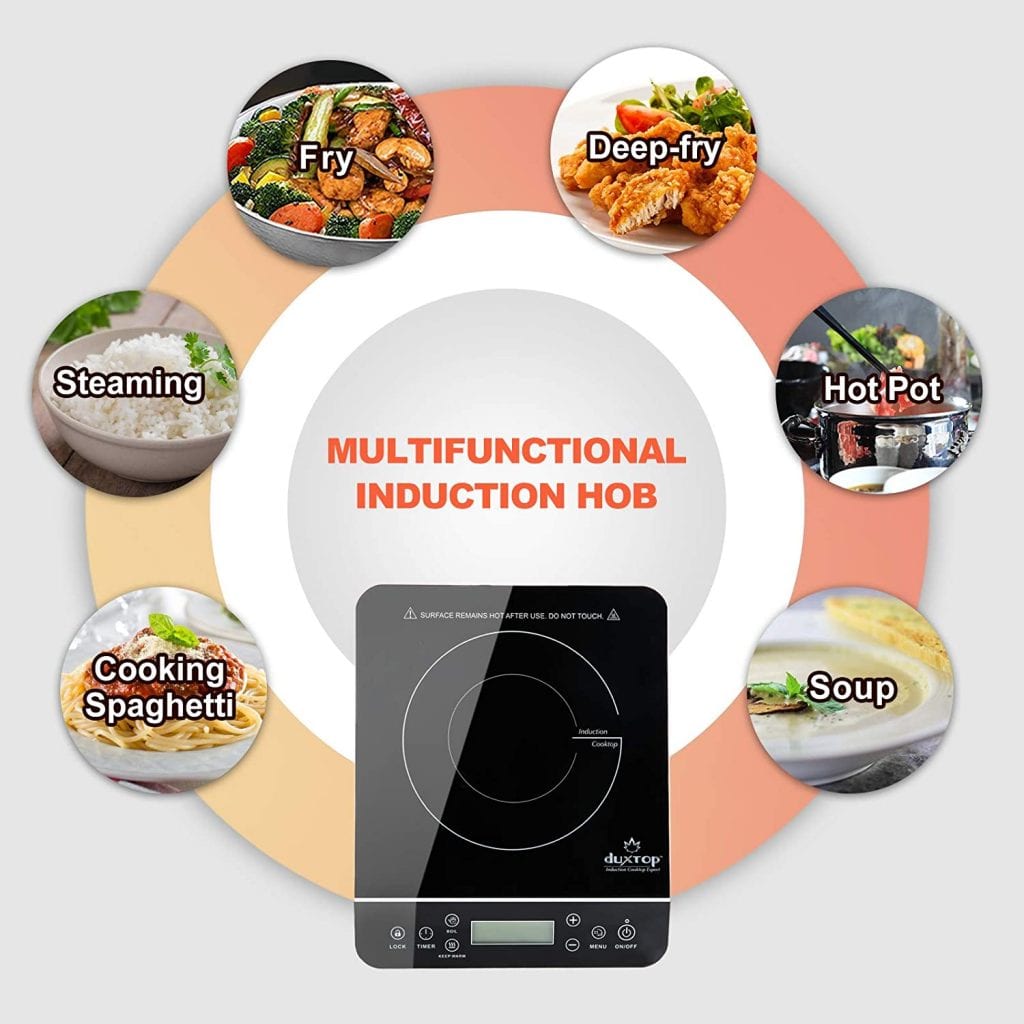 Cons:
Tough to see the display unless you're right in front
Slides around on the counter
Small burners range; not two burners induction cooktop
No true temp melt feature
Duxtop 1800W Portable Induction Cooktop Countertop Burner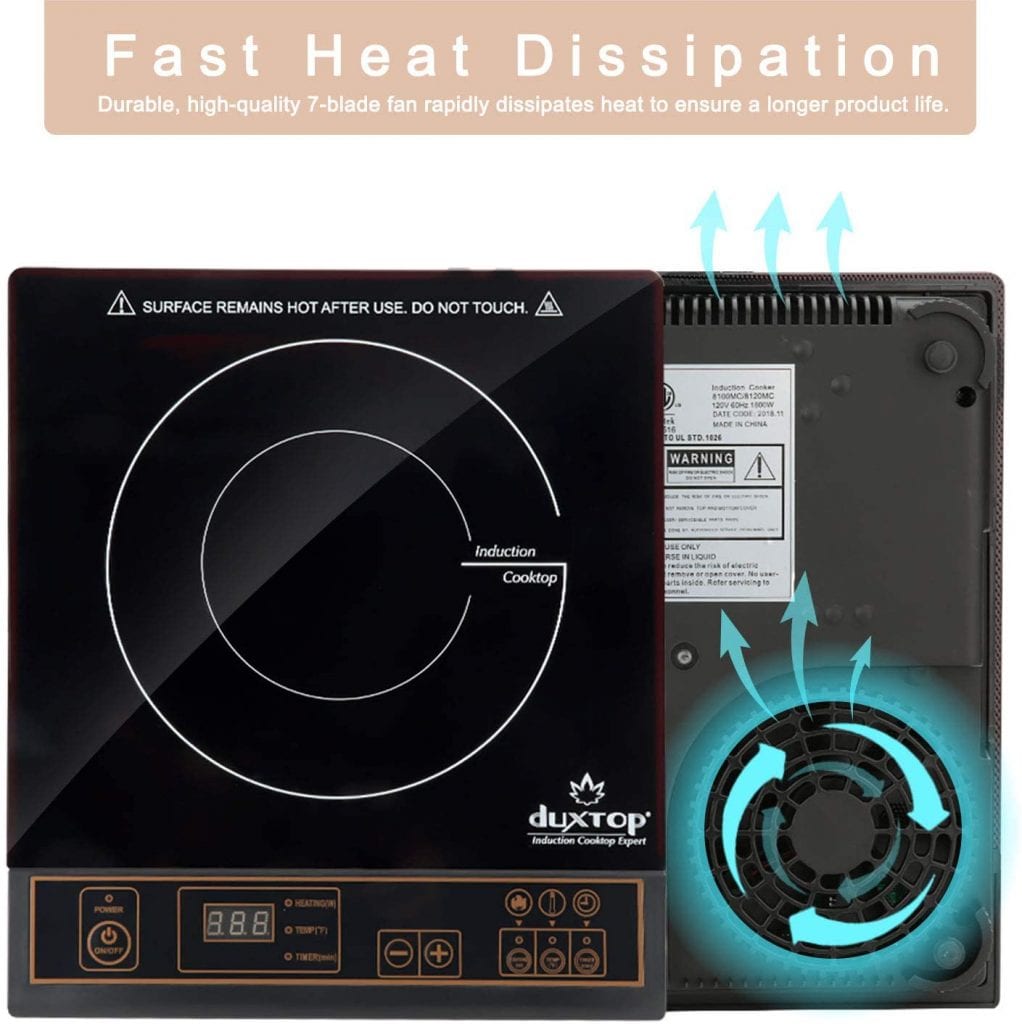 This induction cooktop comes in at half the price of the one above. It has a digital control panel with buttons that includes a timer. There are 10 power levels ranging from 140° up to 460° F. The cooktop glass surface is easy to clean. You'll cook with magnetic cookware that has at least a 5-inch diameter.
Pros:
Highly affordable
Portable
Easy to clean
Wide temperature range
LED display is easy to read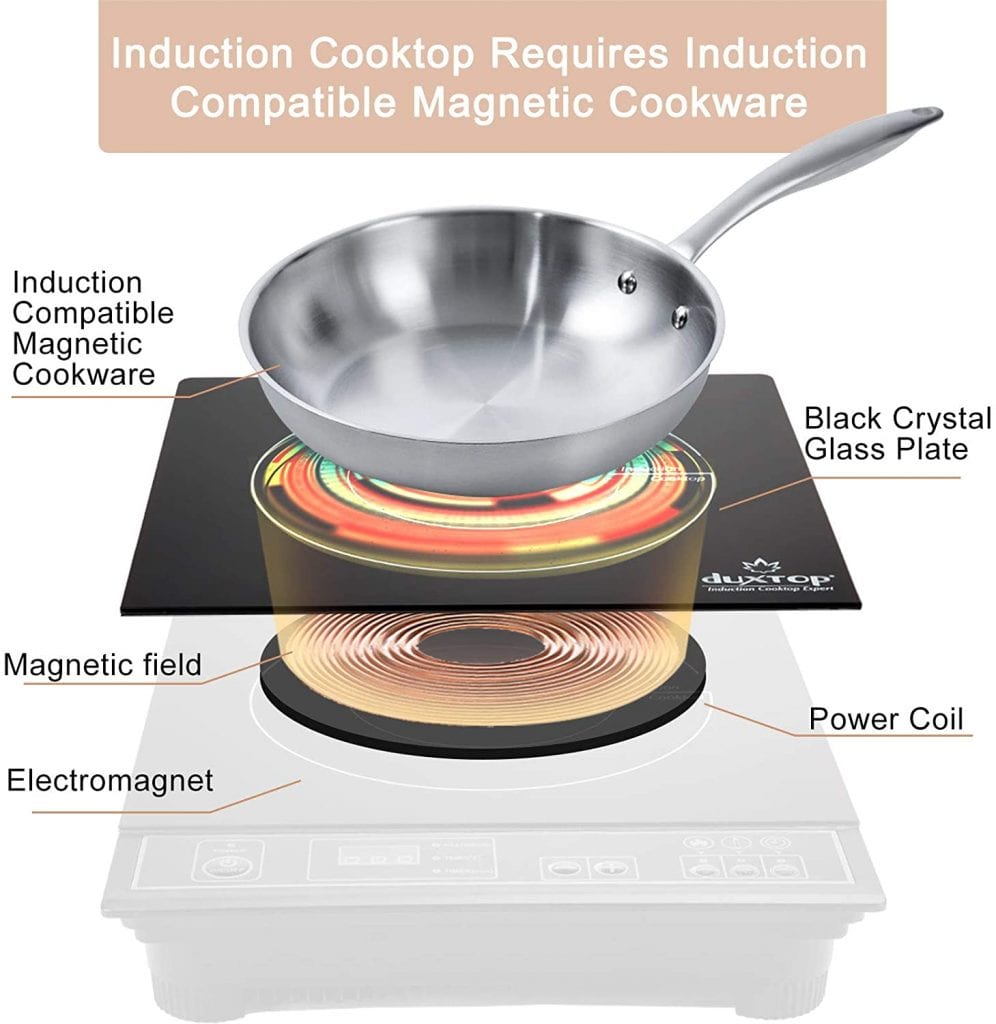 Cons:
Temperature intervals are too far apart
Basic design
High-pitch noise too much for some individuals
No four elements
Duxtop Professional Portable Induction Cooktop, Commercial Range Countertop Burner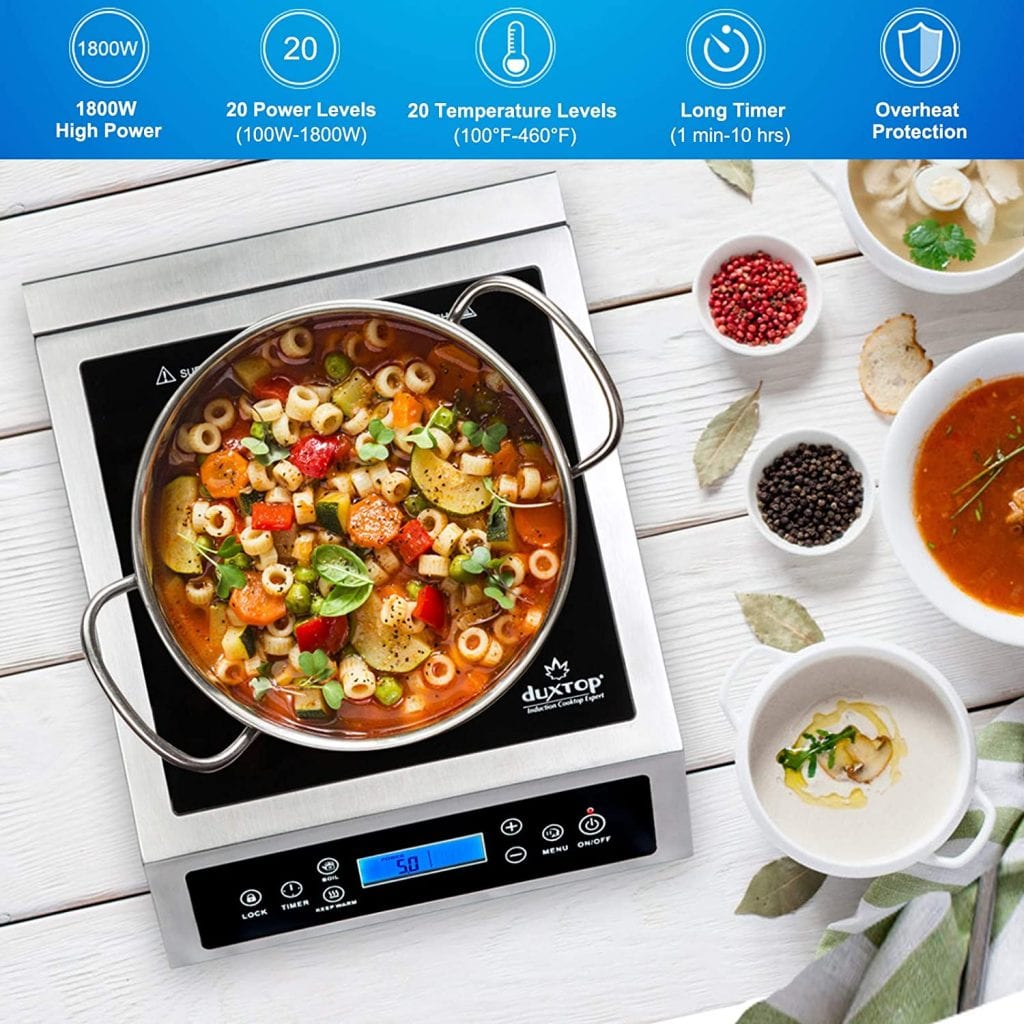 This is a portable induction cooktop that is durable and is ideal for everything from a commercial kitchen to a campsite. It has a sensor touch control panel. There is a large LCD display on the front to see your settings. It's easy to clean. It also has a fan that helps it to cool down very quickly. You'll have 20 power levels for cooking that start as low as 100° F.
Pros:
Highly durable equipment
Programmable timer up to 10 hours
Wide temperature range
65 lb. capacity
Easy to use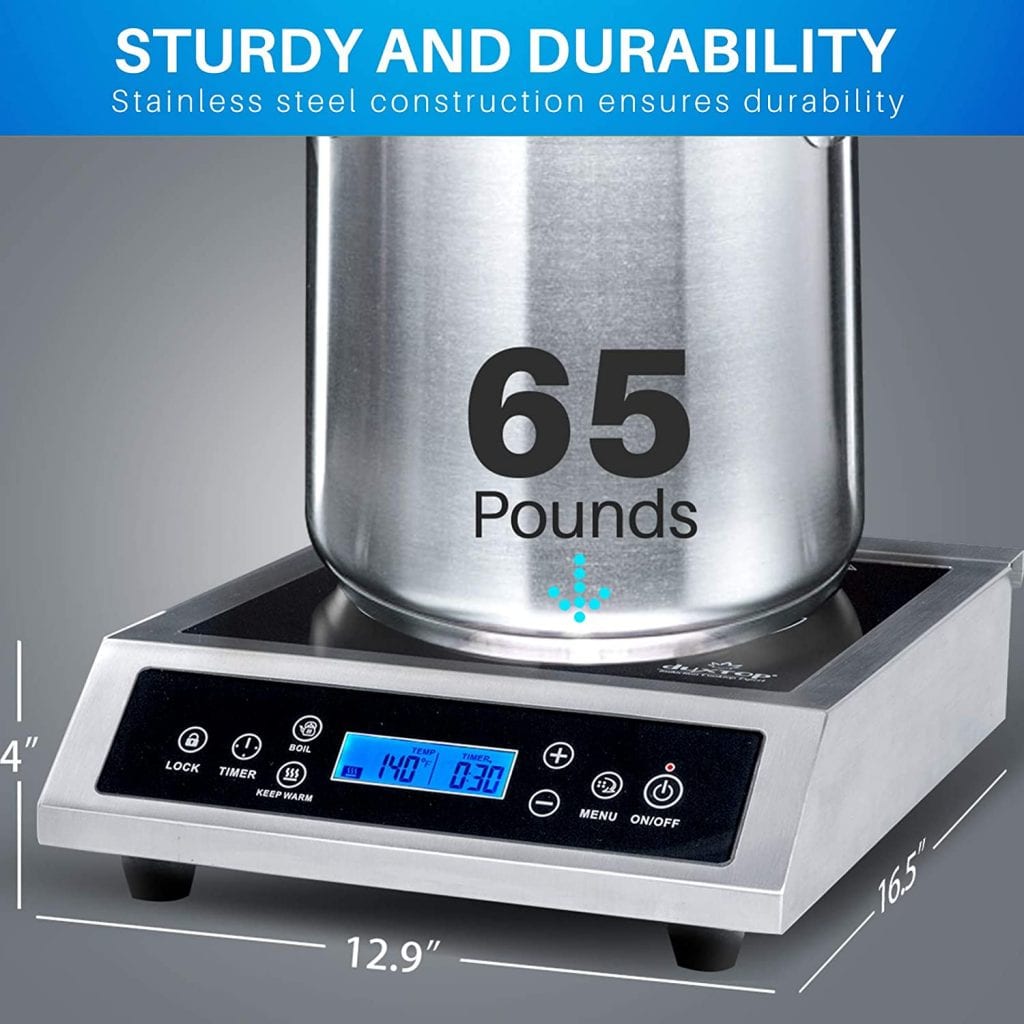 Cons:
Loud alerts
Higher price point
Temperature intervals too wide
No four elements
VBGK Portable Induction Cooktop, 2200W Electric Induction Countertop Burner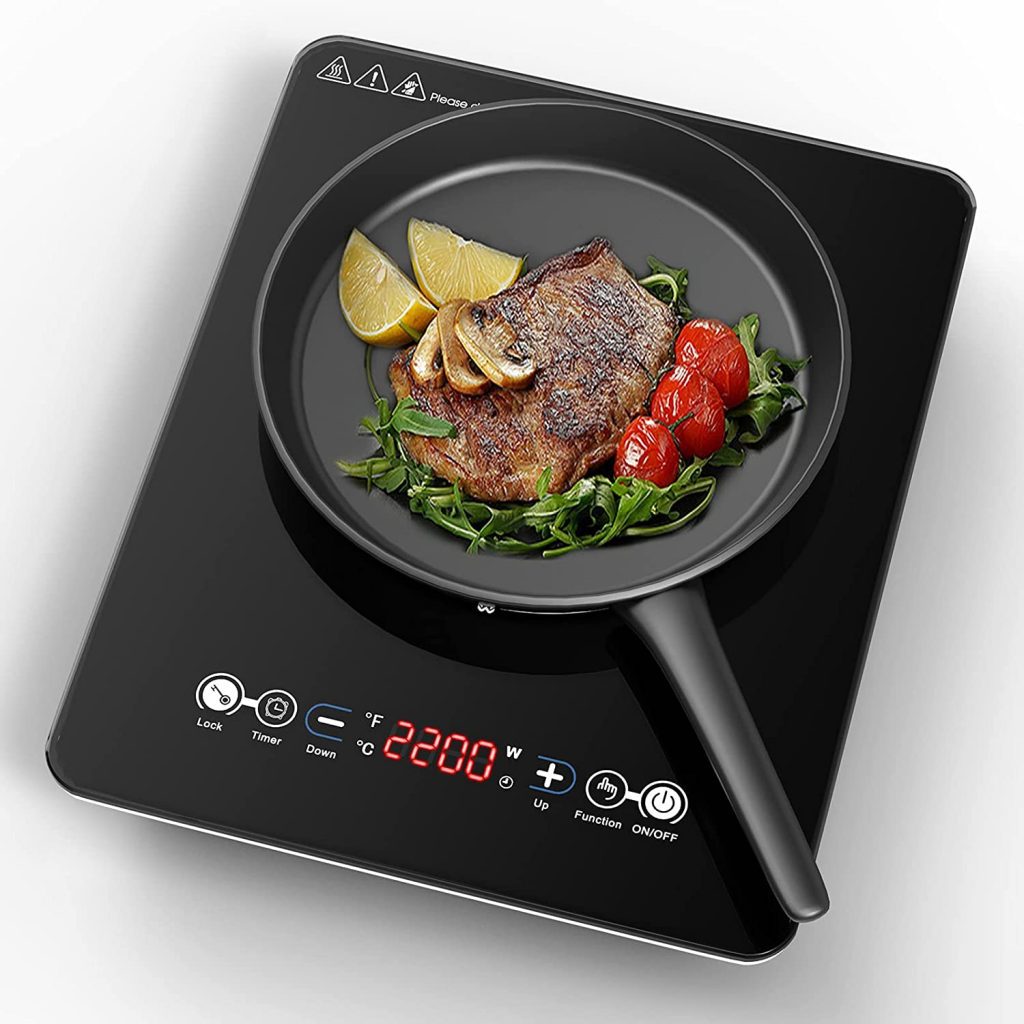 The VBGK Induction Cooktop has better efficiency compared with other regular gas or electric stoves. This portable smart touch sensor cooktop has 9 preset temperature level settings ranging from 176°F to 510°F. It has LED touchscreen with smart features like kids safety lock and timer.
Pros:
Up to 75% less energy consumption
High maximum temperature lets you sear meats
Elegant and stylish
Easy maintenance and opertaion
Smart cooktop
Many safety features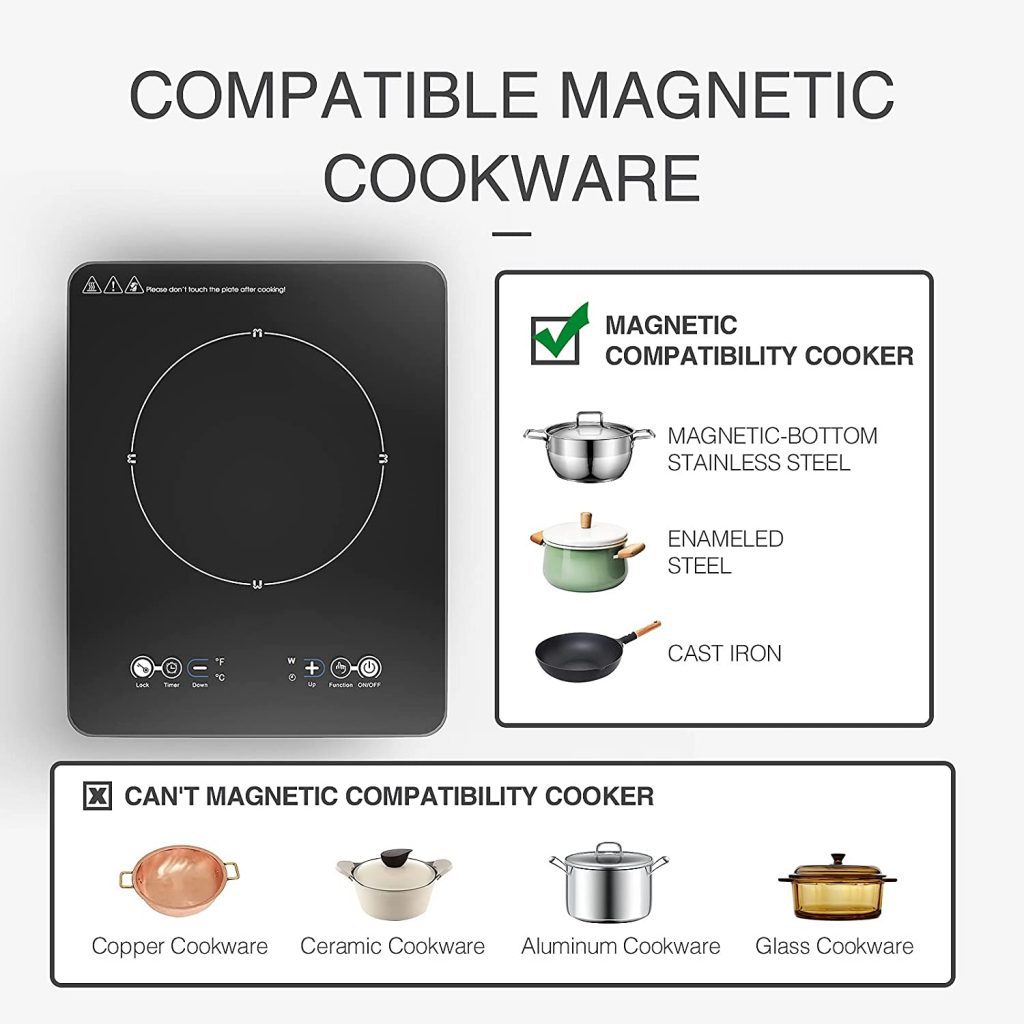 Cons:
Has loud engine sound
Quite thick
Not four burners
No power boost mode
Induction Cooktops
Final Thoughts
Induction ranges come in all shapes and sizes. Some are installed in your kitchen, while others are placed on the countertop and can be taken anywhere. Choose your induction cooktop with your specific needs in mind. Look for the size you want, along with the number of cooking zones you need. Check out the temperature control range and the intervals for adjustment. Also, look for the extra features you will use. Make sure to set yourself a budget and choose the cooktop that ticks all your boxes.
FAQs:
Which brand is best for electric and induction cooktops?
Some of the best brands for these include Bosch, GE, and Duxtop.
Is an induction cooktop worth it?
Yes, they are. They cook food faster and better. They're more energy efficient than gas ranges. Induction cooktops provide many features that help you track how much electricity you're using to minimize it. Since it is easy to use, you can be a chef just by following video recipes.
What is the best induction range to buy?
The GE Profile PHS930YPFS is a slide-in 30 inch induction cooktop
that's known for its reliability. Runner-up is GE Profile PHP9036SJSS 36 inch induction cooktop.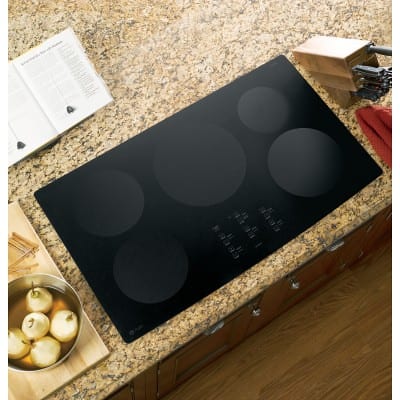 Which is more economical, gas cooktops or induction?
Induction cooktop is much more energy-efficient and, thus, more economical. 
Why is it bad?
The biggest concern is with the electromagnetic fields heat emitted from an induction cooktop. However, there are equal concerns with regard bad long-term effects of magnetic currents heat on the body according to independently research studies.
What are the disadvantages?
The prices of most induction cooktops are higher than regular cooktops. Also, you might need to buy different cookware because you must have the magnetic cookware required for induction cooking. 
Do chefs prefer gas or induction?
Most professional chefs prefer induction cooking because of the faster transfer energy heat for cooking and there is precision control with high-end models.
How long do they last?
Typically, they last about 10,000 cooking hours for consumer-grade and 30,000 cooking hours for commercial-grade.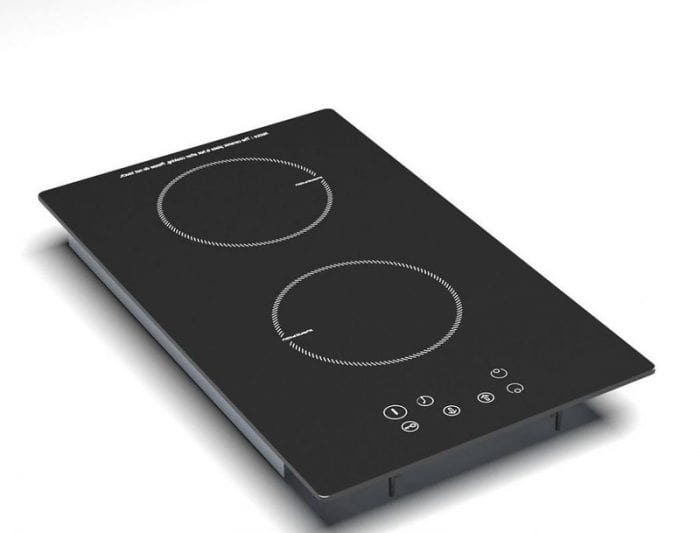 What are the pros and cons?
Pros include the cooktop staying cooler, the cooking experience is faster, and you get precision control and heat level so you won't burn that delicate sauces. Cons include modern and new cooktops are expensive, you can't use regular cookware, and you may need to be more vigilant about leaving cooking zones on.
What is the best cookware to use on an induction cooktop?
Cast iron, enamel on metal, and stainless steel over aluminum are all safe to use with an induction cooktop. The most typical material used for induction-ready cookware is stainless steel rather than aluminum.
What wattage is best for an induction cooktop?
The best wattage for good cooking is 2000.
Which is better, induction or electric cooktops?
If you want energy saving, induction can be a better choice than electric cooktops.
How much electricity does an induction range use?
It uses between 1500 and 3000 watts of power, which is a lot more than most home appliances.
Is induction cheaper than an electric stove?
Electric stoves are still cheaper.
Do you need special parts for an induction stove?
Induction cooking is easy on your pots and pans, but your cookware must be made of iron or steel that can be magnetized.
How do you set the temperature on induction cooktops?
As a rule, the cooking temperatures of induction cookers are between 38 and 301 degrees Celsius.
What should you not use on an induction cooktop?
Stay away from copper, glass, ceramic, and aluminum cookware.
What is the best way to use an induction hob?
Heat up the hob with a gas or electric wall oven and then switch it on.
How do you maintain an induction cooktop?
Avoid scratching or damaging the cooking surface. After cleaning your cooking space, apply white vinegar with baking soda to hard water areas. For thorough cleaning, use a ceramic surface cleaner and a paper towel. If needed, use a dry cloth.
Can induction cooktops be repaired?
Broken induction cooktops can't be fixed. The only solution is to replace it.
Does Bosch make a 36 inch induction cooktop?
The  Bosch 36 inch induction cooktop has AutoChef®. Frigidaire Professional also has 36 inch induction cooktop.
What is the best five burners cooktop?
We love the GASLAND Chef IH90BF Built-in Electric five burners cooktop.
Disclaimer: FamilyHype.com (Family Hype & FamilyHype) is a participant in the Amazon Services LLC Associates Program, an affiliate advertising program designed to provide a means for sites to earn advertising fees by advertising and linking to Amazon.com.
Last Updated on July 5, 2022 by Marie Miguel
DISCLAIMER
(IMPORTANT)
: This information (including all text, images, audio, or other formats on FamilyHype.com) is not intended to be a substitute for informed professional advice, diagnosis, endorsement or treatment. You should not take any action or avoid taking action without consulting a qualified professional. Always seek the advice of your physician or other qualified health provider with any questions about medical conditions. Do not disregard professional medical advice or delay seeking advice or treatment because of something you have read here a FamilyHype.com.