We've all spent a lot of time in our homes over the past year. More people in your home means more messes to clean up. Anything that can help you clean up messes more easily would probably be a welcome addition to your home. Enter the corded or cordless stick vacuum. No home should be without one.
So, how do you choose the best stick vacuum? You'll want one that's lightweight. Look for stick vacuums with enough power to clean the flooring types you have. Make sure the battery is lithium or lithium-ion. Also, investigate the noise level of each corded or cordless vacuum cleaner you're considering. 
The right corded or cordless stick vacuum will make spot cleaning and other chores, like vacuuming stairs or car interiors, easier. Stick vacuums are designed to be portable, even those that are corded. There's no reason to pull out a full-sized vacuum cleaner every time there's a little mess to clean up. Let's have a look at a few available on Amazon. Then, we'll look at important features you should consider.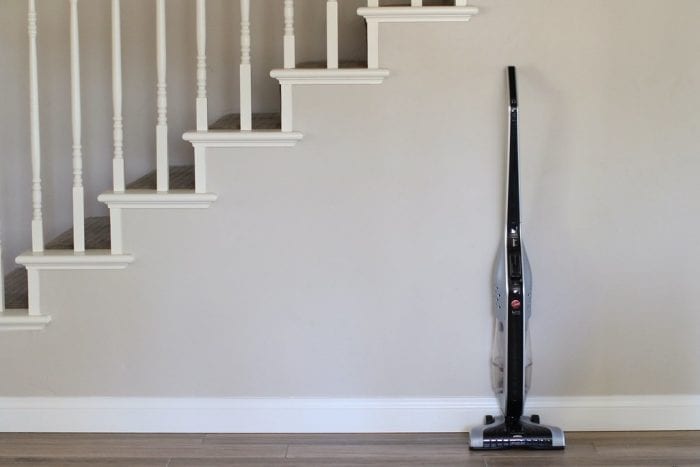 Best Stick Vacuums In 2021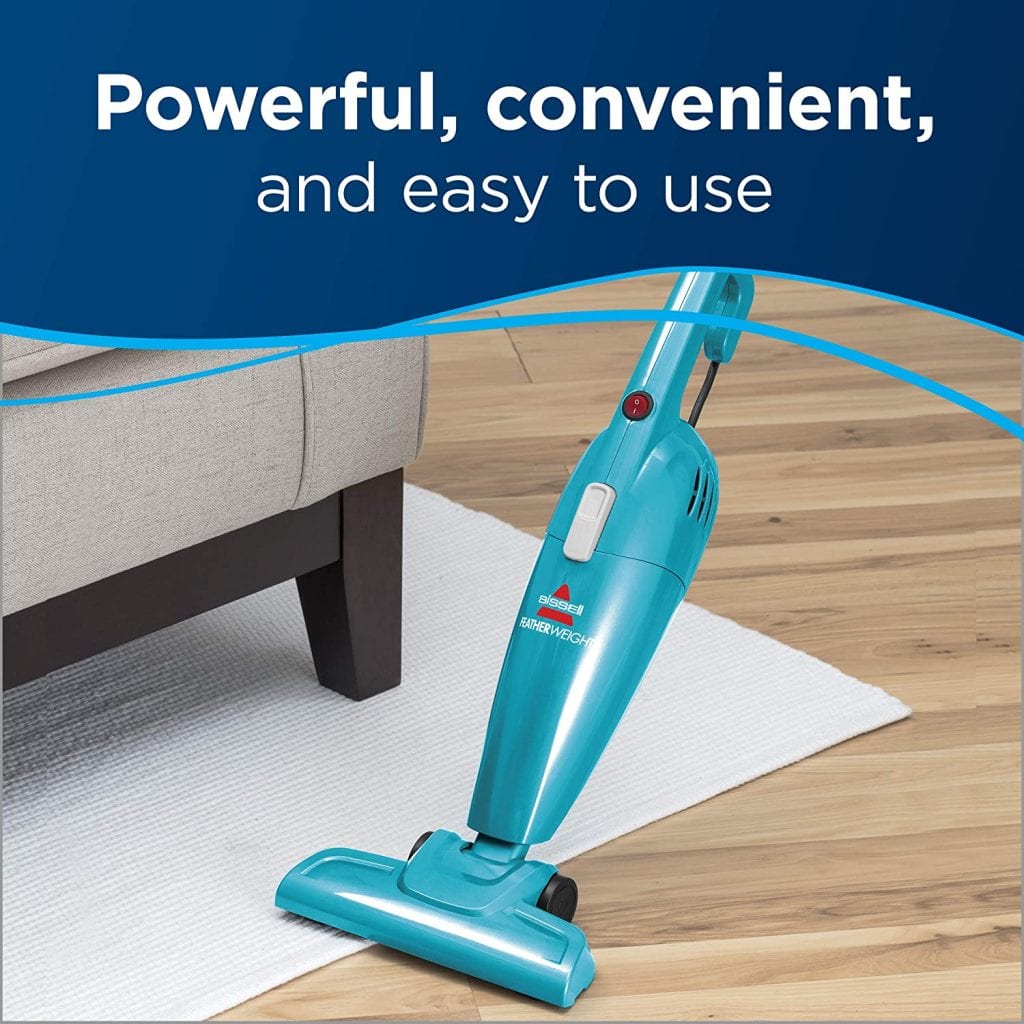 The Bissell Featherweight comes in four color choices. It has a budget-friendly price. It comes with a crevice tool and can be used to clean floors, furniture, and countertops. You can remove the handle and use the stick vacuum as a handheld vacuum cleaner. It works as a floor vacuum, a handheld vacuum, and a stair vacuum. It's super-lightweight, too, at only 3 lbs. 
Pros:
Very inexpensive
Lightweight
Easy to use
Bagless cup that's easy to empty
4 color choices

Cons:
Short cord
Dust bin is small
Not powerful enough for heavy cleaning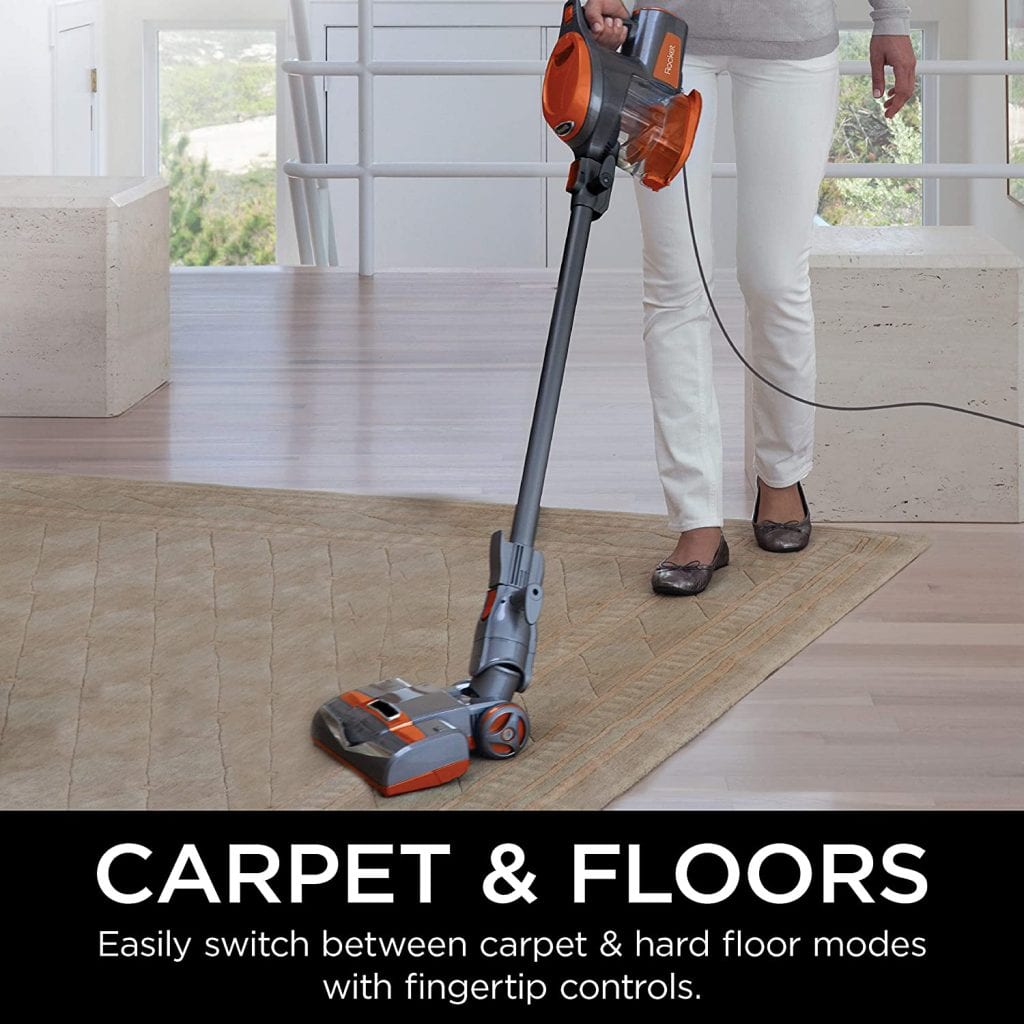 Shark is one of the leaders in the industry. The Shark Rocket has the power to suck up pet hair from the carpets and floors. You'll have three attachments that help you clean your furniture, corners, and crevices, as well. The cord is 25 feet long and combines with swivel steering for easy maneuverability. You can convert the stick vacuum to a handheld easily, too.
Pros:
Lightweight
Powerful
Easy to store
Maneuvers well
Fingertip controls for switching floor types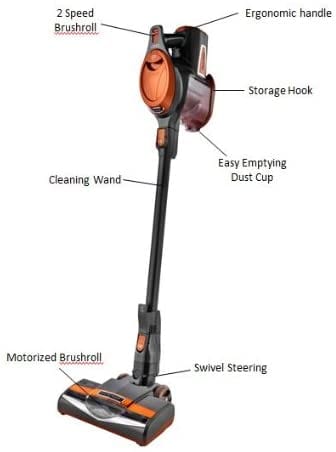 Cons:
Bit pricey
Doesn't stand on its own
Doesn't lay flat to get all the way under furniture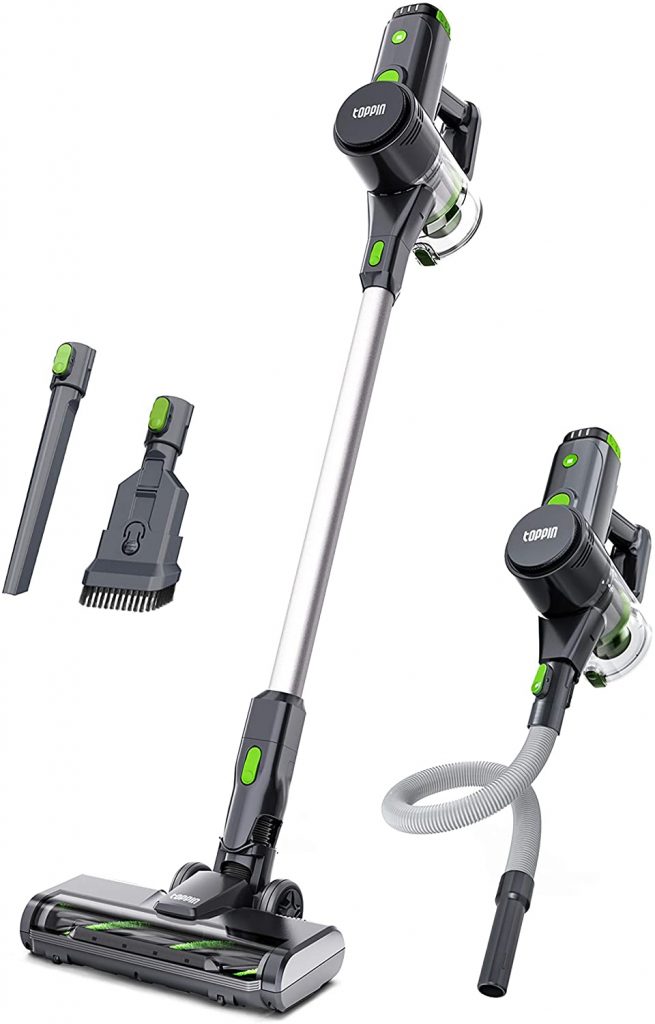 The Toppin vacuum works with 20V of power that gives you strong suction. You'll get up to 34 minutes of cleaning time with one full charge. It's a 8-in-1 lightweight cordless stick vacuum that is super quiet. This vacuum has 4 LED headlights so you can see where the dust and dirt is. It has a high-efficiency cyclone filtration system and a HEPA filter. You can easily transition from one type of flooring to another, as well as remove the wand for a handheld vacuum cleaner.
Pros:
Long runtime
Adjustable suction
Many accessories
Includes wall mount for easy storage
Easy-to-empty bin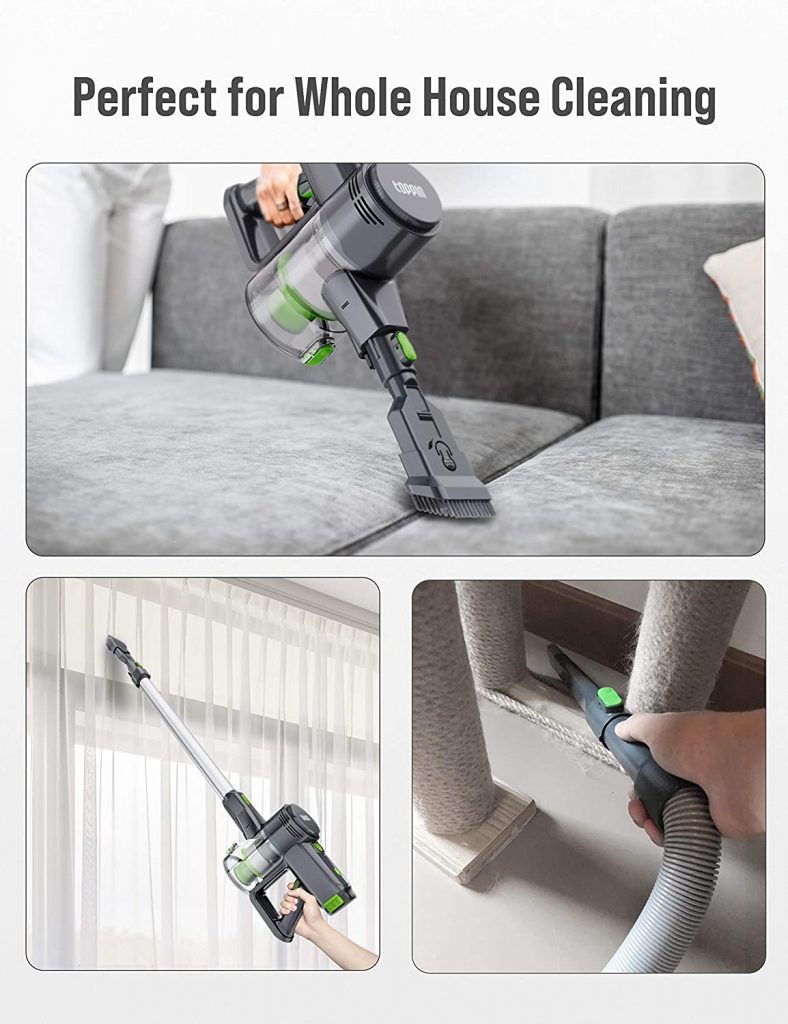 Cons:
Shorter battery life
Vacuum does not stand up
Overall design is not impressive
This is a cordless stick vacuum that has a digital motor. It cleans with efficiency. It's lightweight, has LED headlights, and can be converted to a handheld cordless vacuum. It comes in three color choices. You can lay the vacuum all the way down to get under furniture, easily rest the vacuum on a counter or piece of furniture, and clean out crevices with the attachment. It has adjustable suction and will run for up to 40 minutes off a full charge.
Pros:
Long battery life
LED headlights let you see what you're vacuuming
Rest nook allows you to lean vacuum on furniture
Long reach under furniture
Affordable price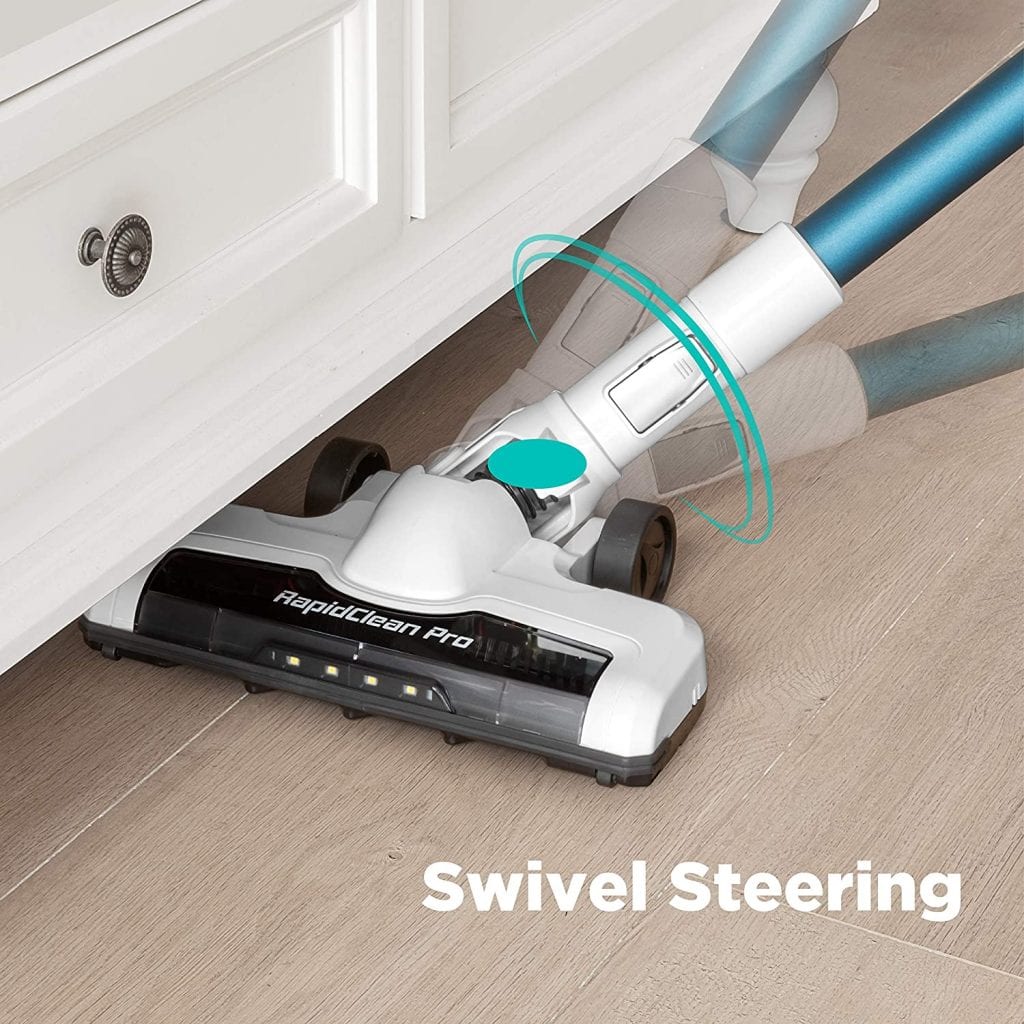 Cons:
Battery is heavy making the stick vacuum top-heavy
Power supply doesn't run through the wall mount
Rest nook should be higher
What Is The Best Portable Vacuum To Buy?
Portable, or stick, vacuums should be lightweight. In most households, these vacuums aren't meant to be the main floor cleaning tool. You'll likely have a more heavy-duty machine for that. 
Corded or cordless stick vacuums are usually added to your other equipment to give you a quick and convenient alternative. They should be handier. You can run to get the cordless vacuum to clean up spills more easily.
Due to the nature of their use, stick vacuums should be lightweight so you can take them upstairs, to your car, to the basement, or anywhere else in your home where there's a mess. They're convenient and easy to grab when they're lightweight. 
How Much Power Do You Need?
The more power stick vacuums have, the more suction they'll produce. You should look for a cordless stick vacuum with 20 volts of power. That will give you some strong suction.
Remember, the higher the power, the heavier a vacuum may be because the motor and battery will be heavier. Also, more powerful motors are often noisier, too. Take these factors into consideration when you're shopping for stick vacuums.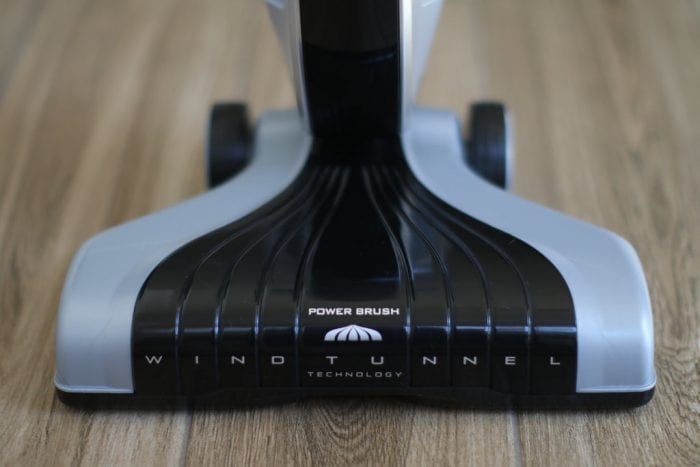 How Much Cleaning Time Will You Get?
Make sure you choose cordless stick vacuums with lithium or lithium-ion batteries. They charge faster and hold charges for longer. Where some cordless vacuum cleaners will only run for 15 minutes on a full charge, those with lithium batteries will give you up to 40 minutes of cleaning time.
Consider The Noise Level
Vacuums are often loud, including stick vacuums. Don't forget to consider the noise level of any corded or cordless stick vacuums you're comparing. Sometimes the decibels are listed on the packaging or in the literature included in the box. 
If your household has an infant or toddler that takes naps, loud stick vacuums aren't your best options. Look for a cordless stick vacuum with a decibel rating of 65. It won't be much louder than normal conversation voices.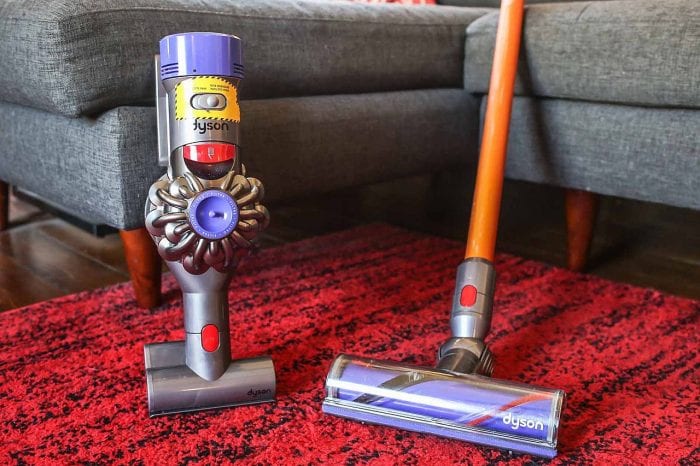 Are Best Stick Vacuums Worth It?
Stick vacuums, especially cordless vacuum cleaners, are worth it when you choose the right one for your needs. They make cleanup easy and quick. They take the hassle out of cleaning up incidental messes. 
Do your homework, like you are right now, so you choose the best stick vacuum to fit your household. If you have pets, get a cordless vacuum that handles pet hair well. If you have a baby in the home, find an option that's very quiet. If you're on a tight budget, choose a budget-friendly corded stick vacuum. They're worth it if you choose wisely.
Best Stick Vacuum Conclusion
The best stick vacuum will make your life more convenient. You can find an option that fits your budget, gives you the cleaning power you need, and isn't too noisy or too heavy for you. If you go with cordless, make sure you check the battery life, so you know how much cleaning time you'll get. Once you know what you want, compare prices across different retailers and buy your stick vacuum with peace of mind.
FAQs:
Which cordless stick vacuum is best?
The best overall is the Dyson Cordless Stick Vacuum Cleaner. It's quite expensive, though. If you want something more affordable, go with the Dirt Devil Versa 3-in-1 Cordless Stick Vacuum Cleaner.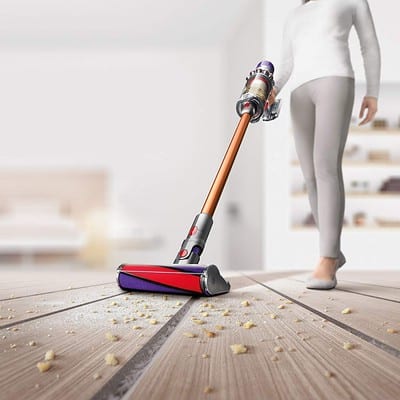 Is Shark better than Dyson?
These are both reputable brands. Dyson tends to have more suction power but is pricier and heavier. Shark is more affordable but may not perform as well as Dyson.
Is the Kmart stick vacuum any good?
When tested, the Kmart stick vacuum performed at an OK, or average, level. It's priced affordably, though.
Is Dyson stick vacuum worth it?
The Dyson stick vacuum comes with a hefty price tag. You get what you pay for, though. It's super quiet, has powerful suction, and handles pet hair with ease. If it's within your budget to buy a Dyson, go for it.
Which vacuum has the strongest suction?
Vacuum brands with the strongest suction include Dyson, Miele, and Shark.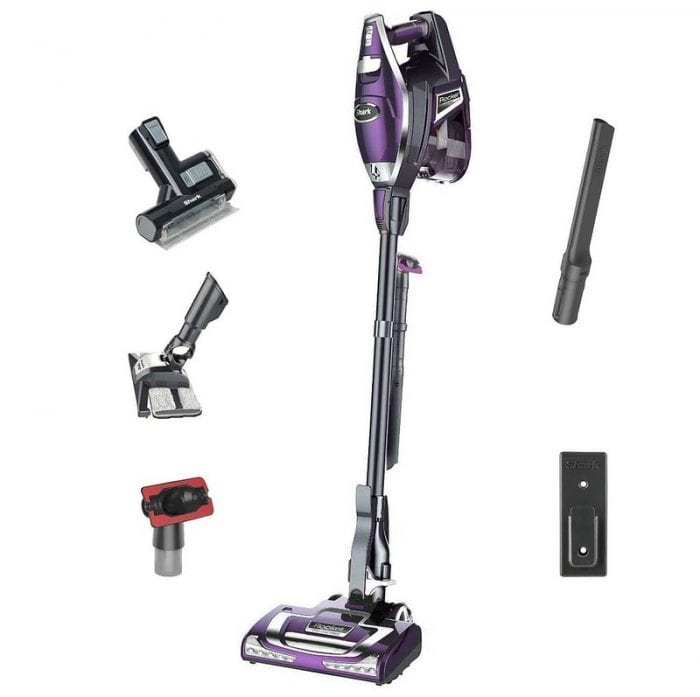 Is Hoover better than Dyson?
Dyson has better, higher-end products than Hoover. However, Hoover offers more model options. They also offer a broader range of prices. 
What is the best vacuum for 2020?
In 2020, the best overall vacuum was the Shark Navigator Lift-Away Professional.
What is the best DustBuster on the market?
The best dustbuster on the market is the Black+Decker 20V Max Flex Handheld Vacuum.
Disclaimer: FamilyHype.com (Family Hype & FamilyHype) is a participant in the Amazon Services LLC Associates Program, an affiliate advertising program designed to provide a means for sites to earn advertising fees by advertising and linking to Amazon.com.
Last Updated on October 1, 2021 by Marie Miguel
DISCLAIMER
(IMPORTANT)
: This information (including all text, images, audio, or other formats on FamilyHype.com) is not intended to be a substitute for informed professional advice, diagnosis, endorsement or treatment. You should not take any action or avoid taking action without consulting a qualified professional. Always seek the advice of your physician or other qualified health provider with any questions about medical conditions. Do not disregard professional medical advice or delay seeking advice or treatment because of something you have read here a FamilyHype.com.